Thursday, August 14, 2003

thank heavens for plea bargains! Marlin Jackson is free!


unreal. Jeff Goldblum Is Watching You Poop! (link courtesy of Catchdubs)


MORTAL KOMBAT! Ween vs. Pizza Hut in a battle to the death! (link courtesy of The Gorilla)


remind me again why I'm not living in New York ... midnight screenings of "Wet Hot American Summer" with cast appearances! (link via Les Yper Sound)


this would explain a lot! Marlon Brando is Courtney Love's grandfather!


makes Ah-Nuld's $30 million dollar deal for "T3" look like chump change. Peter Jackson to receive $20 mills against 20% of the gross to direct "King Kong"!!!


Nicole Kidman and Lenny Kravitz are "super serious" ... I've said it before and I'll say it again, EVERYBODY LOVES WHITE GIRLS! (link courtesy of GKVibe)


where's Dido on this list? Kelly Brook tops Loaded's Most Wanted List!


Blender calls the Insane Clown Posse the worst band of all-time. i saw Good Charlotte on Letterman last night and I beg to differ!

posted by uncle grambo |
---
the Clay Aiken and Big Ru covers hurt me. the abortion that was the "Women In Rock" photo shoot was devastating to all. but Rolling Stone, please know that you will forever be in my good graces because of your upcoming cover subjects, the lovely and talented Olsen Twizzies ... well, at least until the next issue. until then, I love you with all of my heart.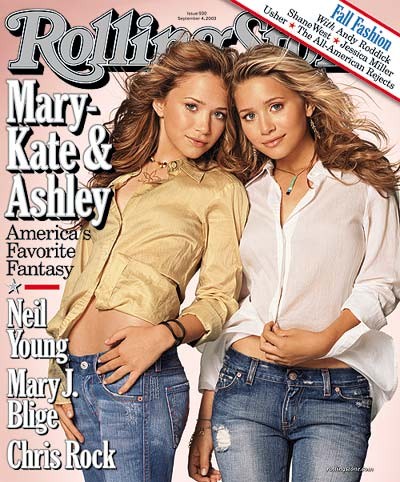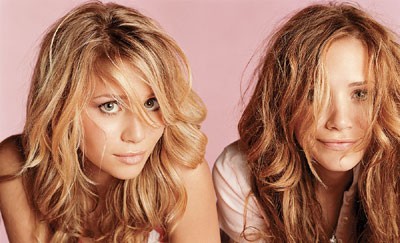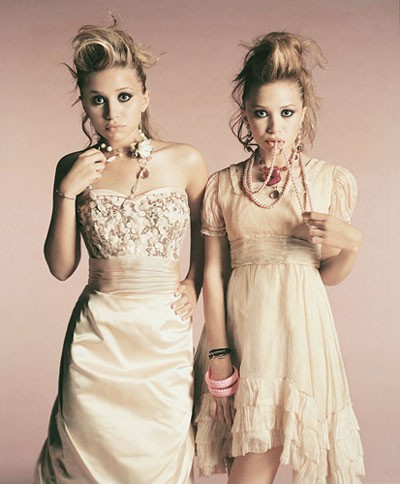 (pics revealed by The Gorilla)

posted by uncle grambo |
---
Wednesday, August 13, 2003
two hot entries to satisfy your Celebrity Cravings...


revealed by The Grizz: "revealed friday night at the palladium... Joe Duuuuuuuuuuuuuumars! obvs. he was with his fam, exiting the lobby at around 9 p.m. EDT. best."


revealed by R. Layng Karvola: "While strolling through the local Besties, I played a game of chicken with Darryl Hannah while browsing the drama DVD section. Hot Bod, Skanky face, and greasy disheveled hair. Hopefully she looks better in 'Kill Bill'."


(EDITOR'S NOTE: While we're on the topic of Daryl Hannah, today's NY Post revealed that she'll be appearing NEWD in the Novembs issue of Playbs. buzz? not so much. why can't Playbs score any younger "movie stars"? that is if you take a leap of faith with me here that Daryl Hannah is still a movie star. but I don't understand why they can't score someone like Scarlett Johannsen or Katie Holmes for a pictorial. I'm sure it wouldn't even take that much effort to get Paris Hilton in there! the LEAST you can do is get skanky reality TV stars like Trishelle or Mallory to get their kit off. if they're truly going to compete with the laddie mags, they're not going to do it with the likes of Carnie Wilson and Daryl Hannah!)

posted by uncle grambo |
---
don't forget, Dido is tonight's guest on The Late, Late Show With Craig Kilborn. everyone knows how obsessed Kilby is with the sultry Miss Dido, so this should prove to be excellent television. no official word if it's an interview or a performance, but let's hope that it's both. the first single off the new album, "White Flag", is like chuggin' a full sixer of Buzz Cola ... tasty!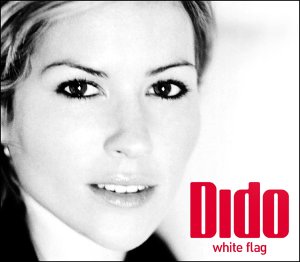 posted by uncle grambo |
---
i think that the Rev. Dave said it best when he forwarded this email to me, so i'll leave the explanation to him.

"I love America so much. Air guitar midgets playing Kiss covers, in full costume and makeup no less, with full size skanks dry humping the drummer. Goddamn!"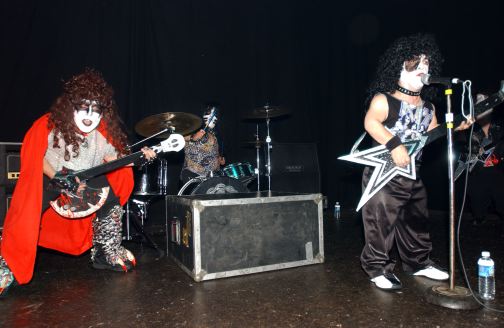 posted by uncle grambo |
---
9 out of 10 doctors recommend taking a dose of PHC after lunch. the tenth recommends LSD. here's a hit for those of you in the former camp.

yep, Liz continues to build buzz. a review of her recent Bowery Ballroom performance made this week's Village Voice. the author of the piece, Laura Sinagra, calls her "bold enough to sing about possibly traumatizing her kid with serial boyfriends; subversive enough to talk about dating much younger guys; and honest about wanting to rock HARD before society dares to revoke her license to thrill." right on! (link courtesy of The Gorilla)

i think that we can all agree that most of VH-1's lists are bunk (see The Gorilla's rant on their Top 200 Pop Culture Icons). but I can vouch and say that they finally got one right with their countdown of the Top 33 Bar Songs of all-time. surprisingly, i don't have any beefs with their list, maybe with the slight exception of the lack of recognition for "Laid" and "Piano Man." i can dig it.

while any news about Morrissey is good news, this piece of info doesn't exactly tickle my fancy. according to some internet rumours, Jerry Finn (AFI, Green Day, Blink 182, Sum 41) is on board to produce the Mozzer's return. the King of Mope goes pop punk? mmm, not so much. let's hope that it's just false buzz. my Moz dream producer? obvs, that would be a reunion with Mick Ronson ("Your Arsenal")! props to the ILB for the scoop.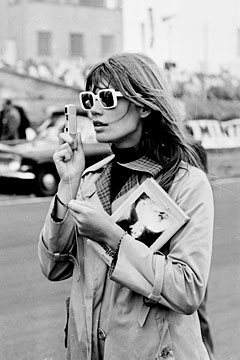 calling all metrosexuals ... how come no one ever told me about Style.com before? ever since SALTYT went down, I've been in dire need of a fix of supermodel hottness. and thanks to a post yesterday by Miss Modernage, I discovered the pure hottness of W and Vogue online! check out the return of Kate Moss and the look back at French fashion icon Francoise Hardy (pictured at right).


quoth The Guru: "Sony's Ben-and-Jen pic GIGLI experienced what could be the worst second-weekend fall in history collapsing 83% to a pitiful $640,000, according to estimates. The $54M comedy, which the press loves to hate, averaged an embarrassing $289 per theater and has grossed a pathetic $5.6M in ten days. Look for theater owners to dump their GIGLI prints as soon as contractually possible as the year's most notorious flop should find its way to only $6-7M."


Drew & Fab looking all smitten with each other.


In the end, Linkin Park's Joseph Hahn Wants To Be A Filmmaker. best news of the day? memo to Mr. Hahn: "Great idea! I'll even finance your first film, just as long as you promise never to make music again. and I mean NEVER AGAIN! Thank you. That is all. Your check is in the mizz."


Kobe Bryant's Fantasy-Team Coach 'Saddened' By Allegations. At a recent press conference, Steven Woods, a claims adjuster with Midland Insurance and coach of the Midland Maniacs fantasy basketball team, was quoted as saying "I can't believe this is the same Kobe I've worked with all these years. I've won two Midland Fantasy Basketball League championships with him. He's always handled himself with such class, both on and off the court. Obviously, Kobe has my full support during this difficult time."


most disturbing developments of the day. a hotel maid who recently walked in on Jen and Ben revealed that Ben was wearing an "itsy-bitsy black thong" ... now that's just wrong.

posted by uncle grambo |
---
Tuesday, August 12, 2003

look, even Justin Trousersnake applauds them in the street! once upon a time, your Uncle Grambo almost got kicked out of National Coney Island for doing the very same thing! and then check out Kristin Ellis, Rochester Adams Class of Obvs, as she lounges in a pool on "Paradise Hotel". currently #3 on the Yahoo List of Most Emailed Photos! everybody loves white girls, especially when they're hott white Rochester girls.

posted by uncle grambo |
---
yes indeed, Flash Mobs have hit the Midwestern `burbs and your very own Uncle Grambo was there to participate. when Bill from Rochester's own East Alley Records (which, btw, is one of the best indie record stores in the Detroit area) emails you and asks for your participation in a Flash Mob, of course you say "hellzyes, I'm there!" both The Freep and The DetNews were there with reporters and photogs, but The Grizz beat The Freep to the punch with his article that's printed in today's DetNews, entitled "Goofy And Gone In A Flash." the best quote in the article comes from some local Rochester dude named Lawrence Gibson who commented that "I didn't know if they were a group of foreign exchange students, or what." so best.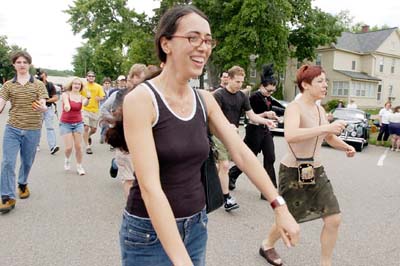 (EDITOR'S NOTE: If you look closely at the pic, your very own Uncle Grambo is revealed. First person to reveal backblog with what I'm wearing wins a prize that is currently TBD, but promises to be ultra hott)

posted by uncle grambo |
---
at 10:29am EST this morning, whatevs.org hit a big milestone. 100,000 page views. thanks and props to all for making me the luckiest boy in the world.


yt,
-mark

posted by uncle grambo |
---
thanks to untold hours of building complex meta tags and good ole fashioned bribes, whatevs.org is the #2 search result on Google for "teabagging hot girls" ... too bad that god damn Neal Pollack is always one-upping me!


i forget where I was, but sometime in the last few days I heard "Rock Show" by Peaches and it inspired me to do some online research. well while I was over at her official website, I discovered the first JPG that revealed the cover art for the new record. if you remember "The Teaches Of Peaches", it was an extreme close-up of her crotch. while the cover for "Fatherfucker" isn't quite as overtly sexual at first glance, I still say "Good luck" trying to find this CD at your local Wal-Mart. if the title doesn't scare away their conservo merch staff, the image of a woman with a full-beard sure as shit will. i say buzz, but not as much buzz as discovering that you can buy plaster versions of her breasts online!?! who knew? revealed on XL Recordings.com!


the first is random. two is a coincidence. three is a trend. there is something about being mentioned on whatevs.org during the week of July 27th that is causing pseudo celebrities to either gain newfound critical acclaim or merit a visit from the Grim Reaper. first there's the example of Heavy D. i mentioned his name in jest when Big Ru was revealed as the latest RS cover boy ... a few days later, MSNBC revealed he lost a bunch of weight and landed a role in a sitcom. Heavy D benefitted from the buzz. then it was the turn of Darren McCarty and his band, Grinder. I prominently featured D-Mac and the boys in my recap of the Jim Rome Tour Stop, and then a mere two weeks later somehow the band gets a feature article on MTV.com!!! he shoots he scores! but then there's the unfortch case of Gregory Hines, one of the great tap dancers of our time. well I can't help but feel a little guilty because I namedropped "White Nights" (first such reference since the October 1987 issue of TV Guide) and then Mr. Hines sadly passed on this weekend. i don't know about you, but I smell dead people. all i know is that if i were Evan Handler or Jason Biggs, i'd be watching my back. could this be the genesis for FD3? only time will tizz. obvs.


if you ask, they shall answer. i posed the question of "How many total units has Liz Phair's latest album sold since it's release?" to the Velvet Ropers and 108K was revealed to be the answer (220K shipped). she just recently began her buzzworthy tour and people are talking about her in surprising places like The DVD Talk Forums (thanks to Supernautic for revealing). word on the street is that "Extraordinary" will be the second single, but don't count out "Why Can't I?" just yet. it's still climbing the charts and is currently sitting at #10 on VH-1's Top 20 Countdown. things are looking up for Miss Phair, as the backlashers are starting to be lashed. people are listening to the album and actually saying, "Hey, this is actually a very good record." imagine THAT! Liz ... so much buzz. my sojourn to Chicaggs next week for three straight nights of Liz is sure to be a worthy follow-up to The Unprotected Hottness Tour (even Damore will be there for one of the shows!). best.


jumbo shrimp. military intelligence. add another term to the long list of oxymorons. The Shortlist. the nominees for this year's Shortlist Prize were nominated today ... too bad virtually every single indie release of 2003 made the list! don't get me wrong, I like The Burning Brides as much (or probably more!) than the next guy, but do they really deserve to be nominated for any awards? not so much. that and the fact that I hate sites who are entirely built upon Flash. but that's another story for another time. until then, props to APLarcadia for forwarding along the link.


is there anything better than when celebs are photographed looking at photographs? Check it, even Ben Affleck is crazy in love with Beyonce! and Brit Brit ran out to buy the new issue of Esquire with Colin Farrell on the cover! but before we go further, would you say these photographs are more "postmodern" or "meta"? discuss.


i know that this is my second "Big Lebowski" reset in as many days, but after reading that Ruben Studdard took money under the table from 205 Flava, I couldn't get the image of Walter Sobchak screaming "THIS IS WHAT HAPPENS WHEN YOU FUCK A STRANGER IN THE ASS!" out of my mind. i can't believe that Big Ru's advisors convinced him to go down this route. totally petty. and I'm not talkin' Lori Petty.

posted by uncle grambo |
---
Monday, August 11, 2003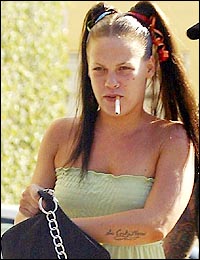 you know what I hate about Pink? okay, I hate everything about Pink. but what irratates me the most about her at the current moment is that she went out and made, like, the poppiest album evs ("Missundaztood" puts "Liz Phair" to SHAME in a head-to-head competition of the poppiest pop music that ever popped) and now she's all "Uh, I have a pigtail mullet and a lot of tatts, I like to smoke White Trash Camel Lights and I refuse to wear makeup or even wash my fizz with some Irish Sprizz." i was never more glad to see someone get Punk'D. is Pink even possibly fo' real? bitch, you make me 'url.


btw, remember when people actually talked about Ashton Kutcher? other than housewives, that is? gosh, those were the days. but then again, as Max says in "Kicking And Screaming", "I'm nostalgic for conversations I had yesterday. I've begun reminiscing events before they even occur. I'm reminiscing this right now." ain't that the triple truth.


is it just me or is anyone else curious why Dave Matthews continues to release albums? does anyone really care anymore?


BREAKING NEWS ABOUT THE LIBERTINES! oh yeah, who the eff cares about this ragged band of jackanapes? certainly not I.


meanwhile, over at the IMDB, a fierce battle rages about whether or not Bynes is hotter than Knightley!


The Los Angeles Times has started charging for access to their Calendar Live section, where all of their movie and music articles are located. durst.


easily the best toy since the 16" Terl action figure from "Battlefield Earth" (which, btw, absolutely no one is selling on eBay). A 12" replica of Christopher Walken in "King Of New York" ... best $85 you could ever spend!

posted by uncle grambo |
---
wow. how do you begin to piece your blog back together after an extended period of sporadic Keira Knightley posts? let me tell you. the first thing you do is you head to your fave blogs that you have neglected for the past few days so that you can:
A) learn what the eff happened in the world
B) learn who quoted what so that proper credit can be given where it is due

i have done due diligence with both of the above tasks, and here are a few of the things I learned from my favourite blogstops on the Information Superhizz...

somehow a few of my web idols have managed to not only discover my site (likely through the good graces of Miss Modernage, Melody Nelson or Stereogum), but also link to it. While I've been slaving for the man, somehow links to this fair site have magically appeared on hotspots like Lindsayism, Catch Dubs and Catherine's Pita. my humble thanks to all of the above for the traffic. my advertisers thank you. wait, I don't have any advertisers. shouldn't someone around here be working on that? wait, there's no one else around here to work on that. now I feel like Gollum / The Green Goblin / Mr. Hyde. most overabused cinematic trend of the last year ... characters who talk to themselves as separate individuals! but i digress...

quickly rising to the upper echelon on my list of highly respected blogs is The Information Leaf Blower. he was kind enough to throw me some birthday props the other day, but that's not why I'm talking about his site here. his site is kinda like whatevs.org would be if I was more into sports and Apple than Bynes and British tabloids. his site fills a great niche out there for anyone who is heavy into sports (particularily Duke basketball) and needs some assistance cutting through the clutter. but it's also an invaluable resource for indie fans, particularily if you fall in the either the Ted Leo or SFA camp. without The ILB, I would've never known that Keira Knightley was ranked on ESPN.com'sTop 10 List Of Underrated Chicks (apparently these fools don't read whatevs.org!) or seen Morrissey's tribute to Linda McCartney! and that would be just plain sad. props out to KG for a job well done!

then there's the A2 crew. since we last spoke, Rob Theakston has redesigned his blog (known as T-Rob for some of you old Friday Afternoon Topic participants). while his old site was certainly tigs, he seems to have a renewed passion for all things bloggable. you go girl. and after a disappearance to rival those dumbass Spartys who ran off to FLA, Matthew Tobey returned from the dead with a flurry of mid-week posts. and Cult Movie Hero Deckie Holmes (NOT to be confused with Dickie Roberts, Former Child Star) continues to be one of the funnier members of the Haypenny gang. I'm looking forward to meeting these fine feathered friends when Neal Pollack comes to town...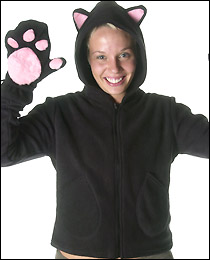 everytime i visit Les Yper Sound i am awed by how marvelously their site is designed. thanks to Ryan for throwing whatevs some birthday traffic.


and with a recent post that sent Oprah on a massive eating binge / purge session, Kegzies has finally issued his long buzzed-about Official Glamorama Reading List, chock fulla essentials from the likes of Paul Auster, B.E.E., Chuck Palahniuk and others. i was hoping to see some David Foster Wallace or Doug Coupland crop up on the list, but maybe that just means that this ole English major needs to work on a similar project. but to be quite frank, the chances of that are even slimmer than me updating my "Willard" review!


while he's taken his (deserved) fair share of abuse on whatevs.org lately for his overzealous defending of "SITC", the reasons that you keep going back to Solotarian Views are quite simple. who else takes the time to praise Chicago Dogs and hickory smoked spare ribs while also laying into those Buckeye frauds down at Ohio State? the answer is simple ... no one. call me crazy, but I think that The ILB and Solo would be fast friends.


before I go, I must give thanks to the FOWs who take time out of their day to deliver PHC to your Uncle Grambo via electronic mail. in particular, I'm referencing The Grizz, Nummer, APLarcadia, Damore, Peabs, JP McKrengels, The Gorilla, Greedo and Method One. without them, you wouldn't share in the pleasure of another haggalicious photo of X-Tina nor would you have read another typically best Op-Ed piece by Steve Martin in The NYT (thanks to Method One and Greedo, respectively). more obvs than obvs. obvs.


gotta jet. p-e-a-c-e for now.


(EDITOR'S NOTE: While proofreading this post, I noticed that those of you who haven't had your fix of Ritalin for the day would freak out if you saw this many words without any pictures. Lord knows that I did. Hence the random shots. Just thought I'd clarifizz)

posted by uncle grambo |
---
"If a man does only what is required of him, he is a slave. If a man does more than is required of him, he is a free man." — Chinese Proverb
shit. whoever the damn Chinaman who said that was full of shit. oh, and before the PC police jump on my arse for the previous sentence, i totally understand that that's not the preferred nomenclature ... Asian American, please. it's been like "Saving Private Grambo" up in this bitch! I've been dodging heavy mortar fire from upper management for the last few days and furiously working from my bunker (aka cube). you know how it is. fortunately for me, i got some free time this weekend to check out some real estate down in the Peachtree area of Hot-Lanta. a nice young gentleman from ReMax was kind enough to help me out with my house hunting. he even gave me his business card! what a fine, upstanding young man!




but shmeriously, i'm working on a few posts of enormous size. more to follow in the next few hours, yo. sorry that I left y'all high and drizz for the last few dizz, but that's the hizz when you're the shizz. natch.


(pic above originally revealed by Peabs)

posted by uncle grambo |
---