Friday, April 30, 2004
If by starring you mean, not in and had nothing to do with. But now that I've got your attention, I'd like to direct it to Lawrence "Like Fishburn don't ever call me Larry" Swanson a young, Detroit born, NYC based film maker on the rise.
If you are in Manhattan today, like so many FOW's are, you should swing by the Village East Cinemas at 181 2nd Ave. (at 12th street), and catch his short film Flash at 6:10 on screen 3.
It's part of the New York International Independent Film and Video Festival, and of course is much better than the entry to New York National Dependent Film Festival showing at the same theater at 11:30 am today, Scooby Doo 2: Monsters Unleashed.
If you can't make it to NYC by 6:10, then I suggest you check out Flash's website for a trailer and more details on upcoming screenings, etc. or just email Larry, I guess he knows what it's about and stuff...
CAUSE HE MADE THE MOVIE HIMSELF!
posted by The Gorilla |
---
In the biggest hip hop news since 1-900-LL COOL J you can now call the Beastie Boys at (323)465-BBOY!
Seriously, go ahead, you know you want to and besides you're at work, so long distance charges are totally SEP -- somebody else's problem, am I right?
Yeah, of course I am.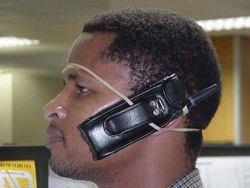 Soon you too will know the joy of hearing the barely intelligible scream/raps over the phone, a medium I really prefer to radio, CD or vinyl... I mean it's just so real and warm on my quadraphonic Harmon Kardon solar powered, laser enhanced, Ultra Phone 6002... vastly improved from 6001. Plus I got the free hands free kit, like the model has in the picture, mos def tigs! Don't try to look one up or buy one, 'cause they aren't out here yet, you can only get them in this one store front in Tokyo's German Town (bet you didn't know they had one of those did you?) that may or may not be a front for the Kraut Yakusza (the German/Japanese mafia, obvs).

Interestingly enough, it's really the way Jewish Hip-Hop was originally intended to be heard, over the phone that is, usually because the mothers of most Jewish rappers wouldn't let them out of the house. Jewish moms, apparently very over protective. But at least they aren't all drunks like the Irish!

posted by The Gorilla |
---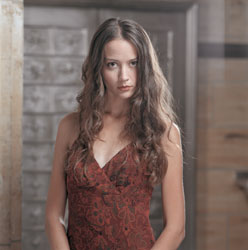 Okay, it's really not that bad, it's actually pretty tigs and I suppose it's far less sweaty and oh, we never have to worry about if a drunken b-level starlet accidentally passes out in the trunk of our blog and subsequently broils to death thus inciting a media frenzied trial where we are railroaded on bogus manslaughter charges and have to spend the rest of the decade being traded for cigarettes and homemade shivs between burley, incarcerated male rapists. I mean serious, the blog doesn't even have a glove box much less a trunk!
In even more obscure Coachella related news, previously unreleased footage of the late, great Elliott Smith performing at the festival, presumably when he was alive, will premier at the festival's independent film tent at 10 am Saturday and be shown again at 10 am Sunday.
In even less obscure Elliott Smith news, his unofficial website sweetadeline.net posted a note from his dad concerning the sale of Elliot's studio and the progress in finishing his unfinished album, supposedly it'll hit the streets in September or October, but they haven't finished working out what label it'll be on, so who knows.

In a kind of but not really related story, the Spice Girls UNTIE! Wait, no. Oh they might reunite, sorry, for a second I thought it was about shoelaces and I got all "wobbly in me knickers".... "govn'r".

No more Rocket '88's but luckily, no more Bravadas either.

Dude. DUUUUDDDEEEE. Dude, seriously, why are you so lame? Your party's lame, it's all just lame. This whole thing... L-A-M-E. Lame.

posted by The Gorilla |
---
Thursday, April 29, 2004

this week's SNL features the sexbomb teen hottie du jour of the day, the suddenly ubiquitous Lindsay Lohan. while there are sure to be some racktastic moments revealed, your Uncle Grambo isn't entirely supportive of the incestual buzz that led to the scheduling of this show. while I'm a Tina Fey supporter and "Mean Girls" looks mildly obvs, does this mean that Tracy Morgan will guest host the next time (the first time?) he scores a choice acting gig? for all our sakes, let's hope that isn't the case.


and I would be remiss if I didn't mention (for the umpteenth time) that I STILL don't understand why Lohan is scoring the roles that are rightfully Bynes', ESPECIALLY in a sketch-driven comedy show like "SNL" ... doesn't Lorne have cable? is he too cheap to shell out for Nickelodeon? that's the only reason that your Uncle Grambo can fathom as to why Bynes hasn't hosted yet, it's called "The Amanda Show", bitch! no buzz for Lorne and even less for NBC. but without further ado, I'll let the experts step in. Nummer and H-Bomb, this one's all you...

NUMMER
H-BOMB
Episode 17: Lindsay Lohan / Usher (5/1/04)

Although I like Lohan, I think this episode will be pretty forgettable. Given her pop star teen status, SNL will no doubt pull out the MTV audience humor again and really dumb itself down. Look for lots of Fallon and Maya since they tend to excel in this area.


As for Usher, I honestly had no idea people still gave two shits about him. His music sucks and he ruins movies. What is the appeal?

In this day and age, I honestly can't believe that I haven't seen anything that Lohan has been in. However, she does seem to hold that certain kind of spunk and sense of humor that hopefully will hold together this week's episode. I mean, if Fey felt confident enough to put her in "Mean Girls", she's got to have something, right?? But then again, not really being able to judge for myself, I guess I'm just gonna call this week a draw and say it could go either way.


Usher. Is he still around??
and with that, I'm off like the proverbial prom dress to COACHELLA, y'all! i'll be working on the highly anticipated Part Deux of the Blogf*ckers Incorporated whilst on the plane, but while I'm doing that, why don't you enjoy a truly outstanding article in this morning's DetNews courtesy of the one and only Grizz (whose presence in the Valley this weekend will be SORELY missed). the article focuses on the juggernaut that is the PG-13 rating, and Grizz even managed to hook up a phoner with Guillermo Del Best Ever ("Hellboy", "The Mimic", "Blade 2")!!! some say a perfect article to kick off the summer movie going season, yo. bovs.

keep it on the rizz, and hopefully I'll catch you at the Empire Polo Grounds this weekend! oh, and if things go well, your Uncle Grambo will be the one holding the puke bucket in front of Mischa Barfin in next week's Star ... she's scheduled to be at some of the same parties my posse (Peabs, Retrobuzz (aka Damore), Dirrrty McKean, The Blueprint and Kerry So Says I) will be hitting. remember to drink lots of H2O, yo! seacrest OUT!

posted by uncle grambo |
---
Wednesday, April 28, 2004

ssssssssh! be REAL quiet, k? ya see, i know that I don't normally give out stock tips in this space, but believe you me it's only because those SEC bastards are always breathing down my neck. that's why you've got to keep this on the Hush Hush, QT ... k? promise?


okay, now that we're all alone, here's what you gotta do. first things first, look both ways to ensure no one's spying on you and then pick up your phone. s-l-o-w-l-y dial your broker and have him / her empty all of your accounts. you're gonna need to be liquid to move on this deal, k? right. now, ever heard of a little company called Recot, Inc? of course you haven't! but, I ask you dear friends, have you ever FUCKING HEARD OF CHEETOS?!? or how bout a little brand your Uncle Grambo likes to call FRITO FUCKING LAY!?!? well listen to me now and hear me later, ya see this little company called Recot, Inc. is owned by none other than PepsiCo (PEP on the NYSE) ... maybe you've heard of it? thought so, bitches!

well, get this. none other than Brit Brit herself was spotted eating Cheetos not once BUT TWICE this week. that's right, god damn it, TWICE! and you know what they say, anything that happens twice is bound to endlessly repeat itself until the universe spontaneously implodes into nothingness. and you know what that means, dear FOWs??? yes, it means that PEP is going to skyrocket even higher than Abel Ferrara after a four-year crack bender!

skeptical? don't believe me? remember when Alanis Morrissette was sponsored by MP3.com and made more money from selling that stock than she did off of "Jagged Little Pill"? no? well then, smart aleck, howzabout you flashback to a little trend I like to call BELLY BUTTON RINGS! before Britney, navel piercings were purely the territory of skanky strippers and even skankier hippies. now, you walk down the streets of The Birm and 45 year old MILFs are sporting them without even a second thought! and who's to blame, er, i mean CREDIT for this? that's right, Brit Brit! duh! anything Brit Brit touches turns to gold. and don't forget to check the corporate synergy buzz, as Brit Brit and her new WTBF are also hittin' up some Sprite Remix. even though it appears she prefers last year's tropical flavor to the newly released Berryclear flavor (which, btw, tastes like grape bubble yum, and not in a good way), I say it's time to Buy Buy Buy and watch your net worth increase to Denton-like proportions!

so, if you decide to pass on this hott tip, be sure and remember when you see me usurping all of Trump's buzz within three days time. YOU'RE FIRED!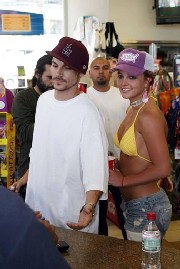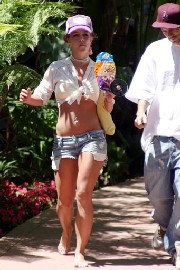 All pics lifted from Scott Stereogum, natch. some say biggest Britney fan since Uncle Grambo himself. robvs.

posted by uncle grambo |
---
or, more accurately, 106Fº. it's gonna be a scorcher at Coachella this weekend, y'all. and not just because of the weather ... Kool Keith has been added to the Saturday line-up! mmmmBUZZ! [via Thighs Wide Shut]

Vote Detroit for the location of the Beer Hall Of Fame! i mean, c'mon, the Stroh's 30 pack? and I'll take Alex From Stroh's over Spuds McKenzie ANY day of the week. c'mon, he was ALWAYS on the guest list of Tone-Loc's "Funky Cold Medina" parties. [via The Gorilla]


looking for justification of this ScoJo hottness? there isn't any. obvs.

there's a new "Car Culture" column in today's Detroit News. damn Hawk, we miss you out here in The D™. obvs.

STOP THE PRESSES! the long-anticipated Charisma Carpenter Playboy pics have hit both Fleshbot and Slayer Verse ... I know this is obvs, but NSFW. but NSFW in the Oh-So-Best-Ever-Kinda-Way ... natch. [second link via Scott Writes]

say what you will about Uncle Kracker, but the man knows what it takes to make a hit record. "follow me"? buzz. "drift away"? some say best summer song of `03. i bet you dollars to donuts that his new record has another monster hit on there somewhere. shmears.

"I'd be pushing up daisies if it wasn't for Lulu" — Australian farmer Len Richards. now you'd think that Lulu was the name of the firewoman or doctor or nurse that saved this man's life, now wouldn't you? nope, not so much. IT'S HIS FUCKING PET KANGAROO! AND IT'S NAMED LULU! LULU, FOR CHRISSAKES! LU-FREAKIN-LU! and in case you were wondering, yes, I JUST USED THE WORDS "PET" AND "KANGAROO" TOGETHER! AND LULU! as in, "Hey neighborhood kids, check out my fookin' pet kangaroo named Lulu that saved my life!" fookin' Aussies. next story, please!

you know, everytime I begin to think that I'm on the road to liking (or even sympathizing) with Dave Poland, he goes and prints something like this. like Elton John before him, he pleads the case that the United States is inherently racist because Jennifer Hudson got voted off "American Idol" ... well, I wouldn't really argue the fact that the United States as a nation is mos def racist, I think his statement today that "Ruben Studdard is as black as Denzel Washington" is downright durst evs. he goes on to explain that both have "risen above race as personalities", and so therefore aren't really considered black anymore. yo Poland, you better hope that neither Big Ru nor Denzel catch word of your article, cuz you're likely to get a beatdown, Andrew Golota stizz. which is to say you'll get punched in the groin repeatedly. bovs.

the only thing I've read worse today is in The Freep. apparently the editorial geniuses chose a panel of diverse Metro Detroiters to serve as a panel to decide what's The Best Of Detroit. i was particularily appalled to read the bio on Kate Baker, a 24 year old resident of Ferndale. and i quote...

"I was out of state six years ago when (techno) became hugely popular. I go to Bleu and Sevin. I like the crowd. I like the people. I like the energy. It's a completely different feeling than other sorts of clubs. It's about feeling good and and making yourself happy and energized rather than looking good for other people."



uh, quick question for ya Kate. WHAT THE HELL KINDA CRACK ARE YOU SMOKING AND WHERE CAN I GETS ME SOME, YO? number one, what? number two, WHAT? number three, WHUT WHUT? i'm really too appalled to properly comment on this, but I'll just give this piece of advice to Kate before the rest of the world rips her to shreds ... what you're hearing at Bleu and Sevin isn't techno, that's cheesed-out trance. or maybe progressive house, if you're lucks. get a clizz, yo. ay coño!


but since every cloud has a silver-plated lining, i guess there's probably some good news that we can take out of this. and that is the fact that we'll have another upcoming series of durstosity (see "Cool Cities") in The Freep that we can make fun of! shmears.

posted by uncle grambo |
---
Tuesday, April 27, 2004

i had a pocket fulla horses, trojans all of 'em. fortch for me, i left those horses back in The D™ for a weekend of Unprotected Hottness, blogfucker stizz. you see, for your Uncle Grambo, a relatively humble white fratboy with a retainer, this was the weekend to end all weekends. so many bloggers, so many celebs, so little time. so without further ado...


THURSDAY, APRIL 22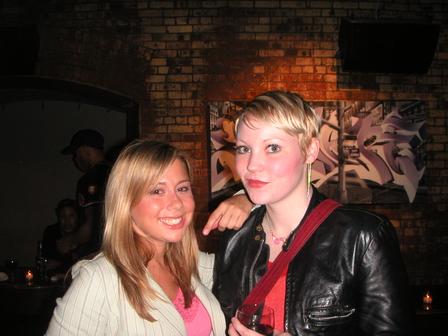 I began the weekend on the relatively lowkey tip in a little town I like to call BEANTOWN, baby! after waking at 4am to pack and make the lonely early morning journey to DTW, I spent the day fighting sleep and hitting the caffeine like Bobby hits Whitney. around 5:30pm or so, I made the requisite stroll down Newbury Street in search of the latest buzz @ Newbury Comics (best record store in Baaaaahstan, yo). i came, i saw, i left the store emptyhanded, save for the latest issue of Spin with The Mozzer on the covs. bovs.

after a quick round of Glenlivs at City Bar, my posse of co-workers and agency made our way down to the haaahbah for some dinner @ Joe's American Bar & Grill. while their prime rib left A LOT to be desired, their pinot vino was flowing and set up your Uncle for a sweet rendezvizz with the buzz of Al K. Hall. our group migrated briefly to Tia's for some girly shots (EDITOR'S NOTE: What kind of effing bar "runs out" of Jager?), but thankfully Trixie and The Fesser unleashed the Bat Signal and saved me from a night of buzzlessness. i met the toppermost twosome at The Other Side Cafe, where I recaptured my masculinity (albeit briefly) after ordering a few pints of the sweet brown nectar. the three of us recapped good times and discussed the finer points of Japanese Monster Wrestling. good times were had by all, but after seven hours of drinking and the insistence of the Other Side staff, it was time to part ways. obvs, that meant I had a pint or three back at Solas before turning in around 1:45am. snatch.

FRIDAY, APRIL 23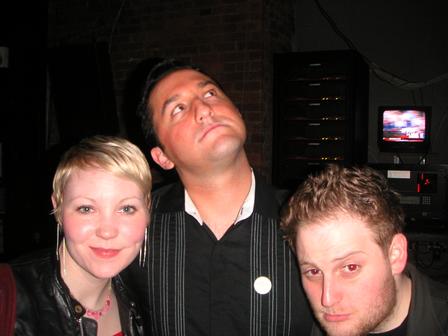 unsurprisingly, the 6:30 alarm came at me faster than a heater from Pedro. armed with a raging hangover, I made my way into my 8am meetings a mere 15 minutes late (I'm slower than Chris Reeves when prematurely shaken from my slumber). i spent the day counting the minutes until 2pm, at which time our business trip ended and the REAL weekend began. i grabbed a taxi to Chinatown from The Pru in search of the legendary Fung Wah Bus. after being heckled at by a few random bus carriers, I finally discovered the Fung Wah peeps and hopped aboard what turned out to be a (relatively) nice bus. i can't say too much about the trip, as I slept through a good portion of it. but I will mention that we stopped at a restaurant called Roy Rogers, a chain SO jank that their company homepage is hosted on Geocities! no buzz, worst chicken tenders evs.

after a trip lasting nearly five hours, I finally arrived in NYC, Chinatown stizz. i hopped in a cab and made my way to meet with Foxy Jess (aka Jessica Blueprint, aka Just Jazz, aka Foxy Jazz On Your Tees) at the Hotel Lucerne on the Upper West Side. we had a brief yet torrid session of gossiping / lovemaking / ironing (only two of the three actually happened, but I'll leave which two up to your filllthy imagination). we hailed a Yellow Cab and made our way to Chelsea for some exxxtreme hottness.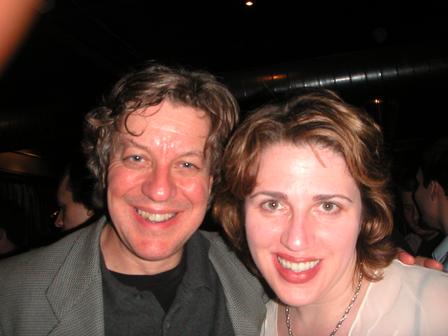 you see, your Uncle Grambo has had the good fortune of making some really good friends at Vh-1 over the years, not the least of whom include Fred, Jenny, Colby, Brian and the one and only Scott Stereogum. they had gotten wind of my whirlwind voyage into NYC and graciously invited Jess and I to Freight 410 for the "Best Week Ever" Season 1 wrap party (don't worry, they're only taking one well-deserved week off). after fighting our way through the entourage of well-dressed New Yorkers, we met up with Stereogum and the ever-endearing and impossibly hott Lindsay Lindsayism. after ensuring that we got our wristbands (necessary to score free drizzies), we made our way into the star-studded crowd and began to mingle. that is after Scott bestowed me with a "Blogga, Please!" button ... mmmBEST!

obvs, the party was a boatload of fun and I got to meet some super best VH-1 peeps, including Danny, My Blog Is Poop (aka Bob), Carolyn (who goes by the handle of Bojangles on the "BWE" blog), and Meredith. i also managed to hold court with all of the friends that I made on my previous visit to NYC back in January, and after a screening of Episode 13 and with confidence sufficiently built (and by "confidence", i REALLY mean "liquid courage"), your Uncle Grambo coerced Scott into introducing me to some of the show's talent.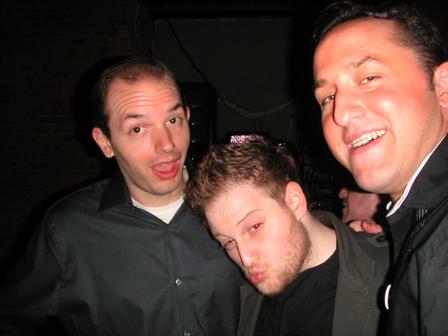 so. effing. revealed. i met a good number of the show's panelists, including John Modern Humorist, the OUTRAGEOUSLY SAUCY Jessi Klein and Paul Scheer (who actually said "obvs" to me!!!). tequila shots were downed ("Who wants to fuck me? WHO WANTS TO FUCK ME?!?"), convos were had, pics were taken (none by me, thanks to those lousy strippers who stole my digital camera), good times were revealed. some say coolest people evs. also peeped in the audience were the luminaries Chuck Nice, Sherrod Small, Billy Merritt, but unfortch I did not have the good fortune to meet any of them. so durst, yet I wasn't gonna let it drag me dizz...

at some point and after many Amstels / Makers + Coke, I put a call into my main squeeze Spiers and asked what she and her posse were up to on this extremely drizzly spring eve. plans were made to meet up at Public and then horror struck. as our posse sprinted down West 14th towards the only available cab in miles, the devil himself emerged from the street and struck down Lindsay in a blur. for reals, there was an eight inch (I know that size very well) piece of wrought-iron sticking out of the pavement and Lindsay unfortunately lost the battle with the shabby streets of NYC. to which I say, "Fuck you, Bloomberg! If we can't smoke in bars, you should at least make the streets safe for uber-hotties to run freely up and down!" though slightly dazed and slightly hurt, Linds sucked it up like a trooper and accompanied Jess and myself to Public, a bar I'm convinced was founded by none other than Swanky Swankerson. like, I'm talking SO swankadocious, I felt out of place ordering a PBR and instead classed it up and ordered a Coors Light (i keed, i keed).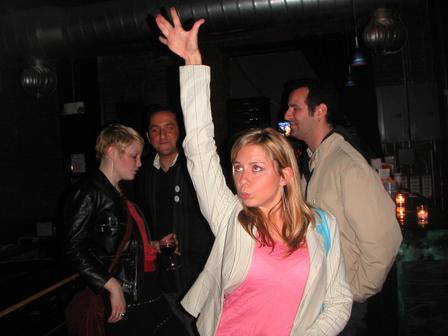 moments later, The Spiers descended upon the bar and tender hugs were exchanged. within moments, I had been introduced to some of the most exclusive members of the Bloggerati™, including the flat-out stunning Maccers, Krucoff (brains behind the Gothamist Interview), the incredibly dapper Manhattan Transfer and a posse of well-dressed and quite lovely British hotties (who's names are escaping me, as I was pretty lit at this point). again, witty pleasantries were bantered about, blogs were (briefly) discussed. you see, when you meet the people who you pattern your work after and who initially inspired you to create a blog in the first place, you tend to have TONS of questions to ask them ... the trick is NOT to come off as a total psychopants. unfortch, I failed on that account. one extremely CHOICE glass of champagne later (MT hooked your Uncle up with on account of Maccers' bday ... thanks again! so best!), I may or may not have met D-Nasty (can anyone confirm or deny?); about this time, I up and decided it was time to hit the hay. cabs were hailed, rides were split, and my head was on the pillow around 3:30am.


PHEW! yo, this is even more tiring than I thought it would be. but since the FOWs have been demanding a marathon session for the last two days, I thought it best to bring the heat. oh, btw, all pics courtesy of Scott StereoBestEver. tomorrow's installation will fully detail Saturday night and all its resulting best everness will be revealed.

posted by uncle grambo |
---
shmears. short ¶ stizz for maximum buzz in minimum time — shit be tight when you've only got three days to complete five days worth of work, yo.

first things first, bitches! BIG UPS to Kerry So Says I for her über-gracious invite to hit some Jimmy Kimmel Green Room buzz on Thursday night in LA! musical guest Snow Patrol! watch ABC for special guest appearances by your Uncle Grambo, Kerry So Says I, Retrobuzz and Foxy Jessica Blueprint Just Jazzercise. bovs!

Pixies. November 20. State Theater, Detroit. bovs [via The Grizz]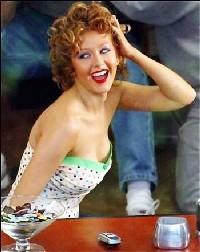 i'll have what she's having. Xtina fakes an orgasm for Richard Branson. too bad for Branson she's getting the Real Deal Holyfield from none other than Carmelo Anthony! [second item via Information Leafblower]

So that's what The Haggis has been up to! November 9, 2004 ... some say most anticipated November 9th evs! buzz.

"If I wanted to see somebody mime to music, I would have gone to Top of the Pops." Brit Brit's Whore-Tel Onyx Tour hits the UK and peeps are pissed. wait, "pissed" means "drunk" over there. what actually means "pissed"? where the bloody hell is Maccers when you need her?

buy this now. Nick Catchdubs - Just To Get A Rep. so hott.

Davy Rothbart (Found) will be on Letterman tonight! [The Real Janelle via The Grizz ... best connection evs! D-Troit to NYC back to D-Troit again!]

GINA LEE NOLIN SEX TAPE! wait, I just realized that I typed "Gina Lee Nolin" and not "Angelina Jolie" ... my bad, `pologies for the faux excitement.

note to self: it's a good thing that being orange is the new black, cuz those carb cheeks have no buzz! although it was hotter than Hades up in that bitch, mainly cuz of all the hotties!

"'Deadwood' sounds a lot like some of the stories in the (New York Daily) News." — New York Post ... oooooh, SNAP!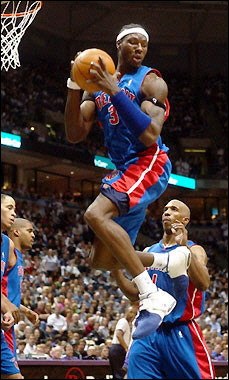 while the Boston Leafblowers got spizzanked in the first round, the Sacramento Coolfers, the New Jersey Catchdubs and the Detroit Whatevs are all lookin' strong heading into Round Two. speaking of The Leafblower, somewhere in North Cackalack he's crying himself to sleep. bye bye Deng!


best book summary evs! Kevin Spacey's brother, Randall Fowler, is, according to the London Mail on Sunday, writing a book called "I'm Spacey's Brother Whether He Likes It Or Not." In it, the failed musician will recount Spacey's bizarre upbringing at the hands of a Nazi homosexual rapist. [lifted directly from Anonymous Outsider]


there's a new David Foster Wallace jawn coming soon to bookstores near you. HOTT! [via Choire Gawker]


OnStar and XM Buzz in Business 2.0.


score another home run for my fine feathered friends at 1115.org for their excellent coverage of the Tami Silico / flag-draped coffins controversy. and while we're on this topic, I'm VERY surprised this story isn't getting more run. in addish, people who are all irate about Michael Moore's analogy comparing Iraqi insurgents to American Revolutionary colonists should realize that this is all part of his strategy to get people riled-up for the Cannes debut of "Farenheit 9/11" ... bovs.


Elton John thinks "American Idol" voters are "incredibly racist". all this b/c Jennifer Hudson was voted off last week. shit, haven't we already heard this controversy before back when Tamyra was booted in faves of Kelly Clarkson? if she (meaning Tamyra) was SO talented and SO robbed, where's her big recording deal? or, better yet, where's her self-produced DIY album not made with the influence of major labels? she rode that controversial buzz to a job guest starring on a few eps of "Boston Public" and then promptly fell off the face of the earth. Jennifer Hudson should learn from Tamyra and do what it takes to spin this controversial buzz in her favor; if she doesn' and get a great deal out of it. so what I'm trying to say is this: Elton John, I'm ashamed of you. you should know better than to brand an entire country racist just because of the results of some silly TV show. snatch.

posted by uncle grambo |
---
if there was any doubt in anyone's mind that Eminem is the most successful musical artist of this era, the incomprehensible success of D12's latest single, "My Band", should erase those doubts. the first single off of "D12 World" (in stores today) is quite possibly the single most unlistenable song to hit the airwaves since "Afternoon Delight", yo. the sheer unadulterated lack of effort on behalf of Eminem and his D12 cohorts virtually floods through the speakers in your car radio when this song is on the airwaves. FCS, Hoobastank's "The Reason" sounds like fookin' "Eleanor Rigby" when compared to "My Band"!! even Damore, who normally avoids all conversation about Top 40 music, launched into an epic rant against this song and labeled D12 as "douchebag wannabe tourists". yet, for some reason, the song has remained perched at or near the top of the TRL charts for weeks. so what gives?

your Uncle Grambo has devoted considerable time thinking about the subject, but I've never really been able to put my finger on the reasons why. this is why I thank Yahweh for blessing our civilization with a little invention I like to call "electronic mail" ... just this morning, the following explanation of the success of "My Band" arrived in my inbox from a fellow you all know as The Gorilla! here goes, pls enjoy...

---




reasons you hate this song (other than "because it blows")
by THE GORILLA


I figured out why that new D12 song, "My Band", is blowing up mad huge.


I'm not a big D12 fan, but I think "My Band's" popularity is based on the fact that it's ... a parody of a Weird Al song.


Honestly, I'm not sure which Weird Al song, but it's most def, Weird Al.


Maybe something from Polka Party or the one where he was the Amish Coolio... I just can't put my finger on it.


I should go on record that I was once a huge Al fan, in grade school I had all his cassette tapes, and even saw him open for the Monkees at the Knob. But as I grow old and crotchety, I've generally come to the conclusion that Al can be funny ("UHF" for example has its moments), but generally he's trying too hard and his execution isn't really up to the high concept joke he's trying to pull off.


If you still don't believe Eminem is the new Weird Al check this out.


"My Band" is high concept parody of low culture, in this case boy bands. I think Al's even done this already, probably even back in the New Kids days.


It has an annoying, but catchy melody-you can't get it out of your head even though you didn't want it there in the first place.


Most of the lyrics, especially the chorus are punctuated by an irritating vocal that appeals to 10 year old boys and then gets thrust on everyone else even though we didn't ask for it and don't want it. It may be tentionally irritating, but it is still irritating any way you slice it up.


The song is littered (as is much popular hip-hop to be fair) with random pop culture references some so current, in six months they'll date the song (Jessica Alba is a dated reference already, isn't she?) or completely obscured from its intended audience, the references to the Real Roxanne and Roxanne Shanté, are similar to when Weird Al busts out a "Father Knows Best" reference in like a Green Day parody. 10 year old boys don't know "Roxanne Roxanne" or "Roxanne's Revenge" nor do they appreciate the subtle acting of Robert Young from a show that debuted before there parents were born.


Then the piece de resistance a random part that's suppose to be funny has nothing to do with the song and isn't funny. The "Mexican" part at the end of "My Band" might actually be Weird Al, at the very least he should get royalties on it.


All of that said, there's nothing wrong with being the next Weird Al, he makes a lot of money, he's generally harmless, he pokes fun at entertainers with inflated egos and he's probably better for kids than most of the people he makes fun of. Maybe Eminem is just trying to "beat Al to the punch" which is fine, but really maybe deep down inside he just wants to be Weird Marshall. I say more power to him, as long as he realizes that being "Weird" he's no longer cool, bad ass, credible or REALLY funny, just funny in theory. Or maybe he's just using his colossal star power to pawn off crap with D12 to make a quick buck and not "technically" have his name attached to it.


---
posted by uncle grambo |
---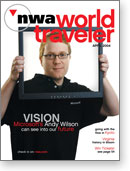 while I've never really been all too concerned with maintaining any sort of Indie Cred (mainly cuz I'm a total square), your Uncle Grambo is here to admit that I was pretty freaked out after learning that there's some random renegade corporate chump ass at Northwest Airlines that is like 17,000 times hipper than me. while flipping through this month's edition of nwa World Traveler, I found myself brought thisclose to tears when reading the playlist for their "Independent Spirit" inflight music channel. described as "alive and kicking with a selection of current and classic indie rock", here is the playlist.

disappearer - SONIC YOUTH / worldwide - JET BY DAY / the crowing - COHEED & CAMBRIA / she gives me love - THE GODFATHERS / big brat - PHANTOM PLANET / there's a ghost in my house - THE FALL / you'll be on your own - ALL NIGHT RADIO / sesame, shmesame - THE EARLY NOVEMBER / promises promises - THE COOPER TEMPLE CLAUSE / friday night - THE DARKNESS / friday i'm in love (viernes voy por ti) - ICARO AZUL / just once more - DRESSY BESSY / the things that you say you do - DRESSY BESSY / inside of love - NADA SURF / the quiet things that no one ever knows - BRAND NEW / cherry blossom girl - AIR / sweet potato - SIA / smack - BETTIE SERVEERT / blood red summer - COHEED & CAMBRIA / blue star - LOS HALOS / still in love song - THE STILLS / float on - MODEST MOUSE / the gymnast, high above the ground - THE DECEMBERISTS



damn, yo. time to take stock ... so okay, i've definitely heard of a few of these bands (Sonic Youth, Phantom Plizz, The Fall, Cooper Temple Bests, The Darkness, Nada Surf, Air, Bettie Serveert, The Stills, Modest Mizz, The Decemberists). i guess that's the good news. unfortch for me, the band news is I can only cop to having actually HEARD an almighty four of these songs ("big brat", "friday night", "cherry blossom girl", "still in love song")!!! while I've always been proud to be a pop music afficianado (i cannot nor do i want to get Beyonce's "Naughty Girl" out of my head), reading this list and measuring my relative hipness against it on the flight back home from NYC was a real come to Jesus type moment. no soup for me. how'd you fair?

posted by uncle grambo |
---
Monday, April 26, 2004

i just took like ten Cialis pills because I'm going to need to sustain a 36-hour erection in order to compose the biggest blogfucker post in the history of the world. while I wait for those bitchest to kick in, here's some PHC for all of your sexy bods, yo.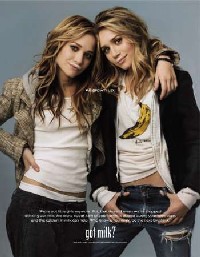 so hott. i just went out and bought a gallon of whole milk at lunchtime ... and who knew that Mary-Kate was a VU fan? i bet she listens to "Loaded", like, all dizz. lord knows I do. bovs.

Anonymous Outsider is reporting that Elvis Mitchell is leaving the NYT for the Chicago Tribune ... definite downgrade, yo. howevs, this blogger would've LOVED to have seen him make a grandiose return to The Detroit Free Press, where he worked in `87 and `88. not because I'm really a big fan, it's just that I'd REALLY like to see Terry Lawson kicked to the curb. some say most despised film critic evs.

somebody PLEASE tell me that they officially moved April Fools Day from the 1st to the 26th ... how else can you justify an entire article on the altogetherly fake-sounding trend called "klumping"??? get this, apparently "krumping" is an unholy stew in which clown make-up and hip-hop dancing have merged. wait a sec, did you read that? CLOWNS AND HIP-HOP DANCING? what tha FIZZOOK is going on in the world today that would allow a dancing clown to achieve any sort of prominence whatsoevs? especially when the originator of the trend is quoted as saying "The clowning and the krumping dance movement, it is a very positive thing because it really does keep kids off the streets." some say it's preferable that our nation's youth ODs or gets tossed in the pokey than to be caught "krumping" ... no fucking buzz!

Mario vs. Donkey Kong for the GBA! [via Nick Catchdubs]

he was a boy Prince, she was a girl mopey pop star. can I make it any more obvious? is Prince Harry gettin' in Avril Lavigne's low rise jeans?

Lindsay Lohan ... hubba to the hubba, Chesty McChesterston style. meanwhile, Tina Fizz needs to mix in a cheeseburger or two every now and then. while your Uncle Grambo appreciates the effort to keep it rizz all South Beach stizz, my bet is that she hasn't been at this fighting weight since age 14. it's far better to be healthy than to be thin, believe it.


here's some faux bloodlines that I can really appreciate. Heather Locklear to portray Hillary Duff's mom in an upcoming film. some say best mother / daughter combo since Bynes and Kelly Preston, "WAGW" stizz. shmears.


The Grizz gets all diverse up in this piece with an article on how high school kids prepare for their SATs / ACTs while also contributing a review of the new Jack White produced Loretta Lynn jawn in recent editions of The DetNews. quoth The Grizz on the latter, "(The record) shines a spectacular light on one of music's finest treasures ... Everybody loves a good comeback, and 'Van Lear Rose' is the comeback album of the year so far."


Bjork gets her iPod "stolen" and whines about it for days, only to realize that she hadn't even lost it in the first place. who knew she was so materialistic? especially for someone so effing rich! i mean, it's not like you heard your Uncle Grambo complaining for days and days after strippers stole my digital camera! lousy strippers.


as soon as this Cialis hottness kicks in, be prepared for all kindsa blogfucking buzz. schmobvs on your beautifully dirrrty tees.

posted by uncle grambo |
---
then again, er, not so much. fuck, this weekend was off the chains. it WILL be recapped at some point today, just not right now. thanks to everyone who once again provided your Uncle Grambo with the BEST WEEKEND EVER ... remind me again why I live in Detroit? but before I go, I would like to take a moment to thank whoever slipped roofies in my drink on Saturday night, cuz I went from zero to totally fucked up in like four seconds, for REALS. allz i know is that I was eating dinner next to Carlos D at 9pm and the next seven hours flew by in a snap. big ups to everyone who came out, you will be thanked publicly and personally at some point later today.

until then, I am spending ALL of my energy into pretending that I won't be spending the next three days at work either:
A) recapping this past weekend and resulting insanity in my head over and over and over and over and over again
B) frothing at the mouth in anticipation for my trip out west for Coachella.

some say even more buzz than Lindsay Lohan on MTV Diary ... shmears. [buzz courtesy of That's Just Not Right, natch]

posted by uncle grambo |
---