Friday, June 27, 2003

been having some difficulty w/Blogger this morning. apologies for the lack of posts. more Evan Dando pics to follow, but here's a taste from his perf @ The Bowery Ballroom on June 12th, 2003.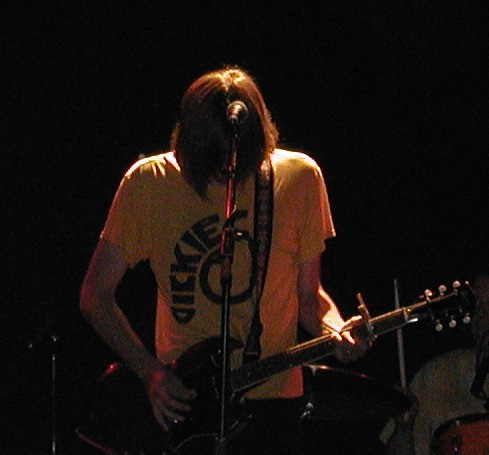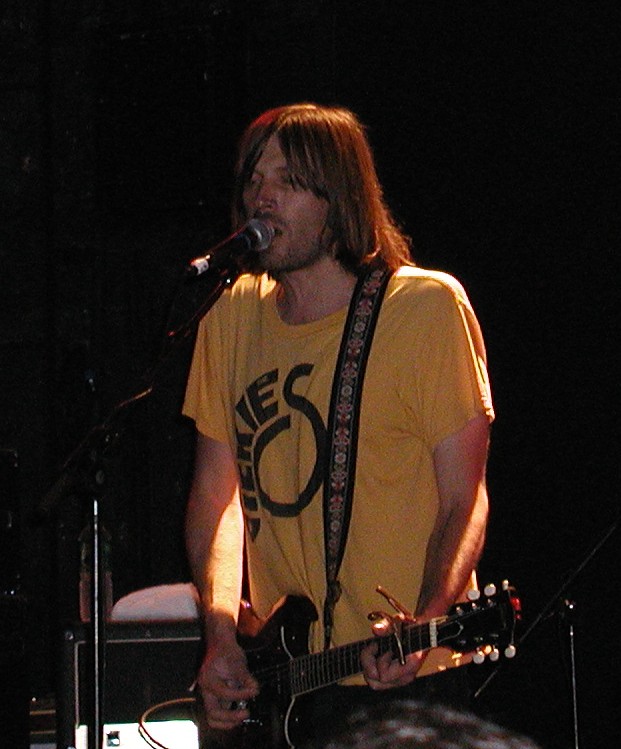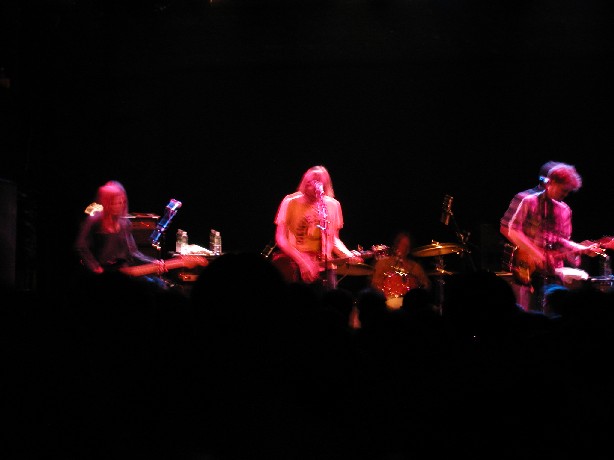 posted by uncle grambo |
---
Thursday, June 26, 2003

want to touch the heinie! when Anna Kournikova dropped out of this year's tournament, the British tabs decided to focus their attention on 18 year old American Ashley Harkleroad for reasons that are supremely obvs. dubbed "The Britney Spears of Tennis", this hott ass (literally!) hottie has a very promising future on the tour, despite losing to another hottie, Maria Sharapova, in this year's first round. whatevs.org would like to wish both Harklebest (the two at left) and Sharapova (at right) the best ... can't wait for the US Open!

---
"Letís just say you reach a stage in your life where you are curious. And I was curious at one point. But Iím way too focused to let anything stop me. Was it a mistake? Yes.Ē Brit Brit all but admits that she's dabbled in coke. in the same interview, she also candidly discusses her high profile flings with Colin Farrell and Durst. a must read for any Brit Brit fan.


who are the Casting Wizards who came up with this one? Zap2It is reporting that Chris Katan and Parker Posey are set to play a couple in an upcoming film described as "When Harry Met Sally" meets "Kissing Jessica Stein." more like Mango meets Party Girl. more like "The Investors' Money" meets "Straight To Video" !!! as much as I love Parker Posey, this is what I like to call a must-miss.


flashback: the last Limp Bizkit album was called "Chocolate Starfish and The Hot Dog Flavored Water." holy durst. worst album title evs?


speaking of Durst, i'm sad to report that it appears that Pammy dumped Kid Rock for Durst. just goes to prove how SARS Pammy is. take your Hepatitis-C and stay the eff out of MI, you salined hosebeast from hell!


what's even hotter than Dunst standing in an alleyway with a see-through blouse, "Spiderman" stizz? how about Dunst on Centre Court at Wimbledon wearing a tennis skirt? let the drooling commence ... NOW!


in movie sequel news, keep your fingers crossed for the potential return of Chucky to the big screen, not to mention Matt Damon returning as Jason Bourne in "The Bourne Supremacy" ... in case you missed "The Bourne Identity" last summer, you should seek it out at your local video store. if you can look past the fact that Damon has absolutely zero on-screen chemistry with Franka Potente, I think you'll find it to be one of the most refreshing espionage films to come along in years (esp. if you've found the last few Bond flix to be SARS).


and in their latest attempt to alienate their customer base, the RIAA has announced that they will begin to sue individuals who offer to trade "substantial" collections of MP3 online. the group's president, Cary Sherman, refused to answer the question of how many songs on a user's computer would qualify for a lawsuit, but promised that people who utilize file sharing services will expose themselves to "the real risk of having to face the music." not surprisingly, this announcement comes just weeks after the U.S. appeals court rulings that require Internet providers to identify subscribers suspected of illegally sharing music and movie files. while I am certifiably pissed at this announcement, I'll let the more educated FOWs (calling The Gorilla and C Friggs!) weigh in with their thoughts. i want to blame John Ashcroft for this ... am I allowed to?

posted by uncle grambo |
---
Wednesday, June 25, 2003

this one comes from the "No Effin' Way" department. NME.com reveals that former Charlatans frontman Tim Burgess is set to release a solo album that features appearances from P. Diddy, Lil' Kim, J. Lo, Snoop Dogg and Beck!!! i say no effin' way. i can't possibly imagine a day when Diddy Style EVER rocked out to "Tellin' Stories." you think that J. Lo has got a copy of "Melting Pot" in her Bentley? no fookin' way. this story reeks of bullshite. what's next, is the lead singer from Ocean Colour Scene going to release a single featuring posthumous vox from Makaveli and Biggie Smizz?


Miss Modernage poses the question of "Who's Hotter: Beyonce or Ashanti"? it's more than obvs that the answer is Beyonce! not even close. remember the revelation of Ashanti sans makeup? yuck.


looks like Bobby Brown and Whitney Houston must be spending more time than usual in Germany. a recent study indicates that almost all Euro banknotes circulating in Germany contain traces of cocaine. "how did this happen?", you ask. well according to the rocket scientists who wrote the article, "notes (are) rolled up by users to snort the illegal drug." you don't say!?! Euro buzz! almost as tatts as using a hundy! if you've got a Eurorail pass burning a hole in your pocket and a few grams to spare, be sure to collect the Spanish peseta and the Irish pound (respectively the two highest coke-contaminated forms of currency). props to The Gorilla for forwarding this article along.

posted by uncle grambo |
---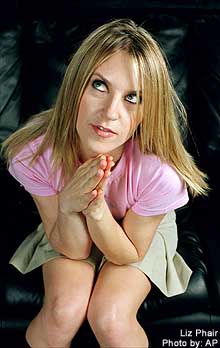 just when you thought that Liz Phair couldn't be bashed anymore, legendary New York Post gossip columnist Liz Smith takes a few shots at the divine Ms. Phair. and The Velvet Ropers are having a god damn field day tearing Liz down, including some very nasty comments about her performance on Leno last night (which I missed, WORST!).


George Costanza (aka Jason Alexander, but does anyone really care what his real name is?) has been dumped as the pitchman for KFC. apparently he put up a fuss when some suckas from PETA told him about the cruel and unusual way that KFC treats his chickens. well DUH! news flash! let me explain the process to you, George. you see, chickens are raised, then killed, then breaded, then eaten by humans. apparently this was something that he didn't realize before.


i always knew this dude was a square. Tobey Maguire admits that he loves the bottle a little too much and is a full-fledged member of AA. Rush & Molloy also speculate that Tobey's teetotaling ways cost him his relationship with Dunst. what a dumbass! let's see, should I:


a) go out with Dunst, get hammed and then get on her
— OR —
b) go home, fix myself a tall glass of milk and watch reruns of "Just The Ten Of Us"


hmm, tough decision. Tobey. what a DB.

posted by uncle grambo |
---
Em imitates the Wacko Jacko baby dangling incident. should we start calling him Tighty Whitey?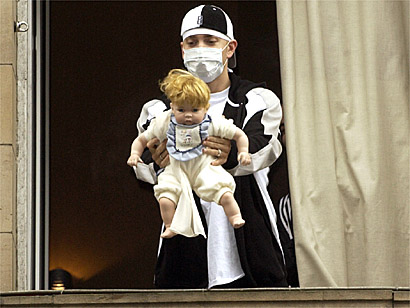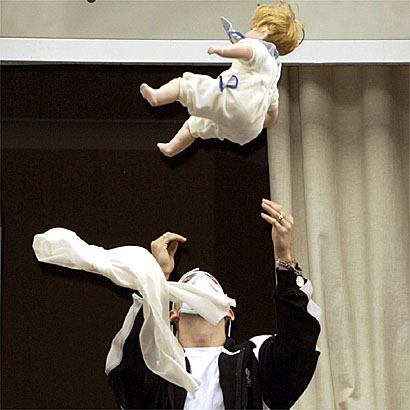 (pic courtesy of Ananova)

posted by uncle grambo |
---
Tuesday, June 24, 2003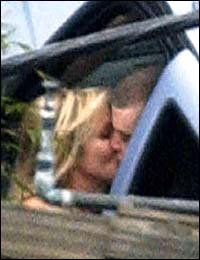 while I still doubt the rumour's validity, peeps evs are beginning to wonder aloud whether or not Justin Trousersnake and Cameron "Oxy" Diaz are indeed a couple. this news was first revealed in a post-hangover VM from Mandypantalons on Sunday morning, and I doubted the authenticity of the buzz until pictures could prove it. well thanks to the MJ Morning Show (don't even ask how I stumbled upon this jank ass website), I would like to proudly reveal the photo at right of the two suckin' face. as cool as I think that J. Timbo is, he's not even 1/3 as best as Jared Leto. this reeks of a publicity stunt, obvs.


just when you thought you'd never be able to purchase a telephone that plays "Karma Chameleon" instead of ringing, think again! (link via Stereogum)


not that their opinion should mean anything to anyone, but Rolling Stone gives the new Liz Phair record three stars.


as a follow-up to their review of the 50 Best Magazines (see also my list), the Chicago Tribune compiled some reader responses to this overwhelmingly popular list, including The Economist, Real Simple and Scientific American. (link via Romenesko)


in conclusion, i must admit that i'm fascinated with the recent resurgence of PBR (that's Pabst Blue Ribbon to the common man) as the hipster drink du jour. and lest you think that it's just Lower East Side dwellers consuming this beer by the can, local FOW fave Nummer has professed his admiration for the beer that was considered deader than dead a mere six months ago. well thanks to Mandypantalons, I discovered an article from this weekend's New York Times Magazine called "The Marketing Of No-Marketing." frequent Slate contributor Rob Walker wrote the piece about how PBR's marketing execs transformed and rebuilt the brand and the imminent danger of hipster backlash (you see, Ashton Kutcher has been spotted drinking PBR and, I believe, even sporting a PBR shirt on Punk'd). while his article is quite well written, I find the fact that the PBR corporate staff is taking credit for the buzz to be utterly laughable. obviously they've never read nor studied Malcolm Gladwell's book entitled "The Tipping Point", or else they'd be on their hands and knees thanking the Connectors, the Salesmen and (to a lesser extent) the Mavens. what a bunch of fookin' poseurs. knowledge is power! out..


(EDITOR'S NOTE: Welcome to all of the first-time visitors searching for pics of Justin Trousersnake suckin' face with Cammy Diaz. i hope that all of your hearts are content with this utterly salacious papparazzo snappage. thanks to Miss Modernage for the props!)

posted by uncle grambo |
---
Madonna. tennis pro Amy Frazier. 1984 olympian Michelle Berube. hott ass model (and former girlfriend of Leo DiCaprio) Kristen Zang. your very own Uncle Grambo. Rochester Adams High School is known for churning out talented peeps in all sortsa areas. now it's time to add another name to that list. Kristin Ellis, Class of `97, is appearing on Fox's Paradise Hotel! this was revealed by The Grizz last night, as were rumours of FOWs who (and I quote) "got on her." those FOWs shall go unnamed in print, but you know who you are. mad props.

posted by uncle grambo |
---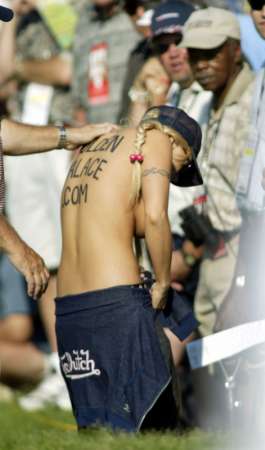 remember Mateen Cleaves? apparently no one in the NBA does. this morning, The Freep's Jemele Hill reports that Mateen has been released by the Sacramento Kings and is currently looking for a new team. hmmm, i wonder if any GMs interested in a short, slow point guard with 15 foot range on his jump shot? not so much.


i don't know how many golf fans represent on whatevs.org. my guess is not a whole helluva lot. regardless, did anyone catch Jim Furyk's US Open triumph a few Sundays back? personally, i thought it was the dullest final round of a Grand Slam event that i've seen in years ... except of course for the hot blonde streaker with Goldenpalace.com inked on her back! Slate.com's Rob Walker analyzes the value of insane marketing stunts like this, and the Golden Palace website reveals uncensored photos of the topless hottie while she preps for her streakage! note, this is TOTALLY NOT SAFE for work.


well, it's only a matter of time before the new Harry Potter spoilers become revealed. anyone who's anyone knows that a "major" character dies in JK Rowling's "Harry Potter and the Order of the Phoenix." inevitably, young kids everywhere will be upset. be grateful that The Grizz reveals ways that parents can deal with their children on this issue.


MTV.com reports on two rumours this morning. in what wins this morning's award for Best Rumour Of The Morning, things look promising for "Old School 2" !!! in what wins the award for Worst Possible Rumour Evs, word is spreading that the two upcoming Outkast solo albums are being turned into a movie musical!!! gag me with a spizz!

posted by uncle grambo |
---
BRUCE SPRINGSTEEN!
SEPTEMBER 21, 2003 @ COMERICA PARK
TIX ON SALE AUGUST 2


June 23, 2003

BRUCE SPRINGSTEEN AND THE E STREET BAND ANNOUNCE FIVE MORE 2003 STADIUM TOUR DATES
AS WORLDWIDE TICKET SALES APPROACH A REMARKABLE THREE MILLION

Special series of concerts in August and September include first rock concert ever held at Boston's Fenway Park; baseball parks in Chicago, Detroit, Milwaukee; stadiums in Buffalo and Chapel Hill

Bruce Springsteen and the E Street Band announce five additional stadium concerts in the US. The newly announced stadium concerts, scheduled for August and September, include the first rock concert ever held at Boston's Fenway Park, as well as concerts in three other Major League ballparks: Chicago's Comiskey Park, Detroit's Comerica Park, and Milwaukee's Miller Park. Kenan Stadium in Chapel Hill, NC and Ralph J. Wilson Stadium in Buffalo, NY are also on the itinerary.

These dates extend Bruce Springsteen and the E Street Band's 2002-2003 tour - widely considered the best and most successful in the world of the last year. Since it began on August 7, 2002, Springsteen and the E Street Band have sold an astonishing near-3 million tickets worldwide, including 1.1 million on their current 24 date, 13 city European tour and 900,000 so far for this summer's US stadium tour. Additional stadium dates will be announced in July, with the tour expected to end on or around September 30.

Tickets for several of the new shows - Comiskey Park, Miller Park and Kenan Stadium -†go on sale Saturday, June 28. Visit www.ticketmaster.com or contact individual venues for specific on-sale information.

Bruce Springsteen and the E Street Band - New 2003 U.S. Tour Dates:

Date Venue City On-Sale
August 13 Comiskey Park Chicago, IL June 28
September 6 Fenway Park Boston, MA June 27
September 14 Kenan Stadium Chapel Hill, NC June 28
September 20 Ralph J. Wilson Stadium Buffalo, NY TBA
September 21 Comerica Park Detroit, MI August 2
September 27 Miller Park Milwaukee, WI June 28

Besides sold-out success in Europe, Springsteen and the E Street Band are grabbing peak critical notice, with London Guardian calling the Band's recent show at Crystal Palace Athletics Ground "impossibly stirring," and The London Times summing it up as "three hours of sustained brilliance -- five out of five stars."

The concert prompted the Daily Telegraph's David Cheal to remark, "Whenever I witness one of Bruce's live appearances, everything else I've ever seen seems like the work of rank amateurs."

Elsewhere in Europe, the Netherlands' Algemeen Dagblad wrote of Springsteen and the Band's show in Rotterdam, "Springsteen made clear from the first note that he remains one of the best stadium artists in the world."

French publication Sud Ouest called Springsteen "King of the Stadium."

Springsteen's latest album, 'The Rising,' was released by Columbia Records on July 30, 2003. You can buy it online by clicking the link below:

http://www.sonymusicstore.com/store/catalog/MerchandiseDetails.jsp?merchId=4008

# # #

Bruce Springsteen and the E Street Band
2003 summer concerts announced to date are:

Date City Venue
July 15, 2003 East Rutherford, NJ Giants Stadium
July 17, 2003 East Rutherford, NJ Giants Stadium
July 18, 2003 East Rutherford, NJ Giants Stadium
July 21, 2003 East Rutherford, NJ Giants Stadium
July 24, 2003 East Rutherford, NJ Giants Stadium
July 26, 2003 East Rutherford, NJ Giants Stadium
July 27, 2003 East Rutherford, NJ Giants Stadium
August 1, 2003 Boston, MA Gillette Stadium
August 2, 2003 Boston, MA Gillette Stadium
August 6, 2003 Pittsburgh, PA PNC Park
August 8, 2003 Philadelphia, PA Lincoln Financial Field
August 9, 2003 Philadelphia, PA Lincoln Financial Field
August 11, 2003 Philadelphia, PA Lincoln Financial Field
August 13, 2003 Chicago, IL Comiskey Park*
August 28, 2003 East Rutherford, NJ Giants Stadium
August 30, 2003 East Rutherford, NJ Giants Stadium
August 31, 2003 East Rutherford, NJ Giants Stadium
September 6, 2003 Boston, MA Fenway Park*
September 13, 2003 Washington, DC FedEx Field
September 14, 2003 Chapel Hill, NC Kenan Stadium*
September 20, 2003 Buffalo, NY Ralph J. Wilson Stadium*
September 21, 2003 Detroit, MI Comerica Park
September 25, 2003 Denver, CO Invesco Field at Mile High
September 27, 2003 Milwaukee, WI Miller Park*

*Denotes newly announced dates

# # #

Visit Bruce Springsteen online at:
www.brucespringsteen.net




If you do not wish to continue receiving this newsletter, Click here to unsubscribe.

Copyright 2003, Sony Music Entertainment Inc.
Privacy Policy
posted by uncle grambo |
---
Monday, June 23, 2003

legendary FOW Buddy Lembeck and Vince "Earmuffs" Vaughn!


posted by uncle grambo |
---
last night marked the highly anticipated return of Project Greenlight on HBO. the episode was devoted to Ben, Matt and Chris Moore interviewing the both the screenwriter and director finalists, so the Drama For Your Mama quotient was relatively low. J. Lo and Harvey each made brief appearances, but the highlight of the show (easily!) was seeing the return of Jeff Balis on the "This season on Project Greenlight" mini-commercial. No word on whether or not Pat Peach or Biagi will return, but Pete Jones is certain NOT to return. personally, I'll miss his lummox-y ways and total lack of talent whatsoevs, but this season promises to be interesting. based on last night's clips, i'm finding it hard to understand why the director tag team of Kyle Rankin and Efram Potelle were chosen over BOTH Jessica Landaw and Dagen Merrill, but hey, what do I know anyway?


more Liz Phair bashing. the curator of Liz fansite Mesmerizing took the time to type out the entire transcript to an interview Liz did in this month's GQ, one which reveals that some record exec had the audacity to make Liz try on various outfits for him!!! durst!


yesterday's NYT revealed what is sure to become the latest buzzword — metrosexuals! as described by Warren St. John, metrosexuals are "straight urban men willing, even eager, to embrace their feminine sides ... guys who (are) into Diesel jeans, interior design, yoga and Mini Coopers, and who would never think of ordering a vodka tonic without specifying Grey Goose or Ketel One." sounds like an entire group of Aaron Peabody clones! best!


just when you thought you'd never read an article praising the dry heaves, think again.


fresh off the buzz she generated by rollerblading by Uncle Grambo and Damore as they lunched at Cafeteria in NYC, The Los Angeles Times profiles the enigmatic indie icon Parker Posey.

posted by uncle grambo |
---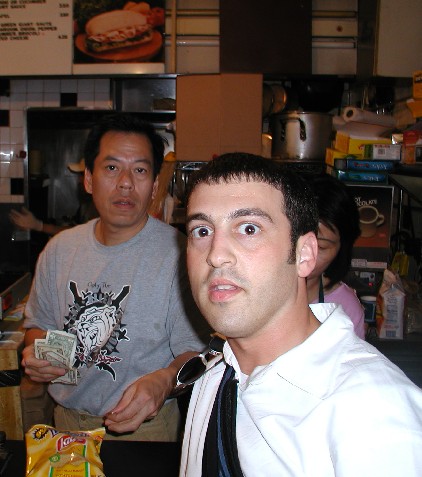 as promised. more snaps of our trip to NYC to follow this evening, but I couldn't resist the urge to publish this one right away.


in other breaking news:


posted by uncle grambo |
---
unfortunately there's still no word on whether or not Becks thinks that John Navarre has a shot at the Heisman this year...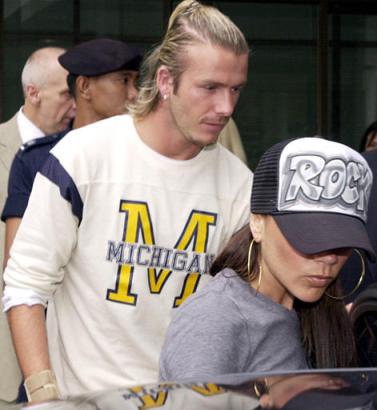 (Props out to MacK10 for forwarding this along!)

posted by uncle grambo |
---
first things first, HUGE props out to Mandypantalons and The Grizz for their epic summertime bash on saturday night. i believe that I am speaking for everyone when I thank them for throwing the biggest pajama-jammy-jam since "House Party II." the convergence of FOWs from different social circles proved to be extremely boombalatts, obvs. and the highly anticipated reunion of Immerse proved to be monumentally tigs. props props props all around. on with the show...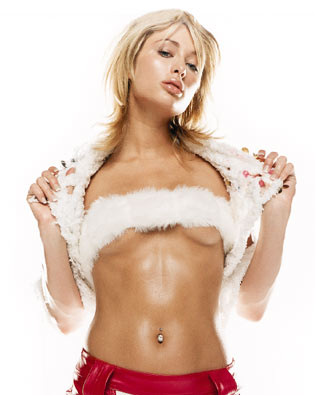 on saturday afternoon, the latest issue of Entertainment Weekly arrived in my mailbox. i was flipping through their latest incarnation of "The IT List" when I noticed that Gawker was named "The IT Blog" ... believe me when I say that the blinding jealousy only lasted for a few minutes. then as I was reading the Sunday edition of The New York Times, I noticed that Sarah Hepola wrote an article on the return of "Sex And The City" ... which just happened to be the LEAD article in the Arts + Entertainment section! again I was overwhelmed with a few minutes of blinding jealousy, which casually subsided when I realized that she's a fantastic writer (who I've admired from afar for months) who deserves a good break. but how about that? two of whatevs.org's favourites getting mad publicity props in the same weekend ... i say buzz.


speaking of buzz, Paris Hilton (patron saint of Glamorama) has got it in spades. she's on the most recent cover of Radar, she's got a new reality show coming out, and EW named her "The IT Rich Bitch." too bad she's allegedly dating the lead singer of Sum-41. be careful Paris, dating Canadian punk rock poseurs has NEVER helped anyone's career.


it's not surprising to see that most of the reviews of the new Liz Phair record have contained ample amounts of negative buzz. i'm still a defender of the record, but I gotta admit that it hurts to see articles like "An Exile In Avril-Ville", published in Sunday's NYT. Meghan O'Rourke's article is only three paragraphs old when she calls Phair's new direction "an embarrassing form of career suicide." ouch. at least Entertainment Weekly bestowed it with an A-, saying that it's "an honestly fun summer disc with plenty of dark crevices ... a fascinating exercise in just what it means to act your annum in these age-unspecific times." we'll see how first week sales go (the record hits stores tomorrow), but I'm guessing that this record will barely debut in the Top 200. the first single, "Why Can't I?", hasn't even made a dent in the cultural conciousness of its target market. witness The VH-1 Top 20 Music Video Countdown, which shows no love for Liz...

posted by uncle grambo |
---