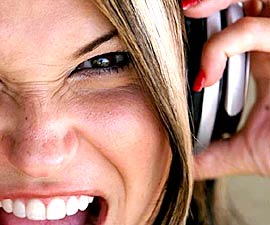 posted by uncle grambo |
---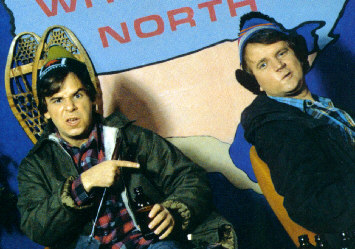 as loyal FOWs surely know by now, i'm takin' off to the great white north for this weekend's Toronto International Film Festival. i'm going to try and bring you buzz straight off the streets of Toronto with some timely postings, mini-reviews, celeb sightings and maybe even some digital photos. i'm bringing a lap-top along with me so i can post, but frankly, i'm not sure if i'll have internet access. so what i'm trying to tell you is that the posts WILL be coming, but whether or not they all make it up this weekend is currently TBD. the grizz and i are still trying to figure out what screenings are in the cards, but currently on the list of films we are going to attempt to see are the following: "8 Mile" (Eminem + Curtis Hanson = Obvs!), "Gerry" (latest from Gus Van Sant), "Frida" (starring Salma Hayek and heavy with Oscar buzz), "The Good Thief" (world premiere from Neil Jordan), "Secretary" (Spader + Maggie Gyllenhaal buzz), "City of God" (Jeffrey Wells called it "easily the best movie I've seen this year. It's the freshest and most exciting, the most absorbing, the most ahead-of-the-curve…"), and "Bowling For Columbine" (Michael Moore pairs up with Marilyn Manson), to name but a few. it should be tiggs mcsquiggs, for sheezy my neezy. obvs. l8s!

posted by uncle grambo |
---
last post for a few hours. the day is starting to careen out of control and i wanted to get this one in. NME reveals that Morrissey is in talks with Rough Trade and that a new album might be on the way in the not too distant future. Rough Trade would be a great place for The Moz, as it currently is home to artists like The Strokes (at least in the UK) and Belle and Sebastian. rumours are swirling that the album is complete and will be titled "irish blood, english heart"...best!

posted by uncle grambo |
---
life is a constant learning process. and i can assure you that the time you so graciously share with whatevs.org will help increase your knowledge so that you may become one with the universe...or whatevs. anyway, faithful FOWs no doubt have found that their conversational skillz have increased in pop culture subject areas like celebrities, movies and music, but please note that i also take the time to talk about scientists, literature, sports and other topics. and branching off into an even different direction, i would like to refer you to an excellent article on design, courtesy of the LA Times. but since i don't want to stray too far from what butters my bread, this article talks about architectural design and even a little dose of real estate as it relates to the stylin' pad that the latest bunch of "Real World" kidz will be living in...Vegas style. there will be a quiz, so prepare well.

posted by uncle grambo |
---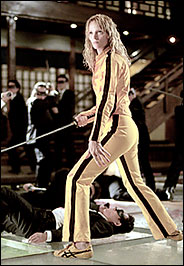 while Harry Knowles from Ain't It Cool News has been there and reporting for a few weeks, Rick Lyman from The New York Times is the first reporter from a major media outlet to report from the set of Quentin Tarantino's "kILL bILL", currently filming in china. lyman scores quotes from producer extraordinaire Lawrence Bender, as well as QT himself. the movie sounds pretty epic, and lyman goes to lengths to describe an intricate Steadicam shot that sounds even more ambitious than anything Scorsese or PT Anderson have even dreamed of. as reported here on whatevs.org a few days ago, "kILL bILL" is slated for release in october 2003 and stars Uma Thurman, David Carradine, Sonny Chiba, Lucy Liu, Vivica A. Fox and Daryl Hannah (among others).


and while we're on the topic of cool movies soon to hit the big screen, word comes from the aforemententioned Ain't It Cool News that Shaolin Soccer won't be opening in the US any sooner than April 2003. The Blair Zip (one of Harry's reporters) attended a recent screening and said that the film plays well and has only slightly been edited, not chopped to bits as previously reported. again, i would love to be able to report on this film live from the Toronto Film Festival this weekend, but it won't be playing until midnight on Sunday, when I will be on my way back to D-Town USA.

posted by uncle grambo |
---
Wednesday, September 04, 2002

best

posted by uncle grambo |
---
now THAT'S what i call "junk in the trizz"

posted by uncle grambo |
---
the dixie chicks are kickin' ass and taking names. their new album, "Home", debuts on this week's Billboard charts at #1, selling more than 779,000 copies according to tonight's Allstar Daily Music News. this sets a first week sales record for any female group in history, which is especially surprising because The Chicks haven't been getting any Nashville love since their mongo squabble with Sony. i bought the record last week and gave it a listen last night for the first time, and i must admit that i was impressed. their take on fleetwood mac's "landslide" is very stellar and surpasses the smashing pumpkins' version. and track #3, "travelin' soldier", contains some of the most emotionally stirring vocals and lyrics that i've heard in a long time. this maybe be worthy review material, if i can find the time.


other worthy mentions from this week's charts include Coldplay debuting at #5 and moving 140,000 copies of their fab new LP, which is a surprisingly high debut. i didn't realize that Coldplay was that big of a name, but then again, "Yellow" did blow up just two years ago or so. the other surprising debut is from QOTSA (aka Queens Of The Stone Age), who entered the charts at #17. v impressive.

posted by uncle grambo |
---
props must go out to the grizz for pointing this one out. somehow i missed this story when I visited the LA Times earlier today, but there is an excellent article by Patrick Goldstein on the stumbling blocks director Roger Avary has had to overcome in order to get his new movie, "The Rules Of Attraction", an R-rating in time for its October release. you've read this article before; of course you probably haven't LITERALLY read this article before, but this is the kind of thing that Roger Ebert brings up once a year or so when he proposes the MPAA create an "A" rating (for Adult, and it would lie between R and NC-17). but goldstein does a good job fleshing out the story (pun INTENDED), telling some tales of studio/MPAA collusion from years past that i hadn't heard before.


and while i'm on the topic of controversial movies, the dastardly duo of Larry Clark ("Bully") and Harmony Korine ("Gummo", "Julien Donkey Boy") are back on the scene with a new movie. in their first collaboration since "Kids" shocked the world back in the mid `90s, their latest film, "Ken Park", has "scandalized Venice with its shocking sex scenes, incest and explicit erotic acts" (according to Reuters). the new york observer takes the Reuters story a step further with their interview with Larry Clark and Tiffany Limos, who is the movie's star and Clark's 22-year old girlfriend (clark is a ripe 59 years young). the movie can be pretty much summed up by this quote from mr. clark: "in this movie, I'm showing everything. For every vagina, there's a penis." this film will be shown at the Toronto International Film Festival, too bad it won't be screening while i'm there. which is worst. ever.


last but not least on the movie tip, Rob Zombie's "House of 1,000 Corpses" has finally lined up a distributor. After tons of controversy, the movie has been picked up by Lion's Gate, a studio who has proved time and time again that they've got the balls to put out films that exist outside the mainstream, specifically "American Psycho" and "Dogma". it looks to hit theatres and DVD sometime early in 2003.

posted by uncle grambo |
---
"I was born twice: first, as a baby girl, on a remarkably smogless Detroit day in January of 1960; and then again, as a teenage boy, in an emergency room near Petoskey, Michigan, in August of 1974." -- opening sentence of Jeffrey Eugenides' Middlesex


every season contains a "must-read" book. this summer, it was obviously alice sebold's remarkable "the lovely bones." this fall, it is sure to be jeffrey eugenides' second novel, Middlesex. the author of "the virgin suicides" is back with a book that quote whore Jonathan Franzen has called "...a weird, wonderful novel that will sweep you off your feet." Borders.com's own Jessica Jernigan (a former co-worker and part-time FOW) recently spent some time interviewing Mr. Eugenides. borders.com has also posted a short excerpt. "middlesex" is in stores now (i believe).


EDITOR'S ADDENDUM: Both the Los Angeles Times and the New York Times (from rockstar book reviewer Michiko Kakutani) took the time to review the book today. N' joy.

posted by uncle grambo |
---
Reader Retort


as you are all aware, last thursday night was the MTV VMA Awards. among other things, we got to see Christina Aguilera looking skankier than once thought humanly possible, Jack and Meg White getting an award from The Olsen Twins, and the (sorta) triumphant return of W. Axl Rose. it is this last item that I failed to mention up to this point that prompted The Gorilla (prominent FOW and bassist for Immerse) to send an email to me this morning...


From: The Gorilla To: markdgraham@yahoo.com Date: Wed, 4 Sep 2002 09:29:47 -0400 Subject: What about Axel?

I'm surprised you didn't have anything on the org about the "Guns N' Roses" appearance on the VMA's. It will certainly go down as one of the oddest TV moments of the year. First you've got all the key members of the band save Axl (Dizzy doesn't count) replaced with their Bizzaro world counterpart, Buckethead for Slash, the Replacements bass player for Duff, the NIN dude for Izzy, etc. N' virtually no one on MTV notes how fucking weird that is. All the twenty something Vj's Jimmy "Tina Fey carries my ass" Fallon are spoogin' all over themselves about how great it the performance was. While the band is oddly good, the cover versions of the "Appetite for the D" songs are virtually spotless, Axl was running out of breath faster than Marlon Brando after a sit-up -- its was all, Welcome to the Jungle... you're... gonna ... die... N'... I've... got... em...physema.

Then Axl N' Kurt Loder start penis fencing about who's better N' how we all wait at home nights for Chinese Democracy to come out. I'm not saying if the album ever comes out it can't possibly be good, but seriously, I'm about 10 years beyond giving a shit. Basically I see two options for G N' R to be cool. First, the original band calls themselves Axes N' Daisys or Cannons N' Poises N' gets an Axel replacement N' they have a battle of the bands with G N' R to see who the real Guns and Roses is. Alternatively, the new Gun's N' Roses needs to go all the way with this new member thing, Axl must be replaced too with his bizzaro land counterpart, I'm thinking like a 12-year-old Judy Garland look a like or 400 lbs of Samoans (it could be one big dude or twins that are 2 bills a piece, whatevs.org) or Wesley Willis or Flava Flav. Axl can then go back to his Howard Hughes hyperbolic chamber and control the band through the microchip implants he's had installed in their brains. Anyway I've gotta run I hear there's a 7 year-old Elvis impersonator in Mexican Town who does a mean "My Michelle" and I'm gonna see if I can be his manager.

posted by uncle grambo |
---
when reel.com lost jeffrey wells to kevin smith's fledgling Moviepoopshoot.com, i pretty much gave up the notion of ever visiting their site again. but reel.com decided to replace wells with another columnist named sarah chauncey, whose takes are decidedly more mainstream and also more accessible for filmgoers who aren't cinema historians or AICN-type fanatics. don't get me wrong, i love my boy J. Wells, but chauncey has really stepped up to the plate in her first few offerings. in this week's column, she reveals buzz on why Brad Pitt was growing that awful beard (it was for a Darren Aronofsky film called "The Fountain") and why he'll be free to shave any day now (he quit the project), writes a succinct profile on James Franco ("Freaks and Geeks", "City By The Sea"), and gives some choice scoop on this weekend's Toronto International Film Festival. do yourself a favor and bookmark this page, and then make it a point to visit every Wednesday morning.

posted by uncle grambo |
---
Tuesday, September 03, 2002

yes, i am what most would consider a superdork. not only did i watch the finale of American Idol tonight, i've been trying to call in to vote for Kelly Clarkson for the last hour and 15 minutes. no luck. the lines are jammed. did anyone else catch the episode tonight? did you check out that tool Will Young, the guy who won the british version of the show? what a douchebag, english people have even worse taste than americans when it comes to cheezy pop muzak. that being said, kelly rocked the house tonight.

posted by uncle grambo |
---
american idol is on in about 75 minutes. oddsmakers are reporting that justin is a slight favorite to win the competition, which would be a shame. let's just hope that kelly clarkson can hit another home run and knock justin out of the game...

posted by uncle grambo |
---
it doesn't get ANY hotter

posted by uncle grambo |
---
catnip for pop culture freaks and english majors


certain newspapers excel at certain things. the multi-colored fishwrap (aka USA Today) does a great job at giving you a snapshot of the US and beyond in less than 30 minutes. the Detnews and Freep are all local, all the time, and pretty much pride themselves on their sportswriting and coverage of the auto industry. enjoy politics? you assuredly already read the Washington Post frequently. if you want to know anything about the entertainment industry, you're a fool to read anything other than the LA Times (save Variety). money? WSJ. but if you enjoy dabbling in all of these categories and enjoy graceful prose and world-class reporting (better yet, you're a pseudo-intellectual like me who enjoys learning/reading/watching in order to have discussions with others), the New York Times is the paper for you. i know that i've been jockin' the NYT today, but this morning's daily NYT email was just chock-full of great pieces...


--if you are a fan of film criticism, you are no doubt aware of The New Yorker's Anthony Lane. if this is the case, he just published a book called "Nobody's Perfect", and Salon.com's Laura Miller takes the time to review his work, both his book and his criticism as a whole, in today's edition (registration required).


--and secondly, if you ever spent time in a Film class, an English class or a Communications class during college, you no doubt encountered (or wrote) articles like this. in The Desexing Of Austin Powers, the author uses Austin as an example of how today's leading male characters are being ruled by a "prevailing political correctness that says adult male heterosexuality is dangerous, dysfunctional or ludicrous, and is best avoided." miss malanowski references a few different prominent films ("Shaft", "Cast Away", "Vanilla Sky" and more), but spends most of her time focusing on why an ultra shagadelic cat like Austin walked through "Goldmember" without even bangin' Foxxy Cleopatra...what gives? an excellent piece if i do say so myself.

posted by uncle grambo |
---
you can get stomped by Obie


during last thursday's VMAs, eminem added fuel to the silly skirmish going on between him and Moby. even though i didn't actually see this happen (i missed the original airing of the VMAs, i only caught the reruns this wknd), it's still interesting. evidently Em threatened to beat up Moby after a skit with Triumph The Insult Dog went awry, and Moby took the time to respond to the whole situation on his website. but instead of giving the little bald man click-throughs, CDNow features this nice little recap of the whole sitch.

posted by uncle grambo |
---
for a span of a couple of years back in the mid `90s, he was as omnipresent and overexposed as he was talented. then, seemingly in the blink of an eye, he promptly (and wisely) disappeared. rumours surfaced occasionally about new projects that he was supposedly working on, but nothing was ever confirmed. but now, with the marketing genius of Miramax behind him, quentin tarantino is beginning to slowly crawl back into America's conciousness. over the last two weeks, all three of his movies (Reservoir Dogs, Pulp Fiction and Jackie Brown) have been reissued in deluxe packages on DVD. it is impossible to watch them and NOT be dazzled by how genius Tarantino's dialogue is and how wonderously fluid his movies are. i think that i've got a real Tarantino rant building up inside me, but i'll save that for another time. in the meantime, check out this mini-profile of Tarantino from the August 26 edition of The New York Times called "Return of a Violence Auteur". while ace Hollywood writer Michael Cieply never gets to sit down with an actual interview with Quentin, he takes the time to reveal some of the plot points of "kILL bILL" and unearth how the violence that it is said to contain will likely throw the new Hollywood and the censors at the MPAA a real curveball by the time it hits theatres in October 2003. i, for one, will be counting the days `til its release.

posted by uncle grambo |
---
on newstands september 10th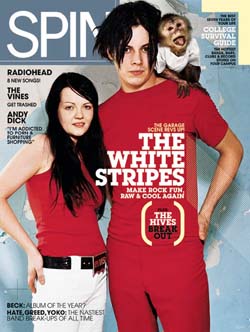 posted by uncle grambo |
---



this is actual file footage of the hoards of FOWs congregated outside my apartment this weekend, just clamoring for some Piping Hot Content. i had to calm them down with cheese and crackers, but they reminded me why i endure the slings and arrows of outrageous fortune to bring you and yours this beautiful mess called whatevs.org. yes, i took the last few days off (i enjoyed the long Labor Day weekend after spending a couple of days in Hot-Lanta), but now i'm back and ready to blog you like you've never been blogged before. obvs.


here's a few choice things to get your tuesday started riiight... --sunday's new york times ran a feature on the recent Reading Festival in merry ole England. the article tries to encapsulate the musical climate of the festival and what band (if any) could live up to Nirvana's legendary performance in `92. writer Hugo Lindren puts it this way: "nearly everyone agreed on one deep, abiding faith: the Strokes are the best band on the planet." --the grizz has been wildly prolific in my time off. if you haven't read the Detnews recently, you missed his critique of the Detroit Lions for not having hottie cheerleaders, an interview with Verne "Mini-Me" Troyer, a double dip review of the new Jimmy Fallon and Andy Dick albums and some well-deserved praise for the new Coldplay album. --and in case you missed this weekend's box office numbers, the story was NOT that Signs made $17 mills. the story is that My Big Fat Greek Wedding made almost $15 mills to come in second at the box office. i still haven't been able to get past the fact that it is an uber-chick flick and actually spend money to see it at the theatre, but America has voted with their wallets, making Big Fat the most successful independent movie since Blair Witch.

posted by uncle grambo |
---

quote-a-matic
"I started out with a lot of Audioslave or anything Chris Cornell -- it helped with the aggression. And Chris Webber from the [Sacramento] Kings. There's a real sweetness behind his eyes, but he's pissed off."
— Brad Pitt on the sources of inspiration for his character in "Troy"

be like mark

ECOUTEZ

loretta lynn - van lear rose
---
REGARDEZ

king of new york (special edition)
---
LISEZ

john kennedy toole - a confederacy of dunces
adventures w/disposable income
date: 5.8.04
source: CVS
amount: $19.48

(1) liter of Captain's
(2) liters of DC w/lime
(1) mother's day card


snl season 29
REVEALED!
by Nummer & H-Bomb
Ep 1 - Black / Mayer (10/4/03)
Ep 2 - Timberlake (10/11/03)
Ep 3 - Berry / Spears (10/18/03)
Ep 4 - Ripa / OutKast (11/1/03)
Ep 5 - Roddick / Matthews (11/8/03)
Ep 6 - Baldwin / Elliott (11/15/03)
Ep 7 - Sharpton / Pink (12/6/03)
Ep 8 - Wood / Jet (12/13/03)
Ep 9 - Aniston / Peas (1/10/04)
Ep 10 - Simpson / Lachey / G Unit / 50 (1/17/04)
Ep 11 - Mullally / Aiken (2/7/04)
Ep 12 - Barrymore / Kelis (2/14/04)
Ep 13 - Aguilera / Maroon 5 (2/21/04)
Ep 14 - Firth / Jones (3/6/04)
Ep 15 - Affleck / N*E*R*D* (3/13/04)
Ep 16 - Trump / Toots (4/3/04)
Ep 17 - Janet Jackson (4/10/04)
Ep 18 - Lohan / Usher (5/1/04) NEW!
Ep 19 - Snoop / Lavigne (5/8/04)
Ep 20 - Olsen Twins / J-Kwon (5/15/04)

where's grambo?
may 10: the strokes @ state theatre
may 15: cardigans @ magic stick
may 17: softball league @ 8:30pm
may 17: last tourist @ small's (10pm)
may 24: softball league @ 6:10pm
may 27: sea ray / stills @ st. andrews
june 6: dido @ fox theater
june 7: softball league @ 7:20pm
june 14: softball @ 6:10pm
june 19: jessica's graduation party
june 21: softball @ 8:30pm
june 28: softball @ 6:10pm
july 3 - july 11: vacation @ TBD
july 12: softball @ 7:20pm
july 19: softball @ 7:20pm
july 26: softball @ 9:40pm
august 2: softball @ 7:20pm
august 14: nuptial buzz w/c friggs + lescal!!!
october 23: nuptial buzz w/the grizz + mandypants!!!

twenty word reviews
van helsing
**
REVIEW TK.
hellboy
***
REVIEW TK.
walking tall
*
REVIEW TK.
scooby doo 2: monsters unleashed
NO BUZZ!
REVIEW TK.
dawn of the dead
****1/2
REVIEW TK.
eternal sunshine of the spotless mind
****1/2
REVIEW TK.
starsky & hutch
***1/2
REVIEW TK.
girl next door
***
re-imagines "Risky Business" with Vivid Girls instead of prostitutes; marks Elisha Cuthbert's arrival as an alluring, big screen sex symbol.
eurotrip
*
Despite the best efforts of TrachtenBest, suffers greatly from a lack of forward momentum (scriptwise) and some remarkably bland casting
along came polly
**
aside from Philip Seymour Best Ever's performance ("RAIN DANCE!"), I vastly preferred this when it was called "Dharma And Greg."