Friday, May 02, 2003

as always, a word of thanks to all of the FOWs who take time out of their busy schedules to contribute to these monthly flights of fancy. as a show of gratitude, those who contributed this month will receive an exclusive whatevs.org CD featuring a devastatingly sexxxy mix of the songs that are listed below. pure hottness. as always, thanks for your friendship (not to mention contributions!) and have yrselves a fab wknd!
— uncle grambo


SUMMER SONGS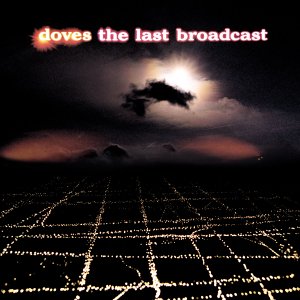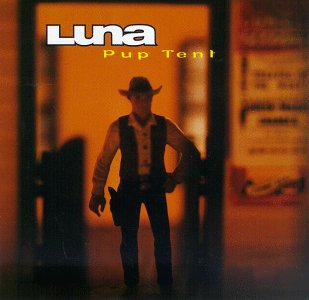 ---
Uncle Grambo
Song: "Radiation Vibe"
Artist: Fountains Of Wayne

to me, summer has always been about unbridled optimism. while spring is officially the time of rebirth, summer has always been the time of the year where life tastes the sweetest. and a song like "Radiation Vibe" (and, frankly, just about every song by FoW) just SCREAMS summertime to me. while the jangly guitars and hope-filled lyrics ("i can still croon / and make the girls swoon / isn't that the way life's supposed to be?") are easily relatable to anyone, my love for the song probably has a lot to do with the summer of 1998 and my very first trip to New York City. Wartinsmooth, Sully and myself cruised out to Astoria to hang for a few days with the incomparable Douce. along with The Push Kings' self-titled debut, the first FoW album was the soundtrack for the weekend and the aforementioned single stood out to me as being one of the goddamn catchiest songs that I had ever heard. as I spent some time strolling solo through Central Park on a hot and sunny Sunday afternoon, the lyrics "Don't it make you wanna get some sun? Shine on, shine on, shine onnn!" reverberated time and time again in my headphones and an indelible memory was created. to this day, anytime I hear that song, I flash back to that day, a day when a complete stranger hugged me after Allan Houston's buzzer beater beat Pat Riley's Miami Heat team. NYC + FoW = BEST EVS.
---
T-Rob
Song: "I Only Said"
Artist: My Bloody Valentine

every summer for the past seven without fail i have had a makeout session to the entire Nebraska album by Bruce Springsteen. but seeing as this is aboot a SONG, i would say i know summer has officially arrive when i hear some douchebag playing "In the Summertime" by Mungo Jerry at mind shearing volume and I just want to get a cinder block and throw it at their fucking face. GOD i hate that song SO MUCH. on a more positive note, i can only listen to Loveless by MBV in the summer...and in particular "I Only Said", brings back memories of a time when I was so much more hopeful, romantic, optimistic and I had no idea who Mungo Jerry was.
---
Sarah W.
Song: "In The Aeroplane Over The Sea"
Artist: Neutral Milk Hotel

Having lived in Florida and California for the last 12 years combined, almost every song is a summer song to me. My god, we sweat our nads off almost every day of the year. However, the summer of 1998 introduced me to an amazing album by Neutral Milk Hotel that would change my summer cruising forever. With the wind blowing in my hair, the smell of confederate jasmine wafting in through the car windows, and a 40oz between my legs, I listened to the song "In the Aeroplane over the Sea" countless times, trying to hold on to my last vestiges of college life. As the lyrics say, "For now we are young, let us lay in the sun and count every beautiful thing we can see." Pretty soon I won't be so young, and most things I see in LA aren't so beautiful, but that song will forever transport me back to that summer of BBQ, roadtrips and making out with the Crew Team captain.
---
The Gorilla
Song: "Jessica"
Artist: The Allman Brothers

An instrumental-rock-masterpiece that exceeds all the limitation of Allman labels. It's more than southern rock, jam band, blues-rock fodder or even a rock-instrumental. It's remarkable musicians playing in and around an infectious melody -- it's a flat out great song. This song confirms Dickey Betts as one of the all time great guitar players -- the virtuosity of Jeff Beck with the melodic sensibilities of George Harrison. By the time Chuck Leavell's piano solo kicks in you'll already be planning to play it again. I dare you to drive to this song without the windows down and I bet you let the song finish before you get out of the car.
---
VandenBest
VandenBest's top 5 "summer" songs....
(in no particular order...)

5. "Summer of 69'"... Bryan Adams. Gotta' love those Canadiens.
4. "Summertime"... Will Smith. Sorry for yet another song with "summer" in the title, but this one always gets my windows down, fo' shizzle.
3. "Pounding"... Doves. Obvs.
2. "Satellite"... Cathryn Wheel. No, not Dave Matthews folks, but perhaps one of the best groups to come to us from over the big blue Atlantic. (That's Grizeat Britain ya'll.)
1. "Window"... Guster. Awwww yeeeaah.
---
Wartinsmooth
Song: "Little Guitars"
Artist: Van Halen

This was a tough choice, but Diamond Dave gets the nod after his backyard heroics this week. To begin with, Van Halen should only be listened to during the summer. If you try playing "Diver Down" or "1984" in sub-freezing temperatures, the CDs are pre-programmed not to work. This song is their best. Eddie's guitar work is amazing and Dave even helps out by singing a few notes in key. Skip the Spanish guitar intro and get straight into it.

Runners-up:
"Over the Hills and Far Away", Led Zeppelin
"What the World is Waiting For", The Stone Roses
"Radiation Vibe", Fountains of Wayne
"Race for the Prize", The Flaming Lips
"The Weather is Here, I Wish You Were Beautiful", Jimmy Buffett
---
Halle Berrywhite
Song: "Boys Of Summer"
Artist: Don Henley

I know it's cliche and has the word "Summer" in the title, but it reminds me of my first summertime crush, a boy I met at my grandparents' retirement condo complex. Actually, I didn't so much as meet him as fantasize about him from across the pool. But every time the seagulls caw in that song--during the slow-tempo, break-it-on-down percussion interlude--I think of that nameless boy in the Ray-Bans and Ocean Pacific T-shirt, my vision slightly obscured by droplets of sweat mixed with sunscreen dripping into my eyes, and too many senior citizens with leathery flesh and golder-than-gold jewelry that would put any DEtroit dress-sweats-wearing gangsta to shame.
---
JenRio
Song: "Summertime"
Artist: DJ Jazzy Jeff and The Fresh Prince

"Drums pleaz!" While it may seem trite to choose this song as a "summertime" favorite, the song does prove itself acclaim worthy with its laid back vibe and catchy rhymes. With references to barbecues startin' at four and an air of love and of happiness, how could this not be the ultimate summer anthem? Roll down your windows, crank the volume,and "drive two miles an hour so everybody sees you."
---
WinkleBest
Song: "Raspberry Beret"
Artist: Prince

When he wanted to Prince could really write pop music magic. "If it was warm, she wouldn't wear much more." For me that line conjures up one of those hot, sticky summer days a la "Do the Right Thing." Walking down the street and some beautiful woman passes me by in a tank top and a raspberry beret...definitely summertime.
---

B.B. Fett (The Prime Ministers)


Song: "Positive Bleeding"
Artist: Urge Overkill


Although "Sister Havana" (with its sun-and-sand-drenched video) may be the more obvious choice, "Postitive Bleeding" is the fist-pumping, suburb-cruising crown jewel of the Urge catalog. I picked up "Saturation" on cassette in June 1993 at the Record Time in downtown Rochester, and it provided the Walkman-powered soundtrack to my night job dusting and vacuuming the Century 21 office in Sterling Heights all summer long. I have no clue what the lyric means, but it has a nonsensically empowering message ("You can bleed when you want to bleed!"), some rocking "Whoo-hoo-hoo!"s and an irresistable, anthemic chorus. Interested parties should have multiple used copies to choose from at any used-CD store in the metro Detroit area...
---
H-Bomb
Song: "Beautiful View"
Artist: Luna

I don't know what it is, but nothing says summer better to me than Luna, especially the song "Beautiful View" from their 1997 release of Pup Tent. While the whole album has been a summertime staple of mine over the past 6 years, this song in particular really gets me in a warm-weathered mood. Maybe it's the laid back tempo, with it's lazy guitars and the soothing voice of Mr. Dean Wareham. Maybe it's the lyrics, "Your coming out of your shell. You've got a beautiful view. You're gonna shake it off," which couldn't be more true after yet another hellish Michigan winter. All I know is when this tune hits my car stereo at full blast, all of my wintertime pent-up frustrations literally fly out the window and nothing seems more important than the sun on my face and the wind in my hair.
---
Nummer
Song: "Summertime Rolls"
Artist: Jane's Addiction
Year: Summer 1989
Place: Lakeview Party Store parking lot

Reason:

My childhood best friend Chris and I used to frequently skateboard in the parking lot of New Baltimore's finest party store - Lakeview Market. Often times, we brought along a tape deck because honestly, you weren't cool skateboarding unless there were tunes playing.

A few months before, Chris attended "SK8 Camp" and one of the cooler teenage counselers introduced him to Jane's Addiction. He came back raving about this "rad" band that I simply had to listen to. Days later, I had my own temporary copy dubbed onto those old yellow Memorex cassettes - before I finally got to Harmony House to get a real copy.

To this day, I can't hear that song and not think about riding my SMA mini-Natas (w/ G&S Trucks, Tracker riser pads, pink grip tape, Santa Cruz Speed Wheels, NMB bearings and Santa Cruz rails) out by Lake St. Clair that summer. God bless being 11 years old.
---
Mandypantalons
Song: "Bread and Butter"
Artist: The Newbeats

When I was nine my mom and I were driving up north for the summer to stay at our cottage in my mom's convertible and the song, "Bread and Butter" by the The Newbeats came on. You know, "I like bread and butter. I like toast and jam..." My mom always listened to oldies and when that song came on the radio we started singing and dancing (the best we could while in a car) and my mom put the convertible top down while we were driving on this two-lane road in the middle of nowhere. I remember thinking that my mom was so cool. It totally made me so excited to be with her all summer. So, anytime I hear "Bread and Butter" - even if it's on a commercial - I can't help but feel like summer.
---

Nessa (unapologetics)


Song: "Every Day Is A Winding Road"
Artist: Sheryl Crow


i don't know why, but this was really a difficult decision. so, in lieu of a well thought out and heartfelt answer, i am going to go with sheryl crow's "everyday is a winding road." summer after junior year of hs: i actually have specific memories of speeding down the parkway along side the bay with the roof down and the music up. okay, so my friends were spoiled yuppies. or maybe their dads were just going through major mid-life crises and we stole their cars. who knows? i was young and naive and maybe just a little sun drunk. traverse city. so best.
---
Glavzies
Song: "Summertime"
Artist: Mustard Plug

Not having met many of the of FOWs, I get this feeling that they don't like ska.... They probably feel that the music is too simple and the lyrics are lame... And I understand... I consider myself as much a music snob as anyone, but some of the best memories I have is sitting around drinking Big Blues of Labatt's, playing Mario Kart (for Super Nintendo), and listening to Mustard Plug and Bock-o-Nine. Therefore, I feel it my duty that, in order to strike a balance with all the FOW's that will write about Moby or Elliot Smith or Ravi Shankar or David Gray, I must choose ska:

Summertime - Mustard Plug... This is off of Mustard Plug's classic 2nd album, "Big Daddy Multitude." The Michigan west-siders have long been one of my faves. Ever since the lead singer told the crowd at the blind pig that I was "one angry young man," summer hasn't begun until I break out the mustard. The lead singer once lacerated my friends head with a plastic knife in the basement of East Quad. "Summertime" mentions Grand Haven, my quasi-hometown. It's classic. "Summer Summer. We love the summertime." I even think that Mustard Plug was responsible for an inappropriate spanking incident on the last day of class 1999 out on 5th street. To continue on, how can we forget our theme song from summer 2000 Beyond Interactive Co-Ed Rec League softball? "We want the Mustard!!!" Best. I think I hit about 15 homeruns that summer. I was laying the wood everywhere.
---
The Grizz
there's a million different ways i can go on this, but i'd just have to say every song off fountains of wayne's "utopia parkway." poppy guitars, bouncy keyboards and a breezy, fun vibe spell summer to me. totally shmotally double barrel tigs-a-fied on the kizzle my trizzle
---
MacK10
Song: "Where The Streets Have No Name"
Artist: U2

I don't care how 1987 this song is. I don't care how annoying Bono has become with his save the world b.s. I love me some U2 and "Where The Streets Have No Name" is an incredible summer song. This album opener is epic - a thick, explosive drive that's white-hot. How can you possibly resist The Edge's hungry, chiming guitar arpeggio? I was a little third grader when U2 was on top of the world and spent the summer of '87 riding my bike like every crazy little kid. It just so happens that everyone was blasting "Where The Streets Have No Name" (and "Pour Some Sugar On Me") while riding by. This song is classic!
---
Ryan Karvola
Song: "Eye Of The Tiger"
Artist: Survivor

Summer just isn't as long as it used to be, and now Summer is just a heartbeat between Spring and Fall. But Back in the Summer of 84', the sticky hot Michigan weather, and copious amounts of free time seemed to last forever. It was at that time that my best friend's older brother purchased the "Rocky III" soundtrack. From that point on, Summer has never been the same. "Eye of the Tiger" rocked my world. We would listen repeatedly to Survivor rocking so hard. It changed my life. It gave me focus. It gave my impressionable young mind hope. From that Summer on, I knew that if 'Rocky Balboa' could overcome an opponent like 'Clubber Lang,' I could. We all have our 'Clubber Langs' in our lives. We just need to summon the "Eye of the Tiger" to defeat them.
---
Peabs
Song: "Pounding"
Artist: Doves

While there are a plethera of "summer songs" from just the manic, drunken, Maryland-based summer of last year, this driving Mancunian pop gem takes the cake. Upon my first hearing, and my becoming obsessed with it during a binge recording session in Sarnia last June, does it still hold up. Not only was it blasted in the car stereos of the rich and pretty people of SE Michigan (Damizz), but out the windows of casa de Peabs y JP McKrengels for all of GP Park to hear and love (O'Flats). From it's tigs verses to it's "chorus from the Gods" (thanks, Kegszies), to it's U2-inspired guitar solo climax, "Pounding" was the centerpiece of the soundtrack to arguably the best summer evs, and will continue to be in the summers to come. Obvs. I'm wonderful to look at.
---

Big Matt (Motorcityrocks.com)


Song: "Rosalita"
Artist: Bruce Springsteen


What an absolutely scorching song, especially on some of those live versions from the 70's. Rosalita has everything a rock song should embody, love, redemption, escaping something and trying to get girls. The song builds and builds and finally just breaks into an all out rock and roll jam and before I know it the speedometer is usually way past where it should be. I always feel worn out from listening to Rosalita. As The Boss says in the song "Someday we'll look back on this and it will all seem funny". Isn't that the truth.
---
Damore
"Did You Ever Look So Nice" by The Samples — Reggae pop classic from Sean Kelly & co. Song is great because (like all Samples songs), there are excellent lyrics, superb musicanship, & the pleasant/distinctive yet slightly flawed voice of Kelly. Reggae pop rock song--nothing better in the summer--makes me want to hit the Peanut Barrel patio.

"Take a Picture" by Filter — Starts w/ just slow accoustic guitar & adds some bongos & a kick drum. Slowly builds to a catchy song w/ eventually all out instrumentation. Percussion elements make this song stellar. Hmmm, why do all their other songs suck?

"Champagne Supernova" by Oasis — Song of summer '96. Couldn't avoid this song even if you didn't like it. Perfect beginning, middle, & ending. Sound is like waves breaking on a beach on a perfect warm sunny day.

"303" by Kula Shaker — Loud fun catchy song about summer highway driving in Cali. Amazing guitar solos & hammond organ. This song plain & simple makes you feel good. I pretty much lived on K for a few years.

"Life Is Sweet" by The Chemical Brothers — When it's hot & sunny in Michigan you have to appreciate it. This song commands you to respect that. Blends best beats, an excellent baseline w/ some nice vocals via Tim Burgess. Must be very high volume to fully enjoy.

"LA Woman" by The Doors — Ultimate summer driving song. More sexually charged than R Kelly's rap sheet. No one has or will ever be cooler than Jim Morrisson. This song starts off slow & jazzy while fading in & then Morrisson just takes over. Feels like you're cruising the strip in a convertible w/ Jim out for some fun. Louder the better. Best played while cruising Gratiot or the Isle on summer nights.
---
APLarcadia
Song: "lowlight"
Artist: pearl jam

I can't explain what happens when I roll down the windows in my car on a lush summer day and let this meditative tune play. with both words and music to this 1998 "yield" tune penned by bassist jeff ament, a warm acoustic guitar provides the backdrop to some very cryptic lyrics which create a palette of longing, reflection, and opportunity: the hopes and fears of all the years are tossed in the washer then hung out to dry and suddenly everything is calm and okay.
---

C.Friggs


Song: "Summertime"
Artist: The Sundays


Ever since I heard this song I've been in love with Harriett Wheeler's voice. It's very English, and the Sundays have some of the best mopey-jangly-guitar-alt-Britpop since The Smiths. Great slide-guitar riff atthe end. Obvs the title makes it a summer song, and it's a great "me and my baby" song. The verses are the best use of writing in the style of personal ads since Rupert Holmes (Pina Colada-stizz, obvs).


Romantic Piscean seeks angel in disguise...
Liverpudlian lady seeks sophisticated male...


The chorus makes you wanna grab your lady, hop in the car and head to the beach/park/picnic/sunshine/whatevs (dot org)

posted by uncle grambo |
---
The Freep did it again. Brian McCollum's article in this morning's Freep scooped Wendy Case's in The DetNews by reporting that a large percentage of this year's artists at the Memorial Day weekend festival will be performing for free. but since i get accused of Case bashing too frequently, so let's move on. using my mad D-Town connections, I'm happy to reveal the list of attendees for you and yours. i officially proclaim that this will be a Buzzworthy Weekend — while dates and times are still TBD at this point, you can bet that you'll see me at the shows that have been BOLDED. obvs.


Movement 2003 - Official Lineup
Clark Warner, Double Helix, Andres, Reese Project, Ayro, Norma Jean Bell, Rolando, Stacy Pullen, K-Hand, Korie, John Beltran, John Arnold, Kevin Saunderson, Kenny Larkin with Sundiata, Carlos Soufront, Marcellus Pitman, Danny Krivit, Theo Parrish, Jeff Mills, Fusion, Genesis, Buzz Gorree, Stacey Hale, Ron Trent, Delano Smith, Norm Talley, Mike Grant, Mike Clark, The 3 Chairs, Shake, Eddie Fowlkes, Juan Atkins, D Wynn, Sysmanski, Spacek, Niko Marks, Peven Everett, Rich Medina, Amp Fiddler, Rich Medina, Reggie Dokes, Ursula Rucker, Dwele, Francois K, Detroit Experiment, Blaze, Brad Hales, Jazzy Jay and Grandwizzard Theodore, Timespace, Vikter Duplaix, Milo (Wild Bunch / Massive Attack), Slum Village, DJ Spinna, PDM, Tamion 12", Wolf Eyes, Scott Zacharias, Liquid Liquid, Adam Goldstone, ESG, Ben Bracken, Thinkbox, Jimmy Edgar, Neptune Sound system, Thomas Fehlman, Pole, Akufen, Persona, Kid 606, Alder and Elias, Perspects, Sans Soliel, Dale Lawrence, Matthew Dear, Magda, Rob Hood

posted by uncle grambo |
---
ODB was released from jail yesterday ... and guess who was there to greet him? MARIAH! dude, i might roll over a gas station tonight if I knew that Mariah would be there when I got out of the Big House! Mariah ... so forgiving. so crazy. so hott. so emotionally unbalanced. so in need of a backrub from Uncle Grambo. so BEST!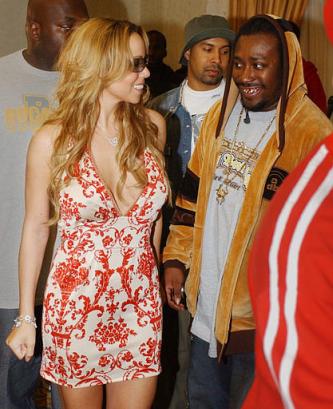 posted by uncle grambo |
---
wtf !?! from this morning's "Today Show" ... i pronounce this look to be totally fin. nothing could be further from deck, regardless of your Hipster status.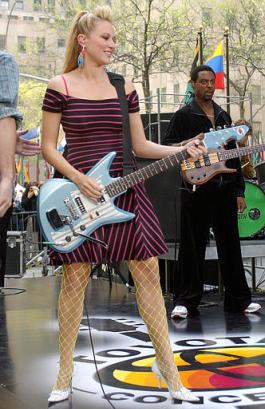 posted by uncle grambo |
---
the first press screening of "The Matrix: Reloaded" was held out in Los Angeles last night. while the press have been STRONGLY warned about printing any actual film reviews until the week of its release, obvs the 'Net is abuzz with buzz. for a spoiler-free take on how this sequel will play, check out David Poland's Hot Button column. over at Slate.com, they call it "Harry Potter with guns" (in a *good* way). and if you're looking for a spoiler-heavy reaction from the fanboys, look no further than Neill Cumpston's review over on AICN. so. much. buzz.

posted by uncle grambo |
---
Thursday, May 01, 2003

Atlanta, GA (Wrasslin.com) — Atlanta's Newsradio 640 WGST has reported that Elizabeth Heulette, better known to wrestling fans as "Miss Elizabeth", died after being rushed from the home she shared with Larry "Lex Luger" Pfohl to Kennestone Hospital in the Atlanta area. No word yet on the cause of death.


It was reported that Luger was taken into custody this morning, but was released around 11:30 am. There is no word as to whether any charges have been lodged against him at this time. WGST stated in its report that Atlanta police say they did respond to a domestic disturbance at the Luger townhome on Easter.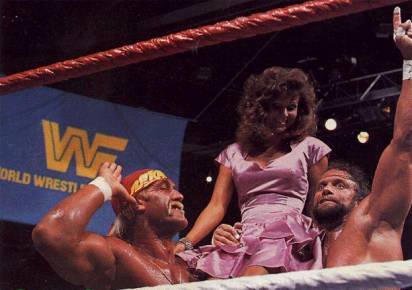 Miss Elizabeth: You were one of the first women I ever loved. Though it first appeared that you seemingly lacked the managerial qualifications of the likes of Bobby "The Brain" Heenan and "The Mouth Of The South" Jimmy Hart, it was in fact your unbreakable spirit, undeniable beauty and unwielding support of Randy "Macho Man" Savage (and later Hulk Hogan) that drove each man to overall greatness. You will not be forgotten.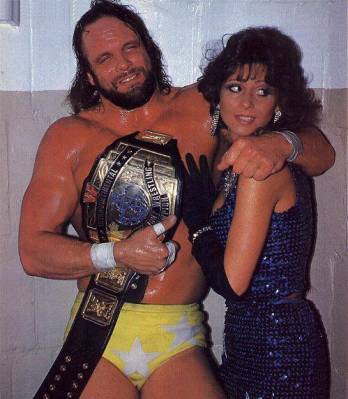 posted by uncle grambo |
---
so on the drive home from the Flaming Lips / Sparklehorse show last night, Mandypantalons revealed knowledge of an even deadlier strain of the disease du jour ... CHRONIC SARS! so much bubonic chronic SARS ... sticky icky icky! can anyone reveal links that tell more about the best disease since West Nile? email me!

on the complete polar opposite, check this recent photo of Cindy Crawford revealing some hott ass buzz while clubbin' at The Standard in LA! i know that I was very critical of her looks in the Playbs spread a few years back, but dare I say that she hasn't looked this good since the "Freedom `90" video?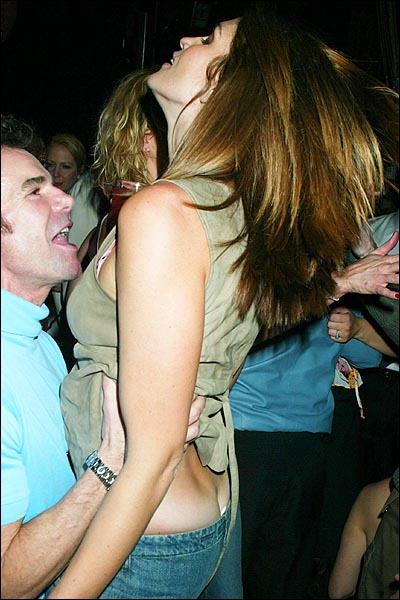 posted by uncle grambo |
---
first it was Windom Earle. then Special Agent Dale Cooper. now your Uncle Grambo apparently has a Black Lodge Doppleganger! The Grizz discovered The Black Lodge Version of Whatevs.org during a Google search this morning! hosted on a Japanese webserver, no less! i'm probably gonna get attacked with Sarin gas by a bunch of Japanese cyberterrorists! DURST!


as I predicted last week, Madge's "American Life" ended up debuting at #1 but sold less than K. Clarkson's "Thankful." Lady Madonna moved about 240,000 copies, quite a fall from the 420,000 copies that "Music" moved in its first week. i blame the war — airing that orig video uncensored-stizz would've revealed major buzz.


though my Twenty Word Reviews haven't been updated since "Willard", i can go on the record as saying that "Spellbound" is one of the best movies (let alone documentaries) that I've seen in a long, long time. a few FOWs and I caught a sneak a few weeks back, and I believe that it's going to start rolling out nationwide in the next few weeks to your local art house. if you don't believe UG, try David Edelstein's review over on Slate.com.


as a favor to the NYC-based FOWs, the Tribeca Film Festival launches this weekend with a screening of "Shaolin Soccer"! it screens at the UA 10 at 12:45pm on Saturday, May 3rd ... be there! The New York Observer's Rebecca Traister previews the buzzworthy film fest and reveals that premieres include "Down With Love" (Ewan McGregor and Zellweggs buzz!), "28 Days Later" (the new Danny Boyle collaboration with Alex Garland!) and Neil LaBute's "The Shape Of Things", among others. mad buzz.


and last weekend's Sunday edition of The Los Angeles Times profiled literary genius David Foster Wallace, whose novel "Infinite Jest" remains at the top of my Best Books Evs list. i know that NP called him out in his anti-James Frey post by calling him David Foster Walrus, but you gotta realize that was purely out of admiration and respect. or at least that's what I hope to believe. (thanks to The Grizz for forwarding this linkage)

posted by uncle grambo |
---
while your Uncle Grambo has been slackin' like a punkassbizzatch, Nummer and The H-Bomb have been steadily churning out SNL reviews. i have been neglectful in posting their reviews of both the Mac / Good Charlotte and Romano / Zwan episodes, and for this I offer them a hundred apologies and a thousand white virgins upon their entrance into The Great Wide Open, Tom Petty stizz. the resident SNL experts of whatevs.org didn't let my lack of common decency get them down, nor did they allow a late night with The Flaming Lips to distract them from the task at hand: Delivering pre-show comments for this weekend's Ashton Kutcher / 50 Cent extravaganza. tatters.

NUMMER
H-BOMB
EPISODE 18: ASHTON KUTCHER / 50 CENT (5/3/03)

Sadly, this episode has the best hope for being the best one out of the remaining three. First things first though, I absolute HATE Kuthcher - and I'm not even that familar with him. I've seen bits and pieces of That 70's Show over the years and a few episodes of Punk'd. This guy has to be one of the most clueless and talentless pretty boys to come down the pike in a long time (save Fallon).


However, he is always trying to have fun at whatever he's doing, so hopefully that will give the currently drab SNL a jump start. As long as his shirt is tucked in and his mesh hat is straight, I'll be able to tolerate him. I also like the Punk'd angle for a possible new installment of Pranksters (last seen Walken/Foo).


As for 50 Cent, I actually don't know squat about him. I'm sure I'd recognize the hit single, but aside from recent magazine covers, I'm pretty clueless when it comes to this clown.

I have to admit that my level of optimism for a good, solid and amazingly enough, funny episode of SNL has deteriorated rather drastically. And unfortunately, I'm not really counting on Ashton Kutcher to make it any better. That is not to say, however, that there won't be some good laughs coming out of this week's show. I used to be an avid watcher of That 70's Show and I gotta say that Kelso could be pretty damn funny. But I've also caught an episode of MTV's Punk'd and found Kutcher's antics and dialogue to be, at times, annoying. So, maybe if he can find a medium in between, it might just be a decent show. While he's not a great actor by any means, Kutcher can be a great entertainer, and if there's anything SNL is lacking right now, it's entertainment value. Alas, my idea of entertainment has greatly differed from SNL's as of late. And for some reason, with Kutcher as host, I can somehow see this episode being full of the likes of Jarrett's Room and Wake Up Wakefield. Basically anything with Fallon and Sanz goofing off and Maya's gargantuan tongue.


I am looking forward to 50 Cent though. I don't know anything of his other than In Da Club (obvs), but that tune was infectious enough to spark some interest in his upcoming performance.
posted by uncle grambo |
---
more like Smoking Sumo Lactating SARS buzz! according to The Smoking Gun, CZJ and Gordon Gekko are filing suit against Clear Channel (?!?) for the infamous and "surreptitiously taken" newd shots that appeared all over the net last week! developing...

posted by uncle grambo |
---
Wednesday, April 30, 2003
i haven't seen it yet, but i hear the new Sarah Kozer / Cindy Schubert (of "Joey Mills" fame) pictorial in the new Playbs is pretty hott. well, at least according to Drew & Mizz. but you know what's NOT? the fact that Melissa Rivers is considering posing ... blech!! some say worse than nekkid Dixie Chicks! some even say worse than naked Chyna / Joanie Lauer pictorial!


my trip to Besties yesterday was one of the best in recent memory. aside from the sickening best everness of Justin Trousersnake's "Justified", i am absolutely enthralled with the new Gemma Hayes CD called "Night On My Side". after one listen last night, it has entrenched itself in my 2K4 Grahammy Awards as one of the Albums Of The Year. short of reviewing the album (y'all know what a slacker I am when it comes to writing reviews), the record is probably best described as a dense, lush forest of fuzzy shoegazer chords with some sultry female vox. produced by Dave Fridmann (Flaming Lips, Mercury Rev), a lot of reviewers have compared this album's sound to MBV's epic "Loveless" and I would have to agree. mind you, I'm not comparing an album that I've only spun once to one of the best albums evs, but if you loved the sound of MBV, I'm fairly certain that you'll find this record more tigs than not. add on the fact that she's been hailed as "the Irish Kylie Minogue" ("because of my bum") and you've got a top-notch talent. highly recommended.


"Corpses" ... some say seldom talked about in Week 3. while the review of "Corpses" on Flak doesn't glow with praise, it is notable for its highly meta style. the review seamlessly blends in hyperlinks of Sheri Moon and the influence that Mario Bava had on director Rob Zombie.


and while your Uncle Grambo's most highly anticipated release of 2003 is still Liz Phair's self-titled record (due in June), don't count out the June 3rd release of Dean Wareham and Britta Phillips' "L'Avventura." those of you with highly evolved Criterion Collections will recognize the album's title as that of a famous Michelangelo Antonioni film ... that in and of itself establishes ridiculous buzz. who names their album after Criterion's? best. Britta calves ... best body part evs? we can only wait and pray that the duo will tour.

posted by uncle grambo |
---
ashanti revealed! jeez, it seems like 50 Cent's crackbacks on her were correct ... she DOES look like Eddie Munster!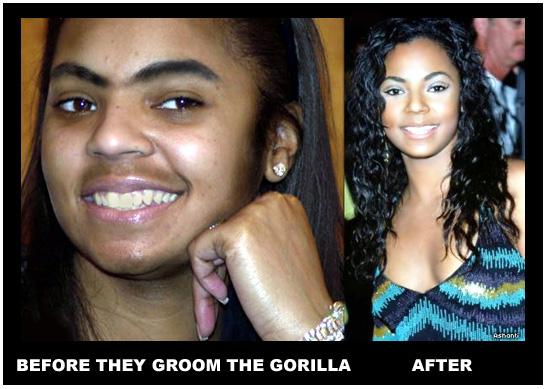 posted by uncle grambo |
---
you decide ... not that there's anything wrong with that!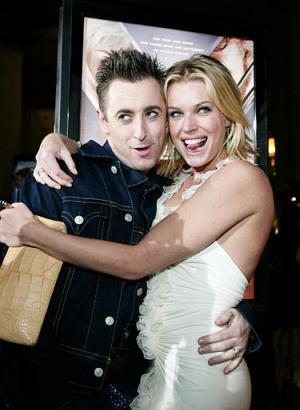 posted by uncle grambo |
---
this headline is even more obvs than Jack Osbourne going into rehab: Indigo Girls to Play During Lesbian Cruise. do I smell "Boat Trip 2" buzz?


speaking of washed up musicians, the lovely and talented MacK10 forwarded along this press release earlier this morning: DAVID LEE ROTH APPREHENDS KNIFE-WIELDING INTRUDER AT GUNPOINT. when asked for comment, Diamond Dave replied "Anyone found bearing arms here at night ... will be found here in the morning.". i'll have those donuts .... TO GO!


anyone who's observed the music business long enough knows that a quote like this is almost always the kiss of death. when asked by MTV.com how their new album was coming along, Peter Buck of R.E.M. said "If we quit today, we'd have half of the greatest record we've ever made. Nine of the songs are as good as anything we've ever written." ... if it's anything like the subpar material on "Reveal", I'm gonna have to pass. some say no buzz since "New Adventures in Hi-Fi" ...


coffee shops in college towns will be filled with weeping ladies tonight ... Dave Eggers Gets Married.


the RIAA shoots itself in the foot ... again! according to the NYT, file sharers who utilized Kazaa and Grokster to trade copyrighted material yesterday started receiving unwanted messages on their computer screens that said "When you break the law, you risk legal penalties. There is a simple way to avoid that risk: DON'T STEAL MUSIC." how SARS is that? it's just another reason that I'm glad I use Soulseek.


last but not least, props out to The Detroit News' John McCormick for yesterday's article called "The Real Value Of Telematics" ... all kindsa OnStar props are included within. the power of positive press is some of the most truly obvs marketing that a company can hope to achieve. booyakasha!

posted by uncle grambo |
---
Tuesday, April 29, 2003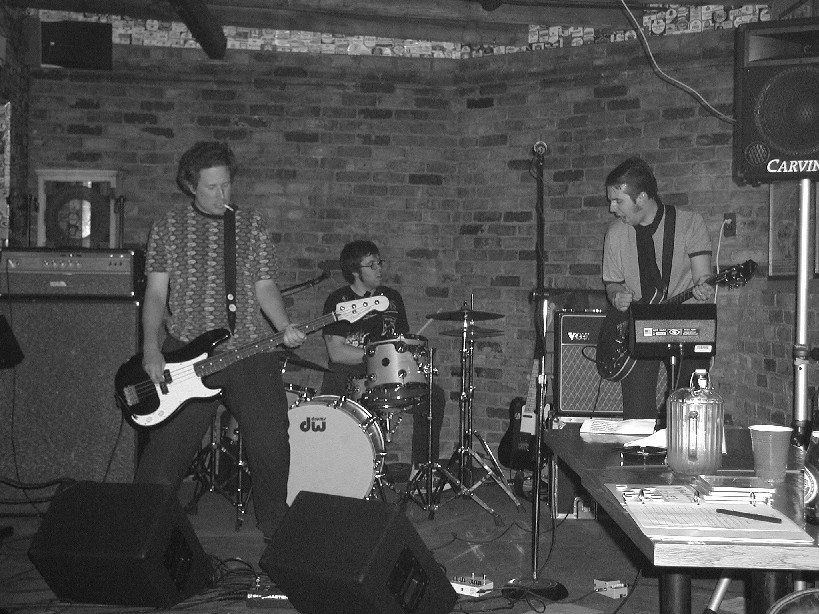 Rochester Hills' favorite sons rocked Wayne County last Friday night ... too bad you weren't there. but thanks to the miracle of modern technology, your Uncle Grambo digitally captured images for historic preservation purposes. words don't describe how obvs this retrospective is, only a click will do. go on ... i dare you!

Prime Ministers: Tap Room 4.26.03

posted by uncle grambo |
---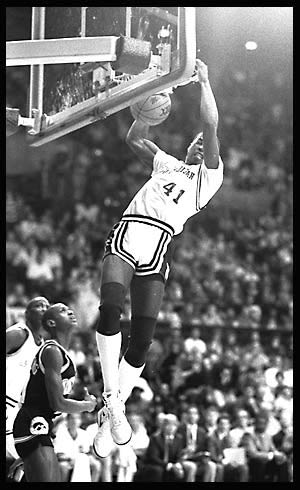 it pays to be a U of M alum. according to the newly redesigned Page Six (via their Sightings page), "TENNIS tart Anna Kournikova (was seen) dancing on the bar at Michael Capponi and Ingrid Casares' Friday night party at Prive in South Beach, to the delight of Matt Damon and Houston Rockets star Glen Rice." my only question is "where was T. Mills"? Terry Mills ... best three-point shooter over 6'10" of all-time? but before i get too far off track, what was G. Rizz doing hanging with Matt Damon? i mean SERIOUSLY. where was Sean Higgins?


continuing my string of random thoughts, i thought it was worth noting that the highly anticipated US release date of "Shaolin Soccer" will be on August 8th (thanks to The Grizz for confirmation). buzz.


lewis largent, RIP. according to The Hollywood Reporter, MTV is cancelling "120 Minutes" and replacing it with "Headbanger's Ball" ... Iann Robinson must be stopped! did you see that fat fuck's episode of "Cribs"? your own Uncle Grambo has a phatter crib! why don't you go get a SARS infected needle and get another tattoo, you geeky mutha effin' douche! (link via Stereogum)

posted by uncle grambo |
---
although i'm pretty sure that I'm the only one whose still interested in the Coachella Festival, here are a few more linkworthy articles on the festival to end all festivals. as I predicted months ago, the LA Times concurred that Underworld's blistering performance was one of the weekend's highlights, while another reporter chose to focus on some of the "smaller" bands that performed, including Interpol, Primal Scream and Thievery Corporation. and in typical MTV fashion, their recap chooses to focus solely on the weekend's rock (alterna and otherwise) that performed this weekend. no mentions of any of the DJ performances what-so-evs...


but don't get me wrong, MTV ain't all bad. one of their articles reveals the presence of a new website called Yes.net that reveals the secret art of "back announcing." for those who didn't go to Specs Howard, this is when your local deejay runs down the names of the last few songs that played on their station. so if you just heard a tigs song on the radio and you don't know who the artist was, just surf on over to Yes.net and you can look it up! they actually have listings from just about every radio station in the Detroit area, unfortch sans WDET. worth a visit.


even though "Biggie and Tupac" sucked major arse, DVD Talk's interview with controversial documentary filmmaker Nick Broomfield is actually worth reading.


and the pages of The New York Daily News reveal not one but TWO major bombshells this morning. first, Rush & Molloy report on the speculation that The Bachelor has chosen Tina Fabulous ... but since that show has more SARS than the Toronto Raptors, I won't offer any further comments (I'm spending all of my Reality TV energy finalizing my rant on Mr. Personality ... should be up later this evening). but the real hard hitter is the revelation that JACK OSBOURNE JUST ENTERED REHAB!!! could it be because he got Punk'd by Ashton last night? and can Kelly be far behind?


totally unrelated to anything, I just want everyone to know how incredibly best Ruthie is. yeah yeah yeah, we've all heard the Tiger Woods resets and remember her ridiculously drunken escapades on RW: Hawaii, but she has been kickin' some serious arse on this season of BOTS. she is an inspiration to us all. Ruthie for President?

posted by uncle grambo |
---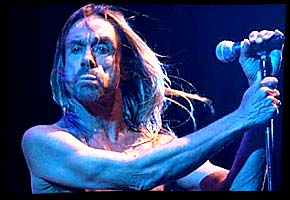 a certain someone that shall go unnamed told me a few weeks back that stories printed about the Coachella Music Festival on Tuesday, April 29th would be "old news." hmmm ... not according to Neil Strauss of The New York Times or Robert Hilburn of The Los Angeles Times or even Brian McCollum of The Detroit Free Press, all of whom came out with new stories this morning that focused mainly on the reunion of Iggy Pop and The Stooges at this weekend's festival.

posted by uncle grambo |
---
i've said it before and i'll say it again. neal pollack is the greatest writer of this or any generation. and since the publishing world is all buzzed out on the new literary bad boy james frey, whose memoir A Million Little Pieces is currently being read by Peabs, it's both pollack's right AND duty to take down another pretender to his throne (you may recall that J. Frey --not to be confused with C. Frey-- was was profiled here on whatevs.org back in january). this excerpt and many more can be found on neal's blog...

---




You're Gonna Frey -- 4/29/2003


There's been much talk lately in circles where talk occurs about a young writer named James Frey. I'm tired of him already. Every five weeks or so a punk comes along and tries to cock-block my mantle when he knows full well that I am the greatest writer of my generation or any generation and that no one better captures the anguish of contemporary American male identity better than I do.


You wanna fuck with my shit, Frey guy? I don't think so. Because I really don't give a flying anal gland about Danny Eggleston or Jonathan Safran Fuckface or David Foster Walrus. Not only do I not hang out with them, but I don't hang out at all. With anyone. No living being is worth my company except for my dogs, and only then because I like to fuck them. Oh, yes, I love fucking my dogs, and then I go to a boxing gym because I love beating up black people and then I fuck my dogs some more. So if you want to fight me, James Frey, then bring it on, because my fists are cast-iron and my screen saver reads "BRING IT YOU BEAUTIFUL MOTHERFUCKER BRING IT!" and my tattoo reads "SUCK MY COCK YOU WHORE." But it's not on my left arm. It's on my cock. Suck my cock tattoo that says suck my cock, James Frey, you whore.


You eat with your hands and call yourself a savage, Frey? Well, I eat with my face. I just plunge my face into a bowl and eat like a beast. Raw meat. Raw vegetables. Raw unprocessed grain. I brew my own beer and I piss in it and I drink it and it tastes good. And you think you're tough because you listen to N.W.A.? I was IN N.W.A, motherfucker. Now I listen to Dead Prez, and they're not nearly hard-core enough for me so I listen to Motorhead, but what the fuck? You pussy.


You can't write, Frey. I can write. Check this out. I wrote this five years ago in my book "Addict: A Memoir Of Addiction.":


"I open the cockpit door and I walk out. The Pilot wipes his nose because he's been snorting coke off my Balls. The flight attendant asks me if everything is OK and I fuck her. Outside, it is Night. The wing is straddled by blinking lights. From where I sit I can smell the lights and I want to break them with my fists. So I bust through the emergency exit door and leap onto the wing. Thank god we're still on the ground. I punch out the lights with my forehead and tear at the steel with my claws. I wish my parents had never made me go to College. I wish that my mind were an endless Chasm and that I could crawl inside. My Balls are blue because I fuck so much. The last time I committed suicide, I hung myself from the neck until I couldn't breathe. My brain is black my balls are black my heart is made of stone and I love nothing but the rush of hop into my vein and if I could get away with it, I would kill You now as you sit there in your comfortable chair reading this and I kill myself and anyone who challenges my position as the greatest fucking writer of my generation. The flight attendant asks me if I want some Cheese and Crackers, but I cannot have any, because I have swallowed my tongue. It tasted fucking good. I love the way my tongue tastes when I swallow it, and I don't care if I ever eat again."You think your appetites are bigger than mine, James Frey? You think you're a bigger rock star and a better writer than I am? Well, motherfucker, I challenge you. I want a drink. I want fifty drinks. I want a tub of acid as deep as the moon. I want a tube of glue that tastes like a dumptruck of peyote. I want a boyfriend. I want a boyfriend. I want all that stupid old shit like letters and sodas, letters and sodas. I want to be the guy with the most cake.


I want your ass, Frey. Served to me piping hot on a platter. Then I will bite it. And then I will send it back. Not because it's tough. But because it's not tough enough.


See You In Hell, Bitch.
posted by uncle grambo |
---
Monday, April 28, 2003

a sure way to get Uncle Grambo interested in your product is to include the word "buzz" in your copy ... especially when "buzz" comes attached to "Homer Simpson Antenna Topper"! pure hottness! who knew?

---
ATTENTION ALL SIMPSONS FANS!
Introducing The Officially Licensed
Homer Simpson Antenna Topper

Are you a REAL Simpsons fan? Be one of the first to join the Homer Simpson Antenna Topper buzz that is beginning to sweep the nation!

Your car is guaranteed to STAND OUT with the Homer Simpson Antenna Topper. Just stick the 3 1/2" underwear clad Homer on

your car, van, truck or SUV to display your loyalty to TV's #1 father!

This is the one collectible EVERY Simpson find wants! Due to an increase in popularity, it is SOLD OUT in most retail and gift shops.

Now, while supplies last you can get your Homer Simpson Antenna Topper for just $5.99 or SAVE when you order 2 or more. Makes a Great Gift for the Simpsons fan in your life!
posted by uncle grambo |
---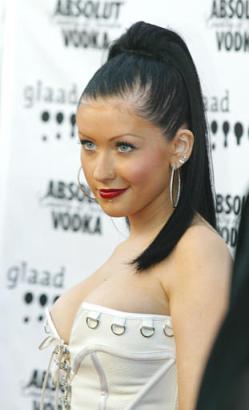 okay. i've been here for five hours and i'm just now sitting down to log onto my 'puter. somehow, over the course of the last few days, i've gone from being very busy at work to cryin' crazy amaza-crazy busy. the percentage of meetings that i have to attend have somehow morphed from taking up roughly 50% of my time to 75% of my time, all over the course of the last four business days. which is obvs SARS, because it wildly affects my ability to keep whatevs.org as mega tigs as you all deserve. so apologies for past offenses and any future offenses that may occur...


first off, mad props need to be thrown out to Seantizz and Jen-Bo for their sublimely tatts wedding on saturday. you know a wedding is tigs when DJ John King provides the beats and the bride and groom are partying with you at the hotel until 4am. "then after the show it's the afta party / then afta the party it's the "hotel lobby" ... it's even better when damore's room gets busted for excessive noise -- the cloud of cigarette smoke in the room was thicker than the smoggy haze over LA. so much Hilton Garden Inn buzz. best.


well outside of that, the big news of the weekend was the Coachella Festival. The Grizz called to report that QOTSA's performance was "in the top three shows of all-time"; he also mentioned that Badly Drizz had a near meltdown on stage but turned out a tatts solo acoustic perf. full details should be on their way later, but The Grizz will be pissed to learn that The Freep's own Brian McCollum scooped The DetNews big time when he filed from Coachella. i didn't see any NYT buzz, but the LA Times has a few stories posted online (one by the esteemed Robert Hilburn and a few others). NME.com reports that celebs in attendance included Cameron Diaz, Drew Barrymore, Elijah Wood, Juliet Lewis, Jared Leto, and more. note to the FOWs: if any of you are planning on getting married on April 24th 2004, please reschedule because I'll be in Cali. obvs.


and remember Brit Brit's awful haircut from last week? well that cut looks like "The Rachel" when you compare it to X-tina's new 'do! blech...

posted by uncle grambo |
---

quote-a-matic
"I started out with a lot of Audioslave or anything Chris Cornell -- it helped with the aggression. And Chris Webber from the [Sacramento] Kings. There's a real sweetness behind his eyes, but he's pissed off."
— Brad Pitt on the sources of inspiration for his character in "Troy"

be like mark

ECOUTEZ

loretta lynn - van lear rose
---
REGARDEZ

king of new york (special edition)
---
LISEZ

john kennedy toole - a confederacy of dunces
adventures w/disposable income
date: 5.8.04
source: CVS
amount: $19.48

(1) liter of Captain's
(2) liters of DC w/lime
(1) mother's day card


snl season 29
REVEALED!
by Nummer & H-Bomb
Ep 1 - Black / Mayer (10/4/03)
Ep 2 - Timberlake (10/11/03)
Ep 3 - Berry / Spears (10/18/03)
Ep 4 - Ripa / OutKast (11/1/03)
Ep 5 - Roddick / Matthews (11/8/03)
Ep 6 - Baldwin / Elliott (11/15/03)
Ep 7 - Sharpton / Pink (12/6/03)
Ep 8 - Wood / Jet (12/13/03)
Ep 9 - Aniston / Peas (1/10/04)
Ep 10 - Simpson / Lachey / G Unit / 50 (1/17/04)
Ep 11 - Mullally / Aiken (2/7/04)
Ep 12 - Barrymore / Kelis (2/14/04)
Ep 13 - Aguilera / Maroon 5 (2/21/04)
Ep 14 - Firth / Jones (3/6/04)
Ep 15 - Affleck / N*E*R*D* (3/13/04)
Ep 16 - Trump / Toots (4/3/04)
Ep 17 - Janet Jackson (4/10/04)
Ep 18 - Lohan / Usher (5/1/04) NEW!
Ep 19 - Snoop / Lavigne (5/8/04)
Ep 20 - Olsen Twins / J-Kwon (5/15/04)

where's grambo?
may 10: the strokes @ state theatre
may 15: cardigans @ magic stick
may 17: softball league @ 8:30pm
may 17: last tourist @ small's (10pm)
may 24: softball league @ 6:10pm
may 27: sea ray / stills @ st. andrews
june 6: dido @ fox theater
june 7: softball league @ 7:20pm
june 14: softball @ 6:10pm
june 19: jessica's graduation party
june 21: softball @ 8:30pm
june 28: softball @ 6:10pm
july 3 - july 11: vacation @ TBD
july 12: softball @ 7:20pm
july 19: softball @ 7:20pm
july 26: softball @ 9:40pm
august 2: softball @ 7:20pm
august 14: nuptial buzz w/c friggs + lescal!!!
october 23: nuptial buzz w/the grizz + mandypants!!!

twenty word reviews
van helsing
**
REVIEW TK.
hellboy
***
REVIEW TK.
walking tall
*
REVIEW TK.
scooby doo 2: monsters unleashed
NO BUZZ!
REVIEW TK.
dawn of the dead
****1/2
REVIEW TK.
eternal sunshine of the spotless mind
****1/2
REVIEW TK.
starsky & hutch
***1/2
REVIEW TK.
girl next door
***
re-imagines "Risky Business" with Vivid Girls instead of prostitutes; marks Elisha Cuthbert's arrival as an alluring, big screen sex symbol.
eurotrip
*
Despite the best efforts of TrachtenBest, suffers greatly from a lack of forward momentum (scriptwise) and some remarkably bland casting
along came polly
**
aside from Philip Seymour Best Ever's performance ("RAIN DANCE!"), I vastly preferred this when it was called "Dharma And Greg."