Friday, August 04, 2006

[pic via X17]


I haven't watched "The Family Feud" in years, but I bet if that legendary letch Richard Dawson (R.I.P.) asked 100 people across America to name the Top Five Never-Before-Nude Starlets that they want to see appear nude in Playboy, Jessica Simpson would be the #1 answer on the board. Sure, Jessica Alba, Jennifer Aniston and ScarJo would give her a serious run for her money, but your Uncle Grambo would argue that a Jessica Simpson pictorial would SHATTER any and all single-issue sell-through magazine records that exist. Say what you will about trim waistlines or gorge gams, there's NOTHING America loves more than a racktastic pair of sweater puppies. WOOF!


Unfortch for us, the chances of this happening anytime in the next five years is even smaller than LiLo's rapidly diminishing septum. But thanks a perfect storm of fortunate coincidences in Hollywood earlier this week, our collective curiosity has been temporarily satiated with these photos of Jessica Simpson in a spectacularly sheer dress (NSFW). "So what?", I can sense you asking. "In an era of ubiquitous nip slips and celebrity sex tapes, do these even register on the Richter Scale of buzz?"


My answer? SHIT YEAH! And the reason, my fine-feathered FOWs, is simple — this is one of those increasingly rare instances when reality not only exceeds enormously high expectations, but also provides ample evidence to squash all the haters. In a desperate chase to be credited with discovering the next big thing, we're trapped in a flat spin where buzz is too often bestowed before it is earned. Not the case with these DoubleDeeTees; they have been tantalizing us in an exceedingly slow yet increasingly best series of babysteps over the last three years or so.


This gradual burn could've backfired if Jessica didn't have the goods (ie, obvious breast job, sidewinders, pepperoni nips). Seeing as how we're still in the wake of some piss poor photo shoots for Maxim and OK Magazine, the timely release of these shots provides us with confirmation of that she's more than deserving of the Overall Greatness billing her boobs have received. This moment cannot be underestimated. After all, in the consumption crazed America of the early 2000s, there's not much that can stop a girl when they're real AND spectacular.


Break out your lighter, yo. If you're so inclined, now's the time to fire-up a few one-hitters of PHC:





And with that, your Uncle Grambo is off to Chi-Town for the weekend. Hijinks and hilarity are guaranteed as a whole crew of us (Coach, Clizzark, Malbersblows, possibly Ned Coho) will be congregating in the Windy City NOT for Lollapalooza, but for Butch's batch party. Hide your wives and daughters, yo.

posted by Uncle Grambo |
---
Wednesday, August 02, 2006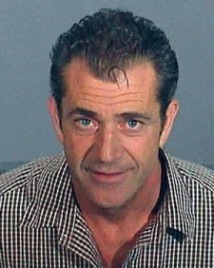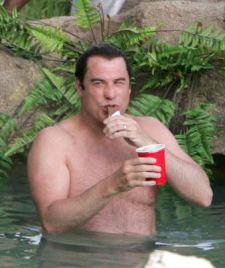 Here's the thing your Uncle Grambo doesn't understand about the tabs. Sure, people have a right to be outraged that Mel Gibson spewed racist bombs after getting pulled over for DUI, but how come this photo of John Travolta eating a god forsaken CANDY BAR while half of his body is submerged in some sort of tropical lagoon isn't getting more run? Think about it. I'm sure all of us know at least one person whose deservedly spent a night in the clink for D&D, but when was the last time you or someone you know ate anything from the cocoa family while swimming in the vicinity of palm fronds? Thought so. All of which begs the question, who's the REAL outcast here? [Travolta pic courtesy of US Weekly]

As much as your U.G. liked "Batman Begins" when I first saw it on the big screen, I can't say it really holds up upon multiple viewings. Which got me thinking, isn't this pretty much the case for all of Chris Nolan's flix? That said, casting Heath Ledger as The Joker in the next "Batman" installment has me more than a little geeched.

Here's this for an idea. Next time, instead of wasting energy burying your long-forgotten beef with Fall Out Boy, The Killers should redirect that energy into writing actual choruses for their songs. Please tell me I'm not the only one who thinks that their new single, "When You Were Young" (Windoze Media stizz), is strangely hookless. That's not saying it's a terrible song — the earnest, Springsteen vibe is growing on me — but this chorus-less first single doesn't bode well for the prospects of their upcoming LP.

Damon Albarn has more sides than Boston Market. As if working on a solo project and fronting both Blur and Gorillaz weren't enough, Pitchfork announced today that he's formed ANOTHER band with ex-members of The Clash and The Verve. Don't freak out TOO much, former disciples of the Wigan Five -- it's neither Richard Ashcroft nor Nick McCabe.

Question for the Detroit area FOWs. Anyone know if that's the lovely voice of Loretta Lucas singing in that old-timey yet new commercial for The Henry Ford Museum? And if it is, how come neither of their websites makes any mention of it whatsoevs?

Lastly, your Uncle Grambo would like to send a HUGE congratulatory shout-out to one of my old skool Wolverine homies, Connie NYC (aka The Douce). You see, he mans the kit for a brand new(ish) Big Apple buzz band called Takka Takka. Hot on the heels of their very well-received performance at the latest installment of Movable Hype, they were asked to open for Clap Your Hands Say Yeah on their upcoming, cross-country fall tour ... SO BEST! War Anberay, War Professor Sally Robinson, and War Astoria!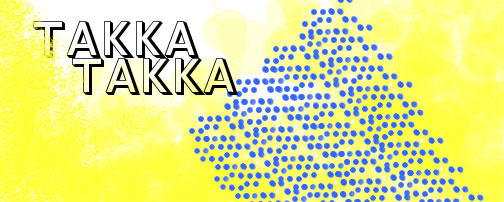 posted by Uncle Grambo |
---
Tuesday, August 01, 2006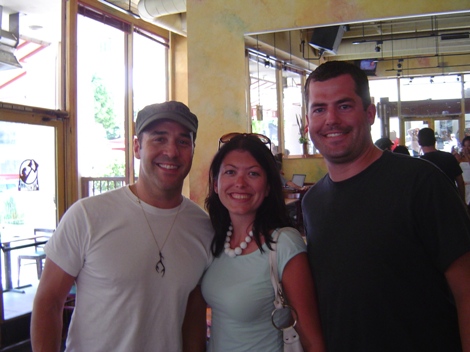 Never you mind that Whatevs Watcher has been on lifesupport for the last two years, cuz longtime FOWs STILL recognize that whenever some truly spicy PHC is unleashed, your Uncle Grambo is the one bringing it to the fawning masses. In this case, it involves the hottest Hollywood couple since Lizzie Taylor and Dick Burton ... JEREMY PIVEN and JAMIE REAL-WORLD SAN DIEGO!!!


Thanks to the not-so-surreptitious celebrity sleuthing skillz of Jen-bo and Tiz (pictured above with Mr. Piven), whatevs.org can now EXCLUSIVELY reveal that television's most popular fake agent ate lunch with the hottest "early morning stoner white washed asian girl" in "Real World" history at West Hollywood's Newsroom Cafe last Thursday, July 27th. You want proof? Click on the photo above for hi-res hottness; she took the photo and is reflected in the mirror, frame right stizz!


While there's no official word as to what the lunching lovebirds ate that afternoon, rumour has it that box was on the dessert menu. Snizz.


And oh yeah, Mr. Piven? You might want to revise the height they listed you as on your IMDB profile. Methinks you could probably safely get away with five seven and a half, but I'm not sure that 5'9" claim will hold up upon close examination this photo showing you standing alongside the strapping, 6'0" frame of Tiz. Marsbars.


Stay tuned to whatevs.org for future updates if and when The Piv decides to TF Amaya from Real World Hawaii on his next coffee break. Until then, DEVELOPING...

posted by Uncle Grambo |
---
Monday, July 31, 2006



Your Uncle Grambo has tried for months and months to deny this feeling. Trust me, it's not something I'm proud of. It's something that I know my friends won't understand, my family won't support and my girlfriend will probably end up dumping me for. But try and try as I might to keep these feelings buried below the surface, the day has come that I know I can't hide it anymore...


I think Colin Farrell is Super Fucking Best Ever.


I know, I know. There are a million and one reasons to hate the man, all of which I'm cognizant of. But nary a single one of those drawbacks is even REMOTELY related what the man has brought to his last two performances in "The New World" and "Miami Vice." While I'm normally not one for hyperbole, he's demonstrated in these last two films that his ability ooze machismo on-screen while still retaining an air of almost soulful sensitivity towards women puts him in the same peer class as highly-esteemed legends like Brando and Newman. Most actors can either play the hard ass or the pushover pussbag; only the rarest of talents can be be believable hovering somewhere in the middle. Farrell is one of this rarest of breeds, a truly magnetic actor who you can't help but be drawn to every second he's on screen. All of which sounds very gay, I'm sure. But when someone is THIS best, at the end of the day, you just don't care.


Farrell's electrifying embodiment of Sonny Crockett is only one reason to drop whatever it is that you're doing right now to go see "Miami Vice." If you need another, it's that Michael Mann is 63 years old. He might only have another three or four films in him. Go now, while you can, to soak up all of the cinematic majesty of his 2:35 to 1 DV masterpieces on a high-def big screen ... breathtaking shit, swear to Jer. Still not enough? Go for Gong Li (or, as The Freep's Terrible Lawson insists on calling her, Li Gong), the hottest 41 year old walking the face of this earth at this moment. Dave Poland was right, this IS the summer movie I've been waiting to see. Superbest.


Still a hungry, hungry hippo? Then break yourself off a slice or two of PHC, bullet stizz:


posted by Uncle Grambo |
---