Friday, June 16, 2006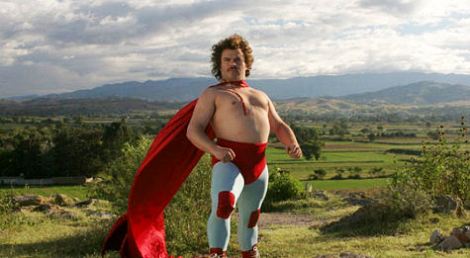 Until last night, your Uncle Grambo was feeling really unsure about this weekend's release of "Nacho Libre." In addition to the fact that I'm unabashedly anti-Jared Hess, early word of mouth has been, shall we say, less-than-positive (Jeffrey Wells likened it to "The Life Aquatic"). As much as I heart Jables, it looked for the world like he just might have another "Shallow Hal" on his hands.

But wouldn't you know it, two pieces of news struck your Uncle Grambo like a bolt of inspirado late last night (DOUBLE SHOT POWER!). First was Jack Black's gut bustingly best evs cameo appearance on "The Showbiz Show With David Spade" (memo to YOU: if you're not at least DVRing this show every week, you're dead to me). In a segment that couldn't have lasted any more than 90 seconds, he made a compellingly hilarious case why "Nacho" will, and I quote, "take on all comers and cum on all takers" at the B.O. this weekend. If your U.G. was technically savvy enough to know how to upload shit to YouTube, I'd send you a link to the hottness that had The Senator and I rolling on the floor. So best.

Then again, he's Jack Black, he's the star of the film, so of COURSE he's going to come up with a great bit to try and get his mitts on my hard earned pesos. Why should I trust him? But when I perused Manohla's glowing review in the NYT, my excitement level to catch the flick ratcheted up about 350 notches to a point just south of "I'm Totally Skipping Work Tomorrow To Catch The First Screening At 10 A.M." To me, Dargis is, far and away, the best critic working these days. So when she dropped the following lede on my unsuspecting ass, I knew that I'd make time to see "Nacho" at least twice this weekend:

"GENTLER than Jim Carrey, more playful than Ben Stiller, able to leap tall tales in a single bound, Jack Black is the one guy in American movie theaters right now who knows how to coax out the genuine article, the laugh that begins by tickling your belly before it starts shaking you silly. In his endearingly ridiculous new film, "Nacho Libre," he plays a crusader of sorts in mask and cape, working his daft magic well enough to suggest that he just might be the missing comic link between a smarmy-pants like Vince Vaughn and a "what-me-worry" naïf like Will Ferrell."
Don't know about you, but your Uncle Grambo is SOLD! I'll be back with an update after I catch this film first thing after work this eve. Bozzle.

Hey Dearborn! Um, how come your Uncle Grambo is the last person to know that cutie supreme Hoopz (from "Flavor Of Love") lives in Dearborn? Sounds like it might be time to make some rezzies at L.A. Express again (which JP McKrengels will vow is neither L.A. nor express). Let's hope she learns from her recent harrassment by the Dearborn City Cops and decides to kick it on Jos Campau with me in the not-too-distant fyootch.


In other local news, looks like Kwame has finally decided to raze Tiger Town. `Bout god damn time! Sure, your Uncle Grambo has all sorts of fond memories from the `80s of opening days and summer nights at the corner of Michigan and Trumbull with Freb$ and The Grizz, but c'mon now, that monstrosity has had buzz negativo since The CoPa came to town. Opening up that prime real estate could do wonders for the Corktown neighborhood. Let's just hope that Kwame doesn't brick when it comes to choosing the right developersDeveloping!


Good news for zombie fans. Brad Pitt's production company just acquired the rights to Max Brooks' upcoming zombie-centric novel, World War Z. If Brooks' name sounds familiar, it's because he authored The Zombie Survival Guide (good book, btw). Anysluts, his new book is said to be set 10 years after most of the human race has been turned into flesh-eating zombies by a disease epidemic. Sounds to this blogga like a cross between "28 Days Later" and "I Am Legend" ... buzz.


Here's some tasty linkage for those of you, unlike moi, will have some time to kill on Friday:





Big weekend for music 'round here, yo. First, your Uncle Grambo and The Senator will be screamin' out requests for "Froggy Went A Courtin" at the Springsteen show on Saturday night. And then on Sunday (courtesy of Damizz), we'll be holding court at the 89X Birthday Bash, featuring the likes of Guster, The Stills, Rogue Wave and Yeah Yeah Yeah's. Hope to see you out and about, yo.

posted by Uncle Grambo |
---
Wednesday, June 14, 2006

One thing that your Uncle Grambo has never really understood is why people love to hate VH-1 so much. Granta, the whole "Fabulous Life Of..." series is in need of a swift and merciless euthanization and there's little doubt that we'd all be better off if "I Love The (Fill In The Blanks)" mainstays like Michael Ian Black and Mo Rocca moved on with their lives. That said, there's no arguing that this network has been turning out the highest quality brain candy on the market for the last three or four years running.


Take, for example, their latest foray into rock-centric documentaries, "VH1 Rock Docs: The Drug Years." PLEASE tell your Uncle Grambo that you've been watching this series, `cuz its one of the most comprehensively best mini-series that I've ever had the pleasure of viewing. Focusing primarily on the ways that the way that the drug culture has intermingled with youth, music and pop culture over the last four decades, your Uncle Grambo and The Senator have spent this entire week mesmerized by its sheer besteverness.

Using Martin Torgoff's 2004 book Can't Find My Way Home: America In The Great Stoned Age, 1945-2000 as a jumping off point, the first two parts of this four part series have exhaustively documented the decade of the 1960s. These are all stories that you've heard before (Haight Ashbury, Yippies, Woodstock, Altamont), but they are presented with a narrative cohesiveness that rivals anything that PBS or the BBC has ever produced. And by that I mean something that is just as entertaining as it is educational. Big ups to VH-1 for pulling this off; if you haven't caught this series yet, your Uncle Grambo highly suggests setting your DVR to record the next few episodes. Highly recommended, yo.


Gulager! FEAST! September 22! BEST! [via Spencer Sloan]


Curb your enthusiasm? I don't think so. You'll be too focused curbing your pocket rockets after checking out these NSFW Cheryl Hines topless pics.


I don't care that their new single features an intro that recalls U2's "Even Better Than The Real Thing", those pasty British punks who call themselves Keane are still nothing but a bunch of potzers. They manage to blow a great premise in the video for "Is It Any Wonder?" when they decided not to shoot the video in one consecutive take. What a bunch of limey pussbags.


Hey white people, looking for some black friends? Try calling The Freep! Turns out they've got a list of black people that all of the reporters can call on if they're ever in need of a minority quote to complete a piece. Bitchin! [via Romenesko]

posted by Uncle Grambo |
---
Monday, June 12, 2006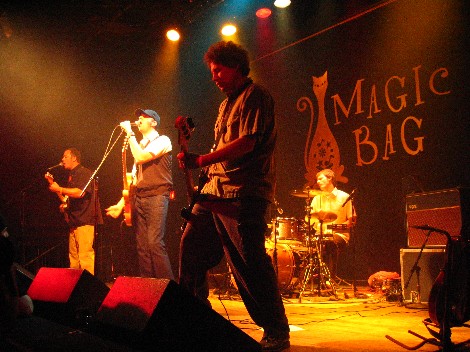 Power to the rear ones, as well. Hundreds of hungry power pop enthusiasts crammed into Magic Bag on Friday night to catch the return of the recently dormant The Prime Ministers and, believe you me, each and every soul left fully satiated. Looking and sounding more energized than they've been in a long-time, The PMs certainly won themselves some new fans with their instantly hummable hooks and divinely catchy choruses. And in a stunning turn of events, the band displayed some newfound merchandising chops and sold out their entire stock of t-shirts (featuring Ned Coho's visage in a manner reminiscent of Jack Nance in "Eraserhead"). If you didn't pick up a copy of the new "Budget Cuts EP" on Friday night, you can order yourself a copy via CDBaby. Trust me, it'll be the best $7 you spend this year. If you're still not sold, here's an MP3 to whet your appetizz...

The Prime Ministers, "Four Stars" (mp3)

Sometimes your Uncle Grambo stays awake nights wondering what happened to Luc Besson. When you think about it, he's the cinematic equivalent of Jack Morris; both were dominant forces over long stretches of time in their respective disciplines, yet neither is looked upon fondly by the documentarians of their craft. While the world anxiously awaits Besson's next directorial effort (IMDB reveals an upcoming project that sounds like the spawn of "Time Bandits" and "Millions"), we are forced to bide our time watching other directors execute his ideas.

"B-13" is the latest Besson penned film to hit the local art houses. With this and his two "Transporter" films, it's clear that Besson has been spending most of his free time watching a lot of Hong Kong pix. Which, actually, perfectly compliments his over-the-top style. Witness the opening scene of "B-13", a sequence that rivals anything that Jackie Chan has ever committed to celluloid. This is the feel-crazed movie of the month, by far.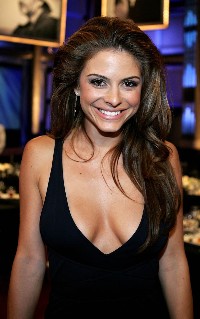 While we're on the "Whatever Happened To" tip, let's discuss Maria Menounos for a moment, shall we? Last night's cameo on the season premiere of "Entourage" notwithstanding, the hottest piece of Greek Spank-Yo-Pita has been AWOL for, like, EVUH! Here's hoping she decides to pull a Lisa Guerrero (NSFW) sooner rather than later. [via Hollywood Tuna]


Mark down the date of September 12 in your PDA. Gary Graff reveals that'll be the date that Bob Seger drops his first studio album in 11 years. Best!


It's curious to me why Robert F. Kennedy Jr.'s recent article in Rolling Stone about the hijacking of the 2004 Election isn't gaining more traction in the media. It's probably got a lot do with the fact that it was written by a Kennedy. Can't believe Jann didn't have the common sense to convince the author to print the article under a pseudonym (a less politically charged surname might have done wonders). [via Product Shop NYC]


Remember just a few short weeks ago when the entire country was gripped with a mean case of McPheever? Huh, wonder what it would've done to her Q Rating at the time if everyone knew that she's dating some 41 year old sugar daddy? No wonder her bitch boy father cried so much.


Eat your heart out, Krzysztof Kieslowski! "Wet Hot American Summer" director David Wain is set to take on The Ten Commandments when "The Ten" starts shooting this summer. Paul Rudd, Ken Marino and Amanda Peet are just a few of the notable stars of the ensemble cast. What, no Liz Banks?


A consortium of NBA peeps just bought some riverfront property here in The D™ and intend to build some condos up in that bitch. Bet you dollars to donuts that on any given Friday, you'll be able to see C-Webb and Derrick Coleman taking a piss out on the front lawn. Those dunkin' degenerates are straight up incorrigible, yo.

posted by Uncle Grambo |
---