Friday, July 21, 2006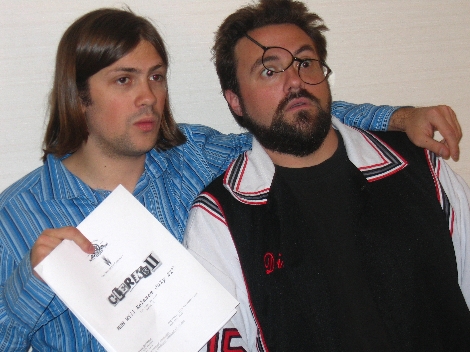 I blame The Beatles.

You see, ever since the first time that the Fab Four dropped acid and raised the bar for all of us unfortunate souls that followed, our culture has been obsessed with what your Uncle Grambo considers to be an artistically obtuse notion. Namely, that artists -- be they musicians, actors, writers, what have you -- must work over time to categorically disavow the very strengths that gained them popularity in the first place, all in the name of "artistic progression." And if an artist, on his own volition, chooses to continue to play to his strengths, we go to great lengths to dismiss their work by branding them as a one-trick pony. But the question that I would like to posit to the FOW Nation today is this: what if that one trick is just too god damn good to give up on?

"People are always trying to get you to stretch," Kevin Smith told me a few weeks ago over a mid-morning smokey treat chased with Formula 50, way back in late June. "They're always saying, 'You have to grow as a filmmaker.' And I'm always like, don't you get it? This is all I fucking know how to do!"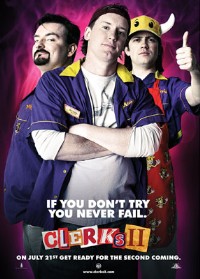 While I'm certainly not one to argue with him, what you've got to understand is that Kevin Smith doesn't view this as a negative thing. He's proud as hell that he has managed to create and carve out a singularly unique cinematic universe over his twelve-year directorial career. One that stretches across multiple artistic mediums (film, comic books, animated television series, internet properties) and, more importantly, one that has cultivated a passionate and loyal following of fans that arguably trumps the posse of any other filmmaker living today. "Clerks II", his latest foray into The ViewAskewniverse, opens in theaters nationwide today,

"I know my strengths, and I try to make films that play to them. People criticize me by saying "Oh, he only plays to his audience.' And I'm like, but EVERY fucking filmmaker plays to their audience," Smith concedes. "Martin Scorsese plays to Martin Scorsese's audience. Steven Spielberg plays to Steven Spielberg' s audience, only his audience just happens to be the whole entire fucking world."

But, at the end of the day, this doesn't faze Smith in the slightest. Rather, it emboldens him. "This is what I do, this is what I like to do, this is the only thing that I've ever wanted to do. Which is a long way of saying I've gone a long way only to return."

That sentiment is at the very core of "Clerks II", which, as the title makes perfectly obvs, catches us up with Dante and Randall, the convenience store workers at the heart of the phenomenon that ended up becoming the biggest success story in the history of independent film (and that includes "Blair Witch", bitch). It's been a full twelve years since we last stepped foot in the Quick Stop; since then, the best friends have both grown a little bit paunchier, not to mention a lot raunchier. Without giving too much in the way of plot details, it's suffice to say that watching this film is a lot like buying a brand-new rollneck sweater from J. Crew. Sure, it's familiar in that it shares the same style as the raggedy old sweater that you've been wearing every fall weekends since 1994, but this one just feels NEW. And those that know me know that this is a compliment of THE highest magnitude.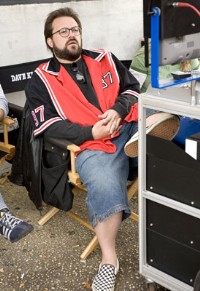 In case that didn't come across, here's what I mean. Smith has written his characters and his movie through a nostalgic lens of what life was like in the 1990s (the soundtrack consists of songs by the likes of Alanis, Soul Asylum and The Smashing Pumpkins), but at the same time, we're constantly reminded that a lot of things have changed since then. One example that stands out as a centerpiece of "Clerks II" is a historic revisiting of the first film's legendary debate about which was the best of the original three "Star Wars" films; only now, the conversation is updated to confront the fact that there are not TWO separate (yet related) "Star Wars" trilogies AND a "LOTR" trilogy battling each other for dominance in the Kingdom of Geeks.

With Smith fully entrenched in his 30s, you'd think that he would absolutely abhor George Lucas' last three cinematic abortions. Not true.

"I wasn't like one of those cats that when 'Phantom Menace' came out, I was like 'George Lucas raped my fucking childhood'," Smith says. "I didn't go into the movie with expectations. As such, I totally appreciated it. That said, the pod race could have been two laps shorter and 'Sith' was the movie that 'Phantom Menace' should've been."

Laughs aside (and there are PLENTY in this scene), Smith feels strongly that this scene is a pivotal moment of the film. As Randall finds himself failing to win over his conversational combatants by passionately defending the honor and integrity of the original "Star Wars" trilogy, he exclaims "What the fuck happened to this world?"

"It might sound like a throwaway line, but it's integral to (Randall's) character development," Smith offers. "I know it's not funny, but it's Randall to the core. This is it, I don't fit in with the rest of the world anymore."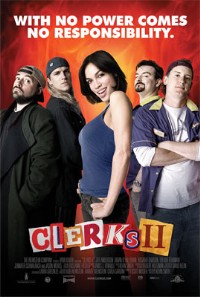 And coming off an admittedly disastrous foray into the realm of the romantic comedy with "Jersey Girl", there was a stretch of time that Smith felt this very same way about his place in the Hollywood food chain. He casually admits as much, saying that his longtime financial partner Harvey Weinstein wasn't exactly bowled over by the script that he turned in for "Clerks II".

"Honestly, I don't think (Harvey) believed in it until he saw the movie. He was just kind of like, it's a no brainer. It's $5 million bucks (in terms of budget), we'll make that back (on DVD), even if nobody shows up in the theater."

But after an enthusiastic response at Cannes (where the film received an eight minute standing ovation), the Weinstein Company marketing machine is primed and ready to get make the most out of the film. Through this, Smith's confidence in his own talents have been restored, which is kind of echoed through the decisions that Dante is ultimately forced with as this film comes to a close.

Without giving any spoilers away, Smith conceded that "There's definitely a bit of my journey in Dante's journey. And it's not so much 'Fuck Jersey Girl', because I love Jersey Girl, but I wanted to get back to telling stories that appeals to people I like telling stories to."

And in that quest, there is no doubt whatsoevs that Smith has succeeded. While "Clerks II" is unlikely to make many critic's Top 10 list this year (especially Joel Siegel's), it's fair to say that all of you who got a kick out of the original will want to get your butts to a theater this weekend to enjoy 90 minutes of vintage Kevin Smith hottness. For a guy who self-deprecatingly admits that he "likes to put the bar REAL low", there are millions of people who would be JUST fine if Kevin Smith decided never to leave his ViewAskewniverse ever again. When the results are this good, it's not difficult to believe that artistic progression is anything other than WILDLY overrated. Mazelbovs!

posted by Uncle Grambo |
---
Thursday, July 20, 2006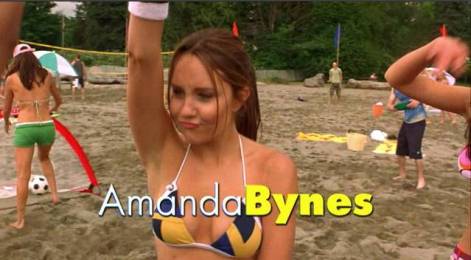 Yes yes yes, your Uncle Grambo has been neglectful over the last two weeks. It's not for a lack of love, trust you me. It's just that all of my free time (aka, blogging time) has been usurped by a couple of ultrabest freelance assignments; more deets on those to follow.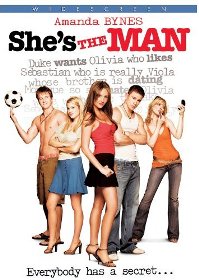 So, in lieu of actual PHC, I bring you the chance to win something that's actually tangible. Something that, were it invented two thousand and some odd years ago, the Three Wise Men surely would've brought Big Baby Jesus in lieu of that jankity incense. That's right, I'm talking about YOUR VERY OWN COPY OF "SHE'S THE MAN" ON DVD! Does it GET any hotta? Didn't think so, yo.


Ok, so here's the scoop. First person to email me (markdgraham AT yahoo DOT com) with the answers to this Bynes-related trivia question will get a special care package sent to them by your Uncle Grambo. Here goes:


What is the name of the movie that, as legend would have it, your Uncle Grambo unfavorably compared the box office prospects of "What A Girl Wants" against before its original theatrical run (which, obvs, was before I fell blog over heels for the singular beauty of Bynes)?


First person to send me an email with the correct answer wins! I'll be sure and post an update once we've got ourselves a winner, yo. But for those that find themselves on the short end of this proverbial stick, please don't fret. The DVD (featuring Bynes commentary!!!) is in stores now. Pick up yours today, yo.


Last thing. Be sure and tune back to this Bat Channel tomorrow for some very special PHC that's been on stewing on the broiler for the last few weeks. The Hollywood publicity machine has given the greenlight for me to FINALLY release the epic results of my sit-down interview one month ago with ... drumroll please ... KEVIN SMITH! Best. Interview. Evs. We talk life, we talk love, we talk "Clerks II" ... come back tomorrow, y'hear?


UPDATE (12:43pm): We have a winner! Congratulations to Matt Stollak of De Pere, WI, who revealed the correct answer of "Agent Cody Banks" ... WHAT was I thinking? I learned my less, never doubt the box office power of The Bynes. Thanks to all of you who entered, you got bested by a certified Quick Draw McGraw. Word.

posted by Uncle Grambo |
---