Friday, March 03, 2006

Oh. My. Aching. Head. Lots of beers sans lots of sleep = a hard day on the horizon. Howevs, your Uncle Grambo would be remiss if I led you to believe that Day 2 of The Blowout was anything less than best. A full recap of last night's festivities will be forthcoming, but not until sometime early this evening. Until then, enjoy these pics of The Nice Device, Marie And Francis and The Fags (respectively).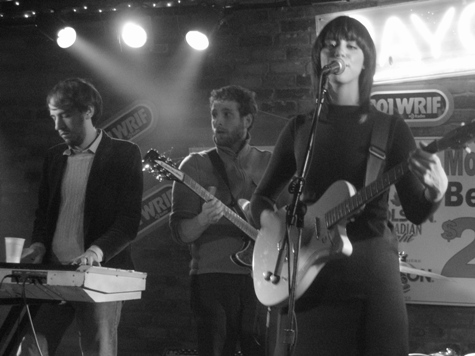 posted by Uncle Grambo |
---
What a difference a month makes! Since the Steve Martin / Prince episode aired on 2/4/06, BOTH Nummer and H-Bomb have gone and gotten themselves engaged. Your Uncle Grambo, along with the entire FOW Nation, would like to wish them both them and their respective fiancees the best of luck on their impending nuptial buzz.

Even in the midst of all this excitement, Nummer and H-Bomb have taken the time to prepare their patented pre-show comments for this weekend's Natalie Portman / Fall Out Boy episode. Enjoy...

NUMMER
H-BOMB
Episode 13: Natalie Portman / Fall Out Boy (3/4/06)

I see no reason why this episode can't be another standout for the season. I've been curious about a Portman SNL ever since the Star Wars buzz fired up back in 1999. I've just always thought she had a kind of playful quality to her that would mix well with sketch comedy. Let's hope my hunch was right and she doesn't deliver another Zeta-Jones caliber snoozer.


Up and at them! The musical end of things will be handled by Radioactive Man's trusty sidekick...I mean suburban Chicago's own Fall Out Boy. I can honestly only judge them on a recently burnt copy of their "Take This to Your Grave" album from 2003. The music wasn't groundbreaking, but their sharp sense of humor easily notched them above the many pop/punk conterparts. They'll be reved up and energetic about this opportunitiy and I'm sure it will result in some tasty coneys.


With minimal concerns about the host and musical guest, the wild card again becomes the cast and writers. Apart from the obvious jabs Fey and Hammond will make about Cheney's hunting accident (since this is the first live episode since that incident), I'm again most curious about the Digital Shorts. Steve Martin's episode dished out three of them which kind of defeats the title of Saturday Night LIVE. It might be time to let these little gems take some time off.

Honestly, I'm still not quite sure what to make of a Natalie Portman hosted episode of SNL. Yes, she's gorgeous and charming with a decidedly good head on her shoulders, a wonderful trait for today's young stars to have when hosting such a widely watched and critically judged show. However, it's also true that I've found more than one of the characters she's portrayed in the past to be incredibly annoying (Alice from Closer comes to mind). Nevertheless, with the right combination of sketch writing and supporting cast memebers (please give us some more Hader!), Portman will probably provide us with a decent show and might even pull off a laugh or two of her own.


The extent of my knowledge of musical guest Fall Out Boy stems strictly from the one song I've managed to catch on the radio, their smash hit, "Sugar, We're Going Down." Not a horrible song, but definitely not A-list material. Hopefully their first-time exerburance will make-up for their less than stellar lyrics.
posted by Uncle Grambo |
---
Thursday, March 02, 2006



Another year, another Metro Times Blowout. Your Uncle Grambo played it relatively safe on this year's opening Wednesday night, downing ONLY a half dozen High Lifes and investing ONLY one American dollar on Erotic Photo Hunt. Got home with enough time to catch up on "Lost" before hitting the sack, but spent enough time out on the town to catch some smokin' live performances from Loretta & The Larkspurs (first picture), Team Dorkwave and The Holy Fire (second picture). The latter was a particular surprise, as they turned in not only a great perf but also featured a brand-spankin' guitarist who also happens to be a long-time FOW, Mr. Erik Mushnik. SO BEST!


If you weren't one of the buzzworthy in attendance this eve, don't sweat it. There are still three more nights of rock to be had. Our good friends over at Motor City Rocks feature an extensive preview of this weekend's festivities (including a mini-rant from Yours Truly), but you can find an entire schedule and comprehensive reviews over at the Metro Times website. Buzz.

posted by Uncle Grambo |
---
Wednesday, March 01, 2006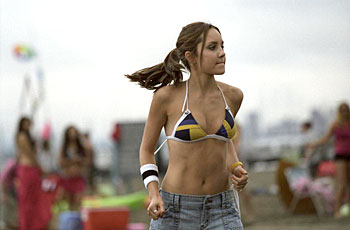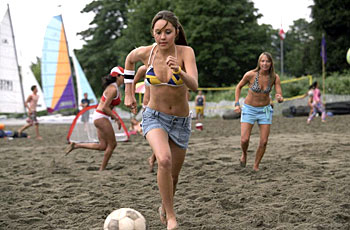 Uh, who knew that Bynes was such a crunchmonster? Diggity! T-minus 16 days until "She's The Man" hits theatres nationwide. Hollaback.


DEVELOPING! Even Harvey Weinstein wants to be in the Bynes biz. The Weinstein Co. has picked up all North American rights to "Lovewrecked", the romantic comedy that Miss Amanda shot while on hiatus during the summer of 2004. No word on a release date, but you can bet that whatevs.org will be following this story closely. TALLY HO!


[pics via Don't Link This]

posted by Uncle Grambo |
---
Monday, February 27, 2006



Seriously. Why doesn't your average Joe Moviegoer dig anything that even remotely borders the gritty gangsters with guns neighborhood? It's not just the disappointing showing that "Running Scared" had at the B.O. this weekend, a quick check of Box Office Mojo shows that the genre has only managed to squeeze out TWO films that grossed over $100 mills in the last 10 years. And both of those had the words "Fast" and "Furious" in their title.


Your Uncle Grambo recognizes that there's not many of us out there who are into these kind of flicks. But, if you're the type of cat whose list of fave flix includes the likes of "True Romance", "The Way Of The Gun" and "Narc", then be sure to pen in a screening of "Running Scared" on your list of things to do in the next seven days. Based on the strength of a solid recommendation from DetNews film critic Tom Long, The Grizz and I hit up an early afternoon screening of Wayne Kramer's (no, not the dude from MC5, I'm talking the director of "The Cooler") latest yesterday. And both of us left the theatre on a mission to sing this film's praises on high.


Not since your Uncle Grambo caught a screening of "Kiss Kiss Bang Bang" last November have I felt so energized by a moviegoing experience. I tell ya, this film is crazed. It's got everything from Russian meth heads to albino pimps to "Mulholland Drive" inspired shadowy homeless crack dealers to creeptastic child molesters by way of the Brothers Grimm. It has also got hockey pucks to the face, snubnose .38 shots to the bozack, (the now infamous) male-on-female washing machine cunnilingus. It's hyper-violent, ultra-stylish and nine kinds of best evs. That's not to say that it's a perfect movie; there are a one or two glaring plot holes and some of the twists don't stick upon further investigation. But for your eight dollars, there's surely not a more enjoyable movie playing in multiplexes at the moment. Ignore the horrible title (why New Line, why?) and run, don't walk, to go see "Running Scared" before trigger-happy theatre owners dump this film from their properties (which, at the rate it's going, is likely by the end of next weekend).


RELATED: Jeffrey Wells also heaps praise on the movie and features a quickie interview with Wayne Kramer.


Remember when the Tigers signed Troy Perceival to a 2-year deal worth $12M? For those of you doing the math at home, that's approximately 2.4 million Hot-N-Readys. Well, um, yeah, turns out that wasn't exactly a good deal, considering that his arm is dead and his career is all but dunzo. But don't look for him to retire, because really, would YOU give up 6 million clams just to take the summer off? Didn't think so.


Toy Story Vs Requiem For A Dream. Thankfully, no ass-to-ass.


Mad fucking props to Publicis & Hal Riney for coming up with a bleeding edge (pun sorta intended) ad campaign for KFC. In a spot that simultaneously manages to to "cut through the clutter" (to lean on a ubiquitous marketing cliche) and combats the growing trend of DVR-equipped viewers skipping through commercials, the agency that just released an ad that allows viewers to crack a hidden message if they play the spot back slowly on their DVR. We're talkin free Buffalo Snacker buzz! Kudos to all involved, especially to the client for being forward thinking enough to shake up the conventions that a big corporation typically relies so heavily on.


Speaking of advertising, Ad Rants has picked up on my The Hills Get Crazed post from the other day. Related: Jeffrey Wells got the same promo from Fox Searchlight. Buzz.


There's a great interview with former Salon film critic Chuck Taylor over at The House Next Door. Was your Uncle Grambo the only one who didn't know that he was (is?) married to Stephanie Zacharek?


Another great headline courtesy of The Sun: Careless Spliffer.


Finally, your Uncle Grambo would like to bid a fond adieu to My Blog Is Poop. His postings were more regular than a senior citizen with a prune fetish, although just as stinky. I keed, I keed! Your blog will be missed, holmes. But here's the upside. Now that Bob Castrone has got a little bit more free time on his hands, look for him to make my Kreskin-like prediction for his future finally come true. Bovs.

posted by Uncle Grambo |
---