Friday, March 04, 2005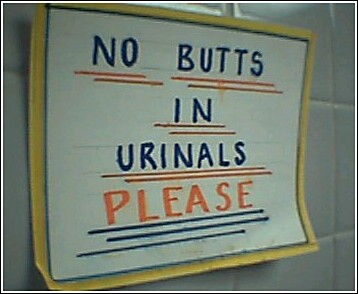 Remember yesterday when I described the perils of being mentally hungover? Yeah, well today your Uncle Grambo is also PHYSICALLY hungover. Oh, my achin' head ... Calgon, take me away!

Yet I must soldier on, headachin' or not. The opening night of the Blowout was simply BINOCULARS, yo. While the particulars of the evening remain a bit fuzzy, your Uncle Grambo will fill you in on the deets in broad strokes:

The Prime Ministers blew away the packed house at Baker's Streetcar Named Desire Lounge with a terrific 35 minute set. Attendees included (but were not limited to) Damizz, GKVibe, Big Matt, Mr. Gary, Sultan, Ron Runs The City, Liz Noise Bursts, and Brian and Steve Sleeper. The obvious highlight was when a couple of scantily clad Jagermeister girls bum rushed the stage and took a picture with a clearly startled T-Minus Wicks. Bovsnia.

Your Uncle Grambo and GK Vibe were also accosted by said Jagermeister girls, who bestowed us with a flashing Jager necklace and sporty ball cap (respectively). Upon learning of this fact, Damore chased them down for a photo opp. Mars.

After tossing back multiple $2 Molsons, the crew headed over to the Knights Of Columbus hall to catch Powertrane's set. Led by a singer who looks like Sam Kinison and a lead guitarist who looks like Alice Cooper's great grandfather, these mofos straight up RAWKED. They even had a roadie, who just kinda sat there by the side of the stage looking more stoned than Tommy Chong at Hash Bash. All kinds of grizzly old rockers were in attendance, so much so that the venue became almost a surrogate Harpo's. Even the WRIF was there! And oh yeah, there were more Jager girls in the heez. Untz.

Sometime after midnight, while everyone else headed back to Baker's for Loretta Lucas, your Uncle Grambo made his way back home. Sometime around 6am, my alarm went off. Sometime closer to 9am, I rolled out of the rack and made my way into the office. Oy.



But that, my friends, is half the fun. Some of us have a duty, an obligation if you will, to rawk. Which is why you can catch me at any of the venues listed in the "Where's Grambo?" section of this here bloggaroo. I urge you to begin the evening by catching the rueful yet rockin' sounds of Porchsleeper, an alt-country juggernaut who combine the ragged hottness of Slobberbone with the rowdy spirit of The Replacements. In other words, mad buzz. Take a listen to two brand spankin new tracks, "1972" and "Garage", in the handy MP3 format. Unreleased stizz!


Porchsleeper, "1972" (Right click, Save As)
Porchsleeper, "Garage" (You know the drill)


Enjoy. See you tonight, bitches!

posted by Uncle Grambo |
---
Thursday, March 03, 2005

Clear some space on the proverbial rack for a flood of newly single, amply bosomed Babes Of The 90s. Eligible bachelors with the means to play at this level, take note. I strongly suggest you take a pass on Denise Richards. Instead, focus your energies on Katie Holmes. Aside from the obvious age advantage that the über-delish Joey Potter possesses, all it really comes down to stretchmarks. Stretchmarks caused from having gigantor (and natural) sweater puppies? I can live with that. Stretchmarks resulting from Charlie Sheen's diseased D repeatedly penetrating a vaggie vag in an effort to produce future drug addicted offspring? Some say even less buzz than getting it doggystyle from Durst, unprotected stizz. Advantage, Holmes. Bovsnia.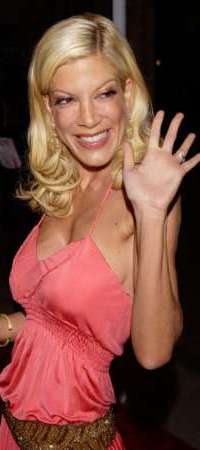 Is it just me or does Tori Spelling kind of look like one of them there Nazis from "Raiders", post Ark Of The Covenant revelation? Ferreals though, what in the sam hell has happened to Donna Martin Graduates? I know that she's not exactly a spring chicken these days, but who knew that getting railed by David Silver would result in an onset of spontaneous mummification? No buzz.


No one cares about hockey anymore, but this idea has buzz.


Some say best gag order since Max Hardcore met Ashley Blue. Judge considers banning Michael Jackson jokes from Jay Leno's "Tonight Show" monologues!


Some say best hire since Ty Willingworst. Notre Durst hires former washout QB Ron Pawlus as Director of Personnel Development. According to the AP, this job responsibilities include organizing the university's recruiting efforts, but "the position does not allow him to evaluate players on film or leave campus to recruit." Probably a fitting job for a four time Heisman-winning quarterback Beano Cook's personal cocksmoker.


BEGIN TRANSMISSION — This 'graph is for the Blog Nerds. Denton brings in new talent to helm Gridskipper after getting the Heisman from a major advertiser, although Krucoff says he quit. Lizzie Spiers is apparently growing her hair out (or is that just due to the Tamindzic's inability to properly utilize his camera's flash?). SAC becomes the first guest blogger Spy-ers hy-ers for FishFoodNY. Your Uncle Grambo wept a tear of disappointment, I always thought he was above documenting escapades of blogfucking from across the other side of the country (the parody angle was lost on me). Kottke … not homeless yet. Defamer … namechecked in last weekend's NYT — END TRANSMISSION.


RW:LV Steven encounters Kirsten Dunst in a Hollywood diner at four in the morning. Surprisingly, she recognizes him. Unsurprisingly, he makes an ass out of himself. Double unsurprisingly, he seems proud of that fact.


Memo to Gil Cates: Wanna spice up next year's Oscars? Take a lesson from Mr. Skin's 6th Annual Anatomy Awards. For example, "And the Oscar for 'Best Daughter of a Famous Mom Nude Scene' goes to … JORDAN LADD in "Club Dredd"!!!" (NSFW, btw).


New "Star Wars" trailer to debut during next week's "O.C." Hey Lucas With Your Pants Off, GFY! [via Nummer]


For those that are interested, feel free to reveal these additional screencaps of Bynes' appearance on "The Late Show" last week.


REVEALED! While reading "Real Detroit" today. Not only is Centre Street Lounge re-opening, but DJ Darren Revell is spinning "Big Sonic Heaven" there every Sunday night!!! Who's in?


What do contributors to The Detroit News' Rant & Rave "blog" think about The Holy Fire? Some say buzz, others say not so much. See for yourself as Sean, JP McKrengel's cousin, and the rest of the boys take the stage at 11:30 on Friday night, Hamtramck Blowout steez.


Oh, and with that, it's prolly worth mentioning that tonight is the OFFICIAL start of this year's Blowout. You can catch your Uncle Grambo at any of the shows listed in the "Where's Grambo?" column at right. If you're feeling a little more experimental, be sure to check out Motor City Rocks' comprehensive five-part preview, including staff picks, band picks and audio samples from nearly 100 participating artists! Total buzz. Eat that, McCollum ... your preview licks the sweat off a dead man's balls. Mars she.


Anyhoozle, I gotta jam. See you tonight at Baker's Streetcar for another hott power poppin' perf by The Prime Ministers, yo. Who, it's important to note, just landed a gig as support for John Davis of Superdrag fame! Shelter. March 15th. Buzz. Who sucked out the feeling? HOLLA!

posted by Uncle Grambo |
---

Ever roll out of the rack in the morning feeling like gummi road kill? Eyes bleary, throat scratchy, muscles achy, bones creaky, hair all mussy and shit? You know, those kind of mornings where yo bref stanks worse than Big Boi's after an evening of blazins and beer? The kind of mornnings when you nearly pass out after catching a glimpse of yourself in the mirror and realizing how TRULY haggard you look?


Welcome to my world, pal.


Except, my fine feathered FOWs, this has nothing to do with booze, blow or the physical act of being hungover. Sure, your Uncle Grambo had a couple of root beers way back on Saturday night and just might have talked a little bit TOO loudly about what a foxy broad Meg White is while she was sitting just a few stools down from us at The WAB, but that's neither here nor there. Howevs, I will ask that you flashback with me for a second to the most devastating post-hangover physical pain you've felt. Pretty similar to what I described above, right? Well, if you can recall that sense memory, then you're in the ballpark to fathom what the mental stress of my day job is doing to this Undercover Brother. The ole 9-to-5 has become more like an 7-to-10 this year folks, and it's grindin' on me, Clipse stizz. Ferreals.


But, instead of prattling on in an attempt to elicit sympathy from the masses, I'd rather take this time to apologize to all the loyal FOWs out there. I know that I haven't been bringing the heat as ferociously or as frequently of late and, quite frankly, it sucks to see so many hacks out there delivering D-level durstosity and not be able to do anything about it. Just know that your Uncle Grambo is thinking about you, possibly even inappropriately, wishing like HELL that I had the time to dole out the PHCFYSB like I did in the good ole days. Allz I ask is that you bear with me, for I promise to deliver you the buzz as frequently as it is humanly poss. And, with that, may the sky rain bovs on all of your collective tees. Regular (ish) posting will resume shortly.


Much love,
— Uncle Grambo


PS - I been Swank, and luvvin' it!

posted by Uncle Grambo |
---
Tuesday, March 01, 2005



Zzzzzzzz. Zzzzzzzz. Zzzzzzzz. Wait wait wait, what's that you said? The Oscars were on Sunday night? Never heard of 'em, NEXT!


No really, your Uncle Grambo TRIED to get into Sunday night's telecast. I really did. But, in the end, I fell asleep somewhere between Justin Guarini Adam Duritz attempting to "rock" the Oscars and Katie Couric flaunting her flabtastic upper arms on Monday morning's "Today" show. Yeesh.


And while I'm not one to dwell on yesterday's news, this blogga thinks that Oscar producer Gil Cates needs to be taken out back and put out of his misery, much like the rabies infected Old Yeller or that monkey from "Outbreak." Proverbially speaking, natch. Yeah yeah yeah, let the nation's pre-eminent television critics sling their poison barbs at Chris Rock -- admittedly, he let us all down with a tired monologue that we've all heard a million times before ("You know, black people and white people like different things! Like Pootie Tang!") -- but the real douchebag of the evening was Gil "Don't Call Me Bill Gates" Cates. And while Sarah Bunting took her time and delivered an excellent critique on MSNBC.com, your Uncle Grambo will instead focus on this simple question …


WHAT IN THE HELL IS A 77-YEAR OLD MAN DOING RIDING A RAZOR SCOOTER?!?! First of all, Razor scooters haven't had buzz since Brill's Content was all the rage. That being said, I'm sure that a lot of former dot-commers probably have one tucked away in a closet somewhere. However, IT'S NOT LIKE YOU'RE GONNA BUST IT OUT THE NEXT TIME AN AP PHOTOGRAPHER SHOWS UP AT YOUR OFFICE! For shit's sake, can't we get a Lawrence Bender or Jerry Bruckheimer or even a Fred Graver up in this piece? Someone with some balls, someone who's idea of "edgy" isn't lining up costume designers on stage or handing out awards "in the parking lot" (as Rock quipped). No buzz for you Cates.


Oh, and btw, your gimmicks didn't work. Despite ABC's pronouncement yesterday that Oscar overnights were the highest since 2000, the truth of the matter is that ratings were actually down 5 percent. Ouch. In the immortal words of Wojo, GIMMICK!


Michael Jackson. So classic. Who else would bust out a copy of Perfect 10 with a bunch of pre-pubescent boys and react to a nice pair of D-cups by dropping a "Got milk?" reset? This trial is going to be priceless.


Anyone else find themselves utterly engrossed with the NFL Scouting Combines this weekend? I swear, I sat on my couch for like three hours on Saturday watching defensive tackles run around pylons. So best! Even better? Watching that bum Maurice Clarett run himself right off the draft board by posting a 4.82 in the 40-yard dash. Buck the Fuckeyes!


The best blog you're NOT reading, Skeet On Mischa, dissects the "sophmore slump/creative tailspin/fonzie jumping over a shark direction" that Josh Schwartz has taken "The OC" into this season. Don't get your Uncle Grambo wrong, I like watching sexy teenage lipstick lesbians French as much (and probably more!) as the next red-blooded American blogga. But doesn't that plotline just scream "sweeps" in the worst possible fashion? Durst.


Speaking of whom, I'm sure you've heard about the sex tape. I haven't seen it, I don't want to see it, and I'm never going to see it. It's not even worth addressing, really. Some say watching all 178 episodes of "Barney Miller" in succession without a bathroom break while forced to lick warm hollandaise sauce from the fat rolls of Ralphie May would be a preferable way to spend your free time. Mars she.


That being said, CityRag's analysis was laugh out loud funny. Propers.


Pitchfork declares The Bravery to be "the 21st Century Stone Temple Pilots, right down to the god-awful name." … As if that's a BAD thing! Er, notsomuch. "Interstate Love Song" revealed!


Gideon Yago sits down with New Order. Have you heard "Krafty" yet? Some say best N.O. single since "Regret."


Run, don't walk, and go pick up the new jawn from Ivy today. There was a time, circa 1995 or so, when Ivy lead chanteuse Dominque Durand was in a dead heat with Sarah Shannon, Mary Lorson and Liz Phair as your Uncle Grambo's #1 Indie Sexbomb Supreme. Truth be told, I still swoon when looking at the liner notes of "Apartment Life." But that was then, and this is obvs. Even in 2K5, Ivy's blend of seductive, blissed out indie-flavored melodi-rock still revs my motor, ifyouknowwhatimsayin. If you need more convincing, check out Mackenzie Wilson's review of "In The Clear" on Allmusic.


And lastly, the only thing worse than this year's Oscars was the horrible way that The Freep covered it. Reading the "column" that Julie Hinds wrote, your Uncle Grambo can practically envision the assignment that her editor gave her. Picture some gruff, J. Jonah Jameson guy sitting around and saying, "We have GOT to compete with those BLOG thingies, or whatever it is they're called! Get your ass over here, Hinds. I want you to recap the Oscars in real-time, and then we'll run it in the paper the next morning! The kids will love it, and we'll show those new media punks how the big boys do it!" There's a fine line between a noble experiment and a collossal failure, but the truth of the matter is that The Freep missed this one by a country mizz. It's called HUMOUR, people. Live-blogging is supposed to be fun AND funny, yo (see Gothamist, see Defamer). Look into it. Next time, don't hire a journalist to do a blogga's job. Ferreals.

posted by Uncle Grambo |
---