Friday, February 03, 2006
Before we delve into Nummer and H-Bomb's patented pre-show comments, there are a few outstanding questions that I have to ask:

What in the sam-hell was this article about, Loftus?

How do I get Jim Schaefer's job at The Freep? When he's not writing video game reviews, he's getting paid to talk to strippers.

Who are these people with enough disposable income to spend $170 for a chance to meet Kid Rock and Eminem? As the saying goes, a fool and his money are soon parted.
Phew, thanks for letting me get those burning questions off my chest. Now, sit back and enjoy whatevs.org's preview of this weekend's Steve Martin / Prince episode of "SNL" ... word.

NUMMER
H-BOMB
Episode 12: Steve Martin / Prince (2/4/06)

When Steve Martin boasted about his "Five Timers Club" status during the December 1990 Tom Hanks episode, who would have guessed sixteen years later that a) the show would still be on the air and b) Martin would be back for a record setting 14th stint as host? Taking into account numbers like those makes this weekend's historic episode of SNL an easy must see.


Martin made his first appearance twenty years ago in 1976 and has done so much legendary SNL work since, that he has often been confused as being an actual cast member. Some personal favorites have always been Theodoric (the medieval barber/judge), the classic "Not Gonna Phone it in Tonight" monologue and of course, Christmas Wishes. You can also put the wild and crazy Festrunk brothers on the list, but I'm sure I'm not the only hoping Aykroyd doesn't show up to reprise this sketch.


Filling out the show is Prince, who will be making his first SNL appearance since Jean Doumanian's creepy 1980-1981 season. He'll likely work his way through "Te Amo Corazon" from his latest album "3121" (a CD set 1,122 years after his hit record "1999").

There's no doubt in my mind that this week's host Steve Martin will help to put on an outstanding show. Not only is he one of comedy's finest actors, but he has been an essential part of SNL history since the beginning of the show and is now hosting for what will be a record breaking 14th time. Martin has also cameoed during five other episodes and has delivered probably one of the best monologues of all time. What more could you ask for in a host? I say, barring any major sketch writing flops, Martin will definitely not disappoint his audience come Saturday night.


Back after nearly a 25 year hiatus from SNL's musical stage is Prince. While I was not overly thrilled to learn that Prince was appearing as the musical guest, I wasn't exactly that upset, either. Rather, I was more surprised since I haven't really heard that much on the Prince front lately. Nonetheless, I think Prince is a fantastic performer and look forward to what he has to offer after such a long absence.
posted by Uncle Grambo |
---
Thursday, February 02, 2006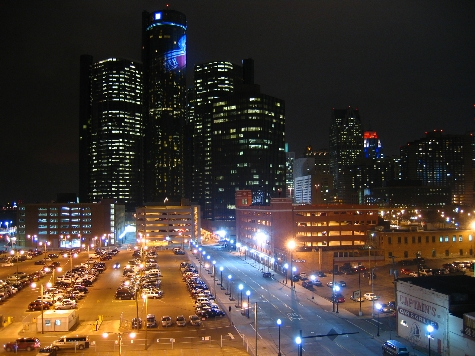 A thought hit me early Wednesday morning, sometime shortly after my alarm went off at 6:15am. On second thought, maybe "hit" is the wrong word. Maybe "sluggishly burrowed" is a better description. Anyhoo, as I struggled to cope with the fact that I was headed to work with less than four hours sleep for the first time in well over a year, it struck me that it would've been WAY more awesome had this Super Bowl happened in 1996.

Back then, your Uncle Grambo was a young buck just getting ready to complete my undergrad degree. Most of the heavy academic lifting had been completed at that time, and I had no problem whatsoever with going out and getting bombed three, four or five nights in a row. It might be fair to say that I was Coilyesque in my ability to spring back from a night of boozehounding.

But now that I'm 31 years old, it's nearly impossible to rock out on a school night and have any gas left in the tank the next day at the office. And when you're putting in a full ten hour day, lethargy seems to affect not only your body, but how fast the second hand travels around the clock. Man, what I wouldn't give to have my 21 year old tolerance back for the next four nights.

That said, age ain't nuthin' but a number. On Tuesday night, Damore, The Senator and yours truly met up at 6:30 over at the Ren Cen. We caught the last few minutes of SportsCenter, just in time to see Jaws and Sean Salisbury Steak walk off the set and sign about a thousand autographs. We immediately proceeded up to the Coach Insignia bar, which sits atop the 72 floor of the RenCen. Actually, that ring of lights directly atop the SBXL logo you see in the picture above is the restaurant I'm referring to. Or, you might know it from the scene in "Out Of Sight" where George Clooney finally seduces and beds J. Lo. Either way, nothing starts a night off like downing a dirty martini while sitting nearly 700 feet above the ground.

As we were getting up to leave, we bumped into our boy Chuckles Klosterman, on assignment for ESPN. He's been blogging from my building since Monday, so it was only a matter of time before our paths crossed. It's no secret that I've long been a CK supporter, so it was a blast chatting with him for a few minutes. After being sushed by some lurch who works at the Coach for talking too loud, we went our separate ways for more drinks and more celeb sightings.

The next (and strangely, final) celeb we bumped into was Chris Berman. Here's something you may not know about everyone's favorite ESPN anchorman ... THAT DUDE IS REALLY TALL! Your Uncle Grambo goes about 6'1" and 200 (okay, maybe 205), but Boomer had me schooled by at least three inches and fifty pounds. Dude's like Vince Vaughn big, who knew? With a little Bombay Sapphire courage coursing through my veins, I walked up to him and said, "Welcome to Detroit, Boomer!" He gave me a nod and said "Thanks", then got in the elevator to head up to the bar that we just left.

From there, we walked down the street to Jacoby's to meet up with Big Matt and Super Bruce. They were among the hundreds of people who got shut out of the Kimmel taping that night, so they were hungry, cold and pissed ... not necessarily in that order. Fortunately, the wings at Jacoby's went down nearly as quickly as the beer, and soon all was right again in the world.

From there, we hopped around to a few other places in search of celebs and good times. Again, not necessarily in that order. Over the course of the next six hours, we hit up Pulse, the Hard Rock, The Well and the Town Pump. All of which were pulsating with an energy I haven't seen since the week of the 2004 NBA Finals. All of the locals are energized and excited about how well everything seems to be going. It's nice to finally have the spotlight on us here in The D™ for something positive. I say mad buzz; if you haven't hit downtown yet, do yourself a favor. Go down. Check it out. Grab a drink, even if it's a hot cocoa. Get out and experience the vibrancy firsthand, and remember that feeling. Trust me, it will inspire us all to continue to get involved and support our wonderful city. The train doesn't stop on Sunday folks, we've still got a long way to go. But take this week to enjoy and appreciate all that this experience has to offer. STAND UP AND TELL 'EM YOU'RE FROM THE D™!




POSTSCRIPT: I watched Romey doing a live broadcast of "The Jungle" on Tuesday. Contrary to popular opinion, he was not burning. But trust me when I say IT WAS EPIC!!!

posted by Uncle Grambo |
---
Wednesday, February 01, 2006




Not a lot of time to write at the moment, my fine feathered FOWs. That said, I'm planning on pasting together a full-fledged recap of last night's shenanigans (including BOTH Jäger Shots and Jager Schnitzel) this PM, but for now, here's the latest and greatest. Bullet stizz (obvs!):





[pic via Don't Link This]

posted by Uncle Grambo |
---
Monday, January 30, 2006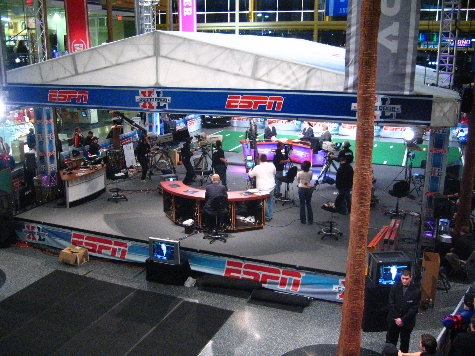 It's been a long time coming. But somehow, despite the fact that The D™ has been grooming and primping for this week for the better part of five years, the onslaught of Super Bowl XL Mania didn't fully hit your Uncle Grambo until this morning. And, let me tell you, the buzz is palpable.

You see, the building that I work in is serving as the epicenter of all of things media related for the next six days. Aside from being the home to Radio Row, the big boys from ESPN have taken over the GM Wintergarden and are broadcasting virtually all of their live programming live from the Renaissance Center. From the moment when I walked by Mike & Mike broadcasting live on my way to grabbing my morning Starbreezy to watching the "Sportscenter" crew put on their 6pm broadcast, it's readily apparent that this going to be the most exciting week to be a Detroiter since I've been roaming this mortal coil.

And for everyone who's even the least bit worried how this week is going to turn out, don't fret … the worst part is over. Obvs, I'm referring to the column penned on Monday morning by The Freep's own Condescending Baggins. You see, every time the national media comes to town, Mitchie feels compelled to deliver a mini-dissertation that expounds on the virtues of our fair city. Which wouldn't be so bad if it was delivered in a manner that was more "Stand up and tell 'em your from Detroit!" and less "Pardon our dust." I've read a number of these columns over the years, and they all read the same. He seems incapable of mustering up enough passion for the city to deliver us a few paragraphs filled with conviction, so instead he focuses on setting expectations by lowering the bar.

Today's atrocity begins with a horribly inappropriate and redonkulously forced metaphor — Condescending Baggins compares his first visit to Detroit with his first (and presumably only) sexual experience. Uh, come again? Nice way to introduce the city, Mitchie. He then goes on to repeat the phrase "Don't worry" twice in the next five sentences, and then has the BALLS to describe our city as "the city of braced shoulders." Explain to me again, how is this helping? Hey maybe you can grab a drink with that dickweed from ESPN.com who tagged along with The Bus as he visited his childhood home in Southwest Detroit. Go on, add some more fuel to the fire, why dontcha?

Alas, it seems that justice was served but a few hours later. While a throng of people were crowded into the Wintergarden watching the ESPN broadcast at the 6 o'clock hour, Condescending Baggins toiled solo in a booth but thirty feet away isolated in his own glass case of emotion, Ron Burgundy stizz. He looked drained, despondant and durst. Which is exactly how we all feel after digesting another one of his trite treatises. Yuckers.


Well, now that we have that behind us, we can focus on the events of the week ahead. Do yourself a favor and avoid the temptation to stay in and watch TV — this will be one of those crazed weeks that you'll remember for a long, long time. See you out on the town, yo. Bovs on all of your respective tees.

posted by Uncle Grambo |
---