Friday, November 18, 2005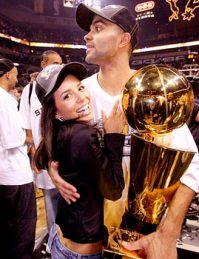 Your Uncle Grambo doesn't have much to say about Eva Longoria. I don't like "Desperate Housewives" and I don't like short chicks. Guess you're outta luck, Long-Whoria.

But what I do know is that we're five episodes deep into the 31st season of "Saturday Night Live." According to whatevs.org's resident experts, Nummer and H-Bomb, this season isn't exactly off to a roaring start. But don't fret, things appear to be looking up; last week's Jason Lee / Foo Fighters episode not only introduced us to a brand new featured player (holla back, Kristen Wiig!), but delivered the highest coney count for any single episode this season (29.5 and 31 coneys, respectively). Let's see how the dynamic duo has the season sussing out thus far:

EPISODE
NUMMER
H-BOMB

Episode 1
Carell / West
10/1/05

Episode 2
Heder / A. Simpson
10/8/05

Episode 3
Zeta-Jones / Franzia
10/22/05

Episode 4
Armstrong / Crow
10/29/05

Episode 5
Lee / Foos
11/5/05
LOVE THEM CONEYS! Here's hoping that Lorne and the entire "SNL" staff bring their A-Game (and O-Face) to the table this week. Here's what Nummer and H-Bomb are thinking about this week's show!

NUMMER
H-BOMB
Episode 6: Eva Longoria / Korn (11/19/05)

When I think of Eva Longoria, I think of the damn San Antonio Spurs. Since her boyfriend Tony Parker helped them beat our beloved Detroit Pistons in the NBA finals back in June, plus the fact I'm not a "Houswives" fan, I can honestly say Eva is not my ideal host. It was rumored back in October that SNL standby John Goodman and Fiona Apple were set to guest this episode. I have to say that would have been a much better combo. Obvs.


Not expecting much from the host, hopefully Sudeikis and his cronies can come up with some good sketches. I'm also hoping to see more out of the Kristen Wiig this week so we can size her up a bit more.


The other head scratcher this week is Korn. I know their fan base is still significant, but it seems like if they were destined to be on SNL, it would have been in the late 1990s. It just feels they became a little less relelvant after "Follow the Leader". But hey, that's just my opinion and I could be wrong. A.D.I.D.A.S. indeed. Mary had a little LAAAAAMMMMBBB!

Ok, actor-wise, I have no clue as to who Eva Longoria is. I mean, I know her name, what she looks like and that she's "hot" right now, but that's about it. I haven't seen one episode of "Desperate Housewives." I've barely watched any kind of media coverage with her as the focus. In fact, I had never even heard the name Eva Longoria until last year, so I'm not even sure what's she's done in her career up until that point. Needless to say, I'm at a real loss as to how I think she'll do as this week's host on SNL. Giving her the benefit of the doubt, I'm rooting for a decent show. Realistically speaking, based on the past episodes we've seen (last week's Lee being the exception), I'd bet more on 90 minutes full of mediocre sketch material with Longoria as either the main "hot chick" or stuck in supporting roles where's she's barely on air at all.


Korn, on the other hand, has the opportunity to make up where Longoria will more than likely lack. Being a fairly popular band, I was surprised to learn that this will only be their first time taking the SNL musical stage, so I'm quite interested in seeing how they'll do. Barring any catastrophes, my guess is that they'll add to the show rather than take away from it.
posted by Uncle Grambo |
---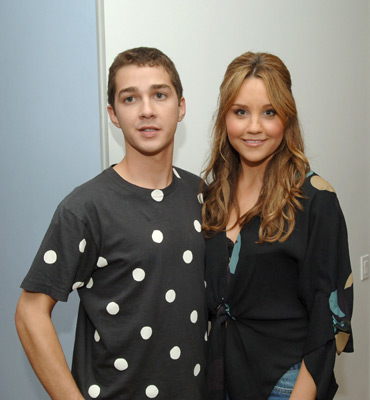 If you lived in the Uncle Grambo household, you would understand the earth-shattering significance of this photo. How come it took me FIFTY DAYS to find out that the two hosted TRL together back on September 29th? Regardless, this pic is B-E-S-T!

posted by Uncle Grambo |
---
Wednesday, November 16, 2005

Deem me out of the loop if you must, but your Uncle Grambo went into a Friday afternoon screening of "Kiss Kiss Bang Bang" completely unfamiliar with the ouevre of one Michelle Monaghan. I left the theater with jaw fully agape, wondering how this dazzlingly saucy vixxxen has evaded the mainstream for this long. And then it hit me! She's clearly filling the gap of the wholesome, Midwesternish slightly freckled hottie next door, previously occupied by the likes of Kimberly Williams and Ellen Pompeo. After examining the evidence, you'd have a hard time convincing this blogga that Michelle wasn't created in a laboratory by renegade Hollywood genetic scientists who decided to fuse the DNA of Williams and Pompeo. Take a gander, yo: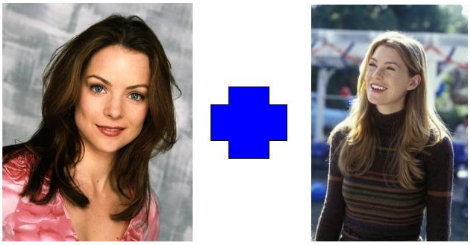 Am I right or am I right? To those mean gene splicin' scientists, I say MAZEL TIZZ! Miss Monaghan is easily the hottest Monaghan since Jenny Monahan (AHS Class of `93 stizz). She was not only able to hold her own (and then some) with the likes of Robert Downey Jr. and Val Kilmer, but she looked supremely bovsalicious sans clothes. Probably the best debut tees since Grover drank malt liquor with a young Perrey Reeves in "K&S." So, so best.


So, like, aside from that, hasn't this been an incredibly dull month thus far? Sometimes I think that blogs have taken all the fun out of the world. If there isn't some sort of major scandal on a daily basis, the day feels like a total drag. And the general feeling of malaise is only exacerbated by the inherent neediness of The Blogosphere&there; and the way that bloggas are encouraged forced to churn out content even when there's nothing to really say. But methinks that your Uncle Grambo should save that Dennis Miller style rant for another time and another place, and instead deliver the faithful FOW Nation a few tidbits of hottness bullet stizz:


posted by Uncle Grambo |
---