Saturday, February 11, 2006


Um, so, yeah. It's true that your Uncle Grambo is looking at upgrading the content, layout and design of whatevs.org. But since my skillz as a coder / designer could be unfavorably compared to those of a fetus, I'm going to make the temporary decision to retreat with my proverbial tail between my legs to the friendly, warm confines of Blogger buzz ... for now.


That said, if you are one of those people who knows what a cascading style sheet is AND you have some free time AND you are interested on working on a (mostly) gratis basis AND you want to be associated with a muckraker like me, drop me an e and we'll talk. Your Uncle Grambo has some strong ideas about how he wants whatevs.org to evolve, but nary an inkling as to how to technically accomplish them.


Thanks in advance for your patience, kind FOWs...
— Uncle Grambo

posted by Uncle Grambo |
---
Thursday, February 09, 2006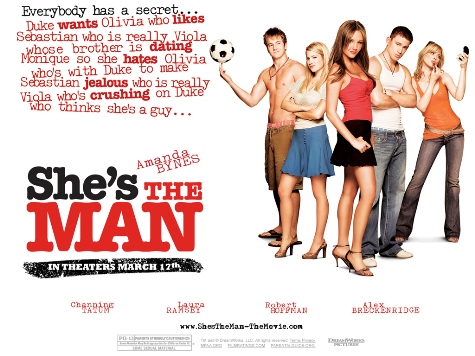 Lookie lou at who's being marketed as the next breakout teen sex symbol? That's right, amigos -- it's my gal Bynes! From the design of this one-sheet, it's clear that the head honchos at DreamWorks believe that Bynes has enough charisma and star appeal to carry "She's The Man" (opening wide on March 17) all by her lonesome. While this certainly makes your Uncle Grambo proud that others are finally pickin' up what I've been throwin' down for years, the fact that some studio schmuck made the call to digitally enhance her cans has got me a little concerned.


It's no secret that teenage boys worship boobs. Show me to a 15 year-old who insists that he's an "ass man" and I'll show you a 15 year-old who's never snuzzled up to a pair of brrrumskis. That said, the studio's decision to leverage Photoshop to prematurely position Bynes as an leggy, busty sex symbol is incredibly short-sighted and ill-conceived for one major reason — I'm not sure they understand the audience for their film.

Let's face facts. Teenage boys don't go the multiplex to catch movies starring teenage girls; rather, they go to the movies to make OUT with teenage girls. When venturing out on their own, they're gonna choose to hit up action, horror and video game flix over a modern day Shakespeare adaptation any day. Ergo, your Uncle Grambo isn't sure that DreamWorks is taking the right approach here. They SHOULD be using the one-sheet to position Bynes as someone who teen chicks would want to be their friend, not their competition. You know, someone cool and fun and definitely a little flirty, but certainly not someone who's taller and sexier and could steal your boyfriend with a flip of her luxurious locks. More Rachel Leigh Best in "She's All That" than Jessica Alba in "Never Been Kissed", ya know? Call me crazed, but I don't think that blowing out that B-cup bustline serves as a means to that end.

Either way, it should be interesting to see how "STM" performs at the B.O. when it opens in five weeks. Will a newly bazoomed Bynes be able to beat out a balding Natalie Portman in the all-important 18-24 demo? Should be a good one.

If you're like Leaf and found yourself disappointed in my Super Bowl stories, I highly suggest that you check out The Grizz's recap that appeared in The DetNews. As entertaining as that write-up is, The Grizz really was able to display his full-throttled hilarity and unrivaled besteverness on three different podcasts he recorded for the DetNews during last week's festivities. Do yourself a flavor and download this shit, prontizz:

Friday, Feb. 3 — Highlights include Kid Rock's concert at The Joe (featuring Bob Seger) and the love connection he made with Jenna Jameson.

Saturday, Feb. 4 — The Grizz hits the Shady Bowl.

Wednesday, Feb. 1 — The Grizz previews the week ahead, waxing poetic on topics as varied as Billy Crystal and Snoop Dogg.
Is Jay-Z working on a record with Dr. Dre?

Nice criminal justice system, you sodding limey wankers. Barrister THIS!

America's Favorite New Game: Face transplant or MacKenzie Philips? [via People Paula]

Can anyone who works at Pitchfork quantify the difference between HNIA receiving an 8.4 for "Detrola" and Belle & Sebastian receiving an 8.5 for "The Life Pursuit"? Cause your Uncle Grambo is certainly interested.

If you were to ask your Uncle Grambo who the most criminally underrated blogger is out there, my first and only response is Thighs. Posts like Money Moni Monet, in which he lists his Top 11 Artists of all-time (or, in Thighs speak, "Top Hill-even Art-ease-its of Balls Thyme"), prove that he really has no peers in terms of creativity and hilarity. Mad motherfunking buzz, yo. Creme de la creme all the way.

Fangoria previews "FD:3" ... best!!!

BREAKING NEWS FROM L.A! Lourdes Benedicto (pictured below), the future wife of longtime whatevs.org associate The Squirrel, has been cast alongside Scott Wolf in an upcoming, yet-to-be-named pilot for ABC. I got a hot tip for youze bitches. Word on the street is it will be called "Nine Lives"! Here's hoping it gets picked up, yo.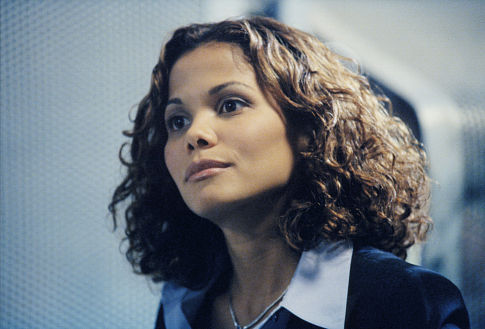 posted by Uncle Grambo |
---
Wednesday, February 08, 2006



Memo to Alison Grodner, exec producer of K. Cav's new show on UPN, "Get This Party Started" ... there's a big difference between being "in the can" and "in the toilet." While you might have six or eight episodes already completed and ready to air, last night's ratings demonstrate that your show is already begging for some Kevorkian crazed. [pic via ONTD]


Freeing babies from the oppressive shackles of carseats is the new dangling babies from balconies. Hey Brit Brit, if you were in such a rush, how did you find the time to roll down your window? Now That's What I Call Multitasking, Volume 4! [via Just Jared]


Just in time for Valentine's Day, this one goes out to those of you out there who are fans of any of the following: the Detroit Pistons, Interpol and herpes. I Heart Carlos D.


Glushko ... REVEALED!!! [via JJ Sabretooth]


LiLo gets in on some ScarJo sloppy seconds, Benecio stizz. Oh, and for the record, your Uncle Grambo would've made some different artistic choices if he were shooting this month's cover of Vanity Fair. I would've reversed Knightley and ScarJo's positions to better accentuate their features. The way that Liebovitz shot them doesn't make sense. KK is leggier, so it would've been more appetizing if she was the one lying face down with her gammy gams all outstretched. And since Scarlett's side boob certainly the plumper of the two, I would've placed her in the upright position.


Your Uncle Grambo's all-time favorite show that he's actually never watched hit DVD yesterday ... "Wildfire" buzz! Genevieve Cortese is totally the poor man's Anne Hathaway. Which, to be honest, is about all this blogga can afford these days. Snatch.


"Alone, Jealous and Stoned¹" ... DING DING DING! What are three things that your Uncle Grambo has been in the past ten minutes, Alex? [via Stereogum]


Bill Belicheck banging Bonnie Bernstein?


You can BET² that Rick Tocchet woke up this morning wishing that the worst crime he had ever committed was one against fashion. Too bad his recent arrest on gambling charges is now threatening to take down both Janet "American Anthem" Jones and #99 himself. Where you at, Mitch Gaylord?


¹ And by "stoned", I mean "riding a sweet caffeine buzz, courtesy of my third cup of Starbucks this A.M."
² Pun INTENDED. Obvs.

posted by Uncle Grambo |
---
What a weekend. Too bad for you that your Uncle Grambo is more interested in dropping LBs than dropping names, b/c after last weekend, I've got enough stories to turn out three issues of US Weekly. Howevs, rather than subjecting you to tons of Vanegas style snaps w/celebs, let's just say that Dylan McDermott bears a striking resemblance to a ferret, Jessica Alba pulls off the "beautiful and bored" act like no other and that Klosterman doesn't like to be congratulated after bowling a strike. And oh yeah, Snoop doesn't have ANY problem with smokin' trees in pubs.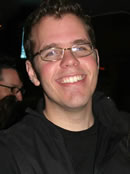 With that in mind, your Uncle Grambo has NO problem dishing dirt on bloggers -- especially those whose waist size eclipses their IQ. Your Uncle Grambo had the unfortunate luck to cross paths with Perez Hilton at a party on Sunday night. Even though we had heard MANY a derisive thing about Mario in the past from very reliable sources, The Senator and yours truly decided to make nice and introduce ourselves. You know, do the Midwestern thing and try to welcome an out-of-towner with some chit-chat.


Howevs, within twenty seconds of meeting this stumpy schlub, I knew we had made a very large mistake. It wasn't so much that he was rude and unfriendly (he certainly was both), there was something disheartening being in the presence of the very personification of the word "sycophant" ... the man virtually OOZED desperation from his pores and reeked of an overinflated ego. He's the kind of person who, after shaking their hand, makes every fiber of your being SCREAM at you for not immediately sprinting to the bathroom to douse your extremities with as much disinfectant as the supplies on hand will allow. He was wearing a vintage 1983 Willie Nelson concert tee (gag me with a trackback!), and sported a hairstyle that can only be described as a "faux mullet."


Our approximately 90-second conversation (and repeated sightings of him ass-kissing the likes of Meadow Soprano throughout the night) confirmed everything that we had ever heard about Perez Hilton. The man is truly loathsome in the lengths that he will go to become demi-famous ... check out the Detroit-related public shaming that Gawker unleashed on him. Who knew that Hell hath no fury like a gay blogger jealous of another gay blogger with better connections (think Pink). Perez, we're glad you're back in LA ... now be a good slimeball and stay there, why dontcha?

posted by Uncle Grambo |
---