Friday, November 21, 2003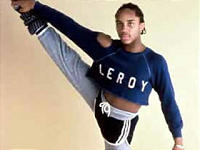 it's racial, man! i know that most of you don't do as much web surfing as your Uncle Grambo, so maybe you haven't seen all the hubbub about the death of some punk ass white boy named Jonathan Brandis. sites like Stereogum and Matthew Tobey's The City Of Floating Blogs have gone to great lengths to report on the suicidal buzz committed by this douchebag star of "Seaquest DSV" and "Ladybugs." hell, even Gawker picked it up! but where, I ask you, are the flowing tributes to my main man Gene Anthony Ray, who passed on last Friday??? hell, I had to go NewBlackVoices.com to find out that my homeboy is hangin' at the Crossroads!

you remember Gene as the unforgettably rebellious character of Leroy in "Fame", don't you? apparently NOT! unlike that lanky, uppity bitch Irene Cara, Mr. Ray starred in BOTH the film AND television series "Fame" ... that's double shot power, yo! with the notable exception of "M*A*S*H" (most overrated show evs, obvs), "Fame" is probably the most successful film to television adaptation of all-time, due in no small part to the streetwise hustle of the character played by Gene Anthony Ray. so where are the tributes? are you worried because his character was hittin' the skins of your precious white Glamazon cellist, Miss Lori Singer? it can't be because he wasn't as cool as that dorkazoid piano player. c'mon people, HE was the person who brought the choreography envisioned in the head of Debbie Allen to life! all these bloggers have gots no culture, yo. sure, they talk at great lengths about some loser with a bit part in "Stephen King's IT" mini-series, but where is the LOVE for a funk soul brotha like Ray? shame on you fools, shame on you. y'all need some lessons in culture ... shmears.

RIP — GENE ANTHONY RAY (1962 - 2003) ... HOLLA!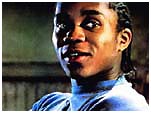 posted by uncle grambo |
---
Thursday, November 20, 2003

even worse than the rouge lipstick and freaky mandible buzz? the fact that he weighs 120 lbs.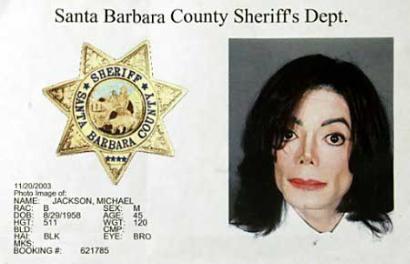 posted by uncle grambo |
---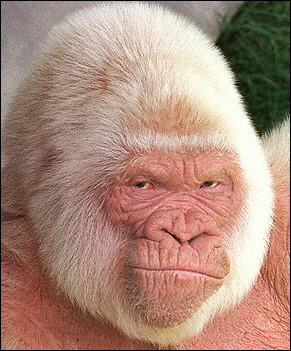 i guess today's just the kinda day to drag up old features and see if I can reanimate any of these sombitches. this feature comes into play when a well thought out take from a well-respected individual lands in your Uncle Grambo's inbox. this time sees whatevs.org's favourite guest editor, The Gorilla, submit his Second Annual take on the nominated inductees of the Rock And Roll Hall Of Fame's Class of 2004 (if you're interested in last year's take, all you have to do is click). not only did he save me from going through the effort of compiling a similar (and certainly weaker) retort, but this write-up is executed even more impressively than an John Stockton / Karl Malone pick and roll. may the FOW Nation enjoy this treat.

Subject: Rock N Roll Hall Inductees
by The Gorilla


Well, it's another rock list, and like most of the said "best of lists", the 2003 Rock N Roll hall of fame list manages to pander to a few inexcusable duds with a few of the worthy. Here's a quick breakdown.


Prince – More obvs than schmobvs, cause when JB said "there's no such thing as a rock prodigy, cause rock n' is bogus, right KG?" he clearly was forgetting Prince, who was a brilliant songwriter, arranger, producer, and multi-instrumentalist in the mold of Stevie Wonder by the time he was 19… BUT WITH EYES THAT WORK!!!! Guitar solo on "Let's Go Crazy" ranks with the best of Van Halen, minimalist production on "When Doves Cry" influenced a decade of producers to strip out the bass and use silence and space as sonic weapons (most of that stuff was crap, but his was good), he writes songs like "Nothing Compares 2 U" and just tosses them away to wackos like Sinead O'Connor, cause he's got so many others – of course he hasn't done much lately of note, but I think the Rock Hall has room for those who fade away when your catalog is this strong.


George Harrison – The most under appreciated Beatle is obvs in the hall as one of the original inductees, but this is nice for him as the best of his solo work is very close to that of Lennon's and probably outpaces a good deal of McCartney's. "All Things Must Pass" was the first post Beatles album by a Beatle and still ranks as one of the best. Lawsuits for stealing songs, creepy gurus, surviving a murder attempt but not cancer, none of that matters, the silent one earned this one.


ZZ Top – Jimi Hendrix said Billy Gibbons was one of his favorite new guitarists in the late sixties, and while Jimi was usually blown completely out, he knew guitar. Dusty Hill and Frank Beard are a solid, if not terribly innovative rhythm section, but like ZZ Top they are nothing if not consistent. "Tres Hombres", "Deguello", "El Loco", "Eliminator", "Afterburner" are all arena rock staples and certainly kick the crap out of most of the other FM dreck of that era. For better or worse they can also take credit for helping build MTV and the pantyhose market with their cheesy videos featuring poorly dressed "models" and of course Cadzilla. They never forgot their blues roots and have constantly campaigned for the Delta Blues Museum. There are cooler bands out there, but few that have done rock this long and this well that aren't already in the Hall.


The Dells – Old Doo Wop dudes, NEXT.


Bob Seger – Being from Michigan, I have a certain appreciation for the guy who "could sing the phone book and have a hit", but despite the tireless campaigning of JJ and the Morning Crew, I don't think he really belongs here. He has a lot of hits, and undeniably the best are really catchy, but most of his stuff is better suited the background – truck commercials, nostalgic movies – mass market crap. I even saw Seger on one of his last tours and it was decent, but I just don't think he ranks with the best of the pre-punk era.


Jackson Brown – I don't get him. I know a lot of people remember him from the early '70's when he was pegged as the next Dylan and apparently his first few albums really impacted some people as fresh and new, but apart from that Nico song that was in "The Royal Tennenbaums", I can't think of any of his music I've ever enjoyed or that has stuck with me in a meaningful way. Springsteen, Bonnie Raitt, Roy Orbison, and lots of other greats really love this guy, but to me he's just another emasculated also ran from the tool chest that is 70's soft-rock (The Eagles, get back in there with Taylor). A waste of a plaque and an invitation.


Traffic – Whatever, I like this era of Steve Winwood, from Spencer Davis on to Traffic and Blind Faith and his first solo albums. Likewise, Dave Mason is a good if not terribly proficient guitar player, "Dear Mr. Fantasy" and "Low Spark of High heeled Boys" are classics, but this really seems like an afterthought. All the other good bands of this era have been in the hall for years and while I like Traffic, they aren't particularly popular or influential, so why do they belong in here again?


Basically, I think this week class tells a bigger story about the hall. They are dreading the '80's which are quickly approaching their 25 years since their first album rule. They've clearly covered the classic rock era, almost all the worthy artists from the inception of rock through the disaster of corporate rock and disco are in… and they don't know how to handle the coming decade. There are good 80's bands that will soon be eligible but most of them aren't in the Hall's Elvis/Beatles mold of really popular and good – sure U2 and R.E.M. will make it when their time comes, but what of The Smiths, The Replacements, XTC, The Cure and countless others? I'm not really sure the Hall is up for them. Guess we'll wait and see and then complain about the result no matter what.
posted by uncle grambo |
---
i'm reviving an old feature of whatevs.org. it's not that your Uncle Grambo intentionally killed this bit last year, it's just that i hadn't received any VM hottness of late. but this is the exception. left on my cell phone on November 19th, 2003 at 5:32 pm by Matthew J. Peabody. obvs.

"dude, Peabs doesn't care if you sound like fuckin' Redd Fizz, you gotta answer the phone for Peabs. um, holy shit! look at all this traffic. eff this fuck, nah, (unintelligible), fuckit, i'll do it. so anywhizz, yo. um, coachella, let's talk about it. eh, let's talk about it now. so then we can start setting this shit in stone. 'cause I got JP McKrengels callin' me out on your god damn website sayin i'm not going to go to it because, uh, i break concerts like you break relationships. uh, and i just want to prove his asshole wrong. just talked to Dirty McKean, he's down with goin. obvs, Damore ... Damore's probably running the whole thing. so i, uh, the second that tix, that there's ticket availability, we gotta buy these and figure out our flizz and shit out there. but uh, i hope your planning on going cause i'm DEFINITELY planning on going. eff this fuckin' bullshit, mutherfuckers. Peabs, so hott. the hottest thing going these days. lates."
posted by uncle grambo |
---
Jeannette Walls is asserting that Playboy has offered Brit Brit a seven-figure fee to pose nude. knowing Britney as well as I do, I say there's no way she gets her kit off for less than eight figures. c'mon Hef, can you imagine how many copies you'd sell? this would be an even bigger coup than the infamous Cindy Crawford layout! you would instantaneously re-energize and re-invigorate your fading legacy with a new generation of peeps, i think this is one of those instances where it's worth it to "overpay" in the short run. c'mon holmes, make her an offer she can't refuse. cheers and props to Tip Ster for revealing!

ever been on a date where you just want the other person to shut the eff up? then maybe Silent Dating is for you. this is the second link of the day sent by Kegzies, who knew there was so much Polish PHC?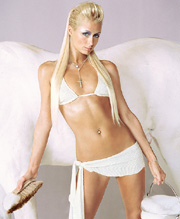 A Night On The Town with Princess Paris Hilton, as experienced with Rolling Stone's Vanessa Grigoriadis. ripped shamelessly from Gawker. but while you're at RS, check out these pics from a recent Liz Phair performance in Kansas City.


my fantasy football team (the Unclegrambo Underachievers) has hit the skids, yo. while I'm still mathmatically in the hunt for a wildcard spot, my team is falling apart at the seams. two of my most promising players from draft day have been caught up in some crazy buzz. first there's the case of Cleveland Browns running back William Green. after separating his shoulder, he got pulled over on DUI charges and got busted with a few joints in his car. as if that's not durst enough, his wife decided to stab him in the back last night! literally! total Brutus buzz. and then there's the sad case of Atlanta Falcons QB Michael Vick, who broke his leg during the pre-season and was supposed to miss the first six weeks of the season. well here we are in Week 12 and he has yet to play a down. no buzz, especially when one of his teammate's stepped on his ankle in practice yesterday and set his rehab efforts even further back. durst.


is it just me or is whatevs.org slowly morphing into a Natalie Portman fansite? either way, fanboys will be interested to hear that she may land the role of Lois Lane in the oft-delayed "Superman" project.


and while I love The Post with all my heart and soul, I can't help feeling like this is a nasty rumour without substance. Spies say that Billy Crudup has ditched his 7 1/2 months preggers wife for Claire Danes. while Russell Hammond is no doubt one smoove mofo, he doesn't seem like the kind of guy who would ditch his wife for Angela Chase. here's hoping that The Post is wrong and your Uncle Grambo is right.

posted by uncle grambo |
---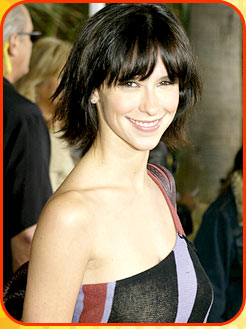 sweet Mary, mother of Jesus. good Lord. for reals, WTF happened to my girl Love? back in the days of "Party Of Fizz", i used to dream of flying through the TV screen (sorta like that animated dude from the "Money For Nothing" vidds) just so I could be close to JLH. and remember those halcyon days when she and Carson Daly were, like, the "it couple" of the moment? you remember, back when The Grizz called up TRL and actually spoke to Love for a few minutes? buzz. but then Katie Holmes appeared on the scene and us Midwestern youth had a new, raven-esque brunette with ample bosoms to lust after. JLH lost all of her buzz and turned into just another anorexic starlet with an above average rack (see "The Tuxedo"). but even those days seem far, far away ... now she looks like some sort of a mop-topped strumpet with an abnormally pointy chin. oh Bailey, why did you have to become a drunken idiot and bang that chick who already had a son? you broke Love's heart in the fictional plane, but somehow that shame crossed over into this corporal world and then the rest of her went to shit. wurst.

best new website by a long-shot. TOO MUCH ROOTBEER!

all this Wacko Jacko buzz made me yearn for the days when Norm MacDonald used to tear him up on "Weekend Update." thankfully for all of us, Cult Movie Hero Deckie Holmes has compiled a list of his favorite Norm takes on this subject. my fave quote goes as follows:

"This week, a London tabloid published the first exclusive pictures of Michael Jackson's baby, secretly taken by a guest at the King of Pop's Neverland Ranch. Upon seeing the pictures, Michael said, 'This is not my baby,' then quickly added, 'I'm not saying he isn't hot, he's hot, it's just not my kid'."
"I'm not saying he isn't a very sexy infant, he's just not mine."
"I would love to have sex with him, he is just not my child. It's all I'm saying."



what the deuce? Could there be a "Family Guy" reunion in the works? the strong DVD sales (it's this year's top selling TV title) have led to rumours that as many as 35 NEW EPISODES could premiere in January 2005, marking the first time that a television show has come back from cancellation based solely upon DVD buzz. nothing would make JP McKrengels happier, and whatever makes John John happy, makes me happy.


there's a really solid review of the Paris Hilton video in this week's NY Observer. Ben Profume seems to know a lot about porn and even goes on to say that there's no reason that Paris couldn't acheive Chasey Lain status ... while your Uncle Grambo finds that a bit of a stretch, i did find myself thinking that she resembles a young Krystal Steal (pre cosmetic surgery, obvs) in the vidds. link via MCN. howevs, while we're on the topic of Paris, it seems that she's "pulled out" of her scheduled Letterman appearance next week. heh heh, pulled out. second only to the rhythm method, obvs. rhythm method ... so best. if only i knew what that meant.


My Trip To The Supermarket After Reading James Frey's "A Million Little Pieces" by Will Leitch. hilarious. link courtesy of the dazzling Lindsay.


Triumph The Insult Comic Dog is the featured guest on Fresh Air with Terry Gross this afternoon. D-Town listeners should tune into WDET from 3 to 4pm. gracias to our foreign correspondant representin' all kindsa Lec Walesa buzz in Poland for reporting this info ... i'm talkin' bout Kegzies! shmears.


and finally, I'd really like you to take a moment to check out T-Rob's "Adventures At The Yankee Candle Company" ... it is an epic journey of self-discovery in which our young protagonist goes in search of his "ideal scent" , even "if it (takes) all damn day." it is a stirring tale, one which I'm sure you will find both pleasure and delight in. enjoy, dear chaps, and light one up for your Uncle Grambo. lord knows his flat smells like Tuss and Halls Mentho-Lyptus (cherry flaves, obvs).

posted by uncle grambo |
---
yes indeed, not only did The Grizz manage to get Bachelor Bob and Stelly on the phone last nizz after the big finale, but he also got his article in before deadline! Read it in today's Detroit News. and if you're like Peabs and all your old Fat Amy cd's are worn out, don't fret because you can pre-order his new album on Amazon.com. shmears. or you can just go to the Rochester Hills Barnes & Noble on Saturday for a Guiney book signing. for reals.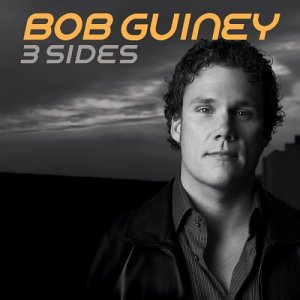 posted by uncle grambo |
---
Wednesday, November 19, 2003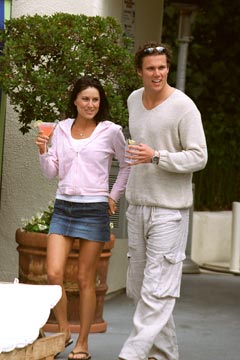 so it's 10:41 pm EST and your Uncle Grambo has just downed a couple of shots of Tuss, mainly b/c I've just witnessed the biggest prime-time anticipatory switch-a-roo since Bob inhabited Dale Cooper's body in the final "Twin Peaks"! in a SHOCKING twist, Bachelor Bob just dumped Kelly Jazzercise, to which I offer him congratulatory buzz. i'm glad he finally recognized what i recognized back on Night One, she's got high stalker potential coursing through her veins. while she's definitely closer to cute than durst, i took great offense to horrible posture. not only does she walk like a dude, but did you SEE her sink into that deck chair? durst. she's going to have scoliosis buzz within the year, this I promise you. and what was that metallic bar between her T's in that red drizz? i wasn't feelin' that one at all, yo. but I do feel bad for her, especially because I'm quite positive that Bachelor Bob banged this potential Bachelorette. or was that just me?


but you gotta throw props to Guiney for not only selecting Estella, but also for deciding to postpone the decision to actually propose. that's his solid Midwestern roots showing through ... who meets and proposes to someone within six weeks, especially under the guise of a reality television show? i'm glad Bob didn't cave in to the pressure that the producers undoubtedly placed on him. "and what of Estella?" you ask. well I'll tell you. your Uncle Grambo is more than willing to look past her bony shoulders and recognize the gamine beauty within. i loved her style (great dress, great shoes!), but most of all I loved the way that she interacted with the Guiney clan out on Long Lake. ESPECIALLY Bob's Mom. that Estella is one classy and smart broad, she knows that a surefire way to win a Midwestern boy's heart is to dazzle his Moms. obvs.


but wait, it's not ovs! tomorrow night's special promises a "confrontation" between Kelly Jazzercise and Bachelor Bizz. and yes, Channel 7 just went live to a bunch of skanks at The Post in Novi ... yukkers. even worse? Detroit Lions Mikhael Ricks and Steven Trejo showed up at the bar trolling for said skanks! durst!

posted by uncle grambo |
---
could this be the first time that a tabloid has exploited and misquoted a celebrity to fit their own agenda? The Sun (a stalwart of journalistic practices if ever there was one) took a quote from Brit Brit being bitter about her breakup with Justin Trousersnake into a full-fledged assault on the length of JT's trousersnake! the article insinuates that Justin was "Just-In" Britney ... get it? and they even reveal some Trouserworm buzz! gotta love The Sun.

yet another reason to hate Columbus. Judge allows inmate to defer prison sentence to watch this weekend's Ohio State vs. Michigan football game on television. as with a grand majority of my sports takes, this one comes from the Information Leafblower. speaking of whom, props out to the ILB for getting some Gothamist props for his recent response to The Guardian's Top 40 American bands list.

Dennis Rodman has been clean and sober for *almost* one month. this constitutes news these days? i love The Worm probably as much or more than anyone, but c'mon. didn't I hear somewhere that he's going to be on the next "Celebrity Mole"? no buzz.

this week's Billboard album charts will see Jay-Z debut at #1 with "The Black Album." Jay Hova's (allegedly) final album moved 461,000 units since its release last Friday, a very impressive number. with a full week of sales, that number would likely have been over 600K. those sales are ESPECIALLY high considering that the album's first single (the Neptune's "Change Clothes") has completely failed to make a dent with white folks; previous first singles like "Big Pimpin", "Izzo (H.O.V.A)" or even "03 Bonnie and Clyde" certainly accomplished this task. that being said, "The Black Album" is sickening and you should run to Best Buy right now to pick it up. i scored mine last Fri at the Virgin in Chicaggs, hottness. other notable debuts include Kid Rock at #8 (149K) and Pink at a disappointing #9 (147K). both artists debuted with similar (but slightly higher) numbers on their last go-round; both of those records went on to sell over 4 million units each. obvs. thanks to Big Matt for passing this along.

worst. Jeffrey Wells is reporting that the foreign financing has fallen through for the proposed collaboration between Baz Luhrman and Leo DiCaprio on "Alexander The Great."


Julian's dad gets sued by a former employee on the grounds of too much secondhand smoke. best!


oh, and btw, if you've tried calling me in the last few days and i haven't answered my phone, it's not because i hate you. it's because my voice is all effed and i sound like Redd Foxx after three packs of P-Funks ... i've got a wicked cold going right now and i have uttered less than twenty words out loud in the last two days combined. i'm currently all crunk'd out on Tuss and Soodies, so my thoughts and actions are kinda perpetually crowded and slow. the bad news is that I haven't even attempted to bust a smoky treat since Saturday, but the good news is that i'm rockin' some kick ass Tuss right now, the hardcore alchoholic kind (alcohol content = 1.4%). it's totally buzztastic, and the combo with the Soodies is tha shiznit. now i'm going home to listen to "Loveless" on headphones over and over and fall asleep in a daze of feedback and Tuss. best. l8s.

posted by uncle grambo |
---
Reports are breaking that there's a warrant out for Jacko's arrest. more molestation buzz, obvs. apparently the cops raided Neverland in search of some outtakes from the Martin Bashir documentary that aired on ABC last year ... wonder if Davis knows anything about them outtakes? Davis. so best.

"If you get high, what's going to happen?" well if you're Kim Mathers, you're going to go to jail. Eminem's ex finally showed up in court yesterday, where she was promptly arrested on a bench warrant. after paying a $50,000 cash bond to be released, she then had a tether strapped around her ankle to track her whereabouts. she's due back in court on coke charges on December 16th. but as long as we're on the topic of the Mathers clan, that bitch ass Benzino discovered and released some old skool Eminem raps where he busts racial slurs ... the rhymes were captured on a fuzzy tape from the early `90s and showcase Em dropping a few "N" bombs. Benzino, editor of The Source, then challenged the media to treat Em no different than R. Kelly, Mike Tyson and Kobe Bryant. hey Benzino, the difference here is that Em hasn't been FORMALLY CHARGED BY THE POLICE in this situation! your beef is almost as tired as your magazine, yo. can't you find someone new to pick on?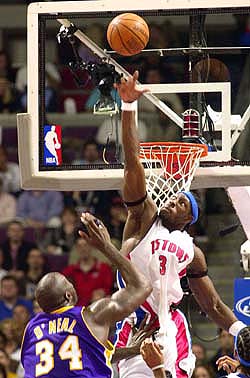 after their recent struggles out on the Left Coast, it was good to see The Pistons kick the shite out of the Lakers last night. okay, they didn't really lay a severe beatdown on Kobe and crew, but they played really tough in the fourth quarter and answered a lot of questions about this team's ability to win a big game. granted, Shaq got in some early first quarter foul trouble, but that it was Memo's play that landed him there, baby. and last night's perf by Bobby Sura showed Detroit fans the first glimpse of why Joe Dumars was comfortable letting Jon Barry leave town. i think the team made a big step last night, let's just hope they can keep this momentum train rollin' on down the tracks.


Kelly Jo or Estella? Estella or Kelly Jo? Bachelor Bob will choose one of these two skanks on tonight's finale of "The Bachelor." fortunately for you, The Grizz handicaps the episode in today's Detroit News. i don't care where you work, as long as there are females in your workplace, you can rest assure that this will be tomorrow morning's water cooler topic du jour. my money's on Kelly Jazz, bt-dubs.


BEST! NME is reporting that the organizers of the annual Coachella Music Festival are eyeing Radiohead to headline the gig. your Uncle Grambo will be there regardless (note to my friends: DON'T GET MARRIED ON MAY 1st!), but seeing Thom and crew in the middle of the desert sounds magnificently obvs.


i love lists. whether it's making them or criticizing them, lists are always good clean fun. for instance, does Q really expect anyone to take their list of the 1,001 Best Songs Ever seriously? choosing "One" by U2 as your #1 is certainly a bold move, but do you really think that's the single best song of all-time? and including "My Name Is" and "Independent Women Pt 1" in your Top Ten totally undermines the validity of your list, wouldn't you say? any list of Top Ten Songs of All-Time that doesn't include "Bittersweet Symphony" (didn't even make their Top 100!?!) is shite. but then there comes along a list like Amazon.com's So You'd Like to Be A Hipster Artfag ... totally classic and first revealed by Gawker.

posted by uncle grambo |
---
Tuesday, November 18, 2003

LOS ANGELES (Reuters) - Police searched pop star Michael Jackson's opulent Neverland Ranch on Tuesday after authorities issued a search warrant related to a criminal investigation, a police spokesman said.


While police did not specify the nature of the investigation, the cable channel Court TV said the search warrant stemmed from allegations of sexual abuse brought by a 12-year-old boy against the self-styled King of Pop.


A spokesman for Jackson was not immediately available for comment. The allegations come nine years after a 14-year-old reached an out-of-court agreement to settle a lawsuit accusing the singer of molesting him in 1992. No criminal charges were ever brought in that case.

posted by uncle grambo |
---
baseball bores the hell out of me. i like going down to the ballpark as much as the next guy, but watching an entire game on television sounds even less appealing to me than dinner with Bill O'Reilly, The Smothers Brothers and Rush Limbizz. i recognize that I'm biased because the Tigers have floundered for well over a decade, but i swear that's not the only factor. take, for instance, the recent announcement of Alex Rodriguez as the American League MVP ... how valuable can you possibly be if your team finishes in last place? or take this year's likely NL MVP / world class egomaniac Barry Bonds, who dissolved his relationship with the group licensing program run by the Major League Baseball Players Association. this basically means that Bonds won't be included in on any future video games, baseball cards, team jerseys without an expressly negotiated payment to Bonds' already fat pockets. what a crock, i can't believe that the union would let him get away with something like this. but despite all this haterade, there's still a part of me deep down that loves the game and Roger Angell's recent recap of the 2003 season in The New Yorker helped me rediscover some of that passion. it takes a writer of magnificent talent to make a sport I abhor so much sound majestic and graceful once again. thank you to Throwing Things for pointing me in the direction of this article.

people who are interested in buying Uncle Grambo Christmas presents should take note: On December 2, Fox will release all four "Alien" movies in a set of nine discs interconnected in a gatefold that is almost FIVE AND A HALF FEET LONG! hott.

warning: do not click through on the following link if you are a Star Wars geek who's prone to spontaneous erections. more photos of Natalie Portman in that sheer, nip-baring dress from the other dizz. link via the good graces of Laura.

quick, someone check Timbaland for recent head trauma! the beat maestro extraordinaire recently told MTV that ""The only [artist] I'd like to do a song with is Coldplay. That's the only one I really want to work with now." say WHAT? and while you're over at MTV.com, be sure to check out the article on Kid Rock and the making of "Feel Like Makin' Love." apparently the original cut of the song featured Sheryl Crow, but Kid stripped her vox from the song when Crow's management decided that releasing another duet with Kid so soon after "Picture" wasn't a good idea. this also likely had a lot to do with the fact that she's promoting a "Very Best Of..." album right now, which once again goes to prove that the record industry thinks that the record buying public are a bunch of morons and can't distinguish between a Kid Rock song and a Sheryl Crow song. this is really a shame, as the duo's collaboration on "Run Off To L.A." is probably my fave song on the new "Kid Rock" LP. but the good news is that sources tell me that they've got tons of songs in the vaults, definitely enough for a future EP or LP. keep yo' fingers crossed.

"I Spent A Night In Paris (Want To See The Video?)" t-shirt. via The Gorilla.

More Audra Kubat buzz, this time courtesy of The Freep. stolen directly from The Dish at Motorcityrocks.com.

Uncle Grambo ... apparently I have a lot of symptoms of both the Histrionic Personality Disorder (individual often displays excessive emotionality and attention seeking in various contexts ... often perceived as shallow and self-centered) and Narcissistic Personality Disorder (individual has a grandiose view of themselves, a need for admiration, and a lack of empathy that begins by early adulthood and is present in various situations). damn, that's even more harsh than the cold dishes that The Spoonbender serves. fortunately, I have self-identified these characteristics within myself via a Personality Disorder Test that I just completed. which, in theory, means that I could change my behaviour to make me less histrionic and narcissistic. will I? not so much. thanks to WWKAD? and Matthew Tobey for pointing out this test in the first place. my complete results are below. obvs.

Personality Disorder Test Results
| | | | |
| --- | --- | --- | --- |
| | Paranoid | |||| | 14% |
| | Schizoid | |||||||||| | 34% |
| | Schizotypal | |||||||||||| | 46% |
| | Antisocial | |||||||||||||||| | 62% |
| | Borderline | |||||||||| | 34% |
| | Histrionic | |||||||||||||||||||| | 82% |
| | Narcissistic | |||||||||||||||||||| | 86% |
| | Avoidant | |||||||||| | 34% |
| | Dependent | |||||||||| | 38% |
| | Obsessive-Compulsive | |||||||||| | 34% |
Take Free Personality Disorder Test

posted by uncle grambo |
---
eff the Observer. check out The Information Leafblower's Response to the Top 40 Bands in America. contributors include Glamorama, Nick Catchdubs (btw, hey Nick, you GOTSTA hook me up with that supafyne hunny pictured on your homepage), Coolfer, Motorcityrocks.com and Large Hearted Boy. great stuff. i only wish that I would've remembered to list No Doubt in my Top 10 ... aside from the fact that they've managed to stay in the spotlight for almost ten years (who woulda thunk it?), their cover of "It's My Life" is a hott track with a hotter LaChapelle directed vidd.


wait wait wait, your Uncle Grambo would like to take back anything bad that I've ever said about The Guardian. witness their list of the 40 Best Film Directors working today, the surprising amount of concern they show for Courtney Love and their breakdown of the odds surrounding the nominees and winners of the 2004 Academy Awards. of the three, the Top 40 Directors piece is my personal fave. their list is ridiculously best, voting David Lynch into the #1 Spot. my criticisms of this list are minor; I would've liked to have seen Wes Anderson, David Fincher and Wong Kar-Wai a little higher on the list, and I was surprised by the omission of Peter Weir, Jean-Pierre Jeunet, Tim Burton and Danny Boyle, but none of those four would've likely cracked my Top 10. definitely worth your time.


in my AMA recap yesterday, i was remiss in forgetting to comment on how magnifico Jessica Simpson looked. while your Uncle Grambo isn't exactly the world's number one fashion authority, I thought that her outfit emphasized her feminity in a way that was both classy AND sexy. and the new haircut? so robvs. pics courtesy of Jessica-Simpson.org.


normally you couldn't PAY me to say good things about Freep music critic Brian McCollum. but this morning's interview with legendary Detroit rapper E-Sham is a rare exception. the props aren't so much that the interview is exceedingly hott, it's more that he's got the clout to convince Freep editors to even CONSIDER running a story like this.


does this mean that we'll finally get to hear "Listen Without Prejudice: Volume 2"? George Michael signs a record deal that will reunites him with Sony. Michael's famed lawsuit against Sony in the early `90s prematurely put an end to what could have been a legendary career. wonder if he's still got it?


can this fit in the overhead bins? Jeannette Walls is reporting that Mariah Carey brought 60 suitcases and 350 pairs of shoes with her on a recent trip to China.


this is a first! A director cast a beautiful young starlet in a movie role because of her looks ... normally these decisions come down to talent alone! in this particular case, Keira Knightley was cast in "Love Actually" because of her belly button ring. funny, i thought it was because of her arse!

posted by uncle grambo |
---
Monday, November 17, 2003

according to a recent poll, ecstasy is becoming more popular in the Detroit suburbs than minivans. while marijuana (note to parents: aka "weed", "mary jane", "pizz", "the chronic", "the bubonic chronic", "the gin and tonic bubonic mrs. ochmonick chronic") and alcohol (aka "booze") still remain the one-two choice of teens lookin' to get all effed, e is rising up the charts in the 'burbs. howevs, today's inner city youth continues to enjoy their cocaine (aka "coke", "nose candy", "cizzy for my nizzy", "bolivian marching dust", "snow", "your Uncle Grambo's favourite way to spend that $100 bill burning a hole in his pocket" ... er, scratch that last one) and their crack pipes ... not surprising, yo. gotta love The D. we loves our winter coats, we loves our SUVs and we loves our drugks.


while we're on the medical tip, another bold new study suggests that college students drink much more alcohol than they realize, possibly suggesting that America's youth have a problem with binge drinking. funny, I just spent this last weekend drinking more alcohol than I realized! howevs, instead of attributing it to "overestimating the amount of alcohol in a standard drink", i just called it "blacking out." robvs.

if only this had happened a few days earlier, your Uncle Grambo could have joined the list of those scorned on the Beltway. that list is long and distinguished, just like My Johnson ... shmears. thank you Rick "Slider" Rossovich, wherever you are.

"Mommy, why are you making out with that gay midget with the exceedingly creepy abs?" Nicole Kidman's children subjected to explicit clips of "Eyes Wide Shut" at a recent Hollywood gala.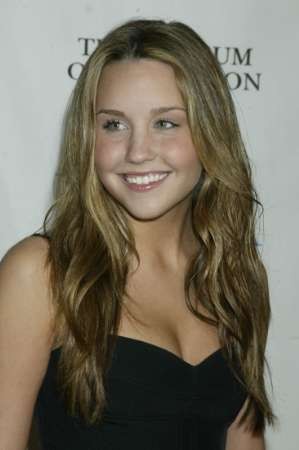 ah yes, my love for Bynes is being validated left and rizz. Not only was "What A Girl Wants" recently declared to be "brilliant" by Ultragrrrl, Amanda Bynes also made the invite list for a recent gala honoring Dan Rather's broadcasting accomplishments. what's the frequency, Bynes?


the self-promotion at ABC has gone too far. frickin' Sydney Bristow has appeared not once but TWICE on tonight's "MNF." no buzz.


i hope that tuna smell is from the fish!!! while the bad humour can only be attributed to me, the link itself is courtesy of the always anonymous yet always stylish Beat Royalty. he also passes along the dish that Jenna Jameson may be in talks to acquire Penthouse magazine. all Jenna all the time? i can certainly think of far worse magazines.


and if you thought that the Paris Hilton p-no was hott, wait until her girl on girl tape surfaces. lest you have any doubts as to the hottness, this tape stars Paris and a Playboy playmate Nicole Lenz. all hail Peabs 4 fwd'ing this along.

posted by uncle grambo |
---
for all of the success he's had and recognition he's deservedly garnered over the years, Dick Clark has obviously got a handful of self-esteem issues. last night's American Music Awards felt like a massive inferiority complex on display in prime time. for reasons unbeknownst to anyone, Dick Clark and his crack team of producers bored us to tears with an hour-long pre-show special, where high class musicians / aspiring journalists like Lance Bass and Monica interviewed such luminaries as Dennis Franz and John Oates (who, btw, couldn't even post up Kylie). and b/c I missed the first ten minutes of the broadcast, I was never able to identify the third co-host of the pre-game special, but he was the most phony "straight" guy that i've ever seen on display. he repeatedly talked about how "hot" Pam Anderson was, but you truly didn't see his eyes sparkle until Mark McGrath was interviewed. whoever that dude is OBVIOUSLY has a closet that's totally worthy of its own "Cribs."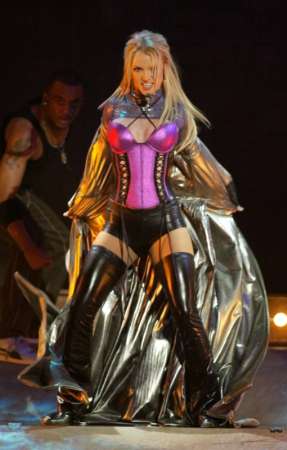 anyway, after a pre-show special ripped right from the Joan Rivers playbook (but this time sans the catty comedy), the show began with an expectedly overwrought interpretation of Brit Brit's "Me Against The Music." in case you hadn't heard by now, Britney has a new album coming out tomorrow (EDITOR'S NOTE: This barrage of Brit Brit buzz is the most ferocious display of PR acumen since The Boss dominated the airwaves when "The Rising" was released in July 2002). she was draped in some kinda crazy purple bustier and pube-high leather boots (as opposed to thigh-high, ya know?). she looked sorta like how Jean Paul Gaultier would've dressed "The Matrix's" Trinity, if only she was a robotic vampire slut from the Eighth Dimension. once again, she lip-sanc (past tense for "lip synch"?) and, once again, Madge's guest vox were inexplicably piped in over the speakers. couldn't they find some DJ somewhere to create a new mix of the song that actually has a hook and loses the completely inessential Madonna guest perf? apparently not. and while I'm preaching from my soapbox, would it kill the producers to include a couple more ass close-ups? isn't that what we've all tuned in for, anyway?

mercifully, the song ended quickly and immediately transitioned into Kid Rock sitting solitary on the stage, strumming the opening chords to Bad Company's classic "Feel Like Makin' Love." as the first verse came to a close, the curtain opened and the Twisted Brown Trucker band brought the fizzunk for the chorus and the completion of the song. Kid stirred up some pre-show controversy when he arrived with Pammie Anderson, mainly because every print outlet worldwide had the two broken up and Pam back with Tommy. but Kid looked both happy and confident with Barb Wire on his arm; he even dropped an "I Love You" to her when he won the Favorite Male Artist award at the show's completion. as he sings on his new self-titled album, this once again goes to prove that you can't put your finger on Kid Rock ...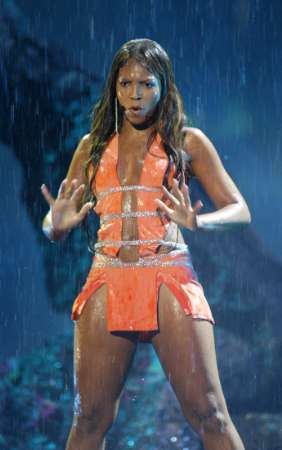 all in all, the show's tone took a decidedly self-aggrandizing turn for the worse after Kid Rock's performance, making the Grammys look positively regal in comparison. the show bounced back and forth from some of the most blatant network self-promotion evs (c'mon, what are Trista and Ryan doing on stage?) to attempting to establish prior AMAs as truly memorable events ... for reals, with tens years worth of hindsight, tell me that you're not EMBARRASSED to have given an award to Billy Ray Cyrus! aside from the Kid Rock performance, the evening's musical highlights were Pink's stunning (I shit you not) performance of "Trouble", Metallica's rousing "St. Anger", Sheryl Crow's innocently sweet cover of "The First Cut Is The Deepest" and once again seeing Ruben Studdard spending more time combating flop-sweat than concentrating on the melody of the song he's singing (it's apparent that he's no longer got any passion for "Superstar"). i also thought it was tigs that they gave three minutes to an NYC-based band called The Bomb Squad for winning a contest as the Best Unsigned Band in America (even though their lead singer was ugly and their music blew monkey chunks). as far as lowlights are concerned, someone needs to buy Ashanti either a DVD player or a subscription to HBO ... didn't her management team realize that the whole "Look, it's raining indoors!" trick was invented by Wade Robson for Brit Brit's "Dream Within A Dream" tour? that was some 2001 shite, yo! damn!one of the evening's more mysterious moments came when Steven Curtis Chapman accepted an award for "Contemporary Inspirational Music" ... since when did it change from "Christian"? and if Dick Clark is so apparently concerned with being PC, why did he let Ruben and Clay perform an atrociously melodramatic ballad called "Jesus Is Love"? call it hypocritical or call it contradictory, either way DC was all about the mixed message last night. in order for this rudderless broadcast to improve in the future, DC should really sit down and decide if this is intended to be an awards show or a three-hour commercial for ABC's fall schedule. is it intended to honor musicians or stick it to The Grammys? do you want the night to be schticky or legit? i'm cool with any decision that Dick Clark makes as long as he sticks to it. the reason most awards shows like this fail is that they try to be all things to all people, and DC has accumulated enough power in his day to ensure that doesn't have to happen. let's hope he decides to utilize it for next year's ceremony.

posted by uncle grambo |
---
nothing more durst than two grumpy old football coaches trying to pull off some Brit Brit and Madge buzz. Dallas Cowboys coach Bill Parcells looks like he's about ready to lay a big wet one on his protegé, New England Patriots coach Bill Belichick after last night's Patriot victory ... heh heh, i said "Beli-Chick."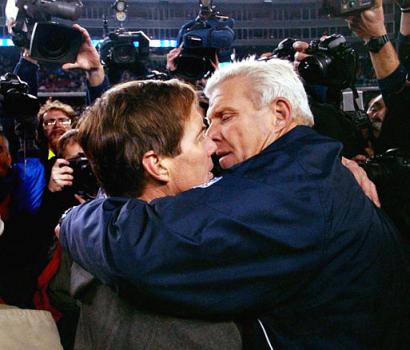 posted by uncle grambo |
---
wild weekend in The Occasionally Breezy City. highlights included the following: 1) a Friday afternoon XXX-rated hot tub rendez-vizz with the lovely Zulkey and 2) drinking copious amounts of Coors Light ("SOMEBODY'S GOTTA FEEL THIS!") at The Fieldhouse with notable guests such as Coach Glinka, Malbersblows, Wartinsmooth and Denise The Piece. while our posse never made it to the United Center, we did watch a shitload of college football. the highlight, of course, was my beloved Wolverines giving those bitch ass N'Western Wildcats an whuppin' that they'll never forget. sorry Dirty McKean, the glory days of Gary Barnett are L-O-N-G gone, Ernie Harwell stizz. and despite an atrocious three-week span in late September, my beloved Wolverines have a legitimate shot at The Sugar Bowl if they can put the hurt on Ohio State at the Big House this weekend. as a wise man once told me, Buck The Fuckeyes!

hey Jennifer Howard ... jealous much? just because your blog blows doesn't mean you have to try and take down the likes of Old Hag and TMFTML! but the truly amazing thing about this unprovoked bash on some of the more pre-eminent denizens of The Blogosphere is that bloggers are beginning to creep into the mainstream press, and in a Sunday edition of The Washington Post no less! that is buzzworthy in and of itself.

50 Cent and Vivica A. Fox have apparently split up. but 50 admitted to Howard Stern on Friday that he didn't officially end things with Vivica -- he just "stopped calling." harrumph! i've *never* heard of anyone doing that before ... what kind of a cretin would be so low? d'oh

those cheeky monkeys over at The Sun are reporting on the emergence of a new sex drug that you spray up your nose. it's about damn time!

while I was gone, The Grizz fired up two tasty pieces in the DetNews. he reported on the snooze-inducing "Girls Tell All" episode of "The Bachelor" and also reviewed the new Pink record. the album scores a surprising "B+" review from The Grizz, mainly because of the fact that "(Pink) is unafraid of change, bored with the status quo and game for anything, and for that, she's truly unique, especially in a world of prissy, pre-fab pop princesses." last night's performance on the AMAs certainly solidified that take for me (more on the AMAs later), maybe that's a record worth picking up?!?

reading a Sasha Frere-Jones album review is a little like watching Allen Iverson play pick-up with a bunch of retarded kids. you recognize that the dude has got mad game, but is that behind-the-back spin dribble into a reverse jam really necessary? witness his review of "The Black Album" on Slate. what other reviewer would mix in a phrase like this?

"In exploiting the contrast between a hustler's sangfroid and the sweet realpolitik of the kids' chorus (of 'It's A Hard Knock Life'), Jay-Z found the novelty and charm he'd lacked"
for reals, who drops realpolitik into any sentence at any time, let alone a Jay-Z review? he also goes on to bust lines about "the Talmudic scholars of hip-hop" while describing Hova's flow on "99 Problems" as "swinging through the beat like an X-wing crop-dusting the Death Star." all you can do after reading some dope ass shit like this is to sit back, marvel and bear witness to greatness at work. obvs.


while network television is dead in America, in England it continues to hum. part of the reason the American system is failing miserably is a stunning lack of creativity. for instance, can you even dream of an American network airing a airing a documentary on Vincent Gallo? er, not so much. any UK peeps should definitely tune into Channel 4 on November 28th for "48 People Who Should Be Shot In Hollywood." duh.

posted by uncle grambo |
---
while this weekend's Alec Baldwin review is being carefully edited by the ghost of John Belushi, Nummer and the H-Bomb bring the heat with their coney laden review of the Roddick / Matthews episode.


posted by uncle grambo |
---
Sunday, November 16, 2003

Queen Amidala ... oh me oh my. in combination with her appearance on Vogue / VH-1 Fashion Superstars, Natalie Bestman is quickly rising up the ranks of high class hotties.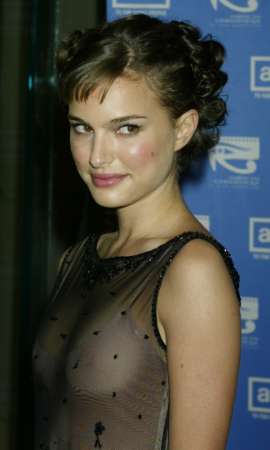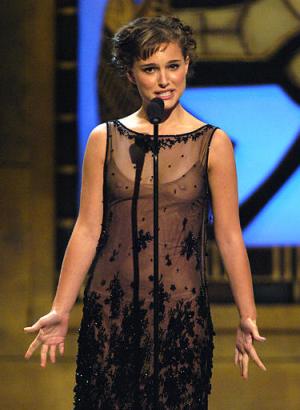 posted by uncle grambo |
---