Friday, January 31, 2003

fare thee well


i'm bustin' outta here in a few. have a great weekend! before i rundst, i just thought that I should let you know that the rumours about The Olsen Twins have officially been debunked by E! Online. and while The Giors may be responsible for spreading the rumours, he has contacted whatevs.org and submitted an official apology. it is posted below in its entirety ... until Monday, peace out to the FOW Nation ...

False Buzz from The Giors
By: The Giors


What a cruel world we live in! On one hand, I have to rejoice in the knowledge that God doesn't get pleasure out of tormenting The Giors. On the other hand, I am so disappointed in the false report of the Olson Twins coming to BGSU. The biggest blow is to my whatevs.org buzz reliability rating. I feel a responsibility to all the FOWs to only report on the most authentic of buzz and leave the hearsay to www.thedonz.com. Thank God for Uncle Grambo! He keeps the buzz in check like a 1920 muckraker journalist ( Holla to Jacob Reese and Upton Sinclair). "Olson Twins in BG you say…MO-K" says Uncle Grambo. We are so lucky to have the "Godfather" of Whatevs looking over us like a guardian angel or Aaron Spelling …whichever omnipotent entity you choose to believe in. So while you should all rejoice in the chance to throw stones and sharp pointy Missile-like objects at The Giors; take a second to tip your cap to the hippest buzz crazed cat this side of the Detroit River…Uncle Grambo. So in the words of the great Billy Madison I leave you … "Peace I'm outa here!"
posted by uncle grambo |
---
where are YOU coming from?


to let you all in on a little inside info, recently whatevs.org has been averaging between 100 to 120 unique visitors and 220 page views on any given weekday. this means that while a lot of people pop by once a day, there are a few dedicated FOWs who hit refresh several times throughout the day. all this is tiggs, you all know how much i appreciate your patronage. anysluts, i was combing through my Yahoo Mail a few minutes ago and i received my weekly traffic report from Sitemeter and WHAMMO! i was shocked to read that yesterday i racked up 650 unique visitors and served 806 pages, which is easily the single biggest day in the short history of whatevs.org. as of 12:30 this afternoon, i'm somehow on track to eclipse those numbers. what i want to know is "where are you coming from?" i know that some Joe Millionaire fans have been stumbling onto the site ("sarah kozer" is somehow the #1 search term that people use to find whatevs.org, although a quick Google search a few minutes ago didn't reveal any high ranking whatevs buzz). so if you're a new visitor to whatevs.org or even if you're a well-established FOW, take a second to pop on down to the comment link below and drop me a note. i'm just interested to figure out what people think of the site and how they discovered it in the first place.


so anyway, that's the latest and greatest news from me. obvs. more posts to follow this afternoon. but before i go, i'll leave you with a link to possibly the greatest Gossip Page of all-time. fly on over to a site called Two Dorks.com and witness the most astounding collection of celebrity gossip that i've ever seen. from Dan Ackroyd to Rob Zombie, there is dirt on virtually every celeb you can possibly think of. Mark Wahlberg? "Cokehead and booze-bag. Enjoys exposing himself in public places. Linked with Jordana Brewster, Gwyneth Paltrow, Winona Ryder & Uma Thurman." Charlize Theron? "Enjoys adult toys and ganja. Linked to George Clooney and Dwight Yoakum." Michael Stipe? "Massive cokehead. Rumored to prefer the company of gentlemen, and is now admitting it. Hygienically challenged. Reportedly linked with Helena Christensen, Toni Collette, Natalie Merchant, River Phoenix, and Keanu Reeves." these celebs and many more are featured on this astounding website. one click-through is guaranteed to result in at least twenty-five minutes of "no WAY!"s muttered under your breath ... "Arnold Schwarzenegger has a penile implant because of his steroid abuse? no WAY!" see what i mean?

posted by uncle grambo |
---
the adventures of link


i haven't written a post like this in a while, recent posts have tended to be pretty focused on one particular point. so be prepared to be jostled around a little as i return to the infamous Bullet Point List this morning:


posted by uncle grambo |
---
Thursday, January 30, 2003

worst movie of 2003?


Title: "Looney Tunes: Back In Action"
Release Date: November 14, 2003
Directed By: Joe Dante (last film was "Small Soldiers")
Stars: Brendan Fraser, Jenna Elfman
Verdict: WORST EVS! guaranteed to make "Space Jam" look like "Citizen Kane"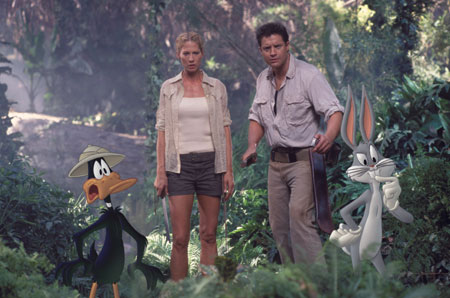 posted by uncle grambo |
---
evolution of a masterpiece


i'm not talking about Michelangelo's work on The Sistine Chapel. i'm not talking about the hours that Beethoven put into his magnificent Ninth Symphony. and i'm certainly not talking about Leo Da Vinci's "Mona Lisa" (besides, DaVinci isn't even the best Leonardo -- he ranks third behind DiCaprio and The Teenage Mutant Ninja Turtle). what i'm talking about is the evolution of the catchiest, original advertising anthem since "These Are The People In My Neighborhood" ("Tattoo Tony in his cool muscle shirt / Maria on the corner lookin' good in a skirt!"). of course I'm talking about the Coors Light campaign called "I Love", which includes playin' two hand touch, eatin' way too much, and the TWINS! this weekend's New York Times Magazine takes an in-depth look at what is probably the best beer commercial on television these days ... yes, that includes the Miller Lite "Catfight" ad. this is a must-read for anyone in the advertising or marketing industry, and even if you're not "in the Ad Game", it's a fascinating look into the genesis behind a genuine cultural phenomenon (at least among guys who watch football every week).

posted by uncle grambo |
---
oops, my bad


coming to the defense of the local newspapers, The Grizz sent through a link to a story in this Saturday's Detroit Free Press in which Brian McCollum interviewed Kid Rock about the success of the "Picture" single. the article is actually quite good and full of some choice Rock quotes and interesting revelations (Darren McCarty and Chris Chelios provide the finger snaps on the single). if McCollum stumbles upon this site, my apologies on trashing you earlier. no harm, no foul.

posted by uncle grambo |
---
more britney scoop


as a follow-up to yesterday's Brit Brit / C. Farrell buzz, London's Daily Mail is reporting that Spears was spotted leaving Farrell's hotel room at the Chateau Marmont around 5 a.m. the night of "The Recruit" premiere. "They kept on disappearing out onto the balcony. Then they went into one of the adjoining bedrooms where they stayed for at least an hour" one partygoer revealed. britney britney britney. why you gotta play me like that?

posted by uncle grambo |
---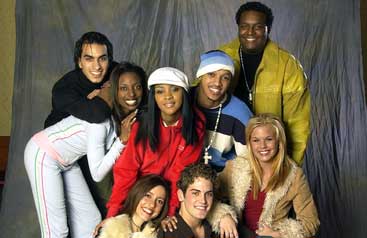 hercules hercules!


"American Idol." can't believe that i've been suckered in. actually, it's not that surprising at all. i managed to stay out of the whole phenomena for most of the first season's run, but i gotta admit that i was right there when when Kelly Clarkson won. so when Fox aired the first of their endless string of Season 2 Promos this fall, i knew that i should just plan on writing off social activities during the six or eight weeks that the show would be on the air. and after the first four or so episodes, i gotsta admit that i'm a little bit hooked. so when i rolled into work this morning after last night's episode, obvs that the first thing i did was surf on over to the American Idol on FOX site to check out who would be the first 8 to compete next week (posted at right). i'd be really suprised if Kimberly Caldwell (the blondie on the far rizz) didn't make it through to the next round, but of the rest, i didn't really remember a strong favorite from this bunch. allz i know is that i'm rooting hardcore for my boy Ricky "Hercules Hercules" Smith. that dude is priceless, he makes me laugh almost as much as Fred Armisen. i'm going to miss the next episode because i'll be at the Neil Finn / Rhett Miller show at St. Andrews -- maybe this will inspire me to pull my aging VCR out of its box in the basement and hook it up. VHS -- i've gone over a year without it! some say unnecessary...


surfing revealed a few other interesting articles out there this morning. The London Guardian features a nice little piece on blogs, focusing mainly on how some entrepreneurs are trying to figure out ways to make money off them (Gawker gets a mention). a little closer to home, today's Freep features a column from local legend Mike Wendlend on the world of blogs and how to get started with one ... how come i didn't already see that piece in The DetNews??? and speaking of major stories that both The DetNews and The Freep have somehow missed, Kid Rock's "Cocky" re-enters this week's Billboard Top 10 Albums chart (at #7 no less) for the first time in 62 weeks. whatevs.org briefly mentioned this buzz at this time last week, but the papers never seemed to pick up on it. i say shame on local music writers Wendy Case and Brian McCollum for not taking the time to write up this VERY worthy story. think about it -- a world famous rockstar who lives just up the street is making one of the biggest record industry comebacks in recent memory and our local papers can't get a few quotes or his side of the story? it's virtually legend how Rock has been begging Atlantic to release "Picture" for months and months -- there's TONS of scoop there, and it's not like the news has gone unnoticed (there is a brief mention in today's DetNews). now let's start the clock to see how long it takes for this article to be written. ready, steady, GO!

posted by uncle grambo |
---
Wednesday, January 29, 2003

most anticipated album release since "the rising"

no, i'm not talking about Zwan (still waiting for reports to purchase that one). what i'm about to reveal will have Indie Rockers, Angry Girls and English Majors from coast to coast rejoicing at the news. after having to wait for close to five agonizing years, RollingStone.com is reporting that Liz Phair's Happy Tragic Thing is due May 20th on Capitol Records. these are the kind of announcements that make you kneel down and kiss the earth, esp. for a hardcore Liz fan like myself ... here's a little background buzz for y'all.


everyone who knows me knows my infatuation with Liz Phair. from the infamous "Girlysound Tapes" (my one and only purchase experience on EBay) to "Exile In Guyville" (the #1 Album of the 1990s according to The Grahammys 90/90 Volume 4, Number 4) to "Whip Smart" (tragically underrated, I was just hitting this on Saturday) to "whitechocolatespacegg" (#2 Album of 1998 according to The Grahammys - Music 99), Liz Phair's work has always enthralled me. i can't tell you how many spins each one of the aforementioned albums has garnered in my CD players over the years ... i've probably listened to Phair more than The Smiths, more than The Verve, and likely more than Springsteen. her work continues to speak to me 10 years after i first heard "Exile" in a listening station at Tower Records in Ann Arbor. obvs i picked up that CD right there and then (alongside Kirsty MacColl's "Titanic Days" -- I remember this day vividly -- Hansz was with me) and basically never let a month go by since without listening to Liz. i missed her first Detroit appearance at St. Andrews Hall back in late `93 or so, but I've caught her only other two Detroit-area performances (Clutch Cargo's in 1998, Lilith Fair in 1999) since then. she is overwhelmingly A M A Z I N G in every possible sense of the word, and is up there neck and neck with Springsteen as my all-time favorite recording artist. but before i send out too much of the Stalker Vibe, i'll fill you in on some details that i've gathered on the new album ...


it began about two weeks ago with a post on Velvetrope.com titled"Where's Liz Phair these days?" the question had been on every Liz Phair fan's mind ever since the Lilith Tour a few years back. Rumours circulated that she was recording with Michael Penn (true -- but most of the sessions were scrapped), that she was writing with Pete Yorn (also true -- but no details have emerged about whether or not any of these collaborations made the album), that she got divorced (also true), and that her album was slated to be released sometime in 2000 (unfortunately NOT true). this last rumour was especially disappointing, as Liz debuted some blazin' tracks (including "Love/Hate Transmission", of which only crappy MP3's currently exist) that we all were hoping would be included on the new album. so it was a relief to see that there were other Liz fans STILL out there, and that they presumably had some buzz about the new album. turns out that they did. through this thread i discovered a Liz fansite called Mesmerizing ... amazingly enough the girl who runs the site had just received an email about the new album from Liz herself!!! it turns out that she had been spending time with the production team known as The Matrix, who are currently riding high thanks to their work with Avril Lavigne ("Complicated", "Sk8r Boi"). but before you scream "SELLOUT!", i think it's important to note that Liz has always written her own songs and has continued to do so (in fact, she co-wrote and sings backup on Sheryl Crow's smash "Soak Up The Sun"). if her work gets a little "polishing" from a top-notch production team, what harm could that possibly do? the answer is "no harm at all." here's what liz had to say...


Oh, I'm just having the best time checking this site out. I love what you've done with it. There seems to be a small furor going on about release dates and evil production couplings, and all I can say is, really, no REALLY, don't worry. The Matrix songs are great, mainstreamy, but really exceptional as such. I needed to get on the radio, and they and I have had an unusually fruitful four song pairing. It's obviously different than my own quirky stuff, but we've amazed the label with a four for four hit-type factor, and no one who's heard it ( myself included) can stop playing it because it rocks and is fun and slick and smart. So that's that. Inside the game of the music business, I've turned my fate around with these tracks and am poised for a nice ride. Which is important to me. A huge part of my motivation in any creative endeavor is ignoring, if not down-right spitting in the face of, the words "No, you can't." I'm just rebelious. I hate that they say you can't get on the radio. I hate that those suited executives look at me (Or looked, thanks to some fabulously generous and outstanding work by Michael Penn, Gary Clark, and The Matrix) and think, "Art Piece. Hang it on the wall. Can't do anything else with it." You might understand that Music Industry is just another Guyville and I want to take it down. Or sit on top of it. It's just my nature. And it wouldn't be satisfying if I didn't love the music I make. I absolutely love some of those Matrix songs. I finally made music, like 'Extraordinary' and 'Rock Me', that I want to blast out of the windows of my car, waiting to park at Universal Studios for KCRW Christmas show. The Matrix stuff is the kind of stuff you take to rural America and play at top volume for your cousins because they get it, and they like it, but when they hear the words, it shocks them. I live for that reaction. As for my own art, there are many, many songs recorded over these last four years that we're deciding what to do with. Many are just me and my guitar, maybe not as good as at twenty-five, when all I had to do in the world was sit around, get stoned and play guitar, but alot are pretty special. I even thought of starting a subscription service to do like a song-a-month club on-line, because, why wait? I write songs all the time, and in their nascent form, are quite possibly more brilliant, especially to all my brainiac fans out there who don't need their art pre-digested. Release date for the proffesional album is very firmly May 22, 2003, because any longer than that and I run out of money. Expect to see me playing shows very soon, as per that money thing. No title as of yet, but I'm hovering around a 'night' image.


I don't know what else to tell you, but if you can stand to move a few feet closer to the center, I promise the album rocks. And if you can't, then have a laugh and wait for the demo material to trickle out. It's only music. You don't have cancer. I write it for me. It fulfills my need to speak, to be understood. And if I change, and you don't like it, I can't help you. Because only when I'm traveling in my life, when I feel like I'm transforming, or having some adventure, will music come flooding out of me. Friction, baby!


xxxxoooo Liz




okay, that was a little fanboy-ish of me, i apologize for you non-Phair fans out there (however, if that piqued your interest, there is a detailed dissection of the letter over at Glorious Noise that you'll certainly enjoy). regardless, my hope is that this little bit of insight into the creative process will encourage you to look into her work. or maybe the photos on the right hand margin will! they were pulled off the website of a Chicago-based fashion boutique. as you can see, Liz still looks foxxxy after all these years.


may 20th, 2003. only 112 more days. the countdown begins.









posted by uncle grambo |
---
Joe Millionaire Revealed!
(link courtesy of Drudge)

"One of the trio of "Joe Millionaire" finalists has starred in dozens of kinky bondage and fetish films that feature her being handcuffed, gagged, hog-tied, or bound with duct tape, The Smoking Gun has learned.


While Fox Television has described Sarah Kozer's occupation as "sales and design," the 29-year-old Los Angeles woman has a far more interesting entry on her resume: in the past few years she has starred in bondage films like "Novices in Knots," "Hogtied," and "Helpless Heroines," an well as foot fetish titles like "Dirty Soled Dolls." The 1998 graduate of Virginia's George Mason University is credited in these films as "Cindy Schubert."



joe millionaire. it just keeps getting better and better! kinky foot fetish contestants, how best is that?

posted by uncle grambo |
---
best tattoo ever

too bad i don't have a picture of it. venturing slightly awkwardly into Glamorama territory, i'd like to tell you about the hot new writer on the block (or so I read). his name is James Frey, but there's no word on whether or not he's any relation to A2 Based FOW C Friggs (aka Friggedy, aka CFrey). he's got a tattoo on his forearm that reads "F.T.B.S.I.T.T.T.D."

say what?

it stands for "FUCK THE BULLSHIT IT'S TIME TO THROW DOWN." what? BEST! there's a full-scale interview with him in this week's New York Observer that you can quickly access if you decide to click here. his new bio called "A Million Little Pieces" will be released by Doubleday in April. it has some HOT blurb buzz going on, here are a few select quotes:

"A bit like Charles Bukowski, had the Beat boozer been a suburban rich kid kicking the rock in Hazelden ... (it's) a relentless, halogen-lit confessional littered with self-loathing addicts, tortured souls, weeping and wailing and smoking and fighting and lots and lots of stomach bile." -- The New York Observer


"The 'War and Peace' of addiction" -- Pat Conroy


"As intense and perfectly detailed an account of a human quitting his drug and alcohol dependency as you are likely to read ... Frey is horribly honest and funny in a young-guard Eggers and Wallace sort of way." -- Gus Van Sant


"It will have you sobbing, laughing, angry, frustrated, and most importantly, hopeful. 'A Million Little Pieces' is inspirational and essential. A remarkable performance." --Bret Easton Ellis



if any of this has piqued your interest, you can pre-order it from Amazon.com today, or perhaps just throw it on your wish list. if the content even comes close to matching the hype, this is sure to be a front-runner for one of 2003's best books. essential?

posted by uncle grambo |
---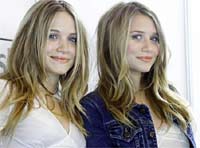 guest writer buzz

everyone has their favorite guest contributor to whatevs.org. some say The Grizz, some say Peabs, some say GKVibe, still others say Nummer and The H-Bomb. while i love all of the guest contributors like they were my first-born, i have a special fondness and admiration for the work of The Giors. the following was submitted to me this morning via Yahoo Mail. enjoy ...

Proof That God Hates The Giors!
By The Giors


For all you FOWs out there, I'm sure you've noticed that The Giors has a problem with anger. Some may say I have issues, others say I have more issues than the New York Stock Exchange. You may have doubted the authenticity of my angst, and while you were at it, I'm sure you chuckled and passed my comments off as just another manufactured article designed to entertain and delight you sexy bod. While these are goals of mine, I finally have an example of plight that will be universally recognized for its injustice…like I changed my name to either Sacco or Venzetti! So sit back, relizz, and take pleasure in the pain that is the life and times of The Giors.


Most of you don't know the history of The Giors PHG (Pre High School Graduation) so to fill you in I'll give you the edited for TV version. I was good at baseball so I took a scholarship to the worst, most miserable school in the country: Bowling Green State University (BGSU) in Ohio. My freshman year was all time worst evs! The topography is as flat and uneventful as Debra Messing, the facilities are older than Pasco's Mom, and the night life is less exciting than watching the Detroit Tigers play the Florida Marlins. It was so worst!


After my freshman year I got out of there like I was Britney (Pickle) Spears at Sundance! Now to the part where God hates The Giors! What happens five years later?…at the most random, pseudo college in America. The most celebrated and anticipated "coming of age" duo…EVER announces they will be attending BGSU in the fall of 2003. So slap me silly and call me Danny Tanner, because the FUCKING OLSON TWINS ARE GOING TO BGSU! Yep…the hottest buzz evs surrounding twins since Kent Hrbeck and Dave Winfield will be sleeping in a dorm room about 100 miles from our nest in Oakland County. 100 miles? Well call me Eazy-E …cuz I will soon be 100 miles and runnin.' Do you know how huge of a buzz this is? The Olson twins…so hot, and at BGSU…Why? Leave it to God to taunt me with the question "what if they were there when you were?" So when the Olson twins turn 18, The Giors will be down in BGSU trying to get them drunk, make them do some lewd acts…on film…and sell that shizz as the most sought after porn ever recorded! I think God owes me that much after this bullshizz. I'm now taking advanced orders….only $1,000 a tape….and worth every dollar!



i'm normally not one to bring a man down, but i gots to keep it on the rizzeal with The Giors. obvs this note was super hott and required instant Google Searching. a quick scan of Google News revealed that a massive Web Hoax involving a fake CNN.com site fooled thousands into believing that the beloved Olsen Twins were matriculating into their alma maters. witness these articles in Rochester (New York)'s Democrat & Chronicle (Rochester Institute of Technology Buzz) and Texas A&M's The Eagle. sorry to burst your bubble Giors, but it appears that God really does hate you. he took the extra step to rub your nose in the dirt by spreading false BGSU rumours online -- what a bast!

posted by uncle grambo |
---
"whoever i bang is bangin' me back"


when The Grizz wrote his landmark piece on Ferrell vs. Farrell, he forgot to tally up the Sexxx Factor. Today's Page Six, gossip section of The New York Post, reports that Britney Spears and Colin Farrell were seen getting hot and heavy at The Troubadour in LA this weekend. Quoth Page Six: ""I saw Britney Spears - who was intoxicated to say the least - and Colin Farrell talking on the couch," says our witness, "and the next thing I know he went in for the kill. Or maybe she did? All I know is, they were making out for a really long time. Then they all left together." Britney is turning into SUCH the megaslutball! Remember all of the hubbub over the last few weeks about Britney being an item with Durst? Well The Grizz is reporting this morning that Durst has removed all of his Britney-centric posts on Limp Bizkit's website! The girl is very aggressively playing the field and bangin' celebs to the left and to the rizz. and you KNOW that hookin' up with C. Farrell leads to a rendezvous with a large batch of Bolivian Marching Dust. looks like Justin Timbo was right after all, cry me a rivs Brit Brit!


but the real issue here isn't the Britney Factor, it's the inexplicable Farrell Factor. how in the eff did this guy get so much buzz? here's what Farrell recently said to W Magazine about his romantic liasons: "I'm into casual sex . . . I come into town and fuck whoever I can - but I'm not mean and egotistical about it. Whoever I bang is bangin' me back!" Farrell. makes you hate the guy even more. this guy just shows up at a club and the likes of Britney Spears shows up for some "tongue wrestling" (according to The Post). then the guy has the audacity to take Britney to the premiere of "The Recruit" in front of the whole world! pics below of the world's leading jackanapes ... so much anti-buzz!


posted by uncle grambo |
---
Tuesday, January 28, 2003

we pardon this interruption of regularly scheduled programming for a political statement from Uncle Grambo


well, sorta.


tonight could very well end up being majorly important to our country. as most of you are aware, G Dubz is presenting us, the citizens of The United States Of America, with his annual "State Of The Union" address this evening. and as most of you know, we are thisclose to going to war with Iraq or North Korea or whoever the hell else Dubya feels like going after this week. while you sit in your living room pondering what it's going to be like to launch the first official war since the last time a Bush was in The White House, it might help to get wicked plastered. thank g-o-d for The State of the Union Address Drinking Game, which will help you pay attention to what the leader of our country is saying while also blissfully sending you into Happy Drunken Dreamland. lord knows that's where i'll be, after a Potently Potable combination of 'Tuss, Mentholyptus and 'Livet (Glen, that is). fellow FOWs, good luck to you and see you in the morning.

posted by uncle grambo |
---
flak to the rescue

though i'm not quite sure whether it's a disguised blessing or a horribly disfiguring curse, your humble editor of whatevs.org tried unsuccessfully to round up comments on this year's crop of Super Bowl commercials from assorted collegues in the advertising / marketing arena. perhaps it was the lateness of the request, perhaps the lameness of the commercials, perhaps it was the amount of alcohol consumed on sunday -- whatever reason, your Uncle Grambo received no replies to his request for content. but to this i shout a resounding "what evs!", because it honestly does not upset me that no one wrote back. this year's commercials all sucked, though some sucked WAY harder than others (I'm talking to you Ang Lee, "The Hulk" is gonna blow ass). the biggest laugh of the night was an unintentional one -- did you guys catch that spot where the two adults were solemnly looking at a positive pregnancy test? anyway, these two forlorn fortysomethings are staring at this EPT Stick all saddened and you start wondering what in the world could possibly be wrong with these two folks. hell, they've just been blessed by Hay-Seuss himself with the miracle of childbirth. well the camera pans across the room to show a white, teenage girl sitting on the bed and then it hits you ... the parents aren't preggers, the teenybopper is! how in the sam hell did this innocent little teen get knocked up? a voice-over tells us "Smoking marijuana impaired her judgement." cut immediately to belly-busting derisive laughter from me, The Grizz, Mandypantalons, Coach Glinka and Jillycakes. i mean, come ON, are you f'ing kidding me? unless your daughter is smoking weed with Snoop Dogg on his "Girls Gone Wild" tour, chances are pretty slim that marijuana use alone is going to land you in the Maternity Ward of Beaumont Hospital. adults -- so stupid!

getting back to my point, the Super Bowl commercials were very, very lame this year. i'm glad that no one wasted their time (or mine!) sending through commentary, especially when Flak Magazine just posted Super Bowl XXXVII | Operation Infinite Ads on their site. this wildly comprehensive review breaks down EVERY SINGLE AD and even groups them in convenient nuggets (Break 1, Break 2, Halftime Show, etc.) for us. totally best.

and for you "Joe Millionaire" fans out there, be sure and check out Lindsay Robertson's recap of Episode 4. she nails a couple of things PERFECTLY, including how Evan is ALWAYS drinking, how Melissa hilariously deemed herself as a "mercenary" (she meant to say "missionary"), Zora's look of "virtuous disappointment" when she doesn't get to experience any alone time in the hot tub with Evan, and finally The Blowjob (i knew it!) ... before you click through, here's an excerpt on said topic:

"Soon, we learn what dry-humping in gravel really sounds like, complete with subtitled moans.


[Female voice]: "Ahhhhh. Mwhah. Mmmmmm. Maybe it'll go better lying down? Slurp. Gulp. Slurp." Oooh, scandal!


Either Evan and Sarah both happen to be vocal exhibitionists, or the clause in their contract stipulating that they keep their mics on at all times carried a hefty penalty fee. There's no way to tell what really happened in those woods that night, but all the money in Vegas says it started with a "B" and ended with a "job."
posted by uncle grambo |
---
good news for Detroit!


i know that The Grizz spent a considerable amount of time on whatevs.org last week ripping on Tha D. this might just change his mind ... it turns out that a 25,000 square foot topless joint called Club Rain will be opening at the corner of Griswold and Grand River sometime in April. while it likely won't be as hot as The Sugar Shack (those who have been know what i'm sayin'), this bodes well for Detroit. no more ending up at tricked out nudie bars on 8 Mizz (see ya later Covergirls!), no more having to wander out to the airport (Flight Club + Landing Strip), no more trashy Warren chicks (Audi 5000 to Jon Jon's!), now we'll have some old fashioned hotties bumpin' and grindin' right downtown! further revealed by The Freep this morning is the fact that a strip club chain called "Larry Flynt's Hustler Club" will soon be taking over the three-story building on East Congress currently occupied by Space. how best evs is that? you head over to St. Andrews or The Shelter for some indie rock, take in a pint or two over at Jacoby's, and wrap up the night with a few lappies over at The Hustler Club! seriously, can life get any better? all they need is a 24-hour BW3 across the street and that will be the best block in the world! strippers + spicy garlic wings + "the most dangerous club in America (according to Spin)" = unforgettably best buzz.

posted by uncle grambo |
---
from the "you've GOT to be kidding me" files...


two entries have me shaking my head this morning, which is especially painful considering the whopper headache that this Tuss just ain't curin. first off is a piece in the LA Times by esteemed movie writer Patrick Goldstein, in which he scribbles 1,600 words that rail the MPAA for giving "Kangaroo Jack" a PG-rating, instead of a PG-13 rating. seriously, WTF? there have GOT to be better things to write about than this. like anyone is ever going to remember "Kangaroo J's" two months from now. c'mon.


the second makes me shake my head, but not in a painful way like that Goldstein article. apparently Britney Spears spent some time over the weekend out in Park City at the Sundance Film Festival. she hit the premiere of Robert Downey Best Evs' new film called "The Singing Detective", but caused a minor ruckus when she and her entire posse of bodyguards walked out of the theatre 45 minutes into the film. she's quoted by Page Six as saying "I didn't like the movie ... Sundance is weird. The movies are weird - you actually have to think about them when you watch them." oy!

posted by uncle grambo |
---
addicted to mentholyptus

so i'm fighting off my first legit cold in about a year. after getting about five minutes of sleep on sunday night, my body apparently entered a weakened state and some sort of virus tried bustin' my balls. usually colds are no big whoops, but getting a cold on January 27th posed a little bit of an issue for me. let me set the scene.

i started coughing around 12:30pm or so yesterday afternoon. you know, a cough here or there. no biggs. but when 2pm rolled around, i began a consistent coughing fit that lasted until about 7pm. not any irratating, morning after smoker-type cough, but your occasional hack here and there. you know how it is, the mini-coughs you get right before you get the flu. in the big picture, none of this really matters. but i was faced with a major dilemna, because i had been scheduled for MONTHS to go see Johnny Marr and The Healers at The Magic Stick last night. do i go down to The Stick to see one of my all-time heroes or do i rest and recuperate on my couch and go to bed early? i think that i'm beginning to show my age (28 buzz), because i ended up passing on the concert to watch "My So Called Life" on DVD and the first 45 minutes of "Joe Millionaire." speaking of Joe Millionaire, i'm pretty sure that Sarah introduced Evan to the works of Billy Joel. if you get my meaning. but anyway, for those of you (like me) who didn't get to go to Marr last night, here's an email exchange between The Grizz and myself about the occurences of last night.

-----Original Message-----
From: The Grizz
Sent: Tuesday, January 28, 2003 9:04AM
To: Uncle Grambo
Subject: Marr


summed up best by nummer. "forgettable"



--- "Uncle Grambo" wrote:
that sucks. i was cashed out by 9:45, couldn't even stay up to see who got the boot on Joe Millies. as soon as you left, i got up to make myself a cup of tea but decided that sleep would be better. thank god for Drew & Mizz, i found out that MoJo got the hammer dropped on her.


sorry for dissing out. i still feel like Thade but at least i feel rested.


did you see damore?


word.
-mark



--- "The Grizz" wrote:
you don't have to feel like thade, but nice thade reference nonetheless.


when we got there we caught up with nummer, repped some sgt. pepperonis, and went upstairs where we were immediately greeted by GKVizz, damore and friggedy. GKV was talking a lot about his vibe. it was pretty hot.


marr came on at about 10:20; mandy, nummer and i stayed for about 10 songs and then took off. all the songs sounded sort of generic and marr's vocals sort of sucked. damore compared their sound to the stone roses circa "second coming." i think that praise is a little high.


anyway, one of the guitar players looked like peabs. other than that, you didn't miss anything.


glad you got some rest last nizz. you should go home early today if you can.


peace in the east
AG



so i'm sitting here at work this morning sucking down some Cherry Halls Mentholyptus Plus, the kind with the Medicine Center. so much buzz in that middle. mmmmm ... mentholyptus.

posted by uncle grambo |
---
Monday, January 27, 2003

freep scoops news


it's 4:17 pm. as previously reported on whatevs.org, Lions Insider JP McKrengels informed the FOW Nation that Marty Mornhinweg was fired from his position as Lions head coach. the press conference with Matt Millen just wrapped up (around 4:01pm) and The Freep has already posted a story online at Freep.com. The DetNews simply links to an AP story, but their front page has a graphic of Steve Mariucci and the words "the former 49ers coach is expected to replace (Mornhinweg)". positive props to The Freep for already putting a story together on this late-breaking story (complete with quotes from the press conference !!!), and negative journalistic props must go out to The DetNews for going to press with a "story" (if graphics can be considered a story) built solely on rampant speculation! i heard that Dewey Defeated Truman, do you think it's true??? The News would probably print it!

posted by uncle grambo |
---
mornhinweg buzz


from ESPN.com ... "ESPN.com's Len Pasquarelli reports that sources close to Steve Mariucci said today the former 49ers coach has not been contacted by the Lions about coaching in Detroit next season. Radio station WDFN reported today that Mariucci was going to be the next Lions coach, fueling speculation. The sources tell Pasquarelli that Mariucci is uncertain whether he wants to coach next season.

posted by uncle grambo |
---
krengels buzz


by day he's a mild mannered ad exec at a reputable agency downtown, but apparently our boy JP McKrengels is pulling double duty as a Lions Insider. he just forwarded this press release that states that the Detroit Lions have fired Head Coach Marty Mornhinwheg. to quoth Krengzies, "I hear that the new replacement is none other than former 49er's coach and friend of Izzo.... Steve Mariucci! Matt Millen to hold Press Conf at 3:30 today." developing !!!

posted by uncle grambo |
---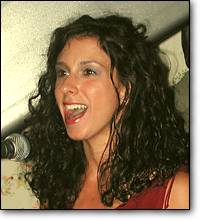 "i was always a journalism groupie"


wow. i know that i mentioned this buzz a couple of weeks ago, but Jodi Kantor was officially named as the editor of The New York Times' Arts & Leisure section on Thursday. color your Uncle Grambo mega-impressed. this 27-year old Harvard Law dropout got her first job in journalism less than four years ago (working in the New York office of Slate) and is clearly a master of networking (she held a fellowship on Guiliani's staff). one part not listed by The Times in her short bio is that she currently holds the #1 position in my personal list of People That I Am Obsessively Jealous Of. through the magic of Google, i have found a couple of interviews with Miss Kantor (as pictured at right) from the last few days that are worth taking the time to digest. in an interview that appeared in Friday's New York Daily News, she was asked about the kind of directional changes she will implement on the section when her appointment takes effect on March 1: "One thing that 'Arts & Leisure' will not be doing is choosing between pop culture and the more refined arts. These days, rap stars give breathtakingly good performances in Broadway plays, the most beloved show on TV explores Freudian theory with great subtlety, and novels about comic books win Pulitzers...(it) will probably look and feel different in a few months." meanwhile, over at MSNBC.com, a full Q&A session with Kantor is featured -- she comes off as very intelligent and quite astute about how the NYT's cultural coverage should adapt in the short and long term. even though I'm REALLY jealous of her, it sounds like the folks over at The Times made a great decision on this hire. I, for one, will certainly be looking forward to picking up the Sunday editions with greater frequency beginning in March.

posted by uncle grambo |
---
super best wknd


another weekend gone by, another monday where i'm tired and slightly hung ovs. been v. busy this morning, which is too bad considering i have little or no energy because i only got about five minutes of sleep last nizz. spent most of the night hurling, but not from being overserved. i ate some bad food somewhere along the way, which is unsurprising considering how much food i threw down my cakehole yesterday. so much mexican dip, so much kielbasa, so many tortilla chips, so many slices of ham, and i'm pretty sure that the two slices of pizza i had for lunch didn't help matters much. shatts.


anyhooz, here's a few links to keep you occupied this morn / afternoon, courtesy of Flak Magazine. first off is a dissection of Miller Light's "Cat Fight" ad, which is currently the fave :30 ad of hetero males everywhere. the writer (some bloke named Bob Cook) has an interesting take on why Miller Lite has decided to stoop so low on the evolutionary ladder of advertising and what they forgot -- "(Miller Lite) has made a fundamental error in its advertising — it doesn't tell you the stuff is any good. No matter how you advertise it, no matter how many jiggling breasts and late-night, 900-number-ad-style come-ons you air, the ads will be ineffective in actually selling the product if you don't give a tangible reason to consume it." good point, but c'mon ... who doesn't dig scantily clad hotties mud wrestling for beer?


even better than Cook's article are Lindsay Robertson's recaps of "Joe Millionaire". ever since the days of Mighty Big TV (which evolved into Television Without Pity), the TV episode recap has been one of the web's best features. biting, hilarious and served with a heaping dose of sarcastic contempt, the recap flourished for years but has recently devolved into boring chick talk. but Robertson succeeds where other recaps have failed, mainly because she manages not to get too far off topic or too long winded in her posts; instead she concentrates on providing hilarious insights ("Sarah. Prissy, rockin'-bodied blonde ISO some hot leg action. Loves to kiss and tell.") in a relatively concise manner. so take a spin over to Flak to check out these articles and many more. tatts.

posted by uncle grambo |
---