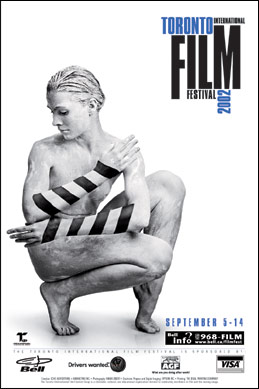 What: Toronto International Film Festival: Day 1
Where: Toronto, Canada
When: September 6, 2002

When it comes to film festivals, a few big names come to mind. First on everyone's list is the Cannes Film Festival, held each year in May on the southern coast of France. Obvs, this is impossible to attend unless you are super hooked up with industry connections. Ditto for the Sundance Film Festival, which takes place in January each year. There are other big festivals (Venice, Berlin, New York), but none of the above can compare to the fan-friendliness of the Toronto International Film Festival. Held over 10 days each September, the TIFF brings hundreds of movies and a couple of huge premieres into the friendly environs of Toronto. This was my second trip to the festival, but my first since the legendary 1997 festival, where The Grizz and I saw incredible premieres of movies like "LA Confidential", "The Edge" and "The Big One". So in an attempt to give FOWs worldwide a glimpse of what will be hitting your local cinema over the next year or so, here is a recap of the star sightings and reactions to the 13 films that we caught this weekend.


Before I go any further, it is essential to understand a few things about how one can obtain tickets to a given screening. There are three primary ways to score a seat at this particular film festival:
1) Pre-sale Tickets - These tickets are EXTREMELY hard to come by if you are not a denizen of the fine city of Toronto. After the list of films is announced in late August, a batch of tickets go on sale to the public for every single screening during the festival. If you appear in person at the Festival Box Office (located in the Eaton Centre, the Canadian equivalent of Lakeside Mall), you get first crack at securing guaranteed admission to any given film for the relatively low price of $14.50 Canadian ($25 Canadian for Gala Screenings). It is my best estimate that approximately 70% of tickets are sold via this method.
2) Same-day Tickets - These passes are easier to come by for out of town visitors, but it takes the ability to rise and shine early morning style. Each morning at 8am, the various theatres in town release a small block of tickets to the screenings that they are hosting that day. Lines begin to form about an hour or so before the Box Office opens and film lovers compete to get these tickets. Approximately 20-25% of any given theatre's capacity are sold in this manner, which equates to around 50-75 admissions.
3) Rush Tickets - This is the way that The Grizz and I got entrances to all of the films when we first attended the festival back in 1997. Rush tickets are very risky because they are largely dependant on ticket holders who have already purchased vouchers NOT to show for something that they have already paid for. Lines begin forming outside of theaters anywhere from 45 minutes to 3 hours before the film is scheduled to start, though waiting in line in no means guarantees that you get into the flick. Usually 10-20 people are admitted to films in this manner.


Now that you understand this, you can begin to grasp the uphill battle that The Grizz and I were facing when we arrived at Ticket Central at approximately 2pm on Friday afternoon. Outside the office there are large boards that have short descriptions of every film and times at which they are showing, and damned if almost every single film wasn't crossed out with red marker, indicating that the films were "sold out." We waited in line for a few minutes to score tickets to a film showing on Sunday afternoon called "Winged Migration", but other than that, we were completely shut out. So without delay (and without returing to our hotel room so I could grab my digital camera), we hoofed it over to the Uptown Theatre on the corner of Yonge + Bloor in an attempt to get tickets for the 6pm showing of Tom Twyker's ("Run Lola Run") latest film, "Heaven" (starring Cate Blanchett and Giovanni Ribisi).


When we arrived at the Uptown at approximately 3:15pm, there was already a line 50 people deep waiting for the 6pm screening of "Heaven". This did not bode well for our chances to get into ANY show that weekend. But our fortunes quickly turned as a film crew from The Independent Film Channel Canada showed up and interviewed us about what we were looking forward to seeing that weekend. The Grizz showed major poise in front of the cameras and gave the interviewer some really choice opinions about the weekend. Unfortunately, we will never know if we made IFC.CA...oh well. So as 4pm approached, we finally made our way to the front of the line and tried to get tix to "Heaven". We were denied, but we scored tix to the midnight premiere of Jonas Akerlund's "Spun", as well as the 4pm showing of a film called "Les Diables". It was obvs to both of us that neither of us had ever heard of this movie, but we jumped at the chance to get into our first movie of the weekend.

Walking downstairs into the Uptown 3 theatre, we had an instant flashback to the Midnight Madness world premiere of "Orgazmo" in the very same theatre back in `97. We sat down as Piers Handling, the Director of the TIFF, personally introduced the film and its director. "Les Diables" tells the tale of a pre-teen brother and sister combo who have been abandoned by their parents and roam the French countryside in search of their parents. Only the children aren't what anyone would consider "normal"; the girl, Chloe, is severely autistic and cannot speak or even really see straight. The brother, who bears a very strong resemblance to River Phoenix in "Stand By Me", is ultra protective of Chloe and gets in fights with social workers, police, and other children who attempt to pick on Chloe or attempt to separate them. While this already sounds like a very dark and disturbing tale, it gets far worse from there. Breaking all rules of what Americans have deemed as "morally responsible", all of a sudden the viewers are exposed to some full-frontal child porn style female nudity. I'm talkin' the whole nine yards, and it still leaves me with a sick and disturbed feeling, but hey, it's a film made in France and I guess that shit must be different over there. It's not really exploitive, so to speak, but it still just ain't right. Despite this, the film is visually striking and very disturbing and has absolutely NO chance of ever appearing on a screen or a Blockbuster near you, which makes it a perfect film festival experience. Combine "Natural Born Killers", "What's Eating Gilbert Grape?" and "Stand By Me" with a healthy dose of kiddie porn and you've got "Les Diables". Three stars.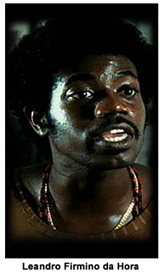 Walking out of the Uptown very disturbed, we got back in line outside the Uptown to try to get rush tickets for "Heaven." No dice, we got denied. So we grabbed some Thai food and made our way over to the Varsity Theatre (directly behind the Uptown on Charles Street) for the 8pm screening of Fernando Meirelles' "City Of God". Jeffrey Wells, a long time hero of yours truly and the writer of an online film column called "Hollywood Confidential", had just raved about this movie the day before on Kevin Smith's fledgling Moviepoopshoot.com. He called it "easily the best movie I've seen this year. It's the freshest and most exciting, the most absorbing, the most ahead-of-the-curve, the fullest and most stimulating two hours I've had in front of a screen over the last eight months. Or maybe the last eight years.", so of course there was no fucking way that we were going to miss this show. As we sat down and waited for the movie to begin, none other than Jeffrey Wells himself (!!!) walked into the theatre and made his way up to the front. The Grizz and I took proper note of this and vowed to get in touch with him after the movie. AICN also reveals that Jennifer Garner was at this screening, but we didn't see her. It's very easy to miss celebs if you don't keep your eyes open for them, largely because there are just so many damn people at all of these movies.


Anyway, after a short introduction from the film's director, the house lights went down on and "City Of God" hit the screen. From the very opening scene where a group of teens chase a chicken down the streets of Rio de Janiero with semi-automatic pistols, it is apparent that this film is going to be a kinetic and enthralling experience. "C.O.G" tells the tale of a group of friends in the outlying slums of Rio called the City of God, a description which could not be any further from the truth. The city's streets aren't paved, there is no electricity, and the houses are little more than poorly constructed, four-wall shacks. Told in various interlinking vignettes, we follow a few main characters from the early 1960s through the mid 1970s. The main characters begin the film in their early teens to mid-20s, and they all struggle to figure out means to improve their lives and keep their eyes on the prize. In this case (as in all of our lives), the prize is money, girls and the (unfortunately unattainable) goal of escaping the ghetto. Most turn to robbery, drug dealing and other illegal pursuits to achieve their dreams, and ultimately all of them turn to joining gangs in the interest of self-preservation. But before you go and think that this film is preachy and depressing, it is anything but. Better adjectives to describe this film are exciting, funny, action-packed, impressive and even inspiring. "City of God" was picked up by Miramax at this year's Cannes Film Festival, and it should make its way to theatres sometime this fall or winter. When it hits your town, cancel all of your other plans and go see this movie. Four and a half stars.

After the movie ended with a standing ovation and a Q&A session with the director, we sprinted to the front of the theatre in an attempt to meet up with Jeffrey Wells. We caught up to him in the back stairwell of the theatre and introduced ourselves, throwing mad props to him for his recommendation and just basically introducing ourselves as big fans. He was very gracious and incredibly easy to speak with and probably one of the coolest MoFos i've ever met. We told him that we were on our way to the midnight screening of "Spun", a film that he had already seen. We parted ways and I kicked myself for not dropping whatevs.org props to him and also for failing to bring my digital camera to get a picture with him. Would I ever see him again? Probably not. But you never know.

Making our way back to the Uptown, we stood in line for "Spun." The film was directed by Jonas Akerlund, famous for revolutionary music videos like "Smack My Bitch Up" and "Ray Of Light", and also a dead ringer for Tommy Lee. Some of the film's stars were in attendance, including Jason Schwartzman (with girlfriend Selma Blair), Patrick Fugit, Mickey Rourke and Mena Suvari. From where we were sitting, we could see the stars interact together before the film started, and it was absolutely hilarious to see Mickey Rourke totally diss Patrick Fugit. Fugit has no buzz. Anyway, the movie is about a low-life speed freak (played by Schwartzman) who spends the entire film bumping rails and trying to get money to buy more crizzy from the local dealers (John Leguizamo and Mickey Rourke). He also pines for his ex-girlfriend and, in the process, falls for Rourke's WT girlfriend, played with surprising verve by Brittany Murphy. Considering the director and the film's subject, the movie is understandably hyperspastic in its editing and unorthodox shots. Unfortunately, there isn't much depth to the film and a lot of it felt borrowed from other "drug" movies like "Requiem For A Dream", with a lot less meaningful impact. It's also incredibly dirty, as evidenced by the fact that we see Mena Suvari take a dump (complete with turd dropping in the toilet bowl) and we also spend a great deal of time with Leguizamo's ass and sock-covered D. Which is worst. To get an idea of what the film is like, check out the film's official website, especially the NC-17 section. One of the film's few bright spots was a soundtrack composed almost entirely by Billy Corgan (he also cameos). The songs are acoustic based and pretty slow in comparison the hyper rush of this film's plot and editing techniques, which makes for another viewer disconnect. This is a rental at best, especially because I highly doubt this will ever hit theatres. Then again, I thought the same thing about "Orgazmo" a few years ago, and THAT hit theatres (albeit for a very short time). Two stars.


TOMORROW: A recap of Day 2 (September 7) of the TIFF, complete with tales of riding elevators of Dennis Quaid and reviews of "White Oleander", "The Good Thief", "Lost In La Mancha", "Frida", "Welcome To Collingwood" and "Bubba Ho-tep".

---