Friday, May 12, 2006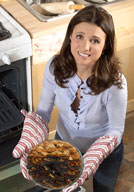 One of the more perplexing issues to rise out of this year's network TV mid-season replacement sweepstakes (and trust me, there were many) is this: when exactly did Julia Louis-Dreyfus become such a BABE? Don't get me wrong, both C.D. Barnes and yours truly found her to be irresistably ravishing on "Day By Day" (you know, in that way that only bitchy yuppies from the late `80s could be). But throughout her Elaine reign, the best way to describe her looks would've been "cute-ish." So, then, what gives with the extreme hottness makeover that CBS has given her?

Maybe it's your Uncle Grambo. Now that I'm fully entrenched in my thirties, perhaps her blend of comedic sensuality is speaking to me in ways that I previously wasn't able to hear. Or are others out there in the same boat, thinking that she's pulled some sort of Jedi mind trick and turned herself into a full-fledged hottie? Either way, Nummer and H-Bomb are here to present to you their pre-show comments for this weekend's episode of SNL. Enjoy!

NUMMER
H-BOMB
Episode 18: Julia Louis-Dreyfus / Paul Simon (5/13/06)

I read a claim that this weekend's episode hosted by SNL alum Julia Louis-Dreyfus would mark the first time a former female cast member has hosted. This didn't seem right to me, so I immediately consulted the trusty archives. Surely someone like Jane Curtain has done it at least once right? To my surpise, the claim appears to be true. Please chime in if you find something different. Ahh, trivia.


I loved Julia's work on Seinfeld and also thought she did a great job as the maybe blind/pregnant lawyer on Arrested Development. Sadly, I'm unfamilar with Dreyfus' work from the three seasons she spent on "Lorne-free" SNL from 1982-1985 since these episodes tend not to be replayed very often. Regardless, I'm guessing Dreyfus will be a great host. Hopefully the crew can get out of the obvious slump they demonstrated during the Hanks episode last week.


SNL will also be welcoming back none other than Paul Simon. Since the show's debut in 1975, Simon has hosted four times, musical guested six times and still found room for three cameos (most recently the 9/11 tribute that opened the 27th season). Like Neil Young back in December, seeing Simon as a musical guest really feels like SNL to me and I'm sure coneys will be abundant.

I absolutely love Julia Louis-Dreyfus! She's funny and quirky and who better to have as a host than a former cast member? I'm actually not at all familiar with any of Dreyfus' former sketches or characters, but with any luck, we won't need to rely on past material to make this episode enjoyable. Similar to Hanks, I think Dreyfus has the potential to put forth a stellar effort as this week's host. I just hope the writers can follow through on their end and give her some decent material to work with.


Paul Simon will be apprearing for the seventh time as the musical act this week. As with Dreyfus, I'm not too up-to-date on the latest happenings with Simon's musical career, but a talented veteran singer/song writer is always a welcome guest to the SNL musical stage (and he may be the one of few that can get away with playing an older song for his second set!). I'm expecting Simon to do nothing but boost the coney count this Saturday.
Oh, in case you missed it in the sidebar for the last few days, here's Nummer and H-Bomb's review of last week's Tom Hanks / RHCP episode of SNL. Anus to anus!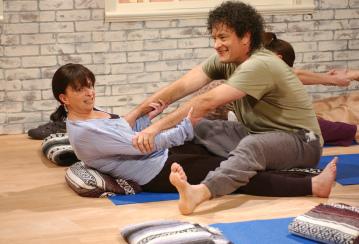 posted by Uncle Grambo |
---
Thursday, May 11, 2006
I don't know how you've been spending your time this week, but your Uncle Grambo has spent an EXTRAORDINARY amount of time watching G4's coverage of E3. As a long-time Nintendo enthusiast, I've been thirstin' for scoopage on the next-gen Nintendo Wii console. And since the screencaps that the print rags and gaming sites put together don't exactly satiate my need for deets, G4TV has become my personal Mecca for the week. And while some might find my mixing of religious metaphors to be altogetherly sacrilegious, Olivia Munn has become my Yahweh.

I know, I know. It's almost blasphemous to admit, but Morgan Webb just isn't doing it for your Uncle Grambo like she used to. Maybe it's her increasingly jutting jawline, maybe it's her shoulders, maybe the girl-geek thing has played its course. But this isn't an attack on Morgan Webb (UG's still gots luv for her) as it is a praise-filled rant on that exotic hottness of Olivia Munn. From her luxuriously silky locks to her 10,000 watt smile to her perktastic B-cups, Olivia Munn has the kind of on-screen physical radiance that you would watch on mute (although it should be noted that The Senator thinks she's got forehead acne). And while the hard-core gamers think she doesn't have techie chops to co-host "Attack Of The Show", it's this viewer's opinion that she's more than held her own this week against Morgan Webb. God damn those half-Japanese girls, she can nunchuck my Wii anytime she wants!

Speaking of the Nerdtendo, have you SEEN the previews for Wario Ware: Smooth Moves or Super Mario Galaxy? Holy fuck on a popsicle stick! They're more than enough for your Uncle Grambo to say funk PS3 and its $499 pricetag. That said, X-Box's preview of Gears Of War would have me considering picking up an X-Box 360 once it drops below $200. Marzipan.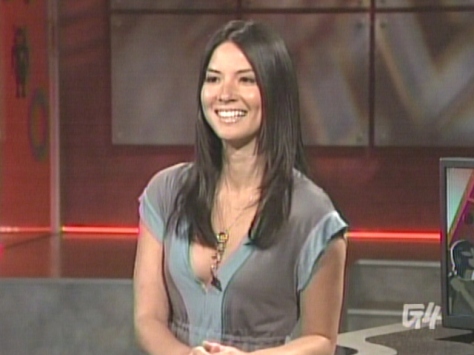 posted by Uncle Grambo |
---
Tuesday, May 09, 2006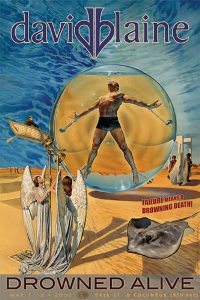 David Blaine ... So Best! While the wags of the Snarkosphere™ have been tripping over themselves in an attempt to make light of David Blaine's failure to break the world record for holding one's breath underwater, your Uncle Grambo is gonna approach this beeyatch from a entirely original direction. My thesis? David Blaine's greatest success last night was his failure.


Let's face it, you know things aren't going well for you career-wise when your biggest endorsement:
1) Came almost four years ago
2) Came courtesy of Wacko Jacko


Am I right or am I right? Anyone with even the most tangential knowledge of Blaine's career knows that he hasn't had any significant buzz in years. His biggest accomplishments of late have been being excommunicated from Leo DiCaprio and Tobey Maguire's renowned Pussy Posse and getting dumped by supermodel Josie Maran.


Worse yet, people had clearly grown tired of his stunts, most likely due to what your Uncle Grambo would attribute to a combination of their perceived difficulty and overall believability. All of his other recent stunts had resulted in him setting some sort of obscure world record and, on top of that, people just couldn't get over the fact that somehow Blaine used "magic" to pull one over on them.


The combination of Blaine's boring personal and professional life has resulted in the American public's overwhelmingly blasé attitude towards him. Case in point, last night's ratings; despite all the promotional muscle as ABC put into last night's "trick", the show finished fourth in its timeslot.


That's why last night's "failure" was the best possible career move that David Blaine's management ever dreamed up. Don't you see, the fact that Blaine is being mocked publicly is actually working to his advantage! By falling from grace (and tearfully accepting defeat), he has set himself up to be redeemed. And if there's one thing that everyone who reads US Weekly or watches "The Surreal Life" can attest to, it's that Americans love nothing more than a good comeback story. Holla atcha, CC DeVille!


I don't know what David Blaine's next stunt will be or when it will happen, but your Uncle Grambo can guaran-god-damn-tee you that it will be one of the most buzzworthy events of the year. You can mark my words; now that he has failed (along the way blacking out underwater resulting in a rush trip to the hospital), ratings will be through the roof for his next trick and David Blaine will once again be in the good graces of the American public.


There is one outstanding question in all of this, a question that will likely never be answered is this -- did he fail on purpose? Unfortch, it's your Uncle Grambo's belief that the answer to this question likely has the same answer as the one question that's plagued an entire Generation since birth. The answer to both questions, I fear, is that the world may never know.

posted by Uncle Grambo |
---
Sunday, May 07, 2006



You say McGuire, I say Maguire. Your Uncle Grambo would like to throw some propers out to the hard-working, in-house promotions department at the American Broadcasting Company for failing to consult the IMDB before airing this "Seabiscuit" promo on Friday night. Brills.

posted by Uncle Grambo |
---