Friday, May 05, 2006
Actually, on second thought, I take that back. We don't need no stinking poxes (poxi?) placed on either the House of LeBron or the House of Gilbert. Which ever team emerges from their first-round skirmish will find themselves in a world of hurt once their bus hits Lapeer Road.

After Wednesday night's impressively impressive Game 5 victory over the Bucks, your Uncle Grambo is convinced that neither the Cavs nor the Wizznuttz have the firepower to compete with our `Stons. Despite looking less-than-enthused at times during the opening round, Game 5 proved that when the Pistons have a healthy Rip Hamilton in the backcourt, there are only a handful of teams in the Association that can even DREAM of snatching a single game from the Pistons, let alone four times in seven games. Unfortunately, those teams (the Heat, the Spurs) are still alive and kicking. Too bad those Luvabulls laid an egg last night; it would've been nice to have seen Shaq-Fu and D. Wade sweat out a Game 7 at home.

But the issue at hand this weekend will be learning whether or not we'll have the privilege of facing King James in Round 2. Yeah, LeBron makes me nervous times twelve and I could see Ziggy Ilgauskas getting `Sheed in some early foul trouble, but the Cavs don't have the intestinal fortitude quite yet to make the Pistons sweat past a Game 6¹. And The Wiz? If they pull a rabbit out of their arses and somehow steal this series, their porous defense will lead to them getting broomed four straight. Either way, here's just hoping the Cavs / Wiz goes to a seventh game so we can rest our tired bones for a few more nights. DEEETROIT BASKETBALL!

Loftus. You gotta love him. Only Loftus could get away with concocting a 700 word treatise in this week's Metro Times that uses the cultural relevance of the Black Eyed Peas as a framing device to riff on topics as diverse as "the night terrors of an anime heroine", Peter Parker's inability to "close the deal with Mary Jane" and how that "My Humps" ringtone you just downloaded equates to "purchasing a share in your own entertainment future." Fuckin' Loftus. So best!

The lineup for this year's Movement `06 Festival (aka DEMF, aka Fuse:In) looks to be pretty solid. Anytime that you can put together a lineup featuring the likes of Richie Hawtin, Carl Craig, Derrick May, Kevin Saunderson and a reunited Nitzer Ebb, you can bet that people will not only show up but also pay cold hard cash to see these stalwarts of techno. The real question, my fine feathered friends, is this ... how MANY people will show? Tix are $15 a day or $40 for the weekend pass, which seems fairly reasonable to a dude like your Uncle Grambo. Problem is, I don't know if there are too many others out there who would be willing to shell out those kind of duckets to hang out in Hart Plaza for three days. Developing...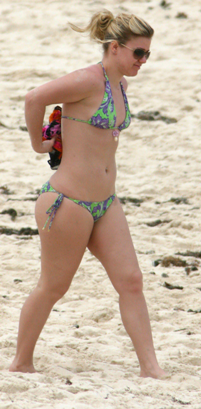 After seeing these Kelly Clarkson 'kini shots, your Uncle Grambo finally realized why she's always wearing pants in her public appearances. RELATED: How come it took me over a year to discover these NSFW pics of a topless Claudia Schiffer?


I wonder how much Ryan Schrieber paid Peter Macia to write this Coachella summary for Pitchfork? Let me just make sure I've got this straight. There were over eighty bands on five stages over the course of two days and this Macia dude could only find it in his heart to write three measly paragraphs, only two of which were actually about the concert itself? How ever much P-Fork paid this brosnan, it was 2 much.


Remaking "Revenge Of The Nerds" has Bad Idea Jeans written all over it. Who are they even going to cast as the Tri-Lambs? Frankie Muniz? That goofy redheaded kid from "Picket Fences"? Durst.


Lock your doors and bolt your windows, Thighs has coaxed Peabs out of retirement. May the flazzum be with you.


And before you go head out with your co-workers to try and catch a buzz from drinking a pitcher after pitcher of crappy margaritas on this Cinco de Mayo, might I suggest you preview Web Vomit's mildly offensive (and totally hilarious) weekend preview over at GotDetroit.com. Happy Ethnic Drinking Holiday!


¹ Anyone else REALLY glad that the Cavs were dumb enough to let Carlos Boozer escape to Utah? Your Uncle Grambo would find himself with a wicked case of the night sweats if the Cavs had C. Boozer prowling the baseline. Let's all thank our lucky charms, shall we?

posted by Uncle Grambo |
---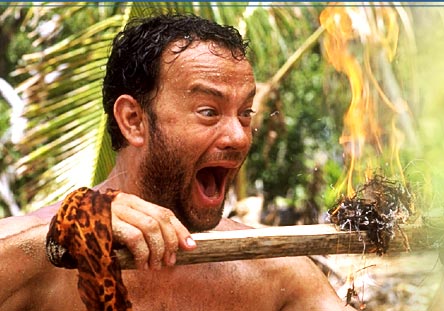 There's only one thing in the world that's more eagerly anticipated than Cheap Trick's return to Budokan. And that, dear FOWs, is Tom Hanks' return as a comedic lead on the silver screen. Can you imagine the opening weekend frenzy if Hanks found a role that re-established him as America's Favorite Funnyman? I'm talking a part that'd be SO BEST that everyone would forget how gay he got for outer space and WWII in the late `90s and early `00s. To borrow a phrase from Romey, it would be EPIC!

Unfortch for all of the boys and ghouls reading your Uncle Grambo's missive this morning, it doesn't look like that's going to be happening anytime soon — his upcoming slate of films all look to be dramas or thrillers. Howevs, when Hanks takes the stage tomorrow night as host of SNL for the first time since 1996, we'll be privy to what's arguably the next best thing. Set your DVRs, and let's see what Nummer and H-Bomb have to say ...

NUMMER
H-BOMB
Episode 17: Tom Hanks / Red Hot Chili Peppers (5/6/06)

Hanks! It probably goes without saying how huge this show should be. This will mark Tom's 8th time as host and not counting a cameo back in the 2001 Jennifer Lopez episode, he hasn't fully hosted since 1996. Sure he doesn't have as much buzz on the comedy circuit as he did during his SNL prime (1988-1992), but his better-late-than-never return surely won't hurt this already improved season.


Like Baldwin, Martin, Goodman and Walken, Hanks' body of SNL work is legendary among the recurring costs. Just look at the late 2004 "Best of Tom Hanks" special for proof of that. I mean, how can anyone not love The Sabra Shopping Network/Sabra Price is Right with Dana Carvey (ITS GOT SONY GUTS!!), Mr. Short Term Memory or of course, the Girl Watcher Characters with Jon Lovitz. Any of these will be a welcome return for the show - especially since they could all equal cameos from some former SNL powerhouses.


Throwing in Red Hot Chili Peppers only adds to a season already bursting with great musical guests. I'm pretty sure RHCP hasn't been on the show since Roseanne and Tom Arnold hosted together in the early nineties, so this will be a welcome back for not only Hanks, but them as well. Stadium Arcadium will be one of summer 2006's best, so if any of the three remaining live episodes can threaten Jack Black/Neil Young as the season's best show, this could potentially be it.

After a three week break, I'm pretty excited about SNL returning with celebrated actor and host, Tom Hanks. I have to admit, I'm not as familiar with his past SNL hosting stints as most and can only vaguely recall some of his more popular skits. In fact, the only Hanks sketch I do seem to remember with the most clarity is his 1990 Wayne's World bit as Barry, Garth's cousin and Aerosmith roadie. "Then I gotta do a sound check. Check. Check. Check 1. Sibilance. Sibilance. Check. Check. Check 2. Sibilance. Sibilance. And that's pretty much what I do." Best.


Regardless of not really knowing Hanks' previous SNL works, however, I'm still confident that Hanks will do a great job. As long as the writers roll out the same sketch quality as shown in the Lohan episode back in mid-April, this episode will surely be one of the best for this season.


As for the musical guest, the appearance of Red Hot Chili Peppers this week definitely picks up where Pearl Jam left off as far as distinguished alternative rock bands go. I've yet to find these guys dull or washed up, even after first hearing them nearly 15 years ago and am really looking forward to hearing more of their latest studio release, Stadium Arcadium. I have no doubt that Kiedis, Flea and gang will rock the SNL musical stage come this Saturday.
posted by Uncle Grambo |
---
Thursday, May 04, 2006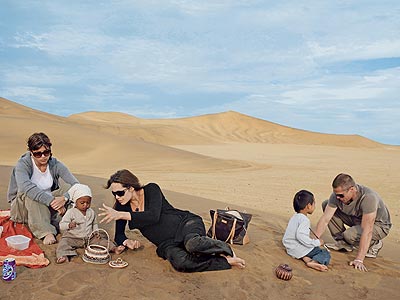 When confronted with the very real opportunity to begin having frequent, animalistic sex with Angelina Jolie, your Uncle Grambo has nary a doubt that each and every FOW out there would sacrifice ALL of your relationships and worldly possessions in order to make this dream a reality. You know why I say this? Because it happened to Brad Pitt. This man, a veritable King Among Kings if ever I've seen one, was living about as charmed a life as one could ever imagine. Think about it.


You're Mr. Brad Pitt. You're perched atop the Hollywood Hills in a castle with a to-die-for view that's already been bought and paid for. You're lying in your poolside lounge chair at 4pm on a Thursday afternoon, puffing away on a fatty made with the finest hydroponic bubonic chronic that money can buy. You've got nowhere to go for the next eight hours, and the only thought on your mind is whether or not you should bang Jennifer Aniston (who, by the way, is floating topless and sipping on a pina colada in your pool at this very second) now or wait until you get home later on tonight after having a $1,000 dinner at Crustacean. Tell me, isn't that every man's dream?


Well, apparently not. Turns out, not even a life THAT choice can compare to banging the living shinola out of Angelina Jolie. And while I guess you gotta respect the man and the decisions he's made, after seeing the pictures in People this week, your Uncle Grambo can't help but think that there's more than a little part of B. Pitt that regrets this decision on daily basis. I mean, seriously. What the fuck? You think that he ever bargained that he would go from spending his days as a real-life incarnation of Floyd (his character from "True Romance") to toting around two adopted refugee brats around the godforsaken dunes of Namibia with a preggo wife and personal assistants in tow? I bet there are moments on a DAILY basis that homeboy looks himself in the mirror and thinks, "God damn it, Bradley. You sure done fucked this up, didntja?" And for what? All to get some poon from Jon Voight's daughter.


Kinda changes your worldview a little bit, doesn't it? Allz I ask is that you remember this the next time Angelina Jolie comes knocking at YOUR door. Remember Brad Pitt. Remember Brad Pitt.


Now for a few one-hitters, bullet stizz:


posted by Uncle Grambo |
---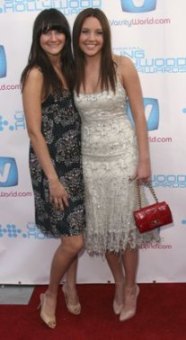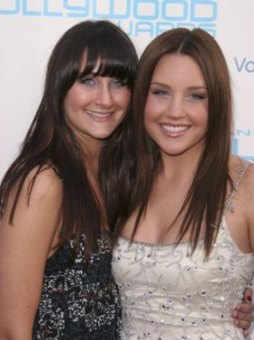 Um, how come it took me nearly three years to discover that Bynes has an older sister? Man, my stalking skillz must be slipping at an even faster rate than my blogging skillz! Z!


Maybe it's a good thing. To this blogga, Miss Jillian Bynes looks like she caught herself a terminal case of The Haylie Duff-Drome. You know, that terrible affliction that hits not-so-attractive women with younger sisters who eclipse them in fame, talent, and overall greatness? It's a shame, really. Can't someone with some spare time on their hands build some sort of über-prison (like the one that housed Magneto in "X-Men") to house these delusional and homely chicks so they can no longer continue harshing our collective buzz? Someone get on that, stat.


[pics by way of Superior Pics, natch]

posted by Uncle Grambo |
---
Tuesday, May 02, 2006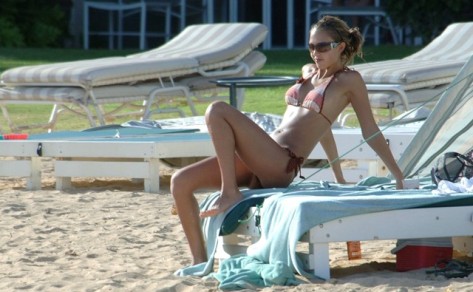 First things first. It's not like she's hosting the Oscars. That said, when Jessica Alba takes the stage as host of this year's MTV Movie Awards approximately six weeks from now, it could end up being a make-or-break night for the young actress. Because as blindingly and bodaciously beautiful as she is, it's widely known to studio execs, critics and fanboys alike that Miss Alba is as flat as a board when it comes to charisma. Sure, she's a looker without compare, but if her career goals are to become the next Cameron Diaz, she needs to start honing her acting chops and, perhaps more importantly, developing some semblence of personality that can be used to sell something other than hair care products. Namely, she needs to be able to figure out how to sell herself.

The question is this: does Jessica Alba even HAVE a personality to reveal? This blogga doesn't think so. Your Uncle Grambo and The Senator met and briefly conversed with Miss Alba back when the Super Best was in town and, let me tell you, she's kinda socially awkward. She was surrounded by her dad, her brothers and her DoucheBagelow BF for about an hour and didn't really utter more than a dozen words to anyone (I know b/c once I saw her, I could not avert my gaze). Other celebs like Dylan McDouchebag, Jaime Pressly and Anthony Anderson stopped over to say hello, but quickly bolted when they realized that convo w/her was even more boring than watching paint dry.

Now don't get me wrong. Your Uncle Grambo is willing to cut her some slack for not being the life of the party on February 5th, 2006. I'm betting she was feeling tired, cold, or hung over (or possibly all of the above). But then again, have you ever seen her on a talk-show? Her anecdotes are worse than Rupert Pupkin's! But hey, at the end of the day, it'll be intersting to see if she can leverage this opportunity to prove all of her naysayers wrong by putting her true self on display. And by that I mean hopefully she'll show us her tits.

And now, for some newsworthy bitz of disinformation. Bullet stizz.

posted by Uncle Grambo |
---