Saturday, April 08, 2006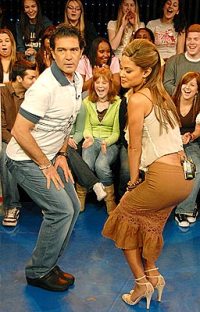 Although it may be difficult to fathom as you sit this morning at your `puter tossing back your second cup of coffee, there once was a time when Antonio Banderas was considered to be the Sexiest Man Alive. Maybe not by those boomer housewive catering wags at People, but those in the know recognize that even the likes of Madonna went swoontastic when Banderas bursted onto the international arthouse scene in the late `80s (watching Madge turn into a schoolgirl in his presence was one of the great scenes in "Truth Or Dare"). But somewhere between the years 1996 and 2000, Antonio turned from Latin Heartthrob to International Punchline.

Most put the blame on his questionable decision making skills, perhaps best evidenced by his romance and subsequent marriage to the skanksational Melanie Griffith. If there's one question that the world is begging to have answered about Banderas, it's this one -- out of all the women in the world, how on God's green earth did you pick Melanie Griffith as the one to settle down with?

Fast forward to 2006. For the first time, Antonio Banderas will be taking the reins as host of this weekend's SNL episode. How will the former Desperado handle the challenge? I leave the answer to whatevs.org's dynamic duo, Nummer and H-Bomb.

NUMMER
H-BOMB
Episode 15: Antonio Banderas / Mary J. Blige (4/8/06)

Antonio Banderas? I say worth checking out. Banderas has already demonstrated a knack for dry humor in things like the Robert Rodriguez El Mariachi and Spy Kids movies as well as his "The Misbehavers" segment from Four Rooms. He's also shown he can take a joke simply by agreeing to do the show after being lampooned all those years by Kattan. We all remember the "The How do You Say? Ah Yes, Show" right? Does anybody feel a Kattan cameo coming on? Add all this up and I'm sure Banderas will be a good host.


I have to say no buzz to Blige on the musical side. Just when I was getting spoiled by having bands like The Strokes and Arctic Monkeys, here comes Blidge to tell us the 411. I know she has a new album out, but I'm just not a fan. NEXT!


Bottom line, if Banderas is as strong as I'm guessing and if Lorne continues to let the featured players run wild, this should be a decent episode.

I'm counting on this week's show with host Antonio Banderas to be highly similar to the last live show with host Matt Dillon, which was undoubtedly much funnier and wittier than I expected. However, despite being a seasoned actor with some comedic background, I wouldn't rely on Banderas being able to pull off a decent show on his own. Yes, his portrayal as the suave yet domineering father in Four Rooms was remarkably hilarious, but it's no secret that the real success of SNL continues to depend very heavily on the increased airtime of its featured players as well as its more off the wall sketch ideas. As long as Lorne maintains what seems to be growing faith in the true future of this show, I feel like even the most average of hosts can produce some pretty memorable episodes.


On the flip side, musical guest Mary J. Blige has never impressed me enough to really take notice of her and I don't expect this week to be any different. She must be talented at what she does or else she certainly wouldn't have been around long enough to have made a name for herself. Unfortunately, though, that name just hasn't stuck for me. Frankly, I'm not relying on her performances to boost the show's overall coney count whatsoever.



BONUS: While you're at it, check out their review of the "near" instant classic episode featuring Matt Dillon and Arctic Monkeys. Robvs.

posted by Uncle Grambo |
---
Friday, April 07, 2006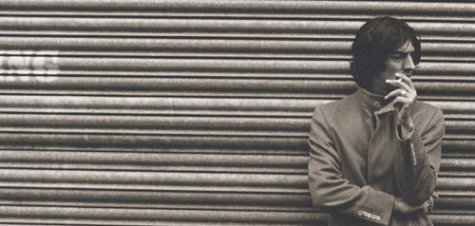 Watching your idols fall from grace is never an easy thing to witness. But, there is a clear cut difference between the kinds of physical-related declines that cause athletes and actresses to go into hibernation (say, bad knees and crow's feet, respectively) and the mental and spiritual overall loss of buzz that plagues musicians like Richard Ashcroft. For the former, we accept that only the rarest of breeds get to retire on their own terms; after all, the aging process affects us all in equal measures and therefore becomes something we can easily come to grips with. Howevs, on the polar opposite end of the spectrum, there is something wholly disconcerting about the seemingly unexplainable transmutation that destroys formerly-talented blokes like the aforementioned Ashcroft and Billy Corgan.

But let's focus on our lad Ashies for the time being. Now, some Verve purists would argue that he's been on a downward slide since the band dropped the fearlessly brills "A Northern Soul" on our unsuspecting asses in the fall of 1994. Pitchforkians aside, most would agree that he hit his artistic stride and nailed The Zeitgeist in a way only a select few do when the single "Bittersweet Symphony" (along with its album, "Urban Hymns") tore through the international charts in `97 and `98. From soccer moms to frat boys to Wieden & Kennedy ad execs, everyone fell head over helpless heels for Wigan's finest sons. But somewhere between then and the time that Captain Rock completed the video shoot for "Money To Burn" (the second single off "Alone With Everybody"), he went from shit hot to poop cold.

So, what happened in the course of those three years (and the resulting five years and two albums that have followed)? What can be done to salvage the reputation of the guy who went from celebrated musical martyr to a dude who bolts out "Sing it with me, Regis" before the first chorus of his new single on a craptastic (albeit syndicated) morning talk show? I hate to say this to the FOW Nation, but your Uncle Grambo has nary a clue. I know that's disappointing answer to a question I spent two whole paragraphs setting up, but I'm just as clueless as you as to why the skills of overwhelmingly talented musicians can disappear seemingly overnight. Trust you me, it's the kind of question that keeps me up until 2AM on a Thursday night. Any clues would be much appreciated, yo. Word.

So, who else is totally and completely in lurve with Lindsay Robertson's ouevre as official "Guest Blogger" for Jane? Reading her posts for the last month has flashed your Uncle Grambo back to the halcyon days of The Blogosphere™ circa 2004, back when well-spoken ladies like her and Zulkey dropped mind-blowingly beautiful science on the dozens of us who were SUPER into the Internerd. Lindsay has been, and will continue to be, one of my all-time fave writers and biggest inspirations; I'm glad to see that someone gave her the pop cult pulpit that she so richly deserves.

Looking for a front-runner for Local Headline Of The Year? Look no further than the headline to The Grizz's article in yesterday's DetNews about the unfortunate split between Marshall and Kim Mathers: Em to Kim: Lose yourself. Gut busting headline aside, his piece has some of the most thorough reporting and recapping we've seen since the heydays of Woodward and BernBest. Although, props must be given to The Freep for their startling resolve in managing to get PDFs of their divorce papers out into the world, Smoking Gun stizz. I call this one a draw.

The Goo Goo Dolls and Counting Crows will be touring together this summer. Lord knows the AAA heart that beats inside of your U.G. is palpatating at crazy speeds right about now; here's hoping they decide to make a run through the Motor City. If not, I smell a roadie.

Stoners rejoice! "The Aqua Teen Hunger Force Movie Film for Theatres" will hit big screens in September (via ONTD).

Kim Deal is heading into the studio to work on a new Breeders project. Um, best!

Finally, just got back from what went down as the single hottest live performances of this fledgling year. The Senator, Loftus and yours truly just experienced a royal rockin' ass kicking at the hands of Wolfmother. Part Sabbath and part White Stripes (with a dash of Zeppelin style keyboard spookiness), these three gents from the Australian outback just slaughtered a packed house of rock fiends at Small's. If you can't catch them on tour over the next 10 days, be sure to pick up their "Dimensions" EP for the time being and keep your eyes peeled for the next time they make their way through your hometown. Hobbs.

posted by Uncle Grambo |
---
Wednesday, April 05, 2006


Be gentle. It's been awhile.

Your Uncle Grambo and The Senator managed to carve out a few minutes out of our respectively hectic scheds a few weekends back to catch a screening of "She's The Man." Sad to say, our dollars didn't contribute to opening weekend fundage; they were but a drop in the coffer that helped make the second weekend drop off land at a respectable 32%. But please, I beg of you, do not attribute my lack of online enthusiasm over the last few weeks to any sort of disappointment in either the acting skillz or B.O. appeal of Miss Bynes. The simple fact is that she clocked a solid double in her second leading silver screen role. Her performance as Viola was widely hailed by critics as being "sunny and plucky" (by the likes of Ebes, no less), and the teens and twentysomethings that I saw the film with walked out with wide smiles and nothing but good things to say about Miss Amanda. Very minor plot holes aside, your Uncle Grambo predicts that "She's The Man" will prove to be one of those "Bring It On" / "Can't Hardly Wait" type of flicks that you'll enjoy on HBO and TNT for years and years to come.

So I don't want to dwell too much on the reasons that I've been absent from The Internerd™ for the last few weeks (in short, my routine has been to work, drink, sleep ... rinse and repeat), but I will clue you in to my single biggest inspiration to get back to The Blogosphere™ — the return of Skeet On Mischa. I don't want to sound like Broken Record Boy 2K6, but god damn it, why isn't D. Reinhardt on ALL of your effing blogrolls? The kid drops science on all of the pop cult topics that I wish that I had the time to cover, the only difference being that your Uncle Grambo doesn't give two shazzers about crunk hop (or whatevs the kids are calling it these days).

Take his recent thoughts on Season 3 of "Blow Out", for example. Don't get me wrong, I enjoy perusing the TVGasm recaplets as much as the next highly nerdy TV viewer, but Skeet is applying critical thought to the show's faults in a way that you typically would only get in a college classroom (only without the exorbinant cost of coursepacks). As much as we all enjoy watching Jonathan wax so egomaniacally for so long that his physical being has no choice but to pop-n-lock out of the room for a breath of fresh air, you can't help but feel that we (as viewers) are collectively experiencing the denounement from the utterly insanicus Season Two besteverness. Even Jonathan himself acknowledged in this week's episode that he is "so over himself"; the thing is, Skeet recognized this LAST week.

And what about "Flavor Of Love"? Forget for a second that Flavor Flav is the Barry Bonds of hip-hop (mainly in the fact that both stand a full four standard deviations from the mean of their peers' ability to destruct both public goodwill and credibility of their respective professions); this was the best god damn reality dating show on television since "Joe Millionaire" hit the airwaves during the nascent days of whatevs.org. Skeet has been on this tip since mid-January, so where were you?

If the Next Entertainments and Rocket Science Laboratories of the reality TV world weren't taking notes about this show's runaway success, they clearly have more money than brains. This show managed to take a staid genre and spice it up by, SURPRISE, flipping both the tone of the show and the cast's racial makeup on its ear. Instead of being deathly serious about marriage and commitment, this show played to laughs and good times. Instead of casting a slew of homogeneous well-bred white girls with a few token girls of color, this show had the guts and temerity to play mixed race hotties (Hoopz, Pumkin?) against the kind of girls Kanye sang about in "Gold Diggers" (New York, that chick with that gap tooths). PC concerns aside, where was the UPN when Flav started pitching this show? Idiots.

I dunno, I guess what I'm sayin is that during the times that your Uncle Grambo shadily disappears for a week (or three), you can always count on my boy D. Reinhardt to deliver the hottness. Good lookin' out, brosnan.

Before I leave you for the night, here's a few things that you might have missed over the last few weeks that your Uncle Grambo knows you'd enjoy:

Catch you again soon, FOWs. Promise.

posted by Uncle Grambo |
---