Saturday, October 29, 2005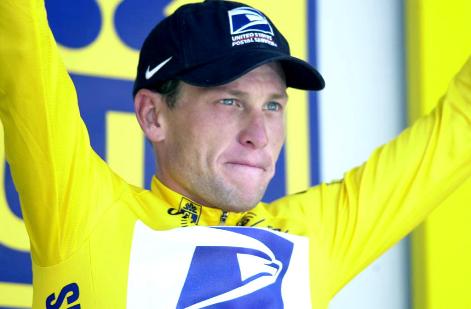 "I want to ride my bicycle, I want to ride my bike. I want to ride my bicycle, I want to ride it where I like."

With all due respect to Freddie Mercury, Kotoroboto and C. Friggs, biking is for pussies. It's one thing if you're under 15 and your trusty Predator is the only way to get to the video arcade across town on a Friday night, but it's entirely another to spend your adulthood fully ensconced in spandex, constantly grinding your nads against an unfriendly plastic seat in an pathetic attempt to master a skill that most of us conquered before heading to elementary school. Talk about weak sauce. Lancearmstrongblows.

Come on now, I can think of three other Armstrongs off the top of my head that are more qualified to host "SNL" this weekend. For one, how about Curtis "Booger" Armstrong? Duh, he's CLEARLY the glue that held every decent movie of the 1980s together. Or how about Billie Joe Armstrong? He's the lead singer in what's arguably the biggest band in America at the moment. Anyone who knows anything about anything knows that Bess Armstrong was the best actor on "My So Called Life." And just to prove to all y'all that your Uncle Grambo knows what's up, I'd make Florian Cloud De Bouneville Armstrong this week's musical guest. Don't recognize them hittins, Lorne? You moron, you plebe, I'm talkin' 'bout DIDO! Duhvs.

All that aside, how will Stretch Armstrong and Sheryl Crowsfeet do as host / musical guest on "SNL" this weekend? I'll leave that sorta prognosticating hottness to the duo that do it best, Nummer and H-Bomb. Take it away, kids.

NUMMER
H-BOMB
Episode 4: Lance Armstrong / Sheryl Crow (10/30/05)

The season isn't 25% complete and it has already been called "Dead" by the press. Hell, the first three episodes haven't even managed to score an above average coney ranking here on whatevs. Yes the featured players are stepping up and yes the recurring pool is a bit smaller, but the show is terribly uneven and big laughs are sparce.


What SNL needs is an established comedy host to get the show on back on track. Unfortunately, we all know Lance Armstrong isn't this guy. As a cyclist, I have nothing but respect for Armstong's impressive career. Does that mean the inevitable sketches with him on a bike in front of a blue screen or something to do with selling the Live Strong bracelets will stand among SNL's best? Probably not. Since there hasn't been a decent athlete host since 2003, I don't see this being a great episode.


Filling things out is musical guest Sheryl Crow. I know she just realeased an album on September 27, but the only reason she's here is because of her Armstrong connection. The only question is will she pull a Franz Ferdinand and scrap her new material to play a established hit.

In my opinion, I probably wouldn't be going out on too much of a limb by saying that this week's show with host Lance Armstrong and musical guest Sheryl Crow will be just another average to below average episode of SNL. As we've seen from the gamut of past sports hosts, most attempts at comedy are mediocre at best and the material tends to overexploited their athletic abilities. Now, Armstrong has more than proven he's amazing on a bike, but I for one do not want to watch a bunch of skits based around the fact. The most I'll be hopeful for is a Jeff Gordon type episode, with just a few brief skits centered around Armstrong's cycling talent and, with any luck, a few surprising gems, Over Here style.


As for Crow, I agree that the most likely reason she's even on the show is due to her relationship with Armstrong (I wouldn't be surprised to even see her show up in a backstage style sketch). However, she's a decent enough performer and could probably manage to pull off a couple of decent sets from her latest album.
posted by Uncle Grambo |
---
Wednesday, October 26, 2005



It's been one of those weeks, y'all. Big update this P.M. Stay bovs, FOWs.

posted by Uncle Grambo |
---