Friday, December 05, 2003

it is with great regret that your Uncle Grambo was not able to participate in Glamorama Symposium #1: On The Hunt For The Elusive Great Band. Kegzies, being the buzzworthy editor that he is, emailed a few friends about three or four days ago with an idea to create a dissertation of sorts on a theory posited by Noel Gallagher that states that a great band comes around only once every six or seven years. the assignment was to determine whether or not there are any great bands out there today (Radiohead being Kegzie's example), but strangely the responses morphed into more of a discussion around what defines a great band. i was actually spinning this theory around in my head for a few days, but i got punk'd last night and ended up having to prioritize our department's views on the 2004 Web Initiatives at the last minns. it cost me not only a chance to contribute to this symposium, but also a chance to see Rufus Wainwright and / or Jump Little Children. but that's all spilt mizz by now. regardless, here is a brief version of what i was intending to reply to the Symposium with. howevs, it's important to note that i'd prefer a question like this be asked over a beer and a P-Funk (or at least over IM).

"a great band comes along once every six or seven years" ... hmmm. sounds like an interesting thought, but i feel that Noel may have bumped one too many rails before making this absurd statement. i think he maybe meant to the following: "a great musical scene emerges once every six or seven years" — howevs, if I were making this statement, i wouldn't tie it to an exact number of years ... i'd be more partial to "every few years." i'd also be pretty loose on the whole definition of "scene", too. for example, you can go with cities [athens, GA (early `80s). minneapolis (mid `80s). los angeles (late `80s), manchester, UK (aka "madchester", mid to late `80s). seattle (early `90s), new york city (early `00s), etc.]. you can go with movements [detroit techno, (early `80s), acid house (mid to late `80s), hair metal (late `80s), grunge (early `90s), britpop (mid `90s), UK garage (mid to late `90s), garage rock (early `00s), etc.] within each city or each genre, usually a band or two emerges as the top and others just kind of fall by the wayside.


but back to the lecture at hand, if we are discussing bands that rose to power in the last six or seven years that could be considered "great", i'm not sure there are many. it takes time to decipher between flavor of the week (or even flavor of the half-decade), and I'm not sure there are many bands who I would doom with that title. if you flip back into the prior era, howevs, there are a few artists / bands who stand out to me. The Verve. Pavement. Dr. Dre. Radiohead. Nirvana. Bjork. not necessarily in that order, obvs. there are others, but these few rise to the top of my list.



i wish i had more, but I got schooled by the sands of time. regardless, you should go and check out Glamorama Symposium #1: On The Hunt For The Elusive Great Band. contributors include Kegzies, The Gorilla, Information Leafblower, Foxy Jess and much, much more. buzz.


and on a related note, look for the much-hyped return of the F.A.T. (Friday Afternoon Topic) next week. robvs.

posted by uncle grambo |
---
remember how i was dissing on Willa Ford the other day? yeah, well, you see ... I WAS WRONG! Badly Drizz style, Willa's got the tickets for what ya need. The Grizz alerted me to her uncensored music video for her new single, "A Toast To Men", by explaining the following: "can't tell for sure because i'm not quite sure its SFW, but i started watching the new willa ford video on my computer and it's quite possible its the best video ever, if the first 10 seconds are any indication." obvs, with a description like this, i was intrigued and headed over to Willa Ford.com to check it. and while the website doesn't have this highly praised "Uncensored" version, screen caps from said vidds are available at Willa Ford.org. and while I won't go so far as to say the song itself has any buzz, the beat is slightly dirrrty and mildly crunktastic. i realize i'm damning both myself AND the song by issuing faint praise, but the video is pure hottness. enjoy the caps i've posted below, ya filthy yobbos.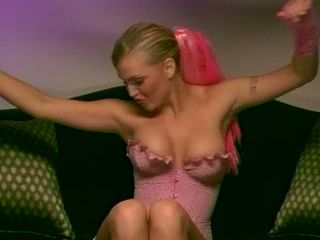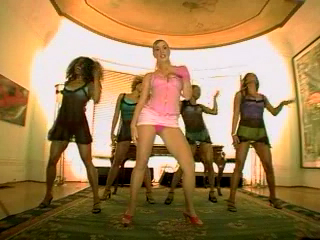 posted by uncle grambo |
---
it's one thing to go to rehab because you want to clean up your act. it's another thing entirely to go as an attempt to avoid jail time. in the case of Courtney Love and her lawyer's admission that Miss Hole has spent the last two weeks in treatment, i can't help but to be cynical and believe that the latter was the genesis of this voyage. while I heart Courtney Hole probably more than most (i just spun the entire "Celebrity Skin" album on Sunday afternoon), I really wish that she would've hit rehab after her now infamous naked rampage throughout the pages of Q. Scott Stereogum is reporting that Love's long-awaited and highly anticipated "America's Sweetheart" will be released on February 10th, let's hope that Courtney gets her life back in shape so she can tour behind the record.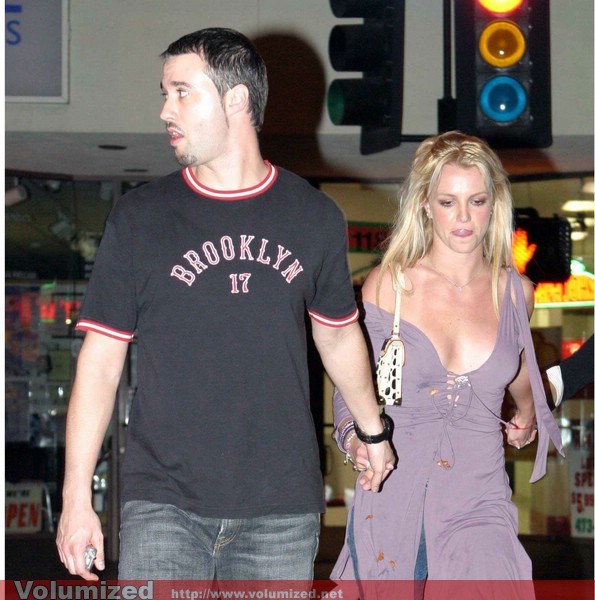 speaking of Stereogum, that cheeky monkey beat me to the scoop that Brit Brit was spotted holding hands with some scruffy chumpholio after her 22nd b-day in Santa Monica the other eve. what does this guy have that your Uncle Grambo doesn't? if this dude had a blog, it wouldn't get more than three visitors a day. fuckin' amateur. fuckin' scrub. hangin' out the passenger side of his best friend's ride. no buzz.

today is gonna be the day that they're gonna throw it back to you. and when i say "throw it back", i'm referring to Jessica Alba's ass. natch. my co-hort in buzz, 1115.org's Cashilini, is all over this release date and is promising a review by Monday. hott. when i move you move.

ouch. Shares of TiVo drop 12.5% after Comcast issues a big "Eff You" to them. the cable behemoth announced that they will NOT use TiVo's technology to deliver DVRs to the masses, instead they will partner with Motorola to develop a competitive product. these next 12 months (and especially this Christmas holiday) are going to be very important in determining whether or not TiVo will to be able to compete and to survive ... with that being said, how come I don't see any TiVo ads on television? I see the occasional print ad, but isn't TV like the most natural place EVS to advertise a product like this? is pressure from other larger advertisers NOT to cooperate with TiVo causing this phenomenon? as a marketer, i'm baffled AND gaffled, yo.

somebody get the Entertainment editors over at the Detroit News on the Batphone. don't y'all realize that wire reviews of videogames have absolutely no buzz? shite, think of what The Grizz could've done with that piece! don't you realize that you're getting your arses kicked by Heather Newman and Jim Schaeffer over at The Freep? no buzz.

best NYT lead evs. "A 425-million-year-old fossil found in Herefordshire, England, may be the oldest record of an animal that is unarguably male. Scientists report Friday in the journal Science that the tiny crustacean, only two-tenths of an inch long, had an unmistakable penis. In the paper published in Friday's issue, the scientists name the creature Colymbosathon ecplecticos, which they say means swimmer with a large penis." [via Dirty McKean]

i thought this was already assumed by everyone ... did they really need to issue a press release? Comedy Central fails to pick up "I'm With Busey" for a second season. [via The Grizz]

hey Kegzies, I think I've found your next patron saint! Entertaiment Tonight declares Amanda Hearst to be the next Paris Hilton. she's definitely got both the money and the face to pull it off. mmmm, Rich Girls.

Guster. State Theatre. Tonight. Who's In?

at first glance, your Uncle Grambo thought this panda was smoking a joint. this dude is clearly the panda equivalent of The Big Lebowski. the panda abides. obvs.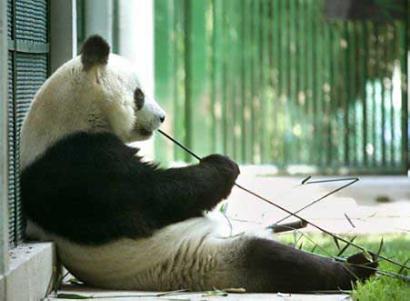 posted by uncle grambo |
---
an outside caller, sometime last night, 35 seconds in length.

"if you'd fuckin' come down ... town ... to the Ren Cen, if if if that's where your office is gonna end up being, we're gonna fuckin' go to Bazooki's EVERY DAY FOR LUNCH! we'll get [unintelligible], we'll get pitchers of bizz, we'll smoke a bunch of crack, and everything will just get CRAZY! [company name withheld] , they'll be calling and they'll be like, 'Uncle Grambo, I need help from [company name withheld]' ... you'll be like, 'Dude, fuck off! all i'm gonna do is imma tell you how to get to the closest crack hizz!' i gotta go. it's Peabs, lates!"
posted by uncle grambo |
---
all kinds of spoilers are leaking out of NYC on this week's SNL Episode. in fact, pre-show comments were set to go to publication yesterday but Nummer got some scoop and went back to the drawing board to revise his outlook on the show (EDITOR'S NOTE: The predicted coney buzz actually went DOWN after guest star Tracey Morgan was announced). and my sources (that is, if you call Rush & Molloy MY source) are telling me that Paris Hilton is going to cameo. whether or not this cameo lives up to her much buzzed about cameo in "Zoolander" remains to be seen. Paris buzz alone might be enough to convince your Uncle Grambo to move his drinking plans from the bar into the living room, obvs. until then, enjoy the pre-show comments written by the immensely talented Nummer and H-Bomb.

NUMMER
H-BOMB
Episode 7: Al Sharpton / Pink (12/6/03)

If there is an episode to miss this season, it's this one. Sketch spoilers leaked today (Thursday, 12/4/03) and they've effectively dampened all hopes I had for a good show.


My first round of pre-show comments had me boasting that based on political hosts past (namely Gore and McCain), this show would most likely pull off some surprisingly good buzz. However, now that it's been leaked that Tracey Morgan is set to cameo in as many as two sketches (one being Hardball - it's second appearance this season), kills the high. Not that I'm against Morgan or anything, but hell, it's only been 6 months since he left.


Also set to appear is another Vasquez Group sketch (also it's showing second this season) and Wakeup Wakefield (first of this season, but probably it's 900th time overall).


Add Pink to this already horrible mix of sketches and you've got more than a viable excuse to skip SNL for any of the following reasons:


Detroit Cobras @ Magic Bag / The Last Samurai @ AMC Forum 30 / Any Holiday Party @ Any of your friend's houses / Sleep @ Your bed / Drying your hair @ Your bathroom / Pirates of the Caribbean DVD @ Best Buy / Email @ Yahoo


SNL Season 29 Episode 7 - WORST! WORST! WORST!

must admit, I don't know a whole lot about Sharpton other than the fact that he's running for President in the 2004 elections. But based on recent political hosts, I guess I'd have to lean towards an entertaining show for this week. I'm wondering, though, if Sharpton's hosting duties will spawn a guest appearance by former cast member Tracy Morgan. I've always enjoyed Morgan's portrayals of Sharpton in the past, so it might be pretty funny to actually see them together in a sketch.


I think if there is going to be a real downfall to this show, it's going to be Pink. To me, she has absolutely no buzz.
posted by uncle grambo |
---
Thursday, December 04, 2003

is traditional media too watered down for your taste? try blogs! looking for a few good conversation topics? try blogs! find yourself mentally idling when you're actually in dire need of an impressively original thought? try blogs! here's a smattering of topics from blogs that your Uncle Grambo swears by...





oh, and there are others. plenty. this is just a select sampling of a few things i read this morning that either made me smile, made me think or just got me all blogger krushed out. hope you enjoy!

posted by uncle grambo |
---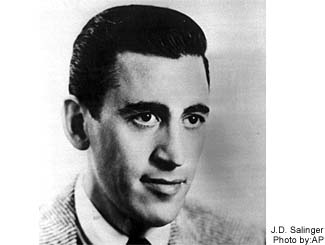 after yesterday's buzz marathon, i feel like i just had a Red Bull and Trail Mix¹ fueled night of doing the horizontal lambada with Brit Brit. in other words, i'm totally spent. or, more accurately, i'll be in meetings the rest of the day. so, until next time, here's a tiny dish of PHC.

— "Mystic River" tops The National Board of Review's Best Films of 2003.
— Sofia Coppola and Spike Jonze are splitsville [via Gawker]
— Paris Hilton returns as the Patron Saint of Glamorama.
— The Spartys got positively Punk'd by the Blue Devils last night. Somewhere the Information Leafblower is smiling.
— uh, who knew that a young JD Salinger is a dead-ringer for a young Al Pacino? revealed!
— jiminy christmas, Britney is the hottest thing evs.
— David Hemmings, RIP. you were one cool mofo.
— obvs ... look for Kwame to pump this up big time.

¹ All props to Popbitch for educating Uncle Grambo that Trail Mix is a combination of Ecstasy and Viagra. so much better than GORP. obvs.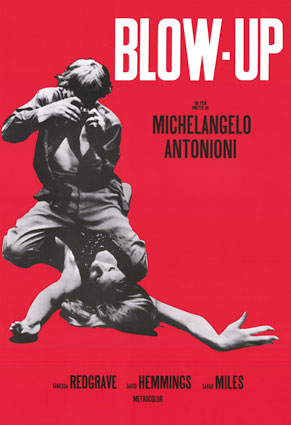 posted by uncle grambo |
---
Wednesday, December 03, 2003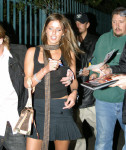 all this PHC is making your Uncle Grambo feel like Scott Weiland after stealing Ally Hilfiger's ATM card. first thing I wanna do is hop on The 6 Train to the corner of Lex and 125 and find me a bag of crack rock and a couple of white prostitutes with fake nails and even faker t's. obvs. let the buzz commence in bullet stizz for the third time today! no, fuck that. i'm going number stizz! so many OL tags it's not even funns, it's Ray Munns. forshmears.

feeling low down after her little sis usurped all of her buzz, The Other Hilton Sister has gone brunette (revealed by Low Culture, obvs)! wonder if she realized that Mary-Kate Olson already caused that very same ruckus LAST WEEK!?! no wonder The Other Hilton Sister has no buzz, she's totally seven days behind the times! that being said, she looks wicked awesome. even more wicked awesome than Nomaaaaaaah's shortstop skills. d'ya like apples, Skylaaaaaah? SKYLAAAAAH, check out the aaaaaaah-chitecshaa! good will hunting 4-ever. obvs.

while you'll never catch your Uncle Grambo having anything to do with Bridget Jones, you can bet I'll be searching Mr. Skin in search of Zellweggs / Jacinda frenching buzz. yes, THAT Jacinda. from "RW: London". first she's nude in that Tony Hopkins pic, now she's frenchin' Zellweggs. next stop is giving Vincent Gallo a blowjob in the "Brown Bunny" sequel.

Largehearted Boy is a mad genius. Check out the mp3 of the new Christmas song from The Darkness.

Chris Wallace is the new host of Fox News Sunday and he's pissed. he's angered that people think that his program"leans to the right" ... now where would anyone get such a silly impression like that? on a related political note, The White House Administration's claim that British Airways almost blew the cover off of GW's secret trip to Iraq is complete horseshit. thank you to Romenesko and The Gorilla, respectively, for those takes.

Slate gets all Philip Bloch'd out as they review some of the NFL's throwback uni's ("Too bad about the white shoes and the shoulder-high auxiliary numbers, but for the most part [The Green Bay Packers'] homage to the team's 1973 look was on the money.")

access to Google Images just got Manute Bol BLOCK'D by my company's firewall. no buzz.

everyone rejoice, Napster is free again (but only for three days)!!!

note to self: the next time that The White House blows your cover as a CIA operative, remember to get Annie Liebovitz on the horn and pose for Vanity Fair. [via Drudge]

is it just your Uncle Grambo or does anyone else believe that Andy Serkis is convinced his shit don't stink? after whining like a little bitch that he didn't get any Oscar props for playing Gollum, now he's claiming that Peter Jackson desperately wants him to portray King Kong! no buzz.

when he's not busy slinging gay jokes at your Uncle Grambo, The Spoonbender (aka Lou Dobbs, aka Paula Zahn) actually turns in some excellent takes on his blog. i'm specifically referrring to this recent entry where, with the dexterity of a literary DJ Z-Trip, he mashes up a take on the 50th Anniversary issue of Playboy with a hardCORE dis on George Bush's utterly inane "No Child Left Behind" legislation. color me impressed, Mr. Spoonbender. kudos.

i'm outta here. off to witness Sergei Fedorov's return to Joe Louis Arena as my beloved Red Wings take on the Mighty Douches of Anaheezy. hey hey Hockeytown!



(EDITOR'S NOTE: Will someone please be sure to check on the Old Hag's condition? she almost fainted earlier and I'm concerned that this latest injection of PHC may result in an overdose of obvs. Merci. Bises. Robvs.)

posted by uncle grambo |
---

The new Bachelorette is Meredith! heavy rumours are flying out of NYC and Hell-Ay. my little Eskimo princess is about to go big time! Multiple sources are confirming ... developing! also, Bachelor Bob and Estella are SO history. my D-Town sources reveal that he was spotted macking on chicks at the WAB on 11.22.03. obvs. Stelly has no buzz. some say even less than Jack White.

posted by uncle grambo |
---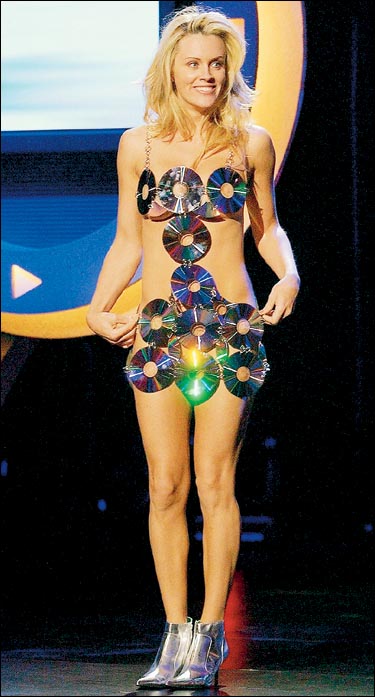 now with twice the buzz! bullet time redux!


posted by uncle grambo |
---
(the shrill annoying voice of Fran Drescher) + (the compulsive overeating tendencies of Kirstie Alley) = the suddenly very ruben-esque¹ Jennifer Tilly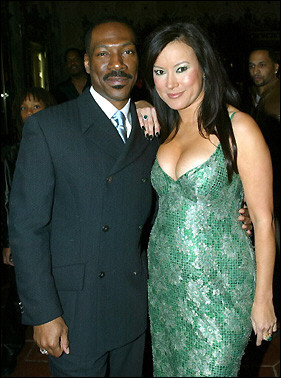 ¹ by "ruben", i am referring to BOTH the painter and the overweight, reigning "American Idol" champion. duh.

posted by uncle grambo |
---
confession time. sometimes there's so much gol darn PHC out there that it's overwhelming. in times like these, i revert to bullet stizz. you lose some of the down home charm that comes along with Uncle Grambo commentary, but you still get a hit of the hottness. with that in mind...


posted by uncle grambo |
---
so much unintended consequence buzz! or are Jessica Simpson's nips so culturally advanced that they react to voice commands? wonder what happens when Nick barks, "Roll over, Beethoven"???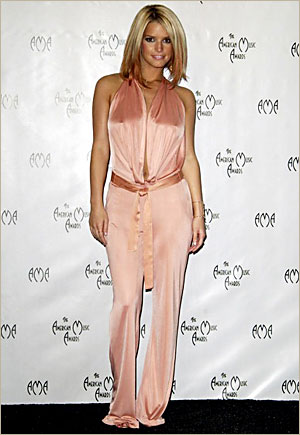 (EDITOR'S NOTE: i know that an AMA reset like this is past its prime, but i can't get over how obvs she looked that nizz. thanks to Coach for forwarding this photo along.)

posted by uncle grambo |
---
Tuesday, December 02, 2003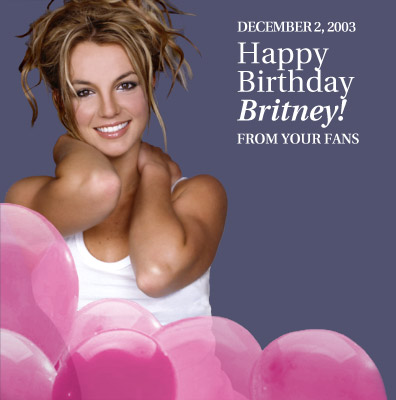 oh Brit Brit, you know i keed because i LOVE! many apologies for almost missing your birthday ... thank heavens for Scott Stereogum!


oxox,
— Uncle Grambo

posted by uncle grambo |
---
i heart The Sun. i have for years. picture this. christmas of 1993. an incredibly young and devastatingly handsome Uncle Grambo is on his first voyage to England. i'm wandering around Covent Garden with a few extra pence in my jacket when i stop off at a newstand and plunk down for a copy of this tabloid rag. i begin to flip through when, lo and behold, I am suddenly staring at a topless woman on Page 3. faster than you can start to hum "Rule Britannia", I had fallen in love with this charming rag. and, ever since then, it's been a regular stop off for the older (wiser? not so much) U.G.. every day there are laughs aplenty just BEGGING to be discussed, and today is no exception. witness the headline: "Posh gnashers fixed to hide her surly look." if i can say anything positive about that little island of cheeky monkeys, it's that those god damn Brits sure know how to write a tabloid. best. evs.

hair today, gone tomorrow. former "American Idol" runner-up Justin Guarini dropped by RCA. obvs! biggest tank of the yizz? did a single ever even make it to radio, let alone MTV? as with most of my musical related takes, this link comes courtesy of Big Matt over @ Motorcityrocks.com.

why is it that your Uncle Grambo gets called on the carpet for suggesting that Brit Brit is out of proportion when we live in a Blogosphere where Foxy Jess can implore Alyssa Milano to "cover [her] forearms [because] they happen to resemble those of a hairy Popeye" without any consequences whatsoevs? granted, it IS a spot-on observation that is still making me laugh out loud well over 24 hours after it was first posted, but i smell a double stizz, yo.

(yawn) ... Gena Lee Nolin homemade video porn scandal ... (zzzz) .... if only this were September of 1995, someone somewhere out there might actually care.

Sharon cheated on Ozzy! with Randy Rhoads, no less! goin' off the rails on a Crazy Train!

sucks to be Bennie Blades. the former Detroit Lion standout is straight up incarcerated for being a deadbeat dad. he owes nearly $300,000 in child support to one of the six different baby's mommas that he's impregnated. dude, wrap it up! even worse? he's now a substitute teacher!

only four more days until "Honey" ... i'm contemplating taking the day off work so I can get in a pre-noon screening. too bad that Jessica Alba loses buzz for dating Wilmer Valderrama. Alba is totally getting JLH and Mandy Moore sloppy seconds. not too shabby for Wilmer.

congratulations to the Haypenny crew for their recent mention on Slate. Jeremy Richards' story, "Dale Peck Reviews His Day", is one helluva read. that is if you actually know who Dale Peck is. if you don't, your loss. that'll teach you for not keeping up with the primo literary blogs du jour. here is an excerpt for the initiated.

10:12 am
A brief stop at the gas station. The Easy Wipes dispensed in the Zip Mart men's room are an affront to the craft and tradition of moist towelettes. I ended up wiping my hands on my pant legs. Pathetic.


11:50 am
Have you seen this billboard with the string cheese and the dwarf? The grammar is so tortured and unimaginative, I almost drove into a telephone pole. Voluntarily.


12:47 pm
Had an egg salad sandwich for lunch. It was the worst egg salad sandwich of its generation.



but if that didn't do it for you, this week's Black List surely will. this week they take on and take down David Cross, "The Slow Decline of the Kid's Table Eating Concept" and the VH-1 "Big in 2003" Awards show. i would never have laughed this hard if it weren't for the good graces of Lindsay. your Uncle Grambo thanks both you AND your unborn children.

posted by uncle grambo |
---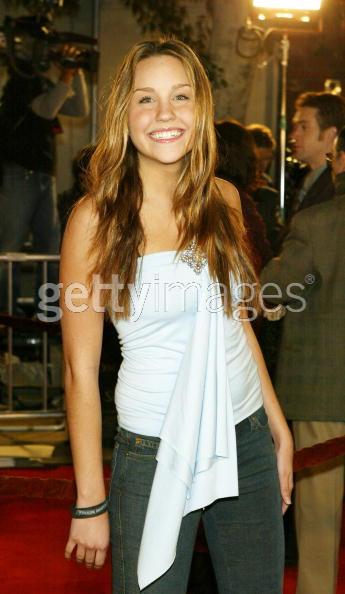 just like that. thank god for the good people at Getty Images, `cause my Reuters peeps are sleepin' on the hott photos from last night's premiere of "The Last Samurai" ... once again, my girl Amanda Bynes was in attendance and looking as lovely as ever (btw, while we're on the subject of Bynes, make sure to take a few moments to vote for The Best Of Bynes 2003 ... every vote counts!). it's important to note that her alleged BF was NOT in attendance, which is so best evs! also making their way down the red carpet were The Olsen Twins, where Mary-Kate is sporting a foxxxy, new raven-haired `do. too bad she was spotted at a recent Lakers game kissing some DB. durst.


another day, another Best of 2003 list. this time Large Hearted Boy chips in with his Top Eleven Albums of calendar year 2003 ("Give Up" by The Postal Service is his top choice). mad props also go out to the LHB for hooking your Uncle Grambo up with an absolutely gorgeous live, KCRW set by Dido! pure hottness.


i don't know about you, but I'm starting to worry about both the Old Hag and the Information Leafblower. neither have resumed their normal blogging duties ... where are you kids hiding?


while it cannot be argued that Maria Menounos is a Top 10 hottie, she reveals that she spent her college years more fat than phat. self-admitted buzz. thanks to a diet consisting solely of pizza, she put on the Freshman 40 while at Boston's Emerson College. same thing happened to your Uncle Grambo back in the dizz, but it was more like a Senior 50. i blame those rat bastards who made Totino's Party Pizzas so yum-a-lish. the breaking point came when I was balling with Sully over at the IM building and some dude referred to me as "Fat Boy" ... no buzz to that dude, but I thank the anonymous dude with no hoop skillz for helping me recognize how fizz I truly was. obvs.


you know that things have gotten REALLY bad in the NBA when an overtime game between the Pistons and the Knicks ends with a score of 79-78. the Knicks scored nine points (!!!) in the third quarter ... as much as I'd love to attribute that to great D by The `Stons, the Knickerbockers atrocious offensive game was an equal offender.


most obvs headline of all tizz: Former Friend Of Jackson's Regrets Suggesting TV Documentary. yep, i'd think that just about sums it up, especially when you pay particular attention to the label of "Former Friend."


don't know how I missed this one the first time around, but our girl Zulkey recently conducted a fab interview with supastar blogger Lizzie Spiers. hott buzz!


gotta love Joe Eberhardt. DaimlerChrysler's Dodge unit is sponsoring a pay-per-view "Lingerie Bowl" during halftime of the Super Bowl. the "game" will feature models dressed in lingerie playing a seven-on-seven tackle football game. this will certainly result in thousands of third quarter quickie romps by horny, drunk dudes who will undoubtedly imagine that their wives / GFs are scantily-clad supermodels. obvs. word up to Coach for passing along this hottness.

posted by uncle grambo |
---
while your Uncle Grambo was busy blacking out on multiple occasions over Thanksgiving, our bird Brit Brit was relaxing on a Hawaiian beach. sporting a gnarly facial sunburn (it's called SPF 30 dear, try it sometime), these pics are the stumpiest that i've ever seen Britney look. many years of obsessively studying 'razzi pics of Brit Brit have made me realize that she's not exactly statuesque, but i always thought she was at least in proportion ... have i been blinded by trick photography for all these yizz? no buzz.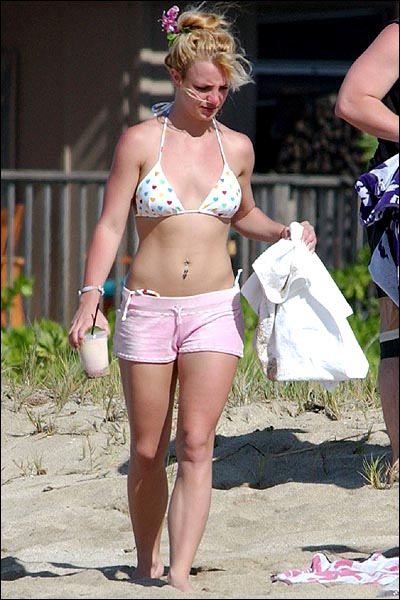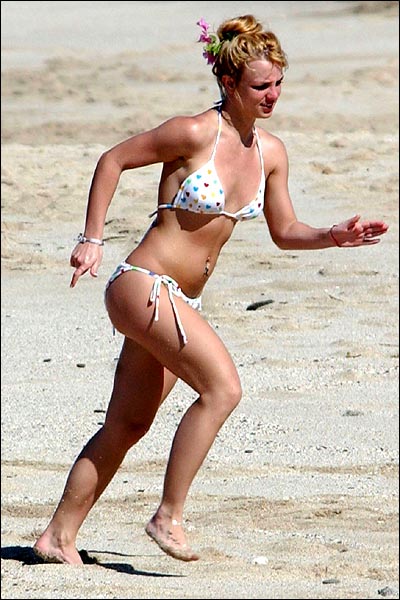 posted by uncle grambo |
---
the outstanding duo of Nummer and H-Bomb sent over their review of the Baldwin / Elliott SNL yesterday afternizz. the pair asked me to apologize for the delay in providing this content to the world, as Nummer has been mired in 80-hour weeks for the last few months. but despite days and nights filled with rampant media planning, whatevs.org's resident SNL experts have managed to turn out another top notch review. enjoy, yo.

EPISODE 6: Alec Baldwin / Missy Elliott (11/15/03)




posted by uncle grambo |
---
Monday, December 01, 2003

the topic: between Gwen Stefani (esp. circa the "Don't Speak" video) and Jessica Alba, who's got the better stomach? you can't go wrong either way. for my money, I have to lean towards Gwen ... the memories of that video have stood the test of tizz, yo. but then again, Alba has got the whole mega-athletic shimmy shimmy ya kicking in any and all "Honey" trailers / posters / :30s / etc. tough, tough decision. discuss.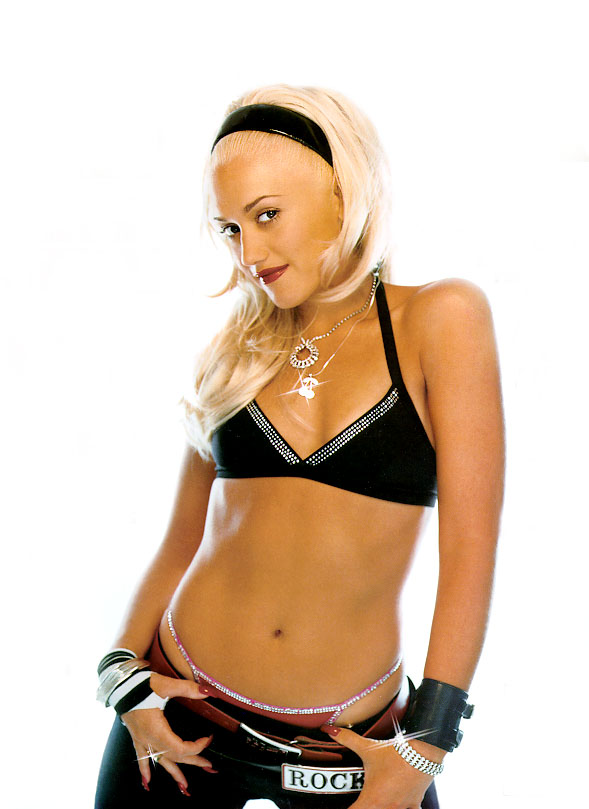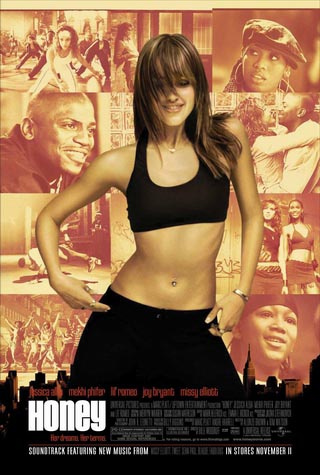 btw, five days until "Honey" ... so long to wait. so unfair. yet so best.

posted by uncle grambo |
---
while your Uncle Grambo admittedly has no "real" journalistic credentials to fall back upon, i DO know my fair share of writers and i HAVE seen "Shattered Glass." in these days of wine and roses, those credentials are impressive enough to justify the following entry. obvs. with that in mind, i have some semblence of understanding as to why writers use quotes in their articles. sometimes it is to localize a story, sometimes it helps to round out a piece, and other times it is to provide the reader with expert commentary. but sometimes you come across a quote that is SO atrocious that you can't help but wonder what the eff the writer of the piece was smoking. case in point, today's NY Daily News features a commentary by the paper's TV editor, Richard Huff, on tomorrow night's premiere of "The Simple Life" on FOX. Huff's column focuses on the media firestorm that has surrounded Paris Hilton and what this kind of coverage means for ratings. while he scores points for comparing the recent Paris porno scandal to the great Sarah Kozer (aka Cindy Schubert) bondage controversy of early 2003, all points are immediately discredited as he makes the unconscionable decision to add flavor to his article by ACTUALLY PRINTING A QUOTE FROM ZORA ANDRICH!?!?! while Zora was indeed a cast member on "Joey Mills" (not to mention the "winner"), she had nothing to do with the bondage controversy or even the alleged blowjob episode, so why are we as readers informed that "[Zora] definitely sympathizes with her"? well isn't that special. in addish, I guess I misunderstood Zora's role as a renowned media scholar and all-around bad ass ... who else would *shockingly* state that "I don't know why the media is so obsessed with finding dirt on people"??? revolutionary buzz! the truth shall set you free, Zora! needless to say, it is the inclusion of these quotes that send Huff's piece spiraling into the abyss of journalistic durstness. so for all of you journalists out there who idly spend your tizz on whatevs.org, please take note of this atrocity and learn from the mistakes that Richard Huff has made. remember, only YOU can prevent forest fires! smokey the bear stizz. obvs.

more scoopage on the alleged rape incident at the "RW: SD" house, courtesy of TSG (duh)! it turns out that the victim was more than likely roofied, then taken back to the guest bedroom of the RW house. she awoke with MTV cameras in her face (!!!) and was informed by a cast member that she "might have been sexually assaulted" ... despite this fact, no one at the house called 911 or filed a police report! dude, this is some MAJOR scandal buzz that could quite possibly result in the show being cancelled (bt-dubz, that's some WILD speculation on my part). and unsurprisingly, there's been no comment over on MTV.com. developing.

on an unrelated note, I think that I might have been roofied on Saturday nizz. i know that there was some post-WAB partying going down at my casa, but the hours between 11:30pm and 6:30am (when I was told that I passed out) are one big blur. whoever drove me home, please accept my belated thanks.

the patron saint of Glamorama, Miss Sophie Ellis-Bextor, is straight up three months preggers. congratulations must go out to Kegzies for mentally impregnating Sophie via blogging buzz. hott. also revealed in the same article is the fact that Justin Trousersnake turned down the lead role in the oft-delayed "Superman" project, which is still swamped in development hell without a star or a director.

sounds like a waste of money to me. People and US Weekly are engaged in a bidding war for exclusive rights to photos from the Trista / Ryan wedding. looks like the happy couple have shrewdly negotiated their way to a payday that will likely exceed $500K. my question is to the magazines ... this shazz is going to be on TV as it is, so is anyone REALLY also going to want to pic up the magazine, too?

wondering what's on Ryan Miller's (of Guster fame) iPod? wonder no more. i sing the praises of Nick Catchdubs on high for providing this hottness.

in an attempt to do for Dennis Rodman what MTV did for Ozzy Osbourne, ESPN will premiere a two-part documentary tomorrow at midnight on The Worm's attempt to make yet another NBA comeback. buzz?

finally, The Grizz and your Uncle Grambo finally got around to seeing "The Matrix Revolutions" this weekend. what a godawful, steaming turd of a movie that was. so, so, SO incredibly bad. the only good thing to come out of that atrocity was Fametracker's look at "The Matrix Regretted", freakin' hilarious. yo.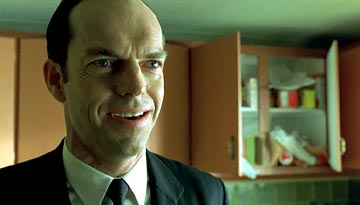 posted by uncle grambo |
---
it's December in Bloggerville, so here come the lists! Nick Catchdubs breaks off his Top 10 Albums and Singles, headed up by Andre 3000's "The Love Below" and Juelz Santana f. Cam'Ron, "Santana's Town (Dipset)." meanwhile, Ultragrrrl continues to lavish praise on the new Muse record by naming it her favourite album of 2003. your Uncle Grambo's Grahammys 2k4 (Music Edition) is currently in development and should be ready for primetime by next week. shmears.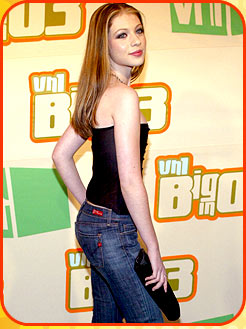 when VH-1 decided to invite Michelle Trachtenberg to their "Big in `03" party (i fell asleep last night and missed the broadcast), i wonder if they realized that their show's title was referring to erections nationwizz? so hott!


i never thought i'd live to see the day that a headline like this would appear in the beloved New York Times: "America Tunes In For The Money Shot." in case you were wondering, it's NOT about the Paris Hilton video. nope, no money shot to be found on that vidds. durst.


somehow i completely missed this one the first time around, but The Grizz's rundown of this holiday season's top video games is well worth your time. while The Grizz does an excellent job in lamenting Nintendo's supremely effed-up decision to remove DK from "MP5", he rates "Wario Ware", "Mario Kart: Double Dash", "Spongebob Squarepants: The Battle For Bikini Bottom" and "Viewtiful Joe" as this season's best buys. much love to the GameCube, obvs.


this is apropos of absolutely nothing, but I would be remiss if I didn't point out that legendary Seton Hall two guard Terry Dehere was THA SHIT! my brain works in mysterious ways ... i was typing out the above entry and the word "Dehere" magically inserted itself into a sentence. wtf?


all hail Nummer for providing the best news of the weekend ... surely Foxy Jess had SOMETHING to do with this. Fox Broadcasting Co. has picked up seven additional episodes of the supernatural series "Tru Calling." somewhere Damore is smiling.


mmmm, Jessica Alba. there's still five long days til "Honey" hits screens ... thank heavens for today's USA Today profile!


busted, yo. Joey Lauren Adams pinched for a DUI.


pop culture aficianados, reset your bookmarks. Scott Stereogum has moved to STEREOGUM.COM! pure hottness.

posted by uncle grambo |
---
so. much. buzz.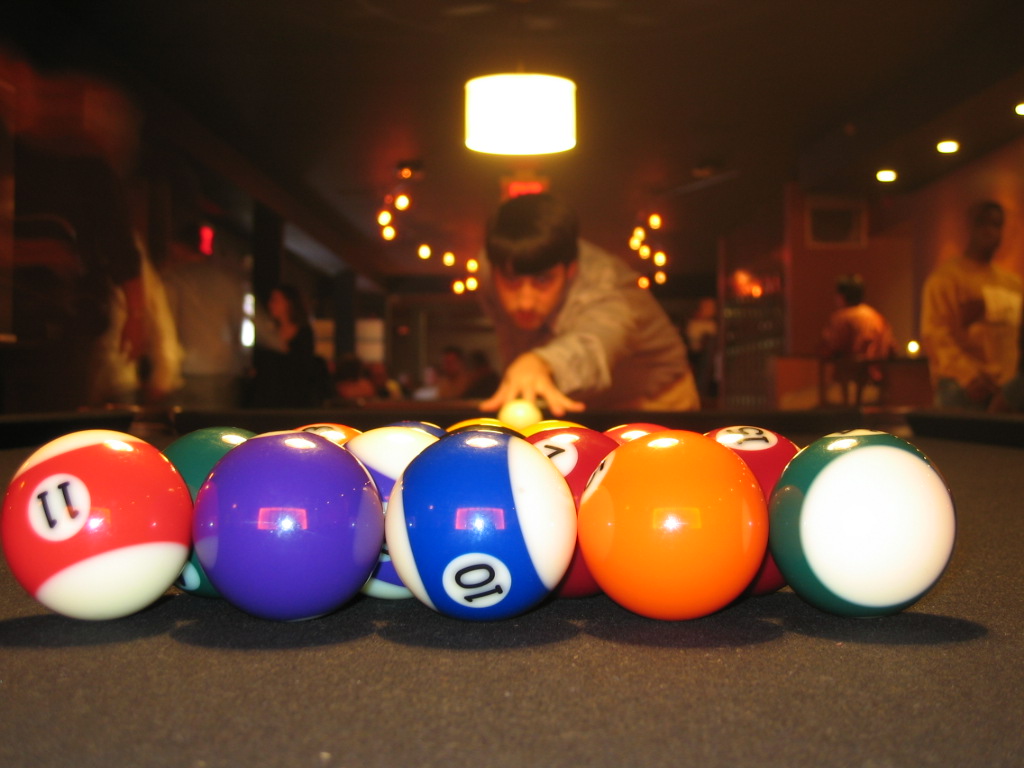 step aside Minnesota Fats, it's Michigan Damore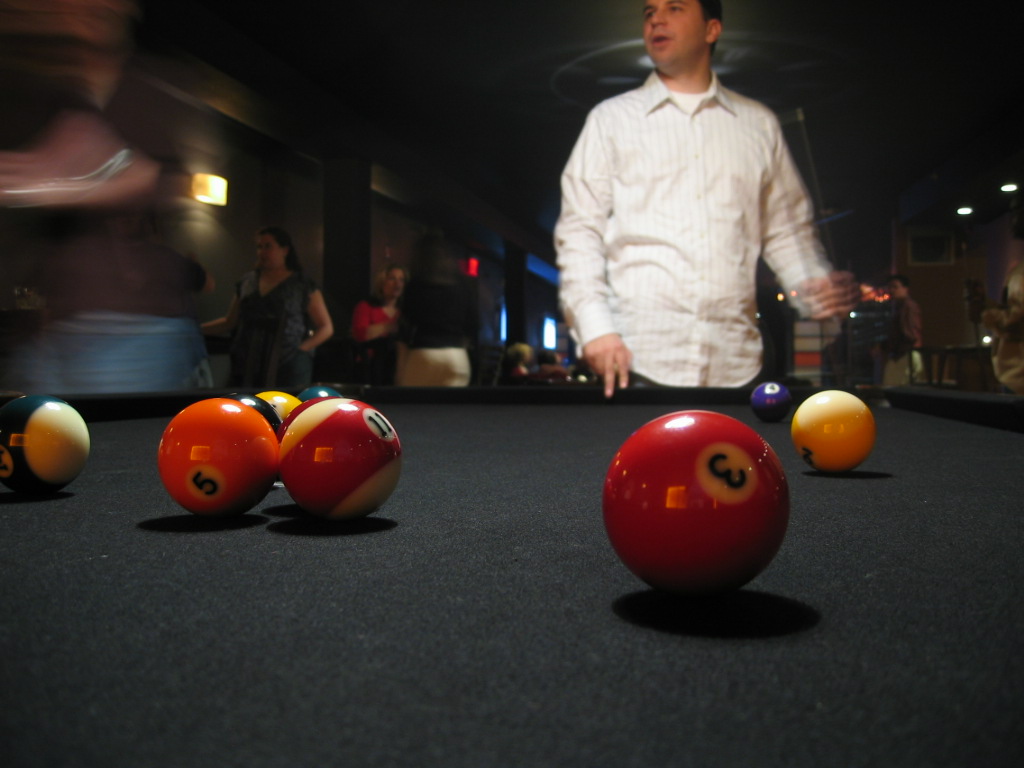 "has anyone seen my brother Brennan?" — JP McKrengels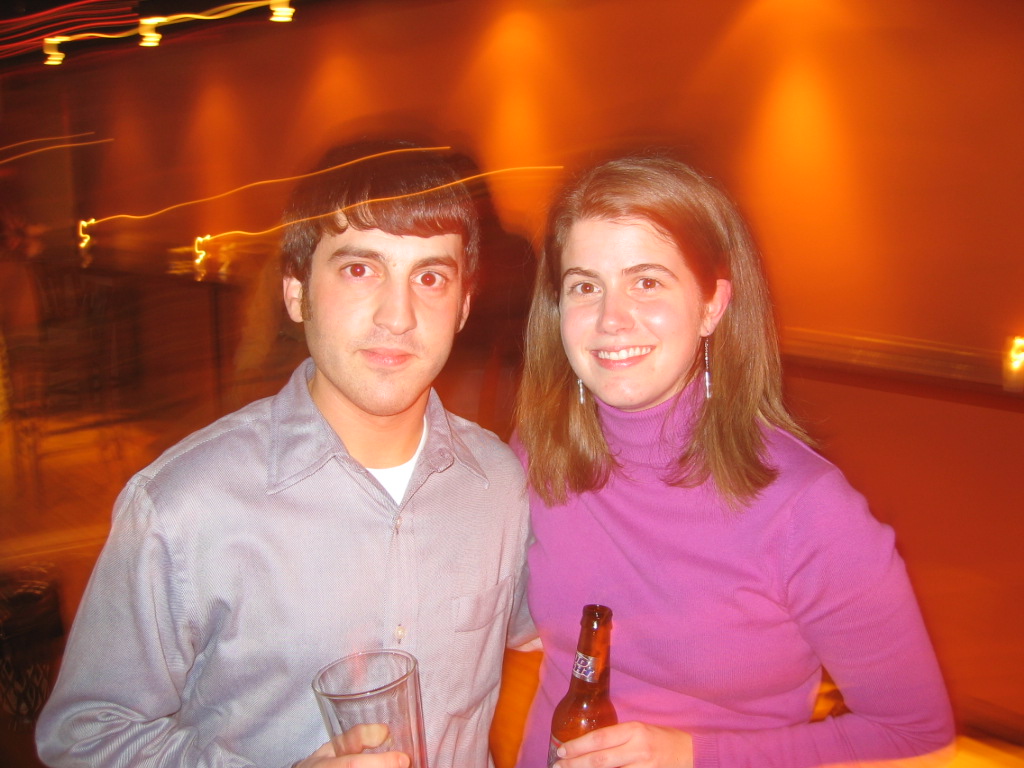 Damore and Rio pose at Centre Strizz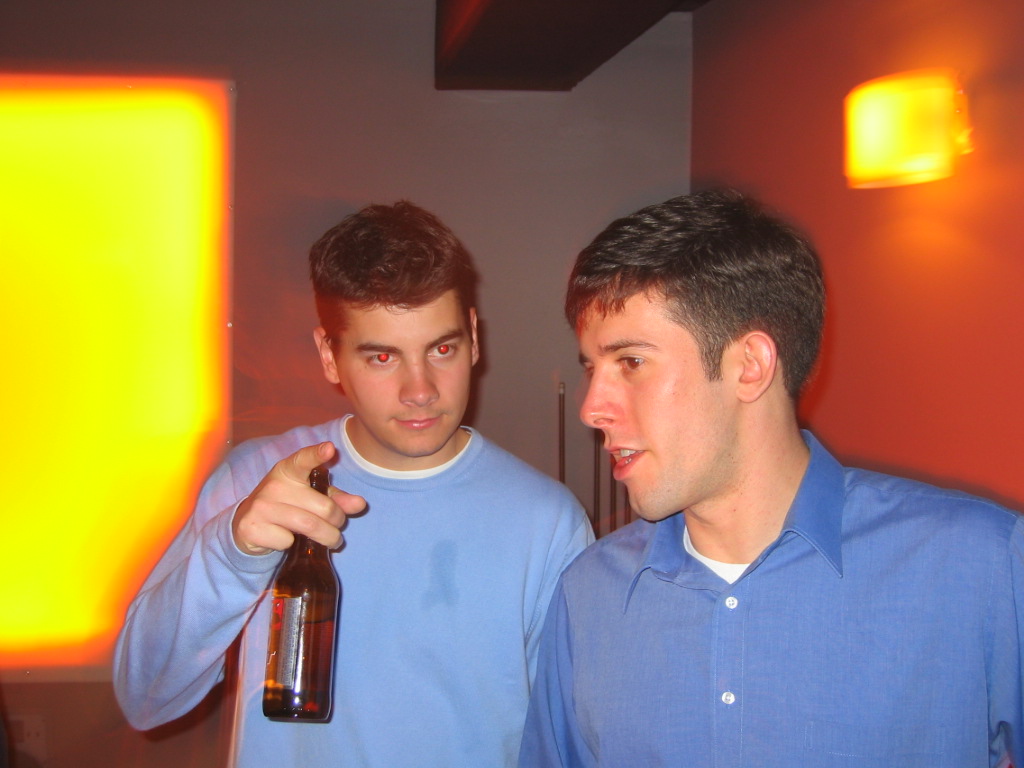 Dirty McKean scares the daylights out of APLarcadia with his best Teen Wolf impression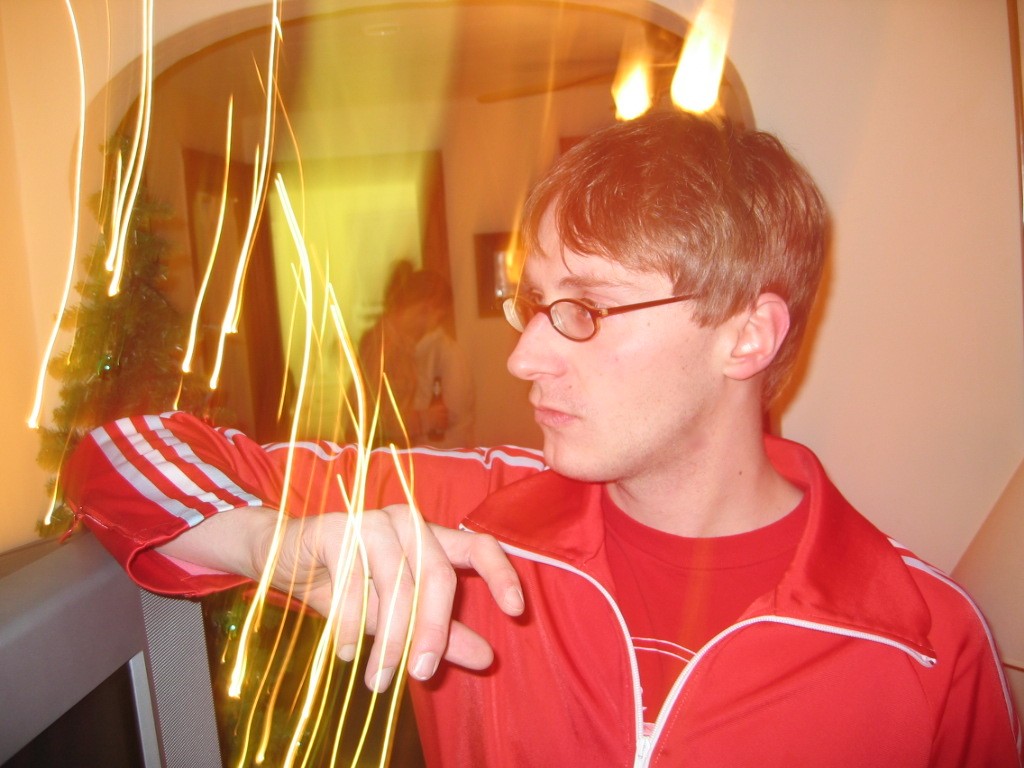 what would the holidays be without Peabs?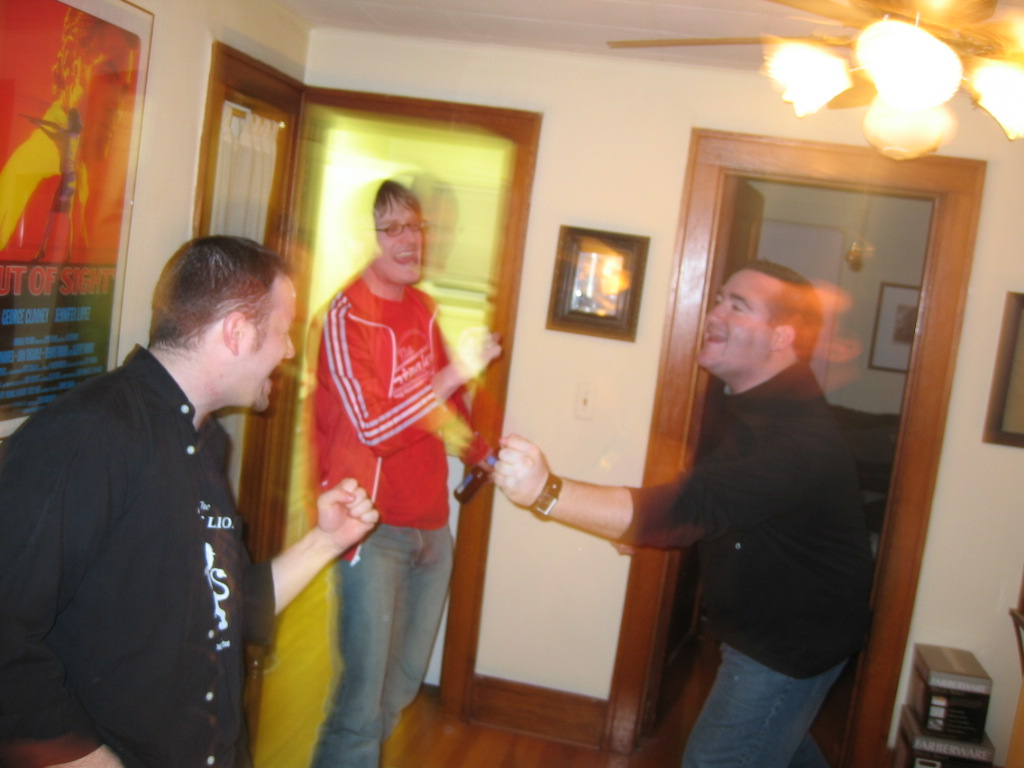 C Friggs, Peabs and The Grizz doing their best Jane's impression

The Gorilla, Mandypants* and Seantizz are out WABbin it up

The Gorilla paid big money for the opportunity to pose with Foxy Jess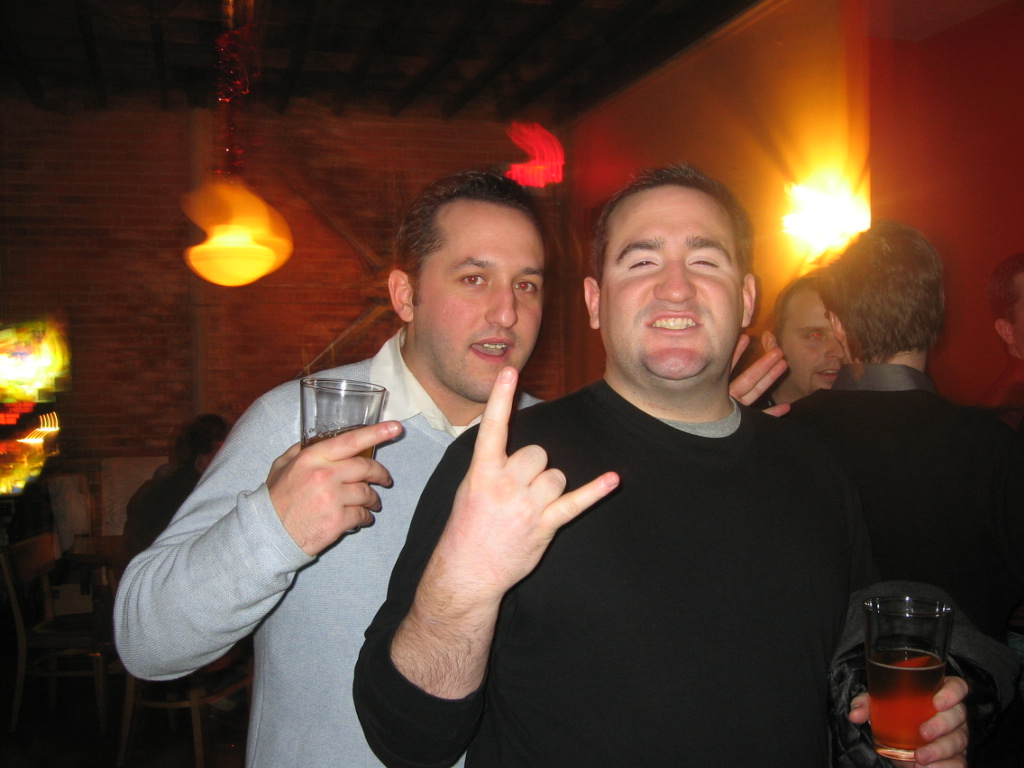 your Uncle Grambo and The Grizz representin'

posted by uncle grambo |
---