Friday, August 22, 2003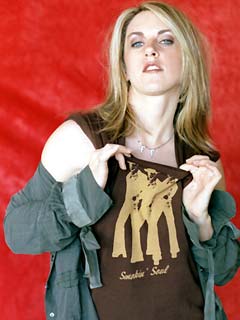 any person who has visited whatevs.org in the last four months or so has been witness to an endless string of praise for the lovely Miss Liz Phair. you likely also know that last night was the opening night of your Uncle Grambo's highly buzzed-about "Phair-A-Thon 2003 Tour." i honestly can't remember a feeling of pre-concert anticipation this intense since Springsteen reunited with the E-Street Band back in 2001 or thereabouts. it was with an ear-to-ear grin and a sizeable chunk of my Liz Phair CD collection ("Guyville", "Whip-Smart", "Juvenilia", "Whitechocolatespaceegg", "Liz Phair") that I hit the open road yesterday afternoon for the 260 mile (give or take) trek to The Windy City. (EDITOR'S NOTE: It's awfully difficult to concentrate at the moment. I'm sitting with a window seat and Starbreezy and this town is CRAWLING with hotties. Gotta love Chi-Town. But I digress...)


traffic on 696 coming out of The D is a bear at 4pm EST. it didn't help that a call to The Metro (the evening's venue) revealed that Miss Liz was to take the stage at 8:45pm CST (!!!). this was a shocker, most shows in the D don't get going until after 10pm. thankfully once I hit I-94 and got past Jackson, the traffic was relatively light and i was able to put my ragtop down so my hair could blow. I hit Lakeshore Drizz and arrived at the casa of Malbersblows (Clark & Fullerton) with a little under an hour to spare. i quickly changed clothes and we hopped in a cab for the 10 minute or so trek to The Metro. alas, in my haste I made the first major blunder of "Phair-A-Thon 2003" ... i left my dij back at the apt. so unfortch i don't have any shots of last night's perf. don't fret dear FOWs, I will be posting plenty o' jpegs from the three upcoming shows.


we made our way into the venue at about 8:40pm CST, right as the opening chords to "6'1" echoed through the halls. for those who haven't been to The Metro (this was my first time), the stage is situated upstairs and is about 40 feet deep and roughly six times as wide. the place was packed to the rafters (literally!) with about 1200 or so screaming fans and, let me tell you, it was hotter than hell up in that bitch. you see, it was 95 or so degrees outside at showtime and The Metro didn't seem to understand the concept of fans. but once I caught sight of Liz in a low-cut, lavender top and silver and black striped mini, I quickly forgot about anything other than the heat she was projecting from onstage.


after exhibiting a slight case of nerves during "6'1", Liz caught her groove on the evening's second number, "Polyester Bride." instead of focusing on her fretwork, she started smiling and making eye contact with members of the audience. since this was a homecoming concert for her, a little display of the ole stage fright that notoriously plauged her first shows was in order. the audience was both raucous (sp?) and respectful, and there was a palpable feeling of admiration mixed with lust for everyone's favorite self-described Blowjob Queen.


much has been made of the wildly mixed reaction to which people reacted to the new, poppier sound of Liz's new tunes. combine that with the fact that Chicago is known for having a community of Indie Rock Snobs and that could've led to audience dissent and a shitty show. fortunately, most of the new material came off stronger and bolder live than it does on the record (and let it be known that I'm a fan of "Liz Phair"), particularily "Red Light Fever" and "Little Digger." howevs, it is this fan's opinion that "Rock Me" and "Extraordinary" came off as a little hollow, no doubt influenced by the shaggy-haired group of Pete Yorn wanna-be's who served as her back-up band. they were an adequate bunch of musicians; they didn't fuck up but they also certainly didn't add any gusto to what was already on record.


as far as highlights of the evening are concerned, two songs stood out above the rest. you could tell that being back in her hometown was having an effect on Liz; she seemed to be connecting more with her "Guyville" material than with the newer songs. after an especially choice rendition of "Red Light Fever", she spontaneously interrupted the band as they were getting ready to play "Uncle Alvarez" and launched into a solo electric version of "Stratford-On-Guy." the song details the thoughts flowing through Liz's head as she flies into Chicago and the audience absolutely ate it up. but the evening's stunner was a tenderly powerful version of "Perfect World" (another "WCSE" song). from the opening chord, the audience stood in rapt attention as a hush fell over The Metro. Liz locked eyes with a lucky audience member and turned in one of the more emotional live performances of any song, like EVER. as she sang "I wanna be cool, tall, vulnerable and luscious / I would have it all if I could only have this much ... I wanna be involved, be involved, wanna be involved with you", you could just tell that every single person in the audience (boys and girls) wished that Liz's words were meant for them. you've all read about moments where a performer holds an audience in the palm of their hand, right? well I've been to a lot of shows over the years and those kind of moments are rare. this was one of them. so best.


as you can tell from the set list below, her set was surpringly heavy on "Guyville" tunes. no one complained. after working out some of the nerves of her first Chicago show in five years, her performances on Friday and Saturday night are sure to only get better. your humble narrator, for one, cannot wait. until next time...


Liz Phair - 8.21.03 at The Metro (Chicago, IL)


6'1" / Polyester Bride / Rock Me / Never Said / Glory / Help Me Mary / Divorce Song / Favorite / Red Light Fever / Stratford-On-Guy (solo) / Uncle Alvarez / Perfect World / Why Can't I? / Johnny Feelgood / Extraordinary / Supernova
Encore: Little Digger / Flower (w/audience member) / Fuck And Run


(EDITOR'S NOTE: here's what my iPod has been rockin' randomly during the time that this review was composed: Dido - "White Flag"; Neptunes feat. Kelis - "Milkshake"; Sponge - "Molly"; The Streets - "Weak Become Heroes"; Ludacris - "Roll Out (My Business)"; Ides Of Space - "Random Noise Generator"; Roger Sanchez - "Another Night"; The Lemonheads - "The Great Big No"; Richard Ashcroft - "Running Away"; Liz Phair - "Go West"; Beautiful South - "We Are Each Other"; Cake - "Arco Arena"; Velocity Girl - "Rubble"; Push Kings - "Pop Phenomenon"; David Gray - "Caroline"; Joy Division - "Love Will Tear Us Apart"; Stone Roses - "Ten Storey Love Song"; Soul Asylum - "Sexual Healing")

posted by uncle grambo |
---
a little pissed right now. i lost a massive post recapping last night's show. T-Mobile kicked me off the network unbeknownest to me and I lost all my buzz. i'm going to try and re-write, but it might take a while. in the interim, why don't you read about David Wells and Carson Daly bonging beers together in a NYC bar (a: who bongs beers anymore? other than Frank The Tank, that is? b: who does it at a bar?) or check out The Grizz's review of The Neptunes' latest joint. fookin' T-Mobile. i take back the hottness I bestowed on them in the last post. effers.

posted by uncle grambo |
---
while I take some time to write a decent recap of last night's Liz Phair show (AMAZING!), here's a pic of Anna Pornikova to whet yo' appetite for some PHC. she hasn't announced that she's going to drop out of next week's US Open tournament ... yet.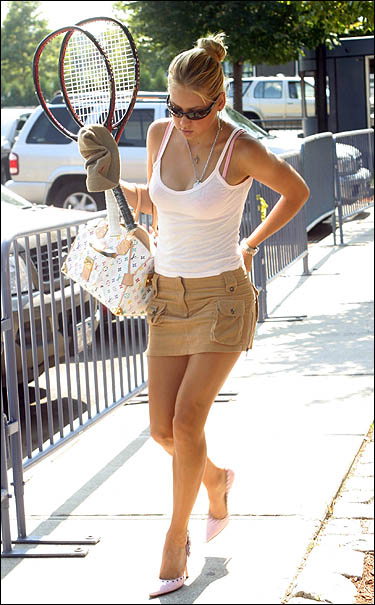 btw, i'm totally rockin' Wi-Fi buzz right now at the Starbreezy on the corner of Clark and Deming in Chi-Town USA. T-mobile hott spott stizz. obvs.

posted by uncle grambo |
---
Thursday, August 21, 2003

liz phair. SO excited! three nights in a row! four out of five! SO best. i'll be hitting good ole I-94 in less than three hours! this is shaping up to be one of the best weekend's of my life. especially because i discovered that i have some famous fans. got an email this morning from a celeb that shall go nameless at this time, but needless to say it was best. good ego boost. and don't fret about a lack of PHC tomorrow, I'll be posting live from chicago. so much T-Mobile Hot Spot buzz is gonna be revealed.


but before I go, dig on some photos of Brit Brit scratching her arse. then take a deep breath before exposing yourself to the the horror that is Angelina Jolie's right knee. seriously, i almost barfed when i saw this jpg a few minutes ago. but perhaps most importantly, enjoy the photo below of Beyonce's nips (previously unrevealed?). i'll be her Baby Boy cuz i'm crazy in love with her chinchilla, my Nilla (Wafer).

posted by uncle grambo |
---
forget Frodo, it's more like Tea Baggins!




(pic courtesy of Gothamist)

posted by uncle grambo |
---
Wednesday, August 20, 2003

more Rochester Adams HS buzz. a former classmate of your Uncle Grambo's named Kristen Zang has dated many famous celebs over the years, including Leo DiCaprio at the height of his "Titanic" fame and Nic Cage (pre-Patricia Arquette). well reports out of Los Angeles confirm that Nic and Kristen have reunited and are seeing each other once again. you can take the girl out of Rochester Hills, but you can't take the Rochester Hills out of the girl. everybody loves white girls, esp. when they're from the northern suburbs of the Motor City. obvs.


worst. Jon Barry signs a free agent contract with the Denver Nuggets.


one of whatevs.org's favourite writers, Sir Matthew Tobey, on the new White Stripes video that features Kate Moss pole dancing: "You shouldn't watch it if you hate getting boners."


it's official, "Gigli" is one of the all-time biggest bombs in Hollywood history. it has recorded the all-time biggest drop in 2nd weekend gross (it fell 81.9% from Week 1 to Week 2, outdistancing the previous heavyweights like "Return To Blue Lagoon", "Lawnmower Man 2" and "From Justin To Kelly"). it's also down to $38 per screen. but when history looks back at "Gigli", it likely won't even come close to comparing to the Top 10 Bombs of All-Time (link via Cinecultist).


big day for fans of The Strokes (and who exactly ISN'T a fan of The Strokes). NME has confirmed that their new single will be called "12:51" and will be released on October 6, with the LP following along on October 20 (British release dates, mind you). and for fans craving to hear what the boys have been up to, check out some live mp3s from their recent shows in Japan (last link via Les Yper Sound).


Irv Gotti busted backstage at an R. Kelly concert with some E and some Viagra. after the show, it's the afterparty! and then after the party, it's the county lock-up!


i'm getting PSYCHED for four Liz Phair concerts in the next six days. the first of the bunch is a little over 24 hours away! since I'm excited, you should be too. check out Jasper's photos of her recent Bowery Ballroom perf and also her ad for Colehaan G Series boots! second link via Nummer. obvs.


thank the heavens that justice has prevailed. Stripper accused of squirting man with breast milk won't face charges. in your eye, hoop! link via JP McKrengels. also from JP McK, Why Humans And Their Fur Parted Ways.

posted by uncle grambo |
---
Chuck Klosterman, Spin staffer and author of "Sex, Drugs and Cocoa Puffs", on pop starlet Britney Spears after interviewing her for an upcoming issue of Esquire: "I didn't think she was going to be smart. I thought she would be more self-aware, and more media savvy, or media sophisticated. What I came to realize is that it's very possible she had never really given an interview before without being surrounded by handlers. She was completely unprepared to answer any questions beyond, 'What makes you so awesome?' I don't know if Britney Spears has the potential to say something interesting." Fans of Brit Brit retaliate by calling Klosterman a "nerdy looking jerk from North Dakota who should be thankful he got the chance to even be in the same room as her."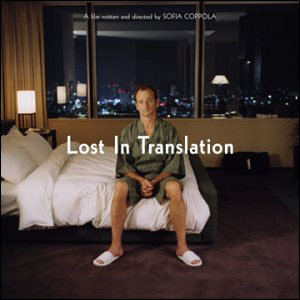 finally caught the trailer for Sofia Coppola's "Lost In Translation" before a screening of "Camp" (in the words of one of my friends, "Isn't that the movie about the summer camp for fags?") this weekend and it looks worthy of the hype. hopefully The Grizz and I will be able to catch it when we hit the Toronto International Film Festival in early September. in the interim, MCN's Ray Pride is the latest to gush all over it. he describes it as "a feat of levitation, contemplation, mood and love, love, love" and mentions that it reminded one of his friends of "early Wenders." hopefully my bestowing SC with a six-pack of Buzz Cola will help ease the pain of her recent split with Spike Jonze.


never saw this one coming. controversy on the set of the new "Man Show". apparently new host Joe Rogan (that DB from "Fear Factor" who was always flirting with the hott contestants) fired one of the Juggies to (and I quote) "hire some girl he liked." that's never happened in Hollywood before, and ESPECIALLY never to anonymous dumb blondes (calling Bob Barker!). the same anonymous Juggie got even more pissed when Rogan's replacement "didn't work out. She wasn't any good, and they had to let her go." hell hath no fury like a Juggie scorned. let's just hope that the new hosts are treating the Girls On Trampolines with the class and dignity they deserve.


did you catch The Freep's woefully horrendous coverage of the Rochester Flash Mob? ohmigod, worst story evs! so borrring! it's called a hook, Jewel ... try finding one next time! if you missed whatevs.org's coverage of the one and only Michigan Flash Mob, don't fret. just click.


speaking of Flash Mobs, now it's time for some trend analysis. as if the writing wasn't already on the wall, Flash Mobs are officially out. what will take their place? Beer Mobs (link via Lindsayism)!! and Lizzie Spiers puts a stake in the heart of the annoyingly shockey trend of Trucker Hats in the September issue of The Face.


The Decade Of Rad: The 10 Eightiest `80s Movies. stellar (link courtesy of Parallax View).


back when I was at The University of Michigan, I took some pretty funky courses. "Masculinity In America" and "60 Minutes and the News: A Mythology for Middle America" come to mind as obscure yet extremely interesting classes taught by outrageously inventive professors. but there's uproar at the school these days over a class being offered this fall called "How to be Gay: Male Homosexuality and Initiation." not that there's anything wrong with that. i got no beef with the course, it would probably make for a pretty interesting sociological discussion. my question about it is simple. since when does JP McKrengels have tenure at U of M?

posted by uncle grambo |
---
Tuesday, August 19, 2003

oh christ. now the "correspondants" at MTV have their own collective blog. yes indeed, now you can read the innermost thoughts of your favourite "correspondant". wonderin' what the indestructible John Norris is excited about at this very moment? He just "delivered the news that Good Charlotte have been added to the NFL kickoff concert. Cool" (EDITOR'S NOTE: please note that those are his words, NOT MINE!!!). we also learn that Asian Correspondant Trisha Takinawa (aka Suchin Pak) got stuck in an elevator during the blackout and that the slobbalicious Iann Robinson has to have his VMA outfit approved by the MTV "higher ups" before he can appear on air. you know, I began this post with the intent of bashing the hell out of this pseudo-blog and I've come to realize that I'm so media obsessed that I'm actually starting to LIKE the idea behind this webpage. will it become a daily visit? hellz no, but it might be entertaining for 15-20 seconds once a week or so. give it a whirl.


somehow I missed this one last week. likely because of Blackout 2003. The Grizz wisely previewed "Freddy Vs. Jason" in Thursday's Detroit News. as you likely know by now, the movie was a surprise smash at the box office this past weekend when it grossed over $36 mills to land at #1. kudos to The Grizz for being aware of the public's appetite for this long-awaited battle, but more props should be dispersed for landing quotes from Violent J, Rob Zombie and Iann Robinson for the piece!


more Blackout buzz. Lindsay Robertson of Lindsayism fame had a great article about last week's power outage over on Knotmag.com entitled "Single Serving Friends." despite our geographical distances (she's in NYC, your Uncle Grambo is here in The D), I saw many of the same reactions in Midwestern Suburbia that Miss Robertson encountered in the Big City, albeit on a much smaller scale. but instead of Thursday night being spent with radios at high volume and drinking in public parks, I saw my parents' subdivision all come out of their air-conditioned isolation to become a community, if only for an evening. my parents' neighbor brought over a big ass bottle of wine and a platter full of snacks and people who normally were never even seen popped out of their homes to say hello. i swear that my parents don't even know the first or last names of the family across the street (they've lived there for well over two years), but when I pulled up to their house to deliver a spare set of keys, my Dad was bringing the family a bottle of wine! Blackout 2003 ... good times, good times.


(AUDIBLE GASP) ... take a deep breath. can this possibly be true? is Angelina Jolie secretly seeing Ethan Hawke? good gawd! how can you turn your back on Uma? say it ain't so, Ted!


the multi-colored fish wrap known as USA Today just spent three minutes of my time fellating Ashton Kutcher. but believe it or not, it was worth it. it gave me the new Quote-A-Matic!


remember Mr. Blobby? of course you don't, unless you happened to travel to England during the winter of 1994. well he's back, mainly because his creator acknowledged that Mr. Blobby "sparked the decline in (British) TV standards." i always thought that Benny Hill did that.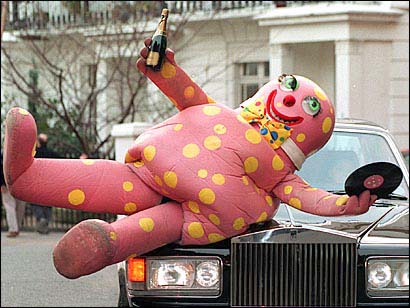 posted by uncle grambo |
---
excuse me while i wipe the puke off my keyboard. GI Joe or GI Jesus? you make the call.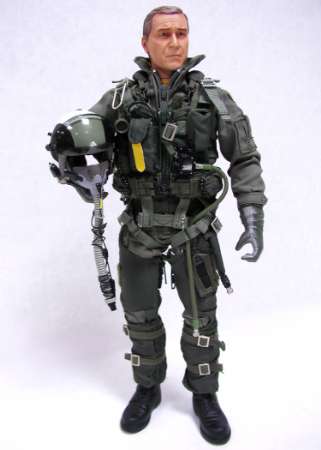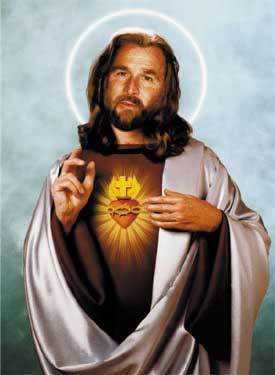 posted by uncle grambo |
---
some say less impressive than "pulling a Homer." apparently following in the cradle-robbing ways of Miss Demi Moore, 45 year-old / recent divorcee / notorious leg spreader Sharon Stone is jumping the bones of 26 year-old Oliver Hudson (brother of Kate, son of Goldie Hawn). apparently sleeping with younger wanna-be A-List celebs is the new Botox. and here I thought the hott new trend was Body Switching.


speaking of Kutcher, I can't wait 'til his movie flops this weekend and all of the headlines on Monday read "Kutcher Loses Buzz." let's be brutally honest here. the only chance of Ashton maintaining his Buzz Factor is a quick and sudden death. while I wouldn't wish death on anyone, having his Porsche careen off Mulholland is the only way that the legend of Kutcher can live. the buzz runs hott and heavy for MTV-generated stars, but has a tendency to drop off just as quickly. remember when Kelly Osbourne had buzz? remember when Jesse Camp had buzz? nope, neither do I.


i think that most everyone in the ad community (not to mention the public at large) has agreed that the Madge and Missy Gap spots are utter failures. seriously, who cares about these two? as best as Madge is, everyone knows that she was cashing a paycheck and upping her exposure level. and no one gives a crap one way or the other what Missy says or wears (except when she wore that Inflatable Garbage Bag in the video for "The Rain", that shit was DOPE!). but you have to feel like the marketing team over at The Gap realizes that this campaign has less of a shelf-life than the Arby's Oven Mitt, hence their avid pursuit of Justin Trousersnake and Brit Brit Spears for a follow-up spot. The NY Post reported on an Ananova story that claimed that the pair were being offered $1.6 mills each to work on an upcoming reunion campaign ... try telling me that isn't BEST EVS!


Paris Hilton is in the recording studio working on a solo record. some have described the sound as "a cross between Beyonce and Jessica Simpson." there are also rumours breaking of a Paris porn tape making the rounds ... keep an eye out on KaZaa for that bad boy and keep your Uncle Grambo posted (both links via Gawker)


it was Ben Affleck's clout with Harv that got "The Battle Of Shaker Heights" released in 10 cities instead of just New York and Los Angeles. too bad Detroit isn't one of the ten cities. looks like I'll have to wait for DVD for some Shia hittins.

posted by uncle grambo |
---
Monday, August 18, 2003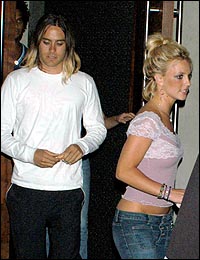 did BritBrit and Cameron Diaz switch bodies, "Freaky Friday" stizz? i knew that Jamie Lee Man Face was getting some critical props for her work in the movie, but who knew that ACTUAL body switching would become hotter than Pilates or The Zone? the reason I ask is the breaking news out of London that Britney Spears is now dating Jared Leto, who is Cameron OxyFace's ex. and as we all know by now, Cameron OxyFace is dating Justin Trousersnake, who we all know is Brit Brit's ex. there are strange things afoot at the Circle K, my friends. strange things indeed. my vote is there's been some Body Snatchin goin' on.


there's only so many times that you can throw madpropz out to Miss Modernage without sounding like a broken record. but the whole conundrum involved with dispersal of Miss Modernage props is that they're ALWAYS so well deserved! take this for instance ... when i was doing some blog browsing post-"Greenlight" on Sunday night, she revealed that the new White Stripes video for "I Just Don't Know What To Do With Myself" features Kate Moss pole dancing!!! well if you thought that was some tasty news, it gets better. the site she referenced also revealed that Sofia Coppola shot the clip ... most say best. while I would've reported on these facts yesterday had I had the time (along with the fact that the legendary photo of old skool Detroit weatherman Sonny Elliot pouring a beer in an elephant's mouth at the old Lindell AC is the single's cover art), I "pointed my browser" (dig on the techie speak?) to NME.com this morning only to find that they're only just now getting to reporting on said story. no wonder she's writing for them! Miss Modernage, you continue to astound and inspire a nation of millions. obvs.


as long as you're already at The Modern Age, you should read the hilarious recap of Miss Modernage and Ultragrrrl's experiences at the recent Justin Timberlake show @ Irving Plaza. Part One and Part Two.


in local news, Tyra Banks will be signing autographs at the Victoria's Secret in Somerset on Thursday. brown sugar!


crack is wack, but probation is even wacker. Citing a failure to complete any of the conditions of his probation from a drunk-driving conviction, a judge in Georgia's DeKalb County has issued a misdemeanor arrest warrant for troubled singer Bobby Brown. when you gonna learn, foo?


and the good folks of at Les Yper Sound have relocated away from the hell that is a Blogspot domain. reset your bookmarks to www.ypersound.com.


Atlanta Falcons QB sensation Michael Vick broke his leg on the second play from scrimmage during Sunday's game versus the Baltimore Ravens. He's also the cover boy on Madden 2004 ... is there a John Madden Curse? (link via FARK)

posted by uncle grambo |
---



(pic originally revealed at AICN)

posted by uncle grambo |
---
Fat Boy George (not to be confused with Fatboy Slim) and Uncle Fester. via The Gorilla.




here's a free bit of advice to Boy George. get back on the coke, like right effing NOW! you looked better when you were an anorexic crossdresser with 8 grams of Bolivian Marching Powder caked on your schnozz, yo. friends don't let friends STOP doing drugs when they end up looking like the unholy union of Billy Corgan and Carnie Wilson (pre-stomach surg, natch). and ditch the haggy broad with a mullet on your right / our left.

posted by uncle grambo |
---
blackouts. some say best. some say durst. mine was a 50/50 mixture of both. on the positive side, you had the whole work cancellation thing and the fact that I spent the good portion of the day on Friday drunk as a skunk. on the negative side, I wasn't able to make it out to Boston for Sully's wedding b/c my flight on Friday got cancelled and I wasn't able to reschedule on Saturday. to be quite honest, this whole sitch completely and totally bummed me out for the rest of the weekend I operated in Hermit Crab mode. other than a few quick games of Skip-Bo with The Grizz and Mandypantalons, I had no social contact with anyone in my circle of friends on Saturday and Sunday. and now I'm back at work on Monday morning and I'm drowning in assignments. blech.

but that's not why you decided to visit whatevs.org today, is it? hellz no. you probably came here looking for pictures of a scantily clad Britney Spears. thanks to Gerri Hirshey, Ellen Von Unwerth and the good folks at The New York Times Sunday Magazine, I'm able to oblige your desires. more to follow later (and I mean *much* later tonight).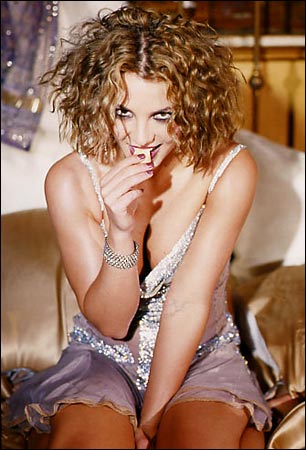 (EDITOR'S NOTE: For more pics, check out the full article and corresponding slideshow of Von Unwerth's photos)

posted by uncle grambo |
---