Thursday, March 16, 2006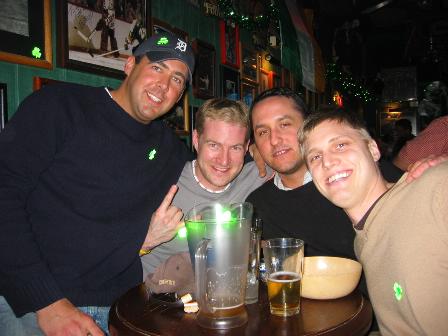 SPRING BREAK SHARK ATTACK! Come on feel the Illinoize, yo. Your Uncle Grambo will be holed up at The Fieldhouse in lovely Chicago for approximately the next 72 hours. Riding shotgun during our annual March Madness Booze Cruise will be Coach Glinka, Tha Clizzark and the one and only Malbersblows (pictured above, natch). Stop on by, say hello, sing along to a Springsteen jam or three and buy us a round of beers. Holla!

posted by Uncle Grambo |
---
Sunday, March 12, 2006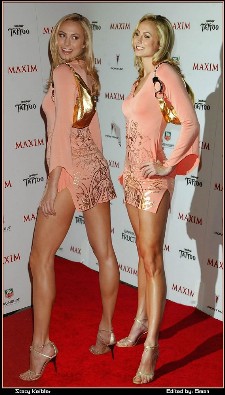 Your Uncle Grambo realizes that Stacy Keibler Mania has come and gone, but I firmly believed that the mainstream gossip and laddy mags missed a PRIME opportunity to compare her magnificent gams to the Hall of Fame legends. I'm talkin Tina Turner, I'm talkin' Heather Locklear (Melrose era), I'm talkin Stephanie Seymour (circa "November Rain") -- there are certainly more, but those were the first three to come to mind. US Weekly, where were you with this story?

Think about it. The double truck spread would literally lay itself out. You line up all the women side by side, starting with the shortest girl (Eva Longoria?) and ending with the tallest (maybe Maria Sharapova, who stands 6'2"). You could make a lot of arguments for all of the leggy ladies listed above at the Top Of The Pops, but if you watched even one second of "Dancing With The Stars", your Uncle Grambo guarantees that you didn't take your eyes off of her legs (regardless of your gender or sexual orientation). Keibler is pretty enough to hold her own, but the overall bovsness of her legs will land her a role on the big screen, should she choose to go that route. I hate to jump semi-hastily into a rash decision, but I'm declaring Stacy Keibler as having the All-Time Best Legs Evs.

It looks two of Coach Glinka's former haunts are in jeopardy of losing their liquor licenses. According to an expose by The Freep earlier this week, both the Blue Martini and City Cellar are under investigation for "rumors of topless dancers titillating Super Bowl revelers and police reports of fights and unruly behavior." I say good riddance -- both of those spots have been overrun with mooks and skanks for well over a year. No buzz.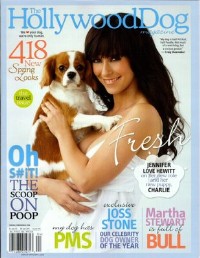 Can someone explain to me which one of these two is supposed to be the cover subject? Oh, SNAP! Love, it's time to fire your publicist. [pic via Rosie De Mario]

I caught a screening of "The Hills Get Crazed" the other night with The Senator, The Grizz, Damore, Nummer and Fetus X. I was pretty impressed with the film's bold addressing of American politics (which, I have to admit, Terrible Lawson totally nailed in his review). I mean, when was the last time you saw people explicitly labeled by their political affiliation in a horror movie? But, executionally, there were quite a few gaping plot holes that made the experience only semi-satisfying. Howevs, there IS a scene that is destined to go down in the annals of All-Time Twistedly Depraved movie moments. Trust me, this isn't a spoiler...

So, as you would expect, there is a point in the movie where the nuclear mutants attack the stranded family. During this scene, there is a moment when one of the crazed mutants is SIMULTANTEOUSLY points a gun at a baby's head while he's licks the lactating tees of said baby's mom!!! I mean, that's up there with the "Devil's Rejects" type of crazed. It made me feel gross and dirty and uncomfortable, which is something that was very prominent in `70s era filmmaking but is becoming increasingly difficult to do these days. So kudos to director Alexandre Aja for upping the ante on sicko horror scenes, as well as a thanks to the MPAA for sleeping through this NC-17 type of shot.

Luther Vandross was gay? Who knew?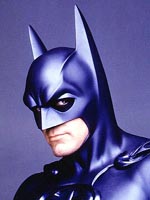 There are two reasons that George Clooney dumped Teri Hatcher after allegedly bedding her. What are those reasons? Those flapjacks of hers (NSFW). Hey George, next time you're lookin' to bang a starlet, try looking her up on Mr. Skin (also NSFW) first.


Slate's Jonah Weiner poses an interesting question: Does a line between fact and fiction even exist in The Clipse's lyrics? Virtually all of their recent songs contain references to slangin' cane — while this isn't exactly a new phenomenon in the world of hip hop, The Clipse breaks some new ground for the fact that they don't write their songs in the past tense (think Biggie). Developing...


Since I'm still kind of playing pop culture catch-up in the wake of the blowout, it's worth noting that there was a great article in Ad Age a few weeks back called The Dilemna of 'Star Branding' (reg req'd). The basic premise of the piece is that it's becoming increasingly difficult for Hollywood to create new mega movie stars because of the frequency in which they can appear in a new product. He makes a good point when he notes that new entertainment power brands like Google and MySpace are (have?) ascending to P&G type levels because of the immediacy of the services that they provide to their customers, whereas a movie star can only get on the screen three or four times in a year. Because your Uncle Grambo is both a total film geek AND a marketing addict, I found myself wanting way more when I finished the piece. Here's hoping that the author, Randall Rothenberg, will use this 40,000 foot view to pitch publishers on a full blown book.


One last thing. I realize that I haven't really been talking too much about music of late here on whatevs.org. The records that have been getting heavy airplay on your Uncle Grambo's hifi are The Sword's "Age Of Winters" (heavy, hard stoner rock), Tom Vek's "We Have Sound" (one man indie rock hottness) and Tegan & Sara's AMAZING "So Jealous" (Canadian alt-pop besteverness). I know that the Tegan & Sara record came out like two years ago but, in that time, it has grown into one of my all-time faves and a shoo-in on my list of Best Records Of The `00s (due December 2009).


And, as an added bonus, here's a limited time MP3 download of one of the most underrated songs of the early `90s. Although Shelleyan Orphan was, by virtually all accounts, one of the lesser roster members of the vaunted 4AD label, their 1991 single "Burst" is an exquisite piece of swirly pop majesty. Featuring duel boy vs. girl lead vox, it's got a real Cure meets The Sundays kind of vibe. Hope that you enjoy, yo.

posted by Uncle Grambo |
---