Thursday, April 08, 2004

or working... natch.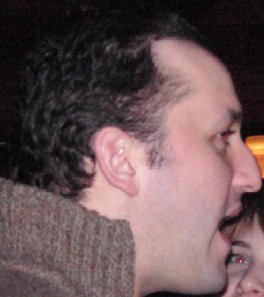 posted by The Gorilla |
---
Wednesday, April 07, 2004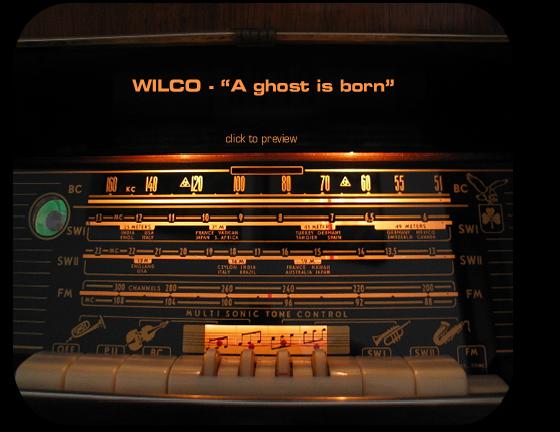 Thanks to Retrobuzz for the heads up!

posted by The Gorilla |
---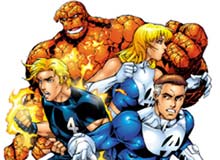 For those of you who couldn't satisfy your Marvel Comic's movie needs with X-Men, Spiderman, Daredevil, the Punisher and I'm sure 40 other films in development; the director of the sci-fi spectacular Barbershop has been put in charge of the film adaptation of The Fantastic 4. It remains unclear exactly how they will use CGI to make Cedric the Entertainer the Human Torch. Flame on.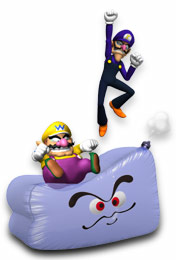 Still not satisfied NERDS!!??!
Well, how about this, John Woo has optioned the movie rights to the Nintendo game Metroid (spoiler: The Metroid hero dude is really a chick!!). While Woo roid jokes are highly encouraged, there is still no word yet on Ang Lee's proposed double trilogy of Mario Party films.

Okay, enough with the nerds... did you know James Brown leads a totally effed up life? Of course you did, it's one of the occupational hazards of being the hardest working man in showbiz.

The Olsen Twins no longer want to be called the Olsen Twins. Whatevs, I always refer to them as Mary Kate and the Ugly One anyway.

posted by The Gorilla |
---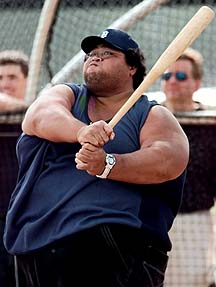 Congrats to Punk Rock Moms the Candy Band, their song "Wheels on the Bus" from their self titled album is number 1 on XM Kids. Who's number 2? Some douche bag named Elmo. The only thing that bothers me about this is that all over this fine nation of ours kids have XM radios and I don't.

Los Tigres continued their run with destiny again last night, not by repeating opening day's shellacking of the SARS harboring Jays and getting to 2-0 for the first time in 18 years, but by losing clean up hitter and all around pimp Dmitri Young for 6 weeks to a broken leg. No buzz.

Christgau showers a modicum of praise on Janet's Damita Jo.

The Brooklyn Academy of Music is having a Bill Murray symposium, I know there are plenty of Island based bloggos who occasionally peer their hi-powered mega-scopes across the riz to seek out this kind of buzz -- but I felt it was my duty to report that Cadyshack, Ghostbusters and Murray as Polonius in Ethan Hawk Wipes His Ass with Shakespeare are all finally getting their due from academia.

posted by The Gorilla |
---
Tuesday, April 06, 2004

Pollstar -- why don't you just cut the lame jokes and hook me up with new tour dates for the Pixies?
No Detroit date?
You blow.
Jeff Tweedy who the hell do you think you are? Peabs?
In more desperate, if somewhat dated, "look at me" news Kelly Osbourn is trying to out do brother Jack by acting like a more manly version of Peabs. Who does she think she is...? I'm waiting for the barfin' bull dog to check itself in on a very special episode of the Osbournís.
If you are gonna be anywhere near A2 you should check out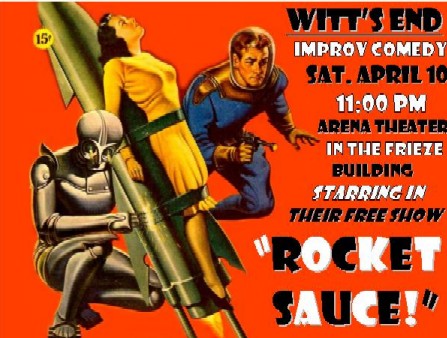 Featuring Dimitri Jr. Nepotism, bovs.
A new Nick Drake documentary is on the way featuring Brad Pitt's narration -- the film reveals the bombshells that Drake preferred Vauxhalls and typically referred to VW buses as "Nazi shaggin' wagons", also the film notes that Drake "sang songs and is dead".
Well, it is his prerogative.
HA!!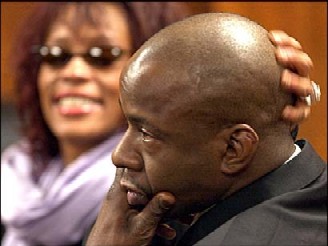 Bobby Brown is getting a reality series which will likely feature wife/co-conspirator Whitney Houston as well. Sources close to the show, who think they know who the hell the Brown-Houston's are, predict rehab being involved in some way during the course of the show.

REHAB!

PEABS!

A@#$HSIO!

WHOTHEYARE!

posted by The Gorilla |
---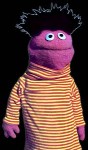 In a gossip item of shockin' No buzz2, Ryan Seacrest supposedly "bonded" last week with Janet Jackson after she appeared on his new talk show because they both confided in each other that they are secretly engaged. Not to each other obvs, Jackson to hip-hop impresario and gangsta Muppet Jermaine Dupri and Seacrest to some chick who obvs, digs dbs. Remind me again what the point is about keeping secret something no one cares about?
Obvs, keeping it secret is the only way to get your no buzz in the paper, the only way to keep it in the paper two weeks in a row is to attach it to an item of even less buzz thus creating a vortex of anti-buzz that can only be penetrated by buzz of the buzz3 magnitude.1
Former Tiger slugger and MTV Rock N' Jock Softball Jam participant, Cecil Fielder suspects some MLB players may be using performance enhancing drugs!!!!! He also suspects that he might eat about 4 bags of new Guacamole Doritos or perhaps even Rollitos, you know just to see if he likes the taste better than Cool Ranch.
Bob Dylan to sell woman's underwear for Victoria's Secret. Cause nothing gets the women hyped up to get their lacey freak-on like a grizzled 63-year-old Minnesota Folkie Jewish Methodist in a cowboy hat -- seers I saw the focus groups.

In case that can only be described as pure justice, J-Lo's mom (or Madre-Lo as we used to call her on the block) won $2.4 mm from a slot machine that she reportedly had been praying over. Once again proving that God is totally effing with you.

Jason Mewes who the hell do you think you are? Peabs

In more news faked by boring celebrities screaming for attention Posh is standing by her man... who is Becks apparently.
But in bigger news, the sliz Becks isn't married to is into dudes AND chicks.
And bovs, her boob fell out of her dress one time (NSFW!!).

1 ex: a reunited Led Zeppelin touring with Dave Grohl or Britt Britt bares Tees for charity, porn or charity porn.

posted by The Gorilla |
---
Last night, in the low pressure sodium haze of suburban night I was visited by a terrible vision of Bob Talbert. Usually, one thinks of a spectral vision as thin and gaunt; an aberration of nature that cuts a line of fear in the darkness with a steely concentration of fear and unresolved hate.
Talbert's wraith however, retained more the consistency of Jell-O Pudding and smelled strongly of Coney's with extra onions.
Talbert did not speak, rather he oozed the nonsensical prose that characterized him in life, only in italics, cause dead people desire emphasis.
Now that I'm gone Mitch Albom is usurping all my smarmy, heart string pulling buzz. American Pizza Cafe is an exceedingly good place to have a quick bite before you see CATS down at the fabulously restored Fox Theater. JP McCarthy and I have put in to be 2 of the 5 people he meets in "heaven" and we're planning a serious beat down for that little Mitchy twerp.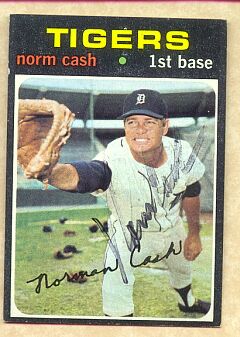 So, I'm all like, "Yo... Bob... yer dead... I assume you want me to do something for you, what with all the returning from the great beyond and all, but before we get to that, I regret to inform you... you never, ever had buzz." But characteristically, Talbert completely ignored outside criticism and continued to barf his observational nonsense as if I wasn't even there.
If you haven't personally thanked Mike Illitch for his contributions to the city by buying delicious Little Caesarís Pizza Pizza pies than I don't think you deserve to breath the same noxiously toxic air as the rest of us!
Thankfully, as all Talbertisms do, this rambling free association began to come to a rather quick close, with what had to pass for a point.
You, young man, who taught me the meaning of the word "bites" at the Michigan Interscholastic Press Association Conference in 1995, you must steal back my crappy style from the clutches of the evil Albom by writing about how baseball is a lot like life, it'll be perfectly timed with the start of the Major League Season by being a day behind!
Actually, I think it was Dirty who taught you the meaning of "bites" by telling you that "you bite and your lecture blows."
There's no time to go to Chicago (where they ruin a perfectly good hot dog by putting a tomato on it... CAN YOU IMAGINE!!!!), you must write about baseball as a metaphor.
All right, fine just go away.
I will but not before I remind you to put in something about Norm Cash's tragic death and something about John Grubb, like "Was there ever a more handsome man in the on deck circle than John Grubb.
And just like that, the Talbert had left. So to keep him from ever returning, here's my cheesy columnist thoughts on baseball.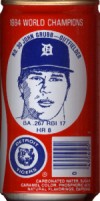 Life is a lot like baseball.
Drawn out.
Slow.
Boring.
Full of scratching, spitting and occasional brawls.
As in life, old rich white dudes dominate baseball probably more than they should. We always say we're going to do something about it. We're gonna change the system.
We never do.
They stay on top, sapping most of the heart from what is really a child's game and we have something to complain about other than players salaries, the cost of beer and the infield fly rule.
Some will tell you that life is more like football, a constant, back breaking battle for every inch. Other's say it's more like figure skating, a bunch of meaningless circles, queer outfits and the second you fall on your ass some old French bitch decides you lose.
But baseball is really the best analogy, precisely because most of the time nothing's happening and if something is happening, it's probably meaningless and dull. But like life, baseball is punctuated by crystalline flashes of drama and suspense that will convince you $20 for parking and $4 steamed weenies are really worthwhile.
Maybe it was the outfield wave you got from the late Norm Cash who so tragically drowned back in the bi-centennial.
Maybe it's knowing John Grubb's dramatic two run double in game two of '84 AL playoffs was just as good as Gibby's World Series homer. Or maybe just maybe, it's the certainty that no matter what the BO-Sox's will choke when it counts.
It's so best. When you least expect it, baseball bites you in ass and reminds you why a nation changed it's national pass time from displacing and abusing dark skinned people to chasing a small ball around some dirt and grass.

Oh yeah, the Tigers have the best record in baseball -- it's nice to say while you can.

posted by The Gorilla |
---
Monday, April 05, 2004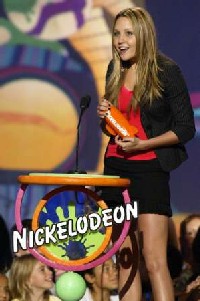 Cameron Diaz? not so much. Queen Latifah? take a hike. Halle Berry? skank. when it was time to name the Nickelodeon Kids Choice Award For Best Actress on Saturday night, who do you think took home the prize? damn skippy it was Bynes!!! major effing upset, some say best evs. happy birthday buzz INDEED! some say even hotter than The Olsen Twizzles getting slimed!

did Becks cheat on Posh? a nation reels as The Sun reveals philandering buzz. think of the kids, man ... think of the kids! (btw, Brooklyn Beckham is the biggest pimp to walk the earth since Aaron Peabs)

Selma Blair gets skimpy on a recent episode of "The Tonight Show" ... some say TOO skimpy.

Brit Brit relaxes poolside and reveals blue bikini buzz. NSFW (unless you work as an editor for the SI Swimsuit issue) but extremely hott.

this has long been a dream of Nummer's ... this weekend's NYT revealed A Night On The Town With Amy Poehler.

MATT DRUDGE (!!!) celebrates the EIGHTH birthday of his eponymous WEBSITE by dressing up as A GAY COWBOY!!! say WHUT WHUT? who are the PR flunkies who THOUGHT that THIS was a good IDEA? DEVELOPING!!!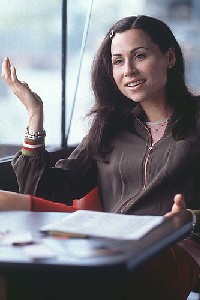 in my wildest nightmares, I never thought that I would be FORCED to reveal that Anna Pornikova has got really manly shoulders. the 'razzi (god bless 'em!) caught her and Enrique Iglesi-ASS frolicking on a beach and your Uncle Grambo will be god damned if he neglected to mention that AK has started to pack on the pounds (just a little bit). witness the thickness! being overly critical of someone widely considered to be one of the hottest hotties on the planet is the new black. bovs.


remind me again how this qualifies as "news"? didn't everybody already know that married people are total squares??? i thought it was bovs, but apparently nizz.


Conan O'Brien ... still best.


well, with that I'm Audi 5000, g. i'm off to Beantown for the next couple of days for some Focus Group Hottness. i leave you in the VERY capable hands of The Gorilla, who will be guest posting on Tuesday and Wednesday. until then, SKYLAAAAAAAAAAH!

posted by uncle grambo |
---