Friday, March 12, 2004

in a stunning return from an abduction at the hands of former "Cosby Show" reject Geoffrey Owens, So Sayeth The Peabs is back flizzuming all over your effing flazzums with the above proclamation (without resorting to any "heaving pukes" resets). hey Jack Shafer, I think I speak for most of The Blogosphere™ when I quoth the words of Peabs: "Bovs on your fucking tees, you fucking handjob."


some say the best opening line since Ayn Rand dropped "Howard Roark laughed" on an unsuspecting populus ... "today is my first time eating haribo frogs." have I told you lately how much your Uncle Grambo hearts The Real Janelle?

c'mon c'mon, say it with me three times fast. VON BONDIES, VON BONDIES, VON BONDIES!!! D-Town is going cuckoo for cocoa puffs over the release of the new record. The Grizz reviews "Pawn Shoppe Heart" in today's Detroit News, as does Ryan Sult over at Motor City Rocks. in addish, MCR's Christopher Chouinard has an incredibly comprehensive and entertaining write-up of Tuesday's über-Duff and MEGA sold-out record release party at The Magic Stick. your Uncle Grambo assures you that the CHOICE photography alone merits a click-through. check out this CVB hottness (photo credit: Christopher Chouinard).

who knew there were so many similarities? the erstwhile dapper Matthew Tobey profiles "J.F.K. & J.F.K" over at YPR. for instance, did you know this? "John Kerry's wife owns half a billion dollars' worth of the Heinz Ketchup fortune. John Kennedy attributed his strong heart to thrice-daily mustard enemas." educational! IOUSLY! [thanks Josh!]

If I was an editor at the New York Times, there's no effing way I'd let Neil Strauss resign after paying him to write such a thoroughly craptastic article yesterday ... I woulda fired his punk ass first and demanded a refund! [via Gawker]

Maybe instead of thumbing through copies of his book, Jayson Blair should be spending his time encouraging Barnes & Noble patrons to ACTUALLY BUY his book. According to Romenesko, Blair's universally reviled memoir sold only 422 copies nationwide last week!!! The figure includes pre-orders as well as those sold on Saturday, the book's publication date. ouch. [via The Grizz]

Today's Gothamist Interview with Brian I Keep A Diary is by far the best installment of this series to date. Buzz.

what a bunch of fookin students. Chris Martin explains his John Kerry reset at this year's Grammys: "I mentioned John Kerry at the Grammys because someday, if he's president, maybe he'll say, 'Maybe I'll meet with these Coldplay guys and find out what they have to say about fair trade'." hey wanker, why don't ya drop the Make Trade Durst schtick already!

as a way to pass the time between now and whenever the eff Fox decides to air the next episode of "The O.C.", Jen Daily Refill decides to write her own "mini-episode", complete with multiple DCFC resets. buzzalish.

finally, your Friday night won't be complete if you don't make your way out to the Berkley Front for "A Very Special Evening With The Prime Ministers" ... tons of FOWs will be in attendance. be there or be durst. slobvs.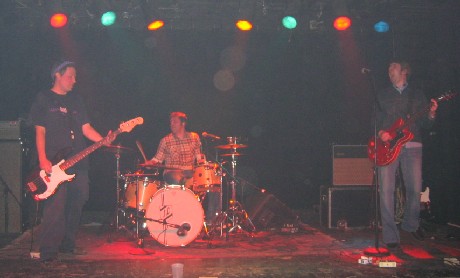 posted by uncle grambo |
---
while I was full-on mired in Hermit Crab mode last Saturday night, I thought to myself "Gosh, wouldn't it be nice to watch an entire episode of SNL for the first time in forever?" answer: er, not so much. made it a full-25 minutes before realizing that even watching "Event Horizon" on Starz would be less painful. thanfully, both Nummer and H-Bomb are dedicated to their craft and they turned in this review of the Colin Firth episode. in addish, here's a look at their now patented pre-show comments for this week's Ben Affleck / N.E.R.D. episode. thankfully I'll be missing this disaster in waiting, as a score of us are going out to Sky Club to dance the nizz away for Jen Stevenson's birthday. and by "dance the nizz away", your Uncle Grambo really means "I'll be the guy in the corner drinking myself into a stupor ... bovs."

NUMMER
H-BOMB
Episode 15: Ben Affleck / N.E.R.D (3/13/04)

I actually missed Affleck's first turn as host back in February of 2000 due to my senior year of college weekend party schedule. However, I was told just this week by The Grizz that it was "horrific". Sounds like I didn't miss much.


I was actually a fan of Affleck during the Dazed and Confused to Chasing Amy period. It wasn't until the Bounce/Pearl Harbor era that he completely began to annoy me - and don't get me started on last year's kick in the face to comic book movies that was Daredevil. Completely worst.


Basically, Affleck will have to go above and beyond this Saturday to impress me. It was mentioned on IMDB yesterday that Affleck is planning on poking fun at Jennifer Lopez and even hopes for a cameo from good friend Kevin Smith. A Smith guest spot has potential, but why do I have a feeling they will completely go overboard on Lopez material?


As for N.E.R.D, I say buzz. Their 2002 tour stop in Detroit was hilarious (EDITOR'S NOTE — Hilarious? You sure it wasn't I.C.P. that you were seeing, not N.E.R.D.?). I guess I'm going into this episode with average expectations.

If this week's SNL with Affleck is anything like the last time he hosted, it will most certainly blow! I managed to catch his debut back in 2000 and it was wrought with the likes of Boston Teens, Mango and The Zimmermanns (where Kattan and O'Teri were the groping married couple and Affleck was the used car salesman). It's a shame because Affleck used to be hilarious back in the Mallrats/Chasing Amy era, but somewhere along the way (stupid Armageddon) he turned into a super cheesy overplayed "moviestar." Add that to the on-going nonsense that is Bennifer and he's just plain unwatchable. I'm hoping that underneath all of that bullshit though, he still has that same old sense of humor and will actually use it this weekend.


I'm completely unfamiliar with N.E.R.D. About all I really know about them is their name.
posted by uncle grambo |
---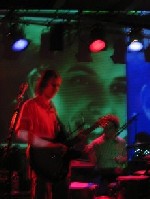 mmmmBEST! unless you were getting your D essed by Ashley Blue last night, I can guaran-DAMN-tee you that the HOTTNESS on display at The Magic Stick trumped whatever yo punk ass was doing. as Damore and Kegzies will attest, the triple-threat triumvirate of Sea Ray, The Church and the "Big American Party" blew the doors off one of the Motor City's most famed institutions.

after meeting the fellas down in The Garden Bowl for a slice of Sgt. Pepperoni's and a few PBRs, we headed upstairs to catch the set by Brooklyn's insanely buzzed about Sea Ray. prasie on this band has been bestowed by the likes of Information Leafblower, Coolfer and The Real Janelle for months; your Uncle Grambo is happy to report that expectations were not only met but exceeded. imagine "Ladies And Gentlemen We Are Floating In Space"-era Spiritualized without the crappy blues interludes (and the copious amounts of smack) crossed with "Bewitched"-era Luna and you'll be in the neighborhood where Sea Ray's gorgeous, widescreen epics reside. we're talkin' cello buzz, yo! and any band that can pull off a song about the 45th Parallel scores extra brownie points in my book. in addish, I got the chance to chat with band members Jeff, Greg and Anne after the show and they couldn't have been cooler. major, major buzz for this six-piece; if you're a Chi-Town FOW, I highly suggest swinging by the House of Blues for their show with The Church tonight. bovs all over your effing tees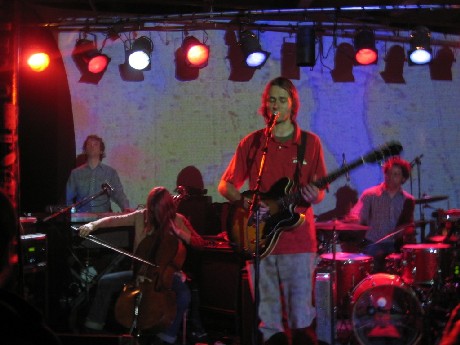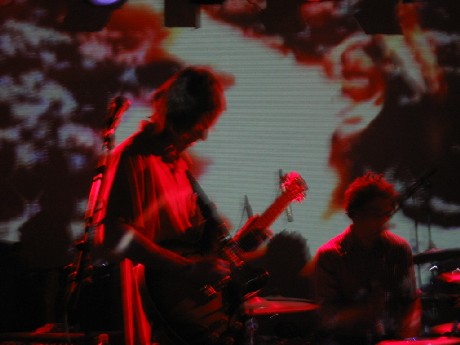 while I won't spend a lot of time talking about The Church's incredibly stellar set, needless to say it was ridiculously tigs to hear "Reptile" and "Under The Milky Way Tonight" live and in person. this band certainly hasn't lost their step and their new record made it's way onto my Amazon Wish List this morning. Steve Kilby ... so best! but not as best as your Uncle Grambo being picked up by a couple of Nubian princesses during the show! IOUSLY!

after The Church's set, The Magic Stick was INSTANTLY invaded by a hoarde of wasted teenage hotties looking to get their swerve on to the intimate stylings of The Laser and Travis Analog. i shatt you nizz, I haven't seen this many high school girls since the John Mayer concert this summer! the level of jailbait up in that piece was out of contreez, your Uncle Grambo had to scoot the fuck outta there before things got rough. word has it that Damore got tossed in the pokey for contributing to the delinquency of multiple minors, but that "he would just sleep it off in the holding cell, no biggie." take THAT, R. Kelly! anyhoozle, for those who are interested, here was the setlist of last night's "Big American Party"...

the laser and travis analog did it again, a short set thanks to the three encores by the church. this big american party the laser and travis analog decided to go onesies or alternate songs for the layman. the laser went first:


notch one:
for want of- rites of spring (dischord beginings) | big brat- phantom planet (sans schwartzman= best) | flashpoint: catheter- capn jazz (mmm kinsella) | dirty fingernails- modest mouse | freckle- copper (you crush me w/ your smile) | magnified- failure (hardcore, literally)


up a notch:
memory bliss- pm dawn (listen for the small cowbell) | are you somebody?- aaliyah (rip part I) | mo money mo problems- biggie (rip part II) | metro- berlin | girls just wanna have fun- cyndi lauper (sjp hottness)


higher baby:
loser- beck (a bap first) | ill tumble 4 ya- culture club (notice the 4) | agenda suicide- the faint (dork wave) | B.O.B- outkast (by request sort of) | rock the casbah- the clash (what is a casbah?) | centerfold- j geils band (sans breakdown)


the highest:
buddy holly- weezer (woohoo) | i love rock n roll- britney (for the phoneytails) | in da club (closer dub)- 50 (jus 50) | pour some sugar on me- def leppard (damore gets a request in on no request thursday) | the popular song- harvey danger (disturbing behaves buzz) | american music- violent femmes (i wish they would sing along)


down a notch:
she drives me crazy- fyc (falsetto keeps time) | everybody have fun tonight- wang chung (me and a few ladies wang chunged if you know what i mean) | close to me- the cure (clap along) | dramatic pause | hey ya- outkast (damn girls with english accents) | personal jesus- depeche mode (reach out and touch the laser)


back to the top dont neva stop:
ass and titties- dj assault (lisp and spitties) | i wanna rock (doo doo brown)- luke (heeeey we want the travis) | shake that ass bitch- a booty download (the bass it felt so good) | into the night- benny mardones (like youve never seeeeen )
posted by uncle grambo |
---
Thursday, March 11, 2004

just made a brief sojourn to the local Subway for lunch (not a lot of time to eat and the shop is like 3 minutes from the office) and made the unfortunate mistake of picking up Baked Doritos as a side. BLECH! i think the only way one can actually enjoy this wretched excuse for a chip is if one is actually baked! speaking being baked, where the eff is Peabs?


hot on the heels of Morrissey's teacup being bequeathed to Ultragrrrl, The Information Leafblower has a fantastic tale about his role in the upcoming collaboration between The Mozzer and Nancy Sinatra. if it's even one-tenth as good as her collab with Lee Hazelwood on "Some Velvet Morning", this promises to be the best song of the `00s!


speaking of UltraOlsen, now you can date her! she's the first volunteer for Lindsay Lindsayism's "Date My Friend" project. somebody buy those hotties a double shot of Buzz Cola™!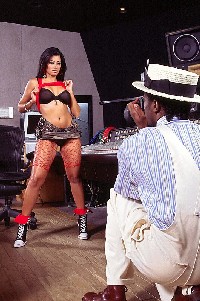 Andre 3000 ... burgeoning pornographer? NSFW,yo. [via Popbitch]


Mary Elizabeth Spiers ... burgeoning sketch artist? [via Maccers]


how ESPN and Liz Phair got hooked up, I'll never know. regardless, massive buzz. 10 Burning Questions For Liz Phair. [via Coach Glinka]


funny, I was in this very same mood on Monday night! NY Times music writer Neil Strauss also longs for the musical salad days of the mid `90s. [via TMFTML]


Lusty Leprechaun? i don't think so, it's more like the Wet Wanker! Colin Farrell gets a glass of water dumped on his head by a jealous ex at the LA's hip Newsroom Cafe. check please!


and if you're looking for something to do in The D tonight, look no further than tonight's wicked line-up at The Magic Stick. in his first public appearance since stepping foot back on American soil after two-plus years in Poleville, Glamorama Mike (aka Kegzies) will be joining Uncle Grambo and Damore for an evening chock fulla off the wall hottness. Brooklyn's highly buzzed about Sea Ray will be making their first local appearance opening for The Church. word has it that the show will begin around 9pm, so be there early. and be sure to stick around late, as The Laser and Travis Analog will be droppin' crazy ill bombs as "The Big American Party" revs up post-show. hopefully we'll see you there!

posted by uncle grambo |
---
born NIP slippy (NUXX), that is! rim shot! hello, Paris! is it just me or does she look especially rack-a-licious in this extremely NSFW picture? think she consulted with Dr. Christian Troy recently? this connoisseur says that those boombalatts look MUCH fuller than they have in other photos ... DEVELOPING!


and just when you thought you had heard the last of Paris today, your Uncle Grambo brings word that Paris Hilton was just named the Best Celebrity DJ at Miami's Winter Music Conference, beating out the likes of Adrien Brody and Rosanna Arquette (speaking of which, you think that she was the one diving on that Manning beezy?). in addish, our gal PH is also close to inking a deal to appear alongside Cuthies in the "House of Wax" remake. buzz!


more like Jackie Oh-No! Jessica Simpson embarrasingly attempts to get all Bouvier up in this piece.


some say the first person to purchase "Try This" in 2004! Britney buries the hatchet with Pink by shelling out for her new CD. whatsa matter Brit Brit, haven't been reading that the "New York rock nerds (are) blogging their brains out" about Franz Ferdinand?


The Detroit Lions sign WR Tai Streets to a one-year deal. while your Uncle will go on record saying that Streets is by no means a great NFL wide receiver, I think he'll be a nice compliment to Chuckie Rogers. and this will move takes pressure off Az Hakim, allowing him to go back to the third receiver role that he flourished in during his time with The Rams. bravo Lions, another excellent off-season move.


I think I speak for most of the English-speaking population of Earth when I thank ABC for finally pulling the plug on "The Practice." despite my love for the supple tatts of Marla Sokloff, this show hasn't had buzz since the late `90s.


Internet blamed in spread of syphilis among gays. In related news, blogging is being blamed for the alarming rate of graveside bukkake incidents in Lower Manhattan.


not only did while Pitchfork make made my day with their announcement that a new PJ Harvey jawn is due this summer, but they DEFINITELY made ruined my month of May by confirming that PJ is IS NOT slated to perform alongside Josh Homme under the moniker Desert Sessions at Coachella. HOTT NO BUZZ! [thanks to APLarcadia for actually reading the Pitchfork article and not just the headline]

posted by uncle grambo |
---
i know that our love affair only lasted for 36 torrid hours, but I'm afraid that a long lost love interest is back in town. while i will look back on March 9 and 10 with fondness, I'm sad to say that I'm gonna have to boot yo' ass to the curb, babydoll. and please know, Miss Carrie Von Bondie, that it wasn't the heckling from the FOW Peanut Gallery that drove us apart. damn girl, I can't believe you would even think that i listen to those toothless fucks! instead, it's more accurate to say that it has EVERYTHING to do with the heavenly abs of my English rose. from the moment we met doing calisthenics on the set of "Bend It Like Beckham" to my stint as her personal Carribean rumpshaker on the "Pirates" backlot, my heart has been with Keira Knightley (well, aside from my well-publicized flings with Bynes). when she asked me to photograph her for the cover of next month's Vanity Fair¹, well you know that I just couldn't resist tappin' them skins one more time (Daft Punk stizz). so with that, i bid you adieu, my little indie rock princess. perhaps one day our paths will cross at Jacoby's over pitchers of The Hoe and our romance will once again burn bright. until then, my little bootylicious bassist ... until then.

oxox,
— Uncle Grambo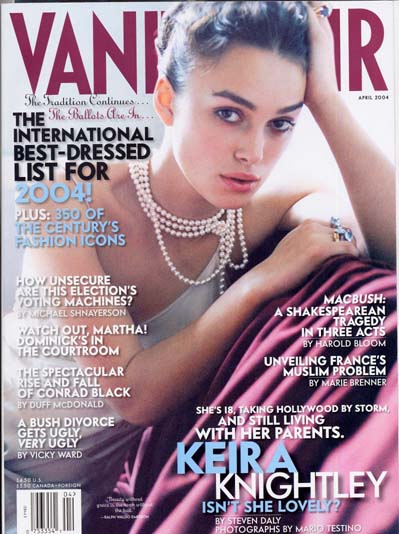 ¹ Thanks to Beat Royalty for passing along this buzz. IOUSLY!

posted by uncle grambo |
---
Wednesday, March 10, 2004

where the eff is Peabs?


recently Oscar winner Sofia Coppola is rumoured to be adapting this book for her follow-up to "L.I.T." [via Beat Royalty]


"How To Gauge Buzz In New York City" by Coolfer.


Josh Homme lays it all-out in an AMAZING interview with MTV. on the departure of bassist Nick Oliveri, Josh says, "Our whole band is full of hard partiers. We have put more people in rehab than Mardi Gras. But when you get drunk, you either get drunk with class, or you get drunk like a slobbering, toothless fuck. And that's just an analogy. It's not just drinking, it's how you live your life." ouch. it's also VERY important to note that MTV tried to reach Oliveri for comment but NO ONE KNOWS WHERE HE IS! developing...


just for the record, your Uncle Grambo was NOT in Los Angeles on Monday night. [via APR]


another reminder that The Prime Ministers will be performing a special extended set on Friday night at The Berkley Front. The PM goes on around 10:30, which leaves plenty time for pre-show pounding and praying that The Spartys advance in the Big 10 Tournament. more details to follow on this one.


in conclusion, if you are a Bay Area FOW, be sure to tune into Live 105.1FM this evening when Matt (aka Cashilini) and Jason (aka Method One) of 1115.org fame hijack the airwaves. primo buzz.

posted by uncle grambo |
---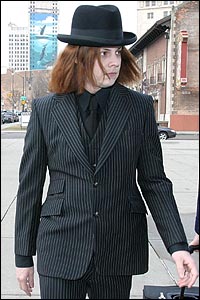 so fargin' shmears. woke up a little groggy this morning, it's been a long time since i've been out past midnight on a school night ... yawn and strrrretch! but these are slings and arrows of outrageous fortune that I endure in order to bring you all the PHC that you crave, yo. just about the only thing I didn't get around to doing yesterday was covering the Jack White trial or hitting up the Neil Young show ... but I guess that's why The Christ put Gary Graff on this mortal coil!


while we're on that tip, I'm pleased to announce that The Detroit News FINALLY trumped The Freep on a local music story. read The Grizz's excellent recap of yesterday's Avril Lavigne acoustic perf and toss out a 40 of Haterade towards The Freep. while every major press outlet in town (print, TV and radio) covered the event, McCollum was nowhere to be found. jackass.


yo, Murphy Brown's housepainter has died. you know that your life has gone to shit when F. Gary Gray is the only celeb who'll step up and say something nice about you. what, they couldn't get Joe Regalabuto on the horn? howevs, the best quote about this unfortunate passing comes from the mind of Minolta Matthew Tobey: "It looks like drugs, and I can't say I'm surprised. After all, why else would it take so long to paint one house?"


safe for all ages! get your Justin and Janet action figures! now with top-popping action! don't tell the FCC! [via Buddis Lembeck]


and you thought that your Uncle Grambo was into the Rack de Menounos? you ain't seen nothin yet. in a click-through that is borderline SFW, ApeChild writes a god damn dissertation on Maria Menounos' Breasts (complete with compare / contrast to Carmen Electra) and concludes that they're both real AND spectacular.


another reason that those without GameCube are missing out. The Mega Man Anniversary Collection features ALL eight of the original NES installments of the breakthrough platform game of its era! [via Nummer]


suckers. The New York Daily News is reporting that US Weekly paid $11,000 to get photos of Ben Affleck with his new "mystery woman" ... too bad the "mystery woman" is none other than Rolling Stone's Jancee Dunn! you see, Dunn was interviewing Baffleck for a future issue when a paparazzo spotted and photographed the "couple". no soup for you, US Weekly!


Robbie Williams ... packin on the pounds!


in conclusion, I know that I'm catching on to the Yeah Yeah Yeah train about two years too late. that being said, I'm totally obsessed with "Maps" right now. so much Karen O as Chrissie Hynde hottness revealed. but can someone explain to me why the song is called "Maps"? is she in love with a cartographer? in addish, who is the "they" that she argues "don't love you like I love you"? feel free to post your thoughts / interpretations / insider dish on the BackBlizzie.

posted by uncle grambo |
---

move over Bynes, your Uncle Grambo's love is now focused elsewhere. after tonight's Von Bondies show at The Magic Stick, I officially heart Carrie Von Bondie. so cute + so best = SO my future GF. vbobvs.

props out to The Grizz, Mandypants*, Damore and the lurvely Melody Baetens for attending. in addish, I would like to honor 89X's Kelly Brown for staying out WAY past her bedtime on a school night, yo. while I don't have a lot of energy to describe the show's overall buzz factor (6/10), I will contribute the following thoughts before I starting counting sheep:

The Avatars? Not worthy of all of the local buzz, this much is certain.

Jerry Harrison's production work on "Pawn Shoppe Heart" is flat out amazingly tigs. As great a song and a single as "C'mon C'mon" is, the song wouldn't stand out without Harrison's influence (it certainly didn't tonight).

in case you missed it above, your Uncle SO hearts Carrie Von Bondie. "Not That Social"? some say best song on the album AND in concert.

Jason Von Bondie is a rockstar, plain and simple. IOUSLY!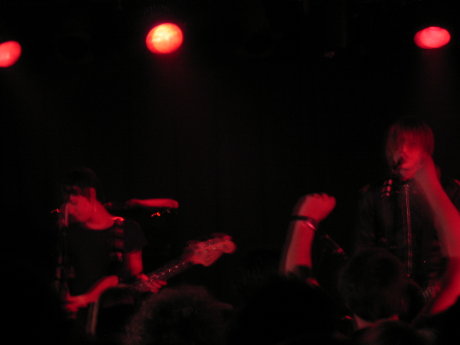 posted by uncle grambo |
---
Tuesday, March 09, 2004

ah yes, while Jack Whizz was off pleading guilty at Michigan's 36th District Court, your Uncle Grambo and The Grizz were hanging at the mall. no, we weren't cruising for bettys outside of Hot Topic, nor were we offering smokes to underage hotties at the Food Court. we were but two twentysomethings amidst a crowd of 4,000 teenyboppers who showed up at Club Somerset for this afternoon's AOL sponsored acoustic set by Canadian sk8r chick Avril Lavigne. so frickin shmears, yo.


the tortured songbird arrived on stage to a flurry of digital flashes at about fifteen minutes past 5pm EST for a seven song set that featured songs both familiar and brand-spankin' new. the new songs didn't exactly break any ground, but when you had a debut album that shifted over 5 million units, that ain't such a bad thing. the new songs were catchy and instantly hum-alongable, and damn if most of the crowd didn't already know all of the words to Avril's new single, "Don't Tell Me." but, as expected, the biggest cheers were reserved for the pop smashes "Sk8r Boi" and the ubiquitous "Complicated" (one of 2002's best pop songs, natch). during both numbers, cellphones of both teens and parents (who presumably ditched work early to transmit the broadcast to their kids back home) were held high; the squeals of pre-teen and tweenies echoed thunderously throughout the mall. and for those who are interested, here was Avril's setlist (courtesy of The Grizz, who was there covering the event for the DetNews and ended up with the best seat in the house ... see the third photo down): He Wasn't / My Happy Ending / Sk8er Boi / Don't Tell Me / Take Me Away / Nobody's Home / Complicated


all in all, a buzzworthy precursor to tonight's Von Bondies show at The Stick. in the long run, i'm not sure it can compare to the legendary mallrat buzz created by Tiffany in the `80s, but it was nonetheless an event that was filled to the rim with hottness. IOUSLY!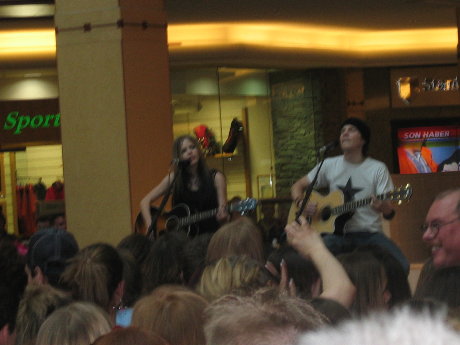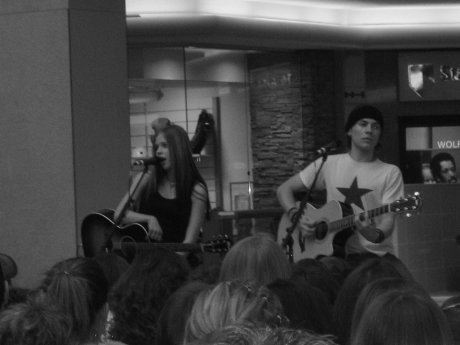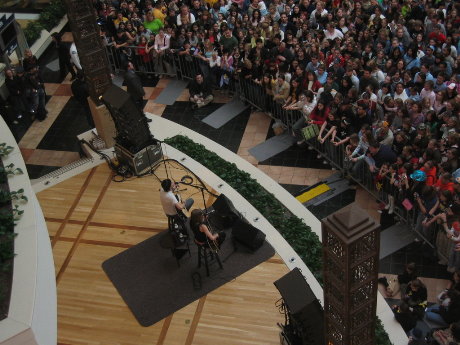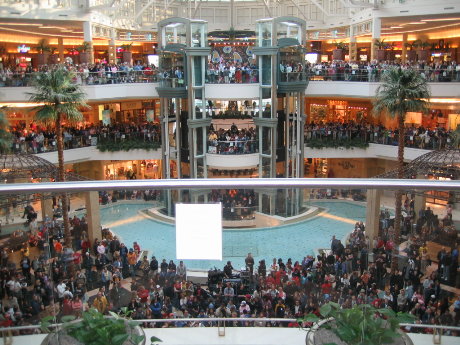 posted by uncle grambo |
---
you know that the world's a mucked up place when Colin Farrell wishes he were Aaron Carter, yo. according to a report by the 3am Girls, the Lustry Leprechaun recently took a hankering to the über-delish (and Bynes-buzz usurping) Lindsay Lohan. the pair met at some unnamed industry event and even went as far as exchanging digits. but when Farrell rung her up and found out she was only 17, he quickly cancelled their rendezvizz. [via Anonymous Outsider]

BREAKING! at this morning's big Jack White trial was supposed to go down with Jacko plea bargain but instead there's a "wrinkle" in the bargain with the prosecutors ... DEVELOPING! the parties are scheduled to be back in court as I type (2:33pm).

if you're looking for answers to the really tough questions that plague both our generation AND society, look no further than the recently launced Gothamist Forum. take, for instance today's topic "Are Lapdances = Cheating?" ... the grammar alone is worth the price of admission (especially considering there is no price for admission).

EchoStar's Dish Network has dropped Viacom stations such as CBS, MTV and VH1 in sixteen local markets, including New York, LA and Detroit. local ad whiz JP McKrengels had this to say: "I say class A bone head move. This is the equivalent of a child holding their breath to get their way with a parent." i agree.

The Freep is reporting that John Ramsey, father of slain child pageant star JonBenet, is seriously considering a run for the Michigan House of Representatives. double-u tee eff?

The Crest White Strips Experiment is continuing over at Rob Theakston's blog. after seven days, Rob is noticing "a mild difference in the brightness of my teeth" and MacKenzie's "teeth are sorta sportin' a pearly look." developing ... IOUSLY!

while Daimler Chrysler is asking "Can inspiration go beyond the SUV?" in their new advertisements, your Uncle Grambo has the unequivocal answer: "I HOPE THE FUCK SO!" if the pinnacle moment of our civilization's creative inspiration is the SUV, i'm definitely gonna off myself.

another local marketer stumbles as K-Mart hires an ex-Home Shopping Network VP to head up their marketing efforts. trust me on this one, yo; as someone who used to have the unfortunate luck to ultimately report up through an ex-HSNer in a past life (TIMBITS!), these guys have zero buzzworthiness. they make automotive marketers look like out-of-the-box thinkers, trust you me. kinda makes you wonder if K-Mart is ever gonna catch a break or if they're just living on borrowed time. i vote for the latter.

Janet Maslin reviews Tom Perotta's "Little Children" in yesterday's NYT. i've read all of Perotta's books (including "The Wishbones", "Election" and "Joe College") and I've got solid word from Mandypants* that this one is equally noteworthy. it has earned a place as the third book in my current queue (behind "Choke", "A Confederacy Of Dunces" and "The Great Gatsby" ... yep, never read that one in high school). buzz. IOUSLY! [via Sarah Weinman]

now THIS is an original idea to build some word-of-mouth buzz for your movie! check it:

Tune in to basic cable on Monday, March 15 for an orgy of commercialism, viscera and slaughter. Then, when you're done watching the Home Shopping Network, you can change the channel to USA, which is debuting the 10-minute opening of the upcoming "Dawn of the Dead" remake complete and uncut.


Sometime between 10 p.m. and 10:30 p.m., USA will interrupt its screening of "Final Destination" to offer a mere hint of the zombie carnage that will be on display when "Dawn of the Dead" opens on Friday, March 19.



not only does it have the best trailer since the teaser for the "Texas Chainsaw Massacre" remake, it's got an awesome marketing plan behind it. i'm SO there.


finally, this is the kind of publicity stunt that makes your Uncle Grambo hoot and holler. it's almost enough to convince me to drive down to Indiana! if you thought Manute Bol on ice was best, wait until you see the minor league hockey debut of Tonya Harding! just like "The Cutting Edge"! if you thought seeing Tonya get her arse beat on "Celebrity Boxing" was the shizz, wait until you see her get crushed into the boards!

posted by uncle grambo |
---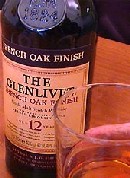 when your Uncle Grambo kicks up his heels and kicks back with a glass of The Glenlivet to reminisce the college years, I kick it to the music that I listened to at the time. in fact, the first thing I did last night after returning home from a hellacious 17 hour day yesterday was to throw on Ride's "Carnival Of Light" and fix myself a glass of the 12. it (the music, not the scotch) flashed me back to the good ole days living at 910 Greenwood with Wartinsmooth, Sully, Knuffer and Stockwell. as the booze started to kick in and "Crown Of Creation" came through the speakers, for some reason my train of thought somehow moved along to "120 Minutes" and how we rarely went to bed before 2am on Sunday nights. THIS train of thought inspired me to re-visit Alt Music TV's catalog of the playlists of "120 Minutes", a site that I first discovered via Nick Catchdubs a few weeks back but had been down due (presumably) to bandwidth issues. and THAT got me thinking to the classic alternative radio format and how much Detroit radio sucks and how I would be the perfect DJ if XM had a station that was a cross between XMU and Fred. but by this point, as I'm sure you can imagine, I was gettin' a little toasty and it was bedtime for bonzo. IOUSLY!¹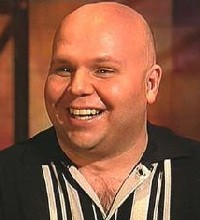 but the point of that whole paragraph was to point out how best Alt Music TV's tribute to "120 Minutes" is. totally click-through, yo! as mentioned above, all credds to Nick Catchdubs. and, while you're at it, at what point do YOU think that "120 Minutes" jumped the shark? although the commercialization of "alternative" music really started hitting home for me when bands like Candlebox blew up, I think that the show managed to maintain most of its integrity until the time that Matt Pinfield was replaced. shmears. IOUSLY!


while we're sorta on the topic of former MTV veejays, I don't think that any of them actually read whatevs.org. yet ANOTHER reason why you should be reading The Real Janelle on a daily basis. not only does Adam Curry (!!!) read her blog, but HE ACTUALLY POSTS ON HER SITE! insanely best, especially considering that TRJ's post revolved around Curry's schlong! IOUSLY!


¹ all credit for the new catchphrase "IOUSLY!" goes to Matthew Tobey. while it's not very fun to say out loud, it's definitely the hottness in print. IOUSLY!

posted by uncle grambo |
---
nothing like a great laugh and a great quote to kickstart your heart morning. and the best part about this hottness is that this quote comes from Jayson Blair himself! well, not really but kinda sorta. you see, Blair was browsing at a Barnes & Noble in NYC and found that multiple copies of his book contained hand-written insulting notecards within (including the buzz above)! how best is THAT?

but the real question that emerges after reading this quick hit in The Post is this: what kind of egomaniacal douchenozzle (especially as high-profile as JB) walks into a B&N and ACTUALLY FLIPS THROUGH his or her own book on the day it's released? it's one thing to stroll into a bookstore to check out whether or not they're carrying your book, but do you really need to sit there and thumb through your book in one of those cozy aisleway chairs? i mean, it's one thing if you're muthascratchin' Johnny Updizz, but completely another if you're the sort of jackanapes who buys Alka Seltzer thinking it's coke and then snorts it anyway! NO BUZZ!

REVEALED! there are actually real, live black people in Grosse Pointe ... who knew? either that or GP North high school is recruiting from Harper Whizz. i keed, i keed! congrats to all the GPN FOWs for their alma mater's HUGE upset over Detroit Denby in the MHSAA Boys Basketball playoffs last night. and yeah, in case you bitches were wondering, the Highlanders took the whuppin' stick to the punk asses from Troy Athens, yo. class of `92, forever true!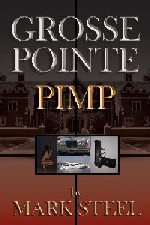 speaking of Grosse Pointe, I'm sure most will be excited to hear about the newly released novel "Grosse Pointe Pimp" ... no, it isn't about Peabs or his run for president (hmmm). instead, it's about a personal trainer who caters to Grosse Pointe's rich and powerful. the author is, get this, a personal trainer who caters to Grosse Pointe's rich and powerful (dude owns Shores Personal Training on 9 and Jeff)!!! i guess at least someone is taking the old phrase "write what you know" and running with it! you can buy "Grosse Pointe Pimp" on Marksteelbooks.com. snatch. [via Randel]

Vincent Gallo ... so best. even if you're not up for buying the camera equipment he used to shoot "The Brown Bunny" over on eBay, you NEED to check out the rambling description he wrote for the merchandise! written in the third person, no less! alongside disses of Darren Aronofsky, Wes Anderson and David Fincher, you get gems like this:

"Since Gallo owned and operated all the equipment, along with two extremely careful professional assistants, the equipment remains in better than new condition. The reason I say better than new is because not only is all the equipment in 100% mint cosmetic condition and mint mechanical condition, a lot of tweaking by the factories who produced the equipment was involved. For example, Gallo wanted his 2 Aatons to be the quietest in the world so after purchase, he fedexed them back to France and had the factory make them as quiet as they could possibly ever be. Well below their rated specs."



although your Uncle Grambo doesn't know Aatons from Susan Antons, who else besides Gallo would sell used equipment as "better than new"? completely hobvs. [via The Spoonbender]


tonight is the "American Idol" wild card show. no Hung = no buzz. as previously discussed in this space, there's no WAY the "Idol" judges would put him on the show because you just KNOW that he would run away with the competition. howevs, it's good to see that Hung is making the most of his 15 minutes; not only did he score a record deal with Koch, but he's also going to be performing on the Jay Leno show on April 8. zobvs.


and who exactly ISN'T Naomi Campbell getting horizontal with these days? The Post has her hittin the skins with Tommy Lee and New York Magazine places her as the "boyfriend" of wanna-be A-List director Brett Ratner (aka B. Ratt). man, that's one skanky piece of supermodel ass.

posted by uncle grambo |
---
Monday, March 08, 2004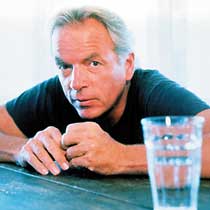 rumours first started flying yesterday that a severly decomposed body found in New York City's East River over the weekend was that of famed monologuist / comedian Spalding Gray. well your Uncle Grambo is sad to report that the rumours are true; after examining dental records and X-rays on Monday, the corpse was confirmed to be Gray.


if you're unfamiliar with Gray or his body of work, he was kind of a WASP-y version of the character that Larry David plays on "Curb Your Enthusiasma" ... his neuroticism was only exceeded by the level of humour that he was capable of achieving. although best known for his monologues "Swimming To Cambodia" and "Gray's Anatomy", his dramatic performances in movies such as "The Killing Fields" and Steven Soderbergh's masterpiece "King Of The Hill" were also very well respected.


your Uncle Grambo will be screening "Gray's Anatomy" this evening in memorium. call me if yr interested in attending. truly, truly a sad day. durst.

posted by uncle grambo |
---
that's right, all you ladies who "claim" you fawn after the dorky sensitivity of Seth Cohen in "The O.C.", do I have a story for you! guess who gave your boy Seth one of his first big breaks in the industry? that's right y'all, none other than AMANDA FREAKIN' BYNES! that's right, Adam Brody appeared on an episode of "The Amanda Show" back in the year 2000, where he portrayed none other than Greg Brady! so effing revealed by the geniuses over at AmandaBynesNow.com!


if you are neither a blogger nor obsessed with the world of blogging, you can go ahead and just skip this paragraph ... ok, that's better. now, if you were on the lookout for a better picture of the "newly" red M.E. Spiers, look no further! also, Eurotrash ... REVEALED! both blogger stalking links come courtesy of Ye Olde Haggis. and as long as I've got carte blanche to talk about blogs in this ¶, this week's New York Magazine goes inside the Blog War developing between Nick Denton and Jason Calacanis. you see, Denton (founder of Gawker and Wonkette) is the Donald Trump of The Blogosphere™ and Calacanis is an upstart challenger to the throne who recently poached one of Denton's writers. the article's author also insinuates that Choire Sicha is considering vacating his post as the editor over at Gawker. as they say in the biz, DEVELOPING!


BREAKING! tons of buzz over on The Velvet Rope and The Glitter Lounge that Jay-Z and Beyonce are h-i-s-t-o-r-y!!! broken up! caput! finito! adios muchachos!

posted by uncle grambo |
---
after consulting the CRAZED series of events that are lining up on this week's calendar, your Uncle Grambo went into full-on Hermit Crab mode this past weekend in an attempt to rest up for the oncoming hottness. unfortch, the paparazzi tried to bust my steez on two separate low-key trips into Birmingham (avec The Grizz, Mandypants*, Coach and Jillycakes); for the most part, though, I managed to marinate on my badass Pier One couch. obvs.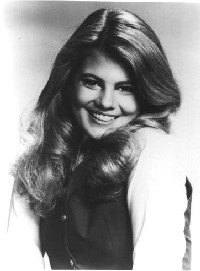 "so what's the big effing deal about this week?", you ask. first and foremost, you best recognize Super Tuesday, muthafucka! although I'm not going to be able to scoot out of the office to cover the Jack White / Jason Von Bondie court case on Tuesday, I've cleared my schedule and you can bet I'll be snapping mad photos of Avril Lavigne during her acoustic performance at Club Somerset on Tuesday afternoon!!! Despite MTV's reports that she "plodded" through some of her song during her Mall Of America "tour" opener, I'm excited to make up for the time that I missed Tiffany at Lakeside Mall (HYDROTUBE!) back in `87 or thereabouts.


moving from one polar extreme to the next, I'll be going from suburbia into the Heart of Hipster Heaven for The Von Bondies' record release party at the legendary Magic Stick. it will be VERY interesting to see how JvB and the rest of the crew are greeted ... as of 2pm yesterday afternoon, there were still plenty of tix available. howevs, I'm sure it will end up being a packed house and a thoroughly raucous evening. with all of the events and press attention focused on The VBs since the Jack Whizz pummeling incident, you can be sure that the tension in the air will be even thicker than Kirstie Alley's thighs, yo.


and all that's just on Tuesday! the rest of the week is also shaping up to be insanicus, but let's take one dizz at a tizz, y'all. since I'm going to be at an off-site down at The Ren Cen for most of the afternoon, here's a quick round-up of the latest and greatest:


posted by uncle grambo |
---