Friday, December 19, 2003

so i got suckered into working today when i was s'posed to have the day off. no buzz. i really don't have the energy to blog today, instead i'll ego trip a little and direct you to a few recent occurences where "whatevs speak" has begun entering the lexicon of those who reside outside of the 313 / 248 / 586 / 734 area codes. i say hottness.

via Miss Modernage:
Last night someone said something that caused us to gasp in horror -- Someone brought "blogspeak" into the real world. It was totally bizarre. We never thought we'd have a conversation in which we would ask, "Can anyone explain to me what fucking language Whatevs is posting in? Because it's not English." The person sitting to our immediate right said, "Yeah, what's a 'griz' anyway? And 'obvs'?!?" None of us had answers -- just really sheepish expressions on our faces BECAUSE WE WERE TALKING ABOUT BLOGS AT A FUCKING BAR. The person sitting across from us told us that they have started using the term "no buzz" in real life. Like "I went to the sushi place to have dinner. No buzz." WHAT THE HELL? Seriously, shouldn't there be a law against speaking like a blog you read? It's totally insane! We shouted, "Ohmygod, I can't believe you just talked about a blog as if it were a person. You're fucking retarded." BLOGS ARE NOT HUMAN!


via Ultragrrrl:
The following Quotes happened at Sarah Wilson's Birthday Extravaganza:
"Which one of you posted that thing about Orlando Bloom being a bad fuck?" / "That was Whatevs! Not me!" / "I can't wait to update my blog!" / "Do you think it's worse to be Jude Law's unattractive brother or sister?" / "Sarah, please stop. Too much information!" / "Do you have a blog too?"


from the Barbelith Underground Message Board:
"I'm all about the peculiar slang which Whatevs is being written in, and a number of ILM slang words and catchphrases have entered my personal lexicon."



okay, enough ego tripping. see you at Seantizz and Jen-Bo's tonight or at Damore's tomorrow. obvs.

posted by uncle grambo |
---
Thursday, December 18, 2003

up until last night, pictures of Miss Modernage were harder to come across than a Mark Gubicza XRC from the `84 Topps Traded set. the internet is awash with legends of those who attempted to post pics of the Garbo-esque blogging legend ... most of their fates can only be described in terms of future plotlines in the altogetherly tigs "Final Destination" series of films. this summer, Ryan Ypersound and your Uncle Grambo literally spent days scouring the internet for an elusive picture of MM playing "Hipster Bingo", checking old Google and Technorati caches to determine the face behind the Blog That Launched A Thousand Blogs. however, during a post-"LOTR: ROTK" stroll through the Blogosphere last night, your Uncle Grambo discovered close to a dozen (!!!) recent shots of Miss Modernage going Karoake Crazy in NYC. i could hardly believe my eyes, i was so stunned. but because your Uncle Grambo ultimately respects the privacy of MM, i'm not going to give you a direct link to said photos. howevs, I will give you a hint ... sit down in your office (like anyone actually checks whatevs (dot org) from home!), enter the lotus position and clear your mind of any impure thoughts. when you're sufficiently clean (spiritualized stizz), let your mind wander into the realms of pure hottness and buzz appeal. think of fame and fortune and drunken LES karaoke birthday parties. call upon the spirit of the great explorers of our time, like Indiana Jones and Amerigo Vespucci. when all hope seems lost, you have almost arrived. at that point, dear friends, trust me when I say that you will find yourself with a single, solitary URL that will point you in the right direction. good luck to you and yours in this journey of discovery...


fans of "The O.C.", take a deep breath. eschewing your typical "Best Of" list, Foxy Jess turns in a stunning "The Best Of The O.C. in 2003." if only Rupert knew how truly tigs his network was.


no buzz. Teaser trailer for "The Mask 2" revealed. note to the filmmakers: CGI babies are, like, SO "Ally McBeal" 1998 stizz. wtf?


Finale of "Survivor" draws 25.4 million viewers. i call bullshit on that one. i don't know one single solitary person who will cop to watching this ... and this coming from someone who works in an office full of peeps in the CBS demographic!


Happy birthday to Gawker, belated stizz. obvs. "From Lizzie to Choire" ... so much hotter than "From Justin to Kelly."


Jeffrey Wells, idol to Uncle Grambo, turns in his Ten Best Films of 2003. he's probably the coolest guy ever to walk the earth, and The Grizz and I were fortunate enough to meet and hang with him (twice!!!) at the 2002 Toronto Film Festival. i even got a picture with him, but as with most photos of your Uncle Grambo and famous peeps, my highly unphotogenic nature got the best of me. so much eyes closed buzz. durst.


The New York Daily News lists their Ten Best and Ten Worst Dressed female celebs. "rich girl" Jamie Gleicher takes one on the chin, that sucks to be 18 and called out as one of the ten worst dressed people in the world. if I were making this list, i'd substitute Scarlett Johansson for Cameron Diaz and Chloe Sevigny for Ashanti, but that's just me (EDITOR'S NOTE: I'm bracing myself for the inevitable gay crack-back from The Spoonbender).


who knew? Dwight Gooden met his fiance in Detroit! so much Northwest Airline Silver Elite buzz.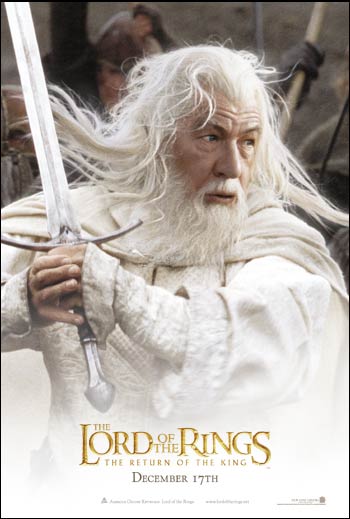 The Grizz takes a good look at the inevitable problems that occur when kids come home from college for the holidays in today's Detroit News. i never remember having that much trouble with Christmas break in terms of curfews and the like, the time home always seemed to fly by so quickly. but summers were an entirely different story ... so much "as long as your under this roof!" anti-buzz.


last post of the the day, I'm off to a department holiday function (no obscure title this time) for the rest of the dizz. howevs, it's important to note that The Grizz and I hit "LOTR: ROTK" last night and it was magnifibest. totally epic. so much Ian. and it's rocking the B.O. big-time, having already picked up $8MM from midnight screenings on Wednesday. director Peter Jackson deserves a lifetime achievement award or SOMETHING from the Academy for his work on this project ... i cannot even fathom how you would begin to go about overseeing a project like this. the entire series is a herculean effort that succeeds in every facet imaginable. i'm drinking the Kool Aid, big time. buzz cola all around.

posted by uncle grambo |
---
ah yes, the Hollywood Foreign Press Association. as wacky as they are, they're usually the leading bellweather (sp?) that determine Oscar nominees. Golden Globe nominations were announced this morning and "Cold Mountain" lead the pack, scoring nominations in all of the major categories (best dramatic film, director, actor, actress, screenplay, etc.). other big winners (at least in terms of nominations) include "Mystic River" and the curiously slotted "Lost In Translation", positioned as a comedy in the eyes of the HFPA. hmmm. it looks to be a buzzworthy list of nominees both in terms of prestige / glamour (Nicole Kidman, Uma, Charlize, Scarlett Johansson, Cate Blanchett) and best everness (Jack Black, Johnny Depp, Jack Nicholson, Billy Bob Thornton, Tom Cruise). while your Uncle Grambo is disappointed that Amanda Bynes didn't score a nod for "WAGW", I'll settle for the surprising nomination of Evan Rachel Best Ever for her AMAZING performance in "Thirteen" ... hott. the awards will be telecast on Sunday, January 25th. look for more deets to follow in the interim. obvs.

posted by uncle grambo |
---
Wednesday, December 17, 2003

"Justin is just Rick Astley in a trucker hat." — Rob Sheffield in Slate's round up of the "Best In Music 2003."


there's a saying that goes something along the lines of "there's no such thing as bad press, as long as they spell your name right." or something like that. you get the point. anyhoo, what happens when they spell your name WRONG? your Uncle Grambo gets some "Uncle Grumbo" props over at Quite Wicked. if i were in the business of Soup IPOs, i would totally market myself as Uncle Grumbo ... think about how rad my gumbo would be? so many crawdads. obvs.


there's been tons o' great quotes flying around the 'Net today. for instance, "Linking to the Onion is so your dad's forward" from our new friends at Nothing Productive. or when, virtually apropos of nothing, Lindsayism busts out with the phrase "Big Trouble in Little Chynna Phillips" ... laugh out loud best.


dear New Yorkish: while the effort is valiant, this buzz is like so November 26th! don't worry though, you'll get 'em next time, tiger! keep the faith. oxox, — Uncle Grambo. ps - i keed because i LOVE! pps - props to JanElleMacPherson for revealing.


"Angels in America" drinking game. drop dead best thing I've read (today, that is). link via the omniscient Choire Gawker.


dude, your Uncle Grambo TOTALLY got hosed on this scam. The government has filed a complaint against the marketers of "Girls Gone Wild", saying the company shipped unordered products and then charged customers. i thought i was getting free "GGW" hottness until I noticed that my debit card was getting ganked for $24.95 every month! howevs, I'm sure that my two friends who conveniently "borrowed" said DVDs aren't complaining. [via So Sayeth The Peabs and The Grizz]


that's it for the day. off to see "LOTR:TROTK." Detroit News film critic Tom Long gave it an A+ and my favorite film critic, Slate's David Edelstein, calls it "more than a movie — it's a gift." i'll be back with some thoughts t'marrah. l8s.

posted by uncle grambo |
---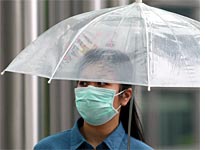 dear world,


much like Ben and J. Lo, i decided that i was suffering from overexposure this summer. within a matter of weeks, i went from being respected and truly feared to a state where people were talking shit behind my back. LIKE ALL THE TIME. when that unseemly fat ass with the even fatter chin started cracking jokes about me, i knew it was time to drop out of the spotlight for a little R&R. i saw what it did for Demi's career ... i figured that since we're both repped over at CAA, i might steal a page from her playbook and lay low for awhile.


but guess what, motherfuckers? y'all best to step off my nuts and recognize, because I'm back. yeah, fuck you too.


smell ya later,
— SARS

posted by uncle grambo |
---
"I was bragging on how much I can rap and this one guy was like, 'Rap about that,' and he pointed at a light switch. So from that day forward I started practicing rapping about everything, from pen tops to lint to shoelaces to anything" — Detroit based rapped Cash Kola on his MC skills.
hey Cash, remind me again why you're bragging about lint rhymes? and, while I've got you here, why spell "Cash" correctly but intentionally misspell "Kola"? if you were concerned that the use of alliteration might wreck your street cred, i'd like to give you some advice ... STOP RAPPING ABOUT PEN TOPS! what's next, White Out? no buzz.


leave it to Gwynnie to start a trend of single ass hotties getting knocked up pre-marital stizz. people who bashed Heidi Klum after the "Victoria's Secret" fashion show because she was rockin' a minor pot-belly betta recognize, bitch be pregnant, yo! damn, you best to back up off my girl! don't even STEP to Klum or i'll knock you on yo ass, Jack White style! speaking of Preggo Paltrow and Make Trade Fair, the pair was spotted at Heathrow last night ... looks like the happy couple will be spending the holidays abroad.


It looks like The Darkness have emerged as the favourite in the race for the UK Christmas #1. however, a dark horse is on the rise. Gary Jules cover of the Tears For Fears classic, "Mad World", is barely trailing "Christmas Time (Don't Let The Bells End)." fans of "Donnie Darko" will recognize this haunting cover as the song that plays as the movie comes to its stark conclusion and Frank is revealed to be the dude from "The Doom Generation" ... best. "Donnie Darko" resets are the hottness.


somebody get this one ready for the next installment of VH-1 Celebrity Feuds! Page Six is reporting that teen queens Hilary Duff and Lindsay Lohan almost came to blows at the premiere for "Cheaper By The Dozen" the other night! it seems that Lohan and Duff have been feuding over Aaron Carter for quite some time ... i KNEW i shouldn't have let that "Tiger Beat" subscription run out! who knew?!? i guess that Duff started hittin' skins with Carter while he was still dating Lohan! what a little minx! so many apostrophes in one paragraph! what am i doing?!? somebody stop me!


no offense to Makotomeme, but the bullshit story on the Jack White / Jason Von Bondie fight in this week's Metro Times is totally ho ass. the paper attempts to paint the picture that Jack has a history of anger problems, beginning with Jack fighting some dude at the Garden Bowl a few years ago over a bowling ball that both wanted to use. they also report that he "flew into a jealous rage and kicked Ninjitsu moves" when he found out some dude named Dolf de Datsun was (and I quote) "doing his old squeeze" (EDITOR'S NOTE: If some dude named Dolf de Datsun was doing one of my old squeezes, I wouldn't stop at Ninjitsu, I'd unleash some serious Mortal Kombat fury! however, if it were Dorf On Golf, i'd probably be okay with it). whether the beatdown that occured on Saturday night was justified or not remains to be seen, but I'm calling out the entire editorial staff of The Metro Times for printing such an accusatory article under the byline of "Metro Times Staff" ... what the fuck is THAT all about? are you afraid that you won't be able to suck up to Little Jackie White over PBRs at the Magic Stick anymore or WHAT? they insinuate that getting people to go on the record talking about Jack's anger management problems is "akin to wrenching a rotten tooth out with a pair of pliers", yet the author (authors?) of this article do the very same thing. what a bunch of ho ass pussbags. this is an example where the tight knit (some say incestous) Detroit scene does more harm than good, all these indie rockers who claim not to care about success and fame are actually total poseurs who want more than anything to achieve the level of buzz that Jack and Meg have garnered over the last few years. they're all under the impression that Jack has the power to make them a star (which he does, look at the Electric Six, Brendan Benson, the Von Bondies, etc.), so they're all too willing to kiss ass and not offend Jack. what a bunch of sycophants, seriously! if I were Jason Von Bondie, i would relish an opportunity like this to find out who my true friends really are and distinguish them from the hangers-on looking for a free ride on the indie rock gravy train. but I digress ... i say boo on The Metro Times and their stance that they're the unbiased media source in Detroit. maybe they're not biased by the Big Three or any of the corporate entities, but they're TOTALLY biased when it comes to the whole Detroit garage rock scene. when a prime opportunity like this presents itself (this is international news!), the paper hides behind "anonymous" sources and authors like its an event on the level of Watergate or something. hello, this was JUST a fight between two indie rockers! this is the kind of story that was MADE for a local alternative weekly, yet you blew it. no buzz for the MT. durst.

posted by uncle grambo |
---
a year ago, who woulda thunk that your Uncle Grambo would be typing in this very space proclaiming the hottness of Neve Campbell and the utter durstness of Kirsten Dunst? no one, i tell ya, NO ONE! well Neve has been scoring raves for her performance in Robert Altman's upcoming directorial effort, "The Company", and looked positively hott at the film's NY premiere last night. classy AND sexxxy, if I do say so myself. meanwhile, there's the curious case of Kirsten Dunst, a once promising young starlet who's taken to looking pretty nast since shacking up with Jake Gyllenbest. she gives new meaning to the word "uggs" as she rocks the nastiest look evs in some trendoid Ugg Boots. she needs to get to the gym and work on those gams, yo. or, at the very least, hook up a little self-tanner up in this piece. pale buzz went out with Winona in "Beetlejuice" ... obvs.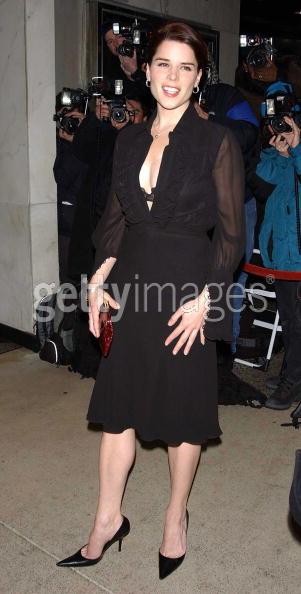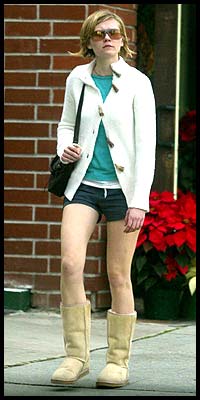 posted by uncle grambo |
---
so rumour has it that Enrique Iglesias picks out a lucky female fan at every one of his concerts and serenades them with his schmaltzy epic, "Hero" ... no buzz, right? wrong. at a recent concert in Florida that Anna Kournikova just happened to be attending, Enrique serenaded and snogged this 17 stone lovely (can you tell this is ripped from the Brit tabs?). how much do you want to bet that Anna had something to do with picking this girl instead of some other hott young piece of arse? i smell jealousy, yo. no word on whether or not Enrique covered the NWA classic "Fat Girl On My Jock" that night. word!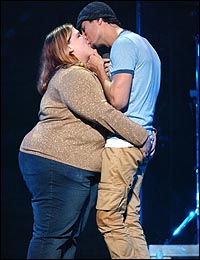 posted by uncle grambo |
---
and not watching NFL games! in the latest Terrell-esque display of creative celebration, New Orleans Saints wide receiver Joe Horn grabbed a cellphone (!!!) from the padding around the bottom of the goal post after scoring a touchdown and MADE A GOD DAMN PHONE CALL!!! how amazing is THAT? so much better than the Gastineau Sack Dance. obvs. but it's important to note that NFL officials are NOT happy with the incident and have fined Horn $30,000 for "excessive celebration." i don't know about you purists out there, but Uncle Grambo loves this kind of shit. best!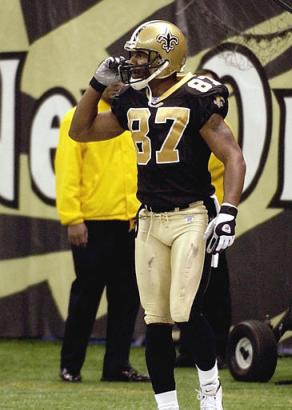 posted by uncle grambo |
---
Tuesday, December 16, 2003


i don't want to be infringing upon the territory carefully staked by Nick Catchdubs and 1115.org's Cashilini, but all the hipster indie kids in Hungary are rocking Tisza sneaks these days. "But HOW do you know this?", you ask. dear readers, does your Uncle Grambo have to remind you that some things should simply remain a mystery? didn't think so. some online research reveals that the Tisza brand all but disappeared after Hungarians obtained their universal right to wear Adidas and Nike in the early nineties, but which in the seventies was the country's biggest footwear manufacturer. hottest part? the website is in Turkish! and, if you order a pair, you order in Euros! and you have to get them shipped to an address in Hungary! muthaphukkin' best evs, I tell ya. maybe we can fund a Hungarian trip for Glamorama and he can bring us back some über-exclusive Iron Curtain hottness!

lurking on random blogs sometimes leads to unexpected hottness. check out the following column from Eurotrash, who I have gathered to be a mid 20s, female British ex-pat living in NYC. obvs. "Fingering. What the hell was that all about?" i originally discovered Eurotrash while blogstalking Maccers, who i originally discovered while blogstalking Elizabeth Spiers over at Capital Influx, pre-Gawker stizz. seriously, one of the best days in history was when I discovered that Maccers had linked to whatevs (dot org). so hott.

i've got more deets on the upcoming SMG horror film. MSNBC describes it as "The Ring" meets "28 Days Later" ... apparently the plot revolves around a homicidal curse that passes victim-to-victim like a virus. buzz.

but with every instance of buzz that occurs in the Blogosphere, Newton's law of equal and opposite reaction demands that some anti-Buzz be stirred up. so take your pick from the litter of things I discovered over at Dark Horizons.

There's actually going to be a prequel to the movie "Cube" called "Cube Zero"!

The working name for the next Batman flick is "Batman: Intimidation Game" and Chris Cooper is going to star as Commissioner Gordon!

Matt Damon appears to be in the lead to replace Ashton Kutcher on Cameron Crowe's upcoming "Elizabethtown", and if that falls through, look for the role to go to Sean William Stiffler or Colin Hanks!
piping hott. click on over to Slate for "The Year In Music" according to Sasha Frere-Jones (genius music critic of our times), Rob Sheffield (Rolling Stone) and some dude named Keith Harris. once again proving that he's heads and tails above everyone else in the game, SFJ decided to write his "Best Of" so THAT IT RHYMES! to the melody of "A Night Before Christmas", no less! muthafucka. what a pimp.

"Other Things Found In Saddam's Spider Hole in Tikrit" by Zulkey. my fave is "A mostly-eaten carton of General Tsao's chicken."

and maybe it's just me, but everytime I hear the name Isabella Rosselini (soon to be guesting on "Alias"), i think of that magnificently best portrait of her and David Lynch that appeared in Vanity Fair many, many moons ago. some say Liebovitz's best work.




btw, just want to apologize for the slow load times of whatevs (dot org) today. it's a Sitemeter thing. promise. no buzz.

posted by uncle grambo |
---
BREAKING! Von Bondies manager Rick Canny supplied these photos to The Freep just minutes ago! the photos were supplied in an "effort to support (Jason's) claim that White attacked him Saturday night at the Magic Stick." i would post the photos but they're pretty graphic and pretty brutal, so clicker beware. i prefer to stick with nip slips (obvs).

and while I'm going to drop this matter before it gets too played out, I think it's important to direct you to this quote from Jason Von Bondie that I found over on Rob Theakston's always top-notch blog. it comes from an interview that JvB held with Free Williamsburg this summer.

"I don't fight. I have been in fights. I have been punched in the face, but I didn't hit back. I stared at them. I think it fucks with someone to hit them. If someone hits me, I just stand back and stare at them. I say 'What's the fuck is wrong with you?' I don't think that fighting gets anything done. It makes them look stupid."
posted by uncle grambo |
---
the Jack White / Jason Von Bondie brouhaha has easily become the Buzz Earthquake of December 2003. Jason Von Stellastarr (just asking -- what kind of rock star is born with the last name Stollsteimer?) emailed MCR and issued a press release saying that Jack attacked him. The DetNews, The Freep, NME, Page Six, and MTV all follow up with stories quoting the statement that Jason Von Stellastarr released via the band's lame-o Flash based website. meanwhile, most of the local reaction (at least according to the Detroit indie rockers over at MCN) is focusing around Jack's egomaniacal tendencies. some wiseacre named Chub even goes so far as to label Jack Gillis as "the Mike Tyson of Detroit ... unpredictable, dangerous, and deranged." those are big words coming from someone who deems themself Chub, yo. allz your Uncle Grambo is saying is that Jason Von Stellastollsteimer must have done SOMETHING to earn a beatdown from the likes of Jack Whizz, time will tell exactly what it is. speculation is running rampant that it has to do with either the ex-flame of Jack, Marcie Von Bondie (pictured at rizz), or Laura Coax Me. developing ... shmears!


another day, another "Best Of" list. The Observer lists their best albums of 2003 (via Miss Modernage), as does our main man Coolfer. The Observer lists "Think Tank" as their number one, while Coolfer gets all eclecticly obscure up in this bitch and picks "A Strangely Isolated Place" by Ulrich Schnauss. i would agree and say "Great choice", if only I'd ever heard of Ulrich. that being said, I say buzz. anyone who runs the University of Michigan's preeminent bookstore has buzz in my book.


no buzz. if you happen to be in the car with someone who has drugs on their person and the police pull you over, The Supreme Court has ruled that the police can arrest everyone in the car! unanimous stizz, even if you have no knowledge of said drugs! durst.


Wojo agrees, the Lions should fire Matt Millen. howevs, it looks like Bill Ford Sr. is going to let Millen slide on this one. damn.


in typically well-written and researched fashion, ILB weighs in on the big Celtics trade yesterday. i say buzz for Danny Ainge and the Celtics, Ricky Davis is a MAJOR talent who just needs to be surrounded by the right cast of characters to blossom. however, you cannot ignore his arrogance (some say second only to Rasheed Wallace in the NBA) ... i think that being out of the shadow of LeBron will do wonders for Davis. right ON!


great interview with Blender editor and VH1 talking head Andy Pemberton over at Mediabistro. ya know, I avoided Blender for a long time because of its affiliations with Maxim, but I've picked up the last two issues and i'm beginning to really dig its style. their reviews section is only rivaled by Q and they've got some pretty good features (I especially liked their Top 1001 Songs to Download feature from a few months back). i say buzz. [via Romenesko]


finally, this should get filed under "Best Of of the Best Of" ... the talented crew over at 1115.org file their "Best of 2003" list. want a great read? Cashilini, Method One and Namedropper wax enthusiastic on their favourite albums, books, plays, and television shows ... and don't forget food! gotta love a site that throws props to New Orleans Bouillabaisse (not B-Boy Bouillabaisse, mind you). too hott.

posted by uncle grambo |
---
Monday, December 15, 2003

and by "here", i actually mean Motorcityrocks.com. regardless, The Freep and The Smoking Gun are just now getting around to printing stories about the Jack White / Jason Von Bondie row from Saturday night. fookin' amateurs. and for reals, no effin' buzz for those cheeky bastards over at NME, they totally ganked the MCN exclusive and attributed the story to "various Detroit based websites." what a bunch of ungrateful droogs, this sort of thing could just sap all the strength and the goodness out of a chelloveck, real horrorshow like. howevs, Choire Gawker gets all kinds of buzz for giving proper creds where creds is due.

in a media event far lower down the food chain, CNN was the first to air reports of the capture of Saddam Hussein. much to my surprise, he didn't look anything like he did in "Hot Shots: Part Deux"! btw, did you know that the same actor who played Saddam in "Hot Shots" also played Saddam in "The Big Lebowski"? Jerry Haleva revealed!


shit yeah! Old Hag is back!


some things are universal. a laugh, a smile, a nip slip ... yes, even though they don't speak the language of Obvs (or English, for that matter!), Italian bloggers love whatevs.org. pasta fazoole, you sommanabotch!


obvs. Apple is named as the Marketer Of The Year by AdAge. can't say that I can think of a better choice. both iPod and iTunes blew up in `03, so i think the choice is natural (even if 1115.org's Cashilini has got some problems with the iTunes store). somewhere the ILB is sitting back, syzzipin' on some syzzurrup and saying "Obvs"! speaking of the ILB, here's a dope link that I found on his site: 10 Worst Sports Moves of 2003. hell yes, the firing of Rick Carlisle makes it on the list.


i know that Brent Batten news is, like, so totally one week ago, but Coolfer sent me some hott B.B dish on Friday and I'm only just now getting around to posting on it. Check out the letter that the National Association of Black Journalists sent to The Naples Daily News.


you know, The Slayer has been pretty quiet in the few months since "BtVS" went off the air. yeah, SMG has got "Scooby Doo 2: Monsters Unleashed" on the way in March, but your Uncle Grambo is WAY more excited to learn that she landed the lead in "The Grudge", the English-language remake of the Japanese supernatural horror movie "Ju-On." no, I didn't say Juwon Howard, for he hath negative buzz. SMG + supernatural Japanese horror = the hottness.

posted by uncle grambo |
---
yes, yes indeed. the forecast calls for fire and brimstone and eternal damnation. dogs and cats have been reported making sweet love on M-59 just outside of New Baltimore. the St. Clair River is on fire and the city of Harper Woods has declared a national emergency. in what will quite possibly go down as the single largest event in the history of mankind (well, at least since Surge was invented), a new force in blogging has been unleashed. and trust me, its got some STANKY breff!

So Sayeth The Peabs: Tigs, shats, boombalats and obvs observations from the mind of an arrogant, white suburbanite. How effing original.
written by Peabs. natch.

posted by uncle grambo |
---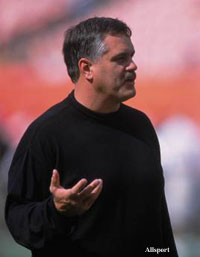 breaking news buzz! both of the local fishwraps (the DetNews and the Freep) have filed their reports on a late-breaking incident from last night's Detroit Lions game in Kansas City. after the game, there was a verbal encounter between Team President Matt Millen and former Lions stand-out WR (and current Kansas City Chief) Johnnie Morton in which Millen called Morton a "faggot" ... not once but TWICE! while the local fishwraps aren't attributing the exact usage of the term "faggot", The Freep's Curt Sylvester described it as "a derogatory term questioning Morton's sexual preference." while this is the extent of the detail that you'll get in the local newspapers, whatevs.org is proud to bring you this exclusive insider buzz courtesy of Top Tipster!

Millen was talking in the locker room hallway with KC Chiefs players after the Lions got killed on Sunday, congratulating them on playing for a real NFL team, wishing them luck in the playoffs we used to play in, etc.


Johnnie Morton walks past Millen. The two have bad blood after Millen let Morton go, treated him badly in the process, blah blah.


Millen: Hey Johnnie...
Morton: (keeps walking)
Millen: Thanks for the conversation...
Morton: Kiss my ass.
Millen: Yeah faggot, that's right you heard me you faggot!
Morton: (walks away)


Several KC reporters heard this, reported it. The News wrote this little story but didn't want to print the word itself. Interesting corollary that you won't hear anywhere else...some familiar with Millen/Morton say that Millen has subscribed to a rumor that Morton frequented gay clubs and was himself involved in homosexual relationships while in Detroit. If true, this means that MM was somehow trying to call Morton out, not just call names. Millen offered an apology, but it's not enough. He's the president of an NFL team. No room for homophobia from anyone in the organization let alone such a top team official.



your Uncle Grambo concurs with Top Tipster on this one. while Millen should no doubt be fired for guiding the team to a 9-37 record over the last three seasons (worst in the NFL over that time period, btw), this is the icing on the cake. the Lions need to do what's right and fire this douchebag ASAP, there's no place for rampant homophobia like that in an otherwise classy organization. and for those of you outside of Detroit, it's important to realize that the Lions are owned by the Ford family ... yes, the same Ford's who make cars that you don't buy. language like this not only reflects poorly against the team and the NFL, but the ramifications could well spill over into the automotive world if something isn't done swiftly. worst. ever. of. all. time. for reals. fire Millen. NOW!

posted by uncle grambo |
---
in what was surely the biggest news of the weekend, the world famous killer whale known as Keiko passed away at age 27. i wept openly and unabashedly when i heard the news that the larger than life star of "Free Willy" now sleeps with the fishes. and oh yeah, i thought i heard something or other about recent developments in Iraq involving Saddam ... hmmm, wonder what those could be? who cares, especially when The Lions are on TV! hell, it's not every day that you get to see them tie an NFL record for futility with their 23rd consecutive road loss! imagine how much buzz there's gonna be next Sunday when they break the record? hott. i'm sure no one will remember that Saddam dude by then. he's got less buzz than Ashton Kutcher. and in case you missed it, check out the exclusive over at Motorcityrocks.com about the Jack White / Jason Von Bondie throwdown in Detroit on Saturday night! it's only a matter of time before NME picks up the story, this is the biggest fight in garage rock history! some say bigger than Courtney Hole vs. Kathleen Hanna!

on to bigger and better things. like, for instance, the unrivaled hottness of Ultragrrrl. when was the last time you were photographed making out with Julian? praise be to Beat Royalty for discovering the hottness.

and on to EVEN bigger (yet not necessarily better) things, check out the junk in the treezy display that Kelly Clarkson put on at last week's Billboard Music Awards. nope, NOT photoshopped. is it a less than flattering camera angle? certainly. but that don't mean that the camera is lyin', yo. damn girl!


who knew? the Republican babe of the week is Elisabeth Filarski-Hasselbeck. past winners include Shannen Doherty, Patricia Heaton and Emma Caulfield. no buzz for conservo chicks, obvs. [via ToT]


big news for Pete Yorn fans Damore. new Pete Yorn live album due on January 6 ... double disc stizz! obvs. he's also got a track on the upcoming "Shrek 2" soundtrack. credit goes to The Grizz for discovering this hottness.


the rumours are flying that Radiohead and The Pixies are going to headline Coachella this spring. this cat's out of the bag, yo. your Uncle Grambo is SO there.


somehow your Uncle Grambo missed this one the first time around, but i would like to offer belated congratulations to TMFTML for scoring a coveted position on the list of the 50 Most Influential Power Punks under 35 list that the NY Observer put together last week. i actually spent some time reading through the full list this weekend and recognized that somehow I missed this noteworthy entry on my first go-round ... props out, yo.


The AFI names their Top 10 movies of 2003. if you don't rank your films, you get no buzz in my book.


another Dale Peck hatchet job, this time on "Angels In America" ... he brings up a lot of the same points that Foxy Jess referenced, mainly that the dialogue is more fit for the stage than for film. after being bowled over by the first three installments last Sunday night, your Uncle Grambo wasn't as high on last night's series conclusion. major kudos for the stunning intensity of Jeffrey Wright's performance and the absolute homerun that Mary Louise Parker hit in her role, but i thought that Emma Thompson looked extremely uncomfortable in her role as The Messenger (howevs, it's important to note that she's never looked better or more radiant ... i suppose dressing up as an angel will do that for you). to be quite frank, i thought that there was a LOT going on during the last hour and that the film / story kind of unraveled at that point. but, to be fair, i'll watch it again before i deliver a final verdict.


probably not a lot going on here today, i've got a big presentation this afternoon. see you after 3pm EST.

posted by uncle grambo |
---
Sunday, December 14, 2003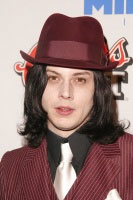 Motorcityrocks.com has exclusive dish that Jack White beat the shit out of Jason Von Bondie at the Magic Stick last night!!! watch your back Peabs, because according to Big Matt, Jack White "most likely" broke Jason Von Bondie's nose! no word on what the scrum is about, but your Uncle Grambo is speculating that it has something to do with Jason Von Bondie stealing jpegs from Laura Coaxme! for all this buzz and more photos from the recent Ryan Adams perf in Ann Arbs, check out The Dish at Motorcityrocks.com. surely the hottest thing to hit the internet since whatevs.org, obvs!

posted by uncle grambo |
---