Friday, October 18, 2002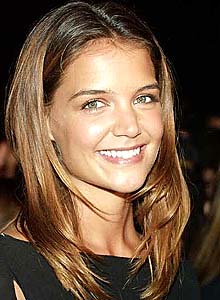 probably the best website ever


so obvs. all katie holmes, all the time. there's more where this came from. makes shockyourmind.org look like Webster's dictionary. obvs!


posted by uncle grambo |
---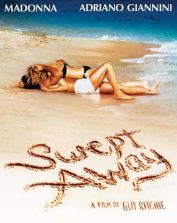 paglia on madge


the well-respected feminist and overall cultural icon camille paglia was recently asked by the Los Angeles Times for her thoughts on madonna's recent activities. here's how she responded...


""Madonna is a dancer and musician, not an actress. She has no ear whatever for speech -- hence, subtle vocal inflections escape her. This is partly because she has no conversational skill. In every social occasion, she must flirt, dominate or act up like a teenager. She's too restless to sit and talk...Madonna is in frenetic circus mode, as shown by that awful 'Drowned World' tour, which threw everything at the audience but the kitchen sink. The jerky, manic 'Swept Away' suffers from the same problem -- Madonna and Guy Ritchie seem to confuse art with attention-deficit disorder." --Camille Paglia


if you are interested in reading the whole article, here is the link: Will Madonna stop the act?

posted by uncle grambo |
---
on the wire

probably the least-flattering Jen Capriati photo evs. is she preparing to drop bombs or what? gross!


posted by uncle grambo |
---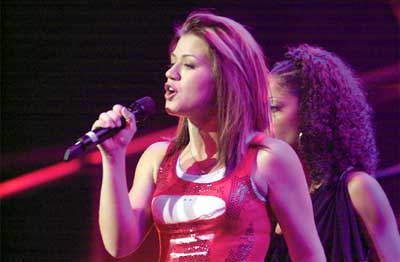 more buzz than a beehive...


— SNL BUZZ: Sources inform me that The White Stripes, this week's musical guest, are to perform "Dead Leaves and Dirty Ground" and "We're Going to Be Friends." Jack White doesn't want to strain his vocal chords with "Fell In Love With a Girl." The sources also reveal that Eric McCormick will be hosting on November 2nd (musical guest TBA) and the November 16th episode will see Adam Sandler playing duel roles as host and musical guest. Last but not least, Nummer and the H-Bomb have contributed a stellar review of the not-so-stellar SMG/Faith Hill episode from last week. Look for this to be posted sometime this weekend. (all SNL Buzz courtesy of Nummer)


— KELLY CLARKSON BUZZ: in case you missed it, the cast from "American Idol" performed last night at The Fox. the grizz was there and covers the evening in this morning's Detnews.com. somehow he scored an interview with Motown legend Martha Reeves!!!


— MUSTO BUZZ: for those of you who waste your time reading Ted Casablanca on E! Online, it would be much wiser to spend your time reading La Dolce Musto each week in the Village Voice. in case you are unfamiliar, Musto is an NYC-based gossip columnist and man about town. he's totally classic, and you've probably seen him interviewed on E! or VH-1 at some point in your life and you didn't even know it. anyway, this week's column dishes about "Rules Of Attraction" hottie Shannyn Sossamon, but last week he revealed some choice gossip regarding Steve Kmetko's recent departure from E!.


— KILBY BUZZ: prominent east-side FOW Glavzies reveals that Morrissey's recent interview with Craig Kilborn will be re-broadcast on Monday, October 21. and while whatevs.org doesn't really lend support or endorsements to political candidates as a general rule of thumb, glavzies requests that all FOWs who live in the 10th District should cast their votes for Candy Miller on November 5.


— DEAN WAREHAM / LUNA BUZZ: Unknown and underappreciated, whatevs.org fave Luna just released a new LP called "Close Cover Before Striking"...who knew? this buzz was revealed by legendary rock critic Robert Christgau, who wrote a quick review that I am going to cut + paste for you right here and now. "LUNA - Close Cover Before Striking (Jetset). Once it seemed they'd roll out good songs in perpetuity, then that they'd struggle competently till near misses did them part. Now it's talent will out. The best of these seven songs is a Stones cover, only not by as much as you first think, and the second-best is the opener, ditto. Later a teenager hypnotizes a pancake while getting a girl to stick his hand down her did-he-say-pants. Later a guitar instrumental justifies the title "Drunken Whistler." Later there's an alibi, a song that namechecks New Haven, and a guitar instrumental that justifies the title "Neon Lights" until a lyric takes over the job. A MINUS"

posted by uncle grambo |
---
is the grizz the next Eli Cash?


in a bold stroke of postmodernistic paraphrasing that i believe is a first for The Detroit News, the grizz begins his preview of tonight's screening of "Bubba Ho-Tep" with a phrase borrowed from Wes Anderson's "The Royal Tenenbaums". if you'll recall "Tenenbaums", there is a scene where Eli Cash (played by Owen Wilson) is discussing his latest, Cormac McCarthy-esque book about Custer's Last Stand with members of the press. the scene is very minor, and you will be forgiven if you cannot specifically recall it. but that's part of what makes the grizz such a good writer -- not only is he hyper-aware of all the pop-culture goings-on, he is able to absorb that line (admittedly very minor in length, but very revealing as to Eli Cash's character and important to the film) and use it in an article in a mass-market vehicle. granted, the reference will slide by 99.7% of those people who read The News, but for those people who "get it", the reference is genius. props out.

posted by uncle grambo |
---
is whatevs.org hot or not?


only YOU can decide. click through to Blog Hot or Not and vote for your daily source of piping hot content!

posted by uncle grambo |
---
Thursday, October 17, 2002

daily headlines


okay, so i've been out all day Wednesday. so what? guess what? i'm going to be out all day Thursday, too. yes indeedly Ned Flanders doodly, i am going to have to postpone the hourly updates to whatevs.org for at least today. until then, you have these links to munch on. yummy blog goodness is guaranteed in every link!


— wanna see screen captures from the new Christina Have-No-Hair-A video? the answer is (hopefully) HELL NO! well, if you must, check out shockyourmind.org.


— as usual, the Los Angeles Times has a fantastic article on the motion picture industry. this time, patrick goldstein runs the traps on why it is in Hollywood's best interest to keep some films on the shelf.


— while we're talking Hollywood for a moment, it is worthwhile to note that "Phone Booth" has been put on hold -- indefinitely.


— one of my personal heros, joni mitchell, was recently interviewed by Rolling Stone for their "Women In Rock" issue that is on newstands now. she blasts the current state of the recording industry...her quote? "I am ashamed to be in the music business."


— in the market for a new car? since you missed out on the Sergei Federov auction a few months ago, you should really try to land Stuart Murdoch's car on eBay. for the uninformed, Stuart is the lead singer of Belle & Sebastian.


from the world of sports, there are two articles worth reading that epitomize the polar opposites of sports. on the worst evs side, you have the news that the University of Michigan will be replacing its natural grass surface with a "yet to be determined" field condition. let's just hope it's not as AIDS as the turf that the Spartys had a few years back. on a postive note, Terrell Owens will NOT be fined for his Sharpie Trick in the end zone the other night vs. the Seahawks. this manuever is up there in the ranks of Darryl Dawkins' backboard-shattering dunks and the Ickey (Woods) Shuffle.


and last but not least, for you SNL Fans out there, Slate.com has been running a good series all week on readers' opinions of the hot new relese in bookstores across the country, "Live From New York: An Uncensored History of Saturday Night Live" by Tim Appelo, Neil Karlen and Tom Shales. enjoy!

posted by uncle grambo |
---
very special episode

for any female FOWs out there, please let this be a lesson to you in what NOT to do. not since the days of "The Facts of Life" when Blair had bullimia has an actress looked so sickeningly horrendous in public. did any of you catch Angie Harmon on the VH-1 Fashion Awards a few nights ago? oh my god, she looks like Benito Santiago on Phen-Phen. worst evs! it's called "mixing in a cheeseburger every now and then angie, you should try it some time". shmeriously, this is probably the worst press photo since the Unabomber's mug shot. it's all been downhill since The Squirrel dissed her at the Vanity Fair party after the 2002 Oscars.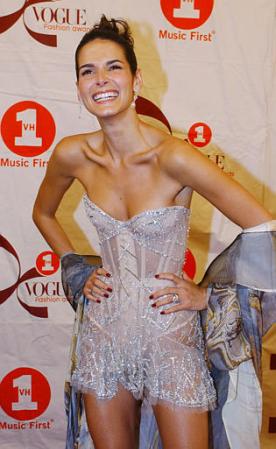 posted by uncle grambo |
---
meet joe black...part 2

no, i didn't say meet "jack black." i said meet "joe black". you know, brad pitt circa 1998. anyway, here is a pic of Pink from the VH1 Fashion Awards the other nizz...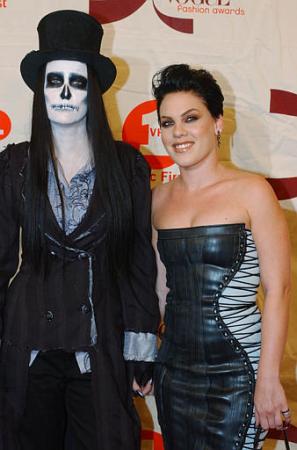 posted by uncle grambo |
---
breast evs!


the wire was absolutely off the heez tonizz in terms of Celebrity Breast Coverage. enjoy the next few posts, yo. boys and girls in equal fash, obvs.


posted by uncle grambo |
---
breast ever pt. 2


best day for breasts on the wire evs...continued!


posted by uncle grambo |
---
breast day ever?


part 3


posted by uncle grambo |
---
Tuesday, October 15, 2002

whatevs.org ff2k3


one third of the way through the NFL season, we've got ourselves a bottleneck in the ultra-competitive whatevs.org ff2k3 fantasy football league. believe it or not, there have been some requests from FOWs not involved in this tournament to get an update on how the league is faring this year, so here goes! you will notice some illustrious FOWs involved in the league...for those of you keeping score at home, here are the Team/FOW affiliations:


Scarface (`Los Windholz); Team Gorilla (The Gorilla, obvs); The Ducks (Dave Dutkiewicz); Punani Lounge (The Squirrel); unclegrambo underachievers (Uncle Grambo, yours truly); Oldheros (John Monica); Team Blue (Coach Glinka); Willie T Style (Peabs); Team Krengels (JP McKrengels); Team Malbersblows (Malbersblows).


| | | | | | | | | | | |
| --- | --- | --- | --- | --- | --- | --- | --- | --- | --- | --- |
| Team | W | L | T | Pct | Back | Strk | Wks | PF | Back | PA |
| Scarface | 5 | 1 | 0 | 0.833 | 0.0 | W1 | 1.0 | 758.0 | 0.0 | 515.0 |
| Team Gorilla | 4 | 2 | 0 | 0.667 | 1.0 | L1 | 2.0 | 704.0 | 54.0 | 603.0 |
| The Ducks | 4 | 2 | 0 | 0.667 | 1.0 | W3 | 2.0 | 701.0 | 57.0 | 572.0 |
| Punani Lounge | 4 | 2 | 0 | 0.667 | 1.0 | L1 | 0.0 | 609.0 | 149.0 | 594.0 |
| unclegrambo underachievers | 4 | 2 | 0 | 0.667 | 1.0 | W1 | 0.0 | 568.0 | 190.0 | 547.0 |
| Oldheros | 2 | 4 | 0 | 0.333 | 3.0 | W1 | 0.0 | 555.0 | 203.0 | 790.0 |
| Team Blue | 2 | 4 | 0 | 0.333 | 3.0 | W1 | 1.0 | 515.0 | 243.0 | 621.0 |
| Willie T Style | 2 | 4 | 0 | 0.333 | 3.0 | L1 | 0.0 | 500.0 | 258.0 | 525.0 |
| Team Krengels | 2 | 4 | 0 | 0.333 | 3.0 | L1 | 0.0 | 465.0 | 293.0 | 553.0 |
| Team Malbersblows | 1 | 5 | 0 | 0.167 | 4.0 | L2 | 0.0 | 528.0 | 230.0 | 583.0 |
posted by uncle grambo |
---
hit the links


— Coldplay is releasing not one but two (!!!) new singles from their astounding new LP, "A Rush Of Blood To The Head". our UK brethren will be privy to "The Scientist", while over here on native shores we'll be hearing "Clocks" pound the radio airwaves in November. i think that releasing "clocks" Stateside at this juncture is a GREAT move -- the song has a warm backbeat along the lines of Moby's "Porcelain" with some absolutely gorgeous vocals...it's sure to be a big hit, and I think it's got an especially good shot at winning over both teens and AAA format radio stations.


— this morning's Salon.com has an excellent interview with "Rules Of Attraction" director Roger Avary. he's got a real flair as both a writer and a director, even if "Rules" is uneven in spots. the highs certainly outweigh the lows.


— this weekend's New York Times features a preview of the upcoming Russell Crowe film, directed by the phenomenal Peter Weir ("Fearless", "The Truman Show", "Picnic At Hanging Rock"). it is aiming to be a legendary epic that relaunches and redefines the whole swashbuckling / seafaring genre of films. should be ridiculously classic.


— for all of you Ad Geeks out there, there was an article on Slate.com the other day about the effect that Friends has had on the advertising industry. it also raises an interesting point -- will the final episode of "Friends" be the highest rated show in television history? at this point it looks doubtful, "Friends" isn't off to a good start this year -- CSI is drawing more viewers. but it might be one for the ages...

posted by uncle grambo |
---
SNL - SEASON 28 REVEALED (!!!)


when you think of epic moments in history, a few moments shine through. beethoven writing his Ninth Symphony? obvs. washington chopping down the cherry tree? duh. lincoln freeing the slaves? mos def. the premiere of "baby one more time" on TRL? legendary. but when historians look back on the key moments that shaped the 21st century, no doubt they will look to October 15, 2002 as supremely best evs -- a point that will be recognized as changing the face of pop culture (not to mention the entire US educational system as we know it today) forever.


in a collaboration of talent not seen since the pairing of James Cameron and Leonardo DiCaprio, up and coming FOWs Nummer and the H-Bomb have joined forces with whatevs.org to chronicle EVERY MOMENT OF THIS YEAR'S EPISODES OF SATURDAY NIGHT LIVE just for you, the loyal FOWs of the world, in SNL - SEASON 28 REVEALED. whatevs.org is proud to present a weekly, sketch-by-sketch review written entirely by this creative duo, who have an appreciation for the show and its history like none other. in fact, i'm pretty sure that they could go Round for Round with Tom Shales, who just authored that new SNL book. they throw a weekly SNL party and then spend days reviewing episodes on VHS (no TiVo!), searching for nuggets of creative genius and constructively criticizing writers and featured players when necessary. trust me when i say that you will be bowled over by how best evs this write-up is.


so, without further ado, i present to you Episode 1: Matt Damon / Bruce Springsteen and the E Street Band (10/5/02). in the coming days, we will have the Sarah Michelle Gellar / Faith Hill episode dissection, as well as a mini-archive for this ongoing feature built into whatevs.org, including bios, candid snapshots, and other assorted items for the treasure trove of all things SNL that this section will become. once again, major props must go out to Nummer and H-Bomb -- enjoy!

posted by uncle grambo |
---
Monday, October 14, 2002

michigan state buzz


props go out to the grizz for revealing this. apparently there was a screening of "8 mile" at MSU on friday night where close to 1,700 students packed a place called "The Auditorium". rumours were flying that Eminem was going to attend, but those rumours were put to rest by university officials. well, much to everyone's surprise, after the screening concluded, Eminem and some members of D-12 arrived on the scene and launched into an impromptu mini-concert! michigan state buzz! Sparty on!

posted by uncle grambo |
---
lose yourself


the anticipation for the november 8 release of "8 mile" is building. not only is "lose yourself" the best song to hit radio in months, but the "work in progress" screening at the Toronto International Film Festival has built some well-deserved buzz. the lead story in Sunday's Los Angeles Times takes a look at the origin of the script and how Curtis Hanson and Brian Grazer wooed Eminem into entering the world of film. buzz buzz buzz.

posted by uncle grambo |
---
phone booth


one other thing. before "swept away" yesterday, i saw the trailer for "phone booth" for the first time. this movie's script had buzz as far back as three years ago, when Will Smith and Michael Bay were attached to make this pic. the plot basically goes as follows; a man answers a ringing pay phone and becomes trapped when a psycho-sniper turns out to be on the other line...if the man hangs up the phone, he'll get shot. well, the movie got made (except it now stars Colin Farrell and was directed by Joel Wurst-macher) and opened to decent reviews at the Toronto International Film Festival, but is now faced with a MAJOR delay due to the recent Sniper events in the DC area. when this trailer finished, there was an audible thud in the theater as you could hear the sound of this movie flopping before it even hit screens. talk about bad timing, but more importantly, talk about a marketing job gone awry with releasing (or not recalling) this trailer in the wake of the current events. d'oh! this one has "collateral damage" written all over it.

posted by uncle grambo |
---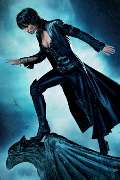 birds of prey


i've got a lot of updates for the FOWs of the world but, unfortunately, not a whole helluva lot of time to do that. in the interest of time (monday mornings are always crazed), i've got to pick and choose.


so anyway, i spent yesterday at the legendary AMC Forum 30 in Sterling Heights for some post-Lions moviegoing. for the record, i saw "Swept Away" (worst) and "The Transporter" (kinda best), but what really caught my eye was a commercial that played before both of the movies. in this commercial, the camera swoops in on a dark & stormy evening in Gotham City, where Batman and Catwoman are battling on a rooftop. then, all of a sudden, they embrace and begin making out! a voice-over comes on and asks something to the effect of "what if Batman and Catwoman had a child?" this immediately grabs your attention, and the commercial jump cuts to a young, Goth'd out teenage hottie who looks alot like Marla Sokloff (but unfortunately isn't). then, without warning, the hottie bolts and leaps out of a 20th story window and takes flight (!!!). it is only at this point that the audience discovers this a commercial for a new show on the WB called Birds of Prey. has anyone even heard of this show before? and if so, how come you didn't let me know? it looks totally best! then again, so did "Dark Angel" and that totally blew. but i have a good feeling about this show, and Salon.com's television critic, Carina Chocano, thinks the same thing. has anyone seen this show? wait a second, of course not! i'm probably the only person in the world over 25 who watches the WB. oh well. i'll be watching this Wednesday night at 9pm...obvs.

posted by uncle grambo |
---