Saturday, July 13, 2002

just got springsteen tix. so hot. ticketmaster.com was SO jacked up. come on up for the risin'!

posted by uncle grambo |
---
Friday, July 12, 2002

celebrity sighting!

so this isn't as tigs as an update from The Squirrel, but i was just lunching at Einstein Bagels on the corner of Big Beaver (EXIT 69!) and Crooks Rizz. like i always do, i'm sitting down reading the paper and eating a Club Mex on a challah roll. so who rolls into the Einstein's? none other than Shane Battier. pimped out in a fly Kangol and some tigs Oakley sandals, Shane strolls in w/a white girl on his side. obvs. which once again goes to prove my theory, everyone loves white girls. schmobvs. lord knows i do.

posted by uncle grambo |
---



Planet FOW,


i'm v. busy today, running around like a madman. but i can't leave y'all hanging. here's a great article from today's LA Times titled "When Life Imitates a B-Movie". It's all about mob ties with Hollywood, extortion, and Steven Seagal. I'm serious. great article.
enjoy and have a great wknd!

posted by uncle grambo |
---
Thursday, July 11, 2002

BREAKING NEWS


back to baseball! rumours are FLYING that it is in the Detroit Tigers, not the Arizona Diamondbacks, who are going to fail to make their payroll check on Monday. i can't find any confirmation on the web to back this, but i will search. more details to follow as they come to light...

posted by uncle grambo |
---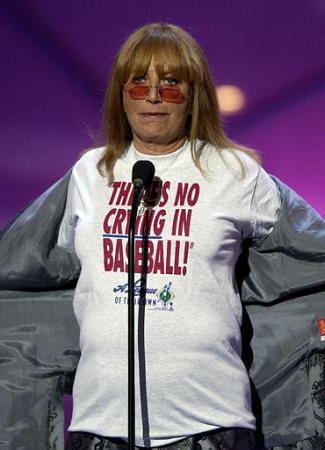 ...but apparently eating is a pre-requisite. schmobvs.

posted by uncle grambo |
---
this week has been all about cooking and baseball. don't know why. i need to throw some porn links up or something. but before i do, here is a tigs article from yesterday's Freep featuring Ann Arbor's multi-talented Catering Queen / Prominent FOW / Sig Vills Survivor, Miss Caro.

now that we've taken care of that, enjoy a quick shot of Chasey...




posted by uncle grambo |
---
Pardon my French, but baseball is fucked. News reports are cropping up all over the place that two teams are in deep financial trouble. The Houston Chronicle reports that the 2001 World Series Champion Arizona Diamondbacks don't even have enough money to pay their players on Monday and that all of the players' checks will bounce. The other report is that the Tampa Bay Devil Rays don't even have enough money to finish the season!!! This is breaking news, more to follow...

posted by uncle grambo |
---
Veni Vidi VoiceMail...


"ah ah ah...have you ever heard these fucking commercials on the radio for Bud Haikus? worst evs! okay, for one, Budweiser regular as a beer is...is worst. it's (untelligible). it's not even the King of Beers. i don't know who refers to it as the King of Beers. and secondly, there's these people who are trying to be all hip, referring to haikus as "5-7-5"s and um, talking about (unintelligible)...i don't even know, the worst, the worst evs. um, i'd like to hear your opinion: if you have heard them, and if you haven't, and would like to, just go ahead and flip on the fucking radio for once and you could just hear it every five minutes. this is Peabs. bye."


first heard on Mark Graham's voicemail at 9:10 am on July 11, 2002. sent by an outside caller (MJP). 39 seconds.

posted by uncle grambo |
---
Wednesday, July 10, 2002

My copy of Shaolin Soccer finally arrived from the DDD House today. Best. A screening will occur in its full Dolby Digital 5.1 Surround Sound glory sometime in the next few weeks. See it in its original, pristine form before Miramax hacks it up. A release date is currently set for August 30, 2002 in New York and LA. Here is some buzz, courtesy of Ain't It Cool News...




SHAOLIN SOCCER Finally, for those who have been worrying, Ive seen the Miramax version of Shaolin Soccer. Ive seen a version imported from Hong Kong, so i'll tell you waht changed. SO here we go.


Bad first. The Beautiful Title Credits and opening score. Gone. The first few minutes in the locker room where Fung accepts the dishonor check. Gone. The amazing overture reprise in the closing. Gone. And replaced by...dear god...a techno remix of Everybody was Kung Fu Fighting. I about choked. Wait..i did choke. So bad. Oh yeah, and the dub, like all dubs, is laughable. The original voices were so great for this film. Especially Stephen Chow. I missed his high pitched wail. But now the good.


Thats all the changes. NO rap music. The score is faithful throughout the entire middle. There was even a dance number added in that I had never seen on my copy of the film. The jokes are still funny, the fighting still great. And the soccer games have never looked better projected so clear on the big screen. Still an enjoyable movie, and the audience I was with loved it. SO I say, dont try to be too much of a purist, just drag your friends to see this, even if you know better. They did ok.


posted by uncle grambo |
---
this morning's tidbits...




Last night's 73rd annual All-Star Game ended in a tie (?!?!?!). Whatever happened to "it ain't over til it's over"? Worst evs. Seriously, another nail in the coffin of baseball.


Wolfgang Peterson is in talks to direct a "Batman vs. Superman" movie. It's being written by Andrew Kevin Walker (Se7en), which might suggest decent things, but this movie reeks of being worst. No actors have been cast, but I would love to see Michael Keaton beat the crap out of Christopher Reeve. Obvs.


In White Stripes news, Christina Fuoco reveals that Jack White attended the Von Bondies show at Tastefest on Saturday. She also insinuates that he is dating a member of the band...interesting. However, I can promise that this show wasn't nearly as hot as when Peabs, Pieps, Erin From 'Rado and I saw Carl Craig spin at Tastefest on Friday night. He closed his set by dropping some funky techno version of Talking Heads' "Once In A Lifetime". So hot.


Which of The Strokes are actually cool and which are tools? Revealed (courtesy of Nummer) on Geocities. Geocities...seldom surfed post 1995?


Last but not least, props to Pants and The Grizz for hosting the premiere screening of The Royal Tenenbaums - Criterion Collection last night in "The Birm". $5 Caesers and blue Moon Mist (!!!) only added to the viewing pleasure of 2001's third best film, at least according to The Grahammys 2K2. Also appearing were Nummer, Lambs, Andrew "Fingers" Moore and Mike Hudson. Word.

posted by uncle grambo |
---
Tuesday, July 09, 2002

gotta love them Green Bay Packers! Packers fullback Najeh Davenport was arrested for dropping the kids off NOT at the pool, but in a closet of a random dorm room. Worst! Sully and Knuff, where are ya?

posted by uncle grambo |
---
from the Best Ever files...
no more Plakas! looks like long-time FOW j.nummer has hit the big time. apparently after editors at The Detroit News read his brilliant review of the new Flaming Lips album right here on Whatevs.org, they immediately contacted him for a story on cooking when you're a single guy. ah, the sweet rewards of fame, courtesy of what evs (dot org). and the article isn't even by my brother! you too can be famous someday! submit some PIPING HOT CONTENT FOR MY SEXY BOD today!!!

posted by uncle grambo |
---
Apparently Mike Myers is considering starring as Keith Moon in a new movie. Can you get any more lame? It would be much cooler if he was considering a biopic about Kool Keith.

posted by uncle grambo |
---
Polar Palooza is coming to Royal Oak!

posted by uncle grambo |
---
does anything else need to be said? stop reading this and go buy Tenenbests!

posted by uncle grambo |
---
Monday, July 08, 2002

When was the last time YOU got married? probably never! regardless, check out Jess + Chuck's Wedding Extravaganza, which obviously includes Uncle Grambo's directorial debut, The Hotness (right click and choose "Save Target As"...requires Quicktime)

posted by uncle grambo |
---
i've been posting like a fool today, but I just now got to reading today's Detroit News...for all you Children of The '80s, you'll delight in The Grizz's review of the "Like, Omigod! The '80s Pop Culture Box (Totally)". it's so obvs it's clearly tigs. and duh hickey that i'm referencing both the box set and the review. boombalatts.

posted by uncle grambo |
---
Ted Williams, aka Teddy Ballgame, passed away last week. While there have been some good tributes written (the NYT had a good version in yesterday's newspaper), King Kaufman's article in today's Salon.com is a great look at what makes baseball relevant today. No, it is not the quality of the game -- everyone knows baseball sucks (see Allan Barra's article on why). What makes baseball still relevant and still fun to discuss are arguments like the one that Kaufman poses. Was Ted Williams the greatest player of all-time? For my money, that player has got to be Barbaro Garbey, closely followed by Aurelio "Senor Smoke" Lopez and Tommy Brookens. Shatters. On a completely unrelated note, it appears that John Frankenheimer has died. The legendary auteur of films such as The Manchurian Candidate (Sinatra earns film buzz), Ronin (Euro car chase sequences extraordinaire), The Island Of Dr. Moreau (easily the worst film of the 1990s), and Reindeer Games (seldom referenced) has gone on to the Great Avid Editing Suite In The Sky. props out to the man (though he wasn't the first nor likely the last) who persuaded Charlize Theron to get topless in a swimming pool in Reindeer Hittins. Strangely enough, Bobby Kennedy was staying with FrankenBest in Hollywood when he was assassinated by Sirhan Sirworst, 1968 style...what? Maybe that began the negative buzz that continued through Moreau. I also learned that he "spoke fluent French, cooked French food and tooled around Los Angeles in a Mercedes-Benz pumped up to 750 horsepower. He assembled miniature cars which he displayed in glass cases at his Beverly Hills home." Obvs, who doesn't?

posted by uncle grambo |
---
the wire is crazed this morning. somehow this picture ended up on Reuters. granted, it's a classic but WTF???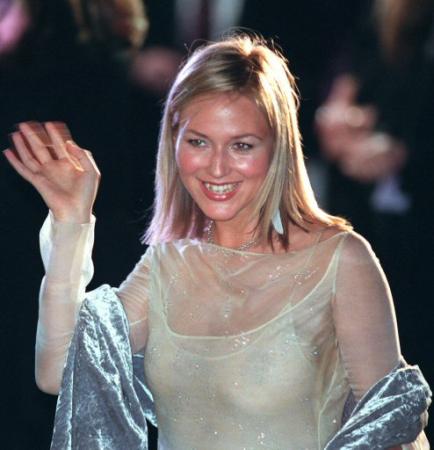 posted by uncle grambo |
---
from the unexplicable buzz department...
i don't know what it was. maybe it was the twenty-word review. maybe it was the hype that the Grizz built up, California Style. maybe it was my order from the DDD House. but all of a suddent this morning, Shaolin Soccer hit the wires. a little research and i discovered that Stephen Chow (pictured above) will be filming a sequel to the best movie ever about Shaolin Monks and soccer. obvs.

posted by uncle grambo |
---