Friday, April 08, 2005

Admission: I like what Cameron Diaz is TRYING to do with "Trippin", her new reality show on MTV (please note the heavy emphasis on TRYING). Your Uncle Grambo is down with environmental awareness, as well as movie stars leveraging their celebrity status for things other than getting free Red Bull and smoky treats. But, for this viewer, selecting jerkoffs such as Mark Hoppus and Redman to accompany you on a voyage into the wilds of Bhutan strikes me as overwhelmingly durst. Unfortch for all of us, Mark Hoppus and his no-name skankbot wife turn out to be the only thing going for this train wreck of a show.

Watching four minutes of this show proves to me that everything I've ever assumed about Cameron Diaz is true. Namely, that she's even more shallow than a kiddie pool. Despite being flown across the world on someone else's dime and having the opportunity to take in culture and scenery that 99 percent of Americans could never even DREAM of being able to afford, the only words that seemingly come out of her gaping piehole are "This is bad ass!" Reverance for history and foreign culture be damned, bring on the "Eva Mendes farts in her sleep" jokes! Even that friggin' crazy cokehead Steve-O is a virtual Marlin Perkins when compared to Cammy Diaz! I don't think I'm being in the slightest bit on fair when I deem "Trippin" to be the Worst. Show. Ever.

But we're not s'posed to be talkin' about "Trippin", y'all. What we're really here to discuss is the long-awaited return of "Saturday Night Live" this weekend, featuring Cammy D and the boys from Green Day. How will the prototypical ditzy blonde fare? I'll leave that to the experts, Nummer and H-Bomb. Take it away!

NUMMER
H-BOMB
Episode 16: Cameron Diaz / Green Day (4/9/05)

Normally, I'd be extremely hopeful for this week's episode. Cameron's previous hosting gigs in 1998 and 2002 have been without question shining moments in the show's recent history. Diaz and cast have been responsible for such treasures as Jinglehemier Junction, MTV4 and of course, Cameron's butt-choreographer Ryan Silverhammer (remember: when you're watching Diaz dance in the movies, you're seeing Silverhammer's moves and not her can).


Sadly, Cameron's solid track record isn't at question this weekend. The current state of SNL has already been compared to the early 1980s drought by more than one online critic - and with good reason. Apart from the brilliant Federline underwear spot (Kutcher) and the bizarre Owen Wilson penis/nose conspiracy (Spade), far too many moments from the recent episode crop have been nearly unwatchable. Facts like these are keeping the parking break on my hopes for this week's episode.


Thankfully we can count on coneys from Green Day. September 2004's "American Idiot" is still in the Top 10 on Billboard's Top 100 (currently #4). This will be the band's first return to SNL since they shared an episode with Roseanne way back in December 1994. Whatever your view on today's commercial punk scene, you can't deny that Billie Joe still kicks out the jams despite his geek stink breath.

"Left cheek, right cheek, crack down the middle. Shake that can till it's hot like a griddle! tssssss..." Who could forget that infamously best cheer from Cameron Diaz and butt choreographer Ryan Silverhammer during her second time hosting back in 2002?! I certainly haven't, but the real question is: does Diaz still have what it takes to put on an excellent show? If her last two times hosting are any indication, my answer would be a resounding yes. Will that excellent show be this weekend? Again, if the majority of the past shows this season are any indication, probably not. I really and truly want to believe that the SNL cast and crew can still pull off some great comedy, but I would really just feel like I was kidding myself. Diaz is funny, but not nearly funny enough to bring SNL back from the ledge it's been preparing to jump off for weeks now.


Once again, it looks like the musical guest will save the day. Green Day is just plain awesome and have yet to put out a tune that I haven't liked. If there's anything to really look forward to this Saturday, it's this loveable band.
posted by Uncle Grambo |
---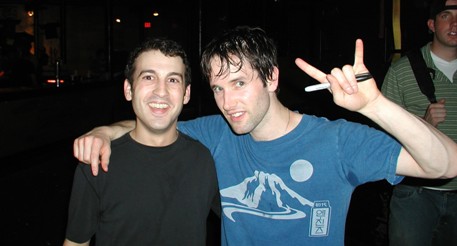 Fuck Vanity Fair and fuck the The Proust Questionnaire. I mean, can you even imagine asking a rock star "What is your principle defect?" Funk dat, yo ... that's the kind of question you'd ask Chris Martin while he's eating a scone with one hand and pumping Gwynnie's breast milk with the other. Ferreals!

So, when presented with the opportunity to talk to a band member from Ash in advance of their Sunday night show at the Stick, your Uncle Grambo knew instantly that he could turn to one man and one man only to complete the job -- DAMORE! The following is a conversation that took place last Friday night (4.1.05) between everyone's favorite ex-blogger and Rick McMurray, Ash's powerhouse drummer extraordinaire. As anyone who follows the music industry will attest, Rick stands among his peers such as Jimmy Chamberlin, Chad Smith, Dave Grohl as one of rocks best drummers today. Over the past 10 years his resume is as strong as anyone out there. Their twenty minute conversation covers topics as varied as the band's relationship with suppporting act The Bravery, the impending demise of Jar Jar Binks and the inherent pleasures of "showering" a $2,000 Macintosh laptop. Enjoy!

---
DAMORE: How's the US tour going so far?
RICK MCMURRAY: So far so good. It's good to be out with The Bravery. They're a very cool up-&-coming band & it's got to be a pretty exciting time for them. It's cool headlining w/ them. The bands actually work quite well, certainly in a live situation. First, people will go on that The Bravery & us is an odd combination. I guess it's our rocking style & we're a little more band oriented live, whereas they're another loud version of rock. It seems to be working out well & looks like the fans are having a pretty good time too.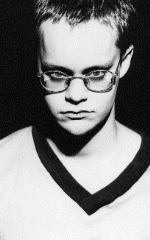 D: What defines success for "Meltdown" & the tour? Are you looking to follow-up w/ another US tour in 2005/06?
Rick: That depends how it goes, maybe come back in the summer. If we're getting radio support we'll definitely come back and follow that up. If not we'll be getting on w/ a new record. It's been a long time since we've been in the studio—nearly a year & a half now. There's 2 ways we can go about it—we'll go back here a lot, or we'll start to write again. Whatever happens, we'll be pretty happy either way.

D: Any talks to support another Irish band on their US tour this fall?
Rick: No, I don't think so. They probably have to go w/ a big American band rather than a UK band. You got the danger that only some people are into it, & a lot of people aren't. They want to try & spread it beyond that narrow fan base.

D: With "Meltdown" recently released in the States, how have crowds in the US responded versus the rest of the world where it's been out for almost a year?
Rick: Tour is going pretty well, it's a lot smaller than in the UK, but crowds have liked the new stuff as much as the old, which seems to be a really good sign.

D: How did issues w/ your label Kinetic (going broke) last year effect release & tour plans?
Rick: Had everything w/ Kinetic not happened, we would've been touring over here last year, & released the record here last year as well. It was frustrating that happening when we were on the verge of putting out the record—then suddenly it's not & we had to look for a new deal. It's something you just gotta get on with. Their record production seemed pretty cool & they got a good roster...so hopefully w/ our new label Record Collection, we'll get some radio play here.

D: How was the recording process for "Meltdown" different from "Free All Angels" w/ Nick Raskulinecz now on-board as Producer (versus Owen Morris)?
Rick: I think the main difference between Nick & Owen is sort of like where they come from musically. Owen was very much into the 80's alternative like New Order & sort of also dance. Whereas Nick grew up w/ the same kind of music as us, so he's really into metal music. W/ Nick, we kind of re-invented our kind of margin of metal instinct. Nick was more about taking things more in that direction, so that was the big difference.

Also, before we actually started recording "Meltdown", we spent a week just in the studio playing through all the material making sure we could play it live, because we really wanted to get a more live feel. On past records they haven't been quite as "rock" as we have been in a gig situation, so that was a big factor.

D: "Meltdown" has a similar production sound & vibe as the Foo Fighter's "1x1" album (Nick Raskulinecz was producer on both). Was that a by-product of studio collaboration or pre-determined musical direction?
Rick: We didn't really sit down & say "alright we're gonna make it sound like the Foo Fighters". It was just us finally getting into America & trying to make a record that sounded like records we grew up w/stuff like 'Nevermind' & Smashing Pumpkins. It has a completely different production value than in the UK, where the UK is very melody-driven but I think there's a lot more attention to detail in the overall picture. We weren't trying to emulate the Foo Fighters or nothing. That's just what we wanted…a big-ass rock sound.

D: What songs do you see having the best opportunity for mainstream success?
Rick: Hard to say, the singles over here would probably be quite different from the UK, because American radio is more into the harder stuff. A song like 'Meltdown', which we're trying to get added to the radio at the minute, but that wouldn't go back in the UK. 'Clones', maybe the harder songs would go better over here.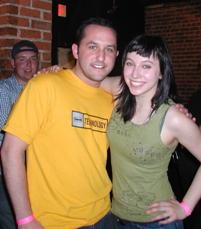 D: A lot of UK artists like Coldplay / Snow Patrol / Keane are having mainstream success here now w/ the help of ballad singles. You've gone in the other direction w/ all-out rock. What drove that?
Rick: I think we've always sort of been in the background of what's popular w/ every album we've released. It was kind of like we went rock & the rest of the world went Indie. But we've got to follow our own path, we're cool w/ that.

D: I imagine it's more fun too, right?
Rick: Oh yeah, this record's probably the happiest we've ever been w/ a record. It sort of captivates al the influences that we had as kids. I think definitely as a band we feel it's our best sounding record, if not our best record overall.

D: You, Mark, & Tim are well known as Star Wars buffs, how did the opportunity to contribute to the 'Star Wars: Republic Commando' game & a visit to Lucas' Ranch come about?
Rick: Quite coincidentally, really. Our manager was asked if we had any new songs because there was this Star Wars game coming up. Tim had written & demo'ed 'Clones' 2 weeks before. They requested it, we sent it in, & they said it was perfect for the game. After Coachella last year they invited us to Skywalker Ranch to check out the process of making the game & shot us against a gold screen for the game. It was a real honour for us to be involved, being such big fans & all.

D: Did Lucas reveal whether or not Jar Jar Binks dies in Episode 3?
Rick: No, we don't know what the hell happens. I think as fans it's better to keep it that way. Keep in the dark until you're actually in the cinema.

D: You covered the Star Wars' song 'Cantina Band' at the game's launch party in February—was it true to the version on the 'Girl From Mars' single?
Rick: It was pretty good. 10 years ago in the studio we kind of got carried away w/ all these dramatic sound effects. I'm sure John Williams would probably be disgusted w/ it.

D: Okay, it's time for the bonus round. The highlight of 2005 will be…?
Rick: My personal highlight was showering my Mac laptop—which I did in Japan by pissing on it. Yeah, that was quite decadent—taking a leak on a 2 grand lap-top.

D: Which of your band-mates has the hottest mom?
Rick: Hottest mom? Oh god...I'm not even going to answer that question (laughs). I'll get in trouble (laughs). I think all our parents are attractive, so that would be a reasonable answer.

D: Most annoying thing yelled out by someone in the crowd at a show?
Rick: Drum solo! That's annoying. Can't play a drum solo.

D: Skynyrd?
Rick: I don't think we've ever had Skynyrd or "Freebird" yelled at us before. The band Crimea played the Bowery in March & ended up on the page 1 of the Journal because someone at the show shouted "Freebird" at them & some journalist happened to be at the show & wrote about it.

D: Last album that blew you away?
Rick: Still haven't heard all of the new QOTSA, but it's pretty cool so far. Last one was Eighties Matchbox B-Line Disaster from the UK.

D: Favorite drummers?
Rick: Definitely Dave Grohl. Along w/ John Bonham, Ian Paice, Jimmy Chamberlin, & Pat Wilson.

D: Top reason to not miss Ash w/ The Bravery when they roll through town?
Rick: It's a great show. Two really amazing live bands. It's kind of competitive, & it's a great chance to see two really good bands at a small venue.

D: Rick, thanks so much for your time & for this opportunity. Good luck on the rest of the tour & in the future. Can't wait for the 4/10 Detroit show. Thanks again.
Rick: Cheers.

---



Ash will be playing in Detroit on Sunday night, April 10, at the Magic Stick wsg The Bravery. "Meltdown" is available in-stores & online today. Pick up tickets to their show & the new album.


UPCOMING DATES: 07 April Univ of Minn (Minneapolis) / 08 April: Metro (Chicago) / 09 April: Promowest (Columbus) / 10 April: Magic Stick (The D™) / 12 April: Agora Theatre and Ballroom (Cleveland) / 13 April: Toronto Opera House / 14 April: Cafe Campus Montreal / 15 April: Axis (Beantown) / 17 April: Bowery Ballroom (NYC) / 18 April: Bowery Ballroom (NYC)

posted by Uncle Grambo |
---
Wednesday, April 06, 2005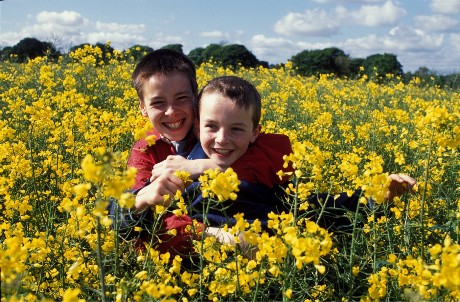 Abortion. Gun control. Religion. Health Care. Welfare. Politics. Nary a day goes by in any of our lives where we aren't confronted by a friend, family member, co-worker or Greyhound bus driver and asked to provide our opinion any of these respective issues. Our inability as a society to come to any semblance of agreement on the answers to these moral and ethical issues is a constant threat to the already tenuous thread that holds us together as a nation; simultaneously, the debate that has raged and will continue to rage on these subjects demonstrates the beauty and foresight that our Founding Fathers comprehended in the First Amendment to our nation's constitution – the right to free speech. A right which ultimately provides each and every one of us with an unalienable right to decide how we want to live our own lives.

But, over the course of the roughly 227 years that we have lived as a sovereign nation, we managed to mostly make-do despite our differences. Howevs, a new debate has reared its ugly head in just the last three years or so that, most will agree, threatens us to our very core. And that debate, my friends, is whether Fast Zombies are better than Slow Zombies.

The blame credit for this development rests largely on the shoulders of a wiry, forty-six year old British film director named Danny Boyle, whose decision to make zombies RUN VERY VERY FAST in 2002's "28 Days Later" resulted in nothing short of a revolution in modern cinema -- for the better.

When your Uncle Grambo recently sat down with Danny Boyle at Birmingham's legendarily posh Townsend Hotel for a 10-minute Q&A session on a promotional tour for "Millions" (Fox Searchlight), I couldn't resist dropping some zombie science with the man who changed all of our lives. What made this man toss aside nearly 70 years of zombie lore and have them motherchuckers sprint around the screen all crazy like?

"Alex (Garland), the writer, was a BIG zombie fan, a MAD zombie fan," Boyle explains. "And I wasn't. I respected the films, but it always struck me as ridiculous, the obvious thing, why are people so frightened (of zombies) when they can just walk away? They got plenty of time, don't they?"

Well, yeah, but that's the whole point, innit Danny? You could, theoretically, just walk away from a zombie invasion (as the "Shaun Of The Dead" guys explained to me last fall). You see, though, eventually everyone gets careless and that's when the zombies get ya¹!

"Time is really what modern cinema is about," Boyle continues. "We COMPRESS time continually. Trailers COMPRESS an entire film. And I thought, time was what '28 Days Later' is all about."

Hmmm. Great point. Aside from being a thriller that gets your heart rate pumping crazy style, there's a message behind the journey from hospital bed to English countryside that the protagonists take. But still, couldn't you have accomplished the same goals by keeping true to the Zombie Credo? Turns out, not so much.

"Then I worked with these cameras where there was this setting that, whereby if you recorded quick motion, it was like DOUBLE quick motion. But it didn't look silly. It look quite scary, like you couldn't quite trust your eyesight anymore. And I began to think about them moving like that. If the zombies if they come running at you, with this camera setting and a look of fear on their face, everyone would be like RRRRROOOOAAAAR!"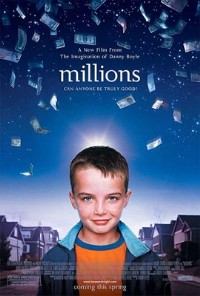 And shit yeah, was he ever right! "28 Days Later", a modestly budgeted digital feature, became an international smash that made audiences RRRRROOOOAAAAR during both its theatrical and home video runs. The director, who had experienced some very public criticism after directing Leo DiCaprio in "The Beach", was back at the top of his game from both an artistic and commercial perspective. For his next project, he decided to revisit to a familiar MacGuffin -- a bag of money -- albeit, in an entirely fresh fashion. The result is one of this year's most positively reviewed films, "Millions" (currently showing exclusively in the Detroit area at the Birmingham 8).

"I just connected with it, I think, because a lot of it is similar to my own background", Boyle says when asked about what drew him to the story of two young, motherless brothers who discover a sack filled with over 240,000 pound notes. Their reactions to this stroke of fortune are at polar opposites of the spectrum. The older brother, Anthony (Louis McGibbon), approaches it from a very practical, almost capitalistic perspective, looking to invest it in in IRAs and real estate while the younger brother, Damien (played by the wunderkid Alex Etel), relies on advice bestowed onto him during (imaginary?) conversations with Catholic saints such as St. Peter. It struck this viewer that the differing paths that the brothers pursue could potentially represent an internal struggle within Danny Boyle himself, in how he views the critical and financial success he has enjoyed since the release of "Shallow Grave" and how that launched him into the rarified air where Hollywood directors reside.

"My mum and dad tried to improve my life, and I have ended up here because of it," Boyle admits. "There is a kind of side of me that's trying to resolve that. There's two routes you can take, and it's an ongoing question. All the time. To be absolutely honest, I've not resolved it at all."

Fair enough, yo. And, the manner in which he's visibly struggling to respond to a question I'm not sure he had been asked before certainly sheds additional light onto what is already a highly interesting premise and enjoyable film. Many reviewers have compared it to "A Simple Plan", another film in which the results of an unexpected windfall threaten to drive a family apart. However, the directorial flourishes that Boyle applies to Frank Cottrell Boyce's screenplay deliver the kind of visual flair and ingenuity that separate this movie from the everyday Hollywood fare that usually occupies the multiplex.

But as we discuss the film (he describes it as "aspirational ... it's about people improving their dreams, and then making them come true"), it's clear that my earlier line of questioning is still spinning around in Boyle's head. He quickly slips back into discussing some of the conflicts present within a small-town boy turned big-time director who, until the age of 14, was convinced he was destined to become a Catholic priest.

"It's very interesting that the first film was a bag of money. And indeed, the three of us who made that film (Boyle, producer Andrew MacDonald and writer John Hodge), some of the success that we had with that and subsequent films kind of drove us apart and created quite a bit of friction between us. As you can sort of almost certainly predict it would, and it did. It's so inevitable, it's so cliché."

He pauses for a moment to reflect, and then continues. "You know, you lose part of yourself, part of yourself vanishes in moving from your roots. In a funny kind of way, the end of 'Trainspotting' says it all. (Ewan McGregor's character, Renton) decides, all of his mates who mean everything to him, also repel him. He abandons them, he takes a bag of money and betrays them to reach his goals. And that's sort of it in a nutshell."

Unfortunately for the both of us, our ten minutes is drawing near a close; I notice the publicist circling out of the corner of my eye. After taking a brief moment to compliment Danny Boyle on his ability to consistently infuse world cinema with a distinctly fresh perspective that is undeniably unique to his films, we shake hands and go our separate ways, but not before posing for the quick snap that you see below.

During these closing seconds, it strikes me that, during these 10 minutes, I was incredibly fortunate to pay witness to a truly genuine (and certainly rare) occurence during a press junket; a moment where the stock anecdotes and rehearsed quips dissipate, and two men instead just chat about the movies and, more importantly, about life. And, for that, Danny Boyle will forever be buzzworthy in my book.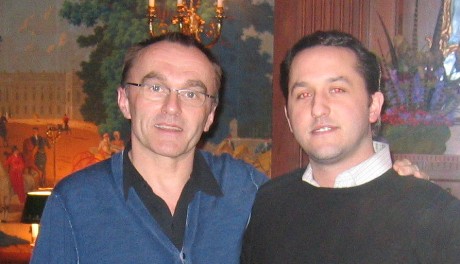 ¹ This particular exchange took place entirely in my thoughts. Like I'm going to challenge the man on this subject when I've only got 10 minutes. If I had 15, it'd be an entirely different story. Bovsnia.

posted by Uncle Grambo |
---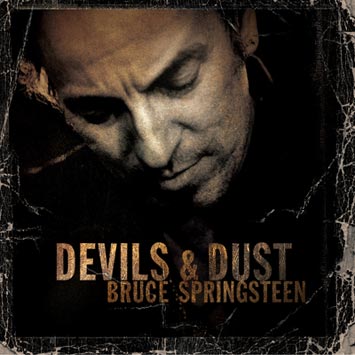 While the good folks at Columbia Records didn't see fit to issue your Uncle Grambo a pass to the "Devils + Dust" listening party on Monday night, I'm both happy and proud to announce that Bruce Springsteen's Spring 2005 "Devils & Dust" solo tour will kick off at the majestic Fox Theatre in downtown motherchucking Detroit on April 25th, y'all! Tix go on sale via Ticketbastard on Saturday morning, tix prices are "still being finalized", according to sources close to the matter. I say buzz.


Historians should note that this is the SECOND time that The Boss has chosen to open a World Tour in the greater Detroit area. Back in March of 1980, Bruuuuuuuce launched "The River" tour by tearing the roof off Ann Arbor's Crisler Arena. Historians should also note that this will be the seventh time that your Uncle Grambo paid personal homage to Mr. Springsteen, and the third time I've hit up a Fox Theatre show. SO BEST!


Thanks to The Grizz and Big Matt for sending the news my way, yo.

posted by Uncle Grambo |
---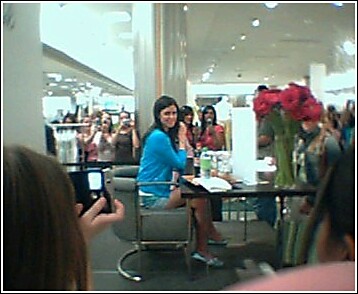 Yesterday was an unseasonably warm day here in The D™. So, when the 5 o'clock work whistle blew, your Uncle Grambo decided to pack up shop and make the most out of the day ... by heading to the mall!


Yes, that's right, the mall. Some prefer to spend a breezy spring day sitting outside, soaking up rays and enjoying the sunshine. Others throw on a tee and some mesh shorts and head to the local blacktop for some pick-up hoops. But not me, nuh uh. I put the ragtop down (so my hair can blow, obvs), throw on "The Last Days Of The Prime Ministers" and make a beeline for Club Somerset.


You see, as I've discussed before, this is the time of year where the girls start to show their summer shoulders. And, trust you me, there's no better place to witness such blossoming besteverness as the mall. Suburban hotties crawl the corridors donning the latest duds, all aglow and shit from the sunshine and springtime (or maybe that's just the Mystic Tan talkin'). Men of all ages roam the halls with jaws agape; depending on their age, they're either angling for their summer flings or reminiscing days long since past. It's really a sight to see.


Half-entrenched in a daze, as if the warm smell of colitas were rising up through the air, your Uncle Grambo entered the normally serene Marshall Field's. But instead of hearing some Michael Buble type shazz pouring through the speakers, I picked up on the unmistakable bummmp of Juvenile's "Slow Motion" coming from the floor above me. I immediately bolted for the escalators.


It was a mob scene, yo. There were TV cameras, boom mics, and hundreds of camera-phone bearing underage nymphettes crowding around a make-shift stage where none the fuck other than Nicky Hilton sat. Are you shitting me? Nicky Hilton! Granted, she's no Paris in either the looks or notoriety department, but this was the closest I've been to a real-live celeb since spotting Howie Durst Day at Bananaz last spring! Celebspotting opps are few and far between for denizens of The D™, so I decided to make the most of it.


And by "make the most of it", I mean I plowed my way through the throngs of thongs and up to the velvet ropes separating Darling Nicky from the plebian masses. Using my best paparazzo vocé, your Uncle Grambo bellowed, "HEY NICKY, HOWZABOUT A PIC? COME ON, YOU LOOK BEEYOOTEEFULL!" She turned to me, gave a quick smile, and I snapped the photo you see above. Hottness.


Howevs, to this observer, she was surprisingly unattractive; it wouldn't hurt her to mix a cheeseburger or three into her diet of birdseed and laxatives. Her head was oddly large for her teeny tiny frame, but then again, I hear that's a common trait shared by celebs of all shapes and sizes. She went a little heavy on the rouge, and the rest of her grill looked to be heavily pancaked; your Uncle Grambo was surprised, considering the Hiltons are (supposedly) famous for their impeccable style.


Speaking of which, the pic doesn't show this v.v. well, but she was sporting a denim micromini cut up to THERE, almost exposing the cradle of crotchdom. Her miniscule bird-like gams were crossed tighter than the security at Fort Knox, although I spotted more than one high-powered digital camera bearing loser trying to get some upskirt snappage. I will say that I dug the turquoise, slipper-like flats that she was wearing, but all in all, I can't say that I was impressed with her line.


After a few moments of considering whether or not I risk a beatdown by her bodyguard by asking her if she was interested in grabbing some lettuce wraps and sake bombs from PF Chang's with me, I thought better of the options and instead scoped out a kick ass desk from Hold Everything.


And that, my friends, was the time I almost banged a Hilton. And by "almost banged", I really mean "took a shitty camera phone picture of." Damn it feels good to be a blogga.

posted by Uncle Grambo |
---