Friday, April 01, 2005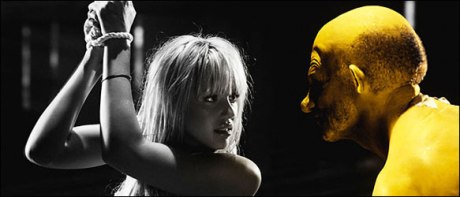 So sayeth The Nummer. Good thing the MPAA agrees, too. Otherwise "Sin City" would be sitting on the "Unreleaseable In The United States" shelf alongside "Ken Park" and "Trouble Every Day", yo.

No doubt about it, "Sin City" is the most viscerally exhilarating theatrical fun ride since "Final Destination 2." Ferreals. The slavish devotion paid by Robert Rodriguez to the spirit of Frank Miller's graphic novels is enough to put this in the top five movies of the year, bar none. But then, layer in the way that the gritty noir subject matter oozes off the screen, leaving a grimy film covering your skin as you exit the theater (btw, Slate's David Edelstein perfectly nails this feeling and why the movie abolutely DOMINATES in his review). Be careful not to forget the flawlessly bad ass performances turned in by Clive Owen and Mickey Rourke (the latter deserves an Oscar nom, without a doubt), and you just might be looking at the 2006 Grahammy Award winner. Plus, your Uncle Grambo has been waiting to see them Gugino tatts since "Son In Law", yo. Bovsnia. Go see it or die, scumsuckers. [comic-to-screen link via The Fiddler, natch]

What is this world coming to? Ms. Wheelchair Wisconsin stripped of title for standing up. Your Uncle Grambo isn't so much concerned with the fact that a real, live walking talking female took shamefully stole this particular crown from some righteously legless broad; rather, it irks me that the organization insists on using the pronoun "Ms." instead of "Miss." I mean, come ON, are these buncha hymen-free handicapped divorcees or WHAT? Maybe I'm just old fashioned, but for this blogga the term "miss" connotes a certain air of being prim, proper and virginal while "ms." is primarily referenced by tricked out, overripe Saigon pincushions. Snizz.

Double albums ... the new black? RELATED: Gum's got the new Foos. MP3 steez. [first link via Frank Chrome Waves]

Speaking of Scotty Gum, he revealed the cast for "The Surreal Life 5" earlier this week. Man, do those muthafuckaz at VH-Best have their finger on the zeitgeist or WHAT? Jose Canseco = ratings. Plus, I always kinda had a thing for Salt. ESPECIALLY when she was rockin' it rubber ducky stizz in the bathtub during the "Whatta Man" video. Grambo spent many hours wishing he had "a body like Arnold with a Denzel face." Mmmm hmmm!

Ouch. If I were an artist, I'd hate to be on the receiving end of EITHER of these reviews:

"The Bravery manages to ape every hipster band that has scored a SPIN magazine cover in the last three years. The result, not surprisingly, is a band without an identity and a record that feels completely disposable. On 'Diabolic Scheme,' (lead singer Sam) Endicott sings, 'Liars aren't fooling anyone.' No, and neither are the Bravery." — The Grizz, in today's DetNews


"More than ever, the focus here is on Moby as a singer and songwriter, which is strange, because he is not very good at either job ... this music isn't just dull, though. Like much of what Moby has produced since 'Play,' it's condescending, too. Much of it sounds like the work of a producer who thinks pop music is supposed to be kind of idiotic, and who thinks pop audiences should be glad that he deigns to give us what we want." — Kalefah Sanneh, in Thursday's NYT



Not having cable blows. Especially after learning I missed Madchen Amick on "The Late, Late Show" just last night.


These are the kinds of columns that make me jealous of Chuck Klosterman's mad skrillz: "Working at being cool is never cool" (from this month's SPIN, I believe). [via Skeet On Mischa]


The thing your Uncle Grambo can't stand about 18 year olds in the NBA is that we won't know for another five years if Sebastian Telfair is any good or not.


Let me get this straight. The Detroit Tigers cut Dirty Sanchez but kept Higgy? I guess that being buddies with Cheli-Blows and Drapes has its privileges, after all. I mean, OTHER than tagging underage snatch. Robvs.


That's it for now, bitches. Look for me, a freshly shorn Big Matt and Bob Barker at the Bloc Party gig this eve. Sparty on and, whatever you do, don't burn any couches / futons / mattresses in either celebration or defeat!

posted by Uncle Grambo |
---
Walter Sobchak: You want a toe? I can get you a toe, believe me. There are ways, Dude. You don't wanna know about it, believe me.
The Dude: Yeah, but Walter...
Walter Sobchak: Hell, I can get you a toe by 3 o'clock this afternoon... with nail polish.



No, that is not a severed toe. But yes, that is a severed finger. And yes, that appears on the front page of today's Freep. And yes, I just puked in my trashcan.

posted by Uncle Grambo |
---
Thursday, March 31, 2005



Betty Turns Twenty One (dot com). Thursday, April 14. 8pm. Oslo. Not since The Donnas turned 21 has such electricity been revealed!


Despite being cast the lead villainess in the upcoming "Superman" movie, this observer thinks it's still fair to say that Parker Posey ain't got nuthin' on Miss Betty Marie Barnes. As anyone who's seen Saturday Looks Good To Me will attest, when she puts those hands upon her hips, then you dip I dip we dip. I mean, come ON! Some say the most devastatingly saucy chanteuse to hail from The D™ since Madge!


Bonus buzz: Take a listen to this oh-so-hott cover version of Blondie's "Call Me" as performed by Betty and the boys from Pas/Cal, courtesy of the one and only Laura Modern Age.

posted by Uncle Grambo |
---
Wednesday, March 30, 2005

Feeding tubes ... some say the hottest accessory since the Blackberry!

RIP, Johnnie Cochran ... some say we all miss Jackie Chiles more.

Chad McQueen Quits Acting ... some say the least meaningful and relevant headline since Silver Jews Album Saved From Studio Fire!

The rumours that Mike DeLuca are headed to Miramax ... some say Harvey who?

Busy Philipps photoshoot for Stuff ... some say the former Kim Kelly is no longer freaky nor geeky.

Defending pop stars like Ashlee Simpson ... some say the bleeding edge of buzz for the Hipster Elite.

Ted Leo's cover of "Since U Been Gone" ... some say this shabbily constructed cover comes off as more soulless than sardonic.

Kelly Clarkson doesn't know what a blog is ... some say it makes your Uncle Grambo want to jump her bones even more.

The Gurgling Cod and Fuseblog ... some say the two best blogs you're probably not reading but should be.

Going to SXSW and spending almost all your time reporting on bands that can be seen around The D™ on any given weekend ... some say there are better ways to spend your time while in Austin.

Chris Handyside's review of Louis XIV's performance at SXSW ... some say powerful and funny enough to completely negate the prior statement.

The Freep reporting that WXYZ weatherbabe Shay Ryan is only 30 years old ... some say even more dubious than Jenny From The Block naming Saginaw a "cool city."

The announcement that Rick Rubin is working on Neil Diamond's comeback album ... some say the best comeback since The Pixies at Coachella.

Finding out that I missed Michelle Trachtenberg's appearance on TRL a few weeks back ... some say singlehandedly spurred my decision to invest in an upgrade to DVR.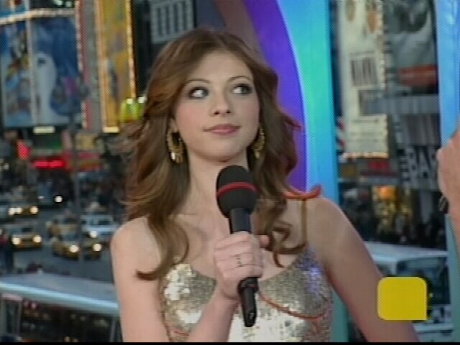 posted by Uncle Grambo |
---
Tuesday, March 29, 2005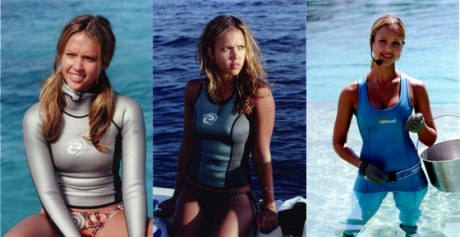 Mmmmm, not just for Starkist aficianados anymore. Chicken of the Sea, my arse! Some say Jessica Alba is the best thing to emerge from the sea since Daryl Hannah!


Which reminds me, it's been a L-O-N-G time since the halcyon days of December 2003, yo. Allow yourself to flashback with your Uncle and Cashilini to the days when Jessica Alba scorched the earth with the theatrical release of "Honey." Damn, them days seem like an eternity ago.


Fortch, this week marks the HIGHLY anticipated release of "Sin City", the first of THREE red-hawt Alba vehicles to hit scrizzies in 2K5 (the second being "Into The Blue" -- currently slated for a July 15th release -- and the third being "The Fantastic Four" -- currently sans release date).


Horny straight dudes everywhere should throw propers to her agent for hitting the trifecta by getting her cast in what have to be three of the most requested Alba fantasies imaginable. You prefer your multi-ethnic sex kitten roleplaying as a private dancer? You gots "Sin City." You likey the skimpy bikini buzz? Wait for "Into The MmmmmBest!" (from the brilliant beach bum brain of John Stockwell, might I add). Or, maybe seeing this nubile vixen clad in full body spandex is the kinda thing that stirs your drink. If so, wait patiently for "The Fantastic Four."


Can it get any hotter up in this bitch? Only if your Uncle Grambo gets to cast her alongside Amanda Bynes and Salma Hayek in my oft-discussed "re-imagining" of the 1974 classic, "Candy Stripe Nurses"!!! Skinemax stizz. Obvs.


So, did ya miss me? Aside from the fantastic time that Bob Barker and your Uncle Grambo had at The Dears show, my weekend was jam packed fulla action. All kidding aside, the social calendar had to take a backseat to the U-Haul van as I moved from Royal Joke to Hamtown. Howevs, I made sure that Easter dinner with the 'rents ended in time to watch The Spartys cold-cock the most storied basketball program of all-time on their way to the Final Four. Sparty on, dude! Saturday is gonna be outta contreez, natch. Denizens of East Lansing, hide your couches, ... it's Final Four time!


Alicia Silverstone ... from "Clueless" to bra-less. I say best.


Silverman Signs on for CBS Comedy Pilot. OMG, how best! Everybody hearts Sarah ... oh shit, wait. Not that Silverman. JONATHAN Silverman. Gimme A Break!


Welcome back, Filthy Celebrity Imposter. If there's one thing that the country can agree upon in the wake of the Schiavo nightmare, it's that the nation is glad that this tragic sitch provided you an opportunity to come out of retirement. Anyone else want to see Filthy take on So Sayeth The Peabs, "Celebrity Deathmatch" stizz?


TOTALLY BINOCULARS! Like, literally and shit.


So much for my happy ending...


Lauryn Hill looking for all the WORLD like the long-lost love child of Dr. Bill Cosby. Puddin pops!


I know that I'm running WAY late on the whole Pat O'Brien scandal, but it's DEFINITELY worth throwing propers to Thighs for his redonkulous coverage. Yodel atcha.


And finally, in news that comes as a shock to no one, The Killers are blazing down the fast track on their way to becoming bloated egomaniacs. In a recent interview with NME, lead singer Back Alley FloWERST accused The Bravery riding their coattails to a record deal and ripping off their sound. Err, pot ... meet kettle. Ferreals, yo. [via Damore]

posted by Uncle Grambo |
---