Friday, March 11, 2005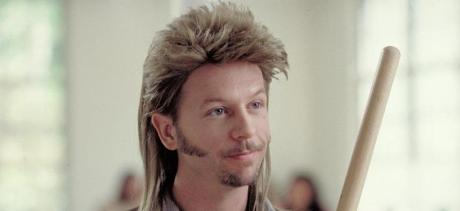 Regardless of whether or not you find David Spade to be even the least bit funny, you have GOT to respect the fact that homeboy is still working steadily nearly 10 years after he left America's favorite late night show. It's important to remember that, at one time, his very existence was SOLELY predicated on the fact that he made a perfect foil for a genius-level comedic supernova. Additionally, a handful of his peers have fallen by the wayside over the last decade, despite being more marketable and more talented (specifically, Norm McDonald comes to mind). Yet here we are, all those years later, and Spade is STILL a star of both the silver and small screen. So really, the question is this ... how did a puny, mostly unattractive guy like David Spade make it in the face of almost insurmountable odds?

Dude, beats me! I'm afraid not even the Tootsie Pop Owl knows the answer to that question. But regardless of the what the answer is, the fact remains that you gotta respect the tenacity that Spade has displayed over the years to remain firmly entrenched on Hollywood's B-List.

So, with that said, please enjoy the patented pre-show comments for this weekend's Spade / Jack Johnson episode! Courtesy, as always, of the dynamic duo of Nummer and H-Bomb.

NUMMER
H-BOMB
Episode 14: David Spade / Jack Johnson (3/12/05)

I'm split on this episode. Due to the strong chemistry with fellow cast members like Farley, Sandler and Schneider, Spade proved to be a valuable SNL link during his 1990-1996 run. When he returned to host for the first time in the Fall of 1998, he and Will Ferrell delivered an amazing episode which not only featured the debut of Mack North but also four other instant classics: "Accruing Equity and Making Hot Sweet Love", "The Sensitive Drill Sergeant", "Happy Birthday Grandma" and "Bachelor Party Rules". Looking back nearly seven years later, it is hard to believe so many great moments were housed in just a single episode.


That said, Spade's post SNL work has only been funny unintentionally. "Just Shoot Me" had no buzz and box office outings like "Joe Dirt" and "Dickie Roberts" found their way to the dollar shows faster than Fallon's "Taxi". Hopefully, Spade will prove his best years aren't behind him and use this opportunity on SNL to be funny again.


On the music side, we have Bonnaroo favorite Jack Johnson. Aside from his guest spot on "Rodeo Clowns" with G. Love back in 1999, I haven't really paid much attention to him. At the very least, expect him do do a better job than 50 Cent did on the last live episode.

David Spade? What's going on with this guy these days? Granted, I'm not exactly "in the loop" on all the happenings in Hollywood, as he may very well have some major movie or something coming out, but that certainly didn't curb my surprise when SNL mentioned Spade's name as host for this week. Surprisingly, I have no problems with Spade despite his less than stellar success on the big screen (and otherwise) after leaving SNL. In fact, I'm actually somewhat optimistic that his past experience on the show, as both cast member and host, will allow him to pull off a fairly decent episode that's not only funny delivery wise, but hopefully on the writing side of it as well.


As for Jack Johnson, I'm only really familiar with one or two songs that I've heard on the radio. His music is alright, not exactly my cup of tea, but still a nice change of pace for the SNL musical stage.
posted by Uncle Grambo |
---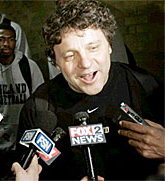 HOLY CRAPBALLS! I know this story is a little more than 24 hours old, but this is important to me. Your Uncle Grambo would like to throw a heartfelt congratulations to Coach Kampe and the OU Golden Grizzlies for shocking the world and earning a ticket to the Big Dance. You see, your beloved Uncle earned his stripes on the hardwood during many a summer basketball camp at Oakland University under Coach Coachie. As the son of a proud OU alumnus, seeing this teeny tiny university scrap its way from Division II powerhouse to Division I overachiever is something that brings me great pride. Seeing my homeboys from Rochester Hills beat all the odds and score a surprise bid to the 2005 NCAA Tournament is nothing short of a miracle, and this fan is nervous with anticipation to see where they'll land when the brackets are announced on Sunday. Coach Stephan, can I get a "WHUT WHUT"?

While I'm on the Rochester Hills tip, it's good to see that Paul Davis is gonna stick around Spartyville for his senior season. There's no doubt the former Mr. Basketball has got an NBA body, but it's good to see that his inner circle is strong enough to realize that the Gravy Train will be that much more bovsworthy if he spends another year getting his mental approach to the game where it needs to be. Good luck, mate.

Nothing screams "St. Patricks in Taylortucky" like Rob Base at The Trolley Stop! Some say the best show since 2 Live Crew's Valentine's Day show at the Toy Box in Dearborn. Hey Dearborn! [via Matt Tobey]

This is rich. Brit Brit is apparently "very jealous" of her husband's newfound fame. Is there trouble in Kentwood? DEVELOPING!

Overdue shout-outs:

Label me a Batman neophyte if you must, but doesn't anyone else out there think that Chris Nolan is scraping the bottom of the villian barrel by featuring The Scarecrow the baddie in "Batman Begins"? Makes me long for the days of Ray Bolger, "If I Only Had A Brain" stizz.

This amateur photog is thrilled to see that one of the snaps that your Uncle Grambo took of The Avatars last weekend made it to their official Fotolog!

Hmmm. Here's hoping that My Horizontal Life by Chelsea Handler is a picture book! Robvs.

And finally, closing off this ketchup post, your Uncle Grambo would like to bid a fond adieu to Luna. It was two weeks ago tonight that my all-time favorite band made their final stop in The D™. This fan is glad that they chose to go the route of Barry Sanders, calling it quits while still at the top of their game. Their decision to avoid the fiscally lucrative yet spiritually bankrupt path of continuing to hang on and tour after they've lost the passion and instead gracefully ride into the sun will only add to their already impressive legacy. Say a prayer, for you and me. Say a prayer, tell me will you miss me? [via Frank Chrome Waves]

posted by Uncle Grambo |
---
Wednesday, March 09, 2005

March 2005: Truly a blessed month for your Uncle Grambo. I mean, when else in history will new flix from both Bynes and Trachtenberg appear at the multiplex in back-to-back weekends? Best. Month. EVER!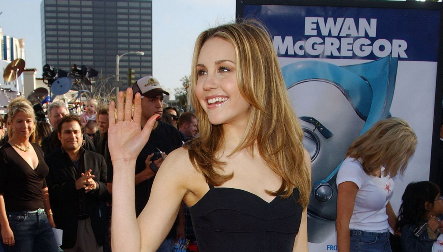 All hottness courtesy of Superior Pics, yo.

posted by Uncle Grambo |
---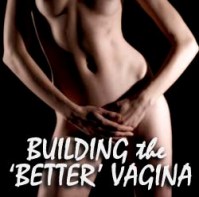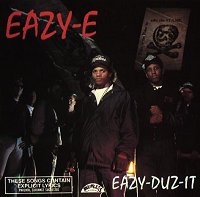 AT LEFT: The cover of the March 9th, 2005 edition of The Detroit Metro Times.
AT RIGHT: The cover of Eazy-E's 1988 masterpiece, "Eazy Does It."


First things first. Your Uncle Grambo is of the opinion that it's a questionable editorial call, at best, to put a naked woman alongside the headline "BUILDING THE BETTER VAGINA" on the cover of this city's largest alternative weekly. Shouldn't this paper, as it constantly strives to gain respek as an editorial force in this town, be above this sorta low brow titillation buzz (ie, the "Jenna Loves Belldonna" cover of Real Detroit last month)? Especially when said cover story subject, Dr. Joseph Berenholz, is a big Metro Times advertiser?**


Ultimately, howevs, that issue is neither here nor there. The real question is this ... who's the graphic designer who decided to attach the famed Ruthless Records font to this story? Whoever that person may be, please step forward for your propers! I shat you nizz, this is probably the most sublime reset of Eazy's legendary "fable that you need to listen to" of all-time. "And then I get the other pussy, put in the freezer / So I can always have an on-hold skeezer!" ... positively brills! Give that man a ham sandwich!


HUGE ups to The Metro Times for their overall besteverness. Mainly though, for allowing this blogga a momentary flashback to the late 80s, when your Uncle Grambo subsisted mainly on Kool Aid sandwiches and 40 oz bottles of OE. Times were tough, scrapin' for nickels, watchin The Man put my moms and my pops in their place, 24/7. But, despite all the hard times, my homies and I LIVED for the night time, yo. Cruising 'round the hood¹ in the drop-top 64, sitting shotgun while Coach drove, The Clizzark and Malbersblows reppin' hardcore stizz in back. We'd spend HOURS straight mackin', poppin' caps in bustas, downin' 8-Ball and chasin' skeezers while listening to the man who was built like a tank yet hard to hit. Good times, y'all, good times. As Edith Bunker once said, those were the days. To this day, I hate to even THINK where my posse might have ended up without the inspirational braggadocio of Eric Wright blaring from our speakers, teaching us all how to become men. Ferreals.


*This post is dedicated to Matt Haber and the rest of the boys at Low Culture, whose keen observational skillz allow them to churn out their seemingly endless patented blend of "Hey, doesn't that headline / cover story / photograph remind you of that OTHER headline / cover story / photograph?" resets. So clever it hurts. Really. Honestly. I'm not being snarky.² I swear! It hurts. A lot. Like, every time I click through.
**Wisely, Sarah Klein disclosed this fact in the article. But STILL!!!
¹ And by "hood", I obviously mean "mean streets suburbs of Rochester Hills." Bovsnia.
² Okay, I confess. I was being snarky. But seriously, isn't that shit even MORE tired than my constant insistence at using "obvs"? And believe you me, "obvs" is even more tired than Lou Gossett was when he fell asleep during this year's Oscars. Ferreals.

posted by Uncle Grambo |
---
Tuesday, March 08, 2005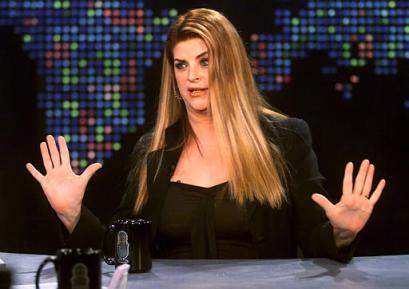 How best was "Fat Actress" last night? More importantly, how savvy is Showtime for unscrambling their signal so they could best reap the benefits of the buzz? Although I haven't been able to dig up any overnights, my guess is that ratings were strong and that they'll acquire a bevy of new subs over the course of the next few days. It may be a temporary spike, but hey, parts is parts.


Case in point: moi. Although it's unlikely that your Uncle Grambo will be ordering "Fat Actress" ringtones anytime soon, I will mos def signing up for some Showtime luv before next week's episode. In case you missed it, the show's tone was very reminiscent of "Curb Your Enthusiasm", so much so that I half expected Kirstie to bump into Larry David when she popped into make a pitch to the suits at NBC. And while self-deprecation is hardly a new angle for comedians to exploit, this viewer thought that the honesty that Miss Alley brought to her performance as, er, HERSELF was very striking. I didn't buy the opening scene of her crying on the floor while simultaneously berating her agent, but other than that, it all seemed very well executed. From the celebrity cameos (John Travolta, Kelly Preston, Jeff Zucker) to the casting of Kirstie's closest confidants (Rachael Harris, Bryan Callen), I give big ups (bad pun intended) to Showtime for delivering on an interesting premise with a solid premiere episode.


Who's the loser in this equation? Unfortch for me, that'd be "The Inferno" ... maybe it's just me and maybe I'm just getting older, but is anyone else feeling the burn of overexposure to "Real World", "Road Rules" and Coral The Bitch Face? Can't someone at MTV encourage Jonathan Murray to, I don't know, take a three week vacation in Cancun or something? Wait, scratch that. He did that before, and our society nearly crumbled from lack of interest. Mars.


As if it wasn't patently obvs from the get-go, VH1's "Strange Love" was simply a ruse by both Gitte Nielsen and Flava Flav to gain buzz. Looking for proof points? Brigitte just married Mattia this weekend, Dominican Republic stizz. Which, ultimately, is probably the best thing. I'm surprised that Suge Knight or someone of that thuggish stature didn't put a hit out on Brigitte after her mortifyingly embarrassing attempt at cold lampin' with Flav at a recent PE Reunion concert. WORST!


Even though she's got a scary kind of Susan Powter vibe going on, I spent two hours last night entranced by Suze Orman and her PBS Special, "For The Young, Fabulous And Broke." Call me fiscally ignorant, but I had no clue that closing an open credit card actually HURTS your FICO Score. This factoid, and many more, were revealed during this broadcast. Some say a worthwhile use of two hours, especially if you're as casual with your cashola as Uncle Grambo.


Here's a few other tidbits of hottness, bullet stizz:


posted by Uncle Grambo |
---
Monday, March 07, 2005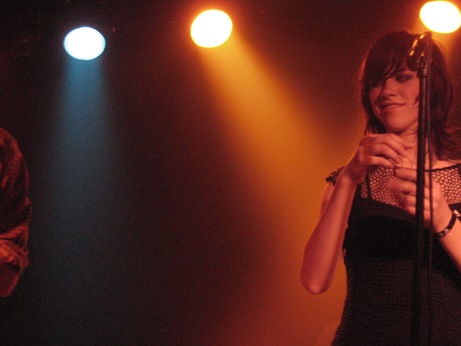 More like Betty Marie Best! The lead chanteuse of Saturday Looks Good To Me stole the hearts of every man, woman and child within a 35 mile radius of Small's on Friday night. Combine the looks of a young Parker Posey with the sweet vocal stylings of an indie pop goddess like Sarah Shannon and BLAMMO! You've got yourself a little touch of star quality, Buenos Aires stizz. Don't be surprised if SLGTM blows the eff up after they perform at this year's SXSW. They rocked this blogga so that that I was practically compelled by force of nature to run out and buy their latest LP, "Every Night", first thing Saturday morning. So, so best. Ferreals.

And while I could go on and on about Friday night's festivities, I'll let the pictures do the talkin'. I'm betting on the fact that, by the time you read this, those slackers at Motor City Rocks will have their Official Recap completed. Times a wastin', boys (and girl)! Bovs on your respective tees, and regular posting will resume shortly. Natch.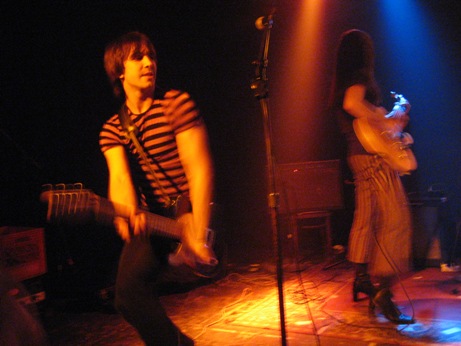 All photos snapped by Uncle Grambo, robvs. FYI, the bottom three are of The Avatars. So. Much. Buzz.

posted by Uncle Grambo |
---