Friday, June 04, 2004

while everyone in The Blogosphere™ has spent their morning covering the breakup of Creed, your Uncle Grambo has been in conversations with the producers of the upcoming O.J. Simpson reality show, tentatively called "Juiced!" c'mon, admit it ... you're pretty bored of seeing Ashton Von Kutcher send phony SWAT teams to the homes of his "70s Show" castmates. and being witness to Nick Lachey's sprint towards emasculation has definitely lost its appeal over the last few months, hasn't it? The Juice is EXACTLY what we need to take reality television to the next level ... just imagine the hijinx!


i pitched a few episode ideas this morning; one of which involved the long-anticipated reconciliation of Pedro Guerrero and The Juice (my suggestion: give 'em a few eight balls and just roll tape!). i also pitched a panel discussion where Marcus Allen and O.J. furiously grill Robert DeNiro and Roger Ebert as to why they don't like to bang white girls; heaven knows Allen and The Juice wouldn't have it any other way! in addish, I thought that if we could convince Jayson Williams, Daryl Strawberry, Nate Newton and Orenthal to take a road-trip to Mardi Gras and document the exploits, we could score "M*A*S*H"-finale type ratings on PPV. shmears. we'll see where the conversations lead, but if I pack it up and ditch whatevs (dot org) in the next few weeks, you'll know why. "Juiced!" ... so bestest!!


Bynes. Beach House. BEST! thanks to Jen-Bo for clueing me in on the appearance of my beautiful Bynes on TRL the other day, but unfortch I missed the episode entirely. i've just got my fingers crossed that The Grizz and Mandypantalons TiVo'd that shit. HOLLA!

not really sure if this is what the media refers to as "a credible source", but fuck it. Star Magazine is reporting that Jake GyllenBestEver has been cast as Superman. can you say mmmmBEST? and as long as I'm treading on the territory covered by both Trixie and the delectable Cinecultist, The Guardian takes a look at the best film cameos of all-time. and just for the record, they come up with probably the worst list I have ever seen. George Harrison in "The Rutles"? WHAT THE FUCK? worst. for your Uncle Grambo, it's all about Jerry O'Connell's legendarily best performance as Trip McNeely in "Can't Hardly Wait", probably the most underrated movie since "Fearless." obvs.

"You Are The Quarry" gets reviewed over at Slate. probably one of the better reviews (across ANY medium) that I've read in awhile, big ups to Hua Hsu.

here in Detroit, they call these women escorts, NOT "wingwomen" ... let me get this straight. i'm going to pay some chick that I don't even know $50 AN HOUR (!!!) to walk around the bar with me, introducing me to other girls? AND i'm supposed to buy her drinks? get the eff outta dodge! only in New York, yo.

the "Mojo In The Morning" crew gets some front page love in The Freep today for pulling a phone scam on Gov. Jenny "From The Block" Granholm. holla!

according to scientists, even ducks have British accents. fookin' gawky limey birds!

"It seems that people only have really freaky sex with people that you don't know that well" ... or so says Jessica Alba! this might be the only point in time where I'm glad that I don't know Jessica Alba, this means I've still got a shot at some really freaky sex with her. baby, if you're reading this, I'll be in Vegas next weekend. meet me at the Ghost Bar, 2am on Saturday. untz.

finally, the demise of the Peabs bot will no doubt bring great joy to SAC, whose crusade to rid the world of bots just gained new momentum. fortunately for the FOW Nation, The Detroit Suite™ is still going strong; I'm quite confident that Damore and the rest of the D-Troit crew will be able to pick up the slack. but like F. Scott Fitzgerald and Mozart before him, the gifts of Peabs will likely be appreciated more in death than he ever experienced in life. here is an eloquent and pitch-perfect eulogy of SSTP, courtesy of SAC, that was first published just over a week ago:

1. Peabs – This juggernaut of debauchery seemed unstoppable only a few weeks ago, as it barnstormed the country in search of "tees" to "bovs" upon. An interesting bot, to say the least, almost an anomaly in that I cracked a very human smile on more than one occasion while deciphering its bot-speak, which, by the way, still needs work. Who- or whatever programmed the peabs did not spend much time on its language applet, as words are truncated or misused outright. I am still working on the translation of the aforementioned "bovs," as well as the much-used phrase "jazzed all over your mizz." I'm almost positive the latter has something to do with Dizzy Gillespie and/or human semen. I could go on, but the point is that my BOT CRUSHING™ efforts have stopped this bot in its tracks, as the peabs has been silent for exactly a week. I am the destroyer of worlds.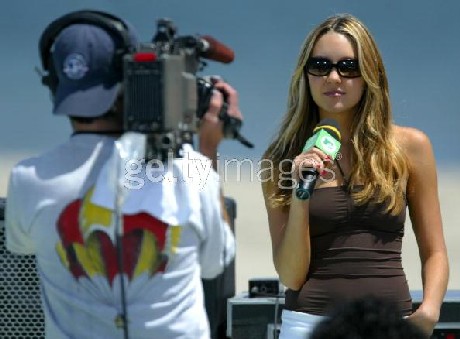 posted by uncle grambo |
---
Thursday, June 03, 2004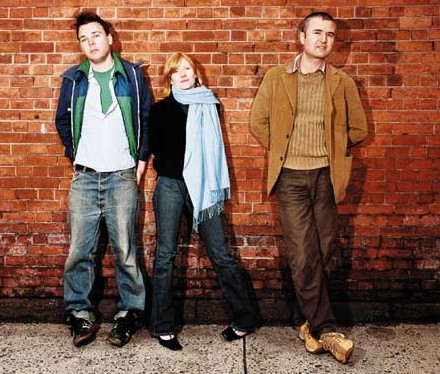 Nick Denton, aka PT Blogum, and his Gawker Media Empire get some well-deserved props in the new issue of Wired. while the article doesn't exactly break any new ground, it's a pretty fascinating look behind the scenes of NYC's latest buzz boy. and look at the pretty color photo (l to r:, the always stylish Choire Gawker, Ana Marie Wonkette — looking trés saucy of late, I might add — and Mr. Denton himself)! my burning question to the trio is this: while this is most certainly a flattering photo, WHAT THE FUCK IS UP WITH ALL OF YOUR FEET? doesn't anyone stand straight up anymore? it's called POSTURE, people. heLLLO! in addish, the photo certainly doesn't pay justice to the sheer size of Denton, who I briefly spoke with back in January. that dude is tall, yo.

can someone please tell me what the fuck is going on at The New York Times? yesterday, they had a stripper on the front page and today they fucking link to Bangable.com? uh, HELLO... anyone behind the wheel over there? where's this so-called ombudsman that I've been hearing so much about? you call THAT watchdogging? i can only imagine what's coming in this week's Sunday Times. i can see it now, the magazine replaced by An Amateur's Guide To Graveside Bukkake!!! [via Dirty McKean]

now THIS is what your Uncle Grambo calls ace reporting! The Associated Press managed to find someone who ACTUALLY moved from a big city to Detroit! no, that's not a typo. yes, I said TO Detroit! revealed!!! pay attention, Times staffers! [via Nummer]

who knew? you can work at a major daily newspaper, get busted for possession of narcotics, subsequently plead guilty and go to rehab and not get fired. no, I'm not talking about The Grizz. i'm talking about Wendy Case, whose life story is revealed by Shannon McCarthy in this week's Real Detroit. all kidding aside, i'm very much looking forward to the release of the next Paybacks record. their last jawn was crackin' with whip-smart, Cheap Trick-style pop gems. wow, Uncle Grambo must be getting soft in his old age. yesterday I was praising McCollum and today Case ... what's going on in the world? [via Motor City Rocks]

The Spoonbender ... so underrated.

best city name ever? Trollhattan. some say ten times more bovs than Manhattan. obvs.

The Onion presents Cinema's Least Erotic Moments. i say they're wrong about the Eminem / Brittany Murphy scene in "8 Mile", i thought that was some pretty hott sexx, yo. in its place, I would instead insert the famed scene in "Eyes Wide Shut" where Tom Cruise unconvincingly makes love to Nikkie Kidman's neck in the mirror, to the strains of "Baby Did A Bad, Bad Thing" ... despite the revelation of Kidman's rockstar bod and perfect nips, Tom Cruise's awkwardness at hetero-luvvin' always results in a chapter-skip when I'm watching the DVD. [via Trixie]

Peep the trailer for "Farenheit 9/11." [via The Gorilla]

Flak's Bob Cook on Elgin Baylor's no-show at last week's NBA Draft Lottery. if you know what that means, you'll think this article is genius, too.

anyone who's ever sat near home plate at Comerica Park knows about the hot dog vendor whose sales pitch is uniquely delivered in a vibrant soprano voce, opera-stizz. night after night, he brought his A-Game and delivered laughs (and tasty dogs) to fans of all ages. hell, he was even a good sport if you ripped on him (more than once, your Uncle and Coach had one too many soda pops and barraged him with "Opera Man" resets). well, yesterday's Freep revealed that Opera Man is no longer allowed to sing and sell hot dogs at the stadium! apparently, some pompous pricks complained (the guy has been doing this for YEARS, yo) and Tigers Management told him to knock it off. can you believe it?

fast forward 24 hours. believe it or not, this is currently THE single hottest story in Detroit ... some say hottest story in the nation. don't believe me? check out the website (singinghotdogman.com) devoted to saving this guy's job, the story was picked up in the WaPo, homeboy was on "Drew And Mike" this morning and The Freep ran a follow-up story. while Tigers management still hasn't reversed their decision, sources tell me to that it will happen before the weekend is over. detroit. so much buzz. opera, hot dogs and baseball ... some say best combo since the Cold Cut Combo. shmears.

SSTP ... In the afterlife, Peabs could be headed for the serious strife. may your tees eternally be bovs'd on, may your stash of mini-thins and Astroglide never run low, and may The Coz flizzum his way into our flazzums for all eterns. RIP, yo.

posted by uncle grambo |
---
when famous people come to Detroit, they almost always end up staying at the tres luxurious Townsend Hotel, smack dab in the middle of downtown Birmingham. right across the street lies the equally famous 220 Merrill Street, long a fave of Uncle Grambo and Coach Glinka. if you're looking to hit on grey haired divorced gold diggers with fake tatts, there is NO better place to go. obvs. howevs, it's also fast becoming THE hotspot for visiting athletes to get crunked. recent weeks have seen both Austin Croshere and Toni Kukoc knocking back drinks at the bar. now, sources at 220 report that BoSox shortstop Nomar Garciaparra mysteriously rolled into 220 on Tuesday night, uttering this EXACT line: "I'll have a Bacardi Limon and Coke and keep 'em coming". what a chach! and when i say "mysteriously", I really mean WTF! number one, the Red Sox were in Anaheim on Tuesday, NOT in Detroit. number two, getting wasted at a bar PROBABLY doesn't help you recover from your Achilles injury. where's Peter Gammons when you need him? developing...

calling forth a "coalition of cool", Gov. Jenny "From The Block" Granholm yesterday pledged a $100,000 grant to each of 17 Michigan cities as part of her widely mocked "Cool Cities" initiative. The list includes the following communities: Alpena, Bay City, Detroit, Ferndale, Flint, Grand Rapids, Jackson, Kalamazoo, Marquette, Port Huron, Portland, Saginaw, Saugatuck, Sault Ste. Marie, Traverse City, Warren and "Hipsilanti" (aka Ypsilanti). Yes, you read that list right, PORTLAND FREAKING MICHIGAN made the list. I'm fairly certain that all of the Portland buzz is courtesy of the massive success of its most famous daughter, Mandypantalons! Portland scored $100K to build a boardwalk that will connect the pedestrian bridge over the confluence of the Grand and Looking rivers (whatever that means!). SHMEARS!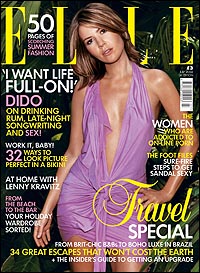 less than 80 hours til i'm watching Dido in concert. can. not. wait!


Blind item in today's Post: "WHICH pro basketball player, husband of a world-class beauty, is said to be having a torrid affair with a recently divorced actress? And when he's not with her, he's chasing other foxes." god DAMN, this has got to be the weakest crop of summer interns in history, cuz there hasn't been a more obvs B.I. in recent memms. natch, the lothario in question has got to be LA Laker / Soul Glo spokesperson Rick Fox, who's married to former Penthouse cover gal Vanessa Williams. any guesses on the recently divorced actress, though?


Paul McCartney admits that he used to do cocaine. yawn. least newsworthy item evs! nope, looks like I spoke too soon. Adam Brody spotted at Rite-Aid buying a beard trimmer.


Retro video games have SO much buzz. Can't wait for Zelda to come out for the GBA. some say the best $20 I'll ever spend.


welcome to the party, pal! The Japanese discover blogs. (EDITOR'S NOTE: I translated "bovs on your effing tees" into japanese, but Blogger apparently doesn't know how to display the hottness. it comes out reading "????effin ?????bovs!" ... does anyone else smell racism? if they don't use Blogger software, how else are Japaneses teens supposed to blog about tamagotchi and hentai? shmears!) [via Coach Glinka]


Laura Palmer will be returning to ABC this fall as the star of "Desperate Housewives" ... the show actually has a pretty solid cast, but the premise of the series seems to be "Lovely Bones" Lite. but attaching Sheryl Lee's name to ANY project always merits a buzzworthy rating in my book. i predict 80 million viewers will turn in each week. obvs. [via The Gorilla]


be sure and check out Foxy Jazzercise Just Jessica Blueprint Buzz's Special Report: Illegal Clubs are Sketchy. i was on the receiving end of a few updates from said party, and it sounded Sketch Supreme. in other words, hottness.


Royal Oak's Main Art Theater announces their list of Midnight Madness films for Summer 2004. things kick off this weekend with a screening of 1980's "Forbidden Zone," a cult classic which can't even really be found on VHS. it sounds pretty bovs, check the description: "The demented mix of science fiction and music is set in the Sixth Dimension, where Herve Villechaize (Tattoo of television's "Fantasy Island") presides as the masochistic midget king. Shot on a shoestring, filled with inane musical numbers and unsavory characters, the movie is best described as a cross between Max Fleischer cartoons and John Waters' bad taste." even if that sounds unappealing, be sure to mark your calendars for August 20th and 21st: on one of these two dates, your Uncle Grambo will be throwing the second annual "Big Lebowski Pre-Party Extravaganza" ... everyone who attended last year's party knows it was the hottness. keep an eye on your inboxes for the invite. snatch!

posted by uncle grambo |
---
Wednesday, June 02, 2004

breaking news from The New York Times! Being a stripper in Vegas isn't as glamourous as it seems! ace reporter on the scene, Sarah Kershaw, also reveals that strippers prefer to (get this) WORK LATER AT NIGHT, AS OPPOSED TO EARLY IN THE AFTERNOON! get outta town! who knew? more people go to strip clubs at night than during the day? but where Kershaw really breaks ground is her groundbreaking interview with a stripper named Trixie, who lets the legion of NYT readers in on a little secret: she recommends that strippers save their money instead of blowing it on drugs! by this time next year, your Uncle Grambo is predicting that the Pulitzer will be renamed the Kershaw. bovs.


when the NYT leaves you high and dry, you can ALWAYS count on The Post to give you the kind of deets that are truly important. in this case, the bombshell that Real World Cameran is dating Real World Ace! yep, he dumped that skanky Mallory for the hottest Real World-er evs ... with the lone exception of Jamie The Asian Chick, that is. NATCH!


TasteFest Line-Up Announced! highlights include national acts like Jet, Cake, and Rooney, but the REAL draws will be for hometown heroes like Carl Craig,Electric Six, John Acquaviva, Back In Spades, The Fondas, EsQuire, The Volebeats and Audra Kubat. hott, hott buzz. [via Motor City Rocks]


wow, and you thought that Lizzie Spiers got a lot of press? Ana Marie Wonkette is cold blowing UP these days, this time being featured in the LA Times. big ups to Nick Denton for being the PT Barnum of The Blogosphere, this man KNOWS how to get PR for his peeps. [via Romenesko]


seacrest OUT!

posted by uncle grambo |
---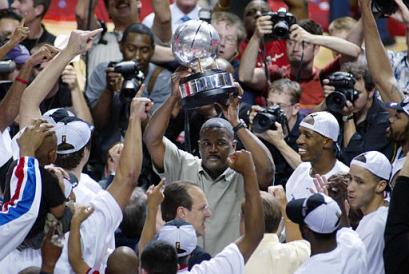 that's right, bitches! D-Town, whut WHUT!?! what an amazing finish to a wildly mediocre game, which featured the lowest scoring half of basketball since the invention of the shot clock. the turning point came when that punk ass bitch Ron Artest cold cocked Rip Hamilton, resulting in a flagrant foul and a subsequent 4-point play. and for REALS, can you really top Kid Motherfucking Rock waving a giant Pistons banner during a timeout in the closing seconds? nope, didn't think so. bring on Shaq, bring on The Rapist and most importantly, BEAT LA!

"i guess i'm just too punk rock for this" ... uh, buh bye Frankie Real World! while the show will definitely miss her as a character, the most troubling part of tonight's "RW:SD" episode was seeing how broken up Jacquese was after Frankie's departure. and let me go to press with this BOLD statement: Jamie The Asian Chick is the single hottest "RW" cast member ever! yep, even hotter than Cameran. that crazy Eve Hallowicked costume? mmmmBEST!

dude, how much do you wanna bet that Bailey is back to hitting the bottle? for REALS, how else do you explain him getting married to the altogetherly heinous Kelli Real World New Orleans? it's offish, WORST CELEBRITY MARRIAGE EVER! this makes the tryst between Minelli and Gest look like Tromeo and Juliet!

Sea Ray ... REVEALED! one of the great interviews in the history of The Blogosphere, authored by none other than Damore. last week's Sea Ray / Metric / Stills show was the HOTTNESS, big ups to Jeff and Greg for hanging with Retrobuzz and myself after the gig.

first time the words "Mount Clemens", "blue-collar" and "chic" have EVER been used in succession: Mount Clemens: Blue-collar Chic ... more like blue-collar GEEK! HA! or, better yet, east side durst family reunion! macomb county ... so worst.

Sarah Weinman escapes the Blogspot Ghetto with a hott new redesign. bovs all over those tees, natch. ESPECIALLY after she described your Uncle Grambo as having a "fiendish mind."

Gothamist Sports finally launches, anchored by the best everness of Rage Kage, aka Information Leafblower.

"Trying to define him is like trying to define a cloud" — Sean Penn on Christopher Walken. uh, say WHAT? hey Sean Penn, it's called Merriam Webster, buddy ... try it sometime!

cloud: a visible mass of particles of condensed vapor (as water or ice) suspended in the atmosphere of a planet (as the earth) or moon.



although that quote is nearly enough to make you want to storm the front doors of The New York Times and demand the head of Alfredo Garcia, author Stephen Rodrick's piece in this weekend's NYT Magazine is redeemed when he accompanies Walken to a screening of "Dawn Of The Dead"! quoth Walken on his unconventional choice of films, "You can never go wrong with a zombie movie" ... damn straight, yo! ya think that Walken hearts "Corpses"? i think the answer's yes.


and you thought bloggers were dorks?


if your name happens to be Matt and you happen to be the co-editor of 1115.org, you might want to call in sick this morning. Jessica Alba's photo spread in the new Details could quite possibly top that original Brit Brit / LaChappelle hottness in Rolling Stone all those years ago.


and finally, I would just like to publicly apologize to The Freep's Brian McCollum for everything I've ever said bad about him. His impassioned defense of the much maligned and financially beleagured Movement Festival that appeared in yesterday's paper was probably the best newspaper column I've read in a long, long time. It's readily apparent from reading this piece that this man truly loves the city of Detroit and wants to see it blossom into one of those "Cool Cities" that Gov. Jenny "From The Block" Granholm is always talking about. Put aside his close, personal ties with Derrick May for a moment; this article has nothing to do with that. It's actually a call to arms that encourages (begs?) May and Saunderson to get their shit together and focus their energies on making next year's Movement Festival the kind of event that it truly deserves to be. Not only that, it's also a VERY public challenge to Detroit Mayor Kwame Kilpatrick and his band of cronies to commit some of the city's resources (and dollars) on things other than the dreadfully durst Hip-Hop Summit.


on it's own, this is a truly, truly outstanding piece of journalism. but compare it to Mekeisha Madden's jaw-droppingly awful feature that ran in yesterday's Detroit News, and you're talking Pulitzer worthy hottness. accuse McCollum of cronyism all you want; if that's what it takes to produce a moving piece of journalism like that, I'll gladly take that any day over something so trite and impossibly vanilla. big ups, Brian ... big ups.

posted by uncle grambo |
---
Tuesday, June 01, 2004

just got out of a meeting that would easily rank in the Top 1% of Most Unproductive Uses Of An Hour ever. seriously, I haven't been that bored since my Astrology Class freshman year at Michigan. it was so boring that I almost started falling asleep, lecture stizz. in order to combat the fatigue that was spreading through my veins like wildfizz, I started riffing away in my Mead Composition book in a vein that can only be compared to Larry King's infamous USA Today columns. boredom can do strange things to men. with that being said, here is what I wrote, pretty much word for word:

If I could shoot one song in the head, execution stizz, it would have to be "Give It Away" by the Red Hot Chili Peppers.


Feta cheese. So good on eggs.


In the battle of Mint Juleps versus Mojitos, I pick Mojitos. Fresh mint in drinks ... so best!


Note to self: try Hungry Howies Bold & Spicy sauce with their patented Cajun crust. Remember to program the number of the paramedics into speed dial first.


New iPod earphones ... surprisingly ineffective when sweat gets in your ears.


Why don't any local mini marts carry that low carb Coke yet?


Wonder if Nummer has tried it yet. Sprite Remix Berryclear. Some say worst.


Dido. Could I BE any more in love with her?


"I was thirty. Before me stretched the portentous menacing road of a new decade ... Thirty — the promise of a decade of loneliness, a thinning list of single men to know, a thinning brief case of enthusiasm, thinning hair." — F. Scott Fitzgerald


Drinking a shot of tequila every hour on the hour ... some say an underrated way to get completely shitfaced.


Those Cubans have it right, chili powder and lime on corn on the cob is the way to go.


I know it's wrong, but "Here Without You" by 3 Doors Down is a fucking fantastic pop song.


Windom Earle. Best villain ever?


Brad and Big Rand dressing up as Super Mario Brothers in tonight's "Real World"? They stole that shit from Uncle, Peabs, Tizz and JT Lancer. Bovs.


Vegas.


If you're gonna pay bills while you're on vacation, wait until the last day to do it.


Syphon Filter 3 — harder than Japanese arithmetic.


Getting arthritis must be worst.


Buffy Season Six. Worst.


I'm pretty much the best Bejeweled player ever.


Saffron Burrows ... now there's a face to launch a thousand ships.



that is all for now. more real links later.

posted by uncle grambo |
---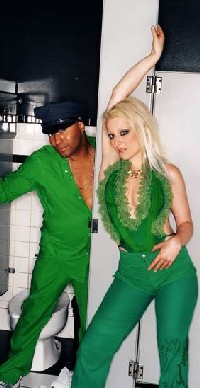 yeah, that's right bitches! i'm back ... you like this beach house? yeah, i bring all the ho's over to the beach house for some Courvosier and gumbo. yeah yeah, that's right, where'd YOU spend your weekend? Kool Keith and Princess Superstar were up in this bitch all weekend, just chillin' at the beach house and...

whoa, sorry about that relapse into my "other" character, Uncle Grumbo. you see, during the time in which I was bandwidth busted, I spent some time masquerading around The Blogosphere™ hawking my world famous gumbo to the PHC-starved masses. I soft-launched Grumbo's Gumbo to a highly targeted group made up of powerful investors, short order cooks and leggy supermodels from the 1960s. by the time I had completed my first post, I had sealed a deal with Mel Karmazin for international distribution of the soup to end all soups: GRUMBO'S GUMBO. Part of the deal required that I immediately shut down the website; I was compensated handsomely for the inconvenience. Only now, I come into work on Tuesday morning only to learn that the punk ass crypt keeper known as Summer Redstone has given my boy Mel the boot from Viacom and my deal has gone the way of the water buffalo. Rumour has it that Summer has got a friend on the board over at Campbell's and was NONE too happy to learn that a competitor was going to put them out of business within days. shatts!

but the good news is this: the FOW Nation has returned to whatevs (dot org) after a shutdown of nearly a week. i have learned my lesson and bandwidth will be monitored much more closely in the coming days, weeks and months. thanks for your patience with Uncle Grambo, now on with the buzz! just for shatts and giggs, we're gonna hit this bullet stizz.

more to follow later ... it's good to be back, thanks for the emails and offers to donate $$$ to keep the site alive. truth be told, the break came at a great time. i mean, check out all of the hard work that I put into my 20 Word Reviews! and oh yeah, Gwen Stefani ... some say she's never been hotter. shmears.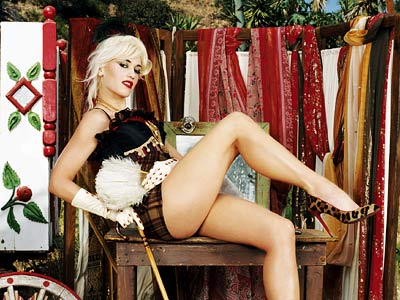 posted by uncle grambo |
---