Friday, January 24, 2003

"detroit has more of an image problem than an anorexic at prom time"


this rant courtesy of the one and only Grizz. mad props must be unleashed for providing whatevs.org with a steady stream of Piping Hot Content all this week. this little piece about Tha D and how our how thin our collective skin is will make you laugh out loud at least three times. however, for me, the best part is that subtly exposes the biggest taboo in Detroit, and i'm not talking about race relations or police enforcement or casinos or prostitution or bombed out buildings or homelessness or even crizzack. the one thing that you just can't do as a Detroiter is to stand up and crack back on the City. every 12-stepper knows that the first step to recovery is to admit that you have a problem, and that's one thing Detroiters never do. our problem is that we're so overly protective of Tha D and all it stands (stood?) for, that we can't see the forest for the trees. but before i start going off and boring y'all to tears, i'll leave it up to the far more eloquent and hee-haw-larious Grizz to break it down for y'all ...

"so i come in to work this morning and the very first thing i see is julie hinds' ridiculous non-story in the freep (http://www.freep.com/entertainment/tvandradio/det24_20030124.htm). immediately i start fuming. the story focuses on the "cheap shots" that "american idol" dealt to detroit the other night when the judges knocked the city's talent pool. to quote hinds -- whose work i usually admire, it should be noted -- "detroit is still reeling from the beating it took on reality tv this week." (her other evidence? ferndale bob got the boot from "the bachelorette" on wednesday.) as far as the "american idol" judges not being impressed by the talent put forth by the D -- HELLO!?? HAVE YOU EVER SEEN AMERICAN FUCKING IDOL?? the whole show is built around the acid-tongued barbs of simon cowell and would be nothing without them. we tune in to the god damn show (in record numbers, mind you -- note uncle grambo's posts from yests) to see him rip apart talentless wannabes, so much so that it's pretty much the entire premise of the program. should that change just because he's in detroit, a city that's been bereft of buzz since the late '60s? should he be polite to the singers and the city because detroit's ego is more bruised than pete townshend's D after a late-nite online sesh? hardly. alas, hinds isn't the only culprit here; drew and mizz were going off on the wrif airwaves yesterday about how bad "american idol" had made the city of detroit look. to quote the late, great nell carter, "gimme a brizz." i think it's a case of detroiters wanting to look bad, almost craving others to take pot shots at us so we can act all defeated as a result. this city and its inhabitants are so inherently f'd that if any outsiders state the truth about our crumbling ruins of a city. we coil up into a little ball. it's fine if we say it -- "look where the fuck we stay at," D12 state, laughing, on its "devil's night" LP -- but if ryan seacrest should happen to make an off-hand remark about how cold the city is, everyone's up in arms about how bad our city is being portrayed on television. get over yourselves. you know what i'm saying? it's not like there's articles in the new york times, the atlanta journal constitution or the miami herald about how simon came through and made their cities look like shit, but here in detroit, the story's sitting there staring right at you. detroit should be god damn good and happy "american idol" even bothered coming through town -- both it and the latest "making the band" actually kicked off their talent searches here in the city -- not crying over how it was portrayed on film. furthermore, people are up in arms about how shitty "8 mile" made the city look. news for you, losers: all they did is come in and turn the cameras on. how about "boyz n the hood" or "menace?" were there stories in the LA times about how bad those movies made los angeles look? doubt it. detroit needs to wake up and take a cold hard look at itself. sure, eminem is the biggest pop star in the world, the white stripes have buzz and the magic stick is a cool place to bowl. but the city sucks. and that's cool, that's actually what i like about it. i've got no problems with detroit, i just happen to accept it for what it is. but so many people in this city are so defensive about admitting the truth or stating an observation about detroit that they're desperate for someone to say something bad about it -- like guineyprops, when he beats others to the punch with his fat jokes -- so they can act appalled at the very notion that this isn't the worst metropolis in the united states. but when it comes down to it, they never actually listen to what the people are saying and are too wrapped up in their own detroitosity to see the big picture. detroit has more of an image problem than an anorexic at prom time. but if people are really, truly concerned about the city and its future, why do they let kwame and his bizzoys dress up like pimps (pinstriped suits are the norm for Big K) and pushers (i seriously saw the mayor's "press secretary" wearing a sideways fedora hat with a feather in it on wdivizz local 4) when they're supposed to be leading detroit's charge into the future? and as for guiney's being dismissed on "the bachelorette" making the city look bad -- or famie's bad rice, another argument hinds posed -- let's be god damn motherfuckin rease. obvs."


-the grizz
posted by uncle grambo |
---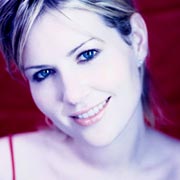 everything i learn, i learn from MTV

a few quick hits from MTV.com before i'm off to meetings for the next three hours...

good news for Dido fans. one of whatevs.org's fave hotties is currently recording her follow-up to the multi-platinum smash "No Angel" and is targeting a fall release date. can't wait for more of that ethereal acoustic dreaminess...

as whatevs.org astutely noted back on July 29th, Brit Brit was "all dolled-up and looking like a two-bit sellout" in those Skechers 4Wheeler ads. well, it turns out that the rest of the American public felt the same way and avoided those rollerskates like they avoided "Pluto Nash." to add insult to injury, Skechers is now claiming that their relationship with Britney lost them tens of millions of dollars. "We did not get any value out of the money we gave her," Skechers attorney Daniel Petrocelli alleges, as Skechers prepares to file suit against Britney for breach of contract for "skating out" on a 3-year contract with the company. developing ...

this last bit of news is a few days old, but interesting nonetheless. next week's Billboard Music Charts reveal that The Donnas will sail 50 spots higher on next week's Top 200 Albums Chart, landing at a respectable #67. while actual sales figures for "Spend The Night" were not listed, it's fair to assume the band sold around 20,000 records after their performances on TRL and SNL. i heard "Take It Off" on WRIF last night, of all places. hottness.


while that's all well and good, the real story of the charts this week is that Kid Rock's "Cocky" has moved into the Top 20 for the first time in over a year, thanks to the success of his duet with Sheryl Crow on "Picture." the single has, according to MTV, "re-introduced the pimp of the nation to adult contemporary formats, where his "Only God Knows Why" once had a home, and established his place on country radio." that's great news for Kid, who has been trashed all over the plizz because "Cocky" didn't even come close to replicating the success of "Devil Without A Cause." but as we all know, with every silver lining there's a cloud. the bad news is that the record still sucks.
posted by uncle grambo |
---
attack of The Grizz

besides the fantastic Ferrell vs. Farrell that is posted directly below, whatevs.org's fave member of the press hits readers with a whopping three stories in today's Detroit News. first and foremost, you may have read it here first yesterday, but The Grizz reports on the recent success of "American Idol." the similarities are verrrrry interesting (Grambo: "absolutely TROUNCED some very stiff competition", Grizz: "trounced the competition"). booya!

if music's your thing, reviews of The Raveonettes' "Whip It On" ("Imagine the White Stripes as a '50s-era, B-horror loving duo with the Jesus and Mary Chain's Jim Reid on vocals and Elvira on drums") and "Music from the Motion Picture 'Chicago' " are also featured. Here's a choice quote from the latter:

"Don't be fooled by the rocks that she's got, she's still (she's still) Zeta from the block. Seriously, if Jennifer Lopez can pass herself off as a pop star to the tune of platinum sales, where's the Catherine Zeta-Jones solo album? When she sings "the gin is cold, but the piano's hot!" on the "Chicago"-opening "All That Jazz," she exudes such a crazy verve and a sexy confidence that you want her to book studio time with Ja Rule to record a slinky, radio-friendly duet ASAP."
posted by uncle grambo |
---
Thursday, January 23, 2003

WHATEVS.ORG EXCLUSIVE!!!


Ferrell vs. Farrell
by The Grizz


Come mid-February, the battle at the box-office will heat up, BIG TIME, when "Daredevil" opens up one week prior to the hotly anticipated "Old School." While on the surface these two pictures have very little, if anything, in common -- other than their target audience of adolescent males -- there's a grudge match between the two movies' stars taking place just below the surface. No, jerkies, I'm not talking about Ben Affleck and Luke Wilson, but rather, Will Ferrell and Colin Farrell. Who will come out on top of this fiercely competitive war that has divided the streets in two even moreso than the Jay-Z / Nas battle royale of the last two years? Let's look at the tale of the tape.


| | | |
| --- | --- | --- |
| NAME | WILL FERRELL | COLIN FARRELL |
| Mugshot | | |
| Age | 35 | 26 |
| Height | 6'3" | 6' |
| Originally From | Irvine, CA | Dublin, Ireland |
| Seen As | A proudly overgrown nerd | A handsome, profane, chain-smoking bad boy |
| Best Known For | His years of hard work on SNL | His ability to keep landing plum roles in huge Hollywood films ("Minority Report," "Hart's War," "The Recruit") and failing to break through in any of them |
| Best Role | George W. Bush on SNL | Vanity Fair cover model |
| First Role | TV's "Bucket of Blood" (1995) | TV's "Ballykissangel" (1996) |
| Right Hand Man | Chris Kattan | Joel Schumacher |
| Salary Buzz | $350,000 for SNL, 2001-02 | $5 million for "The Recruit," $8 million for "S.W.A.T." |
| Writer? | Yes (wrote "A Night at the Roxbury") | Nope |
| Cokehead? | Nope | Yes |
| "Bachelorette" Doppleganger | Bob Guiney | Russ |
| Quote | "Few people know I'm fueled by my massive hatred of immigrants" (as Neil Diamond) | "I tell them, 'When you're at home puking your guts out, I'll be here drinking my Amstel Light." (on drinking tequila) |
| In 5 Years Will Be | Still making modestly successful comedies | Still waiting for his big break |
| Destiny | The new Bill Murray at best, the new Chevy Chase at worst | The new Rob Lowe |



Verdict: Will Ferrell by TKO. "Old School" looks best, and he has an everyman quality that is genuinely appealing. On the other hand, all C. Farrell has is a stash of photos (probably on loan from his boy Schumies) of George Lucas, Steven Speilberg, Tom Cruise and Tom Arnold all crazy gettin' it on in the back of a Volkswagon while Ben Affleck tapes them. How else to explain all those roles? Worst.

posted by uncle grambo |
---
further proving my theory that "everyone loves white girls"


shiiiiiiit. when you're right, you're right. i've been spouting this theory for years and have yet to be proven wrong. a quick google search of whatevs.org reveals four different mentions of the phrase, and here is another example to back up my point. US Weekly is reporting (via PageSix) that Nicole Kidman and Q-Tip (former lead singer of A Tribe Called Quest) were spotted at the ultra-trendy NYC sushi bar Nobu "making out a lot over dinner." according to the article, Q and Satine "have been kicking it for over a month now" and met through their mutual pal Leo DiCaprio. bonita applebaum you GOTTA put me on!


btw, everybody loves white girls. especially your Uncle Grambo.

posted by uncle grambo |
---
it's on fox


the only thing with more buzz than The Donnas is the Fox television network. according to The Drudge Report, Fox handed a severe beatdown to its other network competitors for the third straight night. by now, everyone knows that "Joe Millionaire" is must-see TV, but "American Idol" was a mongo question mark on the network's schedule as little as three days ago. everyone was openly wondering whether it would be able to repeat the success of the summer edition, which had little or no competition from other original programming during the summer months. well the answer was an overwhelming "Hellzyeah!", as Tuesday's season premiere led Fox to the highest-rated night of entertainment programming in the network's history!!! but last night's "Idol" absolutely TROUNCED some very stiff competition with a 17.5 rating and 24 share, nearly doubling "The Bachelorette" (9.1 / 13). Simon, Randy and Paula also managed to punch "The West Wing" (7.9 / 11) in the gut and kick "60 Minutes 2" (6.8 / 10) in the nads. it's time to face facts -- Simon is the real "American Idol." forget my homegirl K. Clarkson, Simon IS responsible for this show's overwhelming success. fox = best evs, but simon = double best evs.

posted by uncle grambo |
---
Wednesday, January 22, 2003

yes, i'm tatts


check it out, now you too can be a commentator on whatevs.org! just added some Piping Hot Comment Coding to the site. obvs. let me know what you think. hott.

posted by uncle grambo |
---
ding dong the bitch is dead


mad breaking buzz. on the same day when it was revealed that the RIAA won a legal battle that will force Verizon to turn over names of music file-swappers, reports are breaking left and rizz that Hilary Rosen, the Chairwoman of the RIAA, will step down from her post at the end of this year. her name first surfaced in the late `90s during the Great Metallica / Shawn Fanning Wars, when she and Lars successfully lobbied Capitol Hill and led the efforts to disband Napster. obvs, this was worst. i'm sure that she will spend the next 11 or so months continuing to take on people who trade music online, but hopefully her replacement ends up being will bring some forward thinking to the table and concentrate on alternative means of promoting musical artists and the sales of their product instead of spending time waging an impossible war.

posted by uncle grambo |
---
The Aftermizz Of The Golden Globes
a photographic retrospective compiled by uncle grambo

Best intro since Letterman's infamous Uma / Oprah mishap. "Bonnie, meet Bono. Bono, meet Bonnie." wait, now that i think about it, that really isn't funny at all. i suck.

---

easily one of the best revelations of the night was "The Princess Ds" herself, Anne Hathaway. who knew that Princess D stood for D-cups? or as Pantalons was overheard saying on Friday night at Fifth Ave, "bigboobs.org"!!!

---

Cynthia Nixon from "Sex and The City" got no props, but i thought that her look was easily one of the evening's best. simple, classy and elegant all at the same time. Julianne Moore should steal her stylist when the Oscars come 'round.

---

winning the Gary Busey Award for "Worst Public Display Of Being A Raging Cokehead" was Colin Worst-ell. when he presented the awards with his crappy Irish brogue, he was sniffing more than Jeff Richards doing his Busey impression! and he dropped S-bombs during a pre-show interview with Nancy O'Dell!!! despite the piece of AZZZ on his arm (who is this girl? yahoo didn't reveal), who smokes on the red carpet? totally shows zero class. this dude thinks he's too cool for school ... how does he keep getting roles? no buzz.

---

Big Fat Worst Evs. Dude, that schnozz might just rival Owen Wilson's for Worst Schnozz Of 2002. nice makeup! it looks like she went down to the local Walmart makeup counter before the show and passed out in a bucket of rouge.

---

speaking of hideous makeup, what the F happened to Cate Blanchett? she looks like a god damn bag lady. she looks like the living incarnation of My Worst Nightmare Of The Morning After. i think CB is one of the world's most gorgeous women, so hopefully this was just a one-night anomaly.

---

dude, SJP is giving Vardaworst a run for her money in the Great Schnozz-Off of 2003! i've never seen Sarah Jessica look as awful as she did on Sunday nizz. yukk!

---

these two have got to be the coolest couple going. despite the overwhelming failure of "Frida", Ed and Salma are the coolest couple since Chris Martin and Gwynnie. salma looks straight up foxxxy and ed is dressed classy cool, though his peeps should've gone with one of those silver ties that most guys were wearing.

---

don't mess with my TuTu! no discussion of the Golden Globes would be complete without some Lara Flynn Buzz-le. i know that Joan Rivers and the rest of the Hag Posse gave LFB all kindsa shit for this outfit, but just about every dude alive knew that she looked sexxxy as all get out. hummuna hummuna!

---

i don't want to steal any of Kegzie's buzz (The Hiltons are the Patron Saints of Glamorama), but what kind of after party would be complete without Paris and Nicky? sssssssmokin! and, for the record Kegzies, I got dibs on Paris!

---

C Diaz looked like such a slutball that i just had to post her picture, even if it is supertinybuzz. and by "slutball" i really mean "sex kitten." RAWR!

---

now it's time to move on to Debra Messy. seriously, i've never really understood the appeal of her. sure, back when she was all young and hott on "Ned and Stacey" (first "Ned and Stacey" reset in years!) she was the bomb, but she's just been getting grosser and grosser as time has gone by. check out them hips! how come they're so close to the ground? does she have midget legs? is she smuggling footballs in her pockets? WTF? so sick and so nast, she makes Vardalos look positively droolworthy.
posted by uncle grambo |
---
quoth The Lawrs


"I think she's really going to skank out on the next episode."


The Lawrs is one of the unsung FOWs who just doesn't get his deserved props ... until now, that is. after cracking up just about everyone at Fifth Ave (CoPa stizz) on Friday night with his Igor Larionov impressions ("Hey, hey Haaawk-eee-towwwn, ah whee-oooo!"), The Lawrs scores some prime quotes in an article focusing on the controversies surrounding "The Bachelorette." obvs, it was none other than The Grizz who wrote this top-notch piece that also manages to grab quotes from Trista herself, as well as Ferndale Bob (who is still alive and kicking in tonight's episode) and our cousin J-Bo. other than scoring some great quotes, this subject matter of this article digs deeper than whether or not "The Bachelorette" is a good / bad television program -- The Grizz chooses to focus on the cultural impact that the show might have. will audiences (particularily females) get turned off by what Matt Lauer calls "the floozy factor"? will this show help conquer the great gender divide of sleeping around (my self-dubbed "Stud / Slut Dynamic" ... take THAT Lauer!)? who knows, but take some time to read the article and you won't be disappointed.


"The Bachelorette" appears on ABC tonight at 9pm. as if you didn't already know!

posted by uncle grambo |
---
i heart tennis


mmmm, daniela hantuchova buzz ...


posted by uncle grambo |
---
Tuesday, January 21, 2003

tickets to what you need


he's turning Madonna down and calling it his best move. he's got the tickets to what you need!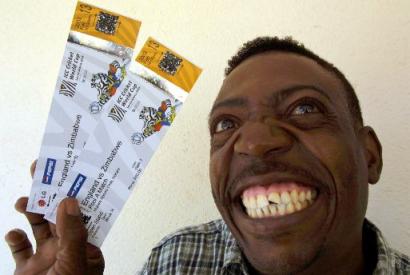 (image courtesy of The Grizz)

posted by uncle grambo |
---
SNL Host Buzz over here
(courtesy of Nummer)

"Saturday Night Live" is relying on an even mix of first timers and old pros to headline the show throughout the month of February, according to a source at the show.


The fun will begin February 8, when Matthew McConaughey and Dixie Chicks are both scheduled to make their debuts. McConaughey's latest film, the romantic comedy "How to Lose a Guy in 10 Days," hits theaters that weekend. Dixie Chicks latest album, "Home," is up for Album of the Year at this year's Grammy awards.


"Alias" star Jennifer Garner is set to take on hosting duties the next weekend, February 15, with musical guest Beck back for a fourth time. Garner co-stars with Ben Affleck in the action film "Daredevil," opening that weekend. Beck's album "Sea Change" is up for Best Alternative Music Album at the Grammys.


The month is slated to end with a bang, as Christopher Walken returns for a sixth time as host, alongside the music of Foo Fighters, Grammy nominated for their rock song "All My Life."


All guests are subject to change until confirmed by NBC.
posted by uncle grambo |
---
the donnas have so much buzz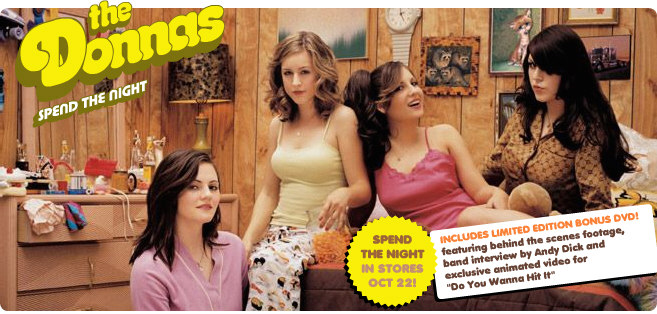 when it comes to Buzz Bands these days, nobody's hotter (literally AND figuratively) than The Donnas. their 30 minute set on MTV2 last mondizz rocked TRL, but was nothing compared to their utterly rad performances of "Take It Off" and "Who Invited You?" on SNL this wknd. now renowned music writer Greil Marcus is spouting their praises on the pages of Salon.com ... so much buzz! so much buzz that i even forgive them for getting my car stolen at their October 2001 show at the Magic Stick! when you can overcome Stolen Car Vibes, you know you're hotter than hott. anyway, here's what Greil had to say ...

2) Donnas, "Spend the Night" (Atlantic)


"Faster than sound," as Big Brother and the Holding Company put it 35 years ago in San Francisco, up the Peninsula from the Donnas' Palo Alto. But Big Brother didn't have Skyline Boulevard in their blood. Speed-shifting on the Skyline turns at midnight, way above the Stanford hills, is just what the Donnas' new music feels like -- except when it feels like X in 1980, the punk band burning their song "Los Angeles" into the pavement like rubber. Today "You Wanna Get Me High" jumps off the radio, as familiar as weather, as much of a shock as lightning hitting your house. "Take It Off" is right behind. This is what rock 'n' roll never forgets -- or rather it's what rock 'n' roll always forgets, until people like Brett Anderson, Maya Ford, Torry Castellano and Allison Robertson find it.
posted by uncle grambo |
---
return of whatevs!


so much buzz, so little time. sorry for the lack of updates over the last few days, i was out sick on Friday and yesterday was some MLK hittins. obvs. i'm booked solid in meetings until 4pm, which blows because i've got lots to say about the events of the last five days. but we'll start with this quick hit...


in Hollywood, it is a time-tested rule that all press is good press. apparently not for my Jailbait Homegirl Winonzies Rizz, because it looks like her recent grand theft and vandolism conviction has landed her in B-movie hell. winona just signed on to appear in an upcoming film called "Eulogy", which also stars such acting stalwarts as "Everybody Hates" Ray Romano, Hank "Don't Call Me Apu" Azaria, and Monica "Still Attempting To Ride On Patch Adams Buzz" Potter. the project will be written and directed by some lame ass named Michael Clancy, who is so well respected in Hollywood that he doesn't even appear on the IMDB. winona ... worst.


more lates ...

posted by uncle grambo |
---