Friday, December 20, 2002

subject: Last nizz, as i drizz.

From: Peabs
Date: Fri, 20 Dec 2002 14:08:24 EST
Subject: Last nizz, as i drizz.
To: markdgraham@yahoo.com


So i finish up my five o'clizz shizz at G Besties, serving bizz and fizz to the SCS trizz, and my Uncle Biz says: "Peabs, stop being so good looking, and sit down and have a bizz with your humble Unc." I proceeded to let him know that Unc is as close to Unce as it is UNC, Chapel Hill stizz. Obvs. Howevs, he stared at me blankly. And I'm drizzin a Miller Liz, eating a slice as the biz packs up, and it occurs to me...


I hadn't really binge drank in a week. Worst!


I fix my blonde locks, wash the dirt from my hands and make a rousing exit from G Besties, destination Beaufait, hoping to catch glimpsies of JP McKrengels. Howevs, apparently the ghost of JFK Best had visited him in Dearborn, inhabiting the great composer that is Johann, and telling him to stay home with "my brother Brennan" and wonder how he snagged such a piece of Ice like E-Dubz.


Luckily, Beautiful Beal and Mundo were there. So we drank a few drizzies, essed some pizz, and watched Howard Stizz. We also decided that the Beautiful one's bachelor pizz was gonna happen Thailand stizz. Obvs! Mundo thought we'd be rockstizzies (obvs), walking into Thai clubs, all tall and thin and mantasitic, with our huge D's all ovs their Asian mizz. All that Jazz. Best. SO much Fosse-stizz. So much jazz down your thrizz.


At that point, I realized my head was swimming like Summer Sanders (minus the tats boombalats-- not Obvs St. stizz unforch), so I decide to head back to the Manor. But since me and the Unc are rail thin like Moltisanti sitting on a doggie dog, I knew we had no fizz in the hizz, thus derailing my destination halfway stizz, to the 'rents hizz. There, Fos was waiting for Aaron Peabs to call him to pick him up from 5th Bestinue Downtizz. So I had a nice inebriated convo with the pops, shoved my fizz with some wheat thins, and mixed a Captain and diet (schmobvs). My bro calls a few mins latro, all F'ed (more obvs), and Fos gets all B-Dubs on me and says, "come with. You can bring your drink."


Best!


So Fos and his eldest, yours truly, are cruising '02 Envoy stizz down 94 Westies, my drizz half empts, and my pops bumping CD, "Fill Me In" stizz. So very best. We pick up Aaron Peabs, who obvs walks out in a supa dupa fly Club Monaco, with a KC suit and some blonde white beyotch on his left armsies, Battier-stizz. So F'ed. So Peabs.


He decides, since it's his ride and my father pays for it, that CD will not do for theme mizz on the rizz back hizz. So he busts out Justin Timberwhatevs, prompting Fos to say: "He sounds too much like Wacko Jacko." Aaron Peabs just kept singing along, not listening to us as we told him how gay he was.


As we made our way back to the Wood(s), I plan to stay up, drizz and watch Conan O'Best. And as I watch the opening creds, I see that Al Fucking Franken is on. Al Franken? Does anybody like this guy? He's more smug than Dirty McKean! He's so worst. I never found him funny. He thinks he's so much smarter and funnier than we are. Schmobvs he isn't. Did he create his own personal vocab? I think not. I have two words, Al: Stuart Fucking Smalley, you douchenozzle. You're the worst. You're worse than the B-side to "Tubthumping."


I, on the other hizz, am awesome.


Note: this is the first of a series of ramblings to be posted on Whatevs.org, written by none other than the gorgeously delectable Peabs, recounting nights passed, and nights passed out.
posted by uncle grambo |
---
ask Snoop


what would whatevs.org look like if Snoop Dogg was the guest editor for a day? well thanks to The Shizzolater on AskSnoop.com, now you can find out. just click through to whatevs.org/snoop.htm, sit back and blaze a J. fo shizzle!


(Editor's Note: be forewarned that this page will take a few minutes to load. i suggest you click through, wait about five minutes and then check back in that new browser window)

posted by uncle grambo |
---
celebrity sighting!


so The Grizz and i revealed some "Two Towers" buzz on Wednesday night. obvs. while my official stance on the movie is "Review TK" (let me take this opportunity to apologize for being such a slacker bitch on the twenty-word reviews), i mindlessly forgot to disclose that spotted in the audience was none other than Red Wings defenseman Chris Chelios! he didn't seem to be accompanied by any hot white girls, and whether or not he went to the film solo is still to be determined. however, this source can reveal with 100% accuracy that Chelly-Best parked valet-stizz. i would too if i made like $7 mills a season. palladium. so many star sightings. infinitely more buzz than the Forum 30. Jason Hanson was revealed there months ago. best.

posted by uncle grambo |
---
Thursday, December 19, 2002

the father, the son and the holy busey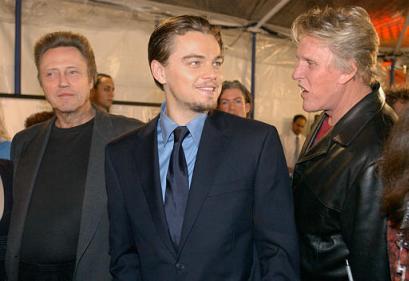 posted by uncle grambo |
---
indecipherable buzz

i've been told many times that a majority of the FOWs that visit this fine ass website enjoy it, but more often than not they have no fuckin' clue what the hell i am talking about. well, that much is obvs. but you have NEVER read anything that can even come close to what The Grizz emailed me with earlier this afternoon. if you speak the language of Obvs, it's relatively straight forward and a well-thought out diatribe. but if you don't, get a load of this buzz. it has to do with actor extraordinaire Jake Gyllenhaal, who went from Hero to Zero is world record time.

Subject: gyllies
Date: Thu, 19 Dec 2002 15:42:13 -0500
From: The Grizz
To: markdgraham@yahoo.com


dude


what happened to all gyllies' buzz? he went from ridiculously tatts to almost forgotten quicker than you can say aaron sorkin. flash back to september stizz, and gyllies had just busted best ever props in good girl hittins and lovely and best, and he was swirling in oscar buzz with moonlight mizz. c. love had even built moonlight buzz, throwing props to silberworst, M2 stizz. and of course coming off donnie bestevs, gyllies had so much buzz he could have auctioned off used kleenexes on eBay and people would be busting their bizzanks just to be gettin up in some of that used snot hittins. then moonlight mizz hit and gyllies dropped off the world's radar, almost immedes. no oscar buzz, no ctirical buzz, no audience buzz, just anti-buzz. strictly. even the fact that he's dating kirsten best hasn't helped him build back any buzz; in fact, it intercepted dunst buzz and downgraded spidey from must-purchase to maybs, blockbies pre-viewed stizz. gyllies. six months ago no one could even pronounce his name; now nobody wants to. and what's next on deck for his ass? some ice age mumbo jizz co-starring DQs and directed by roland emmerworst. gyllies. total jumped the shizz. just goes to show you you can teach a duck to quizz, but you can't usurp your sister's buzz when she's representing spader stizz. obvs.
posted by uncle grambo |
---
looking for a last-minute gift?

well, if so, then this one likely isn't for you. but if you happen to be looking for the coolest t-shirt since "Fuck You, You Fucking Fuck", look no further. representin' Astoria Queens is long-time FOW ConnieNYC and he's presenting the readers of whatevs.org with this special opportunity to pick up some official "HWN" (Here's What's News) schwag. if you are interested in picking up these fine, fine t-shirts, send an email to him requesting more details. but for now, dig the jpeg bro...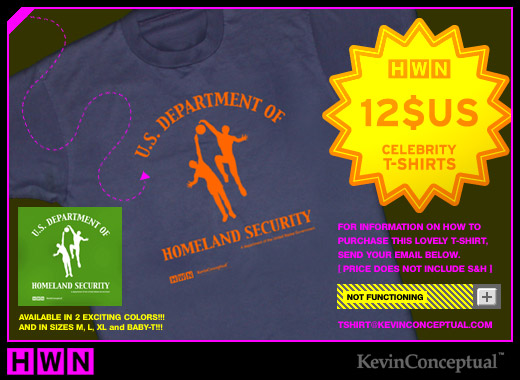 posted by uncle grambo |
---
think again


i know i was drinking haterade at Spin a few weeks back and some interpreted it as building anti-Strokes buzz. TOTALLY not the case. strokes! best! pls don't associate my disgust with Spin with having anything to do with negative Julian props. obvs! just to prove my point, here's a tigs link to a New York Times article that unabashedly continues to build Strokes buzz! they call them more relevant than Springsteen!

posted by uncle grambo |
---
golden globes!


another crazy busy day! feast on this: 'Chicago' Leads Golden Globes with 8 Nominations

posted by uncle grambo |
---
Wednesday, December 18, 2002

starving for links


i know, i know. sorry y'all, i've been crazy busy trying to get three weeks worth of work accomplished this week. thanks to the UAW, i'll be off work from December 23 - January 6th. buzz. so here's some links to tide you over until tomorrowzies...


— if you haven't seen this month's Maxim with X-Tina, you're missing out. probably the hottest photo shoot in the history of the mag. you can catch up with all the sexxxy photos on shockyourmind.org (advance warning buzz: might want to skip this link if yr at work) ...


— over the last few days, more Critics Awards have been released. the New York Film Critics named Todd Haynes' "Far From Heaven" as the year's best picture, the Boston Film Critics chose Roman Polanski's "The Pianist", and the American Film Institute released their (unranked) Top 10 list, which includes "About A Boy", "About Schmidt", "Adaptation", "Antwone Fisher", "Chicago", "Frida", "Gangs Of New York", "The Hours", "LOTR: The Two Towers", and "The Quiet American."


— speaking of "The Quiet American", the leading liberal FOW who goes by the name of APLarcadia passed along this story from Alternet.org entitled "Quiet Censorship In Hollywood", which paints another shade to Hollywood's age-old problems revolving around the inherent tension that separates art from commerce and freedom of speech from censorship.


— another day, another drunken elephant rampage. will those crazy elephants ever learn?


— this weekend's New York Times featured four very worthwhile and notable articles that you should consider perusing (registration required): a review of Neil LaBute's "The Mercy Seat", a new play which expounds on the modern urban legends of husbands and wives whose extramarital affairs were exposed when they didn't die in the World Trade Center attacks; one of the darkhorses for The Grahammys this year is Spike Lee's new drama called "25th Hour", and this article profiles the film, its director and its star (who just happens to be Edward Norton); this year featured a record number of worthwhile CD box set purchases, everything from Bjork to Dylan to "Like Ohmigod" ; and while this may come as a giant "DUH!" to anyone who ever heard the term "bricks and clicks", the most successful retailers these days are those who areequally adept at merchandising and marketing in print, on the internet and in-store ... back in my Borders days we used to call this "retail convergence"...


— themorningnews.org is quickly rising on my list of daily "must-click" websites. just in the last few days they have featured pieces on the classic shoegazer album "Nowhere" by Ride and on "The Nine Coolest Albums of 2002", including the Gore Gore Girls!!! the unstoppable whatevs.org buzz continues!


— double bad news for fans of The Donnas. the next leg of their US tour in support of "Up All Night" not only features OK Go! as their opening act but also is missing a Detroit date! worst EVS! who's up for a trip to Chicago?


— finally, The Grizz teams up with Tom Long and some other no-name bozo in the pages of The DetNews to take a look at the Best DVD Releases of 2002. i never thought i'd see the day that a staunchly conservative paper like The Snooze would feature "Shaolin Soccer", "Near Dark" and "Scratch" props. props out to Gruzzdad on sneaking these past the editors over there!!!

posted by uncle grambo |
---
Tuesday, December 17, 2002

DeNiro / Jones Recap


when it comes to revealing, there's Nummer and the H-Bomb and then there's everyone else. just posted on whatevs.org is their HOTT review of Episode 8: Robert DeNiro / Norah Jones. buzz!

posted by uncle grambo |
---
Monday, December 16, 2002

snl season 28 ... REVEALED!


the opportunities for me to contribute on these topics is few and far between, but I was indeed watching NBC at 11:30pm on Saturday night for the Al Gore / Phish extravaganza. unfortunately, my head was clouded by three bottles of wine, a few shots of tequila and more glasses of port than i care to remember. good times, but also why we pay Nummer and The H-Bomb the big bucks to reveal all that is worth revealing in the land of SNL. in anticipation of their Official and Definitive Review, here are links to some press reviews of Saturday night's episode from The New York Times and Slate.com. and while the final coding for the DeNiro / Jones episode won't be completed until this evening (my 'puter crashed last night before i had time to post), here is a preview of tomorrow night's Christmas Special (airing on NBC from 8 - 9:30 EST). no one can resist my Schweaty Balls!

SNL Season 28 REVEALED!
Special Episode: Christmas Special - 12/17/02


Jason: SNL Christmas Specials are usually very good. Unlike the Halloween Special were sketch choices are somewhat limited, SNL typically has at least one Christmas themed episode every season. This leaves the amount of possible sketches wide open.


It's actually been about 5 years since I've caught an XMAS special, though. I'm kind of curious to see what will make the pick. John Goodman's "Drunk Santa" sketch from the 1998 season was phenomenal, but I'm not sure if it will make primetime. Sure thing sketches include: Matt Foley's Santa, Consumer Probe, Baldwin's "Schweaty Balls" and hopefully Hanukkah Harry.


It should be worthwhile. Hopefully co-host Jimmy Fallon won't stick his mug in front of the camera too much either.


Heather: I'm thinking that the upcoming SNL Christmas Special will just like any other SNL Special. Good and bad sketches alike, but all in all, usually a pretty decent mix. Off the top of my head, I can't really think of a lot of Christmas skits that might make up this show. I'm expecting Adam Sandler's Hanakkah Song for sure. And maybe some Motivational Santa with Matt Foley. The one I'm really hoping makes the cut is John Goodman's Santa Claus sketch from 98. " I'll be sittin on my throne, eatin nuts." So hilarious!! If the recent Halloween Special was any indication, I think this Christmas episode will be pretty good.
posted by uncle grambo |
---
reader retort(s)

i love it when the FOWs send me email rants, and i've heard time and time again that the rest of the whatevs.org fanbase enjoys reading them. so prepare yourself for the hotness delivered straight from The Gorilla and Friggedy, respectively ...

The Gorilla wrote:


Some Record Labels to Revise Royalty Calculations
Two of the five major record labels say they will change the accounting methods they use to calculate artist royalty payments. Label executives hope the reforms will convince more artists to join the battle against free music on the Internet. NPR's Rick Karr reports.


First off, virtually no one covers this story because all the conglomerates like time warner own the magazines and the labels. GO NPR!


Second, I believe it was Dennis Leary who said "Don Henley is going to tell me how to vote, I got two words for Don, Joe fuckin' Walsh, now shut up."


Don Henley and I virtually argree on all aspects of this issue and most political issues, yet he is such pretentious buttmunch that I'm usually like, "you know what, lets fill Walden Pond with biomedical waste." Don Henley is one the highest selling artists of all time and self serving, a slight change in the accounting practices of the industry could mean millions rolling to him.


Third, the fact that the recording industry is trying to bribe artists with bigger paychecks to attack file sharing is so typical. They'll waste time and money defending their outdated distribution system, instead of coming up with a viable business alternative to napester-esq mp3 sharing programs.


Fourth, as I point out when ever these assholes come up, 20 year-old-cd technology still costs $18 a pop! bull shit.
---
Friggedy wrote:


Just heard about the Johnny Marr show and saw you have it up already-- nice. Did you by any chance see the bit in Real Detroitabout a Clash and Stooges reunions?


The rumor is based on the fact that they will be inducted in to the Rock'N'Roll Hall of Fame next year and an induction reunion performance could develop into something bigger. According to NME (http://www.nme.com/news/103544.htm), Joe and Mick got together for a benefit show in November, the first time together since the 80s.


I for one think this the best music news in recent memory. With remaining Ramones dropping like flies and the term "punk" being ripped off by everyone from Green Day to the Satchel Paige Rage, the late 90s were about as far away from 1979 as the Smashing Pumpkins song of same title. However, the advent of original rock bands like The Strokes and not-so-original but still awesome The Hives has in some ways helped resurrect certain aspects the late 70s punk sound. Who better to remind us all how it's done than The Clash?! We need another 'clash of generations', and since the Aughts (the 00s) have officially turned into the 1980s (Bush and Poindexter, back again), we need some of Mr. Strummer's politically-tinged social commentary (unemployment's back up, Career Opportunities are the ones that never knock). Also, it has been several years since the last Reggae revival and when it comes to white English guys doing reggae, The Clash beat out Eric Clapton any day. Plus, how cool would it be if rock'n'roll could be just the cure for Islamic extremism a la Rock the Casbah?


Paul Simon is great, but Paul Simonon is even better! (Imagine a Simonon & Garfunkel duet, bass and harmony-- nice.) With America looking worse everyday (the most important Ashcroft in our lives should always be Richard, not John), sing it loud, with harmony the second time...


"I'm so bo-o-ored with you-- S! A!
I'm so bo-o-ored with U-- S! A!
What can I do?!"
posted by uncle grambo |
---
LA Film Critics Awards

another day, more awards...


Best Picture
ABOUT SCHMIDT


Best Director
Pedro Almodovar
TALK TO HER


Best Actor (Tie)
Daniel Day-Lewis
GANGS OF NEW YORK


Best Actor (Tie)
Jack Nicholson
ABOUT SCHMIDT


Best Actress
Julianne Moore
FAR FROM HEAVEN


Best Screenplay
ABOUT SCHMIDT


Best Foreign Film
Y TU MAMA TAMBIEN


Best Animated Film
SPIRITED AWAY
posted by uncle grambo |
---