Friday, December 06, 2002

[BigBody]

posted by uncle grambo |
---
snl season 28 ... REVEALED!

while your humble website operator has been sitting on an extraordinary recap of November 15th's Brittany Murphy episode, the faithful duo of Nummer and the H-Bomb are back with some pre-show comments for this weekend's Robert DeNiro / Norah Jones episode. the Murphy review will be up this weekend, but until then, kick it one time with this hotness...

SNL Season 28 REVEALED!


Episode 7: Robert DeNiro / Norah Jones - 12/7/02


Jason: It has been 3 weeks since a new episode of SNL. Hopefully the cast and writers have rested up and are ready to come back swinging. The last handful of episodes have been very inconsistent which still leaves Season 28 without a true standout episode. Will DeNiro come to the rescue? Probably not.


Of his recent comedic turns in 2000's "Meet the Parents" and 1999's "Analyze This", neither one impressed me too greatly. Both of these films simply put his tough guy character in silly situations - a formula that got old after 20 minutes. If you ask me, DeNiro proved he could be funny back in 1997's "Jackie Brown" where he played a burnt out convict. Tarantino didn't rely on him acting tough in stupid scenarios, he actually had the faith to give him a character that was funny in the first place. DeNiro delivered one of his best performances and hasn't really been funny since (unless you count his death scene in 2001's awful "15 Minutes").


Will SNL be as bold as Tarantino and not rely on DeNiro's star power to carry the episode? Doubtful. DeNiro has suprisingly never hosted before, so I don't really have anything to compare it too. I'm also writing this a few days early, so the sketch spoilers haven't leaked out yet. But I'm sure by Weekend Update DeNiro will have developed a crush on Mango while the costume department gets ready to dress him in drag at commercial break. Hopefully I'm wrong.


Oh, and I've never heard of Norah Jones.


Heather: I don't know why, but I think the upcoming Robert DeNiro episode might be end up being pretty good. I'm probably being overly optimistic, but it's been three weeks since there's been a new episode and I guess I'm just hoping the SNL staff has come up with a ton of new off the wall stuff. Plus I really like DeNiro, and I think given some good skits, he could really run with it. Now, I'm definitely not thinking best episode evs. But when I think about how surprisingly good McCain was (which initially I thought would suck), I can't help but feel that DeNiro might have the same potential. And look at Christopher Walken. A tough creepy villan guy in all the movies, but he was hilarious on SNL, and it didn't even seem like he was even trying since he was more concerned about reading the cue cards. I'm hoping DeNiro will end up the same way. I think he's got a funny guy lurking inside, but is always cast as the tough mob guy so we never get the opportunity to see it.


As for Norah Jones, I've heard only the one song she has on the radio. It was ok, but I wouldn't rush out to by the album. Nevertheless, it will be a nice change of pace given the past musical guests of this season.
posted by uncle grambo |
---
Thursday, December 05, 2002

zig a zig ah


— have you ever wondered what psychologists think of "The Sopranos"? yeah, me neither. but after reading this week's Slate.com sponsored "Sopranos" forum, i'm kind of upset I hadn't thought of this before. good shit.


— yeah, i know i've been jockin' Neal Pollack pretty hard recently. but it's hard not to when he is quite simply the funniest man in America. Props must be thrown to JP McKrengels for forwarding along Pollack's recent op-ed piece on Henry Kissinger from The New York Times, and some web surfing revealed a great interview with Neal from Bookslut.com.


— what could possibly be more sordid than a story that focuses on cocaine, porn and sex? how about a story that focuses on cocaine, porn, sex and priests?


— i know that it's been sitting up in the Quote-A-Matic all day, but if you hadn't heard about the feud between Ryan Adams and Jack White yet, click through for NME.com's exclusive buzz on this topic.


— apparently i wasn't the only one who had an adverse reaction to the Chevy Chase Roast. Slate.com's Virginia Heffernan recently wrote a piece called "The Meanest Roast - Chevy Chase, humiliated again."


— to quote VandenBest, "what a homo." check out Emotion Eric.com and you'll see what i mean.

posted by uncle grambo |
---
oscar season has begun

and they're off and running! as usual, The National Board of Review officially kick-started the Oscar season by naming "The Hours" the Best Film of 2002 yesterday. Their Best Actor award went to Campbell Scott for his seething performance in "Rodger Dodger", Julianne Moore was named Best Actress for her performance in "Far From Heaven", and Philip Noyce picked up the Best Director award for his work on both "The Quiet American" and "Rabbit-Proof Fence." While the NBR is usually first out of the gate with their picks, these awards don't necessarily translate to Oscar nods in January or wins in February. After the New York Film Critics, the LA Film Critics and The Golden Globes announce their winners / nominees in the next few weeks, the picture will become a lot clearer. Look for this year's Grahammy Awards Film 2K3 around the usual time (late January, early February), after all of these movies have finally made their way into the Midwest. Obvs.

The following is The National Board of Review's complete Top 10 list:

"The Hours" (directed by Stephen Daldry)
"Chicago" (Rob Marshall)
"Gangs Of New York" (Martin Scorsese)
"The Quiet American" (Philip Noyce)
"Adaptation" (Spike Jonze)
"Rabbit-Proof Fence" (Philip Noyce)
"The Pianist" (Roman Polanski)
"Far From Heaven" (Todd Haynes)
"Thirteen Conversations About One Thing" (Jill Sprecher)
"Frida" (Julie Taymor)
posted by uncle grambo |
---
Wednesday, December 04, 2002

reader retort³


what follows are some recently submitted Reader Retorts from concerned and dedicated FOWs. as always, if anything you read or see here inspires you, causes you to break out in hives or increases your interest in dating me, please take the time to e-mail me. without further delay, enjoy enjoy enjoy...


— a long-time listener, first time FOW who goes by the name Solo wrote me a few weeks back in response to my mini-diatribe on Annoying Corporate Catchphrases. all names have been changed to protect the innocent and to keep my boy from getting fired. obvs.

Mark Graham-
What up...I'm a silent whatevs.org reader, as I do check it out atleast once every couple days. It's nice to see what's in the mind of Mr. Graham every once in awhile and hear about life in the D. This is the first article I've felt inspired enough to reply to, only because there is one catchphrase that was so annoyingly used at [ANONYMOUS PLACE OF BUSINESS] by a couple of higher-ups, I still want to rip my ears off everytime I think about it, and it's been 4 months since I've walked through the doors at [ANONYMOUS STREET ADDRESS], so that tells you something, I guess.


"Well I guess I didn't get the memo" or "Apparently someone didn't get the memo" - They would mostly be used when someone obviously had no clue about what they were talking about in a meeting - which at [ANONYMOUS PLACE OF BUSINESS] happened quite frequently - and these select few of higher-up [ANONYMOUS PLACE OF BUSINESS] women executives would throw this term around more than you could shake a stick at. They loved this term almost as much as that annoying "Peanut-Butter Jelly Time" email that they watched and laughed at for about 6 weeks straight. It's funny you mentioned "throwing one under the bus" because that phrase pretty much defines the [ANONYMOUS PLACE OF BUSINESS] culture in a sentence.
— and while it's been awhile, one of the more famous FOWs is back and hotter than ever. international rockstar Melody Licious is back from her European Tour and took the time to send through her thoughts on the rant on Spin that I posted yesterday afternoon. you can catch her and the rest of The Gore Gore Girls on Friday, Dec 27th for the Real Detroit Weekly Live & Loud bash and on Saturday, Dec. 28th at the Lager House. until then, dig on this...

To answer your rhetorical question: Can SPIN fall any farther?


My answer is yes, they can fall father. They can fuck-up as badly as Rolling Stone has by releasing a "Women in Rock" album without including any women in rock.


How would the black community respond to Rolling Stone coming out with "People in Hip-Hop" issue and including only Vanilla Ice, Kris-Kross and other entertainers non-relevant to hip-hop? They would be pretty pissed off.
— last but not least, I thought I would pass along some info from A2 based FOW MacK10 on the eve of the release of VENUSzine No. 14. Aside from her contributions to the All Music Guide and the former All Star Daily News, Maw also writes for an impressive zine called Venus. The new issue just hit stands yesterday and features Maw interviewing, of all peeps, The Gore Gore Girls! go buy a copy today, read below for more deets!

Hello Kids-
Venus No. 14 comes out internationally today!! Pretty please support the independent zine and go to your local book or record store today. It's a gorgeous issue with Aimee Mann on the cover. Yours truly has two features and some CD reviews thrown in there somewhere. Plus, there's quality stuff on Ladytron, Sahara Hotnights, Sing-Sing, and Miss Kittin!! It's a dope, dope issue!


For more info please check out:
www.venuszine.com


For a list of stores:
www.venuszine.com/venus/stories/specials/002831.html
posted by uncle grambo |
---
must see TV


i don't know what you're doing tonight at 9pm, but you can bet I'll be watching Diane Sawyer's exclusive interview with Whitney Houston. if you've got other stuff going on, that's understandable and the reason why Al Gore invented the internet in the first place. Click on over to ABCNews.com for a full recap.


On a completely unrelated note (i tend to do this often), what if you had a revolution and nobody showed up? This is the question that Atlanta's alt-weekly, Creative Loafing, recently addressed on the matter of all the hype surrounding Garage Rock. Bands like Creed and P.O.D. sell WAY more albums ... why don't we read about the God Rock revolution in the weekly New York Times Magazine? The author breaks it down simply: the country mouse (read: the Heartlands and the Midwest) inherently does not trust what the city mouse (NY, LA) has to say. Don't get me wrong, I love that the press is choosing to focus on "fringe" musicians with passion and attitude instead of bombastic messiahs like Scott Stapp, but the question this article tries to pose is "Why?" good shit.

posted by uncle grambo |
---
morning reading


good morning to one and to all. for some reason, i'm feeling a little tapped out, creatively-speaking. so instead of my normal introductory lead-ins, i'm just gonna hit you with my best shot and link away. here goes: — It won't be long before people start burning DVDs like they burn CDs now. DVD-RW drives are appearing in more and more computers, and a Missouri based company called 321 Studios is about to release a program that makes DVD burning possible by simply clicking and dragging. buzz. — This morning's Freep has a couple of worthwhile reads. First off, Mitch Albom sat down for a one-on-one interview with Marty Morninweg yesterday, and Morninweg comes off exactly as you'd suspect -- over confident and pretty goofy. Second, there is a really sentimental profile of Lindell AC, the legendary Detroit sports bar that will be closing its doors on Sunday. Interesting Fact: Some credit the Lindell with being the first ever sports bar in the United States. — Why are books so expensive? A new CD usually streets for $15.99 (or thereabouts), a new DVD usually streets for $17.99 or so, but new hardcovers frequently run well over $30. Salon.com will tell you why. — While you may not instantly recognize the name Ilan Mitchell-Smith, you most certainly remember his portrayal of Wyatt in "Weird Science". To this day, people like GKV (see above) are still paying tribute to this legendary character. From the pages of themorningnews.org comes this fascinating interview with Mitchell-Smith. What's life like in 2002 for a one-hit wonder who once made $150,000 for starring in a comedic hit of the `80s? Read this and you'll find out. buzz.

posted by uncle grambo |
---
Tuesday, December 03, 2002

can Spin fall any farther?


i don't know if this is old news already, but Spin Magazine has named The Strokes the Artist Of The Year, Eminem's "Cleaning Out My Closet" as Single Of The Year, and The White Stripes' "White Blood Cells" as Album Of The Year. all this according to the posts over on VelvetRope.com. for a magazine that I once held in the HIGHEST regard (as recently as a year ago), this announcement demonstrates that Spin has a full-blown case of The Hiv. aids. sids. aids. shitbox, what have The Strokes done this year other than put on some hot shit live shows? i mean other than making a video with Guided By Voices? and by putting on two shows with the White Stripes? shmeriously! backlash buzz!


and Spin deserves double fuck you's for naming "White Blood Cells" Album Of The Yizz. i bought that shit at Harmony House in Ann Arbor in July 2001! i thought the term "Album Of The Year" meant that said Album had to have ACTUALLY CAME OUT IN THAT YEAR! apparently not. well, i guess this means that Beethoven's "Ninth Symphony" will be The Grahammy Award winner for Best Album of 2002. shit, "Die Hard" came out on DVD around the same time that "WBC" was released, and director John McTiernan's use of the "Ode To Joy" gives it just as much credence as a nominee. and "Cleaning Out My Closet"??? i think that is Em's second worst song of all-time, just slightly ahead "Hallie's Song", where he actually tries to sing. there have been so many other singles that are worthier, i can't believe they wasted their vote on a song with no beats and no rhymes and no rhythm whatsoever. shit. Spin's got The Hiv. it's official.

posted by uncle grambo |
---
improve your literacy


FOWs fall into two categories, those that visit this site because they know how to read and those who just enjoy the pretty pictures. if you belong to the former group, here are some choice recommendations for your book buying pleasure. first off, I can virtually guarantee that 84% of whatevs.org readers are going to love the latest book by Nick Hornby called "Songbook", which is being offered exclusively through McSweeneys.net. it is a brand-new collection of essays on 31 of Hornby's favorite songs and songwriters, including Bruce Springsteen ("Thunder Road"), Rufus Wainwright ("One Man Guy"), Ben Folds Five ("Smoke") and Badly Drawn Boy ("A Minor Incident"). the book also comes with a companion CD and proceeds go to charity, so you really couldn't spend $26 any more efficiently during the holiday season.


and faithful FOWs will certainly recognize the name Neal Pollack from either this website, his blog, or his semi-regular column in Vanity Fair. if you are a fan of any of the above, you'll be delighted to hear that he will be releasing his new book on January 11th. Entitled "Beneath The Axis Of Evil: One Man's Journey Into The Horrors Of War by Neal Pollack", the book's description reads as follows: "In times of war and crisis, great civilizations need great writers to write great things about crisis, and also war. You know who these writers are. Hemingway. Orwell. Twain. The guy who wrote the screenplay for "The Deer Hunter." Now, another name must be added to that list. Neal Pollack." Sure to be one of the Genius Books of 2003, you can pre-order the book today exclusively through SoNewMedia.com.

posted by uncle grambo |
---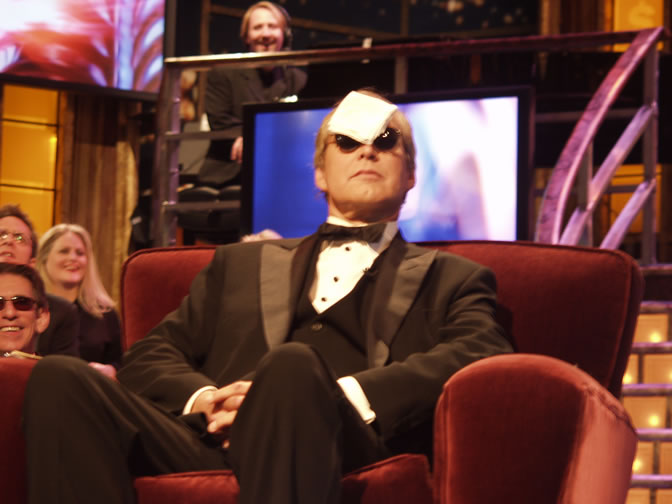 roast!


just yesterday, i was trumpeting the values of New Lows in television and, to some degree, mass media in general. however, the recent train wreck that was the Roast of Chevy Chase affected me in ways that i couldn't even comprehend for well over 24 hours. after my first viewing (sunday night, 10pm EST), i was mainly bowled over by the supreme lack of talent that supposedly "graced" the stage at the vaunted New York Friars Club. seriously, who in the hell were some of those people? names like Lisa Lampinelli, Greg Giraldo and Marc Maron stood up on the dais simultaneously trying to A) lob insults at Chevy and B) make a name for themselves on national television. the only problem was how painfully obvious it was that choice B was more important to them. there were some decent crack backs, but mainly i just sat there wondering "where the hell is the star power? this is Chevy Chase, for Chrissakes!"


when i took in my second viewing last night around 11pm EST, it hit me like the proverbial ton of bricks. we were watching a funeral for a man who is still technically alive, but dead to just about everybody who he has ever encountered. in roasts past (Jerry Stiller and Drew Carey were probably my two favorites), behind every comedic jab was a palpable feeling of admiration and respect. as no-name comic after no-name comic got up to tear into Chevy for being a drug addict who squandered away all the good will he built up with the American public and those in Hollywood years ago, you realized that the man being "honored" possessed neither of those qualities. Chevy sat silent on stage, hiding behind a pair of no-longer trendy shades. he spent time scribbling on what appeared to be cocktail napkins for no apparent reason. outside of Al Franken and Laraine Newman, no one from SNL was in attendance. and with the exception of Beverly D'Angelo, none of his co-stars from any of his films bothered to show up. even the other Two Amigos stayed home, instead choosing to submit a pre-taped bit from the set of "Three Amigos Part 2" (while it came off as funny, closer inspection reveals the skit as a tragic symbol of how little respect Steve Martin and Martin Short hold for the man). even Jeffrey Ross, the New York based comedian who comes out of oblivion once a year at these Roasts to steal the show, was conspicuously absent. seriously, what the hell else did he have going on that night?


despite all this, we'll always have the memories of when Chevy was red hot. the "Vacation" movies, "Caddyshack", "Fletch" and even "Three Amigos" will always stay with me as shining beacons that continue to influence my comic sensibilities to this very day. seriously, i can't think of a day that goes by where I don't quote at least one of these movies. but as a person, i will never be able to forget the sight of a man slumped in a oversized chair, living a nightmare of attending his own funeral and realizing that no one really liked him. only in this situation, it's far too late for Chevy to wake up and realize it was all just a dream.

posted by uncle grambo |
---
Monday, December 02, 2002

only on FOX


continuing the tradition of shows like "Cops", "When Animals Attack", "Temptation Island", "Magic's Greatest Mysteries Revealed" and "Who Wants To Marry A Multi-Millionaire", television viewers who switched over to Fox at anypoint this weekend were assaulted with promos for "Joe Millionaire", Fox's attempt at leeching leftover Bachelor-buzz. but because it's Fox, you know that Rupert Murdoch and his boys in development have upped the ante. on this series, 20 single hotties are flown to a palatial European estate of a handsome American man whom they are told just inherited $50 million. ah, but there's the rub! even though they are told he's worth $50 mills, turns out that Dude is really a construction worker who makes $19 G's a year! ha! but the chicks don't find that out until the last episode! these seven episodes are guaranteed to be a new low in network television, and loyal FOWs understand that Uncle Grambo lives by two principles: 1) Everybody loves white girls and 2) New lows ALWAYS correlate to new highs in Best Everness. Fox ... it's probably the best thing about being an American. best. evs.

posted by uncle grambo |
---
interviewage


most of the things that i link to here on whatevs.org could be classified as either a review or an opinionated critique. so in order to keep the faithful FOWs on their toes and adequately well-rounded from a literary perspective, i dug up a couple of grand interviews on several relatively diverse subjects. first and foremost, The Grizz recently sat down to talk with MC Serch. Yes, I just said MC Serch, the former fatboy who served as the lyrical gangsta in the early `90s as one-half of the pioneering white rap group 3rd Bass. And yes, not only is he still steppin' to the AM, but he's also "Serchin' In The AM" as the morning host on Detroit powerhouse station WJLB. Strong songs! And from the world of film, "Being John Malkovich" screenwriter Charlie Kaufman was profiled in this Sunday's New York Times, while the latest issue of The Onion takes a look at maverick auteur Abel Ferrara ("King Of New York", "Bad Lieutenant"), speaking at great length with him about his career and the recent string of bad luck he has encountered trying to get his latest picture ("R Xmas") released.

posted by uncle grambo |
---
don't look back in anger

looks like Liam got into a spot of trouble this weekend in Germany. turns out that he and a few other band members got in a brawl in a Munich nightclub and ended up getting their asses kicked. rumour has it that Liam even lost a few teeth. oi!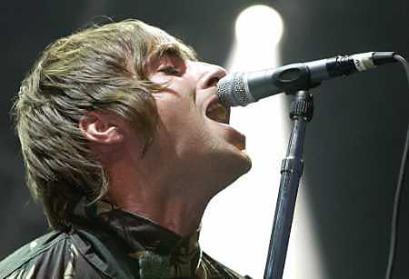 posted by uncle grambo |
---