Wednesday, November 20, 2002

neal pollack excerpt


laugh out loud funny. here is the permanent link. if you haven't done so already, bookmark his site, Neal Pollack's The Maelstrom and check it everyday. what follows is an excerpt from today's column. as i said before, laugh out loud funny.


I Definitely Think I'm Falling In Love With Him -- 11/20/2002


I would like to announced that Bravo has picked up the option for my own reality TV show, American Author. In the highly-original format, twenty-five hopeful young novelists write a chapter every week, with exponential eliminations by a panel consisting of myself, former New Yorker books editor Bill Buford, and Paula Abdul. Our final two contestants will complete their novels as the nation watches. The winner gets their novel published. The loser has to move in with Jonathan Safran Foer.


This information comes not out of a self-publicizing impulse, but rather as part of an ongoing discussion as to why "The Bachelor" has so entranced America. Today, both The Washington Post and The New York Times attempt to answer that question in a high-handed manner? But to me, the show's unique appeal comes down to this: Who among us haven't dreamt of being made love to in a cheesy pre-fab Aspen condo by an intellectually-stunted, socially-coddled mama's boy?


Initially, when the show's producers rejected my videotape, saying I was "too handsome" and "too perceptive" and, "quite frankly, too dangerous," to be The Bachelor, I balked. But then I realized their judgment was sound. For I have never sought a wife. I was just looking for some hot tang, and for clues to help me navigate the current L.A. pickup scene. The Bachelor they DID choose, Aaron McGillicuddy, is perfect. We need semi-sincere guys like him, because then playas like me and Nelly can swoop in after him and sniff out the wet panties...

posted by uncle grambo |
---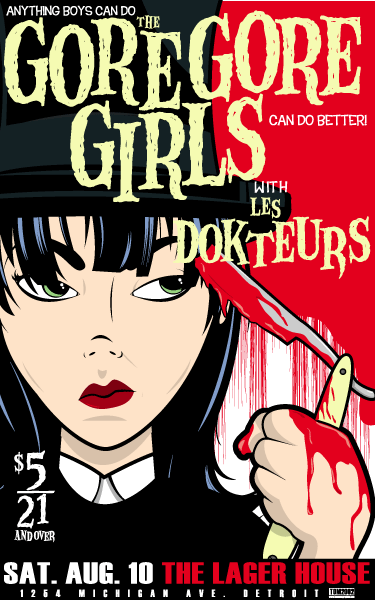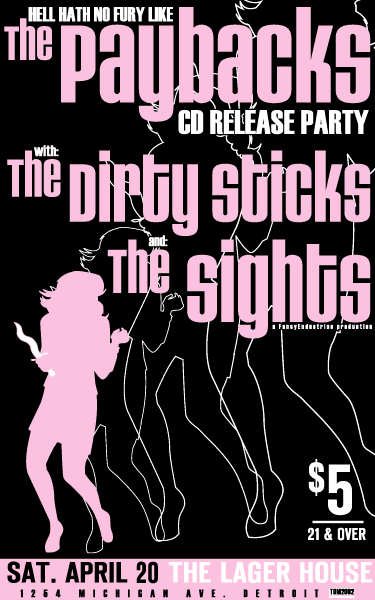 cha cha cha


a rare (and likely temporary) slowdown at work gave me the opportunity to surf for a few minutes. got time on yo hands? here's some hot buzz, all framed within a single paragraph. "Since childhood I wanted to do something different and new. For the past one or one-and-a-half years I have tried to smoke through my ears. Now, I will try to do it with my mouth and ears together". last night in Orlando, Graig Kinzler won $15,000 at the first-ever Golden Tee world championship. Janeane Garofalo will star in a new sitcom called "Slice o' Life", as a mid-30s woman in New York who produces the hokey feature pieces that air at the end of a presitigious newsmagazine show. and over at Gigposters.com, you can find concert posters from just about every band imaginable, including Detroit's own Gore Gore Girls (see left) and The Paybacks (see right). speaking of The GGG's, foxy bass player extraordinaire Melody Licious took the time to hunt out an extraordinary website which traces the evolution of Wacko Jacko's face and even includes analysis of his recent court appearance! finalizzy, top dog FOW Nummer reveals a website that celebrates the beauty of Detroit by spotlighting some of our most run-down areas. wham bam thank you Graham!

posted by uncle grambo |
---
btw


i am firmly in the camp that believes that the phrase "jump the shark" has, itself, jumped the shark. just in case you were wondering...


in other related news, some corporate catchphrases that deserve to be axe-murdered are "[X] threw [Y] under the bus" (as in "You finger pointed and blamed me for something in front of a group of superiors in an effort to bolster your own reputation"), and "let's take this conversation offline" (when, in any sort of group meeting, people get off on a tangent or are unwilling to disclose some sort of "secret" and promise to finish said conversation outside of the group environment). anyone else have any contributions?

posted by uncle grambo |
---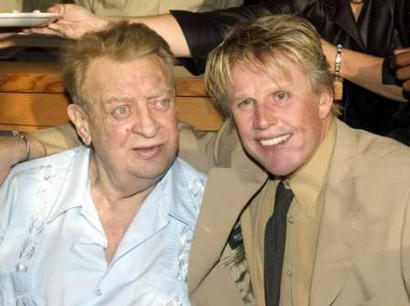 the adventures of link


— first and foremost, what kind of circumstances would lead to a conversation between Gary Busey and Rodney Dangerfield? and more importantly, why didn't I know about it beforehand? this is the kind of epic moment that comes but once a lifetime...regrets that I missed it but tigs that a photog captured this pic


— the latest installment of SNL-SEASON 28 REVEALED has been posted. you can find the review of the recent Nia Vardalos / Eve extravaganza by clicking through here.


— when it comes to literary analysis of pop culture trends, there really is no better read than The Village Voice. this week's issue deconstructs the success of DJ Sammy, whose tranced-out version of "Heaven" has been all over DRQ for months. while i still think that the song is cheezed out bunk, i gained a modicum of respect for the guy -- he clearly tapped a vein and took advantage of a weak-spot in our collective conciousness. they also talk about Daniel Bedingfield's "Gotta Get Through This" (another DRQ staple) as "ace confectionery from 2step's diminishing serotonin supply."


— memo to The Detroit News: it's called "YESTERDAY'S NEWS" for a reason! after Sminty broke the story about the merger between Channel 7 and Channel 50 news, The DetNews had the audacity to run virtually the exact same story one day later. worst.


— this will be especially relevant for The Grizz and Mandypantalons, two patrons of The Detroit Zoo. last night at 10:15pm, a female polar bear arrived at Detroit Metro and will take residence at the zoo's PolarPalooza as soon as possible. the best part? the polar bear came via FedEx. i'm not kidding!


— last but not least, it looks like the vultures are circling Salon.com. the rumours of Salon's demise have been swirling for years, but it seems that they are in a tight spot with their recent launch of interactive "Ultramercials." my homeyz in the ad biz (props out to Krengels, Seantizz and The Gorilla) will be very interested in reading this piece. it seems that Salon is waiving their subscription fees for customers who are willing to take 10 seconds to click-through these interactive commercials sponsored by Mercedes-Benz. the article also mentions that Salon could very well run out of money by the end of this month, which would be a crying shame. i, for one, would certainly miss their wonderfully diverse content, such as the review of "Afterglow: A Last Conversation With Pauline Kael" that is featured today. surf over there today and give them some click-throughs, it might just be enough to stave off bankruptcy for a few more weeks...

posted by uncle grambo |
---
Tuesday, November 19, 2002

badly drizz - prophet of the future?


on Badly Drawn Boy's fantastic new album, "Have You Fed The Fish", he sings of a dream where he is married to The Queen with Madonna living next door. how could he possibly have known that the two would meet for the first time on 11.18.02? Badly Drizz has some definite Miss Cleo buzz...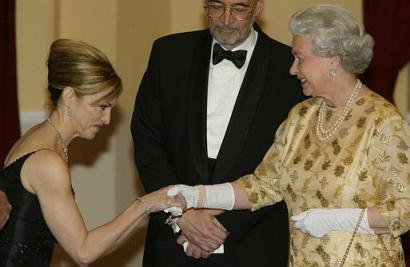 posted by uncle grambo |
---
wacko jacko

as if his nose wasn't causing enough controversey, Michael Jackson "caused a stir" in Berlin earlier today by precariously dangling a baby outside of a hotel room window!!! while this is weird, scary and alarming on its own, for some reason the baby was waving while wearing a towel over its head! what the f?


posted by uncle grambo |
---
hipper than thou


every now and then I stumble across Pitchfork when i'm web surfing for Indie Rock related material. well in my travels late last night, I stumbled upon their most recent article, The Top 100 Albums of the 1980s. while their list is indie as fuck, i was pretty encouraged to see that I own 21 albums that appear on their list. the list is populated with essential rock, indie, hip-hop and Tom Waits selections, and it's worth investing the twenty or so minutes it takes to wade through the list. and if this piques your interest, take a look back and check out the "Grahammy's 90 / 90", where I took a look at the Top 45 Albums Of The `90s and the Top 45 Singles Of The `90s. yes, another heaping dose of shameless self-promotion from your Uncle Grambo. untz.

posted by uncle grambo |
---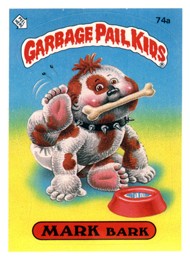 back from the brink


yesterday was one of those soul-shattering days at work. rolled in at about 8:30 expecting Monday, November 18th to be just like any other monday. you know, it's a drag to get back to work (especially after a 3-day weekend), but i walked into a world of shite and didn't get out of here until after 10pm. which is worst. but don't fret kidz, i'm back with a rejuvinated spirit and ready to give you some Bloggity Goodness today (thanks to Nessa over at Unapologetics for letting me steal that term from you). so prepare to rock...


— 'Tis the season that the Oscar race officially begins to heat up. Fox News columnist Roger Friedman spent Friday's column fawning all over "Gangs Of New York", NY Post columnist Liz Smith is trumpeting "The Hours" (I'd link to the story but it's already moved to a pay-per-view), and David Poland is calling "Solaris" a "film of deep, deep emotion and passion", noting that "It is easily one of the finest films of this year and will probably outlast City of God and Adaptation as an enduring piece of art". when all is said and done, we will look back at 2002 as being one of the deceptively best years for film since 1997 ("Boogie Nights", "LA Confidential", "The Ice Storm", "Titanic" -- see THE 1998 GRAHAMMY AWARDS for a complete recap).


— even though Flava Flav slammed The New York Post way back on "Apocalypse `91: The Enemy Strikes Black", it's still one of the most entertaining fishwraps going. and sometimes they come through with an investigative piece that is really quite sharp. and, in this case, it revolves around the recent execution style murder of Jam Master Jay. The Post theorizes that it all has to do with a drug deal that went awry back in the mid 1990s. check it out.


— when you get right down to it, there really is no better reason for the World Wide Web to exist than to spontaneously rifle through all 15 series of Garbage Pail Kids. best. if your memory isn't as good as mine (i remembered that Mark Bark was Card #74a, Series 2...obvs!), you can look up your Garbage Pail Kid name and then refer back to the Geocities site. best best best!


— when it comes to breaking news about local media, look no further than Sminty. in today's Freep, he drops the bombshell that Channel 62 is dropping altogether out of the TV News business, and perhaps more importantly, Channel 50 is going to align with Channel 7. whoah, the implications of this are just too far-reaching for me to even put thoughts together on the issue. developing and there is certainly more to follow...


— did we really need U2 to release their Greatest Hits from 1990-2000? is there anyone in the free world who doesn't already own "Achtung Baby", "Zooropa" and "All That You Can't Leave Behind"? for that matter, is there anyone who didn't buy the soundtrack for "Batman Forever" just to get "Hold Me, Thrill Me, Kiss Me, Kill Me" back in the pre-Napster days? well, Salon.com's Annie Zaleski actually makes a pretty convincing argument why you should.


— and in the last post for now, you're not really obvs unless you check out Drudge like three times a day. who else reveals that Robbie Williams isn't interested in breaking America, ABC is preparing a new reality game show called "Are You Hot?" and that one of the world's worst environmental disasters is occuring as we speak off the coast of Spain. and all on the same page! best.

posted by uncle grambo |
---