Friday, September 27, 2002

the evolution of America's Sweetheart™
betsy ross (circa the sewing of the American Flag)
pochahontas (circa Lewis & Clark)
judy garland (circa Wizard of Oz)
shirley temple (circa whenever Mickey Rooney was famous)
rosie the riveter (circa WWII)
audrey hepburn (circa Breakfast At Tiffanys)
Marilyn Monroe (pre-drug era)
jackie O (circa Grassy Knoll)

mary tyler moore (circa Mary Richards)
brooke shields (circa Calvin Klein ad)
drew barrymore (circa ET)
Dustin Hoffman as Tootsie (circa Tootsie)
Mary Lou Retton (circa 1984)
Nancy Reagan (circa Just Say No)
kirk cameron (circa pre-leo growing pains)
Julia Roberts (circa Pretty Woman/Hook)
kerri strug (circa broken ankle Olympic performance)
drew barrymore (circa Ever After/Never Been Kissed)
christina ricci (circa the opposite of hittins)
Katie Couric (circa husband's death)
colleen haskell (circa Survivor 1 Reunion Show)
sarah hughes (circa 2002 winter olympics)
Kate Bosworth (circa Blue Crush)
kelly clarkson (circa two weeks ago)
reese witherspoon (circa Sweet Home Alabama)







(results courtesy of a collaboration between nummer, the grizz and uncle grambo)

posted by uncle grambo |
---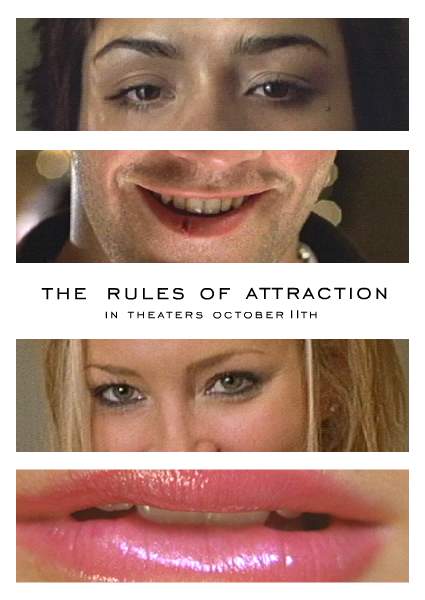 posted by uncle grambo |
---
vedder and the boss


i don't know who revealed this originally, but this info came to me via an email from the grizz. obvs...


Vedder joins Springsteen for duet


He was born and raised in the Chicago area, so it made perfect sense when Pearl Jam frontman Eddie Vedder joined Bruce Springsteen and the E Street band onstage Wednesday night (Sept. 25) at the city's United Center for a duet on the Boss' "My Hometown." Decked out in a t-shirt and a fedora, Vedder handled verses on the "Born in the U.S.A."-era track, tinkering with the lyrics to change "this is your hometown" to "this was my hometown" amid raucous applause. For their part, Springsteen and the E Streeters were in high spirits all night. Recent shows have seen the band deviate from their initial setlist heavy on tracks from its latest Columbia album, "The Rising," and last night's performance boasted the tour premiere of "Jackson Cage," as well as a beautiful "For You," performed by Springsteen alone at the piano. Pearl Jam opened the Who's $400-a-ticket benefit Monday night at the House of Blues. This isn't Vedder's first intersection with the Springsteen canon, as the singer has covered Springsteen's "Bobby Jean" in concert (EDITOR'S NOTE: I DID A QUICK SEARCH OF ALL OF THOSE PEARL JAM "OFFICIAL BOOTLEGS" AND I COULDN'T FIND ANY WITH "BOBBY JEAN"), and even recorded a pre-Pearl Jam solo demo of "One Step Up" from the Boss' 1987 album "Tunnel of Love." It's rare for Springsteen to be joined by big-name guests on full E Street Band shows these days. None had yet appeared on this current tour, but on the 2000 E Street reunion jaunt, a Washington, D.C., show found Bruce Hornsby, Bonnie Raitt, Jackson Browne, Shawn Colvin, and Mary Chapin Carpenter guesting with Springsteen during the encores.

posted by uncle grambo |
---
when in doubt, there's always "rules" buzz

okay, i lied. i just found out the latest scoop on "the rules of attraction", this time courtesy of E! online's anderson jones. he reveals some of the inside story behind the history of the movie poster and the first glimpse of the approved one-sheet. obvs, i've posted it below (sorry, i couldn't find any bigger jpegs). enjoy!

posted by uncle grambo |
---
speechless


as bizarre as this may sound, i don't have anything to say today. i surfed for a few minutes but didn't find anything worthwhile. maybe it has something to do with the fact that i've been in meetings since 7:30 this morning and my head is crying out for a few bottles of aspirin. add up the fact that i had too many drizzies at The Corner and Goodnight Gracies last night and you've got a webmaster with no fresh rants. crazy. anyway, have yourselves a good weekend. see you at Interpol tonight and/or the GGGs tomorrow night. l8s!

posted by uncle grambo |
---
Thursday, September 26, 2002

new words


with little fanfare, the latest version of the Oxford English Dictionary was released today. but believe it or not, this new dictionary does have some buzz, mainly because of the inclusion of some "new" words. here are some examples (in alpha order): ass-backwards, badass, balsamic vinegar, BLTs, bruschetta, carjacking, control freaks, DVDs, get real, Jedi, Klingon, line dancing, lap dancing, road rage, shock jocks, spin control, and supermodels. no word on when whatevs, obvs and FOW will make the cut.

posted by uncle grambo |
---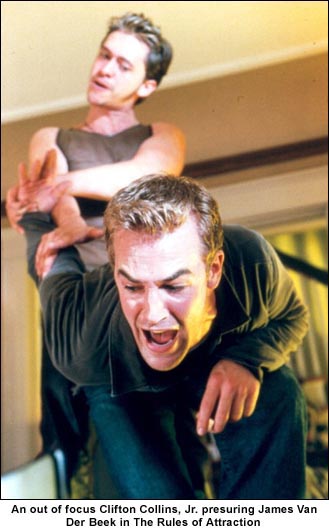 pimping for hollywood


i know that I've been pimping the upcoming release of "The Rules Of Attraction" pretty hard over the last six weeks or so, but reviews are starting to come in and it sure sounds like it's going to be one of this year's best films (obvs!). the first real review that i've read of the film comes from none other than Jeffrey Wells. in yesterday's Hollywood Confidential column, he raved about not only this movie, but the semi-sequel/spinoff that's already been filmed. here's a partial outtake of what Wells has to say about "Rules"...


"Roger Avary's THE RULES OF ATTRACTION doesn't sedate or soothe or reassure. And forget about the cockles of your heart being acknowledged, much less warmed or massaged. It will, however, provoke, challenge and disturb, as well as give you and your friends plenty to talk about over coffee or drinks. I don't recommend seeing it alone. On the other hand, it's definitely not a date flick. Trust me on this one."


all of those elements equal a sure-fire nominee for this year's Grahammy Awards. it opens nationwide on October 11...let me know if you're interested in attending opening night. i'm sure that the grizz, mandy pantalons, peabs, Dr Em Medicine Woman and a host of other High Profile FOWs will be in attendance. i'm thinking that we should make a glorious return to Star Southfield for this one. Southies...haven't hit that piece in forevs!


and while you're reading Wells' column, it's important to continue past the "Rules" stuff and see that he finally hit "Big Fat Greek Wedds" last wknd. he was disappointed, he commented that "it's not that great and is actually amateurish, with a trite, third-rate script and some truly awful acting." i still think that it's a must-see, based solely upon the fact that it's made well over a hundred mills and outgrossed heavyweights like "The Mummy Returns" and "Panic Room." in this day and age of huge first-weekend grosses and subsequent 50% weekly drops, this film is an anomaly of epic proportions and has actually earned the right to be seen by anyone who even pretends to be a movie buff. even though i'm 95% sure that it's going to suck.

posted by uncle grambo |
---
then again, there's always the olsen twins!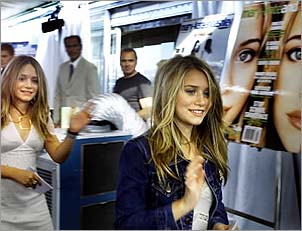 Apparently Mary-Kate and Ashley just signed a big endorsement deal with Target in Australia. best!

posted by uncle grambo |
---
just leave already!


maybe this is going to come off as a little bit insensitive, but i am sick and fucking tired of all of the hoopla surrounding Ernie Harwell's retirement from the Detroit Tigers broadcast booth. aren't you? i can't even get a glass of unbranded milk (nudge nudge) without seeing his old ass mug on television or in the newspapers. everywhere you turn, there's a "Celebrate Ernie" parade or a farewell luncheon or some other BS honoring this guy. it's not like he's cured cancer, saved any lives, lead the Tigers to a pennant or really even made a real contribution to society over the last fifteen years. shmeriously, when was the last time you sat down and listened to a Tigers game on the radio? shatters, maybe when i was 13 years old and the Tigers were chasing the Minnesota Twins back in `87 (or was it the Blue Jays?). now this isn't to say that he isn't worth honoring -- he is a legend in the field of broadcasting and part of our heritage as Detroiters. i feel strongly that sports commentators are an essential piece of the equation as to why we enjoy sports, i just don't think that the world should come to a grinding halt just because this old milkshake is retiring. is george blaha going to get the same kind of reception when he retires? shit no! which is a shame because Blaha has some real talent, charisma and range as a broadcaster (although his forte is pro basketball, he's a damn good at calling college football as well), but i can guarantee you that whenever he retires he'll get a column from Joe Falls and that's about it.


i think that the real root of this comes from the fact that the Tigers blow, have blown, and will continue to blow for the forseeable future. when you stop and think about it, it's really pretty sad that the only thing to celebrate about our major league baseball team is the fact that their broadcaster (who doesn't even call the full nine innings!) is retiring. that speaks volumes not only about the Tigers, but baseball in general. the CoPa is a monstrous failure. the tigers have had something like five managers in the last five years. i can't even tell you who the current manager is (is it Felipe Alou?). they traded their best player and got jack shit in return. worst. so i guess my point is simply this...ernie, we'll miss ya, but just leave already!

posted by uncle grambo |
---
Wednesday, September 25, 2002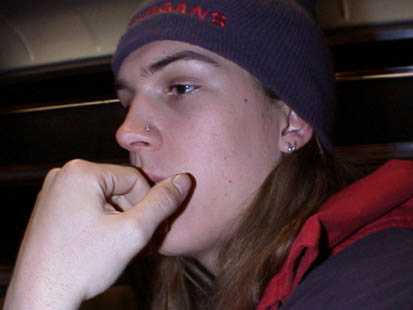 Jason Mewes...Dead or Alive?


I've been looking left and rizz all day to figure out whether or not Jason Mewes (aka, "Jay" of "Jay and Silent Bob" fame) has died, as previously reported by Baetens. Well, I still can't find any postings that officially deny the report from last week's Chicago Sun-Times, but I did stumble upon this. On October 17, Jason Mewes is scheduled to host a talent show at Marshall University. For the low, low price of $5 (only $1 if you have Marshall Student ID!!!), you can be witness when "On the (sic) hottest young stars will be coming to Marshall to talk about his career, meet the students, and host the 2002 Talent Show". Does anyone else think that Randy Moss will show up, homecoming style? More importantly, though, is whether or not Jason Mewes will show up? Especially if: a) he's dead or b) he's on the lam. I think it's worth a roadie...who's in?

posted by uncle grambo |
---
america's greatest living writer


more chewy goodness from Neal Pollack this afternoon. In a post titled All Jacked Up And Nowhere To Go, Neal talks of his experiences with the wonderful new product, "Minty-Fresh Testostogrease"...here's a short excerpt:


"For the last two weeks, I've been squeezing a dollop of this magical testosterone substance onto my hairy chest, rubbing it in while rhythmically chanting the name of Ayn Rand, and feeling raw male power surge through my increasingly muscular body. Within minutes of use, I find myself surfing the news channels faster and faster. By the half-hour point, I'm able to absorb both the information coming out of the broadcaster's mouth and from the ticker at the bottom of the screen."

posted by uncle grambo |
---
revealed...


...by davisdvd.com, "Buffy The Vampire Slayer: Season 3" will be released on January 7, 2003. The 6-disc set will feature the 22 third season episodes with fullscreen transfers, DD Surround, select episode scripts, select episode audio commentaries, select episode interviews with Joss Whedon, a "Buffy Speaks" featurette, a "Wardrobe & Weapons" featurette, a SFX featurette, an interview with monster maker John Vulich, season 3 overview, and a still gallery. Retail will be $59.98, but you can bet your ass that Besties will have it for less than $40 that week.


...on the website for Minneapolis Star-Tribune, an interesting interview with the host of NPR's "Fresh Air", Terry Gross (this post dedicated to my boy Kegzies of Glamorama fame).


...by LA Times columnist Patrick Goldstein, that during the last ten years, only one moviegoing demographic had not shrunk or stagnated. "who?", you ask. moviegoers over 50.


...in this week's Village Voice, probably the least coherent album review that I have EVER read in a major publication. it's by some guy named Don Allred, and the album in question is the Dixie Chicks' "Home." it's worth reading, mainly as a cautionary tale about the overuse of paretheses as a literary crutch.

posted by uncle grambo |
---
"The Vines are wearing it on their sleeves a little too obviously. I like Nirvana too, but please, don't embarrass yourself." — Burning Brides' Dimitri Coats


thank god someone else backed up my assertion that The Vines are overrated poseurs, and i feel even better that it's coming from the lead singer of one of my new fave bands. the burning brides first came onto my radar screen a few months ago when LA-based FOW freebiegrabber sent me a review of a show where they opened for Monster Magnet, where he described the band in this fashion -- "Imagine "Bleach"-era Nirvana or early Local H, and throw in an extra X chromosome and a bucket full of molten lead, and you've got Burning Brides...Tell me where you're registered, Burning Brides, 'cuz I'm throwin' you a shower!" after praise like that, you can imagine that it was with great delight that i learned that the band that opened for ...Trail of the Dead and QOTSA at St. Andrews on 9.13 were indeed the burning brides. while their lead singer is a hair twin with Justin Guarini, he flat out wails on his guitar and singscreams with passion and conviction. continuing the string of Burning Brides related coincidences, the grizz supplied me with an advance copy of their latest cd, Fall Of The Plastic Empire on saturday night. upon first listen, i am equally delighted to find that the intensity and balls-out attitued they bring to their live performances translates in a studio setting. MTV.com is even jumping on the bandwagon, you can read about them more in this article: Burning Brides Out To Incinerate 'Cute Rock'. dig 'em now.

posted by uncle grambo |
---
things i learned by reading Variety this morning

if you are a movie enthusiast, there really is nothing better than reading Variety on a daily basis. the only unfortunate part is that it costs upwards of $200 a year, but i had a Free Trial Offer sent to me recently and i have been taking full advantage. here's some choice scoop that i am going to reveal to the faithful FOWs this morning...
Richard Linklater ("Dazed and Confused", "Before Sunrise") will helm "School of Rock," the Paramount comedy that reteams the "Orange County" triumvirate of Jack Black, screenwriter Mike White and producer Scott Rudin. Paramount has set "School of Rock" for a fall production start and a summer 2003 release schedule. It will closely follow the track of "Orange County," which grossed a respectable $45 million on an $18 million budget. The vehicle will allow Black to display the musical prowess he demonstrates in the band Tenacious D. He plays a musician who moonlights as a substitute teacher, shaking up the halls of an uptight private school with his rock 'n' roll ways. Black will begin production after completing the Barry Levinson-directed "Envy" alongside Ben Stiller.
Paramount Pictures and MTV Films have tapped helmer Tony Scott to go into battle with "The Warriors." Scott has signed on to direct an updated version of Paramount's 1979 actioner, which centered on Gotham gang battles sparked by a small group of gang members being falsely accused of murdering a peace-seeking leader, and will mesh styles of Hong Kong martial arts pix and contemporary action features.
Regency Enterprises has greenlit the Jonathan Glazer ("Sexy Beast") and Jean-Claude Carriere script "Birth" with Nicole Kidman near a deal to star. Glazer will direct. Fox Searchlight will distribute the film worldwide, once contract details are ironed out. The specialty Fox label released Glazer's "Sexy Beast," which garnered Ben Kingsley a best supporting actor nomination. A taut, psychological thriller set in Gotham, "Birth" tells the story of a 35-year-old woman into whose life comes an infatuated 10-year-old boy, claiming to be the reincarnation of her husband, who died 10 years earlier. The script had attracted interest from New Line and other companies before Regency Enterprises took it off the market.



Uncle Grambo's Verdict - All three flicks sound ridiculously tigs. My personal vote has to go to Linklater's "School Of Rock", largely because I am convinced that a director of Linklater's caliber has what it takes to harness the creative comedic genius that is Jack Black, something that the Farrelly Brothers were unable to do in JB's only other lead actor performance. Right on.

posted by uncle grambo |
---
Tuesday, September 24, 2002

America's Greatest Living Writer


well maybe he's not quite america's greatest living writer, he just plays one in his novels and his new Blog, Neal Pollock's "The Maelstrom". today's top post is on Al Gore, but the post directly below is far funnier, where Pollack takes time to describe his recent obscenity trial -- in FRANCE!

posted by uncle grambo |
---
best press release since the sixth Joker's Card


Mary-Kate and Ashley Live 'La Dolce Vita' as Their Italian Adventure When in Rome Debuts on DVD and VHS November 26!
Bonus DVD Special Features Include An Alternate Ending, Behind-the-Scenes Footage and More!


September 2002 (Newstream) -- Buon giorno! On November 26, Mary-Kate and Ashley embark on their very own Roman holiday adventure in the all-new movie "When In Rome" debuting on DVD and VHS from Dualstar Video and Warner Home Video (WHV). Join Mary-Kate and Ashley as they tour the fabulous historic sites of the "eternal city," including the Colosseum, the Pantheon, the Sistine Chapel, the Spanish Steps and more in Mary-Kate and Ashley's latest feature-length movie available on DVD for $19.98 SRP and on VHS for $19.96 SRP.

posted by uncle grambo |
---
$176.91

my main man Morrissey once sang "everyday is like Sunday." if morrissey had a bizarro world where "grey" = "blue", "depressing" = "fun-filled frivolity" and "sixteen, clumsy and shy" = "the sexual charisma of Warren Beatty", every day would be like Tuesday. and this Tuesday, dear FOWs of the world, is one of the most sunshine-y Tuesdays evs. best buy is just CRAWLING with new DVD and CD releases. i highly suggest that you get your ass over to Besties this evening before all of the DVDs sell-out! here's what i picked up at lunch today...

True Romance: Unrated Director's Cut (dvd)
One Flew Over The Cuckoo's Nest: Special Edition (dvd)
Don't Look Now (dvd)
Swingers: Collector's Series (dvd)
A Hard Day's Night (dvd)
Amadeus: Director's Cut (dvd)
Underworld - A Hundred Days Off (cd)
Beck - Sea Change (cd)
Buffy The Vampire Slayer Cast - Once More With Feeling Soundtrack (cd)

OBVS! posted by uncle grambo |
---
baetens revealed!


Foxy bass player, local journo and high-ranking FOW Melody Licious reveals some buzz that Jason Mewes (aka Jay of "Jay and Silent Bob") is feared dead! The Chicago Sun-Times reports that "Mewes is either dead or hiding overseas -- in a country without a U.S. extradition treaty agreement." and if you were wondering, there is no buzz on Kevin Smith's website either confirming or denying these reports. as Drudge always says, "developing..."

posted by uncle grambo |
---
24 hours of BEST





if there is one thing that i learned this weekend, it's that the world has missed courtney love and we didn't even realize it. she all but dropped out of the spotlight for the last two years or so, with her only major public appearance being the debut of her band Bastard in an ill-fated opening gig for Jane's Addiction at the Hollywood Bowl last summer. her name has been in print a lot (mainly due to her courtroom battles with Grohl and Novoselic over the rights to who controls the Nirvana legacy), but we haven't really seen her out and about. then, lo and behold, commercials started popping up on MTV last week announcing that Courtney Love was taking over MTV2 for 24 straight hours. no one is really sure how or even why this came about, but let me tell you, it made for the most compelling television since the debut season of "Survivor".


since we last saw courtney, we have been bombarded from every side with reality this and reality that. from Ozzy to Anna Nicole, from "Fear Factor" to "Dismissed", our television viewing habits have been punctuated with "real" people (which includes has-been celebs) shilling for money, sex, and fame (sometimes under the auspices of charity). well, if you spent any time on Saturday or Sunday watching MTV2, you already know that EVERY form of reality TV we've seen up to this point was simply blown away by the whirlwind of best everness that is Courtney Love.


as the clock struck 8pm EST on 9.21.02, courtney love hit the airwaves. by 8:07pm, she had already had dropped cuss words (caught by the censors) and flashed her breasts (not caught by the censors). what followed for the next 24 hours can only be described as a "train-wreck", but in the best possible way. Courtney IS "reality", as she continually displays a no-holds barred (and no BS) approach to everything she encounters. there is no sugar coating to protect her image, there is no phony posturing (well, maybe there's posturing, but it certainly doesn't seem phony), and there are no cheesy exposes with Diane Sawyer or Larry King. there is just Courtney being Courtney, whether she's on the phone with Cameron Crowe or Michael Stipe, hanging in studio with Albert Hammond Jr., or singing along with Ryan Adams. she is an Independant Woman, not of the "Charlie's Angels" mold of sexed up cheesiness, but one who is well-read, intelligent, dead sexy, fiercely talented and not about to take shit from anyone. as far as self-proclaimed Independent Women go, she makes Beyonce look like June Cleaver. add that to her musical taste (which is top-notch, she played videos from Echo and The Bunnymen, The Go-Go's, Cheap Trick, The Strokes and many more tigs artists), and you've got the total package. but the TRUE appeal of Courtney is that while she's endowed with all of the above talents, she's also a world-class screwball who spits non-sequitors like an Uzi sprays bullets. let's face facts...she's CRAZY! she's damaged yet confident, talented yet constantly searching for adoration; she's a world-class contradiction in virtually every way imaginable. which is exactly what makes her one of the most compelling women to come along in our lifetimes...here's to one more comeback for the venerable and indestructible Miss Love (she just scored the part of Lady MacBeth in an upcoming film!!!). the world is a better place with you in the spotlight.

posted by uncle grambo |
---
Monday, September 23, 2002

make a difference


earlier this afternoon, i received an email asking me how I felt about the new poster for Roger Avary's upcoming "The Rules Of Attraction" (on the left). i thought i would share this with the FOWs of the world in an effort to make the world (and movie marketing) a better place. if you send an email to rulesofattractionposter1@lgecorp.com with one of the following subject lines (LOVEIT, HATEIT, JUSTOK), you will sleep peacefully tonight knowing that you made a difference to some movie exec somewhere. if you're with me, you'll send an email with a HATEIT subject line, as everyone knows the first poster that I previewed on this site (on the right) is far cooler.


posted by uncle grambo |
---
weekend recap

although this weekend was jam-packed with exciting and interesting events, there was only one event that truly mattered. while i'm devoting some time and some thought before i reveal exactly what that event was, here's a recap of the weekend's Next Best Things:
in case you missed Saturday's Detroit News, The Grizz revealed an excellent profile of local boy done good Uncle Kracker. while there are few that would go on the record saying that Kracker is an innovative and genius-level artist (this blogger included), this article accomplishes exactly what it sets out to do: it makes you root for the guy. kracker's new album comes out tuesday...
this morning's New York Times reveals the story of a reporter for The Houston Chronicle who was fired because he also operated a personal Blog on the side (registration required, but if you haven't registered by now, what the hell is your problem?). it seems that newspapers and magazines coast-to-coast are having a tizzy because of the potential editorial ("my writer can't say THAT!") and legal (spontaneous posts are ripe for libel lawsuits if the affiliation between poster and employer is discovered) ramifications of their paid staff operating personal sites on the side. developing...
and last but certainly not least, props out to The Prime Ministers, who put on yet another stellar show in front of a not-quite-packed Lager House on saturday night. the evening's highlight was the surprise return of ex-Minister / lead guitarist Rock McClain, who was invited on stage to take lead duties on "Make Me Your Mission" (an mp3 of one of last year's best pop songs (with Rock on lead guitar) is available here). is a reunion in the works? this reporter thinks it would be a great move, and judging the crowd's response to the song on Saturday night, the fans are game for it, too. boys, any response?
posted by uncle grambo |
---