Friday, August 23, 2002

all that heavy political stuff was draggin' me down. here's some good ole fashion pop culture, courtesy of Fametracker...


Jake Gyllenhaal vs. Tobey Maguire

posted by uncle grambo |
---
everyone knew that when G Dubs took office, we would end up losing some of our civil liberties. the proprietor of whatevs.org is not heavy into politics, but this absolutely makes me retch. apparently, our president is in Portland to make a speech and the speech drew some protestors (we're talking people with signs, not rioters or looting). here is what happened:


posted by uncle grambo |
---
tgif - obvs
here's a friday morning dose of all that is good in the world...


--the grizz convinced the Detroit News to devote some valuable inches to his review of the new QOTSA album that streets on Tuesday. he's throwing "record of the year" calls out, but i say that's a little premature at this point. no doubt it is a very solid record and worth hitting Besties at lunch on tuesday for, but "record of the year" calls may not be warranted. as Asia once said, "only time will tell."
--apparently tuesday also marks the release of the new Aimee Mann album. if you're a fan, there's a good interview with her available on MTV.com. personally, i've never really been a big fan of her "all record labels suck and i'm an independant woman who does her own thing" schtick...that flagpole was previously (and more convincingly) planted by Ani DiWorsto. that being said, i loved the way that PTA used her as a musical narrator in Magnolia, esp. when the entire cast sang along to "Wise Up".
--i could go on a mini-rant about how phony and pretentious i think that members of the Cult of Macintosh are, but i'll save that for another time. apparently there is a girl in some iMac commercial that is becoming the biggest internet superstar since Cindy Margolis. she's a teen named Ellen Feiss, and you can read about her and the growing buzz that she's receiving in this article from today's LA Times.
--last but not least, NME reveals some details about the new Sigur Ros album. apparently it will not be titled and there will be no cover artwork. how does one say "best evs" in hopelandic?

posted by uncle grambo |
---
Thursday, August 22, 2002

for all of you out there who sold your ImClone shares before the bottom fell out, you should consider spending that $100K for Sergei Federov's Porsche, eBay style. no word on whether he nailed Pornikova in the back seat or not.

posted by uncle grambo |
---
hope at last


2002 has been a banner year in many respects, but historians will point to October 21 as the apex of best everness. on that glorious monday, Richard Ashcroft's new album will hit UK music shelves. titled "human conditions", the LP will feature 11 new ashcroft tunes. for those (like me) who can't wait that long, the album's first single, "check the meaning", will be released in the UK on October 7. no word yet on when and if the album will be released Stateside, but that's why god invented Amazon.co.uk.


in other hot news, happy birthday props must go out to Malbersblows. cheers on turning 28!

posted by uncle grambo |
---
Wednesday, August 21, 2002

for some reason, scientists are becoming more and more irritating by the hour. following the sheer insanity of the "space elevator" story, some meteorogical nerds have decided it was worth their time to upgrade the status of 1992's Hurricane Andrew!!! Here is a direct quote from the story: "On Wednesday, scientists ended a decade of debate on the storm's intensity by announcing that what was once thought to a Category 4 storm is now believed to have hit 165 mph — making it only the third Category 5 storm to hit the United States in recorded history." How does one even BEGIN to respond to this madness? Ok, first of all, there wasn't a "decade of debate" on this matter. Everyone already knows that hurricanes are worst evs. Let's be rease, people were way too busy debating dot-coms, presidential blowjobs and hanging chads to worry about Category 5 storm classifcation. second of all, who the F cares anyway? does this new classification make people who lost their homes or loved ones feel any better about the situation? "gosh, you know i was pissed when my house got destroyed by that Category 4 'cane, but now that i hear that bitch was a Category 5, i feel pride bubbling up inside. you know, it's not everyday that you lose all your worldly possessions by a storm that raged as hard as that one!" third, does this really help us prepare for future violent weather? shit no! what are you gonna do when 165mph Hulkamania-esque winds come blowin' down on you? the answer is still "get the F outta dodge", same as it ever was. science. what a bunch of malarkey.

posted by uncle grambo |
---
don't nerds have anything better to concentrate on? apparently a group of Engi-Nerds are working on plans to build a "space elevator". yes, i said "space elevator". and yes, by that i mean "an elevator that would take you into space". space.com is reporting that the First International Space Elevator Conference was held on August 12th and 13th, where world class specialists in "materials science, bridge building, aerospace technology, law, business and financing" spent the time discussing how to make this project come to life. seriously, aren't there a lot more important things these people should be working on, such as making a powder that turns a glass of ordinary tap water into a juicy filet mignon?

posted by uncle grambo |
---
now THAT'S what i call a forehand smash!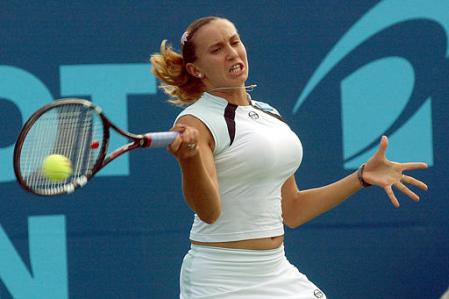 posted by uncle grambo |
---
is this going to be a break-out year for SNL or a disappointment? the pressure is certainly on for some of the newer cast members, as veteran Ana Gasteyer just announced that she won't be returning this season. combine that with the departure of the Hall of Fame performer Will Ferrell and you've got people like Tracy Morgan and Amy Poehler with a lot of weight on their shoulders. who is going to replace these two performers? rumours are swirling that Lorne is going to go out and get another "big" name to fill the gap. by "big", i mean someone akin to Janeane Garofalo or Michael McKean in `95 (or thereabouts); a name and face that the public will recognize and tune in for, but more importantly, a reliable (yet temporary) presence charged with keeping the pressure off the developing talent. i know that my vote would be for Sarah Silverman, but she's already done the show and i know that she didn't enjoy the experience. we'll see...


in other news, one of my favourite internet columnists, Jeffrey Wells, has moved on from Reel.com. apparently his column will reprise over at Kevin Smith's fledgling Moviepoopshoot.com in a few weeks. anyway, out of habit (it being Wednesday morning and all), I surfed over to his old URL this morning and stumbled upon a new column called The Reel Deal by Sarah Chauncey. from the first read, it appears to be a little bit more pedestrian that Wells' column, which isn't necessarily a bad thing. we'll see how the column progresses over time, but it seems like Chauncey has some decent insider ties and a pretty thorough knowledge of both film and literature (her bio says she went to Yale with Ed Norton). she takes a few minutes to focus on One Hour Photo and Motherless Brooklyn, a project that is being produced by Ed Norton and based upon one of my favorite books of the last five years. both the column and the novel by Jonathan Lethem are worth checking out.

posted by uncle grambo |
---
Tuesday, August 20, 2002

i feel so very lame right about now. i just spent the last hour watching American Idol. the show was mostly worthless, but there is this girl on the show named Kelly Clarkson that will rock your socks. not only is she totally the cat's pajamas, she has a REMARKABLE voice. fox has done it again, they've hooked me on another show.

posted by uncle grambo |
---
yo yo yo. i am waking up before dark this morning to bring the FOWs of the world the news that you need to know. there won't be any more updates today, as i will be spending the day in an advertising seminar at the Ren Cen called "Great Advertising and Development". best.


--it turns out that The Freep wasn't the only news outlet to take the time this weekend to espouse the overall greatness of The Prime Ministers. the venerable Oakland Press and chief Detroit music aficianado Christina Fuoco took the time to profile the band. --while it doesn't quite live up to the infamous video for "Smack My Bitch Up", check out Sputnik7.com to see the video for "Baby's Got A Temper". It begins with three old guys getting out of a late-model sedan and walking into what appears to be some sort of circus tent. Each of the men sits down in front of a mirror and begin applying make-up on themselves in an attempt to look like members of The Prodigy. after completing this, they stroll onto a stage and start performing...for a herd of cows!!! then, out of nowhere, nude strippers (is that redundant?) walk into the circus tent and begin milking the cows in a crazily pornographic manner. you'll have to watch the video for the rest, but i wouldn't do so at work unless you've got a door to keep co-workers out. --The Grizz has an article in today's Detroit News about how being single in Detroit ain't really as bad as it's cracked up to be. obvs! --and for any of the whatevs.org ff2k3 participants who may be checking the site today, i think that it would be a great idea if you used your #1 draft pick to select Terrell Davis. while you're at it, i hear that Andre Ware is going to make a big comeback this year! that's all the news that's fit to print. sorry about the lack of Blue Crush, Good Girl, Signs and Full Frontal reviews...i've been slackin'. i'll get to those tonight.

posted by uncle grambo |
---
Monday, August 19, 2002

does it get any hotter?


posted by uncle grambo |
---
please enjoy this sneak preview of a not-yet-released website, courtesy of prominent NYC-based FOW Chet Fetters. this is what The Daily Show would be like if Jon Stewart lived in Astoria and had purchased every single issue of Q since 1989...



posted by uncle grambo |
---
it was just a few short days ago when i was talking up some of that Asia Argento buzz right here on whatevs.org. anyhoots, my point is have you SEEN the new rolling stone? best cover since last December's Britney cover, and definitely the first version of the magazine where the new editor they brought in from FHM was able to get his "vision" implemented. but before i go all Media Geek on you, i'll quit and let these pictures speak for themselves. best (and most intimidatingly sexxxy) tatt evs...


posted by uncle grambo |
---
i got more buzz than the bible's got psalms


pardon me for paraphrasing the house of pain, but whatevs.org is a guaranteed outlet for those looking to generate buzz. first it was the Gore Gore Girls...whatevs.org buzz led to an article in the Village Voice. then it was The Paybacks; after being hyped up on whatevs.org, they landed themselves a feature spotlight in Entertainment Weekly. the latest beneficiary of whatevs.org buzz are Rochester Hills' prodigal sons The Prime Ministers. this weekend's Detroit Free Press featured a glowing review of their latest record. brian mccollum is a bonehead bozo (he dissed Max Weinberg in his Springsteen review last week), but he appears to have righted the ship with this astute write-up.

posted by uncle grambo |
---
dear Friends Of Whatevs - i am insanely busy this morning. i haven't had time for web surfing. i just wanted to let you know that i will be updating the site later on this evening...until then, if you've got the time, check out the recent updates to Glamorama-Online.com. despite being somewhere in europe, Mr. Kegler finds the time to hop into internet cafes and blog blog blog away. obvs. until later...

posted by uncle grambo |
---