Friday, August 16, 2002

best movie poster of the year


check out the one-sheet for The Rules Of Attraction, based on Bret Easton Ellis' famed novel. it was adapted for the screen and directed by Roger Avary...coming soon to theatres near you??? you can tell just from the poster how sensationally obvs this is going to be. if this isn't enough, check out the latest trailer or Roger Avary's website.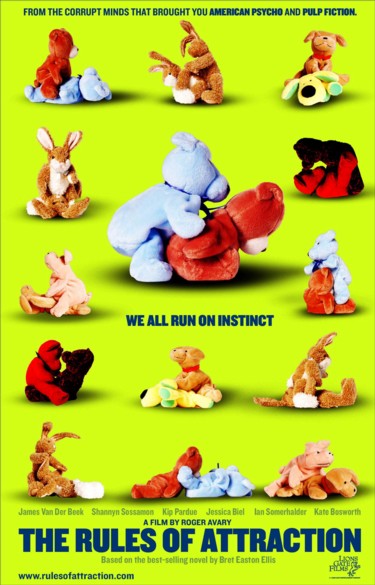 posted by uncle grambo |
---
true or false? --blue pepsi is better than vanilla coke... --palm pilots can communicate in morse code... --blue crush will be responsible for 29 surfing related deaths in the next two weeks... --fondue is preferable to parfait... --the voice of our generation is Ethan Hawke... --Jonathan Lipnicki's voice broke this week... --barry sanders will play bass guitar on The Flaming Lips' fall tour... --being eaten by wolves is less painful than being burned at the stake... --there is no pain in this Dojo... --post-it notes are more useful than remote controls... --rudy giuliani is in negotiations to portray The Silver Surfer in an upcoming film... --egging houses on Devils' Night relieves more stress than Ding-Dong-Ditching... --dazzling penmanship will get you laid...

posted by uncle grambo |
---
lack of buzz


Baseball players have just approved an August 30 strike date. Looks like another year without a World Series. baseball blows.


posted by uncle grambo |
---
so i'm trying to drive down Woodward tonight and there's all these dream cruise fucks trying to drag race down...wait, that negativo buzz shouldn't be impacting the memories of the events of August 15, 2002... BRUCE SPRINGSTEEN: THE RISING TOUR, LIVE AT THE PALACE OF AUBURN HILLS - 8.15.02 yes indeed, tonight was the night that the entire world (well, at least all of southeastern Michigan, Northern Ohio and chunks of Canada) were waiting for. on the fifth night of Springsteen's The Rising tour, the sold-out crowd of 20,000-plus at the Palace of Auburn Hills reveled in the first local, live show since 9/8/99 (unless you count his HBO performance). that night, springsteen and his e-street band delighted and dazzled the crowd with favorites both old, new and (relatively) unheard of. but hardcore Bruce fans knew going in that tonight's show wasn't going to be a redux of the september `99 show, as the new album (and, consequently, the new tour) are all about the celebration of the rebirth of Springsteen the songwriter, not Springsteen the showman. tonight's crowd at The Palace was a late arriving one, as expected. we had our asses firmly planted in our seats at 7:15pm EST, but bruce did not take the stage until 8:21pm EST. there was plenty of time for Palace conversations between the FOWs in attendance (The Grizz, Coach and Mandypants on topics as varied as Vinnie Johnson and Rage Against The Machine. but when the houselights finally went down and Bruce and the E-Streeters launched into "The Rising", the crowd filled in and Bossmania began to take hold. though my posse was seated in the third row of the upper bowl in Section 220, most observers would agree that we were among the most ardous Springsteen supporters in attendance. our group was spotted singing along, dancing in step and even yelling with unabashful glee at ALL of the songs that His Holiness performed, including the 50% (11 of 22) of his set devoted to songs off the new album. leading off with the firefighter anthem "The Rising" (one of the few songs off The Rising which has a very literal connection to the events of 9/11) and smoothly seguing into "Lonesome Day", The Boss quickly realized that this suburban Detroit crowd was welcome and ready for any and all of his new material. hell, i wouldn't have minded if he had played each song off The Rising in the same order they appear on the album, but of course he didn't and the show was infinitely better because it didn't replicate the Oasis tour of 1995 (where they played each song off "Definitely Maybe" in the same order as on the album). bruce has always been a populist at heart, and he displayed all of those characteristics again tonight as he threw out "Prove It All Night" as the night's third song. this was a big crowd pleaser on the last tour; it was more-often-than-not the second song of each of those sets (after "My Love Will Not Let You Down"). if the crowd wasn't already frenzied after his first two numbers, this certainly accomplished the task. the zeal was only intensified two songs later as the band launched into "Darkness On The Edge Of Town", the first widely-acknowledged masterpiece that Bruce played this eve. (con't)

posted by uncle grambo |
---
(The Rising Tour - 8.15.02 continued) but just as quickly as Bruce had riled up the crowd, it was even greater aplomb that he asked the crowd "for a little quiet." midwestern crowds generally don't take well to being told what to do (especially when they're paying really good money for a show), but the crowd was respectful of the Boss' wishes and fell to a (mostly) silent hush for a solo acoustic version of "Empty Sky", another new song laden with undertones of the fear of mortality and spiritual emptiness. i have never seen ANY live performer with the ability, as cliched as it may sound, to take a crowd of 20,000 people in the palm of their hand and lead them in whatever way he / she / it chooses. in all fairness and honesty, some folks started heading for the bathroom during this time, but easily 85% of the audience stood still in respect for New Jersey's finest performer of all-time (yes Frank, i said "of all-time"). the show progressed with crowd pleasers ("Badlands" + new fave "Waitin' On A Sunny Day") and heartfelt emotional compositions ("You're Missing", "Worlds Apart"). then, in an unprecedented (at least for this tour) move, Springsteen and his loyal E-Streeters began playing the opening chorus and first verse of Martha + The Vandellas' "Dancin' In The Street" (Motown!) before breaking into one of the evening's many highlights, the newly-crowned fan fave "Mary's Place". taking the place of "Tenth Avenue Freeze-Out" from the last tour, this is the moment where Bruce takes a mid-song breather to introduce the band to the crowd and give them their proper props. obvs. highlights include the introduction of "The Great" Nils Lofgren and (directly quoting Springsteen) "The Coolest Man On The Whole God Damn Planet" (say his NAME!) Clarence Clemons. senor springsteen rocketed through a few more tracks (see the setlist below) before his encore, which lived-up to its well-earned reputation as one of rock 'n' roll's finest. much to the crowd's delight, the first encore consisted of EVERYONE'S favorite bruce songs, "Thunder Road", "Glory Days" and "Born To Run" (w/the houselights up, obvs!). there isn't much to say about this triumvirate that hasn't already been said, other than to re-acknowledge that these songs make bands like Korn and O-Town piss their pants with jealousy. and though it was revealed on Backstreets.com weeks ago, the second encore was still a bit of a surprise, especially the full-on, balls out version of "Born In The USA". i've heard "BOITUSA" a few times live before, but this version had a lot more passion (even aggression) than I'd heard in the past; whereas normally Bruce performs this song solo + acoustic, this time it was the version virtually straight off the "Born In The USA" record. easily a highlight of the evening AND my entire lifetime. (con't)

posted by uncle grambo |
---
(The Rising Tour - 8.15.02 continued) so, in conclusion, tonight's show was was sickeningly tigs. mad props out to the homeys who went to the show and those who I saw there (JJ + Nicole Canfield). tonight's MVP award needs to go to Bruce Springsteen (as if it could be anyone else), mainly for the talent and enthusiasm he brings to each and every song and live performance. the Under-Noticed, Over-Achiever Award(s) goes to the duo of Danny Federici (Organ) and "Professor" Roy Bittan (Keyboards / Piano), who have always provided the almost impossibly strong (and subtle) backbone to Bruce's timeless songs. and for those who care, here was / is tonight's setlist: the rising / lonesome day / prove it all night / the fuse / darkness on the edge of town / empty sky / you're missing / waitin' on a sunny day / the promised land / worlds apart / badlands / bobby jean / dancin' in the streets / mary's place / countin' on a miracle / american skin (41 shots) / into the fire first encore: thunder road / glory days / born to run second encore: my city of ruins / born in the USA / land of hope and dreams

posted by uncle grambo |
---
Thursday, August 15, 2002

Davis reveals that the upcoming 10th Anniversary Release of Reservoir Dogs on DVD has a "shitty" transfer. which is worst, again adding to my theory that everything that Artisan has touched post-Blair Witch (save Requiem For A Dream) has sids. thank The Almighty Lord Jesus that i already have the version that Live Entertainment put out a few years ago. you can check out screengrabs which compare the two by clicking here, here, and here. the Live version is on the left and the new and "shitty" (as proclaimed by Davis himself) Artisan version is on the rizz.

posted by uncle grambo |
---
there's all kinds of buzz on the wire today regarding three different planned versions of an Alexander The Great movie. the current front-runner seems to be Leo DiCaprio starring in a Spaz Luhrmann production, as Universal, Fox and uber-producer Dino DeLaurentiis are putting a full-court press to get DiBestio to sign on the line that is dotted. other planned versions include an Oliver Stone / Colin Farrell collaboration and a Christopher Nolan / Jim Carrey (!!!) effort. to the latter two, i vote "natch". Leo + Baz = Best Film of 2004 Buzz...if it gets made. (editor's correction - i went back and re-read the article because I still couldn't believe that Jim Carrey was planning on portraying Alexander The Great. turns out that Nolan / Carrey are working on a Howard Hughes script, which could be competing with the long-rumoured Scorsese / DiCaprio version. my bad.)

posted by uncle grambo |
---
less than 7 hours `til Springsteen takes the stage! in other concert news, NME reveals a review of the Guns N' Roses tour opener in Hong Kong. axel buzz. and the LA Times has two reviews of the recent Area2 show: one primarily discusses Moby and Bowie, the other focuses on the DJ tent.

posted by uncle grambo |
---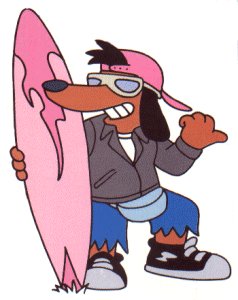 your fifteen minutes is up, yo!


i loved The Osbournes just as much as anyone else in america, but hasn't America unanimously agreed that their time has passed? sure, OzzFest is kickin' ass and takin' names, but does anyone really want the fad to continue with Season 2? apparently the Osbournes do, and they are pulling out all the stops to ensure they stay in the limelight as long as poss. in a move not seen since that little ragamuffin with the oh-so-adorable curls and punch-her-in-the-face-personality entered The Seavers' world on "Growing Pains", The Osbournes are adding another family member for their next season on MTV. yes, I'm serious. while i'm sure that the family's intentions are good and pure, you can't help but question their motives in resorting to the oldest and worst evs last-ditch tactic used to keep a television series afloat just a little bit longer. this totally reminds me of that episode of "The Simpsons" when the creators of Itchy and Scratchy decide to bring in Poochy to inject more life into the cartoon.


posted by uncle grambo |
---
morning television is best ever just a few short weeks ago, i railed on anyone who actually spent time watching morning TV. so it is with an ample amount of crow that I admit that morning TV is the best evs. just this morning, within the span of about 10 minutes, I saw the following... --the video for "Dead Leaves And The Dirty Ground" (again! the white stripes have major mtv buzz) --immediately following was a video for a very unremarkable song by a band called Glassjaw. they were all emo'd out in some alleyway lookin' like castoffs from Dashboard when, all of a sudden, it was revealed that the video starred VINCENT GALLO!!! yes, THAT vincent gallo. the genius behind "Buffalo `66" and star of underrated flix such as "Palookaville" and "Freeway 2: Confessions Of A Trickbaby." anyhoots, the video begins with him discovering that his wife / girlfriend / significant other is cheating on him / doesn't love him anymore / just wants him to leave. after this revelation, in an homage to Richard Ashcroft's triumphant performance in the "Bittersweet Symphony" video, Gallo walks down the streets of new york causing all kinds of trouble. gallo feigns attacks on a hot dog vendor and a few other random pedestrians before strolling down the very same alleyway that Glassjaw is playing in. gallo walks up to the band's amps and rips out their plugs, resulting in a few precious moments of silence, finally closing with a slow-mo show of Gallo just standing there with the wind blowing through his hair. ricockulously best (even though the song blows loads). --as MTV cuts to commercial, i flip to The Today Show and who is on? lauer is interviewing none other than Donnie Darko himself, JAKE GYLLENHAAL! lauer reveals that his name is actually pronounced "jill-en-hall". Gyllies is promoting "The Good Girl", his new movie with Jennifer Aniston that opens in Metro Detroit this weekend. there is a viewing planned for Sunday afternoon if anyone is interested. anyway, Jake looks superbest and is self-effacing and incredibly funny and reveals his discovery of the lifecycle of the Hollywood actor: 1) "who is jake gyllenhaal?" 2) "get me jake gyllenhaal!" 3) "find me a younger jake gyllenhaal" 4) "jake gyllenhaal is ready for a comeback" 5) "who is jake gyllenhaal?"

posted by uncle grambo |
---
Wednesday, August 14, 2002

guess his body hit the floor. mtv.com reveals that the lead singer of Drowning Pool was found dead this afternoon. he was 30 years old. overdose, anyone?


in lighter news, mtv.com also revealed that Bruce Springsteen will remain on top of the Billboard 200 Albums chart next week, as The Rising sold 238,000 copies to top Nelly's latest by 30,000 records. mtv.com also confirms that (as first revealed by GKV on Monday) Beck will be touring with The Flaming Lips this fall. no dates have been announced yet, but obvs you'll hear about it here first.

posted by uncle grambo |
---
more Toronto Film Festival buzz! today's Variety confirms four premieres:
--Brian DePalma's "Femme Fatale", starring Antonio Banderas and Rebecca Romijn-Stamos
--Julie Taymor's "Frida", starring Salma Hayek
--Curtis Hanson's "8 Mile", starring Eminem and Kim Basinger
--Shekhar Kapur's (director of "Elizabeth") world premiere of "The Four Feathers", starring Heath Ledger and Kate Hudson

posted by uncle grambo |
---
this morning's Hollywood Confidential column by Jeffrey Wells includes the 13 Fall/Winter movies that he feels have buzz. they include (in no particular order): Rodger Dodger, Auto Focus, Frida, 8 Mile, Standing In The Shadows Of Motown, Solaris, Adaptation, The Antwone Fisher Story, About Schmidt, Catch Me If You Can, Gangs Of New York, Chicago and Confessions Of A Dangerous Mind. to that list, i would add Moonlight Mile, Stealing Harvard (if it ever makes it to Michigan), The Rules Of Attraction, Punch Drunk Love, The Ring, and LOTR2: The Two Towers to that list as possible Top 10 Grahammy Films. hopefully The Grizz and I will be able to deliver some buzz on some other movies not mentioned after we attend the Toronto International Film Festival on September 6-8. buzz.

posted by uncle grambo |
---
if you're lucky enough to live in the metro Detroit area, you have the privilege of listening to Detroit Public School Radio (90.9 on your FM Dial) every morning on the way to work. as much as i dig Drew & Mike (and, to a lesser extent, Jamie & Gregg and Mojo In The Morning), the only place that i tune into on my drive into work is the Morning Roll Call. it's all about old skool R&B and hip-hop jamz from the early `80s through early `90s. as an example, on the way in this morning I heard the extended "Roni" remix by Bobby Brown (from the "Dance...Ya Know It" remix album), followed by Biz Markie's "Vapors". granted, my drive into work is only 10 minutes long, but I always walk into work with a smile on my grill thanks to 90.9 FM... "the truth about Roni she's a sweet ol' girl / about the sweetest lil girl in the whole wide world / she'll make the toughest homeboy fall deep in love / see once you've had a Roni you will never give her up / she's the special kinda girl that makes her daddy feel proud / ya know the kinda girl that stands out in a crowd / hug a tender Roni and the Roni feels so right / i think i'm gonna love her for the rest of my life!" --bobby brown, "roni" (1988)

posted by uncle grambo |
---
Tuesday, August 13, 2002

okay, now i feel a little bit guilty about posting a pic of natalie portman's ass. to compensate, check out this interview with Dave Eggers from a recent edition of The New Yorker. his new book, a work of fiction, is due to hit bookstores in late September. but you can pre-order the book now if you visit his terrific website, McSweeneys.net.

posted by uncle grambo |
---
was it just me?

was it just me or weren't this year's VMAs supposed to be hosted by Jimmy Fallon and Natalie Portman? i'm watching MTV's red carpet preview right now and they keep saying that the show is hosted by only jimmy fallon. man, wazupwidat? maybe she got embarassed by this tabloid pic...

posted by uncle grambo |
---
HINGIS IS BACK!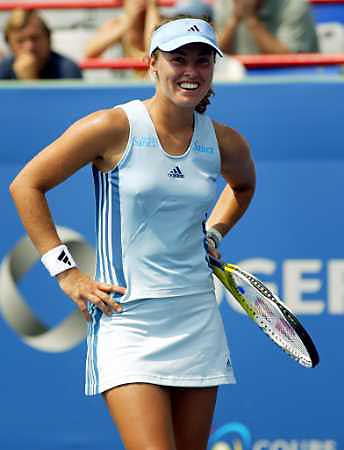 posted by uncle grambo |
---
apparently the dearth of good British bands is making a financial impact on the United Kingdom, so the Brits are formulating a committee to figure out why their music has gone to shite. most of the blame is laid on the Gallagher Brothers (seriously!) and the fact that no one in the UK can rap to save their lives. the report points out the few bright spots of the British Music Machine as being Craig David, Coldplay, David Gray and Dido. i would throw Gorillaz in there, too. and of these five bands, I think that only Craig David has the ability and talent to surpass his last album's record sales. think about it: while all of the aforementioned artists/bands are talented, their success was pretty much a fluke based upon once-in-a-lifetime circumstances (Coldplay got some great commercial exposure during the Winter Olympics, David Gray got big because he was the tour opener for the DMB at the height of their popularity, Gorrilaz because of the whole novelty cartoon aspect, and Dido thanks solely to Eminem's "Stan"). the Limeys just need to face up to facts, america (specifically the Midwest and Great Plains states) just ain't in the mood for your type of music at this time...

posted by uncle grambo |
---
"Elvis was a hero to most But he never meant shit to me you see Straight up racist that sucker was Simple and plain Mother fuck him and John Wayne" --Chuck D in Public Enemy's "Fight The Power" (1989) about 13 years later, Chuck has kinda sorta retracted those bold words. apparently he felt it was time to clarify and explain that he really respected Elvis as a musician, but didn't like the way that The Man thought that he was the almighty inventor of R&B/rock music. chuck also found time to compare Eminem to Elvis, which isn't really that bold considering that Eminem's "Without Me" did that about four months ago. i hate to say it, but it's been all downhill for Chuck and PE since "Air Hoodlum" (from their Greatest Misses LP).

posted by uncle grambo |
---
so anyhoo, i turn on MTV this morning on my way out the door and i happen to turn on just as the Spankin' New Video intro comes on. so of course i sit down to see what they're showing and it happens to be "Dead Leaves And The Dirty Ground" by The White Stripes. it still puts a smile on my face to see the stripes on MTV, especially when their video is followed by the new Scarface single. who ever thought that MTV would be playing a Detroit garage rock band's video back-to-back with an ex-Geto Boy? speaking of Detroit buzz, have you seen the new Entertainment Weekly? in this week's music reviews, they have a breakout section profiling Detroit up-and-comers The Paybacks. yes indeed, if you were buzzworthy enough to attend the WGP last thursday night (props to GKV), you were in the presence of potential national rockstars. and the rumour is that Spin Magazine is going to have a big Detroit feature in next month's edition...keep an eye on the newsstands. it looks like the last days of Salon.com are upon us. Drudge reveals that Salon is seeking financing as their cash reserves are quickly dwindling. according to the report, Salon has enough money to last through the end of September...a proper eulogy will be written when and if their time comes. and last but not least, birthday props must be thrown to full-scale FOWs MacK and JP. happy happy to both of y'all.

posted by uncle grambo |
---
Monday, August 12, 2002

i never surf harry knowles' "ain't it cool news" and i don't know what led me there this afternoon, but there is actually some good buzz there about Warner Brother's upcoming "Batman vs. Superman" movie. it seems like Batman is going to be played by Colin Farrell and Superman by Josh Hartnett, reportedly after Jude Law had a last-minute falling out with the studio. interesting buzz.

posted by uncle grambo |
---
in my continuing efforts to bolster your websurfing habits, i suggest that you click through to read "Ask Robert Hilburn" pronto. hilburn is a well-regarded music critic who writes a weekly column for the Los Angeles Times. but this column is unique in that it isn't a 500-word essay on whatever he feels like discussing in a given week, he responds to some of the more interesting questions that readers pose to him on a given week (sorta like Roger Ebert's "Ask The Movie Answer Man"). i've been reading this column for some time now and nary a week has gone by where it didn't provide some good conversation-starters or a few laughs. for example, this week he talks about how and why Morrissey never really caught on with the American public, how a majority of history's great albums (he mentions "The Joshua Tree", "Born To Run" and "Blue" as examples) were composed by artists while they were in their 20s, and how Rage Against The Machine's legacy will fare over time. i believe that new columns are posted on either Thursday or Friday...enjoy!

posted by uncle grambo |
---
i haven't seen xXx yet, but it's certainly on my shortlist of things to do (tonight, anyone?). whether you've seen it or not, you should read Elvis Mitchell's review from friday's new york times (registration required). among other choice cuts, he calls Diesel/Cohen "the Kurosawa-Mifune of the Mountain Dew Generation" and describes xXx as "...a film of Wagnerian scale — Robert Wagnerian scale." classic! while you're over at the NYT, take a few minutes to read "A Famous Author Says: 'Swell Book! Loved It!'", which is an interesting and amusing take on the quotes and blurbs from famous authors that show up prominently on just about every major book that gets released these days. or, if that doesn't toot your horn, read up on the growing battle between NetFlix and Blockbuster. It seems that Block-B's has begun testing a "Freedom Pass", which allows you to rent as many DVDs as your heart desires for only $25/month, which is the exact same price point as NetFlix currently uses. this battle can only mean good things for consumers, even though i spend double that amount per week at Besties.

posted by uncle grambo |
---
weekend update greetings to one and all. last week can be considered nothing less than magnificently tigs, beginning with Area2 birthday buzz and concluding with The Strokes and The White Stripes playing on the Detroit river. yes, the stage at Chene Park is literally right on the river...boaters were pulling up to the side of the stage and trying to get a piece of Julian! well maybe i'm exaggerating just a little, but you get the point. the show was a decidely mixed affair, as The Strokes dazzled and The Stripes fizzled. i haven't been able to find any proper reviews of Friday night's show, but here's a review of Thursday's show at Clutch Cargo's, courtesy of The Grizz. despite the overwhelmingly f-obvs nature of last week, it served as nothing other than a warm-up to this week. while the sheer number of bands performing (and subsequent beers downed) will not rival the week of 8.5.02, the blindingly best everness of this week just cannot be trumped. why? the answer is as obvs as apple pizz...Bruce Springsteen hits The Palace on Thursday night!!! in celebration of this rare and honorable occasion, it is officially Bruce Springsteen Week on whatevs.org. keep an eye out for an official review of The Rising, reviews of Thursday's concert, and many other Springsteen-related piping hot content. speaking of which, here is another review of Springsteen's tour opener last week, courtesy of Salon.com. and in late-breaking buzz news, apparently Jack White performed three songs with Becklast night at Ann Arbor's fabulous Michigan Theater. prominent FOW GKV revealed this top secret buzz, and also reports that Beck will soon be announcing more fall 2k2 tour dates with The Flaming Lips in support. when asked for a description of last night's Beck show, GKV had only one thing to say..."TIGS!"

posted by uncle grambo |
---
vs. (Special Baetens Edition) young Dan Ackroyd vs. Jimmy Fallon. Michelle Branch vs. Avril Lavigne. Licious vs. Baetens. Fu Manchu vs. Foo Fighters. Showgirls vs. Striptease. Bratpack vs. American Pie cast. Zakk Wylde vs. ZZ Top. 5 p.m. Friday vs. christmas morning. My Melody vs. Hello Kitty. (melody licious)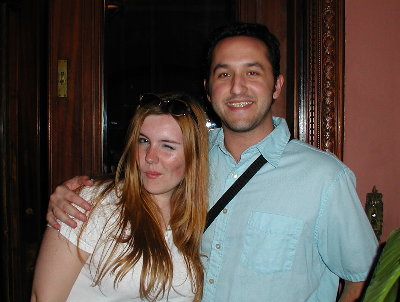 posted by uncle grambo |
---