Friday, August 09, 2002

alright everybody. be safe, have a good weekend and i'll see you at Chene Park tonight, if not sooner. remember, there's a post-show Plakas in the cards, perhaps even a late-night screening of LOTR. obvs. and oh yeah, if you didn't find yourself at last night's White Stripes/Strokes show at Clutch Cargo's, here is a link to NME's review of the show. l8s!

posted by uncle grambo |
---
vs. gore gores vs. paybacks. julian vs. jack. canes vs. guitars. peabs vs. ian. coneys vs. chili cheese fries. eddie vedder vs. chris cornell. pistachio disguisey vs. billy madison. margaritas vs. pina coladas. 94 vs. 75. case vs. marlboros. toes vs. legs. whitney garden party vs. clutch cargos. blue pepsi vs. lemon coke. xXx vs. blue crush. best buy tuesdays vs. porn. freep vs. detnews. gallaghers vs. albarn. baetens vs. britta. two towers vs. fellowship of the ring. whatevs vs. the world. (unclegrambo) kfc vs. plakas. nme vs. god. AG vs. deadlines. mr. deeds vs. red dragon. fuoco vs. mccollum. lilo vs. stitch. burton vs. schumaker. nas vs. hov. wwf vs. wwe. stephanie mcmahon vs. kelly osbourne. wk vs. elvis. sids vs. aids. (grizz) Heather vs. Erik. Live vs. Candlebox. Cell vs. Landline. Memento vs. Insomnia. JB vs. KG. SNL vs. Mad TV. Stern vs SNL. Drew vs. Mike. WRIF vs. 89X. Me vs. You. BK vs. McDonalds. Hut vs. Caesars. (nummer) People vs. Us. Janeane vs. Carson. 25 vs. 21. Kylie vs. Shakira. Chipati vs. Calzone. Venus vs. Bust. Anna Nicole vs. Liza. I am Trying to Break your Heart vs. The Last Waltz. (MacK) ditka vs. god. national coney vs. lipumas. conquistador vs. don julio. brooks brothers vs. j crew. schwartz vs. diet coke. senior girls vs. junior girls. the squirrel vs. curley. malbers vs. cpa. playstation2 vs. significant others. lawnmowing vs. lounging. mortgage payments vs. 220. (coach)

posted by uncle grambo |
---
props deserve to go out to the Detroit Free Press for their "attached garage" mini-site that launched yesterday. it features profiles on up and coming, Detroit-based bands that are gaining buzz on a daily basis. the list includes The Gore Gore Girls, The Paybacks and, of course, The White Stripes. check it out.

posted by uncle grambo |
---
All Springsteen, All The Time

the nation (and this website) are clearly in the grips of Springsteen mania. his tour rolls through D-Town in a mere six days. those looking for some early reviews of the shows need look no further. of all the places, FoxNews.com sports a pretty interesting review of the tour opener on Wednesday night. Key tidbits revealed in the article include: Elisabeth Shue getting dissed for backstage passes, Tipper/Al Gore getting denied trying to score free tix to the show, and the audience's reaction to the set that is mostly comprised of new material.

i also wanted to throw props out to those who attended the fabulous Whitney Garden Party last night, starring The Gore Gore Girls and The Paybacks. major props go out to Coach, 'Los, both Jills, and the one and only GKV. for those keeping score at home, i got a couple of hot pix with me and the scrumptious Miss Melody Licious...unfortunately they won't be posted on the site until this wknd, due to the fact that i arrived home late last night with a belly-full o' margaritas, Agave-stizz. obvs.

posted by uncle grambo |
---
Thursday, August 08, 2002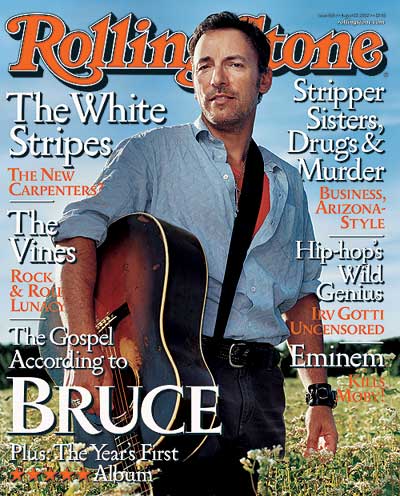 the new rolling stone just hit newsstands last night. of course it includes a five-star review of the new Springsteen album. while i love to see four and five star reviews for The Boss, this particular review is oh so very blemished for two major reasons: 1) the reviewer is Kurt Frickin' Loder (!!!). are you kidding me? although i have major respect for the man, he jumped the shark at least three or four years ago. just because he used to be besties with Madge doesn't necessarily equate to the ability to remain tigs. while he is probably STILL the most well-known music critic/editor that is working today, let's face it...he ain't got no more juice. 2) the magazine that the review appears in is Rolling Frickin' Stone (!!!). are you kidding me? these milkshakes just pucker up and smooch the arses of any and all rock legends over 50. witness their recent five-star reviews for Dylan's "Love and Theft" and that atrocious Mick Jagger solo album from last fall ("Goddess In The Doorway"???). Rolling Stone blows, and anyone who's anyone knows it. that being said, the album is incredibly solid. if you don't already own it, you obviously have problems. what are you waiting for? don't believe the media hype that it's all about 9/11, because it's not. it's a springsteen album and consistent with the themes he's been singing about for the past 30 years. go buy it today.

posted by uncle grambo |
---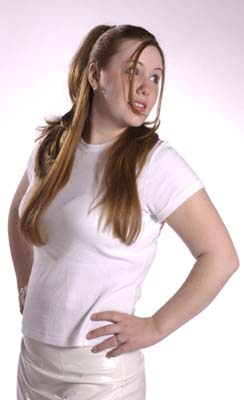 BAETENS BUZZ if you are perusing whatevs.org in search of an Area2 recap that puts MTV.com's to shame, come on back tomorrow. i've been unable to complete it due to that my day continues to get progressively busier with each passing minute. in the meantime, enjoy this photo of the lovely Miss Melody Licious. she'll be at The Whitney Garden Party this evening, where the Gore Gore Girls and The Paybacks will be performing. hopefully i'll see some FOWs in attendance. l8s!

posted by uncle grambo |
---
courtesy of Backstreets.com, here is the setlist from last night's Springsteen concert, Jersey style...this is for canfield and clizzark. August 7 / East Rutherford, NJ / Continental Airlines Arena Notes: "It's always great to open in the Garden State" says Bruce, kicking off the tour with a two-and-a-half hour show. Setlist: The Rising / Lonesome Day / Prove It All Night / The Fuse / Darkness on the Edge of Town / Empty Sky / You're Missing / Waitin' on a Sunny Day / The Promised Land / Worlds Apart / Two Hearts / Badlands / Mary's Place / Countin' on a Miracle / American Skin (41 Shots) / Into the Fire First Encore: Born to Run / Glory Days / Thunder Road Second Encore: My City of Ruins / Born in the U.S.A. / Land of Hope and Dreams

posted by uncle grambo |
---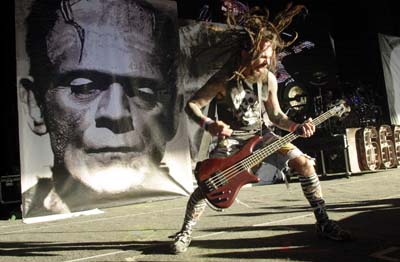 an accompaniment to this morning's Veni Vidi Voicemail is adam's review of yesterday's OzzFest. you can pick up a copy for yourself at newsstands everywhere.

posted by uncle grambo |
---
in order to apologize for being out all day yesterday, here are a few tasty morsels of chewy goodness for you to munch on this morning... *Mariah's new album will be dropping on December 10. As reported months ago on whatevs.org, Mariah signed with DefJam after her deal with Virgin collapsed in the wake of the trainwreck that was Glitter. Look for this album to make a serious run for this year's Top 10. *The Rising debuts at #1 on this week's Billboard Charts. Springsteen moved 525,000 copies last week, easily his all-time best debut. Obvs. *Asia Argento is about to blow-up in America. after this weekened, when she'll be all over movie screens this weekend as Vin Diesel's co-star in xXx, she'll finally escape the shadow of her Auteur Supreme father, Dario Argento. *Songs For The Deaf finally hits the shelves next week. It takes a little longer to grow on you than Rated R did, but the highs that the Queens reach on this album are much higher than they've reached before. *prominent FOW MacK turned in an excellent review of last weekend's Coldplay concert in Chicago. i've been staunchly in the anti-Coldplay camp for some time now, mostly because of the radio overkill on Yellow and Chris Martin's oversized egomania. but i saw the video for In My Place last night and i think they've won me over again. the new album is out on 8.27. *look for an Area2 recap later on this afternoon...

posted by uncle grambo |
---
Veni Vidi Voicemail... "Hey dude, it's me, reporting live and direct from OzzFest 2002. Just checkin' out the merch wondering, uh, what you wanted me, what kinda shirt you wanted me to pick you up. We have "Been There, Fucked That", "I'm Fat, Fuck Off", "Satan Is My Bitch", "Fuck Off", "Let's Review: #1 - Eat Shit, #2 - Die", "I Fuck Sheep", "Shut The Fuck Up", "Fuck Off", "Show Me Your Tits". Did I already say "I Fuck Sheep"? That's one of them too. And then, the best one of course, there's "Fuck You, You Fucking Fuck". Also available in hat. "Fuck You, You Fucking Fuck." Best. Alright dude, see ya." Voicemail first heard at 4:17pm on 8.7.02. An outside caller (The Grizz).

posted by uncle grambo |
---
Tuesday, August 06, 2002

yo yo yo yo. i'm going to quickly update the site this morning and give you a few things to chew on, as I will be out at the hallowed grounds of the DTE Energy Center (aka Pine Knob) for the Area2 festival today. mad props to glinka suave for scoring me some ultrafine bday tix. look for some sort of report on the scene by thursday, just in time for the chicago FOWs to know which performances are tigs and which are tediously worst. but before i let ya go, here are a few things i discovered for yr reading pleasure...
*courtesy of allstar news, here is a summary of the first two shows on the N. American leg of the Oasis tour. apparently liam stormed off stage four songs into his performance the other night in ft. lauderdale...talk about a tired band. i've got some FOWs who will kill me for saying this, but Oasis jumped the shark way back when they tried to put on a concert at The Palace back in the What's The Story, Morning Glory era. every subsequent concert, cd-single, and LP they have delivered since then does nothing other than further tarnishing their once-illustrious career. *while the world patiently awaits the Glamorama review of Radiohead's Benicassim performance, here is some NME scoop on their setlist and new album. *today will go down in history as legendary for many reasons. not only is it the birthday of legends such as andy warhol (dead), lucille ball (dead), and robert mitchum (dead), but it is also the birthday of Geri "Sexy Spice" Halliwell (ALIVE!) and yours trizz (SO ALIVE, LOVE + ROCKETS STYLE). on top of these bacchanalian birthday bestevs, check out today's DVD Journal for a list of the mega-hott DVDs that are released on August 6, 2002. i'm talking LOTR, Simpsons Season 2, Hot Shots, Hot Shots Part Deux, Clash Of The Titans and so many more! all hands on the bad one! *and if any FOWs out there happen to be extremely rich and powerful, here's what you can get a brotha on his birthday...a spears sandwich! bzzzzt...OUT!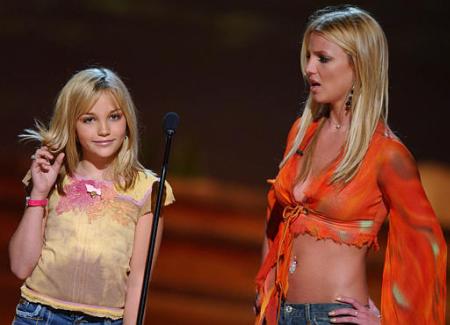 posted by uncle grambo |
---
Monday, August 05, 2002

it's another Manic Monday for Marky Mark. i've got tons of thoughts and things to discuss, but i don't have any time to get to writing. but in the interest of keeping all of the FOWs out there from suffering from Pop Culture Starvation, this morning's Salon.com has an awesome article that celebrates the emergence of Nike's Air Jordans. this article links straight to the printer-friendly version, so you don't have to worry about Salon's pop-up flash ads. enjoy!

posted by uncle grambo |
---