Friday, July 26, 2002

fametracker is one of my favorite websites of all-time. for some odd reason, i hadn't visited there in months. but because i have had very little to do this afternoon, random web surfing caused me to recall this site, which is good for a laugh virtually every visit. here are some of the funnier pieces currently featured:
2 Stars 1 Slot: A great observation Fametracker makes is that, more often than not, there are two actors competing for the EXACTLY the same place in the American pop culture landscape. this week's examination is the "Battle of the Acid Amys :: Amy Poehler vs. Amy Sedaris"? Who is going to win? Click through (the defining reason is classic!)
The Fame Audit: Where actors are scrutinized and ultimately measured by their strengths and weaknesses, concluding with their place on the Fame Barometer. This week's audit is on Jennifer Jason-Leigh.
ok kids, i'm out for the weekend. stay tigs and remember to always keep it r-e-a-l.

posted by uncle grambo |
---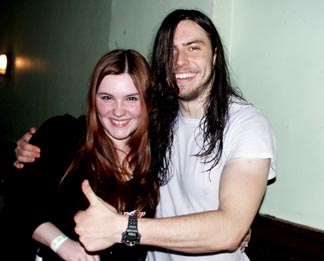 need i say more? baetens + wk! BUZZ!!!

posted by uncle grambo |
---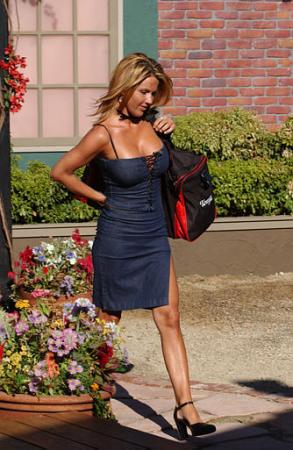 is anyone out there even watching Big Brother 3? i was a huge fan last summer, but i haven't been able to get into it at all during this go-round. and my chances of getting into it just dropped by about 47% when they kicked out Tonya last night. worst. over to the rizz is a shot i found on the wire a few minutes ago, taken last night just seconds after her eviction.


if you likes what you sees, google revealed some hot shots of miss tonya. click-through but NOT IF YOU'RE AT WORK.

posted by uncle grambo |
---
gawd, what a slow news day. i only found one article worth posting, too bad it's a downer. lorne michaels announced the worst guest host of Saturday Night Live since Steve Forbes. make other plans for October 12.

posted by uncle grambo |
---
buzz...


i don't know what you Detroit FOWs were up to last night, but unless you were at ferg's rehearsal dinner or makin' sweet love in the backseat of a Volkswagon, you should be filled with regret this morning. why? because you missed one helluva show by The Prime Ministers at detroit's superbest State Bar. i've always been of the opinion that there isn't a more criminally underrated band in the city; there is no reason that the PMs shouldn't be garnering Paybacks-type buzz. but i suppose that is because they don't really fit the mold of other Detroit "garage rock" bands, and the press is currently enthralled with any band that fits the profile of "the next White Stripes." but i'm keeping my fingers crossed that the increased attention on Detroit as a musical haven will result in The PMs garnering a little bit more attention. maybe the August 3 show at the Lager House wsg The Fags (buzz!) will throw some proverbial kindling on the proverbial fire that propels buzz.


last night's show was the first time i've seen the Ministers perform since the departure of drummer Joel Wicks in April (ish) of 2001, and i was happy to see that the band has continued to grow and evolve in the interim (even without performing live very much). Todd Wicks (lead vox, guitar) has grown more confident in his abilities in the last year and some change, especially vocally. last night his voice was clear and resonant in a manner that i hadn't quite heard before in a live setting. and the rhythm section of Lawyer Ned Friendship (bass guitar) and Jason Lewis (drums) just crackled last night; everyone seemed to be on their A-game. the show alternated between crowd favorites ("oh rock", "make me your mission", "saturn 7 rock hour"), old rarities ("hall of fame"!!!), and a healthy dose of new songs ("i'm a rockist", "makin' up"). only two songs into the show, it was evident that the PMs had won over the crowd both inside AND outside The State Bar; homeless people walking by the entrance were spotted spontaneously dancing on multiple occasions. local journalist and music-enthusiast Adam Graham even went on to call it "the best show i've seen in months." and your loyal narrator/webmaster/writer extraordinaire would have to agree, The Prime Ministers are the real deal.


as mentioned earlier, The Prime Ministers will be performing at The Lager House on Saturday, August 3. do yourself a favor and cancel any other plans you may have already made for that evening; there really isn't any other place that will be half as obvs that night.

posted by uncle grambo |
---
Thursday, July 25, 2002
i know, i know. i'm posting far too quickly for anyone to possibly keep up. but this is in anticipation of not being able to post at all this afternoon. so, in the likely event that i get crazy swamped within the next 20 minutes, here is one last post...
get off your ass tonight and come on down to the State Bar tonight around 11pm, which is right next to the fabulous State Theater on Woodward Ave. rochester hills' own The Prime Ministers will be providing the crowd with more power pop deliciousness than they even deserve. there is even some talk of pre-Ministers beers @ the Town Pump. and a post-Ministers Plakas run is definitely in the cards. see you there...


posted by uncle grambo |
---
Veni Vidi Voicemail...
"so i'm thinkin' about just droppin' the whole rock star thing and, ya know, workin' for my pa thing and and managing a White Castle / Church's Chicken hybrid restaurant. uh, on the corner of North Lyon and Telegraph in lovely downtown...Taylor! in case you don't know Taylor, it's the capital of Down Riv, um, which is maybe maybe the most beautiful area in all of the Midwest. you really should visit here, it's tatts. they have houses with yellow shingles and, um, ya know, girls with, you know, about as many teeth as i have fingers. gimme a buzz. oh yeah, this is peabs."

left on my voice mail on wednesday, july 24 @ 4:53pm. 38 seconds long.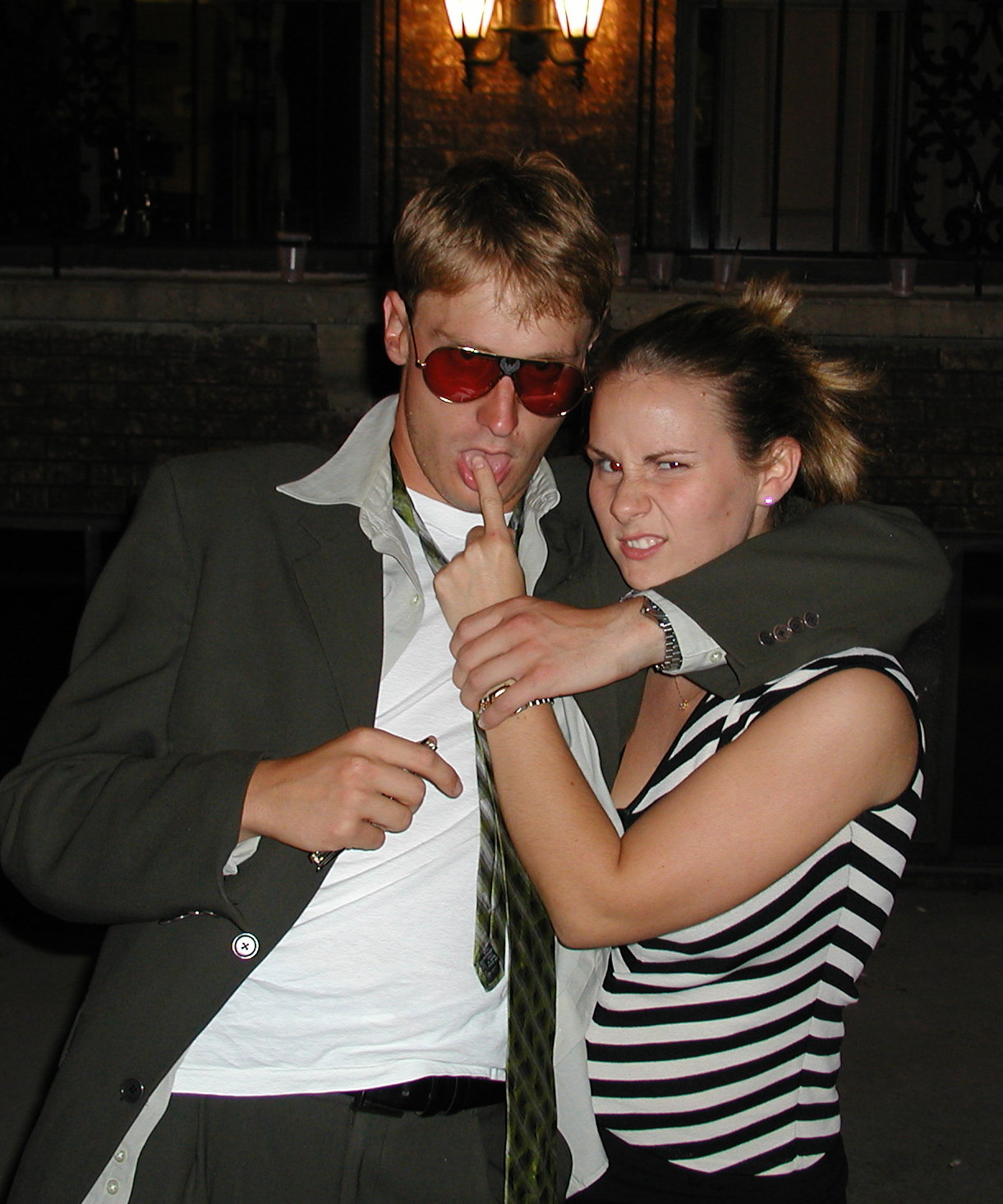 posted by uncle grambo |
---
potential bad news for detroit. apparently, Julian's knee is not healing and The Strokes have been cancelling shows. if The Strokes back out of the already-legendary-before-it-has-even-happened gig with the White Stripes, i nominate the Gore Gore Girls to take their place. the only cure for the summertime blues is Baetens!

posted by uncle grambo |
---
Wednesday, July 24, 2002

just in case you thought that the world of English majors was horribly boring and lacked any sense of excitement, check out this article about the brewing feud between Rick Moody and Dale Peck. Dale Peck, a literary critic for The New Republic, starts his review of Rick Moody's new book with the following sentence: "Rick Moody is the worst writer of his generation." he then goes on to eviscerate Moody and virtually all of the "postmodern" authors, including heroes of mine such as David Foster Wallace, Don DeLillo and Vladmir Nabokov (you know, that guy Sting talks about in "Don't Stand So Close To Me"). peck's review is actually worth reading, especially if you ever had any interest of criticism as a form of literature. i can't say whether i agree or disagree (i have yet to read The Black Veil), but I can easily say that Moody is not the "worst writer of his generation" -- i read The Ice Storm and i rather enjoyed it, thank you very much.


and you thought only Glamorama had literary chops. untz!

posted by uncle grambo |
---
for all the Chicago FOWs, this is pretty much worst ever. looks like Lake Michigan has turned into one very large version of Stony Creek Metro Park!

posted by uncle grambo |
---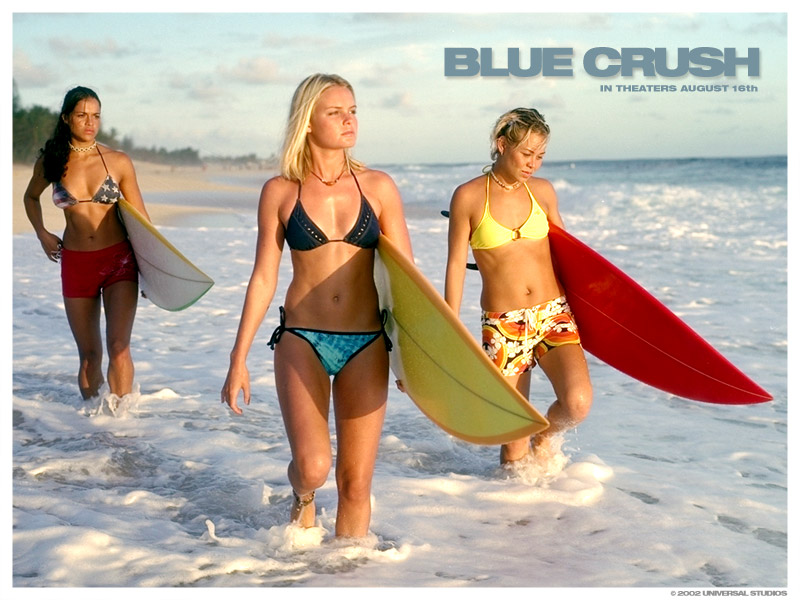 my boy Jeffrey Wells throws out some major Blue Crush props in today's Hollywood Confidential column. among other things, he says that it's "a quality piece of merchandise. Most of it isn't just good, but very good. It's honest, touching, thrilling — an adult film about teenagers that genuinely satisfies...Cheers to all concerned for churning out a quality summer flick. Blue Crush might look like some frothy, escapist romp in the trailers; it is anything but in its feature-length form."


buzz.

posted by uncle grambo |
---
which is real and which is memorex? kylie has been immortalized, Madame Tussaud style. want to touch the heinie! also, here is more Yoshimi buzz, this time courtesy of The Village Voice. this is one of those grand album reviews that fellow pop culture freaks / English majors drool over. best.

posted by uncle grambo |
---
Tuesday, July 23, 2002

by super popular demand, here are some sublimely sexxxy photos from this past saturday. simpsons bowling, eight legged freaks and a killer set by immerse were all on the agenda. obvs. http://www.whatevs.org/saturday.htm

posted by uncle grambo |
---
even e! online is getting in on the Shaolin Soccer buzz (bottom of the page). no official dates, however. and there's still no love for Stephen Chow on the Miramax.com homepage.

posted by uncle grambo |
---
lunch-time post. salon.com's Masterpiece series focuses on the story behind the classic Kinks jam "You Really Got Me". also, Greil Marcus' weekly Real Life Rock Top 10 showers some praise on the new Counting Crows album. methinks i'm going to go buy the record tonight. i'll save you a click-through, here's the mini-review...


4) Counting Crows, "Hard Candy" (Geffen) After the tied-in-knots "This Desert Life," a return to form: songs about endless free time, a fortune under the couch cushions not to mention in the bank, nothing to do and nowhere to go. Played with all hearts on sleeves. With angst. ANGST. ANGST. And it works: It describes a real terrain where people without endless free time or too much money to count actually live. Even if Adam Duritz's hair has reached the point where it looks ready to fly away with him.

posted by uncle grambo |
---
quick post this morning. if you were wondering, here's some music that Paul Oakenfold thinks is worth listening to.

posted by uncle grambo |
---
Monday, July 22, 2002

response to my curious thought about license plates... a kind FOW from chicago just emailed me this response to my license plate post a few hours ago. i thought i would take this opportunity to enlighten you all, as well as thank the emailer for the scoop. cheers! >even though 7th or 8th characters have not been added, a new system has. they started out a new line of the plates beginning with the letter B. and then followed with a random 5 characters. the system is currently up to plates starting with the letter J. at least that's what the LPC (license plate coalition) is doing in chicago. how tigs is that? i wonder if the fine State of MI is that advanced? doubtful. maybe Glavzies can do something to affect some change. go Glavzies and go Candy Mills!

posted by uncle grambo |
---
for all of you aspiring journalists out there, remember that hatchet jobs on movie stars just aren't as appealing to your audience as you might think. you're being paid to write an article about K19, not attack Harrison Ford because he isn't thrilled to death to sit down in a room with you and some lame-ass producer from the Mancow show and answer the same questions he has heard 700 times in the last two days. now don't get me wrong, I hate Harrison Ford as much as the next Chianti sippin', MIB2 hatin' Sight and Sound cineaste, but this article is just plain wrong...ESPECIALLY coming from a writer for the Chicago Daily Herald! Chicago Daily Herald? get a life and get a real job.

posted by uncle grambo |
---
thought...


so how come we never run out of license plate numbers? you don't see them adding a seventh or eighth character; every license plate has six characters and that seems to work out just fine. on the other hand, we are constantly running out of phone numbers and creating new area codes...what gives? what the dilly, yo?

posted by uncle grambo |
---
happy monday to you and yours. what a tigs weekend. unfortch, i don't have time to post any pics or do a solid write-up until tomorrow at the earliest. but fear not, loyal FOWs. here is another in a long line of ridiculously tigs postings from my gossip source in LA. he/she used to have a nickname that most of you will recall, but because of his/her impending superstardom, he/she has asked me to leave his/her nickname out of this posting. we are still working on alternate identities that cannot be traced back to him/her...but for now, here is a posting from anonymous:


"Tues was out with my Pam Anderson and David Spade at Sky Bar with my friend. Pam is hotter than hot but i think that my ex who doubles for her is hotter. i know this sounds crazy but Pam's teets are toooooo big! it makes her body look weird in person. don't get me wrong, im not kicking her out of bed for eating crackers. she is the hottest milf i have ever seen.


uhhhhhh my life is not normal. here's who i've been hanging out with lately. first marcus allen and britney daniels . where? at our 4th of july party at Manhattan Beach. then we went to Adam Duritz's house for late night party. Can i just say his house is frickin amazing. then they played a little ditty from the new album. o yeah, since i'm name dropping, other attendees included breckin myer, virginia madson, neil patrick harris (aka doogie), eddie mills, teri polo, sarah michelle, charlize, and the girl of my dreams paulina rubio. oh my God can she please be my wife or sex toy. dear God is she the hottest latino girl i have ever laid eyes on. Holy Salsa with a bottle of chanti sauce.


here is the latest other dirt from the City Of Angels... *jen love hewitt is dating John Mayer for sure, our friend is in NYC this weekend for his concert in the park... *reports of j lo and ben being togther are being confirmed more and more... *spiderman is laying eggs with christina ags, and his buddy leo dumped giselle. what in the sam hell is he thinking? can we have sloppy seconds? *justin timberlake is supposedly dating JJackson. interesting.

posted by uncle grambo |
---