Friday, August 27, 2004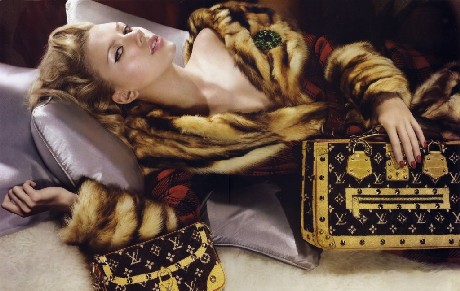 apologies for the late post go out to the FOW Nation, yo. this morning, your Uncle Grambo was attending to some Top Secret Bizness. while I'm not quite ready to reveal the hottness, believe you me it's gonna be a Jazz Bomb SO big that it's guaranteed to make Peter North green with envy. DEVELOPING!


confessions of a dangerous mind. The Freep lands an exclusive with a man claiming to be behind Detroit's notorious TURTL graffiti outbreak. BUZZ!


all Gallo, all the time. check out this Paper cover story on our boy Vince. [via Stakes Is High]


Sax-a-ma-phone, "Lost Boys" stizz. best animated gif evs? gawd bless The Thigh Master.


just in case you were wondering, that picture of Scarlett Johannson is apropos of nothing. she's just one foxy babe.


i'm with The Pimp In The Box on this one, y'all. your Uncle Grambo is TOTALLY sick of journos praising the legacy of the US Women's Soccer Team. remind me again exactly what that legacy is? if Brandi Chastain wouldn't have popped her top, no one would ever remember the `99 World Cup. no offense to chicks who play soccer, but calling this team's achievements a "legacy" is a joke. maybe time will prove me wrong on this, but right now the only legacy I see is a women's professional soccer league that went belly-up, yo.


just like babies with pacifiers, Mariah's tees are still on fire(SFW). say what you will about my girl Mariah, but she is straight up sexy. always has been, always will be. at least in my book.


if there's anyone that can party harder than Thornton Melon, it's probably Tommy Lee. "Back To School" ... the reality show? developing!


on the "Back To School" tip, unfortch this is also developing. a remake of the 1986 classic is in production and is set to star Cedric The Master Debater. durst!


our good friends at Gothamist have been tearing it up of late with their coverage of the RNC. some say Gothamist has a chance to reach elite level status with some good coverage next week. robvs.


damn, if it wasn't for those pesky age-of-consent laws, we might have seen Brooke Hogan in the pages of Playboy. nice try Hef, too bad The Hulkster's daughter is only 16.


breaking my back just to know your name! "Somebody Told Me" is storming up the US Singles Charts ... #85 with a bullet! somewhere Damore is cackling maniacally.


this reminds me of "Bowling For Columbine" ... "Africanized" bees arrive in Oklahoma! man, why does it always gotta be RACIAL!?!


speaking of the Race Card, Jason Whitlock has never been one that's afraid to lay down that trumpage. in a column that appears on ESPN's Page 2 today, he charges that race is driving the nearly universal hatred of the US Men's Olympic Basketball Team. dude, gimme a brizz. (PS, as of press time, Argentina was up 11 points on the US Squad with 4:45 left to play).


Wish Kilby goodbye during his final broadcast as the host of "The Late Late Show" tonight!


for those looking to get roofied with Uncle Grambo tonight, I'll be hanging at O'Tooles in Royal Joke with Damore, Beej, Nummer and GP Jenn starting at about 7pm. we'll be making our way over to see Liz Phair at the Royal Oak Music Theater around 9, followed by a trip to the Berkley Front to see Last Tourist (an Abe Lincoln will get you in the door ... and no, I don't mean one of those). bovs on YOUR respective tees, Detroit. catch you LATER.

posted by uncle grambo |
---
Thursday, August 26, 2004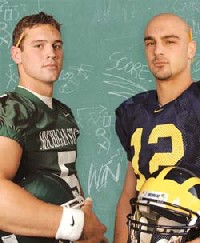 i don't know about you, but this is my favourite time of the year. although its been a number of years since your Uncle has gone "back to school", my spirits always seem to rejuvenate beginning with the last full week of August. temperatures start to cool a little bit, the trees start to change color and, most importantly, COLLEGE FOOTBALL IS BACK! your Uncle Grambo is getting PSYCHED to make the roadie to Ann Arbor and The Big House to see his #7 ranked Wolverines open the 2K4 season on September 4th by trouncing the hapless Redskins from Miami of Ohio. when the sun is shining and the beer is flowing, NOTHING can compete with spending your Saturday tailgating alongside 110,000 other Michigan fans. for everyone else out there who's equally excited for this magical time of the year to begin, check out The College Preview in today's DetNews. Gutierrez ... so best!


so did you catch Gallo on Stern this morning? The Grizz called and woke me up around 7:45 am to let me know that the interview was just beginning. unsurprisingly, Gallo was a great guest. he dished the requisite dirt, made peace with Roger Ebert (although he still thinks Richard Roeper is "a worm") and extended his list of people he wishes cancer upon to Kirsten Dunst's agent. though he wasn't as loquacious as when your Uncle Grambo encountered him, that's probably because Stern kept cutting him off mid-story. "The Brown Bunny" opens in NY this weekend, check out J. Hoberman's review in The Voice. did anyone attend the Gallo concert last night at Rothko? my new friend Chene has promised some good stories, but they'll have to wait until she makes the roadie back to The D™.
UPDATE (1:58PM): The Delectable Cinecultist reports live from Rothko!!! revealed!


in the history of shocking developments, this one ranks even lower than a weatherman forecasting rain in Seattle. with one lone exception, all of the accredited bloggers at the RNC are white males. nice push for diversity, douchebags. [via Romenesko]


today's Detroit News really gets to the heart of what's wrong with our fair city. Suburban teens are drinking too much coffee and their mothers don't know how to make a good grilled cheese sandwich. i keed, i keed. the former story comes from The Grizz and is actually both informative and humorous to read. after pulling aside an Orchard Lake St. Mary's sophomore in the midst of ordering a medium mocha latte with extra espresso, The Grizz questions him on how he takes his coffee. the kid replies that he's a coffee purist, explaining that ""When you load it up with cream and sugar, it really takes away the flavor." riiiight, and I suppose that all the chocolate syrup in your MOCHA really helps maintain the purity of the Columbian coffee bean. effing amateur¹.


The new Sidekick II from T-Mobile? SUPER BEST! the fact that you have to sign-up for T-Mobile to get it? DURST! the last thing i want to do with my hard earned chedda is throw it to Catherine Zeta-Durst. obvs.


if you thought watching the Laff-A-Lympics made you horny, imagine participating in them! Olympic athletes have torn through 130,000 condoms since the start of the games. hott.


it's good to see that editors at the NY Post are reading whatevs.org! today's Page Six resets "hot saucing", a topic that your Uncle Grambo covered yesterday. HOLLA!


reason #734 that i adore UltraOlsen: when she can't find Sparks in the local liquor store, she invents her own blend by combining Red Bull and Olde English 800. so rad.


Zombie crunk. best musical development evs? [via Nick Catchdubs]


looks like the cast for Roger Avary's adaptation of "Glamorama" has been set! in addition to Shannen Doherty, Brittany Daniel, Maggie GyllenBestEver, Vince Vaughn, Estella Warren and Billy Zane, look for Kip Pardue to reprise his role as Victor from "ROA." SO BEST! [via The Leafblower]


old news? last season's mostly disastrous reaction to "Rich Girls" sent Ally Hilfiger into rehab ... who knew? was this previously revealed? did I intentionally block this from my memory? DEVELOPING!


just in case you hadn't heard, today's Freep reveals that The People Mover (aka "The Back Alley Express") hasn't stopped at the Ren Cen in over two years. apparently the City Of Detroit has been too busy keeping Kwame away from strippers to adequately reflect this in their signage.


and finally, it's time to bid a fond farewell to another of your Uncle Grambo's favourite blogs. the inimitable So Says I has chosen to retire to greener pastures, leaving in her wake a massive gap of general excellence in the mostly retarded LA blog scene. i always found So Says I to be a refreshing antidote to your more "typical" blogs, mainly because of Kerry's sharp wit and consistent focus (indie rock, movies and zombies). i remember stumbling upon her blog some months back when the lead post was An Open Letter To Peanut Butter And Jelly and thought to myself, "this is funny. REALLY funny" ... after an intro by Foxy Jazzercise Gawker Blueprint Buzz during the outrageously bananaz Coachella trip in May, we became fast friends and the rest is hiss. RIP So Says I — 2003-2004. she mars.


¹ for the record, your Uncle Grambo takes his coffee Winston Wolf stizz. lotsa cream, lotsa sugar. shmears!

posted by uncle grambo |
---
Wednesday, August 25, 2004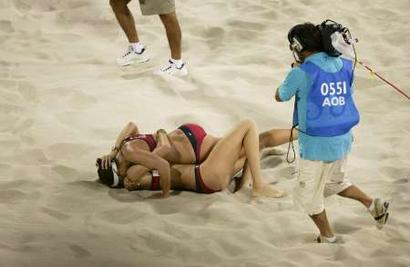 they're tan. they're tall. they're hott. they're awfully touchy feely with each other. they're the breakout stars of the Laff-A-Lympics! they're Misty May and Kerri Walsh, gold medal winners in women's beach volleyball! over 25 million viewers tuned into NBC last night to watch these scantily clad beach bunnies bounce around in the sand. while there's no doubt in my mind that good, old fashioned American pride played a part in the boffo ratings, there's even less doubt that everyone watching wanted these two Glamazons to make out after the match.

and OH BOY, did they EVER! make out, that is. after Kerri Walsh completed the game-winning kill, the duo quickly hugged. as a cameraman rushed in to capture an extreme close-up of the impending girl-on-girl action, Walsh slapped May squarely on the right ass cheek. men and women EVERYWHERE began to feel a rise in their blood pressure, as Walsh began erotically leaning backwards into the sand. seeing this, May quickly morphed into a frat boy after a few too many shots of Jager and pounced on the spread-eagled, 6'3" stunner with alarming ferocity. at this point, a nation sat silent, no doubt praying for either: A) Jenna Jameson to magically appear or B) May to break out the strap-on.

unfortch for us all, neither happened. the brief moment of sapphic hottness was broken up, and May sprinted off to the stands to high five the crowd, Anup Popat stizz. but NBC revelled in their moment, replaying the ass-slap-into-missionary-position montage TWO MORE TIMES in the next five minutes (thankfully, they put a commericial break in between so we could all catch our breath). i would like to honor NBC's anonymous cameraman, pictured above, for having the wherewithal to ignore the growing bulge in his pants and instead sprint across the sand and film this epic moment of hottness. TOTAL BUZZ REVEALED!!!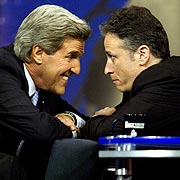 on the complete polar opposite of buzz was John Kerry's highly anticipated appearance on "The Daily Show" ... i don't know about you, but the disappointment I felt after this interview completely enveloped me. while Kerry came off as creepy, lame and horrifically stiff (did he just get done watching May and Walsh?), I was REALLY disappointed in Jon Stewart. yeah, I understand that "The Daily Show" is "fake news", but did you really have to repeat that joke like three different times during the interview? and yeah, i get that you should mix in a few jokes to keep the mood light, but the jokes and transitions felt oh so forced (he also got repetitive again, talking about how he "gets all his news from 24 hour cable channels"). and the moment pictured at left where their faces were like four inches apart was, if I may say so, REALLY FUCKING BIZARRE. was it just me or did everyone else also wish they were watching Ali G interview Andy Rooney instead?

update your bookmarks, y'all: Jeffrey Wells has moved from his former home at the Poopshoot to a new URL: www.hollywood-elsewhere.com. buzz.

in an unsurprising development, hippie rocker Dave Matthews is facing up to $70,000 in fines after his tourbus dumped a tankful of human waste onto a Chicago River sightseeing boat earlier this month. now Chicagoland knows how DMB loyalists felt after picking up Dave's solo record, "Some Devil" ... totally shit upon! [via El Tiz and reg req'd]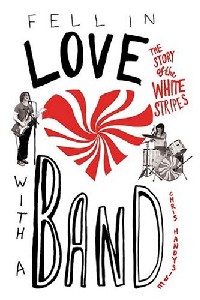 for those of you struggling to make the September and October selections for your book club, your Uncle Grambo is here with a couple o' suggestions hott off the press. `cuz non-fiction is all the rage these days, might I suggest either "Fell In Love With A Band" or "Magical Thinking: True Stories" (both from St. Martin's Press) for the bookworm bunch? the former was written by local renaissance man (and FOW) Chris Handyside and is, as the title suggests, a biography of everyone's favourite Detroit-based garage rock duo, The White Stripes. an added bonus is that an interview with Peabs has allegedly made the final cut (for those that don't know, Meg Whizz used to dogsit for the Peabs family)!!! the latter is the new jawn from Augusten Burroughs, author of Sedarisesque memoirs "Dry" and "Running With Scissors." get your Burroughs on with this interview conducted by the good people over at The Black Table.


worst name change since Madonna became Esther! P. Diddy's umbrella-donning manservant, Farnsworth Bentley, has officially changed his name to FONZWORTH Bentley. get it? you know, like THE FONZ? there is only one possible response to this news ... SIT ON IT, POTSIE!


Gawker interviews Sasha Frere-Jones. best. big ups to Nick Catchdubs, for the esteeemed S/FJ name drops his blog in the piece as being best.


this feels like the kind of topic that Peabs would be more comfortable espousing upon. Is it OK to "hot sauce" children??? truth be told, i don't even want to know what that means.


say goodbye to The Last Of The Famous International Playboys Whiskey Distilleries. Glenmorangie confirmed to London's Financial Times that it's up for sale. I hope they keep the brand alive, your Uncle has LONG been a fan of their 12 year Port Wood Finish. shmears.

posted by uncle grambo |
---
Tuesday, August 24, 2004

i don't know about you, but gold medals turn me on. sweet, sweet Misty May. hubba to the hubba.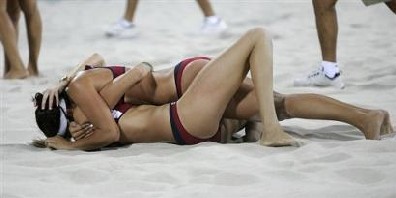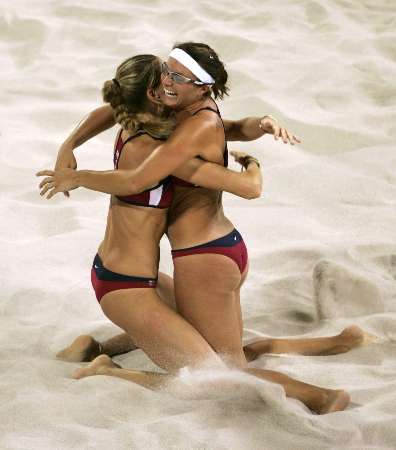 posted by uncle grambo |
---
Mountain Dew launches Pitch Black, a Halloween themed beverage! according to its website, it combines original formula Mountain Dew with "a blast of black grape flavor" ... buzz? [via Nummer]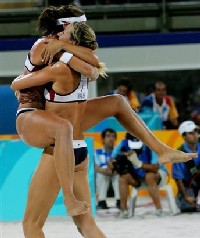 while the Paul Hamm debaucle threatens to usurp even MORE buzz from this year's Laff-A-Lympics, your Uncle Grambo throws big ups to Misty May and Carrie Walsh. gotta say that I'm a big fan of Misty's lower back tatts. and those Walsh gams? SO LONG! so best. untz. could be the best gold medal celebration since Brandi Chastain went all "Girls Gone Wild" on us in Hot-Lanta, `96 stizz! robvs.


memo to Brit Brit ... lay off the Cheetos! that cellulite farm you're growing on your ass is far from obvs. [via Dean's Planet]


sneaky, sneaky bastards! The Michigan Republican Party is campaigning to get Ralph Nader on the Michigan ballot come Election Day. when Nader failed to get enough signatures on a petition which would've landed him on the ballot, Republicans stepped in and gathered some 45,000 signatures on his behalf. no buzz for Nader and even less for the GOP.


while we're on the topic of politics, John Kerry to appear on "The Daily Show" tonight! [WaPo via Romenesko ... reg req'd, natch]


it's been a few days since your Uncle Grambo has mentioned Vincent Gallo, so here's the latest scoop on everyone's favorite auteur. The New York Times interviewed him in this weekend's magazine (AGAIN!) and he's scheduled to make an appearance on the Howard Stern show this Thursday, August 26th. BUZZ! [second item via Achtung Baby]


ABC's "The Bachelor" goes geriatric on us, offering up not one but TWO forty year old men on the next installment of their show! someone stick a fork in this franchise, s'il vous plait?


"Jesus Walks"? more like "Jesus Is Bankin' Chedda, Y'all"! Kanye West charged a church $30,000 for an personal performance of his hit single there on Friday, only to arrive three hours late and without a band!


no one has even accused weathermen of being rocket scientists. Fox 2 weatherman Chris Edwards turns down an annual salary of over $330k so he can be home with his kids! HA! jackass. guess what his backup plan is? charge local schools $600 a day to show their kids how to do science experiments! loo hoo zer! good luck on welfare, jackass! you and MARVIN are gonna be bests!


even though your Uncle Grambo has taken a hiatus from Tuesday trips to Best Buy, I'm going to have to make an exception for the double-disc release of "Dawn Of The Dead" on October 26! includes over 15 minutes from a recovered "home movie" that documents Andy's last horrific days as he battles the zombie hordes outside his gun shop, shot exclusively for the DVD! so ... much ... zombie ... hottness ... REVEALED!!!

posted by uncle grambo |
---
Monday, August 23, 2004

it's Monday morning and i'm still sobering up from Friday night's Royal Joke pub crawl with Peabs, Damore, El Tiz, Jenbo and Carrie. what started off innocently enough as a laid back evening with a few mojitos and some mmm mmm best plaintain hottness turned into a psycho crazy drunkfest. i'm fairly certain that i got roofied at some point during the evening, b/c somehow i magically went from having a good time with the posse to waking up at 2pm on saturday afternoon hung the FUNK over. memories in between are fuzzy at best. i managed to briefly leave my apartment for a coney and some chili cheese fries on saturday, but the words "train wreck" only begin to describe the level of effed that your Uncle remained at all day. even worse, it carried over through the rest of the wknd. i had a master plan for Sunday that included catching up on the 150 emails from FOWs that i still need to return, but that didn't exactly happen (apologies to all, i don't normally slack this hard). but the combination of being hung ovs and getting wrapped up in the Laff-A-Lympics tends to distract a man...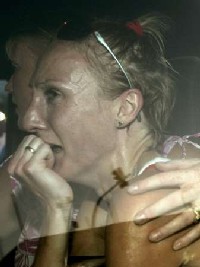 speaking of which, there's no crying in marathon running! oops, apparently now there is ... Paula Radcliffe, your lack of buzz is making me thirsty. what kind of Dodgy Gawky Bird quits the Olympic marathon only four miles from the finish, ESPECIALLY when said Dodgy Gawky Bird was in fourth place at the time? durst! even worse was the fact that her running style could only be compared to what Annette Funicello must look like with a wicked case of diarizz! at least when Mary Decker Slaney got wiped out and started bawling back in `84, it was because that nasty barefooted beeyatch Zola Budd tripped her! what's your excuse, Raddies? oh well, i guess you can just chalk it up to another in a long line of athletic choke jobs from the Land O' Limeys. i'm looking in YOUR general direction, Tim Henman. no buzz.


best subhead in the history of journalism? Deep Penetration Has Important Implications for Marketers. yes, yes it does.


hott! Paris Hilton's Nicole Richie's nipple ring sets off an airport metal detector. (question for NY Post editors ... why'd you go and confuse me by using a picture of Paris?) nott hott! Modest Mouse to perform on "The O.C." this fall. float on, dude!


The NY Post declares "RW: London" castmate Jacinda Barrett to be "the new Nicole" ... yeah, as in Kidman. blogga PLEASE!


check out these snaps from Brit Brit's video shoot for "My Prerogative" ... what's that car doing in that swimming pool? [via Trent]


speaking of Brit Brit, big ups to Rebecca Traister for her spot-on analysis of the free fall of Miss Spears that appears on Salon.com today. your Uncle Grambo has been a big fan of Miss Traister for awhile now, so it's especially nice to see that she threw a little whatevs.org buzz into her article (it lessens the sting from my NYT diss last week substantially). and for those of you like me that aren't Premium Subscribers, it's totally worth the Day Pass. robvs.


apparently gold medal winning gymnast Carly Patterson is a ringer for Amanda Bynes. upon inspection, I say not so much. but still, gotta appreciate any news about Bynes these days ... some say she's totally dropped off the face of The Buzzoverse! but for those like your Uncle Grambo who are still staying true, a new season of "WILAY" debuts on 9/17. [via Spencer Sloan]


and finally, our good friend April from Emotion Lotion has designed the hottest t-shirt since Save Mary Kate. check it out ... The Mozfather! mmmmmbest.

posted by uncle grambo |
---