Wednesday, August 31, 2005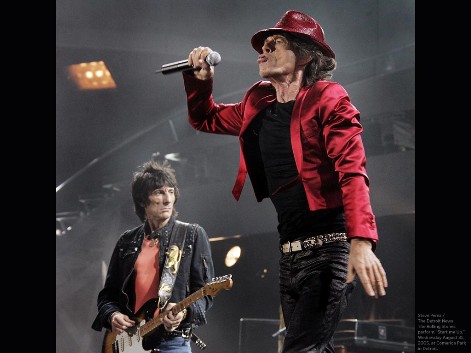 I like classic rock as much as the next guy. Maybe a little more. Witness the fact that your Uncle Grambo got into a minor debate with The Gorilla (while marinating on a sandbar in the middle of Torch Lake, mind you) just this past weekend on the merits of REO Speedwagon's back catalog. From Springsteen to The Beatles, from Creedence to Foreigner, color me a classic rock fan.

Well, when you talk about classic rock -- hell, when you talk about ROCK music in general -- the conversation has just GOT to include the Rolling Stones. And since the most legendary and most successful touring band of all-time rolled through The D™ just last night, I thought that enlisting a proud member of the FOW Nation to contribute a review was the right thing to do.

Enter Todd Wicks. While most know him as the charismatic lead singer of The Prime Ministers, your Uncle Grambo knows him as the biggest Rolling Stones fan this side of Jerry Hall. Not to mention, he's also one of the most talented writers I've ever come across. So, without further ado, please kick back and enjoy Todd's review of last night's show:

Rolling Stones
Comerica Park
August 31, 2005


I am the rarest of all creatures; a diehard Stones fan under 50. However, such is my love for all things Jagger/Richards that I have lost any objectivity when it comes to their records. For example: I enjoy "Sticky Fingers" and "Bridges to Babylon" equally. I like snob favorites like "Loving Cup" and unwanted stepchildren like "Harlem Shuffle." I own every Mick Jagger solo album — and even a few Ron Wood ones.


I'm a little pickier about the live show, though. Last night's was good, their best Detroit stop since '99 at the Palace. An arena show beats a stadium one every time; however, this setlist was better than the "Licks" or "Babylon" ones. I admired the inclusion of four songs from their new album "A Bigger Bang" (which isn't even out yet) and three from their '90s albums. They also played two covers (Temptations and Ray Charles). So almost half of the set was relatively unfamilar to the masses — a pretty bold move in front of 38,000 people.


The rest of the show consisted of better-known gems ("She's So Cold," "Beast Of Burden"), plus the same 8 or so Stones warhorses they've been playing forever. The thrill of hearing "Satisfaction," "Miss You" and "Sympathy For the Devil" live has faded for me. However, I understand that the typical classic-rock fan who paid $100-$450 for his seat wants to hear these, and they undoubtedly got the best reception of the night. And I will never, ever get tired of "Jumping Jack Flash" or "Brown Sugar." Ever.


Performance-wise, the Stones haven't changed in 10 years. Mick sang well and spazzed out all over the place. A wizened Keith cranked out the riffs (plus lots of bad notes) and spent too much time joking with Ron Wood by the drum riser. Charlie looked bored and didn't miss a beat. It's exactly what you expect, yet somehow, exactly how you want them to be.


The stage was truly mammoth, awesome to behold. The inflatable tongue was silly, and someone needs to tell Mick that he should never wear a headset mic. But it's all about spectacle, and the Stones delivered ably.


There were a few magical moments: Keith was visibly transported as he played "Jumping Jack Flash," with a look of true ecstasy on his lined face. Mick made some funny faces for Charlie's amusement and drop-kicked his harmonica at one point. And there's no bigger thrill than when the lights go down, the flames and pyro go off, Keith walks out alone, churning out "Start Me Up", and then Mick comes running out as the whole thing clatters to life.


Word on the street (OK, the Internet) is that the Palace was offered the show, and turned it down (I guess the money wasn't right). As ridiculous as it sounds to long for the "intimacy" of a 20,000-seat arena, I can't help thinking how much better my night would have been in Auburn Hills. Maybe in January, when they're in town to play the Super Bowl halftime show.


Now bring on "A Bigger Bang." (It's streaming online at rollingstones.com). Who knows, I might like it just as much as "Exile On Main Street."


— Todd Wicks



The Prime Ministers will be playing a show with The Flouride Program and Great Fiction this Sunday night, September 4, at Corktown's legendary Lager House. The PM will go on second, around 11 p.m. 21 and over, $5 at the door.

posted by Uncle Grambo |
---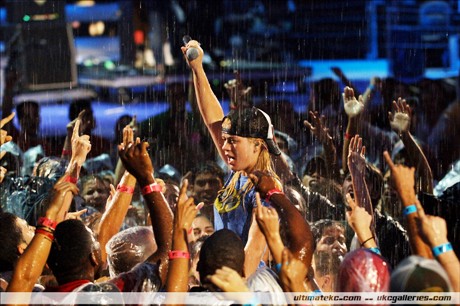 So, like, the VMAs happened, okay? And, like, it was pretty boring, okay? Like, your Uncle Grambo is pretty sure that the whole thing was some elaborate ruse to attempt to establish Diddy Kong as his generation's Sammy Davis Jr. (which, of course, it didn't, babe). I mean, what was up with him trying to lead an orchestral mash-up of "Juicy"? Some say worst conductor since that alcoholic midget who lived next to the train station in that horrible movie about that alcoholic midget who lived next to the train station. Other than feeding Puffy Pastry's delusions of grandeur, I'm not really too sure anything was accomplished on Sunday night. Okay?


That said, Kelly Clarkson is tha coolest. I'm talkin' even cooler than that old lady who fancies herself as the Miles Davis of pants pissers in "Billy Madison." I've heard complaints that she laid the screamo job on a little thick during the finale (which she obvs stole from Brit Brit's "Dream Within A Dream" tour), but she's still straight up cucumber in my book. Other highlights include that collabo betwixt Kanye and Foxx on "Gold Digger", the jaw-droppingly bovs perf of "Mr. Brightside" by The Murderers (I believe in you Ultragrrrl, your magic is real!), and the way that you could literally hear the air deflating from the buzz balloon that Dane Cook had been riding on. I haven't seen anybody bomb on live TV like that since Cindy Brady got stage fright. I guess that just goes to prove once and for all that schadenfreude never goes out of style. [pic via Superior Pics]


As for that ridiculously awesome display put on by Kells? I don't possess the necessary vocab to describe how bizarrely fascinating it was to watch, but fortch for us all, Douglas Reinhardt comes close: "this was one thing i liked about the vmas this year. r kelly's performance. holy shit. the part where he basically went, chuck-rob for like a minute was insane. honestly, thats the right way to lip sync, people. kells can pee on whoever he wants, if he keeps on cranking out those 'trapped in the closet' chapters.". Amen to that.


All in all, the show wasn't as horrible as everyone said. Sure, just like "The Aristocrats", it would've been much better if it was 30 minutes shorter. But just like I've always said, don't sweat the small stuff. Mild buzz.


(RELATED: So THAT'S how much it costs to make a hermie look like a proper lady. `Cause I had been wondering. RELATED: I wonder how much MAC paid MTV for this advertorial? We're all adults here. Doesn't egregious product placement have to be labeled as paid advertising? Check the photo flipbook ... it's ghastly, Sir Graves stizz.)


Open question to Freep freelancer Erin Podolsky ... why even bother? Understood, Jenny Lewis probably isn't giving many interviews these days, but c'mon now, how hard could it possibly be to score a 5-minute phoner with Salute My Sennett? For a journalist, settling for the bassist of Rilo Kiley is kinda like Joey Harrington checking down for an eight-yard pass when it's 3rd and 9 -- what's the point?


Which gets me thinking ... when are the major dailies gonna realize that Loftus is the shit and give the man his own column? I don't know if he'd give up the kind of free reign that B. Smith gives him at the Metro Times, but your Uncle Grambo can't POSSIBLY be the only one who thinks that he deserves a weekly column in The Freep's Sunday Entertainment section. Witness his thoroughly convincing argument that Mariah's "We Belong Together" was THE official Summer Jam of 2005. Can't say that I agree more. Sure, other front-runners include "Dakota" by The Stereophonics and Natasha Bedingfield's "These Words" (which might end up being the official AUTUMN jam of 2005), but you'd be lying to yourself if you think the champ is anyone other than Ms. Carey. You can keep your hollabacks and "Hey Mr. DJ" catcalls, for I'll be spendin' the last of my summer nights sippin' on Bacardi and listening to Mimi.


While I'm throwing out propers to writers that I can't get enough of, when the fook is someone gonna step-up to the plate and give Slate's Dana Stevens the keys to the castle? Not since Nussbaum roamed the proverbial pages of Salon.com have I been enthralled with someone's musings on tellyvision. And while I know that some of you might take that as the equivalent of saying that racism spans from Jones Beach to Crown Heights, I have nothing but the utmost respect for Surfergirl. Take, for instance, her recent attack on the overzealous praise heaped on "Entourage" ... not only is this a daring position (relatively speaking, obvs), but she also stretches and makes suggestions on how the ailing show can be fixed. I am in full agreeance (Durst stizz) that killing off the buzzless Johnny Drama / Turtle subplots would do wonders for the show. Oink oink, Dana Stevens; keep up the hottness.


This one's for the FOWs who grew up in Tha Roch: Hold The Elevator! If you don't pitch in to save the famous downtown grain elevator, who will? Word 2 the Rewolds.


Kalefah, do us all a flava and put down the pipe. Have you no shame, man? I know that all the indie kids have latched onto the R. Kelly Clarkson bandwagon, but your praise of the (technically statutory) collaboration betwixt Hilary Duff + Joel Madden says just one thing to me: "Look at how edgy I can be! I'm tossing propers out to a prefab teen pop star!" Trust me, columns like this do not beget you. Leave that kind of dirty work to dudes like Pink, k?


Come on up for the rising. The HAMTOWN Rising, that is. Gotta lurve the Model D. BOW!

posted by Uncle Grambo |
---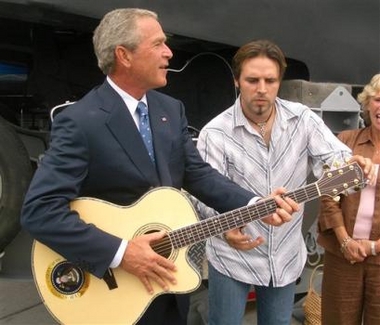 Gimme the beat, boy. In times of trouble, nothing soothes a nation's crumpled soul like its leader wielding an acoustic six-string, G. Love stizz. I like cold beverages!

posted by Uncle Grambo |
---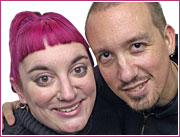 Or, in this case, a great face for podcasting. Let's keep our fingers in hopes that the podcasting revolution will NOT be televised. YIPES!


[Story and photo of the hosts of The Dawn And Drew Show via Ad Age, subscription req'd]

posted by Uncle Grambo |
---
Tuesday, August 30, 2005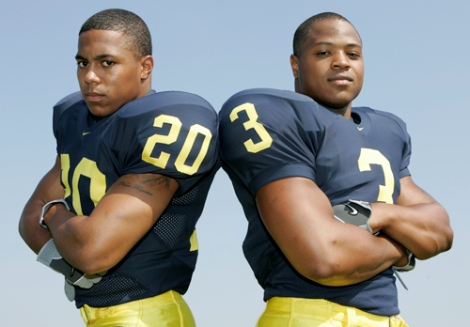 Ah yes, I recall the autumn of 1994 fondly. "Definitely Maybe" was on constant rotation on the hi-fi, a little indie called "Pulp Fiction" shocked the world and I spent every Saturday watching the Michigan Wolverine backfield of Tyrone Wheatley and Tim Biakabatuka combine to torch opponents for over 1,900 yards and 19 touchdowns. Sure, that whole season went down the tubes early (the team's spirit was broken by the legendarily heartbreaking hookup between Kordell Stewart and Michael Westbrook), but one could EASILY make the argument that there hasn't been a collegiate backfield with as much talent since. That is, until now.


Flash forward to the autumn of 2005. While Coach Carr is finally getting some long overdue propers for turning "The House That Canham (Once) Carpeted" into Quarterback U, it looks like this year's stable of running backs has the potential to eclipse the aformentioned legends. Led by sophomore Michael Hart (last year's Big Ten rushing leader, mind you) and diaper dandy Kevin Grady (ranked by USA Today as the #7 high school player last year), the vaunted Wolverine running attack will have defenses across the Big Ten crying l'oncle by the time the fourth quarter rolls around.


The boys in Maize and Blue open up against Northern Illinois this weekend. Tune in when ABC begins the telecast at 3:30pm EST, yo. You can bet that Charlie Weis will be watching to find out how a resurrection really feels. Get ready get set for September 10, you tubby brosnan you. WELCOME TO THE BIG HOUSE! BOW!

posted by Uncle Grambo |
---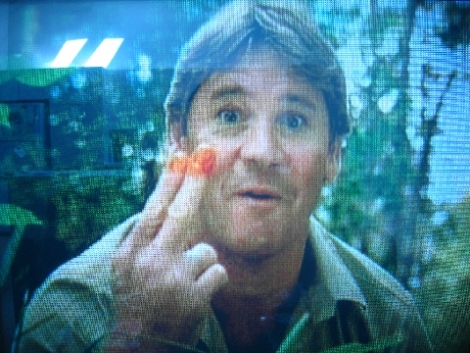 What the hell happened over the last two weeks? If it wasn't The Crocodile Hunter popping up on the telly every 30 minutes sporting visual evidence of an encounter with Aunt Flo, it was the discovery that multiple reality stars have blown rails off Tonya Cooley's snizz! But wait, it gets worse ... who are the ad wizards at Slate that thought it was a good idea to let their resident ad critic, Seth Stevenson, devote an entire column to his experiences in Amsterdam while tripping balls? Talk about trite. William Burroughs, eat your (dead) heart out!


Aw shatters. I suppose it wasn't all durst. After all, episode 2F21 of "The Simpsons" came to life when FBI Agents busted 87 Asians operating a COUNTERFEIT JEANS ring in Atlantic City! And anytime that a band with a name like Coke Dick Motorcycle Awesome appears on the pages of your local fishwrap sans edits, things can't be that shabb shabbs. Right? Right. On with the show.


Admit it, you have been DYING to hear James Van Der Beek read Lunar Park ... OUT LOUD! I don't want your life!


Can you say back alley abortion? Literally. Anyone else out there who's offering to throw up another possible explanation, I'm all ears.


You say flop, I say ahead of its time. Boo.com was the shit. That said, Flooz blew chunks from the get-go.


"Robocop" ... the original "Passion Of The Christ"??? Peter "Don't Call Me Paul" Weller says yes.


I know that Neal Pollack has kind of been floundering for say, oh, the last two years or so, but your Uncle Grambo is a big big big fan of his sportscentric columns on Slate. Check out his fantastic piece entitled "The Cult Of The General Manager", which details the unhealthy obsession that American males have with general managers of sports teams. To me, it's just one of those really prescient pieces that succinctly summarizes a feeling that I've had for a long time but never really been able to self-diagnose. Good ship.


Fifth verse, same as the first. I know it's just a pre-season game, but come on now. That joke isn't funny anymore. Especially in an organization where guys like this get five-year contract extensions and hard-working guys like this are going to be hitting the unemployment lines.


One thing you gotta say about those limeys is that they sure love their jubblies (NSFW).


Hands-down, post of the year.

posted by Uncle Grambo |
---