Thursday, June 09, 2005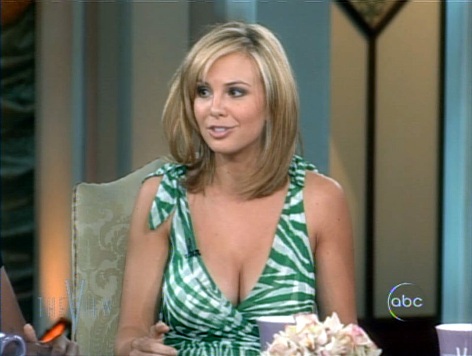 Hey Elisabeth Hassel-breast, how you doin'? First off, congratulations on the birth of your daughter back in April. You and your balding, barely employed douchebaggio of a husband must be SOOO HAPPY! Well, guess who else is happy? Your Uncle Grambo. You wanna know why? Your mouthwateringly massive mamms are makin' me thirsty, "put the lime in the coke you nut" stizz. Looks like I picked the wrong week to stop huffing paint watching "The View" ... hogsviously. [via Superior Pics]

Over the last day or so, your Uncle Grambo has read a lot of nice Anne Bancroft obits. Out of the bunch, I'd say that my two faves came from The Thighmaster and David Edelstein. Granted, their work was the very definish of "polar opposites", but both were very effective in getting their point across. Bravo, gents, bravo.

"He's surrounded by girls who are hotter, taller, cooler, etc., and he wants to trade up." — one of Lloyd Grove's minions, on why Scott Sartiano recently kicked Trashley Olsen to the curb [second item]

Leckie + Longwave = one of the most anticipated albums of Summer 2K5. [via Frank Chrome Waves]

"YOU'RE THE MAN NOW, DOG!" [via DataWhat?]

British pop tart hottie tottie Rachel Stevens makes checking one's nutsack for testicular cancer WAY too enjoyable. [via Don't Link This]

On the eve of the 2005 NBA Finals, Bill "The Sports Guy" Simmons resets Game 7 of the 1988 NBA Finals as the "fishiest ending in the history of the league." That evening just about broke my heart but, in a strange way, made the back-to-back Bad Boys championships in `89 and `90 that much sweeter. Oh Isiah!

Speaking of The Finals, your Uncle Grambo says Spurs in 6. Don't get me wrong, I'm a Pistons fan through and through, but the ole bum ticker just can't take another humungo disappointment in 2005. After all, back on New Year's Day, I narrowly avoided a trip to the Cook County General after my Wolverines got effing destroyed by Vince Young in the Rose Bowl. The combination of sadness, shock and heartcrushing disappointment (not to mention about 15 pitchers of Coors Light) turned me into a blubbering, sweaty mess ... I can't repeat that behavior again. So, if the Pistons win, I will be probably end up at a bar somewhere, drunk off my arse, poppin' Cris with Howard Hertz and trying to get in the panties of Carmen Harlan. But by managing my expectations, I fully expect to live to see the month of July. Dude jones.

If Danica McKellar (aka Winnie Cooper) doesn't take advantage of the fortitous timing of having a oh-so-bovs Stuff pictorial in market at the same time that another wildly photogenic lass named Danica finished fourth in the Indy 500, she will have blown the best comeback opportunity since Jennie Garth hooked up with Amanda Bynes. Is there anyone more perfect to cast in the inevitable Danica Patrick movie than Danica McKellar? Um, not so much.

Um, er, did I mention the size of them Hasselbombs? Gulp!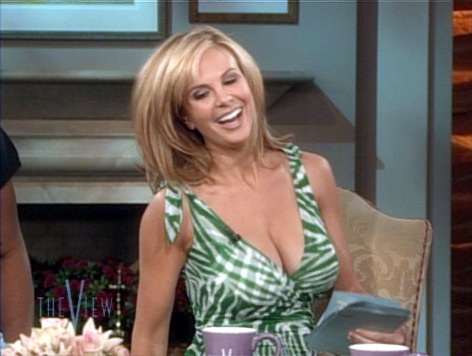 posted by Uncle Grambo |
---
Wednesday, June 08, 2005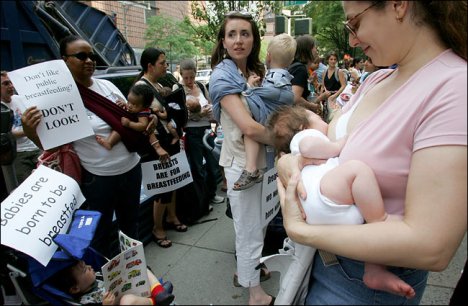 "Lactivists" revealed. You just KNOW that it's only a matter of time before Nick Denton launches a blog aimed at the burgeoning market. Call it the "Daily Dairy Diary" and watch the money start rolling in.

Has there ever been a more ego-riffic personality on the small screen than Jonathan Antin, the star of Bravo's "Blow Out"? Negative Ghost Rider, the pattern is full. But while 99% of Americans will find his schtick grating after about three minutes, your Uncle Grambo delights in the way that his compulsive narcissism and endlessly quotable personality recalls the 1985 version of David Lee Roth, right after he ditched Van Halen. Both are a little manic, both are fully obsessed with themselves, both have a hair fetish, and both are undeniably watchable. To quote Robbie Williams, "the ego has landed"; I, for one, will be there all summer to watch.

Hey New York Post, loved your story this morning on the bitch slap fest going on between V2 Records and Hits magazine over "Get Behind Thee Me Satan." Funny though, wasn't that the same story I read on Coolfer last Friday? Hmmm.

While Ice-T is without a doubt the O.G. (Original Gangsta), Anne Bancroft was most certainly the original MILF. R.I.P, Mrs. Robinson.

David Pogue presents the 10 Habits Of Highly Effective Digital Camera Owners.

Fans of Richard Linklater, I gots good news and bad news. First, the good news: "The Bad News Bears" remake starring Billy Best Thornton looks v.v. promising and hits screens on July 22. Howevs, on the flipside of fortune, the release date of "A Scanner Darkly" has been pushed back from September to March 2006.

New Zealand's Dominion Post is reporting that the "King Kong" trailer will be attached to "War Of The Worlds", which opens on July 29.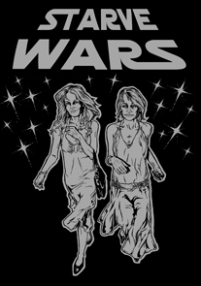 The infamous duo of Randy and Moss, perhaps best known for their epic showdown with Dualstar last fall, are back with another design that's guaranteed to make "Free Winona" look like Big Johnson ... Starve Wars!



RELATED: TVGasm is reporting that Lindsay Lohan's shocking weight loss is attributed to "a coke addiction mixed with diet pill abuse" ... DEVELOPING (well, that is, at least until LiLo's lawyers send out the requisite cease & desist)!!! [via Defamer]


Has music labeled as "chill" become this generation's Muzak? Slate's Judy Rosen argues yes. Your Uncle Grambo agrees.


The American Mastodon has put himself out to pasture. So to speak. Alas, I suppose that we'll always have Vegas.


Despite stumbling quite mightily while I was a frosh at U-Mich, your Uncle Grambo still managed to get better grades than John Kerry did during the same time period of his stint at Yale. What kind of almost president pulls down a solid D-average during his freshman campaign? Then again, after scoring a 69 in PoliSci, maybe he did end up in the right profession after all!


In his second major slip in as many days, Freep film critic Terry Lawson mistakenly treated this week's "Harry Potter and the Prisoner of Azkaban" DVD price drop as a brand new release! Um, hello? That shizz hit retail way back in November and Terry even namechecked it in his 2004 Holiday Gift Guide ... what gives? This slip-up might not be so awful had T. Laws decided not to pretend like he was some kind of movie studio marketing genius by proclaiming that the DVD release was "timed, naturally, to precede the imminent publication of the new (Harry Potter) novel." Next time, be sure to check yo self before you wriggedy wrizzeck yo self.


Jessica Simpson, where has your love gone? We all know it's not in your music, and now we also know that it's not with your hubby. Getting cuckolded by both Bam Margera and Johnny Knoxville? That one's gotta hurt. If I were Brandon DiCamillo, I'd be praying for some sloppy thirds right now ... truth be told, I bet he'd settle for a sandpaper handjob. Coachella stizz. [via Perez Hilton


And finally, major investigative reporting propers are due to The Gurgling Cod for his excellent post on the demise of Subway's well-known "Sub Club" promotion. Next time you pick up a Cold Cut Combo, don't expect them to hand out any stamps. WORST! Bovs all over your fins, Coddler.

posted by Uncle Grambo |
---
Tuesday, June 07, 2005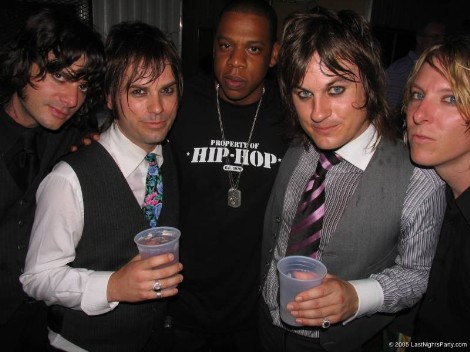 ...comes their latest manuscript, HOW TO LOSE A LIFETIME OF STREET CRED IN 10 MILLISECONDS. Based on the snap above taken by those merry pranksters at Last Night's Party, it tells the woeful tale of Jay-Z (né Shawn Carter), a virtuoso level legend of the rap game who decides on one fateful evening how he's going to cash in on 10 years of buzz. Does he:


A) Agree to record an album with rap rock retards Linkin Park?
B) Call in a favor to Brandon FloWERST to score backstage passes to the Louis XIV / Killers show in Central Park?
C) Forego a chance to bang the holy hell out of longtime Uncle Grambo fave Christy Turlington by agreeing to appear alongside the pudgily durst members of Louis XIV on a pseudo hipster photoblog that couldn't hold the jock of The Cobrasnake?


Well, my fine feathered friends, if you guessed D (All Of The Above), you win one month's worth of free bandwidth and a temporary spike in your Technorati rating. Marzipan for you, but I bestow seven years of bad luck on Jay Hova for repeatedly failing to break out of this ongoing slide into LL Cool J territory. Yeah, according to all reports you're still tapping that Beyonce azz, but trust me when I say that you're about THISCLOSE to co-starring in a straight-to-Starz flick with a fistful of digital man-eating sharks.


Oh well, at least it's good to see that Brandon FloWERST is taking advantage of the whole "But I'm a Mormon!" thing. Good show ole chap, good show. What good is it being a married Mormon if you don't get to hit the skinz with multiple hipster hotties? The broad to his immediate right (our left) is the kind of girl that would make Skeet lose a week's worth of sleep. She appears to be sporting a ring of some sort on the marriage finger, could this be one of Brandon's harem of Provo-based wives? DEVELOPING!


Thanks to Big Matt for passing along this URL via electronic mail.

posted by Uncle Grambo |
---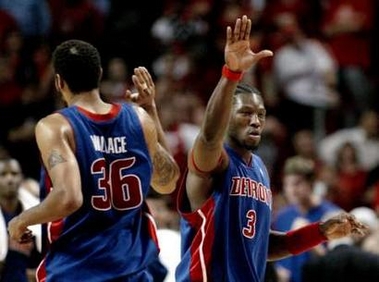 This is how we do it. The 'Stons certainly showed their stones tonight, defeating a injury riddled but focused Heat squad ON THE ROAD by a final score of 88-82. Yes, that's right, ON THE ROAD. Say what you will about how this series would've turned out had Dwayne Wade not got sand in his vagina strained a rib muscle but, at the end of the day, Piston Fan need only to repeat one single word to calm the critics...


SCOREBOARD!


Next up, San Antonio. Thursday night, bitches. Frankly, this blogga is wicked scared of the triumvirate of Tim Duncan, Manu Ginobili and Tony Parker. However, your Uncle Grambo always looks at the glass as half-full; ergo, I could not be more psyched for the inevitable appearance of Eva Longoria at the Palace Of Auburn Hills next week. Holla back, shortie.


The Freep's film critic, Terry Lawson, misidentified "Lords Of Dogtown" co-star John Robinson as "half of the high school killer team of "Elephant" ... uh, Terry, he was SO not one of the killers. He was totally chill! An error like this could be easily excusable if "Elephant" was some straight-to-video B-movie, but we're talking about a 2003 Palm d'Or winning masterpiece here. Which begs the question: Is this simply a fact-check error, or is it a case of Lawson turning in a film review of a film that he never even bothered to see? I'm leaning towards the former, but STILL.


Lindsay Lindsayism hearts her new neighbor, Corey Feldman. Hey Linds, watch yer back ... at the rate the Supreme Court is going these days, they'll probably ban you from publishing any more Highdeas.


Bright lights, big city. Kelly Osbourne lands her sizable derriere in rehab ... again. Still no word on whether or not Felix da Housecat drove her there.


Speaking of big boned cokeheads ... "I was the only person ever with a coke habit to gain fifty pounds." So sayeth Rob Thomas! Who knew?


The real crime here isn't the fact that a high school principal lifted the ole "Wear Sunscreen" speech without attribution, it's that there are still douchebaggios out there still quoting that played out piece of hooey. [via Romenesko]


Detroit revealed. Through the eyes of The New York Post's Mary Huhn. Huzzah for the MCR and whatevs.org resets.


T-Muffle proclaims that David Sedaris has jumped the shark.


DataWhat? made a roadie to The Windy City to catch a sneak of the new Joss Whedon jawn, "Serenity" ... eat a fat one, Knowles!

posted by Uncle Grambo |
---
Monday, June 06, 2005

Jessica Alba does. Here, here and in probably 10 bazillion other places on The Internerd™. Some say this revelation makes this Thursday's MTV Movie Awards a must-see (through), if only to comprehend how MTV deals with Alba's Nipple Visibilty Quotient. Natch.


Sorry for the extended absence. Getting slammed at work, been v.v. busy, yada yizz -- you know the drill. I haven't had time to even check my email, let alone surf The Blogosphere™ or come up with a 1/2 way decent post. Will follow up with more info on the trip and more PHC for the starving FOW Nation later this eve. Appreciate the patience, y'all.


One love. One love.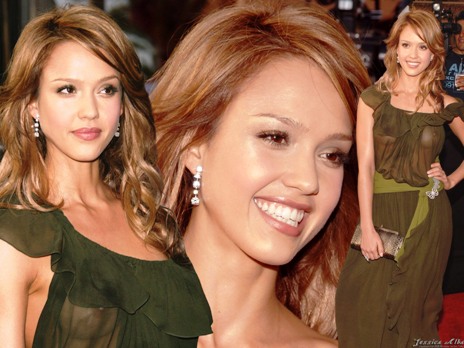 posted by Uncle Grambo |
---