Friday, May 13, 2005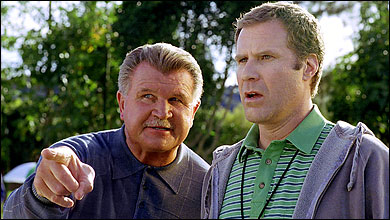 Face it folks, we're all being duped. Will Ferrell isn't as big of a "star" as "they" would have us believe. At least not in the traditional, "he puts butts in seats" kind of way. The numbers don't lie, people.

Since he left the comfortable, womb-like environment of "Saturday Night Live" in 2002, Will Ferrell has been or shared the lead in four movies -- "Old School", "Elf", "Anchorman: The Legend Of Ron Burgundy" and "Melinda and Melinda." If you toss away the highs ("Elf" grossed $174MM domestically) and the lows ("Melinda²" has grossed just south of $4MM), Will Ferrell films bring in an average of $80MM at the domestic B.O. When you factor in the way that these movies positively SLAY when they hit the home video market, there's no denying that Ferrell movies make mad loot for the Hollywood fat cats. But then again, you gotta wonder why "Anchorman" wasn't able to cross $100 mills last summer. It had a prime release date (July 9th), lots of marketing support (Dreamworks spent an estimated $40 million to market a movie that only cost them $26MM to produce), and a star whose Q Rating had never been higher. So then why did 29 other movies, including comedies such as "Mean Girls", "Starsky & Hutch" and "Dodgeball", outperform it last year?

This blogga thinks it might have something to do with familiarity. People learned to love Will Ferrell while sitting on their couches, and I think that's where they prefer to view him to this very day. The release of "Kicking And Screaming" (The Guru is predicting an opening of $23 mills) and "Bewitched" will do a lot to prove Ferrell's mettle. Can he blossom into an Adam Sandler or Ben Stiller type draw, or has his ascension to the Comedic A-List already been usurped by the likes of Vince Vaughn and Owen Wilson? We shall see. We. Shall. See.

But hey, that's just the rant of a crazy guy in Detroit. It's only tangentially related to the reason that we're here, folks. That's right, Nummer and H-Bomb are here with their patented pre-show comments for this weekend's Ferrell / Queens "SNL" episode. Take it away, kidz.

NUMMER
H-BOMB
Episode 19: Will Ferrell / Queens Of The Stone Age (5/14/05)

Thank the heavens Mr. Ron Burgundy himself is hosting this week. With the season already at an unwatchable state for some, we need a reliable SNL veteran (sorry Spade) to remind us why we watched this show in the first place.


This episode can go one of two ways. #1: Ferrell knocks our socks off with sketches reminiscent of his glory years. I'm talking impressions like Robert Goulet, Neil Diamond and Ted Kaczynski followed up with sketches like "Bass Off", "Dissing Your Dog", dress rehearsal favorite "The Old Prospector" or even "Bill Brasky". If we get a solid 90 minutes of this sort of humor mixed with two parts Queens of the Stone Age, we will no doubt have the best episode in years.


Show direction #2, and sadly the more probable course of action: the cast and writers cook up desperate retreads of tired Ferrell oldies such as "Jeopardy", "George W. Bush", "Luvahs" or even a few cameos from Kattan, Ana or Oteri so Lorne can dust off "Roxbury", "The Culps" or gasp..."Spartan Cheerleaders". While this might appeal to some, most got their fill of these characters when Bill Clinton was still in office.


Regardless of how the show turns out, things should be more interesting Saturday night than they have been for most of the season. Afterall, the return of Ferrell is what a majority of SNL fans have been craving since 2002. Hopefully all the waiting will be worth it.


It should also be noted this isn't Ferrell's first foray back to Rockefeller Center. Farrell's first non-cast cameo was during a Weekend Update segment in 2003 with Britney Spears. The two reported they had recently become farmers but all their animals ended up sick. Best. He later resurrected "Luvahs" with host Christopher Walken in that same episode. The second was when he scatted alongside Jack Black during the wonderful Season 29 Premiere.

"Ooohhh, cinnamon and gravy," am I happy that SNL veteran Will Ferrell is back to host this week's show! If there is a single person that can turn around the sad state of Saturday Night Live, even for just one night, it's this guy. While I'm definitely looking forward to some old favorites (Goulet, Diamond, Harry Carey), I'm hoping it's not too much to ask to see some new material that is actually funny. Perhaps, with the help of Ferrell, some decent sketch writing might not be that much of a long shot.


In my opinion, Queens of the Stone Age will only serve to better the night with some great performances. Even though I'm only familiar with "Little Sister" off of their latest album, I like it enough to have faith that we'll be graced with a couple of amazing sets.
posted by Uncle Grambo |
---
Tuesday, May 10, 2005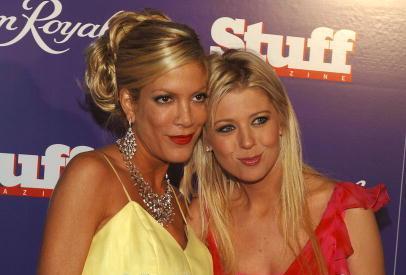 Can you imagine how many heart attacks were suffered by the Appalachian bourgeoisie last weekend at the Derby when these two hozebags walked in the room? Yipes!


You got a reaction. You got a reaction didn't you? You took a white orchid. You took a white orchid and turned it blue. Zellweggs married country douchenozzle Kenny "Don't Call Me Rogers" Chesney in the Virgin Islands this weekend. WORST! I'm sure Jack White will agree.


Natalie Portman is bald. No, you sickos, not down there (or, at least not as far as your Uncle Grambo is aware). She SHAVED HER HEAD. Weird. [via Egotastic]


Okay, who's had the "new" (ish) Take Five bar from Hershey's? This candy bar aficianado proclaims it to be the BEST candy bar to hit the marketplace since Twix launched in 1979. While it's no secret that I'm a fan of chocolate covered pretzels, who would've possibly thought to mix this holiday fave with peanut butter, caramel and peanuts? And whoever came up with the idea to break it into 100 Grand-esque "mini" bars should be granted the Nobel Prize for their breakthrough in the field of Artistic Merit In The Creation Of Candy Bar Besteverness! Good Lord, it'll be a miracle if I don't put on 30 lbs of pretzels, caramel, peanuts, peanut butter and sweet, sweet milk chocolate in the next 10 days!


BREAKING! TONY DANZA'S GO-KART FLIPS OVER DURING A TAPING OF "THE TONY DANZA SHOW"! TONY DANZA ALMOST KILLED! AL-QAEDA REPORTEDLY INVOLVED! EVERYONE'S FAVORITE AFFABLE ITALIAN IDIOT PRONOUNCES "THAT'S A SPICY MEATBALL" AND "I'M GAY FOR CHEF BOYARDEE!" AT SCENE OF CRIME, JUST MOMENTS BEFORE BEING RUSHED TO MAYO CLINIC! TEN VIALS OF ROCK COCAINE FOUND IN BASEBOARD OF VEHICLE! BUT THEN AGAIN, NOT REALLY! FUCK ME HARDER, ANGELLL-ERRRRR! I LOVE CAPS LOCK! WOLVERINES! [VIA DRUDGE, OBVS!]


Although Retrobuzz has been off life support for almost a year, I speak for the entire FOW Nation when I say that it's good to see that your Uncle Grambo's most favoritest ex-blogga, Damore, is scheduled to return to The Internerd™. Rant / Rave stizz. Hobvs.


In case you missed it, Bynes showed up at the premiere of "House Of Wax" a week or so ago. Scroll down for the comment made by a poster named Bababoozer that would surely make Thighs LOL. Some say even better than "House of Wax Dat Ass"!


I Work In Advertising, God Damn It! Alex Blagg ... some say quickly making his way to Crème de la Creme status. [via Emily Rants And Raves]


Face it. It's Nick Denton's world, we're just blogging in it. At the end of the day, we are but cogs in the machine that is the Dentonverse™ (which, btw, is now the OFFICIAL replacement for The Blogosphere™ ... get used to it).


Blogga please. If by "stress", you really mean "writer's block caused by a rapid infusion of $50 million in his bank account and the resultant truckloads of weed and coke arriving on his doorstep", THEN your Uncle Grambo will buy it.


Another reason you gotta get them young. Girls can become full fledge bitches by the time they turn three. From the most recent edition of "DUHVS Weekly."


"Zombiez" ... some say it can't hold a candle "Leprechaun In The Hood." Others say it's no "Leprechaun - Back 2 Tha Hood."


Sharon Waxman of the New York Times details the rapid ascension of Vince Vaughn's status on Hollywood's A-List. Apparently, Universal is giving him $12 mills to star and produce the upcoming romantic comedy, "The Break Up" ... who knew? I say buzz.


Lastly, I have been criticized in the past for too frequently busting the proverbial balls of The D™'s two major daily newspapers, The Freep and The DetNews. Some say my criticism of the papers is deserved, others say I've gone too far. Well, your Uncle Grambo has always had a reputation as a man who gives credit where credit is due. With that in mind, I would like to offer a healthy sized portion of Kudos to Freep reporter Mike Wendland for initiating FREEPCAST, the area's first (I believe) PodCast from a reputable company. This is EXACTLY the kind of progressive work that the area's newspapers need to engage in more frequently if they want to continue to maintain their relevance. And, lo and behold, the FREEPCAST is actually GOOD (from both a content and promotional perspective). Granted, the sound effects are a little cheezed out at times, but you can only expect that all elements of this production will get better with time. I applaud Wendland and whomever else is responsible at The Freep for making this happen ... hats off, yo.

posted by Uncle Grambo |
---