Thursday, April 28, 2005

Well folks, your Uncle Grambo is off for the desert! I may get around to posting tomorrow, but chances are not good. Robvs. See you in Indio, sunscreen-covered and fully hydrated, in search of MULTITUDES OF BUZZ! Here's the Official Schedule that they just posted on Coachella.com ... TOTALLY REVEALED!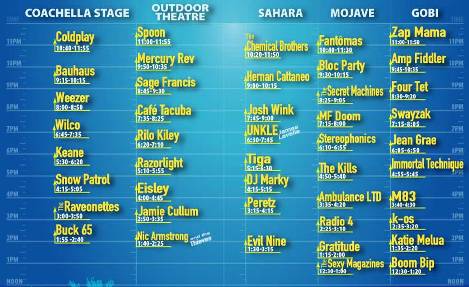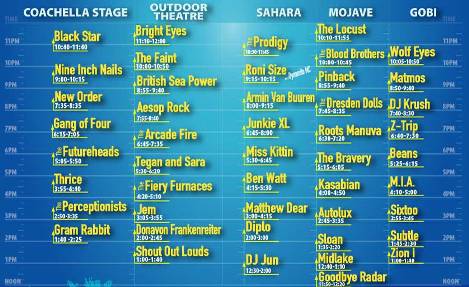 posted by Uncle Grambo |
---
Wednesday, April 27, 2005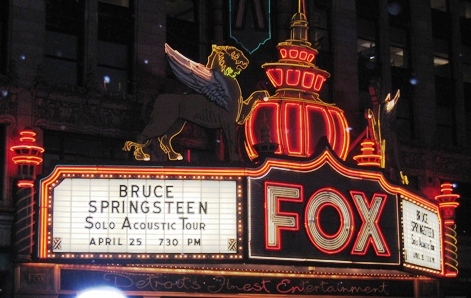 Person #1: "So what did you think of the show, Joey?"
Person #2: "FUCKIN' SWEET!"
— transcript of an actual conversation that took place between your Uncle Grambo and Detroit Lions quarterback Joey Ballgame after Monday night's Bruce Springsteen show at The Fox

---



As anyone who has ever attended a Springsteen concert will attest, seeing The Boss perform live is nothing short of a religious experience. When he rolls through town with the E Street Band in tow, it's like seeing a fiery Southern Baptist minister lead a congregation into a three-hour, sweat-drenched "rock and roll baptism" (his words, not mine). However, Monday night's "Devils + Dust" tour opener was more akin to sitting up on a Nepalese mountaintop and having a 1-on-1 conversation with a Buddhist monk in a particularily confessional mood ... it was THAT intimate and THAT special.


It's no secret that I'm the third biggest Bruce Springsteen fan I know -- propers must be given to both Mr. Canfield and Big Matt -- and that I've caught the man everytime he's been through town since 1993, the lone exception being last October's "Vote For Change" tour. So it goes without saying that I'm a huge fan and also hugely biased. But I can say, without a doubt, that this was the SECOND best show I've ever seen The Boss put on (the first being the 1999 reunion tour).


I've struggled for a few days to put my finger on WHY this show was so special. Could it be the reference to Hot Sams? Possibly. Could it have been the fact that your Uncle Grambo shook hands with a clearly startled Stoney before the show? That probably had something to do with it. Could it have been the experience of hearing the hauntingly gorgeous and heart-stoppingly BEST piano-driven renditions of "For You" (from 1973's "Greetings From Asbury Park, NJ") and "Racing In The Streets" (from 1978's "Darkness On The Edge Of Town")? Damn, that certainly played an important part.


But, in the end, I think that the secret strength behind this show (and this record and, hopefully, this entire tour) can be summarized in one word: REVERENCE. There just seemed to be this communal sense of reverence for all things good and decent in the world flowing through the Fox on Monday night. People were respectful of the artist and the intimacy of his work, and the artist responded by opening up in a way that seemed entirely unrehearsed and from the heart; in turn, both the audience and the artist paid homage to the stunning facility (acoustically and architecturally) that housed the show. Not to get all metaphysical on your respective asses, but there just seemed to be a feeling of symbiotic harmony that resonated throughout the venue that night (or at least in Section F4, Row X). As cheesy as it might sound, the night was nothing short of magical, and an evening that I will never forget.


Check out some other recaps of the show from Billboard (Gary Graff), The DetNews (Sue Whitall), The Freep (McCollum) and Springsteen fanzine Backstreets. All will tell you the same thing ... the show was effing best.


SET LIST: Reason to Believe / Devils and Dust / Youngstown / Lonesome Day / Long Time Comin' / Silver Palomino / For You** / Real World** / Part Man, Part Monkey / Maria's Bed / Highway Patrolman / Black Cowboys / Reno / Racing in the Street** / The Rising / Further On (Up the Road) / Jesus Was an Only Son** / Leah / The Hitter / Matamoros Banks


ENCORE: This Hard Land / Waitin' on a Sunny Day / My Best Was Never Good Enough / The Promised Land


*Bruce dedicated the third song of his set, "Youngstown", to "my good friend Tommy Morello, who's playing next door with Audioslave" ... Bruce and Morello are "good friends"? WHO KNEW?!?! MmmmmBEST!
**On piano.

posted by Uncle Grambo |
---
Monday, April 25, 2005
Friday night started off innocently enough. The Grizz and your Uncle Grambo met up at The Lager House for the No Fun Showcase, where we caught the first few minutes of The Coronados' set. No Baetens? No buzz. Howevs, this stop was salvaged by a rad conversation with Korin and Augie of The Hard Lessons, the former of which introduced himself to me with the line "SO BEST!"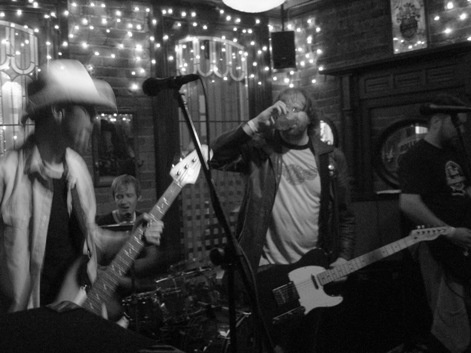 "It's whiskey `til it blinds me." Next up was a stop at Jacoby's for the Motor City Rocks Showcase. And by "stop", I really mean "a four-hour drunkfest of Jameson and Labatt's." The capacity crowd revelled in every moment of Porchsleeper's energetic set; particularily buzzworthy was when the entire crowd contributed backing harmonies to the sure-fire hit song, "Garage" (off The Sleeper's forthcoming LP).

Despite an embarrassingly muddy sound mix (courtesy of the house's egomaniacal douchebag sound dude), Loretta Lucas captivated the packed house with her bluesy and boozy songs of heartache and despair. Keep your eye on Miss Lucas, this blogga predicts big things for her. After all, none other than Jack White had his lazer eyes locked in on the sexy and soulful chanteuse before, during and after the set. Oh, btw, I briefly spoke to Jack about "Blue Orchid" ... that sound effect I mistook for a jumbo jet is actually "a space echo effect we made up in the studio", according to Mr. White. Bozzle.

Mr. Gary, MAW and The Sultan enjoy some post-GLMS beers at Jacoby's. Special propers go out to the entire MCR crew for organizing such a fantastic line-up of hottness this weekend. Shit, when Kid Rock, Gibby and Jack White show up on successive nights, you just KNOW that you're doing something right.


Saturday's panel seemed to go really well. Believe it or not, the room was packed (probably 80 people strong) and the audience seemed very receptive to what we had to say. I mean, come on, PEOPLE WERE ACTUALLY TAKING NOTES! So, so best. Thanks again to Sultan for pulling it all together; from left to right, photographed above are Sultan, DataWhat?, your Uncle Grambo, Rob Theakston and Sam Valenti IV.

Yes, even the most wayward of youth came to the panel in search of "How To Make The Internet A Home For Your Music."

I pity the fool that don't eat my cereal! Actually, that's not Mr. T. It's actually the beautiful statue of The Brown Bomber himself, Detroit's own Joe Louis.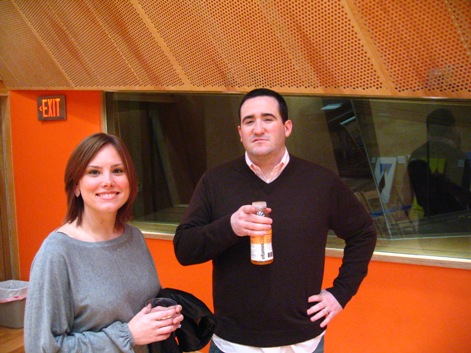 Mandypants and The Grizz take in the scenery at Saturday night's Clear Magazine party at Ferndale's beautiful Effigy Studios. The party was packed with luminaries (Jason Stollsteimer, Marci Von Bondie, Howard Hertz), scenesters and 9-year old aspiring rappers alike. Thanks to David for extending the invite, as well as providing the free vodka. Note to the masses: try drinking orange-flavored vodka with Vitamin Water: Rescue. I had about six of them and they were AWESOME.

Not only was there free vodka, but also free art! E! was also at Effigy filming a segment on NYC based graphic designer Alexander Gelman. Mad bovs.

From Effigy, we headed over to Small's where we caught a few songs from Columbus, Ohio-based The Tough & Lovely. The Grizz described their sound in today's Detroit News as "lovelorn" and "slightly wounded", and that's a good thing.

Funny, my dad gave me this very same advice when I was four.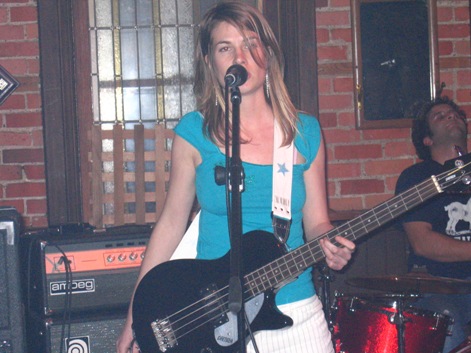 Next on the agenda was a 30-minute visit to Jacoby's, most of which was spent being mesmerized by Sparx, the fantastically foxy bass player of A Thousand Times Yes. Hubba to the hubba. Kudos to Mr. Gary for putting this band on the bill ... hottness REVEALED!


From there, our crew made its way over to The Majestic. A last-minute switcheroo resulted in having to witness a listless set from The Detroit Cobras. If Harry Houdini would've been in the audience, he likely would've died again -- this time from boredom and not from a punch to the tummy.

Welcome to The D™, Miss Mary Huhn! Your Uncle Grambo was fortunate enough to be introduced to the music writer for The New York Post during Friday night's MCR extravaganza. We coerced her into joining the ruckus on Saturday night; look for her write-up on the weekend in tomorrow's (?) Post.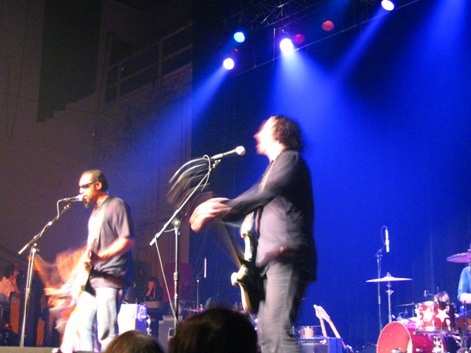 The Dirtbombs did not disappoint as the headliners on Saturday night. Their dirty, bass-and-percussion-soaked rock anthems were the perfect way to wrap up a dirty, booze-and-snow soaked weekend. Bovs on all of your respective tees!

posted by Uncle Grambo |
---