Friday, February 18, 2005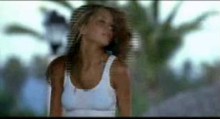 Aka, BEST TRAILER EVER! Nothing quite like seeing the world premiere of the trailer for "Lovewrecked" to shake this blogga out of a week-long funkasaurus. Despite the fact that this three-minute clip launched on the less than high profile website for the Sun Village Resort & Spa (where Bynes spent ALL of last summer), there hasn't been this much anticipation for a Bynes related event since "What A Graham Wants" hit theatres in March 2003. Multiple bikinis revealed! Underwater cinematography! Physical comedy! Best movie ever? That answer is obvs. Mars she. [via Achtung Baby]

Bad news for those headed to Coachella. The release date for Coldplay's third album has been officially delayed until June. Take it from this frequent festival goer, nothing is more durst than hearing a bunch of unreleased tunes while broiling in the desert. Keen observers will note that I'm referencing Weezer's less than bovs Y2K main stage durstfest. Pre "Green Album", natch.

Worst. Development. Ever. Thanks to the criminal actions of that psychotic douchebag Ron Artest, the NBA is putting measures in place to restrict the sale of alcohol during future games. No more 4th quarter beers. Beer sizes will be limited to 24 ounces. Ticketholders can only buy two beers at a time. Thank Yahweh that baseball season is just around the corner.

Since I've been trapped in a glass case of emotion over the last few days, your Uncle Grambo hasn't gotten a chance to head over to the local newsstand to pick up the SI Swimsuit Issue. Fortch for pervs everywhere, The Internerd™ provides us all a sorta SFW peek at what's in the mag. My initial reactions?

RELATED: Liz Hurley has still got it. Blueberry yum yum.

The lineup for this year's Hamtramck Blowout (March 2 - 5) has finally been revealed. So many bands, so much buzz. Be sure not to miss the Dorkwave Crew at the Garden Bowl on Wednesday, The Prime Ministers at Baker's Streetcar on Thursday, The Avatars and Saturday Looks Good To Me at Small's on Friday and the Ghostly showcase at Diesel on Saturday. HOLLA! [via Motor City Rocks.

Peace the fork out, Arthur Miller and the 2004-2005 NHL Season. [catchphrase borrowed from The ThighMaster]

Look at them snappers. Joan Wilder stizz.

Yep, your Uncle Grambo is still thinking about that Michelle Alves hottness. Untz. Until next week, peeps.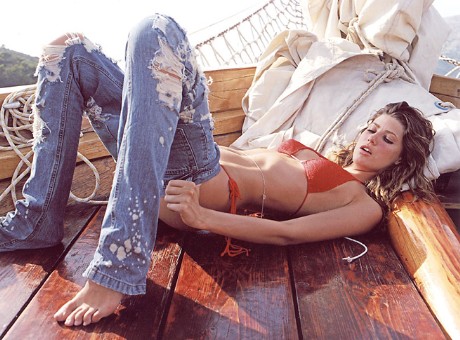 posted by Uncle Grambo |
---
Thursday, February 17, 2005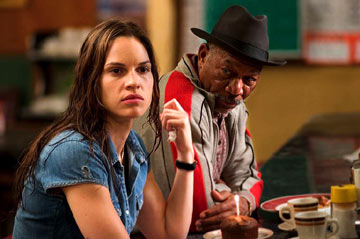 My apologies, my fine feathered FOWs. Work ... some say even less buzz than the mullet that Steve Sanders rocked on "9021-BEST!" Speaking of which, the starlet formerly known as Shitmouth has come a long way, baby. This year's likely Best Actress winner is taking the hosting reins of "SNL" for the first time and, despite the mixed results of the last two weeks, this episode promises to be a doozy. But your Uncle Grambo will leave the official preview to the masters, Nummer and H-Bomb.

But before we get into this week's patented Pre-Show Comments, please take a moment to peruse the reviews of both the Paris Hilton and Jason Bateman episodes. Despite their low coney count, the reviews of the delicious duo are, as always, coney worthy in and of themselves. Plaka's stizz.




NUMMER
H-BOMB
Episode 13: Hilary Swank / 50 Cent (2/19/05)

This week brings 2005 Best Actress Oscar Nominee Hilary Swank to the SNL stage. Seeing that I was a fan of "Million Dollar Baby" and a few of Swank's other films, I'd be suprised if she doesn't pull off a good episode. As always, the main obstacle to overcome for a great show is lousy sketches. Over the last two episodes, there has been a overwhelming feeling that the writers and cast have been on cruise control. Almost like some of them are just coasting to the end of the season so they can finally move on. Hopefully this weekend won't be the third strike in a row.


I couldn't be more upset with the musical guest choice of 50 Cent. This will be his third SNL appeance in less than two years. Of his two previous appeances, he has earned a whopping 1 coney! I know he has a new album coming out in March, but so does a billion other bands. What gives? My only theory is that 50 Cent took a bullet for Lorne once and now there are a bunch of favors owed.


Also of note, NBC will be airing "Live From New York: The First Five Years of Saturday Night Live" on Sunday (2/20/05). The show runs 9:00-11:00 EST and looks to be pretty informative. Tom Shales style. Do yourself a favor and tune in.

The extent of my familarity with this week's host Hilary Swank is strictly from her brief stint on Beverly Hills 90210. However, despite failing to see any of her movies, and only knowing her limited time on a show that's been off the air for nearly 5 years, I'd still be willing to bet she'll at least try to do a decent job at hosting. I'm more worried about the horrible skits that have been thrown at us left and right over the last two episodes. Even the most talented of hosts can have a hard time putting on a good show if the writing isn't up to par. Unfortunately, I'm not holding my breath for anything spectacular. In my opinion, this week is either going to be wonderful or terrible, with no real in-between.


I'm not at all looking forward to seeing 50 Cent on the musical stage yet again. Is it really so hard to find a decent band out there that's willing to play on the show? Worst!
posted by Uncle Grambo |
---
Wednesday, February 16, 2005

BREAKING! Ganked straight from the AP wire, y'all: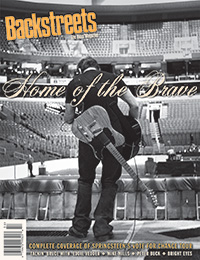 New Springsteen album due in April; tour to follow


By LARRY McSHANE
ASSOCIATED PRESS WRITER


The seeds for Bruce Springsteen's new album "Devils & Dust" were sown nearly a decade ago, when the singer-songwriter launched his first-ever solo acoustic tour. "I was so excited after playing on that tour, I'd get off the stage and go write," Springsteen told The Associated Press about those 1995-96 dates. "Then I put those songs on the shelf for a while, until I had a chance to revisit them."


The visit is now complete, with a 12-song album due in stores on April 26 — Springsteen's first release of all-new material since his Sept. 11-themed "The Rising" in July 2002. A tour was planned to follow the release, although Springsteen said it was unclear if he would perform alone or with a small band.


Two of the new album's songs, "The Hitter" and "Long Time Comin'," were actually written and performed on "The Ghost of Tom Joad" tour. But not all the material dates back that far; the title track was written around the start of the war in Iraq, Springsteen said.


"It works as a metaphor for all the music underneath it, the individual stories of people wrestling with their demons," Springsteen said of the title track. "A lot of it is set in the west, in what feels like a rural setting.


"It's about people working through their confusions, sometimes well and sometimes tragically," he said in a telephone interview earlier this week.


Springsteen opted to record without the E Street Band for "Devils & Dust." The core group was Springsteen on guitar and other instruments, producer Brendan O'Brien on bass and drummer Steve Jordan, who had produced last year's "23rd Street Lullaby" album by Springsteen's wife, Patti Scialfa.


In keeping with his pattern of recording, the new album is a quieter, more acoustic affair than "The Rising." Springsteen, now 55, has alternated between large-scale rock records followed by more introspective material since 1982's "Nebraska" was released two years after "The River."


Pedal steel guitar, harmonica and violin fill in the sparse, rootsy arrangements. Springsteen, who says his vocal range has expanded with age, provides some higher-pitched vocals on the track "All I'm Thinking About."


Springsteen said the accompanying tour would be an acoustic affair whether he performs alone or with a band, targeting theaters and smaller venues.


"I was actually signed as an acoustic act, and I've always enjoyed playing acoustic," Springsteen said. "Even when I was in a band, back in my early days, I was always writing songs that weren't meant for the band."

posted by Uncle Grambo |
---
As your Uncle Grambo returns from Beantown and struggles to get back in the groove (142 unread emails!), I thought I would take a quick second to point you in the direction of an interview I recently did with Ostrich Ink magazine. If you haven't heard of Ostrich Ink before, it's a fantastic, monthly webzine that originates from Hell-Ay. The articles cover a wide breadth of subject matter, covering everything from "outside" teen smokers to a profile of legendary club kid James St. James. In other words, well worth bookmarking and blogrolling.

Hope you enjoy the interview, yo. More later.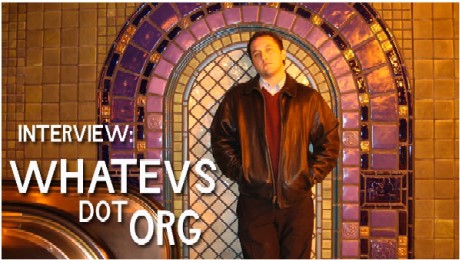 posted by Uncle Grambo |
---
Monday, February 14, 2005

Peoples. The internet connection in my hotel went down at 11pm last night. Hence, your Uncle Grambo is sitting on some hott Grammy recap buzz, but that'll have to wait until later this evening (pardon the inevitable staleness). I just popped into a Starbucks for a few to say hello and to let you know that blogging will be sparse over the next two days while I'm out here on biznass. Until then, please enjoy this photo of Christo's exhibition in Central Park ("The Gates"). Quick question for the cinephiles out there: am I wrong or is that the tunnel from the opening scene of "Birth"? Stay shmears, FOWs. I promise to make it up to y'all.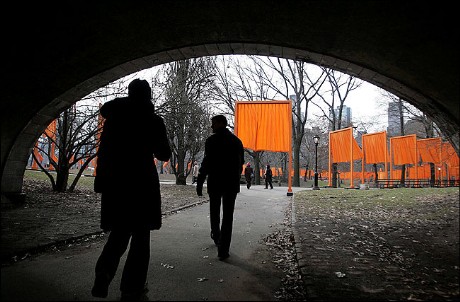 posted by Uncle Grambo |
---