Friday, January 28, 2005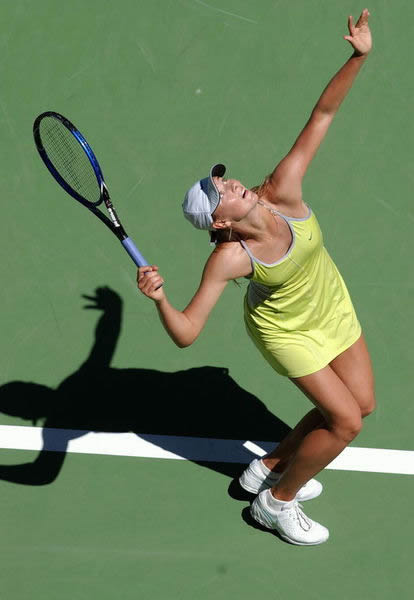 Yeah, your Uncle realizes that Sharapova got smoked the other day by Thunder Thighs (aka, the future Mrs. Ratner). Still, the hottness MUST be recognized.


Apologize for the lack of PHC over the last few days, but your Uncle Grambo is getting Kutcher'd by The Man this week. What are you gonna do? Gotta pay the billz billz billz, y'all. To compensate, please be on the lookout for a special Weekend Edition of whatevs.org on Sunday, which will feature a plethora of piñatas (among other things). Stay classy, San Diego.


Big ups to Data What for originally revealing the Sharapova buzz you see above. She mars on your Porchsleepin' monkey bars, yo.

posted by Uncle Grambo |
---
Wednesday, January 26, 2005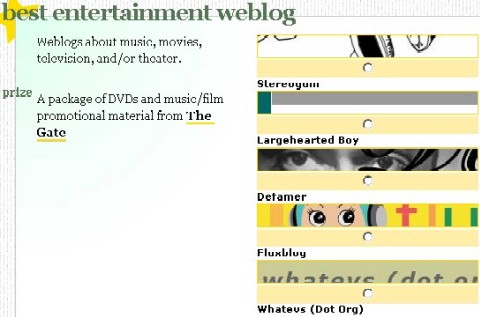 Memo To All Aspiring Bloggers: Even if it isn't exactly what one would describe an "enjoyable" task, doling out handjobs to hairless Asian journalists at Trader Vic's (no Vaseline, obvs!) will ALWAYS garner you international buzz. Wait, what's that? So, you're telling me that your Uncle Grambo DIDN'T get nominated for next year's Golden Globes? Then what the hell is that jpeg I just posted above? And how come Mr. Miyagi keeps sending me invites to Hentai Bukkake viewing parties?


Memo To Me: Remember that NYR you made to lay off the horse ... ferreals. But shmeariously, your Uncle Grambo is very proud to have been nominated as one of the five best "Entertainment Blogs" by The 2005 Bloggies™. I'd like to congratulate my fellow nominees (Scott Stereogum, Largehearted Best, Defamer / Bunsen, Fluxblog), all of whom have been blogrolled here for years and are among this reader's fave stops on The Internerd™. To be quite blunt, I'm very humbled that web geeks and digital sluts the world over have taken a liking to this here "blog" ... so, for those of you who are readers and for those of you who actually took the time to nominate whatevs.org (who ARE you people???), thanks for the love. And while I refuse to campaign for victory (I've learned from years of watching Awards Ceremonies that you're supposed to say "It's just nice to be nominated"), you can vote for the winner between now and February 3rd by clicking-through here. Bovs on your respective tees, and don't forget to recognize some of the other peeps in other categories (holla atcha, 1115.org!)


Memo to Stephen Thomas Erlewine of the AMG: As much as I heart a nice and lengthy diss of Conor O-Durst, might I suggest you consult the closest Merriam-Webster and look up the word "paragraph"? Trust you me, they're quite a break-through in the field of written communications.


Memo to Rob Theakston, also of the AMG: Your post today entitled "INITIAL REACTIONS IN REAL TIME TO THE NEW DAFT PUNK ALBUM" is leading the way as my favorite record review of 2005. Keep up the good work, son.


Memo to Noah Baumbach: I want to have, like, ten THOUSAND of your babies. No wait, scratch that. Rather, Angelina Jolie and I want to ADOPT, like, ten THOUSAND of your babies. Better? Good. Mainly, I just want you to know that your Uncle Grambo is so proud that the early word from Sundance on "The Squid & The Whale" is that it's your best film yet. You have no idear what happiness that brings me.


Memo to Jennie Garth: You should probably know how much jealousy and resentment I carry inside towards you. Why? Well, two simple reasons. One, you got to smear chocolate all over Amanda Bynes. Two, you got to smear chocolate all over THE BREASTS OF AMANDA BYNES! Can a brotha get some milk to go with that chocolate (ifyouknowwhatimasayin)? [SFW and via F.U.B.A.R.]


Memo to the Shitty Of Auburn Hills: As much as your Uncle Grambo respects a little non-violent protesting, don't you think it's about time you cleaned up that pile of dirt you dumped at the corner of Tienken and Squirrel all those years ago? Blogga, PLEASE.


Memo to The New York Times: Start charging for online content and you'll quickly become about as useful as tits on a boar. In other words, about as useful as The Los Angeles Times.


Memo to lead singer of The Killers, Brandon FloWERST: Trust me, no one wants to see your short film. Just concentrate on looking good when you're faking it on the keyboards, mmmkay? And fire whoever made you up like Pee Wee Herman on the cover of SPIN, yo. Obvs.


And finally...
Memo to Serene Dominic of the Metro Times: Please please PLEASE tell me that you'll never again attempt to imitate the prose of Chuck Klosterman. Fer fucks sake, woman! Please heed some sage wordz of wisdom from your Uncle Grambo, dollface.


First off, you should've learned in elementary school that starting ANYTHING (be it story, poem, what have you) with the words "I don't know about you" is the equivalent to beating off to "The Golden Girls" ... no one really cares if you do it, so long as you keep those kind of outbursts confined to the privacy of your own home. Second of all, believe me when I tell you that NOT A SINGLE SOUL really cares that Bowling For Soup should've rhymed Don Henley with MTV in their song "1985" (instead, they used Blondie). And thirdly, THIS IS HARDLY THE TIME TO COMPLAIN ABOUT THAT SONG! I mean, it's not even on the VH-1 Top 20 Video Countdown anymore (which, btw, is a rundown SO devoid of timeliness that it's reached the level of comedic gold). Spankyouverymuch!

posted by Uncle Grambo |
---
"I get lost / In your eyes / Then I feel / my spirits rise." Let me tell you, I guarantee that more than spirits will rise when Deborah Debbie Gibson appears in an upcoming issue of Playboy. Hey Debbie, I'll show you my electric youth ... heh heh. [via T-Muffle]

Leave it to Peabs to offer up a touching tribute to the late, great Johnny Carson.

Fashionista supreme Claire Zulkey gives us the Top Eight Reasons Why Ponchos are Out This Year.

Trust me, ONG-BAK is gonna be ONG-BEST!

Surfing American Apparel for pictures of the Yet-To-Be-Positively-ID'd-Doe-Eyed-Hottie ... some say it's the new surfing The Cobrasnake for pictures of coked-out hipster hotties.


File this one under "unlikely bedfellows." And by "bedfellows", I mean "dinner partners who are each over seven feet tall." Yao Ming and Dikembe Mutumbo were spotted by Page Six grabbing a bite. What, no Manute?


It's good to see that even the über-jaded Velvet Ropers agree that Kelly Clarkson's "Since U Been Gone" is straight up binoculars, yo.


Your Uncle Grambo is proud to say that I've never been subjugated to watching an entire episode of "Sex And The Shitty." Of course, over the years, I formulated opinions on the four leads. If I were forced to choose one between the broads, methinks that I'm a Kirstin Davis man. But not b/c of "SATC", it's straight up "Melrose" buzz. Thanks to Golden Fiddle, it looks like my intuitions were correct in revealing hottness.


Denton is right, ya know. Gawker has been a really good read of late. Scoring the now infamous photo of Jenna Bush proves that their "inside" sources are top-notch, while Foxy Jess scored a comedic TKO with her feature yesterday, "Live-Blogging After The Oscar Nominations." Very meta = very best.


Who could've seen this one coming? Certainly not your Uncle Grambo. "OC" wunderkid Josh Schwartz has turned his back on Pearl Jam in favor of Nirvana. Yes folks, that bit of musical wisdom appeared in this weekend's New York Times. Yes, I said "THIS WEEKEND'S", not "back issues from `92." Can't wait to hear his take on The Beatles versus The Stones!

posted by Uncle Grambo |
---
Tuesday, January 25, 2005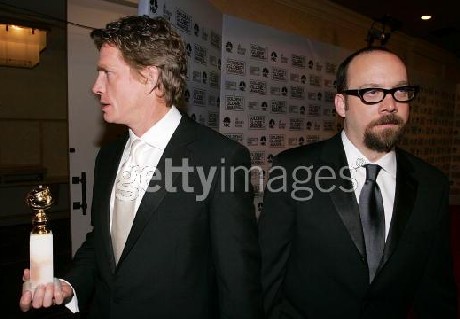 Boy oh boy, nothing quite like a narrowly averted nuclear meltdown in the area to get your heart racing on a Tuesday morning, is there? But hey, when faced with the choice of a little radiation bath or the seething disappointment slash humiliation that Giamatti Apes must've felt when he learned that he got snubbed by the Academy, I think I'd rather vacation at Club Chernobyl.


I mean, think of what it must be like to inhabit the flesh of the man who played Pig Vomit ... Yale-educated yet cursed with the misfortune of having been struck repeatedly by the cruel branches of the Ugly Tree, Veal Chop has risen from playing second fiddle to Frankie Muniz just three years ago to becoming one of Hollywood's most respected actors. He struck critical gold with dazzling performances in both "American Splendor" and "Sideways", which garnered him enough buzz to land a gig hosting "Saturday Night Live" just this past weekend. I mean, come ON ... homeboy must've been firmly perched on Cloud Nine over the last few weeks. He's been invited to big-time Hollywood award ceremonies, probably culminating in more than a few offers of sloppy beejers from coked-out starlets (although your Uncle Grambo hears that he's happily married). Yet after successfully climbing so many hurdles, our friend Giamatti Apes learned a valuable lesson from the Hollyweird Mafia this morning ... unless you're playing a tard, fugly dudes have no buzz.


My suggestion for Giamatti Apes? Call Geoffrey Rush, he'll tell you all about what it's like to be one of THOSE guys, yo. I mean, don't get me wrong, you can get PLENTY of work even if your looks frighten small children and house pets. Take heed and one day even you too might get to dry hump the likes of Kate Winslet, Salma Hayek and Charlize Theron (naturally, only on film ... these hott bizzos will spit at you if you even THINK of caressing their sweet, creamy thighs with your shopworn monkeypaws). You've got the talent to disappear into roles, make good use of it.


In addish, flip open some back issues of EW and study the ways of the man who should be your Jedi Master, Philip Seymour Hoffman. When you're kinda uggs yet established in the acting community, it's better to play supporting yet funny roles (see "Along Came Polly", "Punch Drunk Love") than to depress the bejeezus out of the masses (see "Love Liza", "Happiness"). Remember, MONEY is what matters, not critical acclaim. Critics are fickle and will move on but, if you play your cards right, audiences will learn to love you. And we all know what that means ... one day, your pockets will be lined with more duckets than you can even imagine.


But ultimately, your Uncle Grambo is just as confused as you are as to how that dude from "Wings" and Vic Vega's younger sister managed to score acting nods without you getting to share the love. Maybe it was cuz you stole those Ben Franklins from your moms, sock drawer stizz? That was pretty despicable, you gotta admit. Oh well, maybe you and that chick from "Arli$$" can get real drunk on a nice merlot cabernet together and you can love her long time. Regardless, Mr. Giamatti Apes, the moral of the story is this: "Sideways" ... some say worst.

posted by Uncle Grambo |
---
Monday, January 24, 2005

Mmmm mmmm mmmm. 'Twas a frigid weekend here in The D™, Mother Nature laid the smackdown and dumped anywhere from eight to twelve inches of snow on our punk asses. Consequently, while hot chocolate usage skyrocketed, most social events got scrapped (Motown Winter Blast, we hardly knew ye). Your Uncle Grambo managed to dig his way out for a few hours on Saturday (Durst O' Dows revealed!) and Sunday (all up in that "Shi mian mai fu" piece), but the majority of time was spent with my arse firmly planted on my raggedy Pier One couch. I'm talking LOTS of football and LOTS of, get this, "Sledge Hammer!" on DVD. Most underrated show evs? Quite poss. I knocked back eight episodes this weekend, and I seriously considered calling in sick so I could watch the other sixteen eps. It's that good, yo. Promise.


But mainly, your Uncle Grambo spent the majority of his time thinking about the Yet-To-Be-Positively-ID'd-Hottie sporting the "I Stole Brad" t-shirt below. Blogga PLEASE, some say hottest doe eyed broad since Kelly Brook (the one on the right, currently canoodling with Billy Zane). This particular reader cannot recall EVER seeing a pair of tees fit better into a tee. Ferreals. Magical Mystery Girl with the Hips Of Hottness, you done stole my heart. Holla atcha.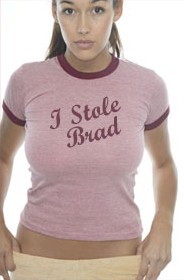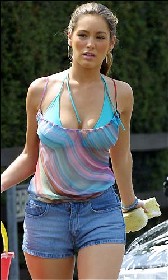 More l8s, but for now, I'd like to throw my propers out to Johnny Carson. Some say that tonight's Letterman becomes the Must See TV event of the season (well, except for the fact that it's a repeat ... no buzz!). Rest In Peace, yo. R.I.P.

posted by Uncle Grambo |
---