Friday, January 07, 2005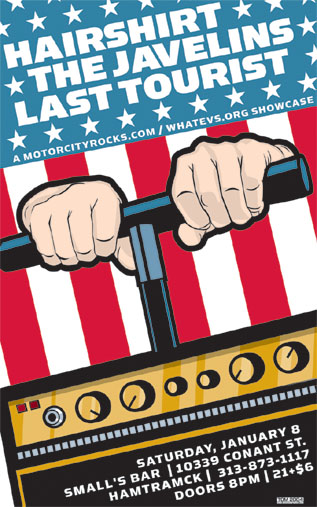 Although faithful readers of "Where's Grambo?" have been hearing about it for weeks, the events going down at Small's on Saturday night represents literally eons worth of panty-wetting anticipatory buzz. Not since the original "Best Of Both Worlds" record have two legendary superpowers come together to spread hottness (and possibly STDs) to the masses. That's right, whatevs.org has teamed with Motorcityrocks.com to bring you an evening of unprecedented musical ferocity (just go with me here).

Our collective goal is to put together a series of showcases throughout 2005 that feature some of Detroit's finest up-and-coming musicians who in no way, shape or form could be classified "garage rock" ... as much as I love Little Jackie Whizz, it's time for the spotlight to shine on choptastic bands looking to catch a break. And we're here to give them that break, yo.

So come on out to Hamtown this weekend and check out the following bands:

Hairshirt — This power trio is garnering a shitload of buzz around these parts of late with their indie rawkin. WDET-FM's Ralph Valdez recently lavished this praise on them: "Detroit's Hairshirt have arrived - by way of Eastern Europe - with a suitcase full of creative, experimental and indie rock songs that breathe new life into the genre. Benefiting from Sonic Youth's groundwork and Detroit's recent musical history, Hairshirt move beyond the basement of free-form noise and the crunch of the garage into an area of catchy, intensely beautiful songs that maintain a certain 80's post-punk edge." Their song, "Party Sisters", looks to be one of the area's breakout hits of 2005. You can listen to it here.


The Javelins — Young, dumb and full of buzz, The Javelins have generated a stir with their recent shows at 313.jac. An authority none other than Rob Theakston has described them as such: "The Javelins are pretty damn good and spicy. I wouldn't say they're dreamy like Mac Davis, because they are not. Instead, I'll just say they're the Yam Dizzle and leave it up to you to decide what it all means." Truer words have never been spoken.


Last Tourist — These knobhead geography students have been making gawky birds weak in the knees since 2002. Buoyed by the recent addition of former heckler / fan favorite Damore behind the kit, their three guitar attack is like Levitra for your ears. Witness this whatevs.org exclusive MP3 of their new song, "I'm Still Dreaming". And hey, even if you don't LIKE music, that shouldn't stop you from coming out. Peabs is an amazingly handsome specimen and is, by most accounts, worth the $6 price of admission alone. Obvs.



But hey, don't take my word for it. Detroit News writer Melody Baetens (aka Melody Licious) gave the showcase an outstanding write-up in today's paper. Shmears. Hope to see you there, yo. Guaranteed to be EPIC!

posted by Uncle Grambo |
---
Thursday, January 06, 2005

Last night, your Uncle Grambo was pretty god damn close to taking an erotic bath with my Vario Chrome Toaster (by Dualit, duhvs). All those fucking bloggers make me wanna la la, FERREALS. It had all the makings of the best death since The Frog Brothers offed that dirty vamp in "The Lost Boys", death-by-stereo stizz. I mean, when was the last time you heard someone offing themselves with their redonkulously bananaz $319 toaster? Probably nevs, which is why I thought it was a pretty effing sweet idea there for a fewzies. Ask Blue, he thought it was GLORIOUS.

But then, just as I was about to do the splashdance, visions of the mealy-mouthed South African pussbag Dave Matthews came to me. It was then, surprisingly, that I realized life was worth living. I mean, can you imagine how PISSED your Uncle Grambo would've been if I didn't get to show up drunk, stoned and singing "Ants Marching" to an early afternoon screening of "Because Of Winn Dixie" at the Palladium 12 in February `05? That would've been like smelling the farts of Durst after he ate a chili-covered hani from National! Some say mmmmmBEST movie evs! Some say even better than "Vertical Limit"! Dave Matthews + silver screen = pure bolivian comedic gold.

So, I got that going for me. In addish, there's the good news that Republicans are all up in arms that The Bush Twins have asked Kid Rock to perform at their father's inauguration. Your Uncle Grambo and Kerry ToTC saw the Early Morning Stoned Pimp himself at the Pistons / Nets game on December 27th. Bovs. Here's hoping he brings Jesse Jane along to the inauguration, too!

Signs That Hip-Hop Has Gone To Shit, Vol. MMLVI: Nas proclaims that an up and coming rapper named Quan is "the future of hip-hop" and, alarmingly, "the future of world expression." Blogga please, how'm I supposed to get with a cat who named himself after a Cuba Gooding Jr. catchphrase, Maguire stizz? Shiiiiiit, I might have had to lay down some propers if he'd had the testes to call himself The Ambassador of Quan.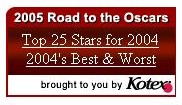 MotherF*CKER! It's called keeping your eye on the ball, people! Diversfication is ONLY tigs but when it enhances your brand. Don't believe me? Ask Sergio Zyman. With that in mind, can someone explain to me how making a company that invented a product to keep blood IN a woman's vagina and OFF her sexy white miniskirt is qualified to select the "Top 25 Stars for 2004"? Hey media managers of Kotex ... GFY!


"Rat Race" ... always talked about. Yet never talked about. Yet another reason your Uncle Grambo hearts My Blog Is Poop.


Seattle: Fit, but you know it!


"Shame On You" is the upcoming biopic of 1940s Western swing star Spade Cooley, who murdered his wife, served jail time and died of a heart attack after a comeback concert. Sounds kinda best, right? Guess again, penispuncher. Written and directed by DENNIS QUAID! Some say more cringe inducing than the phrase Academy Award® nominee Queen Latifah. And none say that it's as anticipated as "Beetlejuice 2."


What could possibly explain the venom spewed by Ad Age's Al Ries in this smear job on Amazon.com? Word has it homeboy went cheap on Xmas and selected Super Saver Shipping and that his package is still in the Lexington UPS. Razzle. My suggestion to Ries? SUCK IT!


What do Rue McLahanahan, Pope John Paul II, Truman Capote and a disembowled Jeremy Sisto have in common? All make an appearance in the first post of 2005 over at SSTP. Also back? Sorry, not Dimebag Darrell ... nope, instead we've got TMFTML blogging away over in some darkened corner of the LES listening to Tindersticks. But just when you thought that he lost it and was stuck in suckville on permanant vacay, your Uncle Grambo's mockery and derision inspired the first noteworthy post of his return. You're welcome, Balkazar Getty. Next time, the Makers is on YOU. Obvs.

posted by Uncle Grambo |
---
Wednesday, January 05, 2005

If there's one thing that your Uncle Grambo is sick of, it's Fucking Bloggers and their Fucking Top Ten lists. Wait, don't tell me, you really liked the Arcade Fire album! Get OUT, you should be an A&R person at fucking Sire! Fucking shock me shock me SHOCK ME with your deviant human behaviour! And you thought that Humble Rodent was the soundtrack for the summer? BAAAAAAA! But hold on a minute, Joanna "Don't Call Me Ozzie" Newsom and Devendra "The Dirty Hippie" Barnholio hit you so emotionally hard that you almost gave up the blow (key word being "almost")? What a buncha fucking geography students! Okay blogfuckers, we GET it. You all like the same music. As if anything could be more duhvs! If any of you had any balls, you would've given your number one to Damage Plan.


If you're gonna make a list, at least inject it with some fucking buzz! Take notes from my boys Catchdubs (lingoliciousness for miles) and Sasha Frere-Jones (who lists an astounding 149 singles, 44 albums and ALSO has the balls to throw propers to Snow Patrol). Or, you could go the route of She B Mo, who at least puts some effing originality into her reviews by beginning all of them with this formula: "Like the bastard lovechild of (so & so) and (so & so) in (name of place) on (altering substance)." Otherwise, all the rest of your lists lick the bovs from the vas deferens de Durst.


Just when you thought things couldn't get worse, Golden Fiddle gets bankrupted by a lack of bandwidth buzz. Fortch for you all, Uncle Grambo got in touch with The Country's Best Blogger™ to find out what the dilly. Yes, that's right, actual reporting. Here's what Spencer asked me to say to fans clamoring for some Hott-Lanta hittins:

"...tell them that the pipes are a little clogged, i have termites, my septic tank is backed up, and my server is smacking the hell out of my wrists, and that i will be back just as soon as i finish writing some 5000 demerits."
Good luck, brotha. You know, on spirtually soul crushing days like this, sometimes it feels like the films of Stephen Chow are the only things worth living for. Which is why it's good to know that his latest flick, "Kung Fu Hustle", is breaking box office records in Asia.

And after your heart stops palpitating from being so bored with bloggers, you have yourself a good laugh when you learn that R2-D2 got arrested for drunk driving. Wonder if he spent the night in the drunk tank telling his cellmates that he always thought Billy Barty had a tiny cock?

Memo to Lockhart, the new managing editor of Gawker: I think I speak for all the Tsunami Tsurvivors when I say we DEMAND more contributions from Matthew Peabody (aka Peabs). Other than that, good luck and congrats on the new assignment.

If you don't like Rammstein, your name might as well be "Back Alley" Flowers. I mean, if you can't get with a group whose new single was inspired by a German cannibal who cooked and ate a volunteer's penis, your Uncle Grambo suggests you just GFY! See you at Coachella `05 in Beck Hansen's forcefield of multiplying meat!

Even more disappointing than the Denise Richards Playboy pictorial? Jennifer Tilly Nip Slip. NSFW, natch. Bring your slopbucket, it's cookie tossin' time.

Things worth looking forward to in `05? the new Heat double-disc coming on 2.22.05 (fourth item), the new LP from Stars (via Connie NYC), driving to Cooperstown next spring to throw rotten tomatoes at recent HOF inductee Ryne Sandberg (what a fraud!), the rant that Uncle Grambo will fly into when he gets snubbed by The Bloggies again, the Motor City Music Conference, Dimebag Darrell's resurrection.

And I'll sign off for the day with some sage words for Dakota Fanning: Whatchu cryin' for, bitch? Haven't you HEARD about your Cousin Cruise? You should start reading Page Six, girl ... he's not going to lay a HAND on you (allegedly). Shiiiit, you should be thanking that effing Leprechaun and his Lucky Charms that you're not working with Roman Polanski! Stop trippin' and fetch me a chicken pot pie, boo!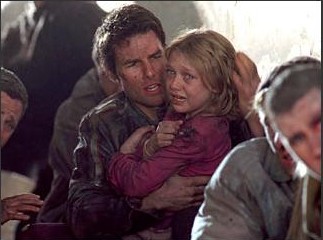 posted by Uncle Grambo |
---
Tuesday, January 04, 2005

Your Uncle Grambo is still catching up from taking a break from trolling The Internerd™. In my quest for PHC, I am going to reset a few hott quotes that were first revealed over the brizz. Enjoy, bitches!


First off, we've got my boy Skeet On Mischa. His epic, year-end post called "The Search For Cherry Red" contains some perfectly brill lines, including this little nugg of fashion advice for the ladies in Anno Domini 2005:

"and our hip tips for any potential babes in '05: fuck your pointy heels, wear some black flats instead; wearing big heels when you're five feet nothing is like lying and nobody likes a liar these days. fuck your flip flops and slippers, your feet are gross, so cover them up with some flats or go for that innocent look with a pair of chucks or vans slip ons. tone down the make up just a smidge, it's like when i told the head cheerleader to take down from an 11 to about a 7 during the football game; we can still see ya, but all that eye shadow sometimes comes off as a bit creepy. and if you have short hair, grow it out and let your spirit be free; fuck your big robert smith hair because that's the last thing dudes are looking for. fuck your giant old lady sunglasses, unless you're the girl from the bravery video or high on coke. basically, can we create some sorta uniform code for the girls on the blow this upcoming year? those gigantic old lady/hot rod todd from le shok glasses and some cowboy boots will become the new red bandana in right front pocket (nsfw)."
The only reason this next item is listed second is because your Uncle Grambo tends to shy away from self-promotion buzz (yeah RIZZ!). Reihan Salam, the self-proclaimed "Bengali Svengali", recently took over the reins of AndrewSullivan.com and unleashed one helluva post called "The Theory Of Grambo", which I have partially excerpted for your reading delight below:

"Iíve been puzzling over Whatevs.org. Iíve been struggling to understand exactly why this website is so transcendently dope. Is it the endless hilarity? Of course, thatís a part of it, but thereís something else ... Iíve determined that Whatevs.org represents a sustained assault on our collective mind-state, and that it threatens to reverse the technicization of the lifeworld, in the process obliterating industrial civilization and restoring the planet to a prelapsarian state, when man lived peacefully with dinosaurs in 'clans' not unlike the Clan of the Cave Bear. The process is, by this point, irreversible."
Dude, ANY and EVERY time that your Uncle Grambo gets compared to a movie that showed Daryl Hannah's early twentysomething tees, it's GOTSTA get hotlinked. And when I say that I haven't read anything as intense since getting my ass kicked by Derrida's The Gift Of Death back in undergrad, I mean that as a compliment of the highest magnatizz. Ferreals. And, on a related note, it's worth directing to you Claire Zulkey's piece, "A 2005 Polemic", which focuses on how and why Tina Fey has taken a fall from her pedestal. Even if you don't know what the word "polemic" means (I had to look it up), it shouldn't stop you from reading. Here's a sampling:

"However, as much as we laud Fey for what she has accomplished (and Weekend Update, barring guest spots, is as funny as ever), we must hold her resonsible for the new levels of suckitude that SNL has reached. She might be as funny and as cute as ever when we see her, but somewhere, somehow, she is giving the green light to (and possibly even writing) some of these shitty sketches. Therefore, I personally am revoking, temporarily I hope, my puppy dog drooling adoration of Fey."
Over the break, renowned author and legendary carpet muncher Susan Sontag peaced the fork out (btw, shame on you NYT and LAT). Although I have never even held a Sontag novel in my hands, let alone read one, I will mourn her death but refuse to get with her buzz. You see, your Uncle Grambo learned at an early age that motherfucking Crash Davis was a man that spoke the truth. Hence:

"Well, I believe in the soul, the cock, the pussy, the small of a woman's back, the hanging curve ball, high fiber, good scotch, that the novels of Susan Sontag are self-indulgent, overrated crap. I believe Lee Harvey Oswald acted alone. I believe there ought to be a constitutional amendment outlawing Astroturf and the designated hitter. I believe in the sweet spot, soft-core pornography, opening your presents Christmas morning rather than Christmas Eve, and I believe in long, slow, deep, soft, wet kisses that last three days."
And what would the holidays be without hearing from Courtney Hole? Los Angeles based writer Jolie Lash sat down with Miss World herself for her first "post 'coke-nutbag breakdown'" interview for Rolling Stone. As you read, you'll learn that Courtney has been spending time in Chicago with Billy Corgan writing songs for a new solo disc (!!!) ... here's what she has to say about the direction her work is heading in.

"(Her new songs are) more narrative, acoustic-based. Someone like Elliott Smith would just take a guitar and narrate, and that's something Billy brought up that I need to do. What we wrote with an eye towards was [Bob] Dylan's 'Tangled Up in Blue,' that really cool era of Dylan. That's why these songs need a big, huge hit of speed, and since that would be illegal, I need to drink a lot of fucking coffee and sit down and really figure out what it is I want to say, write a book."
Oh yeah, I forgot, nothing rings in the New Year like a nip slip that ends up on Ofoto. Holla atcha, Jess No Last Name, whoever you may be! Bovs on your right tee (our left). Ratzo rizzo!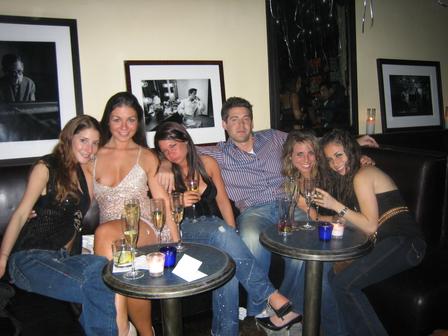 posted by Uncle Grambo |
---
Monday, January 03, 2005

So, in case you hadn't noticed, your Uncle Grambo took a ten day break from the taxing responsibilities of being a Blog SupaStar. I had planned on posting a few times over the break, but quite frankly, I was having too much fun NOT blogging. Other than the the crushing Rose Bowl defeat my Wolverines suffered at the hands of the Tex-ASS Longhorns, I've never had ten consecutive better days in my life. Unlike Ruuuuuben, I'm not sorry for 2004. It was a year of unprecedented hottness for Y.T., and here's to an even sexxxier 2005 for the FOW Nation. Dude shmears.


If your Uncle Grambo has said it once, he's said it a mazillion times: Everybody loves white girls ... even Yahweh! Want proof? The death toll from the massive Thai tsunamis has reached 155,000, but none other than God himself decided to spare the life of SI swimsuit model Petra Nemcova. Dude SHMEARS!


After months of speculation, it seems that the affair betwixt Jack White and Renee Zellweggs is finally over. You see, her publicist confirmed it to a reporter from People yesterday.


Nip slips are SO `04, yo. Thanks to the efforts of Janet Jackson and Tara Reid, your Uncle Grambo is predicting that the hott new trend for `05 will be full-on boob slips. With that in mind, I present you with the NSFW tatts of KiKi. B/W but still best. [via Oh No They Didn't!]


RELATED: Scarlett Johannson ALMOST revealed. Someone needs to hook up ScoJo with Adrian Lyne, STAT. Most anticipated nudity evs? Probs. [via Golden Fiddle]


Pop quiz, asshole. Which one of these two people would you expect to be a (former?) smack addict: The lead singer for Razorlight or media pundit extraordinaire Seth Mnookin? Answer ... BOTH! Worst!


You know, when news broke that Kirstie Alley declared she was "too fat to have sex", your Uncle Grambo wasn't exactly caught offguard. It seems pretty duhvs if you ask me. But now, rumours on the internets are breaking that Teri Hatcher hasn't had sex for four years and, frankly, I am stunned. What gives? We need more research!


Speaking of T. Hatch, has Kate Bosworth been cast to play Lois Lane? DEVELOPING!


The Real Janelle is right. This is SO meta. Btdubz, congrats to Foxy Jazzercise for the VH1 props!


Summer 2005. Some say best evs of all-time! Does it GET any hotter than Bynes in a bikini, big screen stizz? "Lovewrecked" promises to be effing mmmmmBEST! Thanks to Juan for passing this along!

posted by Uncle Grambo |
---
Hottest Internerd™ development since DRUDGE broke the Monica Lewinsky story! Vincent Gallo directs a lingerie clad Paris Hilton in a short film. Find "Paris Honey Bunny" here while you still can! Details are sketchy at this time, but your Uncle Grambo is on the case. Kinda sorta NSFW, but worth the risk. HOLLA! [via Gossip List newsletter; screencaps courtesy of Gawker]

posted by Uncle Grambo |
---
Wow. Although I have known about this opportunity for a number of weeks, your Uncle Grambo was nothing short of humbled to see whatevs.org namedropped in yesterday's NEW YORK FREAKING TIMES! Yes indeed, both Nummer and H-Bomb were quoted by Dave Itzkoff in a piece that ran yesterday, entitled "The All Too Ready For Prime Time Players." The piece focuses on the way that the relatively recent increased focus on the cult of celebrity has affected "Saturday Night Live", and the deliciously sexy duo who write SNL recaps every week for this site were contacted for their thoughts! This testament to the skill and dedication these two possess, and I throw out HUGE props to both of them. I mean, come ON! They were quoted alongside Lorne Michaels and Tina Fey!!! Total buzz revealed! Oh, and Lorne, if you're reading this, you know we've got nothing but love for ya. Bovs on your respective tees, natch.

Regular posting will resume shortly, but here are all of the reviews that Nummer and H-Bomb have completed this year. Bozzle!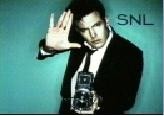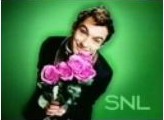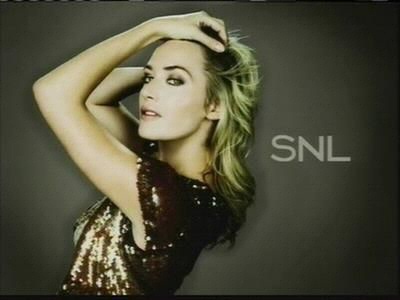 posted by Uncle Grambo |
---