Friday, November 05, 2004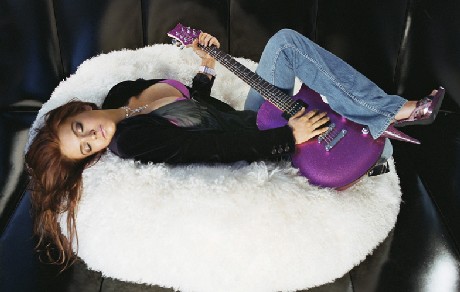 I know that this can't complete with the Tara Reid scarslip, but a little birdie just passed along this early publicity still from the upcoming Lindsay Lohan record release. Despite the fact that "close sources" are blabbing to the Enquirer that her recent car crashes "are a metaphor for her life ... one wreck after another", your Uncle Grambo is prepared to argue that it doesn't matter. I mean, this photo scores HUGE points on every conceivable front. Tees tastily and tastefully revealed? Check. Purple guitar slash giant symbolic phallus placed erotically between her legs? Check. Eyes closed, hair tousled and head slung back as if in the throes of passion? Check. Give the girl a few hott beats and WHAM! You've got a multimedia superstar on your hands that'll make J. Lo look like Bob Guiney. Watch out Duff, the former Mrs. Thigh Master is gonna kick your ass on the charts and in real life.


COMPLETELY AND UTTERLY UNRELATED: Remember the former MTV veejay John Sencio? He's got a website! And is it just your Uncle Grambo or did the aging process turn him into Ewan McGregor's slightly uglier older brother? My Blog Is Poop pays a terrific tribute to this long-forgotten yet formerly ubiquitous fixture in our lives.

posted by Uncle Grambo |
---
File this one under HARDEST WORKING MAN IN SHOWBIZ! Proving that there's a larger braintrust at The Detroit News than one might have previously suspected, The Grizz has not one, not two but THREE articles in today's paper. Everyone's favourite newlywed sat down with Green Day's Tre Cool on the eve of the band's Detroit show in support of "American Idiot." In addish, he gives the new Handsome Boy Modeling School jawn a mixed review, calling it "somewhat scattershot" (I wouldn't be that kind, any album featuring guest vox from Franzia Ferdistan deserves to IMMEDIATELY be shelved in the remainder bin). But the coup d'etat is Adam Graham's first foray as an official film critic: he filled in for Tom Long and turned in an top-notch review of "Alfie", proving to this reader that the paper no longer has the need to rely on Ebert's wire reviews when Tom gets too busy. His review is a deft mixture of plot summary and critical insight, one that readers will immediately gravitate towards. For example, "Similar to its lead character, ALFIE has an abundance of charm but is severely lacking in heart and anything resembling substance." Congratulations go out to The Grizz for not only earning this opportunity by consistently turning out high quality work, but for coming through with the goods when the pressure was on. Holla atcha, brah.

File this one under NSFW! A mere 15 days after Tara Reid had her buzz usurped by her nip slippin' younger sister, everyone's favourite drunken slut (all apologies to Courtney Hole) showed up at some Diddy Kong bash and managed to slip MORE than a nip. Yep, that's right, ladies and germs we've got ourselves A BREAST SLIP on our hands! NSFW, natch. [via Ellen via Defamer via FUBAR]

File this one under DUHVS! Autopsy reports confirmed that `roid freak (and former NL MVP) Ken Caminiti died of cocaine and opiate induced overdose.

File this one under I'M STARTING TO GET CONCERNED! So, it's been awhile since I've discussed Miss Amanda Bynes (aka "The One For Me"). Even though the Fashion Police over at E! gave her a five-star review for the gown she wore to the Carousel of Hope Ball, your Uncle Grambo is now officially concerned that Bynes is looking dangerously thin. Some say you can never be too rich or too thin, but I say hogwash to that. ESPECIALLY when The Star gets you in their tractor beams and declares you to be "very, very thin." You see, my girl is weighing in at 115 ellbees these days, which is too thin at just about any height. Howevs, Amanda Please is 5'9" ... that sound you're hearing are the alarms going off. Please Amanda, your Uncle begs of you to just mix in a cheeseburger or three into your diet. I've got your back, babe. Yodel at me. [via Zulkey and Foxy Jess, respectively]


File this one under KEEP LOOKING! CBS has narrowed down the list of candidates to replace Craiggers as the host of the "Late Late Show." The list includes DL Hughley, Craig Ferguson, MTV veejay Damien Fahey and Michael Ian Black. MmmmmWORST! While I think that M.I.B. is a wildly talented comedian, I just don't see him being able to excel in this arena. I'd rather see him not considered at all than to fail miserably. And the rest of these buttmunches are, as the French say, "sans le buzz."


File this one under BYE BYE BONER! Natalie Portman's highly anticipated topless pole dance has been left on the cutting room floor of Mike Nichols' upcoming film, "Closer" ... guess we'll be stuck with the repelling image of Elizabeth Berkley's tongue not-so-sexily licking the stripper pole as the most recent cinematic exploration of strippers.


File this one under BEST REALITY SHOW EVER! How come it took so long for someone to convince Lorne Michaels that participating in a blend between "Dream Job" and "Last Comic Standing" would be beneficial to all parties involved? Imagine it, a reality show where the winner becomes a "Saturday Night Live" cast member. MmmmmBEST!


File this one under HUH HUH, MOVIE SETS ARE COOL! The Freep discovers that they're filming a movie in The D™ and sends a reporter out to get some man-on-the-street buzz. On the bright side for the paper, they can rest easy knowing that somehow they scooped The Detroit News on the story.
UPDATE (2:42pm): Oops, looks like I fumbled on this one. A reader points out that The Detroit News ran a similar story in yesterday's paper. Aqua sea foam shame. In other words, all apologies to The Snoozers.


File this one under THE GENIUS OF CHUCK KLOSTERMAN! Here's a quote from the November issue of Esquire: "Outside of the genre of sci-fi, I canít think of any film less plausible than 'Road House'. Every element of the story is wholly preposterous: the idea of Swayze being a nationally famous bouncer (with a degree in philosophy), the concept of such a super-violent bar having such an attractive clientele, the likelihood of a tiny Kansas town having such a sophisticated hospital, et cetera, et cetera, et cetera. Every single scene includes at least one detail that could never happen in real life. Does that make 'Road House' bad? No. It makes 'Road House' perfect. Because 'Road House' exists in a parallel reality that is more fanciful (and more watchable) than 'The Lord of the Rings'. The characters in 'Road House' live within the mythology of rural legend while grappling with exaggerated moral dilemmas and neoclassical archetypes. I donít feel guilty for liking any of that. 'Road House' also includes a monster truck. I donít feel guilty for liking that, either."


File this one under TOILET HUMOR MAKES FOR ONE HELLUVA WICKED HEADLINE! "Dutch oven's so versatile it even can be used for cake." [via Big Matt]


File this one under HOTTEST REDESIGN EVS! Congrats to Ye Olde Haggis who got out of the Blogspot ghetto and moved her sexy behind over to Altehaggen.com. Reset your bookmarks, lovers.


File this one under SEE YOU TONIGHT, BITCHES! Remember. The Holy Fire. Dykehouse. Magic Stick. Tonight. The Gorilla, R. Sult and myself will be meeting up in the Garden Bowl between 8:30 and 9. Stop by and say hello. Bovs on your respective tees.

posted by Uncle Grambo |
---
Rare are the occasions when your Uncle Grambo makes it out to the theater. Not the movie theater, mind you. The LIVE theater. That's not to say that I was raised a cretin; growing up, my parents often took The Grizz and I to plays both here in The D™ and in Toronto. My lack of enthusiasm for the live stage performance mainly comes from the fact that by the time a play makes its way into my neck of the woods, the cast is ... uh, how shall I say this ... less than buzzworthy.

But all that changed earlier this week when I received an email announcing that Charles Dickens' classic, "A Christmas Carol", was making its way into town for a weeklong run in the beginning of December. Memories of the late George S. Scott's bravura (and Emmy nominated) performance as Ebenezer Goode Scrooge flooded my memory, and I quickly clicked-through to learn more about dates, prices and casting.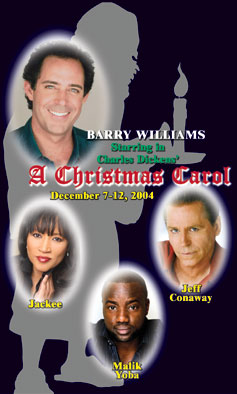 My first reaction was shock. Oh. My. Gaw. Are you effing kidding me? They signed Barry Freaking Williams, aka Greg Brady, to portray one of the great characters in literary history? Didn't we just Brigitte Nielsen push him into a pool after he bombed as emcee of the talent contest during "The Surreal Life 3"? Yes, my friends, we did. Then I dug a little deeper. In a desperate attempt to multiculturalize the classic tale, someone had the AUDACITY to cast Jackée in a yet-to-be-revealed role!!! The Ghost Of Christmas Durst, probably.


After tossing back a bottle of Formula 50, I managed to calm myself down. I then remembered one of the great tenets of my generation. When times are tough, a healthy sense of irony can be your greatest friend! It all makes sense to me now. Instead of bemoaning the lack of theatrical culture in my city, I should embrace the sheer hilarity of stunt casting a member of "The Brady Bunch" in one of the world's most beloved works! And although historical records show that black people were few and far between in 19th century London, I for one can't wait for Jackée's inevitable "OOOOOH, SNAP!" moment in this production. If you happen to be down with the clown, let your Uncle Grambo know and we'll hook some some tix. We'll get good and liquored up and mock the destruction of one of our most seminal works. HOLLA!

posted by Uncle Grambo |
---
Thursday, November 04, 2004

Memo to NYT "journalist" Robert Levine: You know, I liked the story you wrote on Starbucks' attempt to expand into the music business a lot better when I read it the first time. You know, back when Alison Overholt published THE SAME FREAKIN' article in the July issue of Fast Company!!! Hey Levine, Halloween was SUNDAY. Isn't it time you stop pretending you're Jayson Blair? [via Coolfer Glenn]

No wonder the Dems got smoked. After learning that Bob Mould was spinning house music at a pre-election party at the 9:30 Club, it's a wonder that Kerry carried the District of Columbia. No confirmation yet as to whether or not the sighting of Dave Pirner playing a cassingle of Extreme's "More Than Words" on his boombox in Minneapolis swayed any voters away from Kerry. But don't you fret, you crazy Dems! In the spirit of turning lemons into lemonade, think about this: at least we've got four more years with First Hottie Babs Bush in the spotlight. Wonder if the Secret Service busted her for smugglin' raisins? THO revealed! [via WaltWalt]


Wanna know what's Better Than Ezra? Try passing around a huge mirror with "an ant-hill sized mound of coke on it." That's right, everyone's favourite former AWARE potheads Better Than Ezra came to Dallas and performed at the Gypsy Tea Room, and after the show they were desperately waiting for the dopeman to arrive with their yayo. The Donkey Boner reports on this EXCLUSIVE hottness. Guess marijuana is a gateway drug after all (allegedly).


The streets can't wait! Billboard is reporting that the new jawns from both Eminem and Snoop have had their release dates moved up. Look for "Encore" to hit the streets on Friday the 12th and S-N-Double-O-P D-O-Double G's record the following Tuesday.


What do Jane Wiedlin, Mini-Me and Peter Brady have in common? They're the stars of "The Surreal Life: Season 4". Can't say this cast has anyone with as much buzztasticity as Flav and Gitte, but seeing Mini-Me get drunk every night should be good for some cheap laughs. [via Scott Stereogum]


This guy obviously never read "The Lion, The Witch and The Wardrobe" ... I thought everyone knew that Aslan and JC are one and the same? What would Aslan do? HOLLA!


Bend over, Beckham! Get ready for all kindsa metro antics from the likes of new best friends David Beckham and Tom Cruise. And by "metro", I definitely mean "not gay in the slightest bit." Ceasing ... some say better than desisting.


Zulkey does Musto. Not literally. Obvs, Musto doesn't swing that way.


The Sports Guy has seen his better days, yo. He's been reduced to an imitation of a carbon copy of a mimeograph of his former self. Take, for instance, the first installment of his NBA Preview. Dude, 55 words and one Darko joke does NOT make a fitting tribute to the defending NBA Champs. Funny can be found elsewhere.


Here's some snaps from the set of "The Island", currently filming right down the street. I hear they're filming at the old train station today. Hopefully the building doesn't collapse on anyone. Actually, I take that back. Hopefully the building will collapse on Michael Bay. I still haven't forgiven him for failing to insert a hott girl-on-girl scene in that atrocious mess he called "Pearl Harbor" ... can you even BEGIN to imagine the wattage that a Beckinsale / Garner pillow fight would generate? [via Dee Brown]


Sleater-Kinney will release their next album on Sub Pop, featuring production work from the maestro known as Dave Fridmann (Lips, Mercury Rev, Longwave, Gemma Hayes). I say buzz.


Congrats to dead President / blogstar Martin VanBuren for catching fire of late with his hip-hop flavored political rhetoric. The Denton cabal has taken notice, as evidenced by the recent mentions on Gawker and Defamer. Regarding the latter, congrats to Defamer for scoring a feature in the December issue of Esquire. The piece outs the formerly (barely) anonymous blogger as 30 year-old Los Angeleno Mark Lisanti (NOT Listani, Mr. Grove), perhaps better known to some of you as Bunsen. Holla atcha, playa.

posted by Uncle Grambo |
---
Garage rock ... some say it hasn't had buzz since 2002. Detroit area music fans who are tired of the same old scene can breathe a sigh of relief, because there are a few new bands emerging who have the talent slash balls to buck the rawk trend that got groups like The White Stripes and The Von Dursties mega-million dollar contracts. Your Uncle Grambo has long been a supporter of power pop trio The Prime Ministers, but while they're on a mini-hiatus, I'd like to turn the attention of the FOW Nation to a few other promising artists worth your support.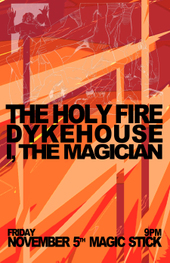 Come out to the Magic Stick THIS Friday night for the incredibly promising bill headlined by the dynamic rock group The Holy Fire, with support from Ghostly's shoegazing superstar Dykehouse and I, The Magician. The Holy Fire is attracting some HEAVY major label interest these days for their innovative ability to create propulsive rock that teems with an undercurrent of pop sensibility. Real Detroit lathered praise on their eponymous debut EP, proclaiming that it "(redefined) what a rock band from Detroit should sound like." This EP caught the eye of the Flaming Lips' bassist Michael Ivins, who recently travelled into Detroit to produce four new songs with the band. Whatevs.org is proud to present this EXCLUSIVE first listen to the single from these sessions, "Dreams To Spend", mp3 stizz ...


The Holy Fire, "Dreams To Spend" (right click, save as ... natch)


Crashing guitar choruses that mix with solos that haunt and sear ALWAYS equate to buzz in my book, especially when combined with the strength of lead singer Sean Hoen's vocals. And for those of you who haven't heard the new jawn from Dykehouse, you're missing out on a sonic shoegazing journey that's easily one of the Top Ten releases of the year. So come on out to The Stick on Friday night for what's sure to be an evening of unrivaled best everness. Your Uncle Grambo and the boys from Motor City Rocks will be there, be sure to find us. That way you can buy us some beers. OBVS!

posted by Uncle Grambo |
---
Wednesday, November 03, 2004

As promised, here are two of the photos from Coach Glinka's legendary UM vs. MSU Tailgate on 10/30/04. Canham Natatorium buzz revealed. Remember Spartys, the "L" stands for loser. HOLLA! Gold medals not pictured. Bobvs.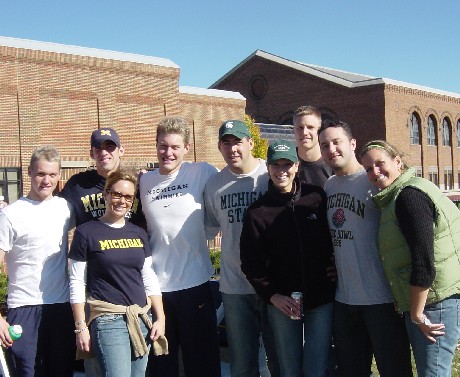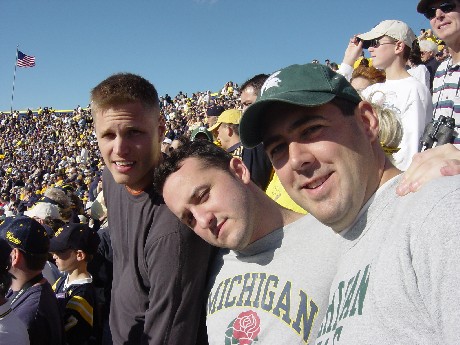 TOP PHOTO (from left to rizz): Alex Vanderkaay, 6-time Olympic Gold medal winner Michael Phelps, Stephanie Glinka, Olympic Gold medal winner Peter Vanderkaay, Coach Glinka, Jillycakes, Malbersblows, Uncle Grambo, Miss Jenny Schad.


BOTTOM PHOTO: Malbersblows, a very drunken Uncle Grambo and Coach Glinka reveal themselves, Section 40 stizz. Big ups to the Van Hoosen Viking Class of 1988, yo! Coach Ron Lovell and Coach Richard "Dick" Cromie, rest in peace. Booyakasha.

posted by Uncle Grambo |
---
Ohio. Some say worst state evs. You know that our country is in dire straits when a state that's only known for spicy pickles, kickass roller coasters and the McKrengels family summer vacation home has decided our collective fate. Hey Ohio, did someone forget to remind you that you lost two million jobs over the last four years? WTF! Thanks for nothing, you short bus riding, OxyContin snorting hillbilly douchelickers. Buck the Fuckeyes. NO BUZZ!

Well, that's pretty much all your Uncle Grambo's has to say on Indecision `04. The Dems got royally punk'd by the right, mainly due to the lack of charisma and leadership skillz shown by Kerry / Edwards and Daschle. Not only did they flunk out of the Electoral College, but they lost a couple of popular vote percentage points that Gore scored in the last election. Maybe if Paris Hilton had hit the polls things would be diff, but I'm not going to spend the next four years living in the land of "What If" ... allz I can say is this. Hail to the thief, yo. It's time to Move On (dot org). Shmears.

Oh well, at least there is some DEVELOPING news from the realm of zombies to keep us distracted. The Zoo York Times speaks to George Romero about "Land Of The Dead", the final installment of the gorefather's zombie quadrilogy. Here's a quick plot description: "In the new story, 'the fat cats live' in a high-security complex called Fiddler's Green, an indoor office and shopping mall with a futuristic, vaulted ceiling that makes it look like a true cathedral of commerce. On the outside, zombie hordes roam almost unimpeded throughout the earth." I am SO there. Snatch.

More good news to balance out the bad ... it looks like "Twin Peaks Season 2" will be hitting DVD late in 2005. Aces! [via The Thigh Master]

Well, if the results of the election weren't enough to induce vomiting for most of the members of the FOW Nation, this oughta do the trick. As much as I like Serena Williams, the sight of her in a see-through dress is enough to have me scrambling to pray to the porcelain god. Hey Brett Ratner, so what if your ex-GF did some time on vehicular manslaughter charges for running over some kids? I think the fact that she was The Noxema Girl more than makes up for that, don't you? Rebecca Gayheart definitely has more buzz than X-Rena. She mars all over your Pierce Brosnans, yo.


When do you know that your star has sunk so far that you're likely to be cast in the next installment of "The Surreal Life"? When you've gone from dating Playboy playmates to dating Page Three girls. Hey Rob Schneider, hope those D-Cups make up for the fact that you're now on the D-List. Bovs.

posted by Uncle Grambo |
---
Monday, November 01, 2004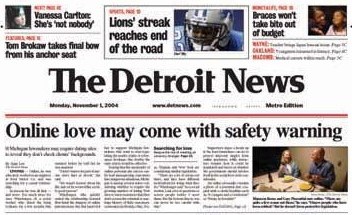 I don't know if you've been following what I like to call "the headlines", but word has it that there's some sort of election tomorrow that could decide the fate of our universe. Apparently the editors at The Detroit News weren't on the distribution list for that memo, b/c today's front page leads with this BREAKING headline: Online love may come with safety warning. Get OUT! Wait, you're telling me that they put the internet on computers these days? And that you can use these supposed internets to troll for skanks? Lordy lordy, someone get Drudge on the line, because this one is DEVELOPING!!!


A little part of me died last night when I saw the Lorne Michaels interview on "60 Minutes" last night. While Lorne claims that he wasn't aware of the fact that Trashlee Simpsucks was going to lip sync on air, he admits that he's been aware of past artists who haven't sung live (but only "during dance breaks where if it was all about dance, and thatís a relatively recent phenomenon."). While this admission kills off a chunk of his indie cred, the interview left me with a newfound appreciation for Trashlee. Seeing her run off stage bawling during dress rehearsals, your Uncle Grambo gained some new perspective on one of our most vilified celebrities (of late). It was never more clear that, at the end of the day, Trashlee is just a 17 year old girl. Sure, she's rich and famous and has made more money in the last six months than you or I will in the rest of our lives, but she's CLEARLY not the one pulling the strings out there.


MisShapes sells out? Ryan Adams and James Iha DJ'd this weekend at NYC's hipster haven. Who's next, Jakob Dylan? No buzz.


Ouchies. Instead of focusing on "Surviving Christmas", maybe the marketing execs at DreamWorks should've strategized more to survive the box office. We're talking $8 mills after two weekends and fading fast, yo. Although Ben Affleck's recent filmography hasn't exactly overwhelmed at the B.O., methinks that the collossal flopitude of this flick will pretty much kill the film career of James Gandolfini. While everyone loves Tony Soprano, the recent films that Gandolcokehead has made prove that no one is willing to get off their couch to see him on the big screen.


MTV.com reveals the deets of the new Nirvana box set. Some say a must have.


The "Best Of Both Worlds" tour goes up in smoke after Jay-Z boots Kells off the bill. In these turbulent times in which a once beautiful partnership has fallen apart, I recall the wise words that Rob Base once sang: "Used to be friends but now we're foes / Ask me why, man, no one knows / Maybe jealousy between you and me / Could be the fame, could be the money." All kindsa joy in up in this piece, but there's also all kindsa pain.


The Freep's Terry Lawson labels "Bridget Jones: The Edge of Reason" as the "the raunchiest movie I've seen this year, and that includes films in which the actors had sex on-screen." While your Uncle Grambo has managed to avoid anything Helen Fielding related to date, does this pronouncement turn the new Zellweggs jawn into a must-see-movie? Er, not so much. I still say worst.


And what's this? The USA Today coaches poll has Michigan ranked higher (#9) than the AP Poll (#10)? Unprecedented buzz! This still doesn't make up for the coaches robbing the Wolverines of their rightful undisputed 1997 National Championship, but at least it's a start. Eff you, Tom Osborne ... you still blow. HOLLA!


UPDATE (12:31pm): Eff you, Blogger! The world's least reliable software interface ate my template this morning, causing massive downtime and major headaches for everyone's favourite Uncle. Durst ever of all tizz. If I had your blog listed before and it suddenly disappeared, your Uncle Grambo swears it wasn't intentional. Just email me and we'll get it resolved. Bovs.

posted by Uncle Grambo |
---
Sunday, October 31, 2004

So good that I'm posting on a Sunday! Michigan 45, Michigan State 37. Triple overtime stizz. I've never been so drunk, so sunburned and so cold all at the same time. Bovs. Truly a legendary day. Photos of your Uncle Grambo hanging with Olympic gold medal winners Michael Phelps and Peter Vanderkaay to follow. What, you mean they didn't show up at YOUR tailgate? HOLLA!

posted by Uncle Grambo |
---